Canon PowerShot D30 review - Verdict
Verdict
The Canon PowerShot D30 is an update to the more than two-year-old PowerShot D20 and as such you might expect a number of significant changes and improvements. The D30 certainly looks different, but below the surface not a great deal has changed.
The newer model can go deeper – to 25 meters compared with 10 meters on the D20. If you're really into your diving that's great, but if you do a bit of casual snorkelling, or just want to mess about at the beach or pool with the kids, it won't make a lot of difference. What else is new? There's a new underwater macro mode, manual focus, and the battery life is slightly improved, up to 300 shots from 280. And that's pretty much it.
That isn't really enough to justify the premium price Canon are asking for the D30, particularly when the older D20 is still available for less. More importantly, it won't cut it when Nikon, Olympus and others are updating their waterproof models every year with more to offer at a similar price point.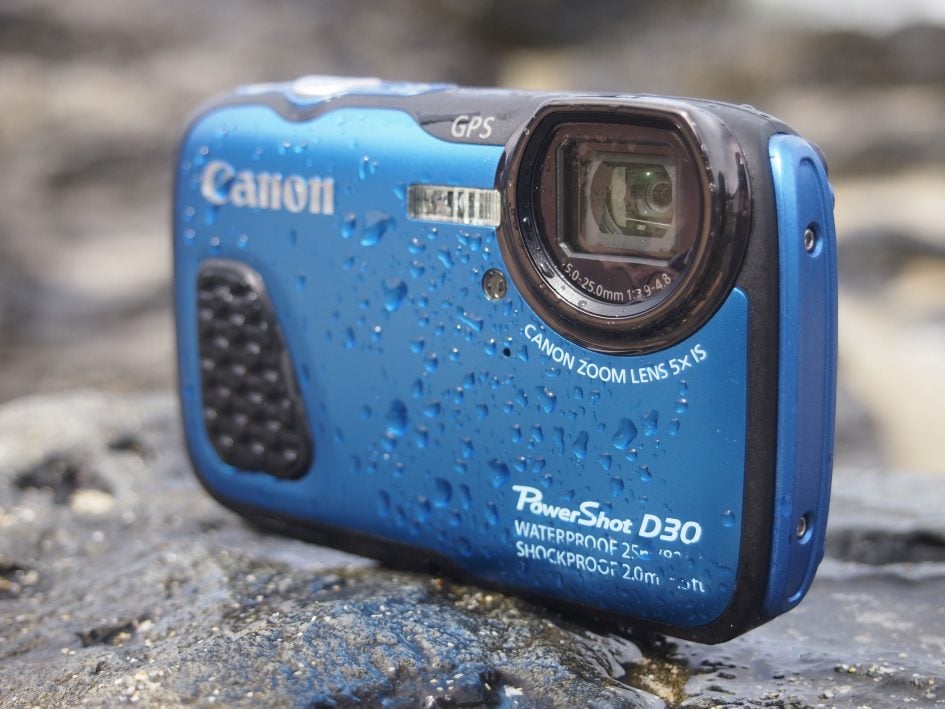 As I said right at the beginning of my review, if you already own a Canon camera, the D30's control layout and menu system will be reassuringly familiar. But if you're not tied to Canon there are other options to consider.
I've mentioned that the D30 has improved sealing that will allow you to dive to 25 meters, but the COOLPIX AW130 is the deepest diver of all the water-proof compacts I tested (though I didn't personally dive deeper than a few meters) with a maximum depth of 30 meters. The Nikon AW130 has built-in Wifi which will allow you to download photos to your phone for onward sharing as well as remote operation of the camera. Like the D30 it also has GPS, but a better implementation that in addition to tagging photos with your co-ordinates will display them on a map on the camera screen as well as provide altitude/depth reporting.
The COOLPIX AW130's lens has a 5x range like the D30's but it starts at a wider 24mm so you can fit more in, though it won't get you as close in at the telephoto end. Just as important though, at the wide angle setting it's almost a full stop brighter than the PowerShot D30 with an f2.8 aperture compared with f3.9 on the D30. Zoom in, though, and that advantage evaporates pretty quickly. The AW130's OLED screen has a higher resolution than the D30's and displays a more detailed view.
The D30 and AW130 are fairly evenly matched for video with a best quality 1080 / 24p on the D30 compared with 1080 /25/30p on the AW130. The latter has a time-lapse video mode and interval timer, but the D30 has the movie Digest mode which films a short clip prior to each shot you take and automatically assembles them into a movie. The AW130 is better equipped for sound with stereo mics as against a single mono mic on the D30.
While the AW130's Full resolution continuous shooting mode can only shoot a short 5-frame burst at 7fps it's better then the D30's lamentable 1.9fps performance. Plus the AW130 can also boast a raft of quick lower resolution continuous shooting options.
Currently the D30 and AW130 are closely matched in price. As always there are regional variations and it pays to shop around, but the AW130 is without doubt a lot more water-proof camera for your money.
The COOLPIX S33 is a slightly different proposition. This is a very basic model that's priced accordingly, so it's not going compete with the PowerShot D30 on specifications. That said, if you look at the samples gallery on my upcoming COOLPIX S33 review you'l see it's just as capable of taking great shots in and under the water as the PowerShot D30.
The S33's sensor is physically smaller than the D20's (and, for that matter, most other compacts) so its image quality and noise performance isn't as good. Its 3x optical zoom lacks the 5x range of the D30 though with an f3.3 aperture at the wide angle setting it's actually a little brighter. Like the D30, the S33 lacks Wifi, but it also does without a GPS receiver so you can't put your pictures on a map, unless you tag them manually of course.
The S33's 2.7 inch 230k screen is smaller and has a lower resolution than the 3 inch 461k dot screen on the D30, but it does a good job. The S33 has a best quality 1080 / 30p movie mode, but it lacks anything like the D30's slow motion modes, low resolution though they are. The S33 can shoot continuously at a faster rate than the D30 though, albeit only for a short burst.
Lastly the S33 isn't quite as rugged or waterproof as the D30. You can take it underwater to a depth of 10 meters and it's shock-proof to 1.5 meters. The figures for the D10 if you need reminding are 25 metres and 2 meters. As I've already pointed out though, for casual use in the water, 10 metres is plenty deep enough for most people.
For many people the COOLPIX S33 will do everything they need, plus it's incredibly simple and easy-to-use. The price and toughness also makes it an ideal first camera for kids; see my upcoming Nikon COOLPIX S33 review. If you want more sophistication, you'll probably need to look beyond the PowerShot D30 to the COOLPIX AW130 or one of the Olympus TOUGH models. See my Olympus TG4 review and upcoming Olympus TG860 review and Nikon AW130 review.
Good points
Water-proof to 25 metres.
1cm macro close focus.
Adjustable wrist strap.
Bad points
No 60p video modes.
No HD slow motion modes.
Mono mic.
Small f3.9 maximum aperture.
Slow continuous shooting.
Spongy shutter release.