Verdict
Canon's PowerShot G9X represents the continuing evolution of pocket cameras: small and smart like many of its predecessors, but crucially packing a larger 1in sensor. The sensor is the key here as it's three to four times larger than those in most phones and compact cameras, allowing the G9X to deliver noticeably better quality in low light.
Canon's not the first to think of this: Sony, who lest we forget actually makes the 1in sensor used here, has enjoyed enormous success with its RX100 series, now in their fourth generation. But while Sony offers two different types of cameras with a 1in sensor – the pocket RX100 and super-zoom RX10 series – Canon now has four to choose from. There's the original G7X, similar in size to an RX100, but with a longer 4.2x / 24-100mm optical range and tilting screen. There's the super-zoom G3X with its 25x / 24-600mm range and the G5X with the same optics as the G7X, but with a viewfinder and fully-articulated screen.
The PowerShot G9X carves its own niche within this busy range though by being the smallest. Smaller in every dimension than the G7X and RX100 series, not to mention lighter too, the G9X is the most pocketable conventionally-designed compact with a 1in sensor – impressively it's roughly similar in size to Canon's own S120, despite packing a sensor with 2.8 times the surface area. Sure you can just about squash a G7X or RX100 into a trouser pocket, but the G9X slips-in much more gracefully and its lighter weight won't drag-down a shirt pocket either.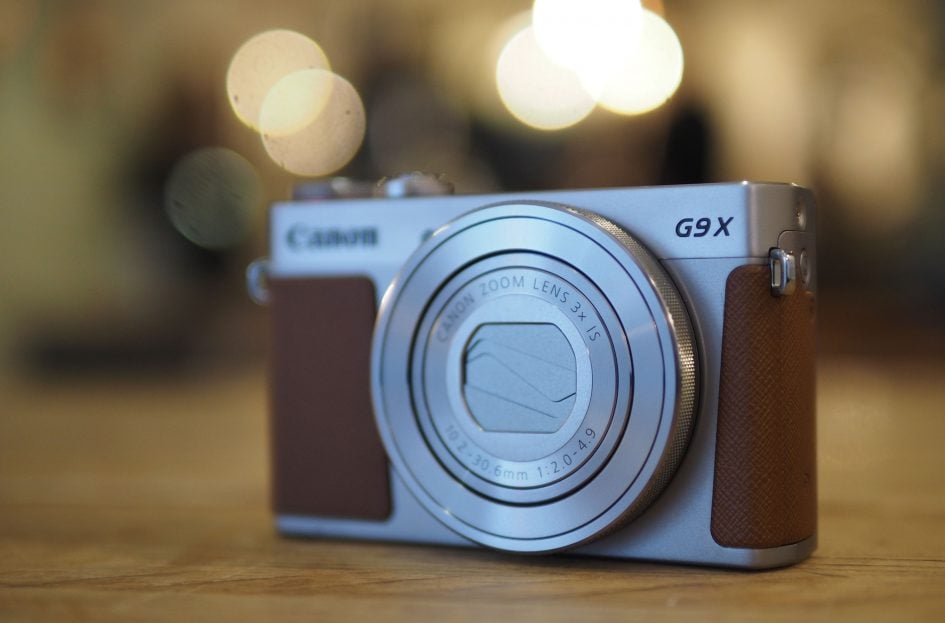 The headline that the G9X is the smallest (normal-looking) camera with a 1in sensor may be all you need to know, and it's certainly a compelling message. But I'm pleased to say Canon's also put a lot of thought into the control and ergonomics which can often be a compromise on a small body. Textured panels on the front, side and rear make it a lot more secure to hold than the smooth G7X, and allow an attractive colour combination on the silver model, pictured here. Rather than shrinking all the buttons, Canon's just gone for the essentials and made them big and bold. Meanwhile the excellent touch interface allows you to quickly and easily tap and swipe your way through menus, settings and images.
I tested the G9X – an entry-level 1in camera – alongside Sony's RX100 IV – a flagship 1in camera – and was struck by how much easier the Canon was to control thanks to its touch-screen. I continue to be dismayed by Sony's decision not to fit a touch-screen even now on its fourth generation and for me it's the big downside of the Sony and the big plus-point for the Canon.
I'm also delighted Canon has taken a leaf out of Sony's book and now supports charging in-camera over USB. This is so convenient, as you can topup anywhere there's a USB port, such as on a laptop, vehicle adapter, portable battery or using any number of AC-USB adapters which may be around. But in a particularly classy move, Canon still also supplies the G9X with a traditional external AC charger for the best of both Worlds.
Perhaps also inspired by Sony, Canon's enhanced its Wifi experience. The NFC is now dynamic which means it can fire-up a compatible phone's Wifi and connect to it without a button press even if the camera was initially powered-off. Canon's Camera Connect app is also now more sophisticated than before, offering full manual control over exposure.
The G9X may be aimed at upgraders with capable auto modes and effects but it's also equipped with Aperture and Shutter Priority, not to mention full Manual exposure and focus control, which also applies to movies. Sure like all consumer Canon cameras there's no 4k video and inexplicably still no in-camera panoramas either, but there's still a great deal to like.
In a body this size, there's understandably no viewfinder, nor hotshoe for accessories and unfortunately the screen is fixed in place too – so no tilting for easy composition at high or low angles, although you could of course use your phone as an articulated screen over Wifi. The zoom range is understandably modest too – just 3x / 28-84mm and while it starts fairly bright at f2, it inevitably slows down as you zoom-in. If you want a 1in camera with a longer and or brighter zoom, a tilting screen and perhaps a viewfinder, you'll need to accommodate a larger body like the G7X or G5X.
In terms of image quality the G9X performs well given the inevitable restrictions of its small body. The optics are soft in the extreme corners when zoomed wide to 28mm, but improve towards the middle of the frame, and once you start increasing the focal length the edge-to-edge sharpness becomes much more consistent. At the long-end a little corner softness returns, but it's not as noticeable as at 28mm. In terms of noise, saturation and tonal detail, the G9X looks good up to 400 ISO and only loses a little quality between there and 1600 ISO, giving the camera a useful range of sensitivities to deploy without significantly impacting the quality.
I feel Sony manages to extract slightly crisper results without compromising visible noise on its RX100 series (perhaps unsurprisingly given it makes the 1in sensor used by both it and Canon) and the company is also deploying a newer version of the sensor in the latest RX100 IV. But Canon is still doing a good job, and certainly during my tests the G9X is delivered very good quality images.
Crucially the 1in sensor in the G9X is doing what it's supposed to do in this type of camera: delivering cleaner results with greater saturation and better tonal detail than cameras with smaller sensors, especially as the ISO increases. As such it delivers a genuine step-up in quality over typical point-and-shoot compacts or phones, although the greatest gains are again at higher sensitivities; if you mostly, or even only, shoot at very low ISOs you can still achieve very good quality from models like Canon's own S120 at a lower price, while enjoying a longer zoom range too.
Canon PowerShot G9X final verdict
Canon has sensibly identified the 1in sensor as a way to differentiate its latest cameras from phones and older point-and-shoot models, and the ever-increasing PowerShot G range ensures there's an option for everyone. I feel this is where Canon currently scores over Sony by offering four rather than two form-factors with the 1in sensor.
The strategy really works too. While reviewing the G9X I kept noting limitations which the G7X resolved. Things like the tilting screen and longer zoom range. And yet the more I used the G9X, the more I loved its smaller form factor which made the G7X and RX100 series feel quite hefty in comparison. Cleverly though if you are willing to carry something a little chunkier, the G7X offers those additional benefits. And if you wish it had a viewfinder, there's the G5X. Or if you yearn for a much longer zoom there's the G3X.
Canon's covering all bases and that's what allows them to indulge in other form factors. If you only created one model in this category it'd have to be the G7X, but with four models, there's room for options like the G9X and I think the range is stronger for it.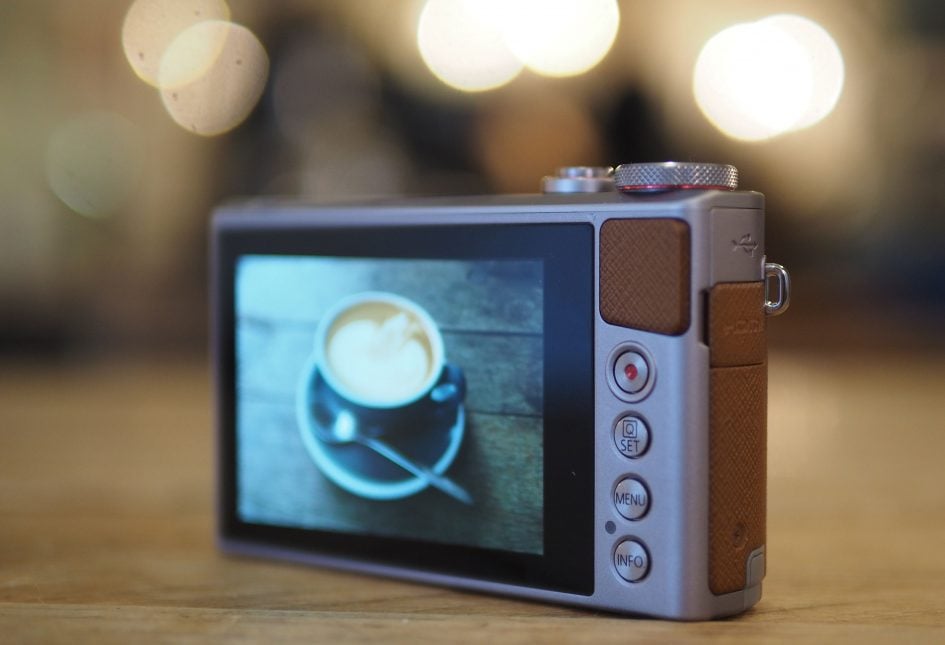 Which one should you buy? Well that of course depends on what features are most important to you, not to mention the pricing. The original Canon G7X looks very strong right now due to its tilting screen, broader and brighter zoom and discounted price thanks to its age. It's also worth checking prices on Sony's older RX100 Mark II which again offers a tilting (non-touch) screen and longer zoom, not to mention a hotshoe.
But in many regions the G9X is already cheaper and of course boasts the smallest body of all traditionally-shaped 1in cameras. It's also worth noting the G9X has more than just smaller size over the G7X – it additionally features USB charging, Dynamic NFC, an Auto ND filter and a grippier front. The bottom line though remains the same: if you want a genuine step-up in quality over a phone or an older point-and-shoot, but portability remains paramount, the G9X is the one to beat.
Note: if you love the 1in sensor but prefer a more integrated phone solution, consider Panasonic's Lumix CM1 which has a 1in sensor camera built-into an Android phone, or the DXO One which is a 1in camera accessory for iPhones and iPads.
Good points
Smallest conventional camera with a 1in sensor.
Very capable touch-screen. Quick and easy to control.
Full manual control over exposure and focus.
Built-in Wifi with NFC and good smartphone control.
USB charging in-camera but also supplied with AC charger.
Bad points
Basic 3x optical zoom. A little soft at 28mm in corners.
Lens focal ratio slows down at 84mm to f4.9.
No viewfinder. Screen doesn't tilt either.
No in-camera panorama mode.
Burst speed in RAW is very slow.