Canon EOS RP review - Verdict
Verdict
The Canon EOS RP is the most affordable new full frame camera to date, whether DSLR or mirrorless. Sure, there's often bargains to be had on older models, like Sony's frequently discounted A7 II, but in terms of newly-released full-framers, the RP achieves a refreshingly low price at a time when other manufacturers are pushing ever more expensive models.
There's inevitably some compromises, but let's start with the positives: you're getting a big sensor, attractive JPEGs out-of-camera, a fully-articulated touchscreen, microphone and headphone jacks, and Canon's industry-leading dual pixel AF which does a solid job with native RF or adapted EF lenses and delivers effortless 1080 video. On the downside, the battery life is modest, there's no built-in stabilisation nor twin card slots, and there's a raft of frustrating video limitations: filming in 4k incurs a tight crop, losing the benefit of having a full-frame sensor, and annoyingly loses dual pixel AF too. There's no high-frame rates for slow motion and strangely no 1080 at 24p either. Even weirder, when you fit an EF-S lens, the 1080 options disappear altogether, leaving owners of these lenses to film in either 720p if they want dual pixel or 4k without. Then there's the absence of a low-cost native RF zoom, forcing owners to either go for the fixed RF 35mm, or adapt an older EF lens.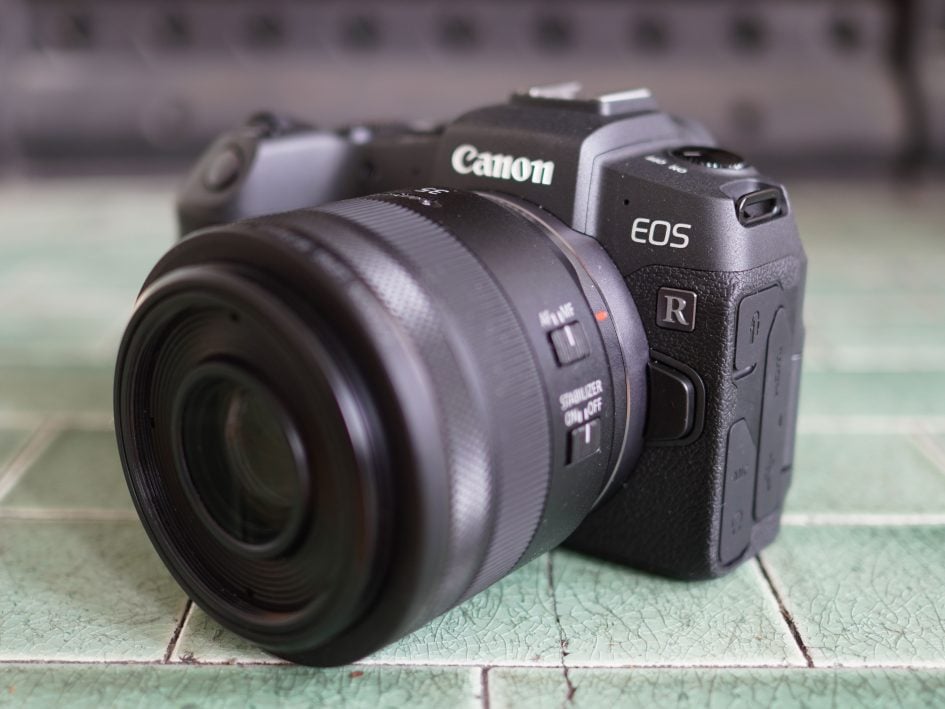 Canon says the EOS RP is aimed at existing EOS DSLR owners, but I think they'd have to carefully weigh-up the pros and cons. If you have a Canon DSLR with an APSC sensor, like the 80D, then you may be getting a bigger sensor and the benefits of mirrorless and RF compatibility, but if you adapt one of your EF-S lenses, you'll lose the ability to film 1080p video and the crop will mean your photo resolution drops to just 10 Megapixels. So it only makes sense as an upgrade if you have mostly EF rather than EF-S lenses.

If you're a 6D II owner, then there's no upgrade in photo quality other than the use of DIGIC 8, and bursts are also slower – for these owners it'd be more about having a smaller mirrorless body and the chance to use RF lenses in the future. Probably not enough to justify the switch.

I think the EOS RP makes more sense as an upgrade for owners of much older DSLRs, like the original 6D, or perhaps a 5D Mark II, or earlier APSC models like the 70D or even older still. The further back you go, the more you stand to gain from the RP.

It can also appeal to first-time Canon owners, although they should weigh up their options very carefully. In particular if you're happy with a smaller APSC sensor, I think the Sony A6400 or Fujifilm X-T30 offer a more compelling overall package, and again you should also consider the Sony A7 II at sale times.

Ultimately I enjoyed using the EOS RP: Canon's user interface, controls and overall ergonomics remain some of the best around, and I was very happy with the JPEGs out of camera. If you film in 1080, you'll love having the flip-screen and dual pixel autofocus, and there's no denying having a full-frame sensor gives you access to lenses like Canon's EF 24mm f1.4 which is brilliant for filming pieces to camera with a very shallow depth-of-field. If the limitations I've mentioned don't really matter to you, then the RP is ideal for Canon owners wanting to make the switch to full-frame mirrorless without breaking the bank, and while I'm disappointed there's not yet a native kit zoom at an equally affordable price, the RP does at least work well with adapted EF lenses.

Check prices on the Canon EOS RP at Amazon, B&H, Adorama or WEX!