Canon EOS Rebel T6s / 760D Review
Verdict
Canon's EOS 760D / Rebel T6s is a solid DSLR that represents a good step-up over entry-level models. This has always been a very successful category for Canon, so perhaps it's not surprising to find the company now splitting it into two options: the EOS 750D / T6i gives you the core spec of 24 Megapixels, 19-point AF, 5fps burst shooting, pentamirror viewfinder, fully-articulated touchscreen and 1080p movies. Then if you fancy something a bit more sophisticated, spending an extra $100 USD / 70 GBP or so gets you the 760D / T6s which adds an upper LCD information screen, eye sensor, rear control wheel and viewfinder levelling gauge, along with digital zoom and HDR options for movies, and smooth continuous AF in Live View.
Canon's strategy to split this category into two models makes sense as the cheaper 750D / T6i meets the competitive price point, but the 760D / T6s tempts you to stretch the budget a little further for the additional features. So is it worth spending the extra, given both share the same quality, composition, focusing and speed?
I'd say so. In terms of overall handling, the cheaper 750D / T6i feels closer to an entry-level DSLR, whereas the 760D / T6s feels a step higher, approaching mid-range models. The upper LCD screen lets you check settings at a glance, the eye sensor switches the screen off as you compose with the viewfinder, but most importantly the rear wheel provides a second control that makes exposure adjustments quicker and easier. I can live without the HDR movie mode, but the digital zoom option, last seen in the much earlier 600D / T3i, starts with a handy 1:1 crop, delivering roughly three times magnification with no loss of quality. Then there's the continuous AF in Live View which lets you take photos of subjects in motion when composing with the screen. It all adds up to a camera that handles better and feels classier overall.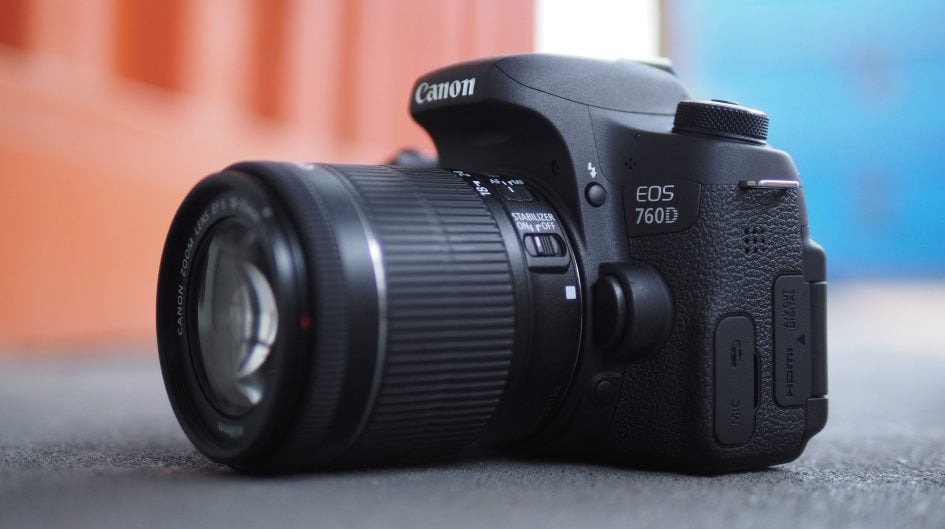 So given the choice between the two Canons, I'd personally go for the slightly pricier EOS 760D / T6s for its better overall handling, although it's nice to have the 750D / T6i as a cheaper option if you don't need the extra sophistication.
As for their shared image quality, Canon's new 24 Megapixel APS-C sensor delivers good results, although it doesn't leap ahead of rivals. In my tests, the Nikon D5500 (which also has a 24 Megapixel APS-C sensor), delivered fractionally lower RAW noise levels, while Panasonic's Lumix G7 (which has a slightly smaller Micro Four Thirds sensor), roughly matched it at all but the highest sensitivities. In terms of resolving power, I found the biggest differences between these models actually boiled-down to their respective lenses. Canon's EF-S 18-55mm STM and EF-S 18-135mm STM kit zooms may be larger than rival models, but they deliver sharp results across the frame, along with quick and quiet focusing. The Lumix G7's 14-42mm kit zoom was the best of the smaller options, but the collapsing kit zooms from Nikon and Sony became visibly soft in the corners.
The movie quality, as you'd suspect from non-integer scaling a 1080p frame, can inevitably suffer from moire. My outdoor test scene with lots of fine lines and patterns lit-up with artefacts, but it was less obvious with other subjects. More importantly for the target audience though, the continuous autofocus works very well while you're filming, especially with the STM kit zooms. It's not quite on-par with the Dual Pixel CMOS AF of Canon's own EOS 70D or EOS 7D Mark II, but it still does a very good job, smoothly and confidently refocusing without hunting, and all controllable via the touch-screen if desired. The confidence is matched only by Sony's A5100 and A6000, although with greater control over where and when the camera refocuses. As such it's the highlight of the camera.
Indeed shooting stills or movies in Live View is arguably the best part of the camera thanks to the fully-articulated screen, powerful touch interface and focusing that's again confident and fairly quick. It'll even deliver the same 5fps continuous shooting as when using the optical viewfinder, and tracking AF works with subjects in modest motion – think walking rather than running.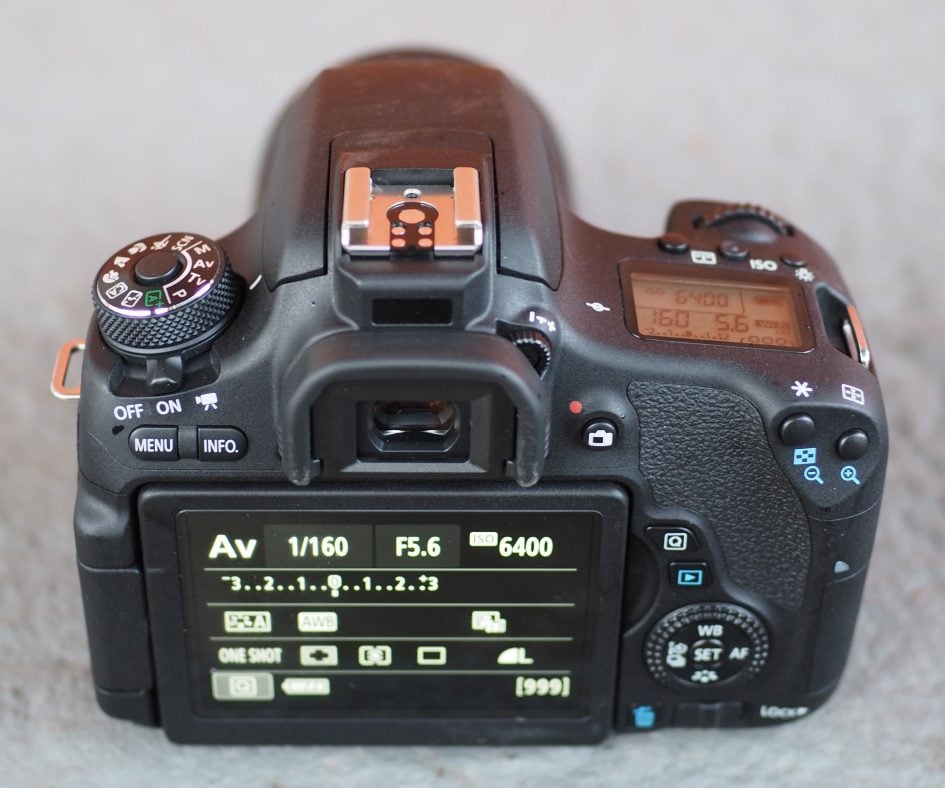 Let's also welcome Canon to the Wifi club, as the 760D / T6s and 750D / T6i become the first models in this part of Canon's range to feature built-in Wifi, with NFC to boot. While there's sadly no GPS tagging nor the chance to trigger a movie recording via Canon's Camera Connect app at the time of writing, it's still fun to wirelessly remote control the camera, adjust the focus and exposure, and of course copy images easily to various devices. I particularly enjoyed playing an image on the camera, then simply holding my NFC-equipped Galaxy S6 smartphone against it to automatically copy it across without worrying about the app or connections.
So far so good, and I'd say the Canon is also pitched well against arch-rival Nikon's D5500. Both share similar core specifications with 24 Megapixel APS-S sensors, 5fps shooting, 1080p video and articulated touchscreens, but while the D5500 boasts a slightly larger 3.2in screen (vs 3in on the Canon), more AF points (39 vs 19) and higher movie frame rates (1080 at 60p vs 30p), I'd say the ability for both Canon DSLRs to quietly and confidently refocus in Live View and especially movies gives them the edge overall. Of course if you don't care about movie AF, you may prefer the Nikon and you can find out more in my Nikon D5500 review.
But while the EOS 760D / T6s and its more affordable sibling, the EOS 750D / T6i look strong in Canon's range and competitive against Nikon's D5500, I'd say both are falling behind compared to rival mirrorless cameras costing roughly the same.
Panasonic's Lumix G7 may 'only' have 16 Megapixels and a slightly smaller sensor, but delivered roughly similar image quality and burst speed, while boasting focusing in much lower light, 4k video (with the chance to grab photos from footage at 8 Megapixels), 1080p at 60p, seven frame exposure bracketing (vs three on the Canon), timelapse facilities, a panorama mode, genuinely silent shooting with an electronic shutter that also offers a top speed of 1/16000, a superior smartphone app, and an electronic viewfinder with a larger image, 100% coverage, and a wealth of shooting guides and assistance including focus peaking and zebra patterns. Canon fights back with more confident continuous AF for movies and Live View. See my Lumix G7 review for more details.
Then there's Sony's Alpha A6000 which shares a 24 Megapixel APS-C sensor, but outguns all rivals at this price with 11fps burst shooting with continuous AF that works with fast subjects. The A6000 also has more sophisticated smartphone control and Wifi options, a larger viewfinder image (again with a wealth of overlays), USB charging in-camera, five frame bracketing, 1080p movies at 60p and panorama modes. This time Canon fights back with a fully-articulated touchscreen (versus the tilting non-touchscreen of the Sony). See my Sony A6000 review for more details.
Both of these mirrorless cameras are also much smaller and lighter than the Canon and Nikon DSLRs, and in the case of the Lumix, there's no compromise with the quality of its kit zoom. I'm not a big fan of the Sony kit zoom, nor of the A6000's 16:9 wide screen, but as a model that's now a year old now, it's discounted to a comfortably lower price than any of the other models here.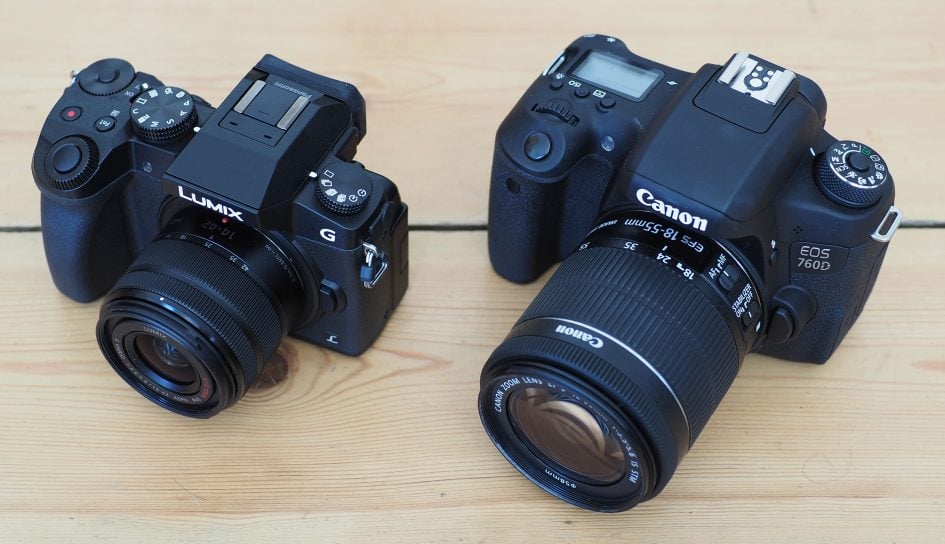 Ultimately I think models like the Sony A6000 and Lumix G7 offer a great deal more to the target market than a comparably-priced DSLR. They give you the quality of a big sensor, the flexibility of interchangeable lenses, a much larger viewfinder image with loads more shooting guides, focusing that works across the frame whether you're composing with the screen or viewfinder, and more powerful feature-sets. Certainly if you're thinking of composing frequently with the screen on a DSLR, then a native Live View mirrorless camera will simply deliver a better experience.
But much of this comes down to personal preference. You already know mine, but others simply prefer having an optical viewfinder, and while the image is smaller than the electronic viewfinder on a comparably-priced mirrorless camera and lacks their overlays, they are cleaner in low light, suffer from no lag when panning, and also allow you to squeeze out longer life from the battery. By offering this with the option to alternatively shoot with a very respectable Live View mode on a fully-articulated touch-screen, DSLRs like the EOS 760D / T6s arguably offer the best of both Worlds: the traditional and the modern. If this approach appeals to you more than a 100% electronic mirrorless system, then the EOS 760D / T6s is one of your best options and comes recommended.
Good points
Good quality images with low noise and lots of detail.
Fully-articulated touchscreen.
Smooth and confident continuous AF in Live View and movies.
Built-in Wifi with NFC and smartphone remote control.
Rear control wheel, eye sensor and upper LCD information screen.
Bad points
Relatively small viewfinder image size.
5fps shooting beaten in speed by rival mirrorless cameras.
Smartphone app doesn't offer GPS logging.
Basic three-frame AEB.
No timelapse or panorama facilities.
Silent mode isn't particularly quiet.