Canon EOS Rebel T6s / 760D Review
In Depth
Canon's EOS 760D, or Rebel T6s as it's known in North America, is the company's latest upper entry-level DSLR. Announced in February 2015 and successor to the EOS 700D / Rebel T5i, it boosts the sensor resolution from 18 to 24 Megapixels (the highest yet for Canon's APS-C DSLRs), features an improved hybrid AF system for movies, a new 7560 pixel metering sensor, a 19-point viewfinder AF system (inherited from the EOS 70D and a big improvement over the older 9-point system), and becomes the first Rebel / xxxD to feature built-in Wifi with NFC. Like its predecessor, it's also fitted with a 3in fully-articulated touch-screen and a penta-mirror optical viewfinder.
Interestingly the 760D / T6s was announced alongside a slightly cheaper version called the 750D / T6i. This version lacks the upper information screen, eye sensor and rear control dial, along with the digital zoom and HDR modes for movies, and continuous AF in Live View. But inside, the sensor, screen, viewfinder, 5fps continuous shooting and 19-point viewfinder AF system are identical.
Having the two models is an interesting strategy. The lower-end T6i / 750D feels firmly in the upper entry-level camp, while the higher-end T6s / 760D feels more like a mid-range model, like the EOS 70D. In my review I'll take an in-depth look at the EOS 760D / T6s and how it compares not just to the 750D / T6i, but rival models including Nikon's D5500, Panasonic's Lumix G7 and Sony's A6000. If you're shopping for a step-up from a budget interchangeable lens camera, you're in the right place!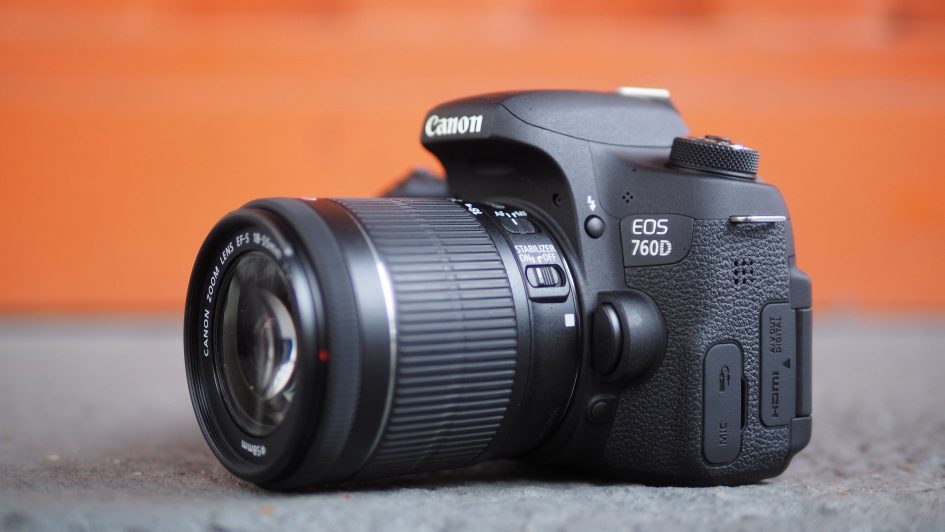 Canon EOS 760D / Rebel T6s design and controls
Canon's EOS 760D / T6s is a traditional-looking DSLR that's immediately recognizable as part of the EOS family. The interesting part is how subtle design differences between the 760D / T6s and its sibling, the 750D / T6i make them look like quite different cameras. With its upper LCD panel, relocated mode dial and rear control wheel, the 760D / T6s looks closer to mid-range models like the 70D, while the design approach of the 750D / T6i makes it more akin to entry-level models like the 1200D / T5. I've pictured them side-by-side below, albeit fitted with different lenses, so try to concentrate on the bodies! For me the 760D / T6s is a classier-looking camera, borrowing design cues from higher-end models without their cost or bulk. I've pictured them side-by-side below, with the 760D / T6s on the right; note they're fitted with different lenses.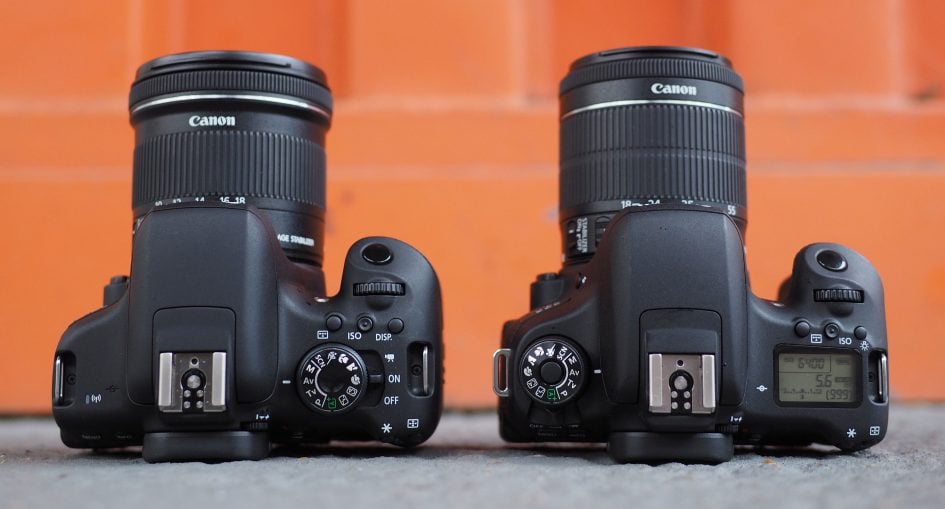 The EOS 760D / T6s is the largest of its peer group, measuring 132x101x78mm and weighing 565g with battery; note the 750D / T6i is exactly the same size, but 10g lighter. This makes the Canons chunkier all-round than Nikon's D5500, which measures 124x97x70mm and weighs 470g with battery, but both DSLRs remain comfortably larger than rival mirrorless cameras: Panasonic's Lumix G7 measures 125x86x77mm and weighs 410g with battery, while Sony's flat-topped A6000 is smaller and lighter still at 120x67x45mm and 344g with battery.Add their respective kit zooms and the differences become even greater, especially for Canon who's EF-S 18-55mm STM doesn't collapse to save space. I've pictured the EOS 760D / T6s below, alongside the Nikon D5500, then the Lumix G7 and finally the Sony A6000 for scale and it's clear how the Canon is the largest of the group, especially when fitted with their kit zooms. Obviously if you go for the EOS with the EF-S 18-135mm STM lens, it becomes even larger.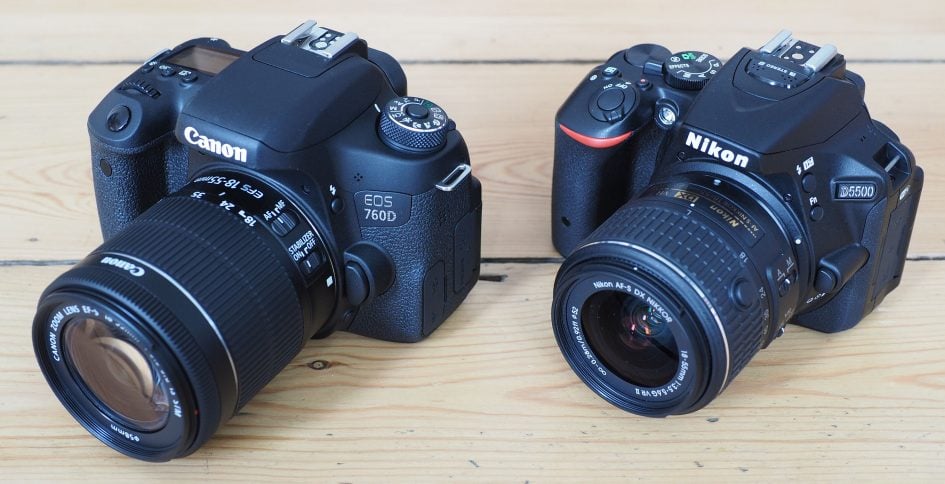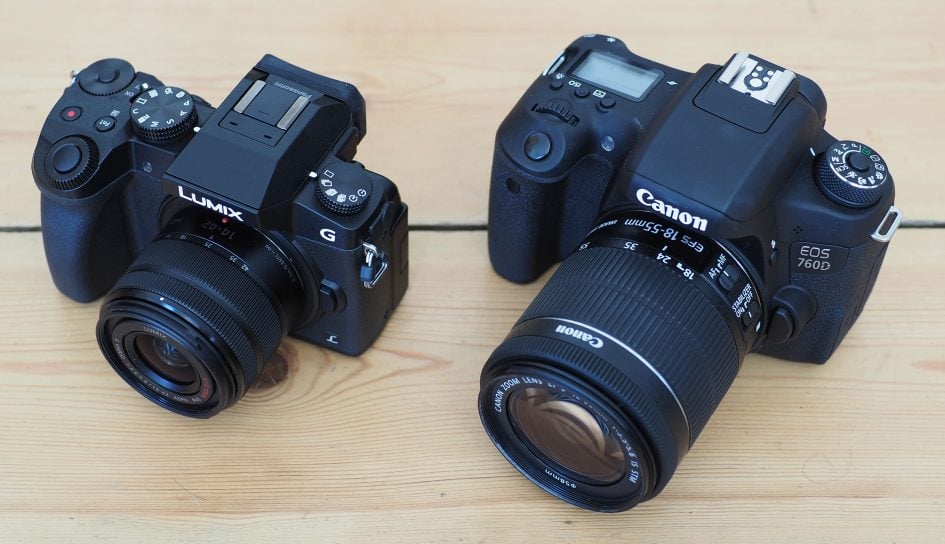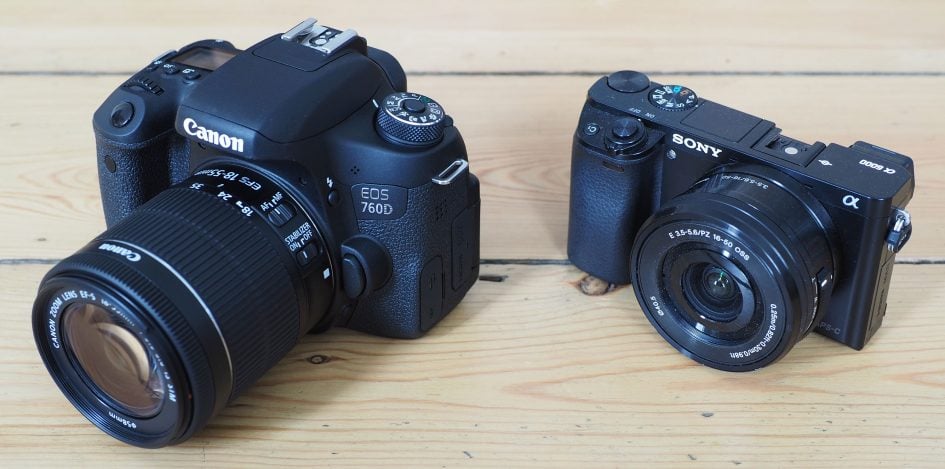 But smaller isn't necessarily always better. It's important to choose a camera that feels comfortable in your hands. Personally speaking – and it is a very personal thing – the Canon 760D / T6s is verging on being a tad too large for my hands. It certainly fills them and there's plenty to wrap my fingers around, but for me I prefer the slightly slimmer D5500 or G7 in my hands.
As for the kit zooms, I should also note collapsing models, such as those bundled by Nikon and Sony here, may save space, but in my tests are often lower quality than non-collapsing designs. You'll see in my results pages how the Canon EF-S 18-55mm STM kit zoom maintains its sharpness across the frame much better than the Nikon DX 18-55mm VR II kit zoom which becomes quite soft in the corners. Similarly for the Sony 16-50mm kit zoom, which may be a miracle of miniaturisation, but suffers from softness in the corners as a result. I should give a respectful nod then to Panasonic, who's 14-42mm kit zoom bundled with the G7 manages to be both small and high quality. Again you can see how it compares against the Canon in my results pages.
It's also important to consider how well the controls work. The 760D / T6s is equipped with a finger dial behind the shutter release in addition to a thumb wheel on the rear. The latter is a key control difference between the 760D / T6s and the cheaper 750D / T6i, which only has basic cross-keys on the rear. The dual controls of the 760D / T6s make it easier to adjust exposure – for example in Manual mode, the finger dial controls the shutter and the thumb wheel controls the aperture, while in the Av, Tv and P modes the rear wheel adjusts exposure compensation.
Dual controls are an advantage the 760D / T6s also has over Nikon's D5500 which only has one dial for your thumb in the top right corner of the rear. I also feel the finger dial on both Canon bodies feels better with more defined clicks and better feedback than the D5500.
But the 760D / T6s isn't the only camera in its class to feature twin control dials. Both Sony's A6000 and Panasonic's Lumix G7 have twin dials, and for me their smaller bodies allow me to more easily reach either dial one-handed. The chunkier body of the Canon means I generally need to readjust my grip or switch to two-hands to turn the thumb wheel. Of course all of this is very personal and you may find different models feel better to you.
Looking at the other controls on the 760D / T6s, a three position switch around the mode dial switches the camera OFF, ON and into movie mode. A button to the right of the viewfinder puts the camera into Live View if the main switch is set to ON, or starts and stops recording video if the switch is set to movie.
The rear control wheel can be tilted up, down, left or right and by default accesses the white balance, Picture Style, drive mode or AF mode respectively. There's a pair of buttons alongside the upper LCD screen to access the AF area / zone options and the ISO sensitivity. The SET button in the middle of the rear wheel can be customised, but only from a handful of options, some of which like ISO are duplicated by buttons elsewhere.
Nikon's D5500 does slightly better for customisation with a single Fn button and a soft Fn button (on-screen), both of which can be set from a broad list of options; there's also the chance to reassign the AE / AF lock button (albeit only to AE / AF operations). But this pales alongside models like the Lumix G7 which boasts no fewer than 11 customisable function buttons (six physical and five soft, via the screen). The degree of customisation offered by Nikon and especially Canon here places their models on the simpler end of the spectrum.
Something that makes the 760D / T6s unique amongst rivals though is its upper LCD information screen – indeed it's another key difference with the cheaper 750D / T6i. It's fairly basic compared to semi-pro bodies, but still shows you the shutter speed, aperture, exposure compensation scale, ISO value and shots remaining, along with indicators for battery life and whether Wifi or Highlight Tone Priority are enabled. Of course the main screen on the rear shows a lot more shooting information, but it's still nice to have the most important details at a glance on the top, especially if the main screen is folded back on itself for protection or to save power. The top panel also has an optional orange backlight.
For composition you have the choice of an optical viewfinder or Live View on the fully-articulated touchscreen. Like the D5500, the 760D / T6s has a proximity sensor between the viewfinder and hotshoe which can turn the screen off when you bring your eye to the camera; this is disabled during Live View. Note the cheaper 750D / T6i lacks the eye sensor.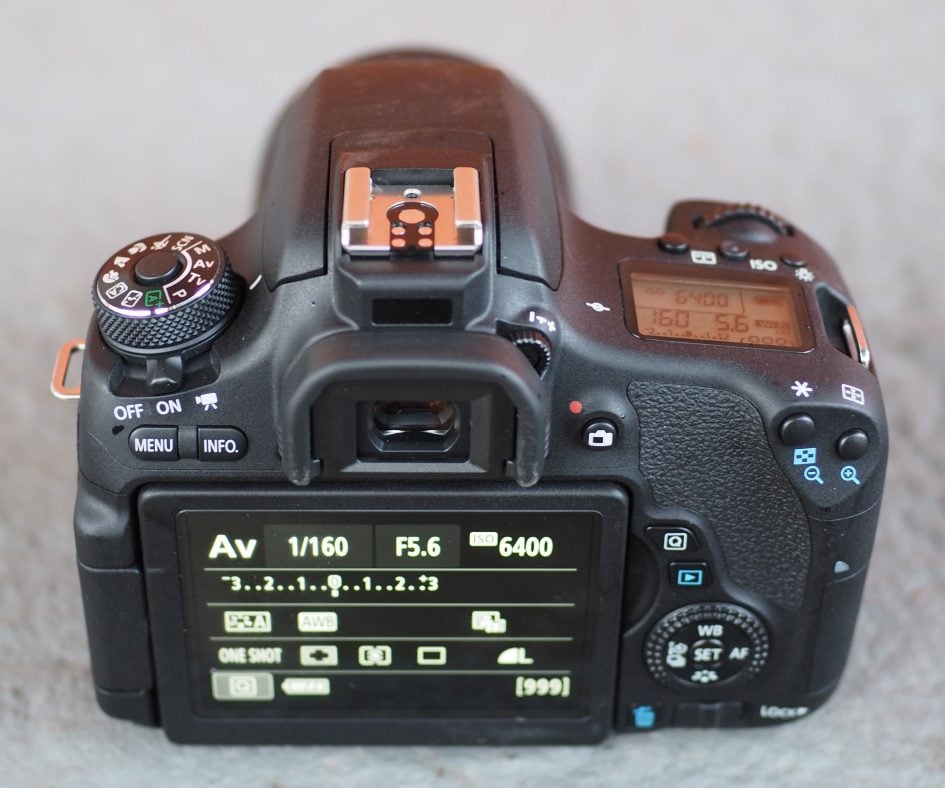 The optical viewfinder in both Canon models delivers 95% coverage with 0.82x magnification and the chance to enable an LCD alignment grid; the 760D / T6s also gives you the option to view a simple levelling graphic in the lower left corner which indicates if you're horizontally tilted left or right, or if you're level.
The coverage and magnification is roughly comparable to the optical viewfinder in Nikon's D5500, but it's worth noting mirrorless cameras with electronic viewfinders typically deliver a much bigger image to compose with: the viewfinders in Panasonic's Lumix G7 and Sony's Alpha A6000 for example deliver an image that's a quarter to a third taller and wider, with 100% coverage that means what you see is what you'll get. There's pros and cons to optical and electronic viewfinders, with fans of optical citing longer battery life, a cleaner view in very low light and zero lag when panning to follow subjects, but for me the larger image, full coverage, focusing aids and effect previews make electronic viewfinders ultimately more compelling, especially at this end of the market. The fact is, the optical viewfinders in entry-level and mid-range DSLRs are typically very small and don't show the whole picture.
I have no complaints with Canon's screen though. The EOS 760D / T6s is equipped with a 3in touchscreen on a fully-articulated, side-hinged mounting, allowing it to flip and twist to any angle, including forward to face the subject or back on itself for protection. The 3:2 aspect ratio matches the native image shape, and the 1040k dot resolution delivers a crisp view in Live View and playback.
Canon's touch-screen interface works very well. It lets you tap your way through the entire menu system if desired, including the ability to quickly enter copyright details using an on-screen keypad. You can do all this with the rocker control if you prefer, but I found it quicker and easier with the screen. In playback you can swipe through images and pinch to zoom as you would with your phone. It all feels very natural and intuitive.
But it's when shooting in Live View where the touchscreen really comes into its own. Once you're in Live View you can tap almost anywhere on-screen to reposition the AF area and if you like, also enable a tap-shutter. For me, the ability to tap to reposition the AF area is incredibly useful and I'm glad to find it here.
But there's more. Pressing the Info button cycles through various views: clean, basic shooting information, detailed shooting information, then the latter with either a live brightness histogram or a single axis levelling gauge (note Canon's specs claim it's a dual-axis gauge in Live View, but I could only see a single). If you have the grid enabled, it'll be super-imposed on all views; there's two grids to choose from.
In the views with basic or detailed shooting information, you can use the touchscreen to tap the shutter speed, aperture or ISO values and adjust them directly on-screen. Tapping the magnifying glass icon in the lower right corner superimposes a small window on the view which you can drag around with your finger to the desired area, after which tapping it again magnifies the selected view by five or ten times. Once you're in the magnified views, you can tap arrows to reposition the selected area or use the tilting rocker.
Canon has always delivered a clean and detailed magnified image in Live View, which makes it easy to adjust the focus, but you know what would make it even easier? Yep, focus peaking, especially for movies where the magnified view becomes disabled once you start filming. Focus peaking is a feature that's standard on most mirrorless cameras at this price point, but it's sadly absent here, as are zebra patterns. Nikon's no better in this regard, but that's no excuse.
Returning to the touchscreen, tapping the ever-present Q in the top right corner presents five settings on the left side and four on the right which you can tap to adjust: these include the AF area, AF mode, drive mode, metering mode, image quality, white balance, Picture Style, Auto Lighting Optimiser and, if RAW is not selected, a selection of Creative Filters which I'll cover later.
In terms of connectivity, there's two rubber flaps on the left side of the body. Behind one you'll find a combined AV / TV output and a (refreshingly large) Mini HDMI port, and behind the other is a 3.5mm mic input and a 2.5mm jack for the optional RS-60E3 cabled release. If you prefer to wirelessly trigger the shutter, there's an IR sensor on the front which works with the optional RC-6 remote, or you could connect the camera over Wifi to an iOS or Android smartphone and use the Canon app; I'll discuss the Wifi capabilities in detail later.
On the top of the body you'll find a hotshoe which can accommodate Speedlite flashguns. There's also a popup flash with a Guide Number of 12 at 100 ISO which can also be used as a wireless commander for multiple flash setups. GN 12 is the same as the Nikon D5500, but both are more powerful than the Lumix G7's built-in flash which only has a Guide Number of 6.6 at 100 ISO.
Like the D5500, but unlike most mirrorless cameras in this class, the SD slot is housed in the grip, allowing you to easily change cards while the camera's mounted on a tripod. Mirrorless cameras like the Lumix G7 and Sony A6000 accommodate their SD slots within their battery compartments which can sometimes become blocked when mounted on a tripod.
Speaking of which, the EOS 760D / T6s is powered by an LP-E17 / 1040mAh Lithium Ion pack that's charged using an external AC charger; no USB charging here. Canon quotes a battery life of 440 shots using the optical viewfinder which is much less than Nikon quotes for the D5500, but about a quarter more than you'll typically achieve with a mirrorless camera like the A6000 or G7. If you mostly use the 760D / T6s in Live View though, the battery life is quoted at 200 shots.
If you fancy doubling your battery life you can also go for the optional BG-E180 battery grip which can accommodate two packs, while also proving a portrait grip and controls; an official battery grip is a fairly unusual accessory for a camera in this price bracket and an advantage the 760D / T6s has over most of its rivals, although there are third party options for the D5500.
Canon EOS 760D / Rebel T6s lenses
Canon's EOS 760D / Rebel T6s is equipped with an EF mount that lets it to use any of the EF or EF-S lenses in the extensive Canon catalogue. And extensive is the right word too with no fewer than 76 lenses listed in the current range at the time of writing, covering focal lengths from 8mm to 800mm with everything in-between including six macro and four tilt shift options. Having access to this broad array of lenses, not to mention a number of discontinued options, is one of the key benefits of choosing the Canon system, although Nikon comes close and in the mirrorless World, Micro Four Thirds is leading the pack.
With an APS-C sensor, the EOS 760D / T6s reduces the field of view of all lenses by 1.6 times, so the EF-S 18-55mm f3.5-5.6 STM and EF-S 18-135mm f3.5-5.6 STM kit zooms deliver 29-88mm and 29-216mm effective coverage respectively. I've illustrated their relative coverage below, starting with the 18-55mm, then the 18-135mm; both were mounted on the same body moments apart.


Depending on where you are, the 760D / T6s may be available in a kit with either the EF-S 18-55mm f3.5-5.6 STM or the EF-S 18-135mm f3.5-5.6 zooms; at the time of writing, the latter was a more common option. Both are fairly substantial lenses, with Canon choosing not to embrace the trend for designs that collapse to save space. But what they lack in miniaturisation, they score in quality. Both of the Canon STM kit zooms deliver respectably sharp details across their frames, and while you shouldn't expect miracles, they did out-perform collapsing kit zooms from rivals.
Both the kit zooms also feature Canon's STM focusing system, which promises smoother focusing for movies and in live view. But not all STM lenses are created equal. Canon actually has two different types of focusing motors for its STM system: the gear-type are employed in the smaller lenses such as primes like the EF 50mm f1.8 STM, while the lead-type are used in larger-barrelled models like the kit zooms. You can see the EF 50mm f1.8 STM mounted on the 760D / T6s below and alongside it the EF-S 18-55mm STM kit zoom.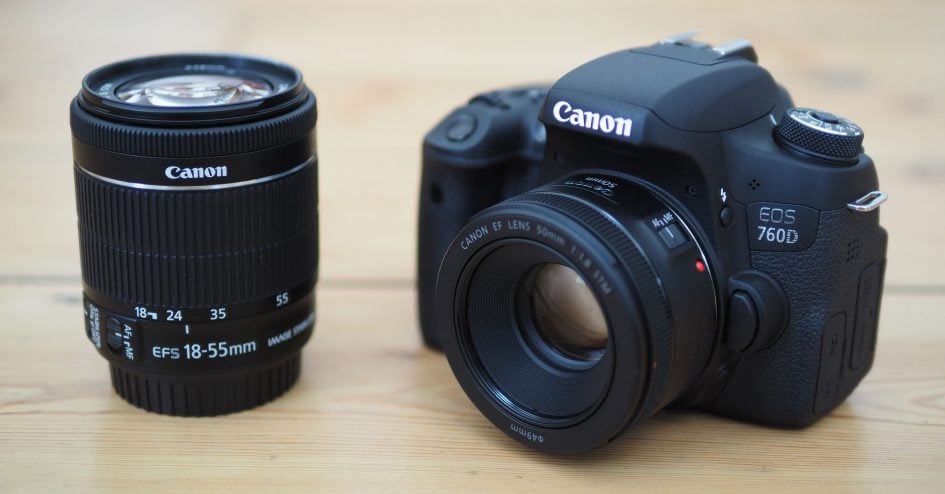 The good news for owners of the kit zooms is that lead-type motors are quick and quiet, compared to the slower and louder focusing of the gear-type. Indeed when you're used to the focusing with the STM kit zooms, it can be quite a surprise to switch to STM primes that employ the slower and louder motors. Sadly the new EF 50mm f1.8 STM is one of those models with the lower and louder gear-type motors, but it remains one of the best second lenses for Canon owners wanting to explore shallow depth-of-field effects and portrait photography. Here's an example taken with the EOS 760D / T6s and EF 50mm f1.8 STM at f1.8, where the field reduction delivers an 80mm equivalent field of view that's perfect for portraits.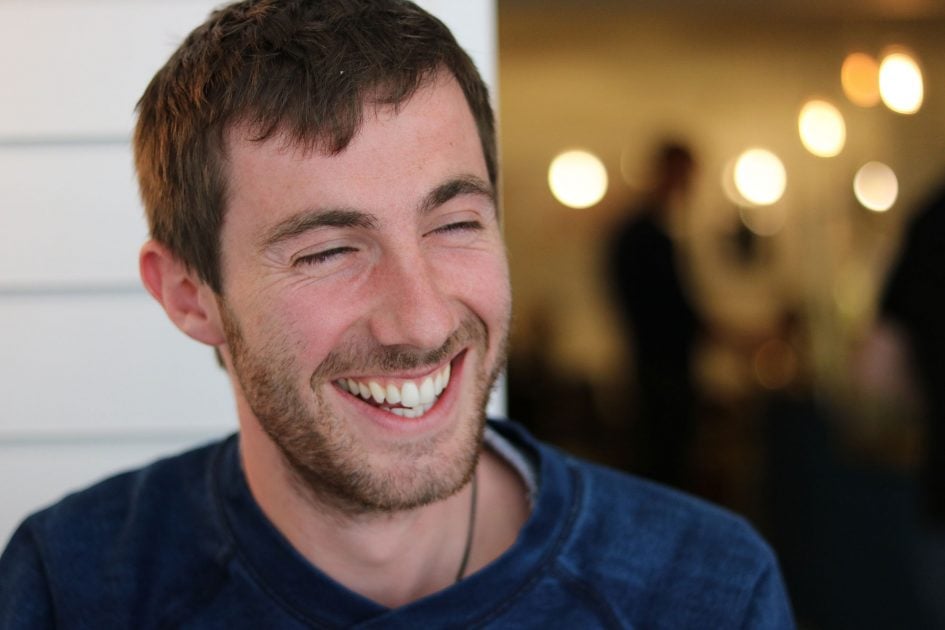 Canon EOS 760D / Rebel T6s shooting experience
The EOS 760D / T6s feels like a comfortable step-up from an entry-level DSLR – the solid build, generous grip and nicely textured surface lend it an air of confidence that punches above its weight. As I noted earlier in the review, the addition of the upper LCD screen, rear control wheel and repositioned mode dial make it look and feel more serious than its slightly cheaper sibling, the 750D / T6i.
Having dual controls makes a big difference to how quickly the camera handles, allowing you to easily make adjustments to exposure, while the presence of the upper screen lets you check those settings at a glance. They sound like minor additions to the base model, but they significantly improve the shooting experience and for me make it worth spending the extra on the 760D / T6s.
Canon's experience in ergonomics also shows here with well-placed controls and buttons, complemented by one of the best touch-screen interfaces around. You can navigate the entire menu or playback systems and adjust virtually any aspect of the camera by touch if you like, or switch to the traditional physical controls if preferred. It all comes together very well in practice.
The viewfinder may deliver a smaller view than rival mirrorless cameras, but it's on-par with DSLRs in this price bracket and of course gives the advantage of longer battery life and no lag. If you prefer shooting in Live View, the fully-articulated screen lets you compose at any angle or position, and by offering this in addition to an optical viewfinder you arguably have the best of both worlds.
The main mode dial offers the usual PASM options, along with full Auto, no flash, Creative Auto (with a five position slider on-screen to control depth-of-field), direct access to four popular scene presets and a SCN position which presents on-screen access to six more, including HDR Backlight Control which I'll talk about in a moment. A squashy lock-button in the middle of the dial needs to be pushed down to make any changes, preventing unwanted surprises.
The shutter is entirely mechanical with an exposure range of 1/4000 to 30 seconds. Again this is par for the course for a DSLR in this price bracket, but it's important to note many mirrorless cameras now allow you to dial-in exposures as long as 60 seconds without resorting to Bulb or remote controls, and can also deploy faster speeds with the help of an electronic shutter; for example the Lumix G7's electronic shutter allows it to shoot at up to 1/16000, which is great for using large apertures in bright conditions.
Electronic shutters also have the benefit of shooting in genuine silence, whereas the EOS 760D / T6s 'Silent' drive option is only fractionally quieter than the standard shutter. Now don't get me wrong, electronic shutters are far from perfect: they can suffer from skewing artefacts when the subject or camera is in fast motion, but the chance to shoot discreetly without making a sound is still a valuable facility when you're shooting street, events, ceremonies or jittery wildlife.
As a sub-mid-range model, the EOS 760D / T6s also has fairly limited exposure bracketing: just the basic three frames, up to 2EV apart. Nikon may also offer three frame bracketing, but others try harder: the Lumix G7 features seven-frame bracketing up to 1EV apart.
The HDR Backlight Control, accessed from the SCN position on the dial, takes three exposures and combines them into one in-camera to increase the tonal range. There's no control over the bracketing range, aperture, ISO or the compositing process which, like most in-camera HDR modes, incurs a small crop. Here's how it looks on the interior of the Brighton Dome, where it's clear how the HDR version has greatly boosted the mid and shadow regions.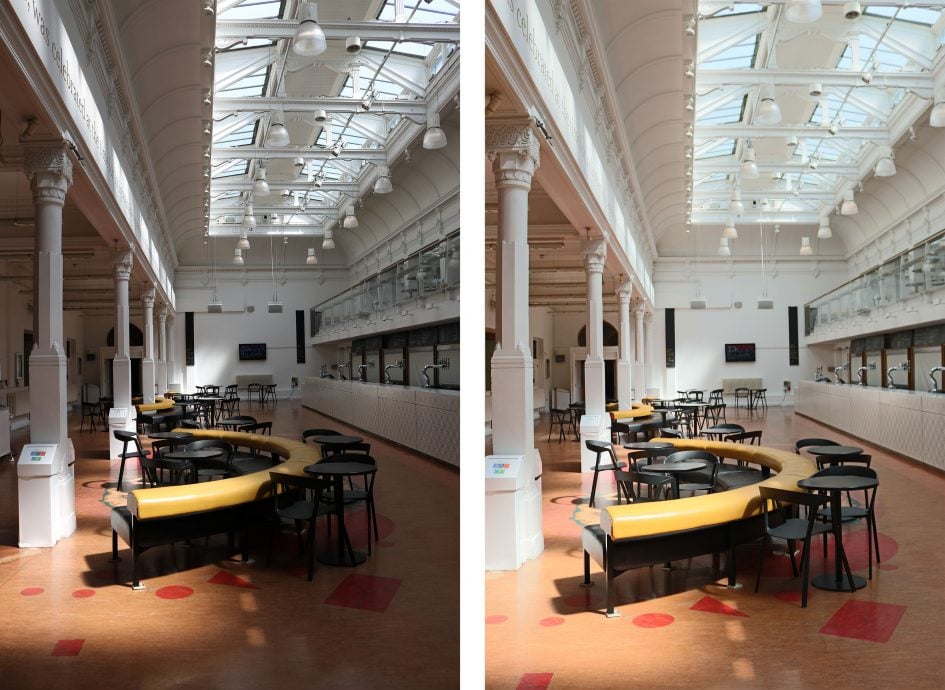 Uniquely, the EOS 760D / T6s allows you to apply HDR effects to movies, albeit at a reduced resolution of 720 / 25p / 30p. The HDR option also only appears if you have the mode dial outside of PASM, and again there's minimal control. I asked Canon how it works and they explained it shoots at 50p / 60p, alternating between a correct exposure and an over-exposure. These are then combined into a 25p / 30p video with increased dynamic range.
I tried the HDR movie mode outdoors in front and backlit scenarios and saw little difference between it and my non-HDR footage. The biggest difference I saw was when shooting inside with strongly backlit windows, so here's an example I filmed at the Brighton Dome again.


Above I've taken screengrabs from the versions without and with the HDR movie mode, accompanied by histograms to better indicate the tonal differences. As you can see, the biggest difference is in the extreme highlights with less clipping on the version with HDR applied (which is the opposite I'd expect if the second exposure is over-exposed rather than under as claimed), but with less impact than the version on the still photos above. Still, there is a difference, so it's a tool you may find useful in some situations and it also gives a taste of what we can expect from future cameras with high frame rates at their disposal.
If you fancy applying other effects to your images, the 760D / T6s offers a choice of seven Creative Filters: Grainy Black and White, Soft Focus, Fish-eye, Art Bold, Water Painting, Toy Camera or Miniature. Rather than selecting them via the mode dial though, you'll need to enter Live View, and even then they're only available when you're recording in JPEG, not RAW. So you can't shoot effects if you're composing with the viewfinder and they're also irreversible, but at least forcing you to use Live View means you can instantly preview their impact. Here's the first six of them.



If the camera's set to movie mode, the Creative Filter menu is replaced with a single option to enable a Miniature effect, and refreshingly Canon now allows you to apply it to videos recorded at the maximum resolution of 1080p. Previously there was no way to apply a miniature effect on movies filmed with Canon DSLRs, and the process for its compacts – including the EOS M3 – was somewhat convoluted. You needed to to enter the effects mode, select Miniature, then press record, but if you wanted the video in widescreen HD, you'd first need to set the photo aspect ratio to 16:9, and even then the quality maxxed-out at 720p. So to have the option simply presented in the movie mode is a very welcome update. Here's how it looks with the default settings.
At this point I'd normally discuss the timelapse and panorama facilities, but sadly the EOS 760D / T6s continues Canon's less than proud tradition of not offering either. Nikon's D5500 does better by offering a built-in interval timer, but models like Panasonic's Lumix G7 take the lead with both panorama and timelapse facilities, the latter even offering to encode the sequence as a video up to 4k in quality. Again another area where Canon looks old fashioned.
In terms of burst shooting, the EOS 760D / T6s offers two options: Continuous and Continuous (Silent). I tested it with a fast and freshly-formatted SD card with the shutter set to 1/500, the sensitivity to 400 ISO and the focus set to single.
With the quality set to Large Fine JPEG, and composing through the optical viewfinder, I fired-off 30 frames in 6.08 seconds for a speed of 4.93fps, after which the rate slowed to about 3fps. With the quality set to RAW, the 760D / T6s fired-off seven frames in 1.24 seconds for a speed of 5.65fps, then slowed massively to one frame every two seconds or so.
In silent mode, the camera slows down to reduce the volume of the shutter and mirror mechanism. With the 760D / T6s set to Large Fine JPEG I took 20 shots in 6.41 seconds, for a speed of 3.1fps. So almost half the speed, but was it any quieter? Yes, but like the single shot 'silent' mode, only by a small fraction. The 'silent' modes on the Canon are still very audible. I also tried the continuous shooting in Live View. I fired-off 24 frames in 4.51 seconds, resulting in a speed of 5.3fps, before it slowed down to about 2.5fps.
So whether you're shooting with the viewfinder or in Live View, the EOS 760D / T6s delivers its quoted speed of 5fps, thereby matching the Nikon D5500, albeit with a smaller buffer in my tests. But again you can do better for the money if burst shooting is your thing. Panasonic's Lumix G7 will shoot at 6fps with continuous AF or 8fps if you don't need tracking, while Sony's A6000 remains the leader at this price point, firing-off 11fps with continuous AF across the frame.
Which brings me to autofocus on the Canon. The EOS 760D / T6s has two AF systems, depending on whether you're composing with the optical viewfinder, or the screen in Live View. I'll cover each in turn.
When composing with the traditional optical viewfinder, the EOS 760D / T6s employs a 19-point / all cross-type system inherited from the EOS 70D which operates down to light levels of -0.5 EV; if lenses slower than f2.8 are used, such as the kit zooms, only the central seven points remain cross-type. Nikon's D5500 has more AF points (39 in total), but fewer that are of the more sensitive cross-type (nine); its minimum operating light level is a little lower at -1 EV. Note the earlier EOS 700D / T5i had a 9-point / all cross-type AF system.
A dedicated AF zone button by the LCD screen toggles the camera between single AF (where you can choose any of the 19 points manually), zone AF (splitting the array into five regions you can choose from) and full which automatically selects from the entire 19-point array. As always you can choose from One Shot (Single), AI Servo (Continuous) or AI Focus (which automatically switches between them).
When shooting through the viewfinder the AF performance is greatly dependant on the lens. I'm pleased to say the STM kit zooms are very fast (and very quiet too), snapping-onto the subject almost instantly even from the closest focusing distance to infinity or back, so long as there's sufficient contrast; the 760D / T6s with its STM kit zooms is certainly faster and quieter than the D5500 with its DX kit zooms. Other Canon lenses can be more leisurely though, such as the EF 50mm f1.8 STM, which can take a second or so to adjust, especially if it's from near to far or vice versa.
Set to AI Servo, the EOS 760D / T6s does a fair job at tracking action, again depending on the lens you have mounted. In my tests the maximum burst rate of 5fps could be maintained with continuous AF, although I enjoyed a higher success rate of focused images with the STM kit zooms than the EF 50mm f1.8 STM or EF 85mm f1.8 USM, partly due to their inherently larger and more forgiving depth of field, but also due to the respective focusing mechanisms and motors. I tried multiple combinations with approaching cyclists or kids running towards me and I'd say three to four out of five frames were sharp or mostly sharp. So in this respect it performs similarly to the Nikon D5500, although revealingly most rival mirrorless cameras will out-perform them in this regard, delivering continuous AF at higher frame rates.
Moving onto AF in Live View, the EOS 760D / T6s employs Canon's Hybrid CMOS AF III which combines contrast-based AF with a number of embedded phase-detect AF points on the sensor itself, covering roughly 80% of the horizontal and vertical area of the frame.
There's three AF modes: Face / Tracking (which identifies and follows detected faces), Flexizone Multi (where the camera automatically chooses from a 49-area array), and Flexizone Single (where you can position a single AF area almost anywhere on the screen, by touch if desired). In any of the three modes you can enable Continuous AF which instructs the camera to continuously adjust during composition. Meanwhile if you'd like to track subjects while actually shooting a burst, you need to enable Servo AF, but this option is only available on the higher-end EOS 760D / T6s – the cheaper 750D / T6i lacks the ability to continuously autofocus in Live View.
One of the benefits of shooting in Live View is being able to focus almost anywhere on the frame, as oppose to within a smaller diamond pattern in the viewfinder. In practice, the 760D / T6s lets you do this and I enjoyed using the touchscreen to shift the single AF area around. Fitted with an STM kit zoom, the focusing was confident and very swift, locking-on almost instantly and avoiding any hunting thanks to the embedded phase-detect system.
Other lenses weren't as fast though: the EF 50mm f1.8 STM and EF 85mm f1.8 USM could take a second or more to lock-on. I found this frustrating when shooting portraits with face detection where the experience was considerably slower than, say, a bright lens on a Panasonic or Olympus camera. Again the STM kit zooms were much quicker than the Canon primes I tested, but you sacrifice shallow depth of field effects with them. I shot this next image with the EF 85mm f1.8 at f1.8 in Live View – fortunately I had a patient subject, thanks Ashley!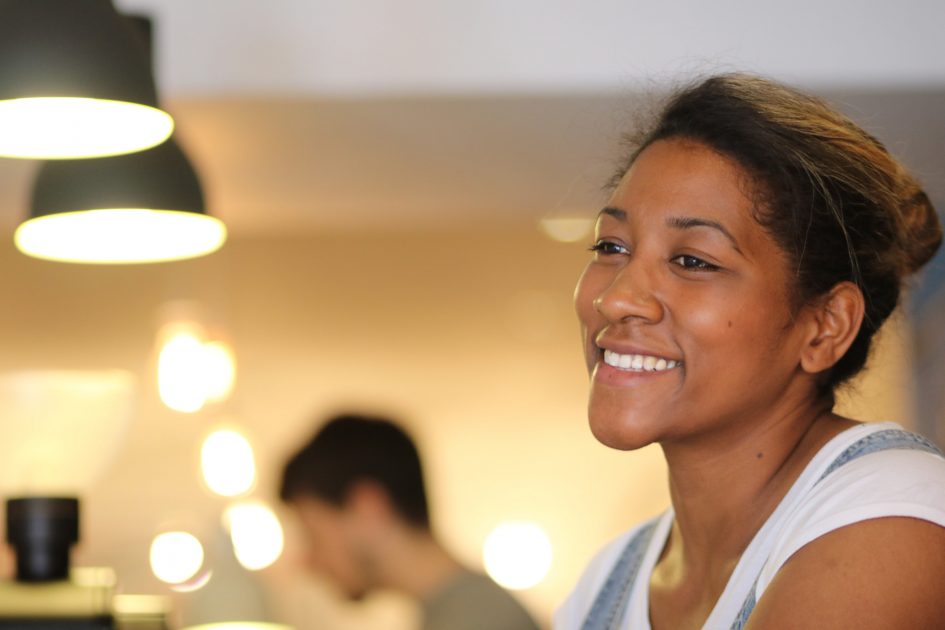 To test the Servo AF in Live View, I photographed people walking or running towards me using the Face / Tracking AF mode and burst shooting. As with the viewfinder, the results were very lens-dependant with the STM kit zooms delivering the best results. When I switched to the EF 50mm f1.8 STM and EF 85mm f1.8 lenses, both wide-open at f1.8, the camera could just about deal with a slow and steady pace, but any quicker and it floundered. Again this is an area where most mirrorless cameras could match or exceed the performance.
So at this point you have to ask yourself whether you'll mostly shoot through the optical viewfinder or in Live View with the screen; if the latter, then you'll be better-served by a mirrorless camera. I should also add that while Canon doesn't quote the light levels that the live view can autofocus under, it does say the viewfinder AF system works down to -0.5 EV. Compare that to, say, the Lumix G7 which can focus in levels down to -4 EV and you'll find the Canon struggling as light levels become very low. For me, the ability to focus without fuss in low light is a valuable capability.
Just a quick note on manual focusing aids: the EOS 760D / T6s does let you magnify the image in Live View by five or ten times, but sadly lacks focus peaking, again something that's increasingly provided on mirrorless cameras.
Finally in this section I wanted to discuss the Wifi capabilities, amazingly the first time Canon's equipped an xxxD / Rebel model with them – so welcome to the future Canon. Wifi on the 760D / T6s lets you wirelessly send images to compatible cameras, Wifi printers, media players, or to Canon's Image Gateway which can then post them to various social services on your behalf. It also supports wireless image transfer and remote control with iOS and Android smartphones, and I'll concentrate on that aspect here. I tested the EOS 760D / T6s with my Samsung Galaxy S6 using Canon's free Camera Connect app downloaded from the Play Store.
Like most cameras that feature Wifi, the EOS 760D / T6s sets itself up as an access point which your phone needs to connect to. If your phone doesn't have NFC, you'll need to start Wifi on the camera, then manually select it from your phone's Wifi browser, before entering the password displayed on the camera's screen; sadly there's no shortcut by scanning a QR code. If your phone does have NFC, as my Galaxy S6 does, you only need to hold it against the camera for a moment for them to negotiate the network selection and password entry themselves. In either case though, you'll need to manually enable Wifi on your phone first.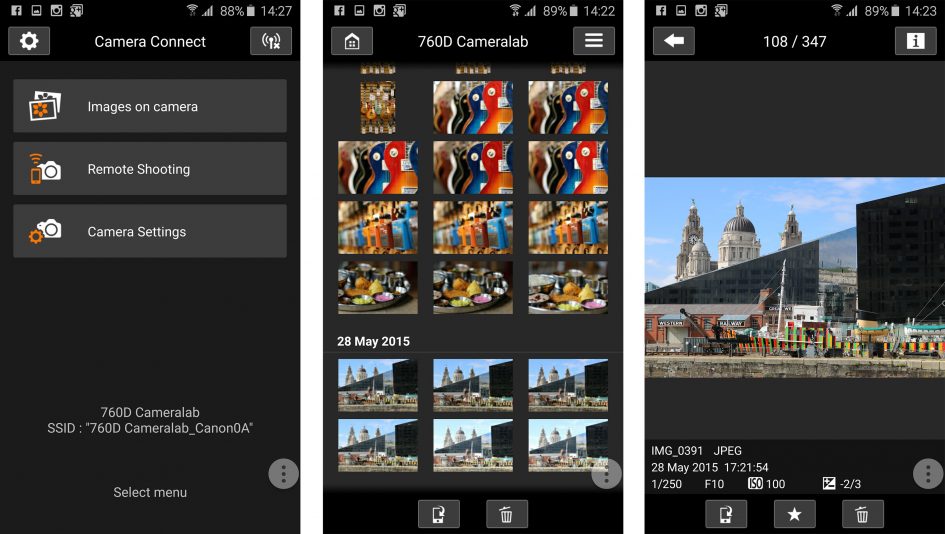 Once connected the Camera Connect app presents three options: Images on Camera, Remote Shooting and Camera Settings. The first lets you browse the contents of the camera's memory card as thumbnails. You can then tap the one you want and copy it over to your phone if desired, either at a reduced resolution (1920×1280 on my phone) or at the original size up to 6000×4000 pixels. When copying originals from a distance of about 1 meter, it took about one second per Megabyte – so typical images measuring around 5MB took about five seconds to transfer. Note it's not possible to copy RAW or movie files.
Moving on, the Remote Shooting option fires-up the camera's Live View, presenting a live image on your phone's screen. If the lens is set to autofocus you can tap anywhere on the live image to reposition the AF area; if the lens is set to manual focus, you can use buttons on-screen to nudge the focus back and forth by hand.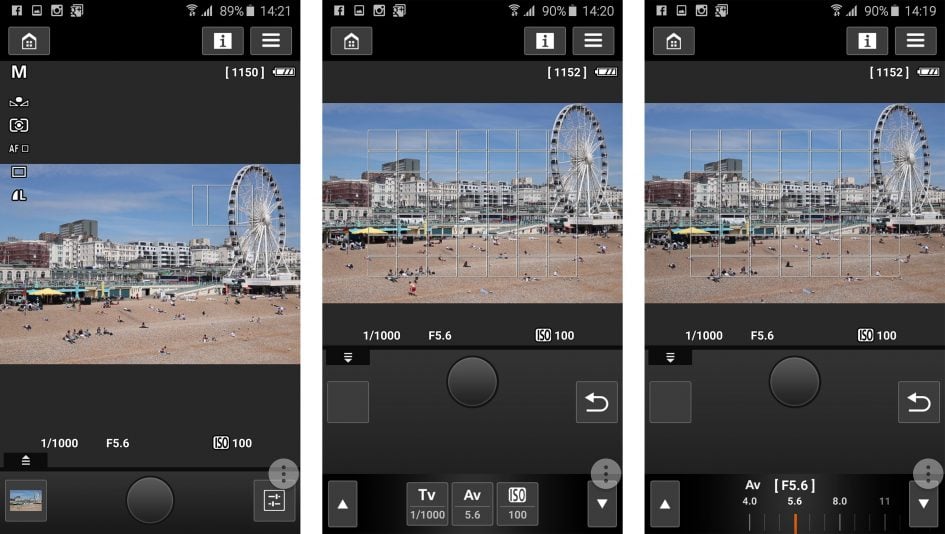 Depending on the shooting mode, the app lets you remotely adjust the shutter speed, aperture and ISO, along with the AF area and drive modes. The live view can also be superimposed with additional details including the white balance, metering mode and image quality, but sadly you can't change any of them remotely. You're also unable to trigger a video recording remotely either.
Finally, the Camera Settings page basically lets you sync the time between the camera and phone, hinting at subsequently syncing a GPS log, but I couldn't find any location options to do so.
Since most other Wifi-equipped cameras give you all of this along with the chance to trigger movies and record a GPS log, the Canon Camera Connect app feels a bit light in comparison. That said I did like the way you could play an image on the camera, then simply hold an NFC-enabled phone against it to initiate a transfer without bothering with the app. Sure, Sony's offered the same functionality for ages, but for a late-ish adopter of Wifi and NFC, I'm glad Canon's included this feature. Let's hope future versions of the app offer the chance to capture a movie and a GPS log, along with offering QR code configuration for those who don't have NFC.
Canon EOS 760D / Rebel T6s movie mode
The EOS 760D / T6s offers Canon's usual DSLR movie capabilities with a couple of enhancements. The maximum quality is 1080 at 24, 25 or 30fps, there's an external microphone input, adjustable audio levels, manual control over exposure, and continuous autofocus while filming, including the ability to pull focus using the touchscreen.
As the competition commonly offer 1080 at 50p and 60p, it's disappointing to find Canon standing still at this end of the market with 1080 at 30p – and lest we forget Panasonic now also lets you film in 4k at this price point with the Lumix G7. Canon does at least offer two quality options for video, with 1080 in Standard and Light modes consuming 216 and 87 Megabytes per minute respectively. The maximum recording time on all models, whether in Europe or not, is 29:59 with the footage split into 4GB chunks.
The good news is Canon's Hybrid CMOS AF III sensor with embedded phase-detect AF points does a good job at driving lenses in the right direction and stopping when focus is achieved. Fit the camera with one of Canon's STM zoom lenses which feature the company's faster and quieter lead-type motors, and you'll enjoy silent, swift and confident focusing while filming – something Nikon can only dream of right now. Even the STM lenses with the slower and more audible gear-type motors, like the EF 50mm f1.8 STM, deliver a more pleasant experience than Nikon which neither has a DSLR sensor with embedded phase-detect AF, nor lenses which can be driven silently.
The continuous movie AF on the Canon is better than Panasonic or Olympus, which both continue to employ contrast-based AF systems that hunt back and forth before confirming. Indeed the only company which can match the smoothness and confidence of movie AF right now is Sony, although annoyingly models like the A6000 are hobbled in that they offer minimal control of exactly where and when the system should refocus. In contrast, Canon's AF modes and touchscreen interface let you select single AF areas and tap to refocus while filming if desired. Sure, Panasonic may also let you tap to pull-focus, but again its contrast-based AF system can't hep but hunt which is visually distracting during video.
So while Canon's own Dual Pixel CMOS AF on the EOS 70D and EOS 7D Mark II may be better still, the Hybrid CMOS AF III sensor here does a great job, especially coupled with the AF modes and touchscreen. It's the best overall in its peer group for AF while filming. Here's three examples of the continuous AF in action.
Exposure control is the same as other Canon DSLRs before it: fully automatic regardless of the mode you're using, unless you turn the dial to Manual, at which point it becomes fully manual. In the latter you can adjust the aperture, shutter and ISO, the latter between 100 and 12800 ISO with an Auto option too, something the Lumix G7 annoyingly can't do.
I mentioned tricks earlier and if you've read my shooting experience section you'll already know about the HDR option on the 760D / T6s that combines two different exposures into one, delivering 720 / 25p / 30p video with a slightly extended tonal range. The 760D / T6s also offers a Video Snapshot mode that films clips of two, four or eight seconds, then gradually assembles them into a longer sequence – a fun way of quickly making a movie without the need to edit afterwards.
I'm also pleased to see the return of the Digital Zoom on the 760D / T6s, which as I recall was introduced on the much earlier EOS 650D / T3i before being removed on models inbetween that and this one. This offers a zoom range of approximately 3 to 10x over the current lens coverage and works by first taking an unscaled 1:1 crop from the middle of the frame before gradually cropping and scaling it to deliver a tighter view. This understandably reduces the quality as you zoom beyond 3x, but the good news is at 3x you're getting a clean crop that genuinely delivers greater detail than simply cropping and scaling the original image.
To illustrate it in practice, I filmed two clips using the EF 50mm f1.8 STM lens set to f5.6 in Manual mode, one without the Digital Zoom, and one with it enabled. Below you can see the coverage with it disabled, then at 3x and 10x, and below these crops reproduced at 100% for you to compare the degree of actual detail.


It's clear from the crops above that the 3x Digital Zoom is definitely resolving greater detail than the original, which suggests a 1:1 crop from the middle of the sensor prior to any scaling. Once you zoom beyond 3x though, there's a steady (and understandable) reduction in detail as a smaller and smaller area of the sensor is cropped and enlarged. That said, the quality may be good enough for grabbing a quick closeup for a project, and again the starting point at 3x retains the quality of Full HD / 1080p.
Note the Digital Zoom and movie HDR options are not available on the cheaper EOS 750D / T6i. Now let's check out a selection of other clips demonstrating the movie quality in practice.
Canon EOS 760D / T6s results
Okay, now the main part of the review is over it's time to look at the image quality with my EOS 760D / T6s quality results, EOS 760D / T6s sample images. Alternatively if you've already seen enough, skip back to my verdict!