Intro
The Canon EOS R5 is a high-end full-frame mirrorless camera with 45 Megapixels, built-in stabilisation, 20fps shooting, 8k RAW video and dual card slots. Teased in February 2020 and launched alongside the more affordable R6 in July, they're set to transform Canon's full-frame EOS R system.
After months of testing several final production EOS R5s across multiple firmware updates, I've finally been able to complete my review, and I'll present my findings across several videos. I'll start with my EOS R5 for photography review, which as the name suggests is entirely devoted to people who are mostly or even only interested in using the camera for stills photography. I've followed this with a second video, this time devoted entirely to using the EOS R5 for video, and after this added a bonus third video exclusively showcasing the 8k capabilities. But if you prefer a written version of the highlights, just keep scrolling!
Above: I filmed the scene above using a final production EOS R5 in a bunch of different resolutions for comparison, all in 24p and All-i with the RF 35mm f1.8 lens. Members of Vimeo can download the original files using the following links: Canon EOS R5 8k 24p All-i movie sample, Canon EOS R5 8k 24p All-i C-log movie sample, Canon EOS R5 4k 24p All-i movie sample, Canon EOS R5 4k HQ 24p All-i movie sample, Canon EOS R5 4k HQ 24p All-i C-log movie sample, Canon EOS R5 1080 24p All-i movie sample, Canon EOS R5 1080 24p All-i C-log movie sample. Slow motion fans should check out my (silent) Canon EOS R5 4k 120p movie sample.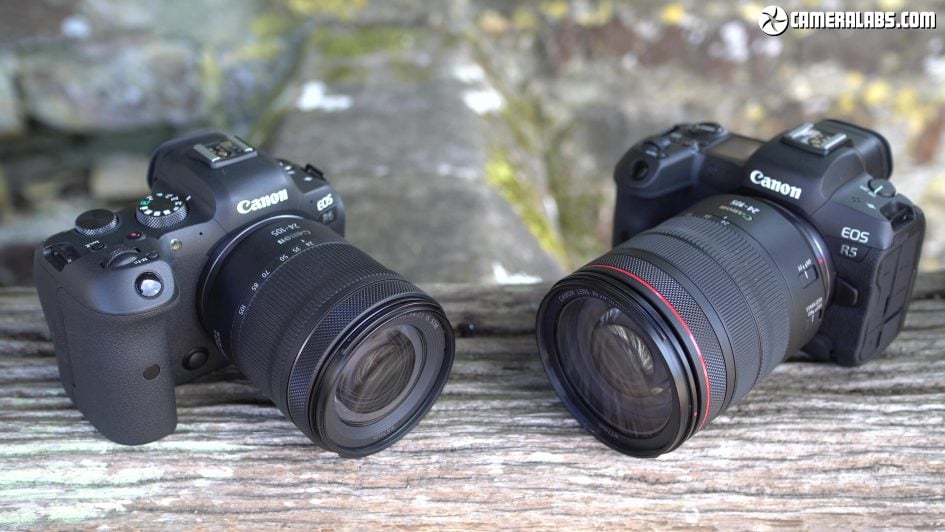 Above: Canon launched the EOS R5 alongside the more affordable R6, seen here on the left, and while the R5 employs greater magnesium alloy in its construction, not to mention more sophisticated top controls, both actually share a lot of features in common: full-frame sensors with built-in stabilisation claiming up to 8 stops of compensation, 12fps mechanical or 20fps electronic bursts, uncropped 4k up to 60p with dual pixel autofocus, fully-articulated screens, joysticks and dual card slots, albeit twin SD on the R6 vs SD and CF Express on the R5. If you're interested in the EOS R6 check out my separate Canon EOS R6 review, but in the meantime it has a 20 Megapixel sensor.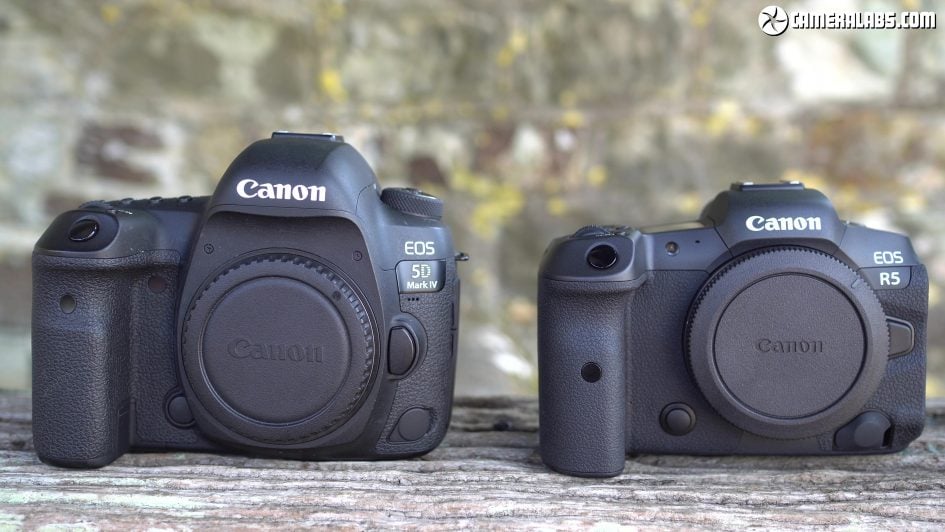 Above: Many of you will be wondering how it physically measures-up to the EOS 5D Mark IV DSLR, so here it is on the left, clearly giving the R5 on the right some design inspiration. The 5D4 is clearly larger in every dimension though and 150g heavier too for the body alone. The R5's grip is of course shorter, but still felt very comfortable in my hands and Canon claims the weather sealing is the same level as the 5D4. Thanks to its optical viewfinder, the 5D4 unsurprisingly enjoys longer battery life with two to three times more shots per charge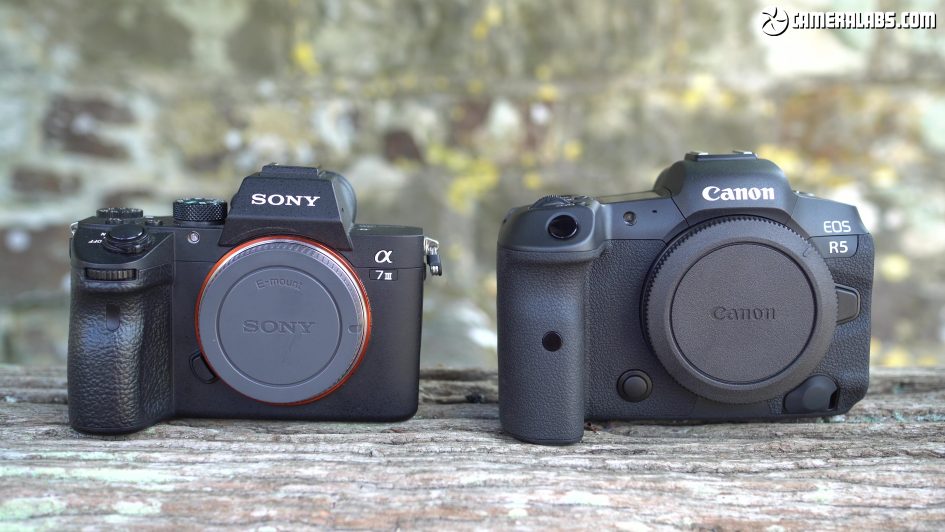 Above: For all the Sony owners out there, here's the R5, again on the right, next to the A7 Mark III on the left; the A7 III is a much more affordable model than the R5 but it is roughly similar in size to the other A7 models for a physical comparison. This time it's the Sony that's a little smaller than the Canon, particularly in width, and it's a little lighter too. Personally speaking though, the R5 felt more comfortable in my hands.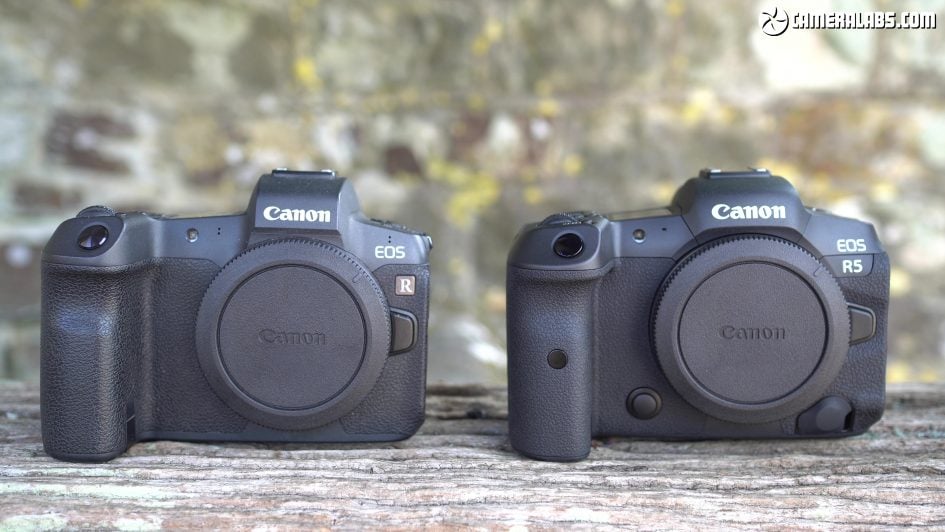 Above: And finally, here's the R5 next to the original EOS R that launched Canon's full-frame mirrorless system. The EOS R on the left has quite a different head shape and a number of control and feature differences, but they're actually very similar in size. The R is a little lighter, but misses out on IBIS. Both models felt similar in my hands, but I preferred the more traditional controls of the R5, including the rear thumb wheel and joystick. Both share the same degree of weather sealing.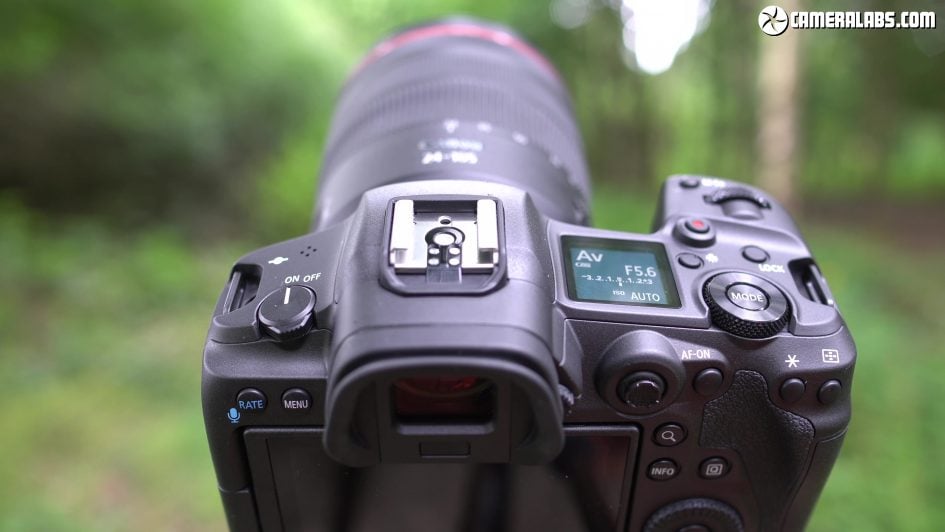 Above: Ok now let's have a look at the R5 in more detail. From the rear and top you'll see while Canon has adopted some elements from the EOS R, including its information screen and mode control, it has sensibly opted to include a rear thumb wheel and an AF joystick. Both transform the usability in my view and make for an easier transition for existing Canon DSLR owners.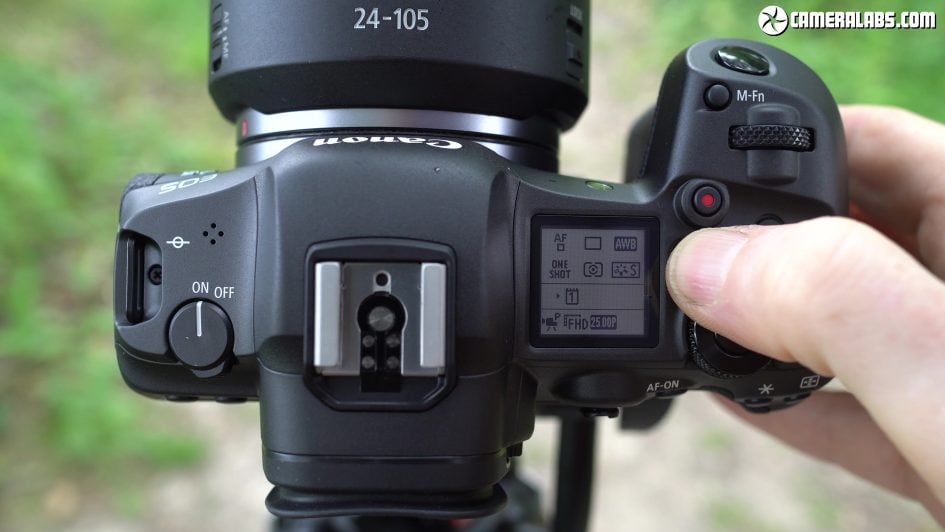 Above: If you've not seen the EOS R before, the R5 inherits the backlit top screen and mode control where you press the mode button then turn the chunky wheel around it to switch between Program, Manual, Shutter and Aperture Priority, Bulb and Custom modes. Pushing the info button on the rear toggles between photo and video modes, after which you again use the dial to switch between the various movie modes.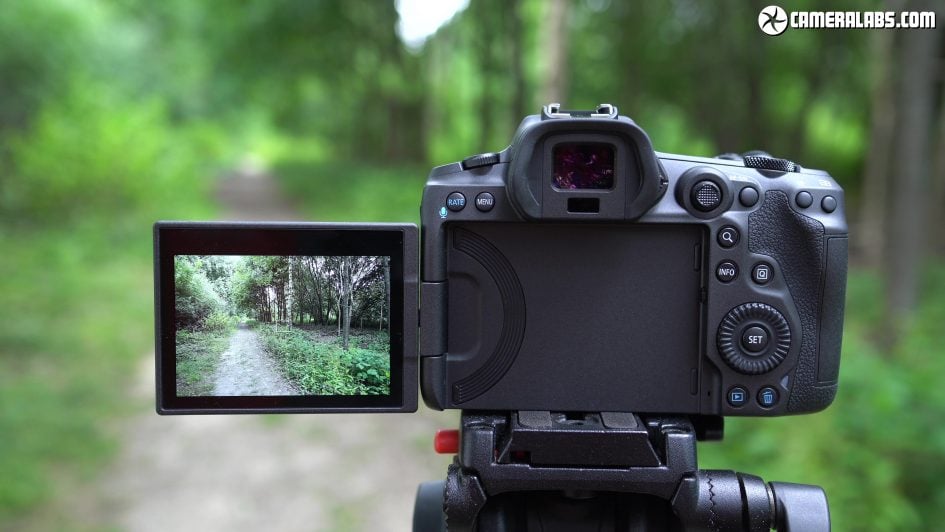 Above: Round the back is a 3.15in screen with 2.1 million dots and I'm delighted to report Canon has stuck with a fully-articulated side-hinged design that's ideal whether you're facing the camera or taking photos at high or low angles in either the landscape or portrait shape. And when it's flipped-out you can also configure the viewfinder eye sensor to switch off if desired. The fully-articulated screen and great touch interface are key benefits Canon continues to have over Sony, although I know some people personally prefer vertically tilting screens.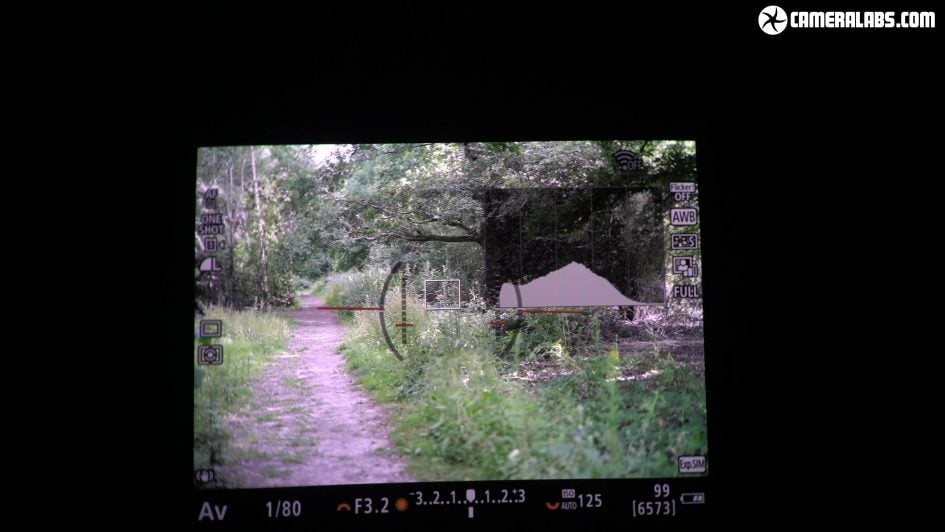 Above: As expected, Canon's equipped the R5's viewfinder with a high resolution 5.69 million dot OLED panel sporting 1600×1200 pixels, 120Hz refresh rate and 0.76x magnification. This matches the resolution of the Lumix S and Sony A7r IV viewfinders and delivers a really detailed image that's fantastic for confirming focus, although it is a power-hungry component and impacts the battery life. Note the cheaper R6 opts for the 3.69 million dot panel used on the R.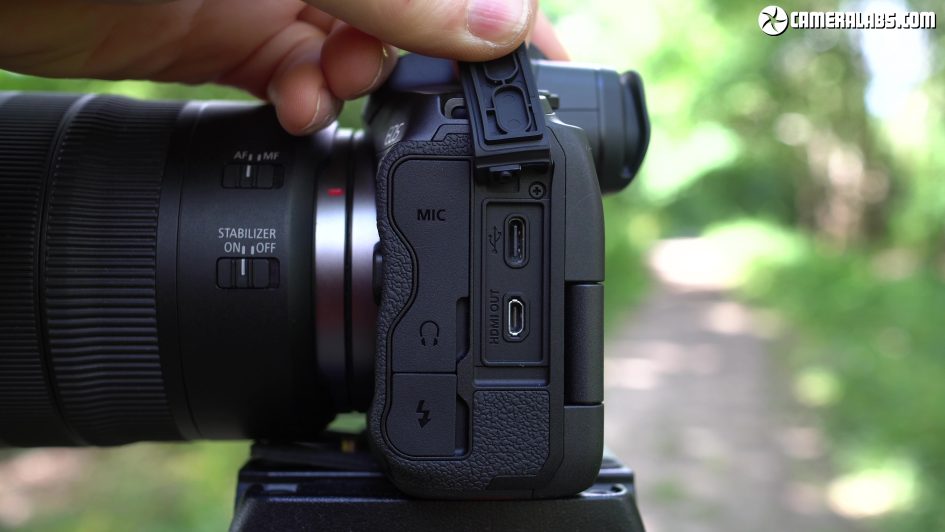 Above: On the left side you'll find a bunch of ports including 3.5mm microphone and headphone jacks, a PC Sync port for external lighting, and USB-C and Micro HDMI ports. The USB-C runs at 3.1 Gen 2 speeds and can be used for charging and operation with a compatible power delivery source, and it's interesting to see Canon finally switch from Mini HDMI. You can use the R5 as a webcam over HDMI up to 4k, or directly over USB using Canon USA's beta plugin for Windows.
Above: From the front, you'll notice another flap to the lower right of the lens mount, which hides the N3-type remote port, while on the opposite side is a new custom function button. The R5 also features 2.4 and 5GHz Wifi whereas the R6 is 2.4GHz only.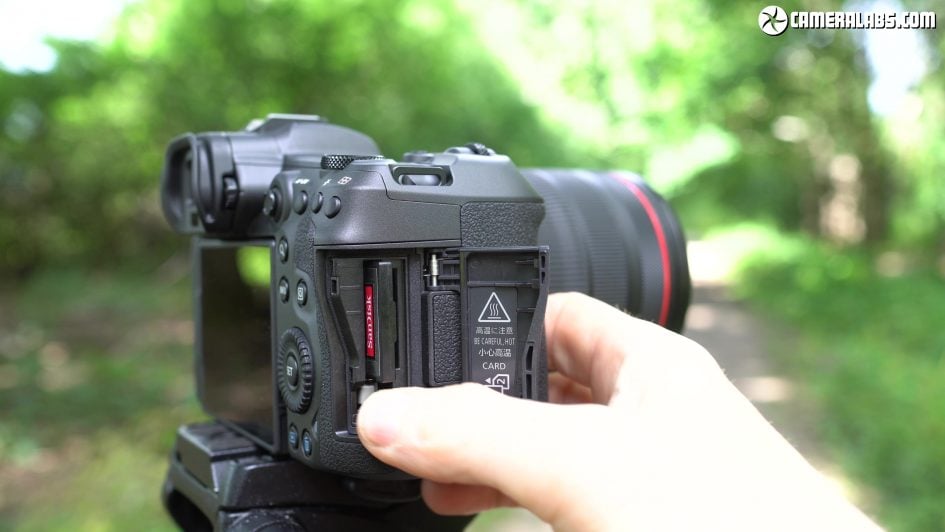 Above: Both the EOS R5 and R6 learned from the mistake of the R and now offer twin card slots. On the R5 there's a UHS-II SD slot and a Type-B CF Express slot. CF Express is necessary if you're filming 8k in RAW or 4k at 120p, and also allows the longest burst speeds, but SD can be used for everything else, apparently including 8k and 4k 60, although both will need to be set to IPB compression for SD. You can also record video to both cards, although if you're filming 8k RAW on the CF Express, it'll be IPB that goes onto the SD.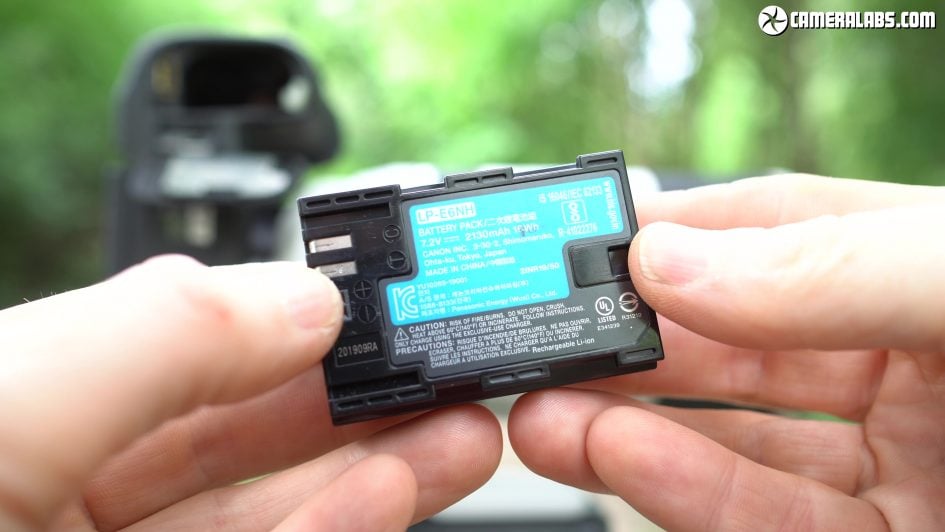 Above: Canon's developed a new LP-E6NH battery pack for the EOS R5 and R6 that's the same size as the earlier LP-E6N pack, but with around 15% longer life; Canon's claiming 490 shots with the screen or 320 with the viewfinder – that high-res panel is hungry – and you can also use it on earlier models to slightly boost their lifespan. The R6 squeezes a handful more shots per charge, but Sony takes a decisive lead for mirrorless here with the A7r IV claiming 670 shots with the screen or 530 with the viewfinder which shares the same resolution as the R5 but maybe drives it differently. Meanwhile the optical viewfinder on the 5D4 lets it take 900 shots per charge.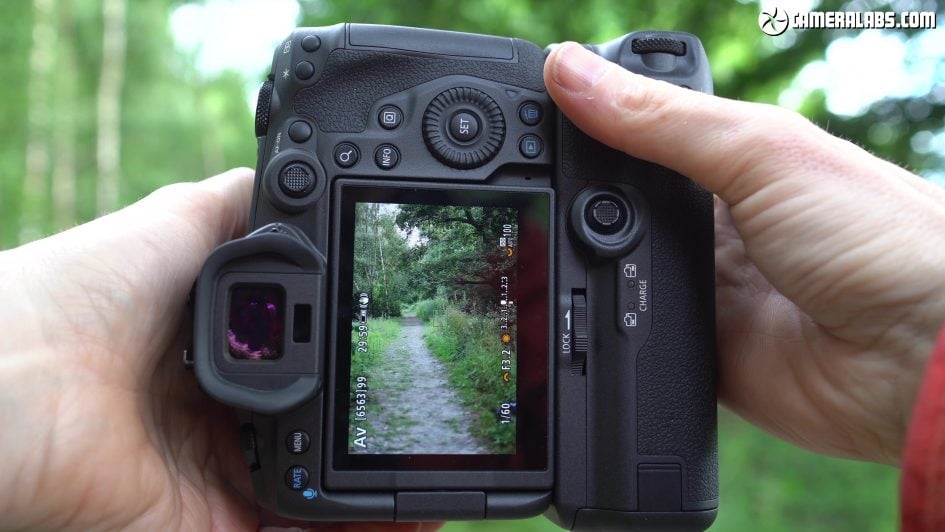 Above: For longer life, the new BG-R10 grip works on both the R5 and R6, takes two batteries and provides portrait controls. When attached to the camera, you can charge both batteries over USB-C.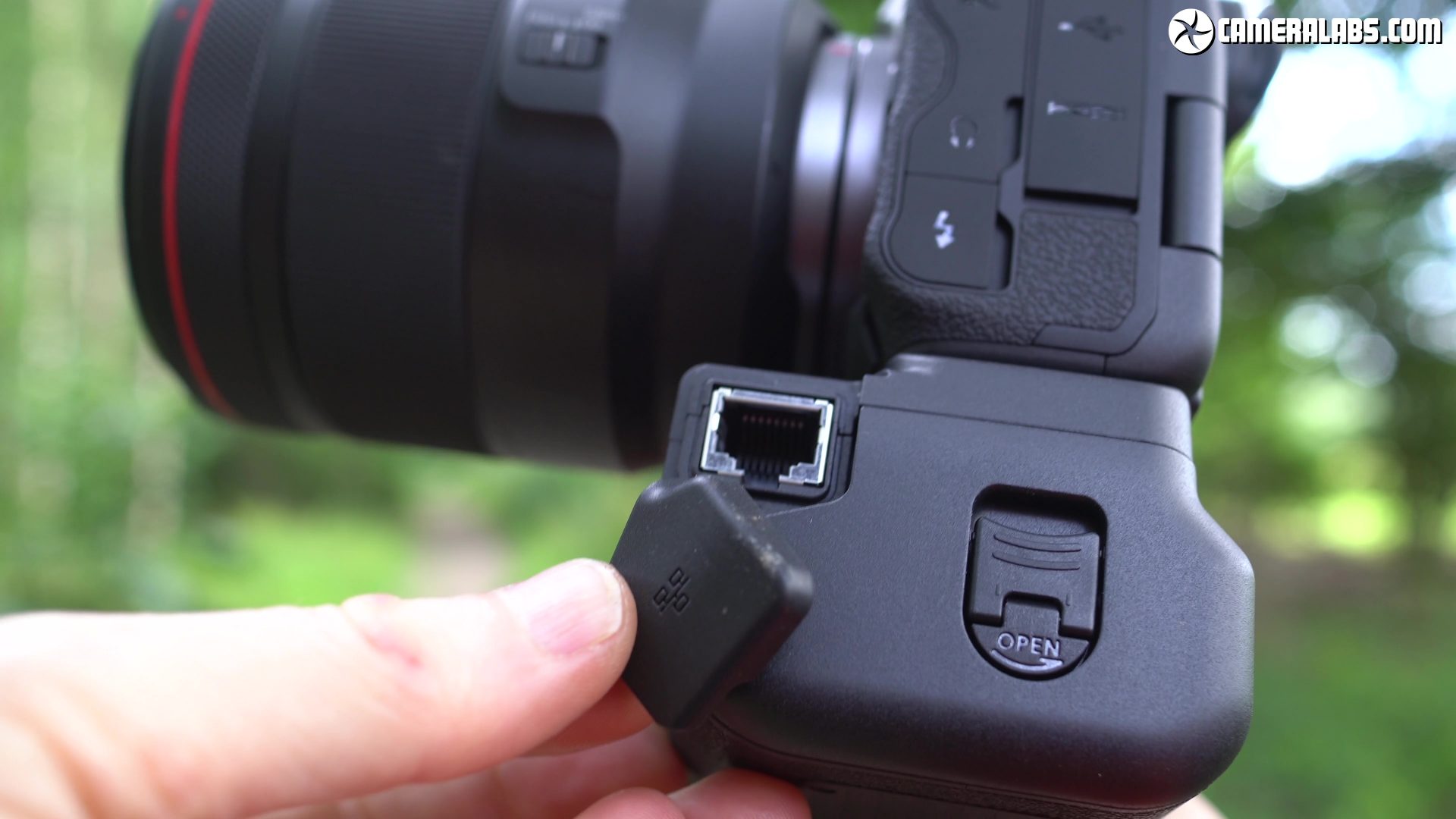 Above: Canon also offers a new WFT-R10B grip but for the R5 only. This again takes two batteries, provides portrait controls, but also adds much improved Wifi transmission with 802.11ac 2×2 MIMO support and a Gigabit ethernet port for wired connectivity. This grip brings the R5 closer to the networking capabilities of the 1Dx III.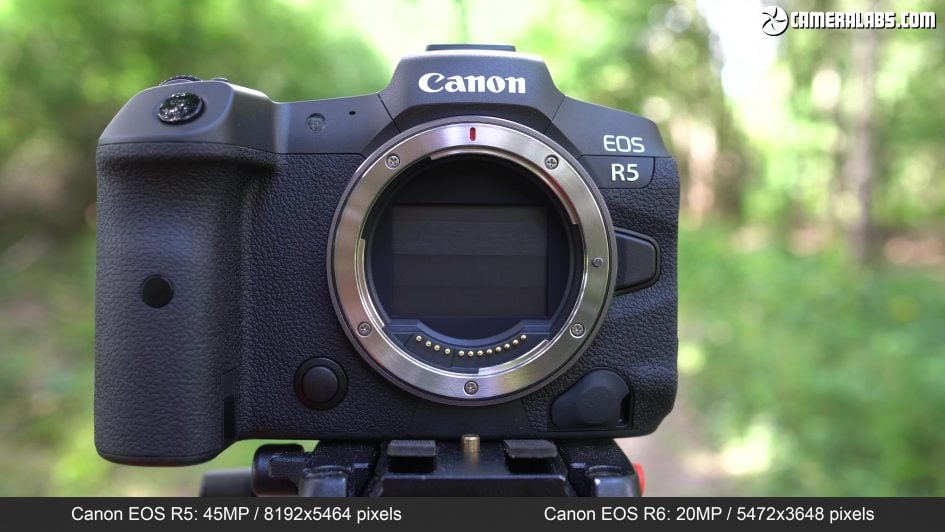 Above: Ok, now onto the full-frame sensor, confirmed to have 45 Megapixels, a resolution chosen to allow 8k video capture in the DCi shape without any cropping, and easy scaling down to 4k and 1080p. In photo terms, it may be numerically lower than the 50 Megapixel 5DS and 5DSr, but Canon explained to me the use of a new low pass filter actually allows the R5 to out-resolve those models, even the 5DSr with its filter-cancelling path.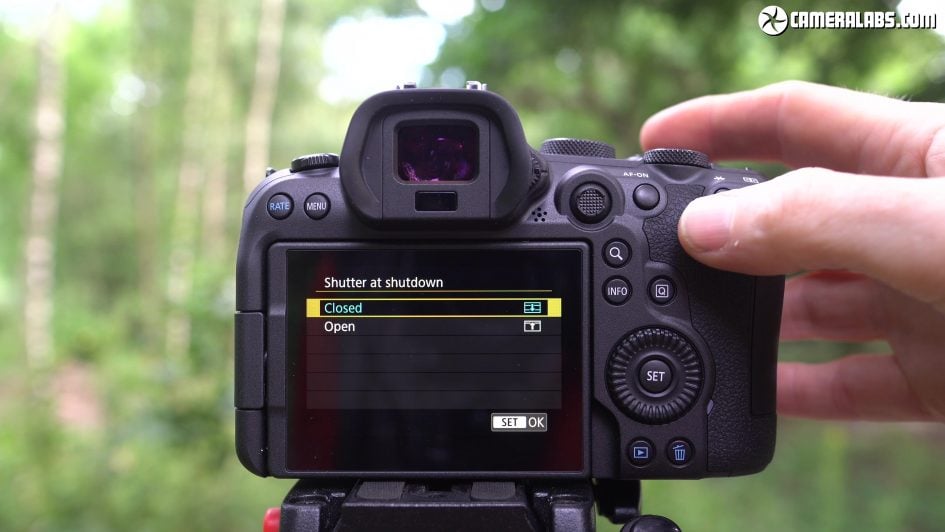 Above: As a quick aside, you'll notice the shutter curtain's closed when powered-down, like the EOS R but unlike the RP and most other mirrorless cameras which leave their sensors visible. On the R5 and R6 you can now choose whether the shutter is open or closed at power-off. When closed, it keeps dust from the sensor, but remember the shutter curtains are actually more delicate and easy to damage than the sensor with its protective filter.
Above: In terms of pure photo resolution in the 35mm format though, Sony's A7r IV remains comfortably ahead with its 61 Megapixel sensor capturing images with 9504×6336 pixels vs 8192×5464 on the R5, and both the Sony and Lumix S1R enjoy additional pixel-shifting modes to further boost resolution or reduce colour artefacts that are not available on the Canon. I'll be directly comparing the resolution and dynamic range of these cameras in my final review.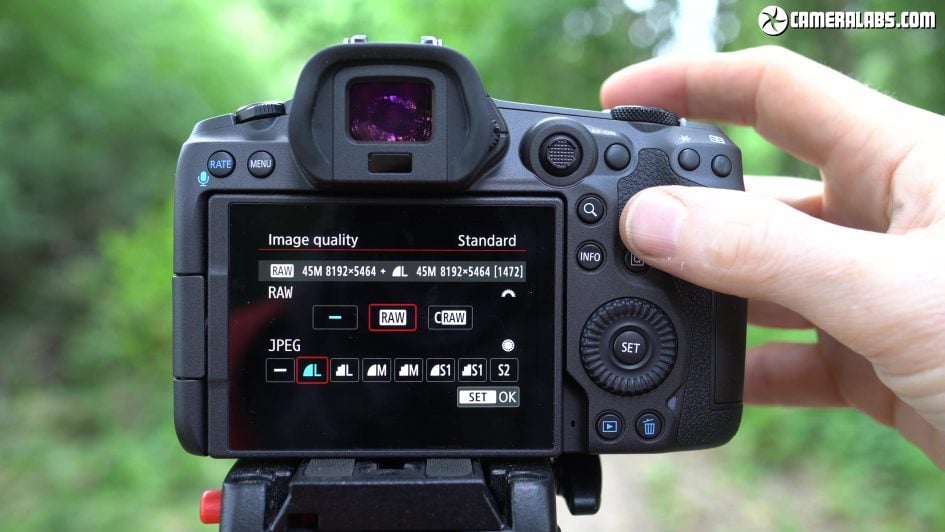 Above: In the R5's quality menus you can choose to record any combination of JPEG and RAW files, with compressed RAW also available. As first seen on the 1Dx III, you can also enable HDR PQ to switch JPEG to the 10 bit HEIF format if preferred, and I have a separate video all about how Canon implements HEIF.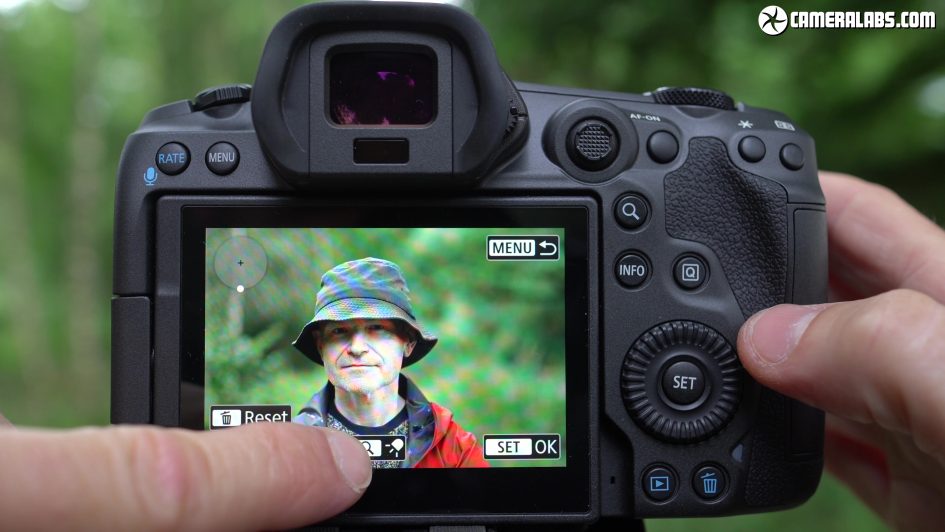 Above: New to the R5 is Portrait Lighting, found under Dual Pixel RAW processing in playback. This allows you to actually simulate the position of a lighting source on RAW files after the event and here you can see it being used to lighten my face from below the shadow cast by my hat. As you push the lighting around using the touchscreen you can see the position of the digital light in the upper left corner and a live preview on the actual image. I'll be testing this lots more in my final review, but in the meantime, it looks a lot more useful than the minor perspective shifts the 5D4 allowed on Dual Pixel RAW processing.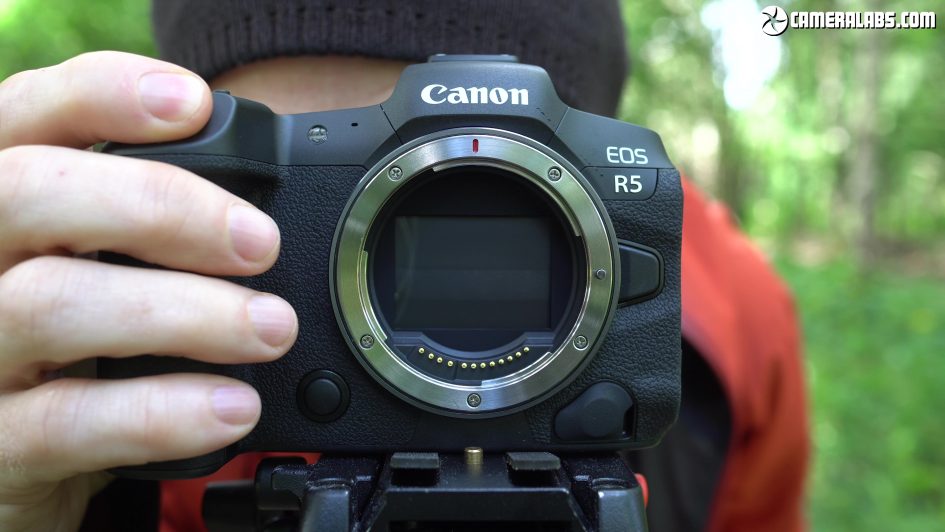 Above: Both the R5 and R6 are fast shooters, able to fire-off long bursts at 12fps using the mechanical shutter – two more than the A7r IV – and here's how it sounds – apologies for the windy conditions. The buffer depends on the format and card type, but Canon quotes 350 JPEG or 180 RAW images using CF Express. There's also silent shooting with an electronic shutter up to 20fps with autofocus, although I can't comment on rolling shutter yet.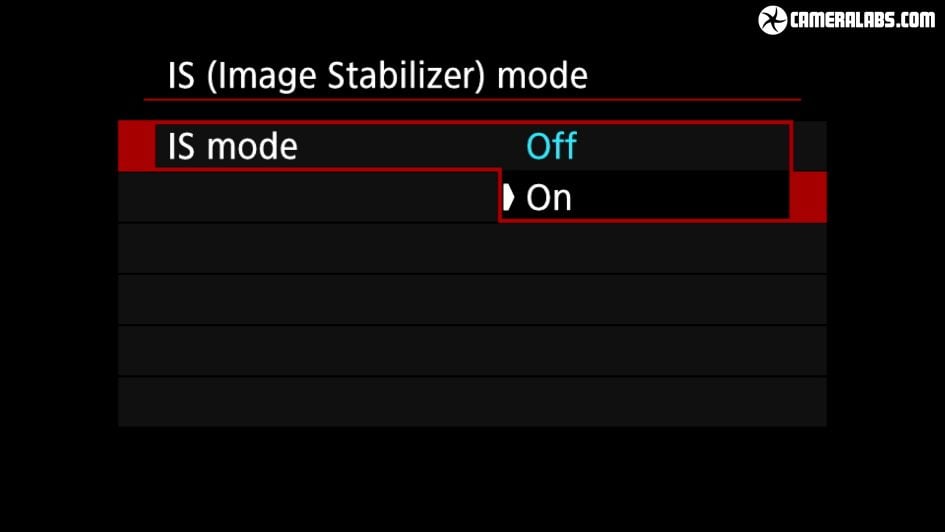 Above: The R5 and R6 become Canon's first interchangeable lens cameras with built-in sensor-shift stabilisation, or IBIS for short, and the company is making ambitious claims with up to 8 stops of compensation depending on lens. It automatically works alongside optical stabilisation on RF and EF lenses with IS, but don't assume these will always deliver superior results. The unstabilised RF 50mm f1.2 supports seven stops, while the RF 28-70mm f2 claims the maximum eight, both due to their imaging circles. In my video above you can see the effect of IBIS on the unstabilised RF 50mm f1.2 lens. Now this is pre-production and may improve further on final models, but I was very impressed by the IBIS on the R5 and it transforms the use of unstabilised lenses for both photos and video.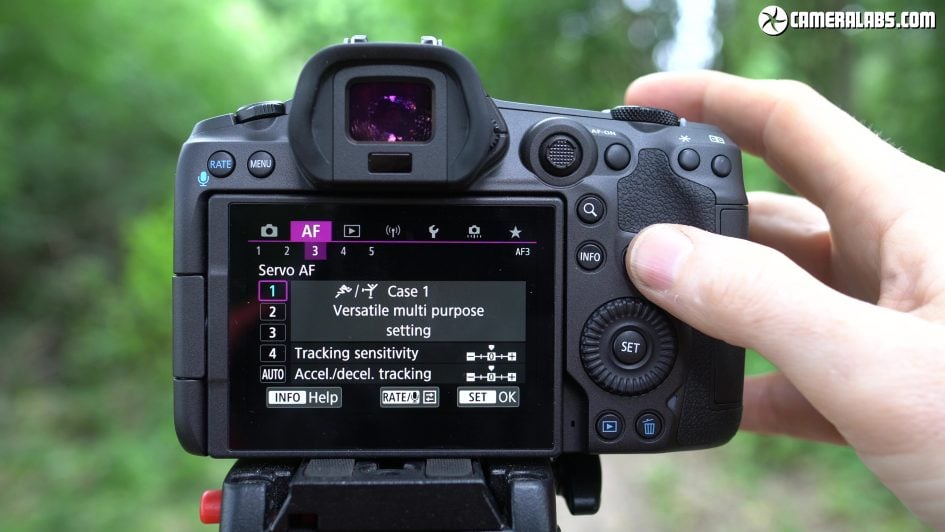 Above: Canon's also improved the autofocus capabilities of the R5 and R6 enough to now refer to them as Dual Pixel AF II. The coverage is 100% across the frame, it'll work down to light levels of -6EV on the R5 or -6.5EV on the R6 given an f1.2 lens.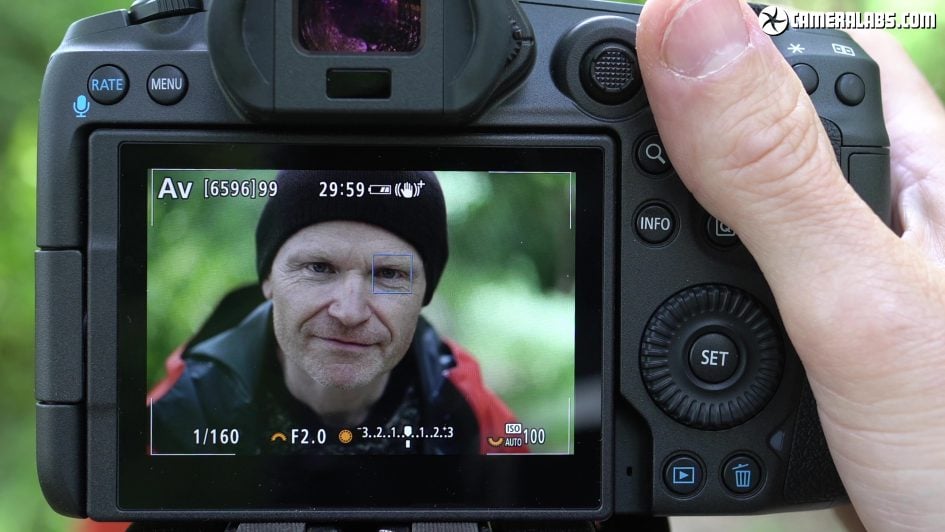 Above: Face and eye detection have both been improved with the R5 and R6 able to recognise and track eyes from much further away as seen in this clip I filmed using the new RF 85mm f2 lens. Animal eye detection is also available and works with dogs, cats and birds, even birds in flight which is something I look forward to testing with Brighton's seagulls.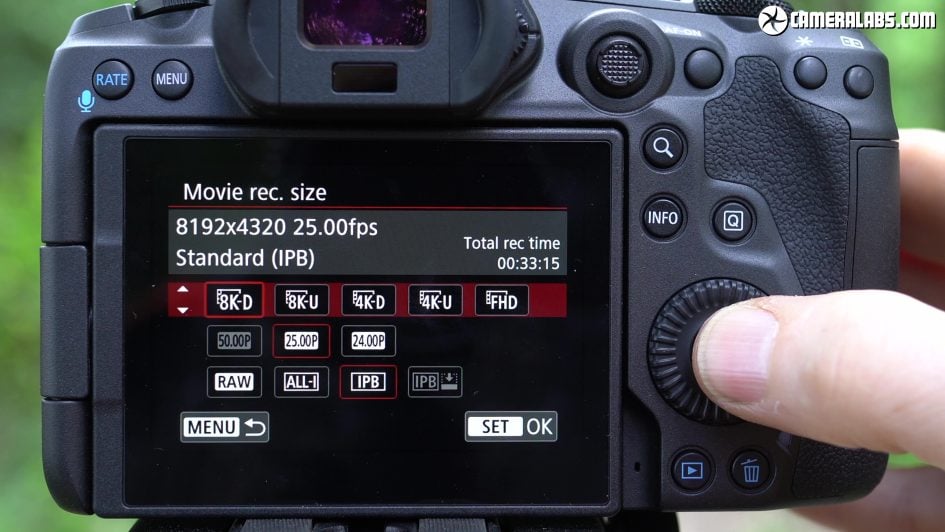 Above: And now to movies, an area where the R5 takes the lead over all rivals at the time I made this video, at least until Sony confirms the specs of its next models. The headlines are impressive too: when most cameras stop at 4k 30p or only offer 4k 60p with a crop, the R5 gives you uncropped 4k at 60p for half hour clips, or uncropped 4k 120p for seven and a half minutes. Some cameras allow 4k or 6k RAW over HDMI to an external recorder, but the R5 trumps them all with 8k RAW up to 30p recorded internally for clips up to around 20 minutes, and I saw and heard no evidence of vents or fans either. And before you ask, Dual Pixel autofocus is available in all movie modes from 1080 to 8k.
After the long-winded and confusing menus of the 1Dx III, I'm delighted to report Canon's redesigned the movie quality options of the R5 with a surprisingly simple approach and I'll show you the PAL menus first followed by the NTSC ones. There's three rows, with resolution and aspect ratio at the top letting you choose between 8k, 4k and 1080, with 8k and 4k available in 16:9 UHD or the wider DCi cinema shape. From the middle row you choose frame rate from 24 to 60p, while on the bottom row you choose compression from RAW, All-i and two flavours of IPB. Depending on the quality and other settings, various options may become greyed-out and unavailable.
For example, 12-bit RAW is only available in 8k in the DCi shape – there's no RAW in other formats, although you can record 1080 to 8k in 10-bit C-Log 1 or HDR PQ. I'm pleased to report 24p also appears to be available at all resolutions.
8k may be excessive for most videographers, but ironically it may be photographers using it the most. It allows you to effectively capture and subsequently frame-grab 35 Megapixel images in bursts up to 30fps. Many videographers will however adore the chance to film uncropped 4k at 120p with autofocus, albeit recorded without sound and slowed-in camera by four times.
There's actually surprisingly few gotchas. Heat is an issue in 8k and 4k / 120 that I'll discuss in detail soon, but in my tests so far I've managed an 8k clip lasting just over 19 minutes before a cool-down was required. RAW may be available in 8k, but sadly not in any lower resolution formats, and 120p is only available in 4k, not 1080, although I've already put in a request for it. Both 8k RAW and 4k 120 also demand CF Express cards which aren't cheap, but 4k 60 can still be recorded to SD in IPB. Canon's even finally included zebra patterns to more easily judge over-exposure.
Canon EOS R5 for photography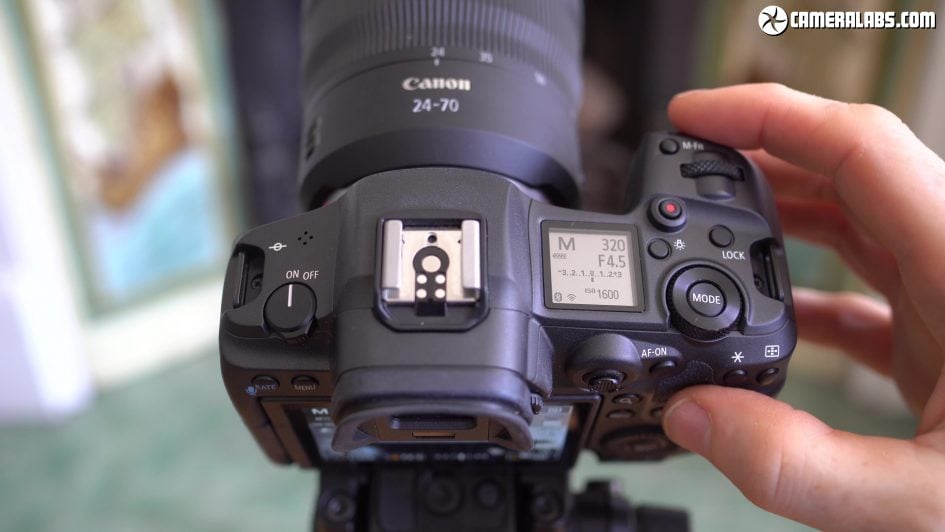 Above: Starting with overall handling for stills, the EOS R5 body felt solid, comfortable and confident in my hands, not dissimilar to the EOS 5D Mark IV with which it also shares roughly similar weather-sealing. I already liked the top info screen inherited from the original EOS R, but it's now complemented with more traditional controls including three dials and a joystick. It's comfortable, intuitive and very familiar to existing Canon owners too, allowing you to get started quickly. I also liked how you can choose whether the shutter is closed or open when you remove lenses.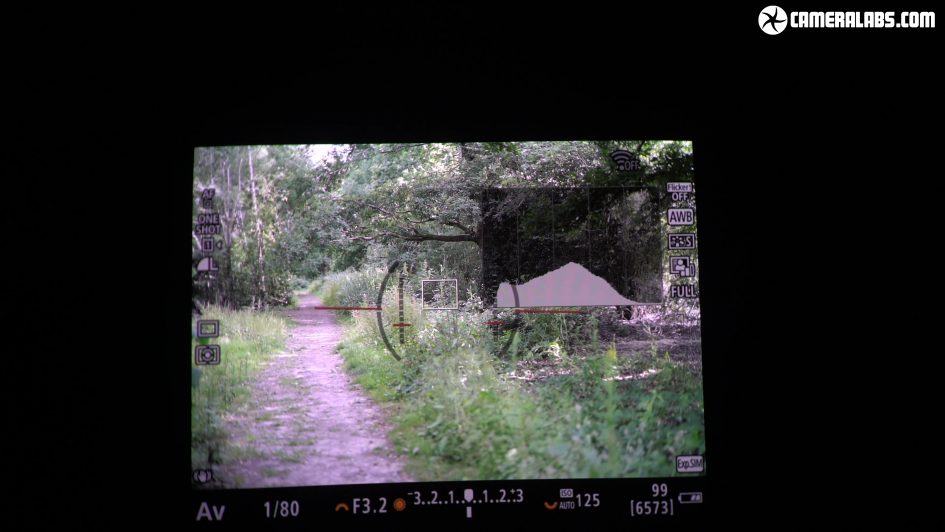 Above: In terms of composition, the viewfinder resolution and size may have since been trumped by Sony's A7S III, but the 5.76 million dot panel is nothing to be sniffed at, providing a nice large image with plenty of detail and a fast refresh that allows you to easily follow fast action, even when set to the slower 60hz mode. And while the flip-screen may appeal more to video shooters at first glance, I enjoyed using it to comfortably frame still photos in the portrait orientation at high or low angles.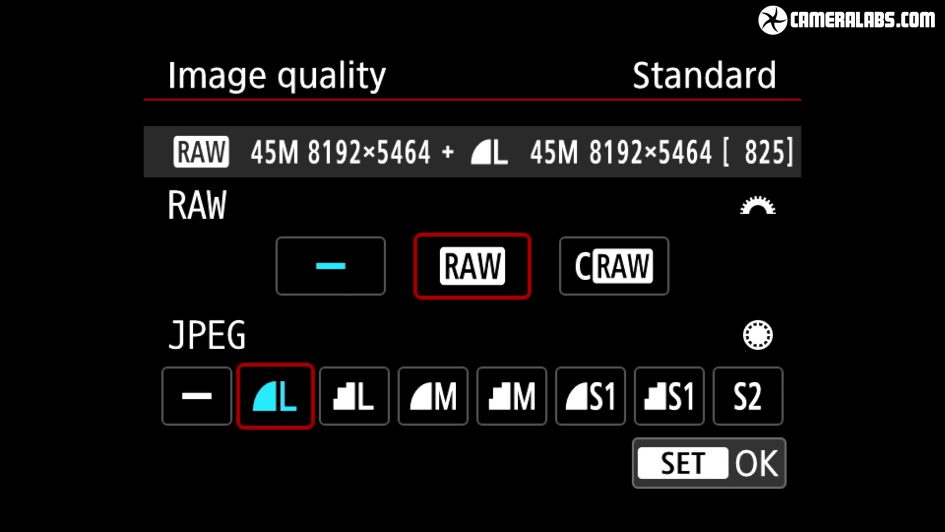 Above: Moving straight onto photo quality, the new 45 Megapixel full-frame sensor captures images with 8192×5464 pixels. There's three smaller sizes available for compressed JPEG or HEIF files, but RAW files are all recorded at the full resolution and available in normal or compressed versions. You can record images in the native 3:2 shape, or in 1:1, 4:3 or 16:9, as well as in a 1.6x crop where the resolution falls to 5088×3392 pixels or about 17 Megapixels – that's what you'll be getting with EF-S lenses. Meanwhile if you enable HDR PQ, the R5 switches JPEGs to the HEIF format with the same size and accompanying RAW options. Software support for HEIF files remains in its infancy – I had to rename the file extension to H-E-I-F just to get Photoshop to even open them – but with a 10-bit dynamic range on the R5, they capture a greater tonal range than standard JPEGs without the need to post-process RAW.
Above: To give an idea of what's possible, the R5, like the 1Dx III before it, lets you convert HEIF to JPEG in-camera from the playback menus. In this shot of Brighton Pier, you can see how the entire sky looks washed-out and completely saturated on the HEIF file, but by automatically adjusting the levels and converting it to a JPEG in-camera, you can clearly see how bright highlight detail has been recovered. It's an easy workflow that's worth experimenting with even if your photo editing program doesn't yet support HEIF.
Moving onto resolving power, I tested the R5 by photographing a standard chart before zooming-in for closer examination and comparison. I'll show you how it compares side-by-side with the three other EOS R cameras, as well as the Sony A7S III and Lumix S1R; frustratingly I couldn't get hold of an A7r IV for this review but plan to update this page in the future.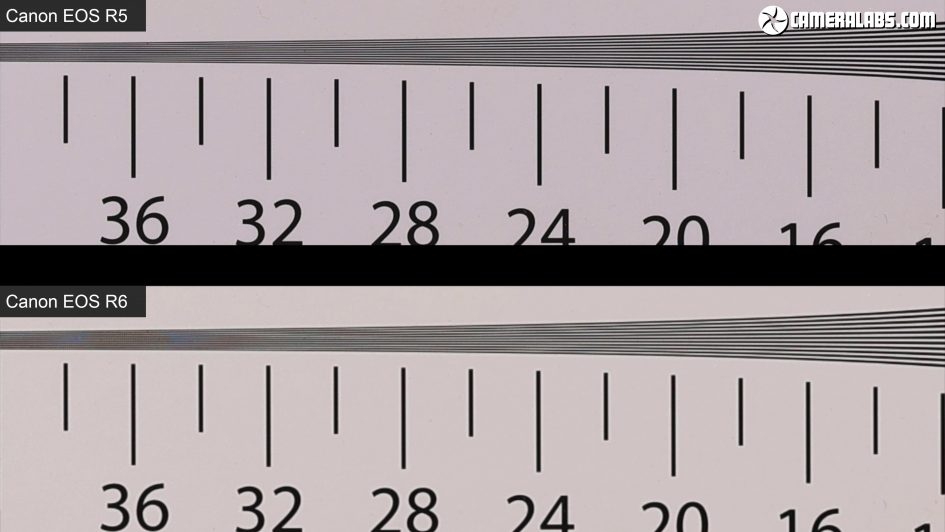 Above: First-up the EOS R5 at the top and the EOS R6 in the bottom, where as you'd expect the R5 is comfortably out-resolving its more affordable 20 Megapixel sibling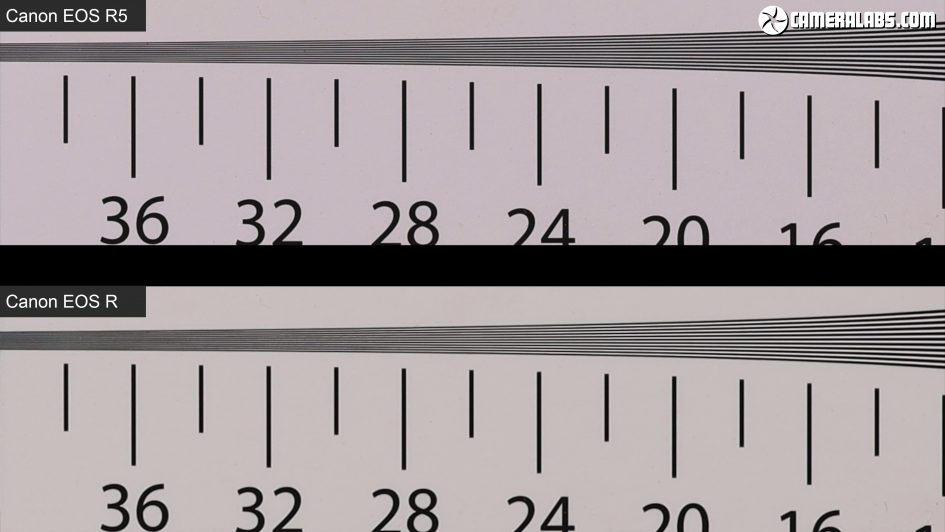 Above: But for many the more important comparison will be against the original EOS R seen here in the bottom. The EOS R shares the same 30 Megapixel sensor as the EOS 5D IV and improves a little upon the R6, but perhaps not by as much as you'd expect from its 10 extra Megapixels.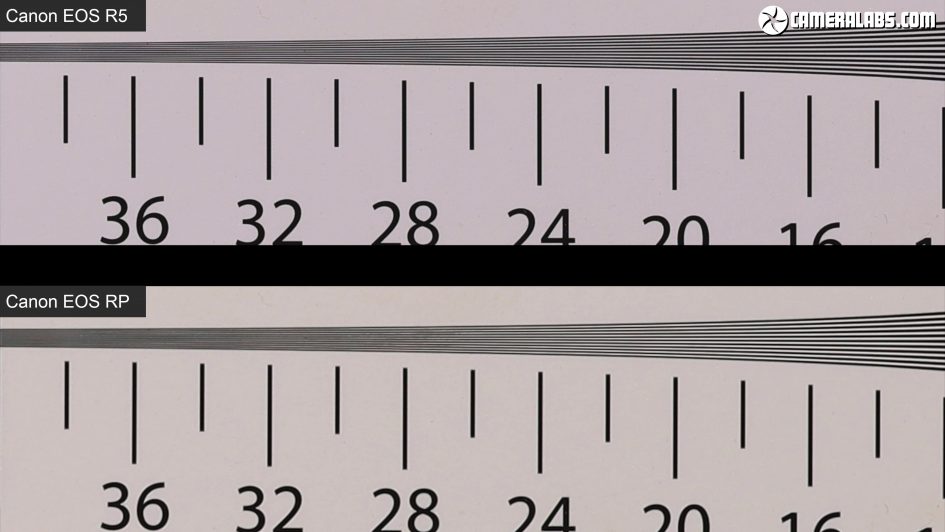 Above: Switching the EOS R for the budget RP, which recycles the 26 Megapixel sensor from the 6D II, and you'll see a result that roughly matches the R6, despite its six extra Megapixels. So the R5, as you'd expect, delivers the most detailed images in the EOS R range, but the surprise may be how close the R6 comes to the R and RP.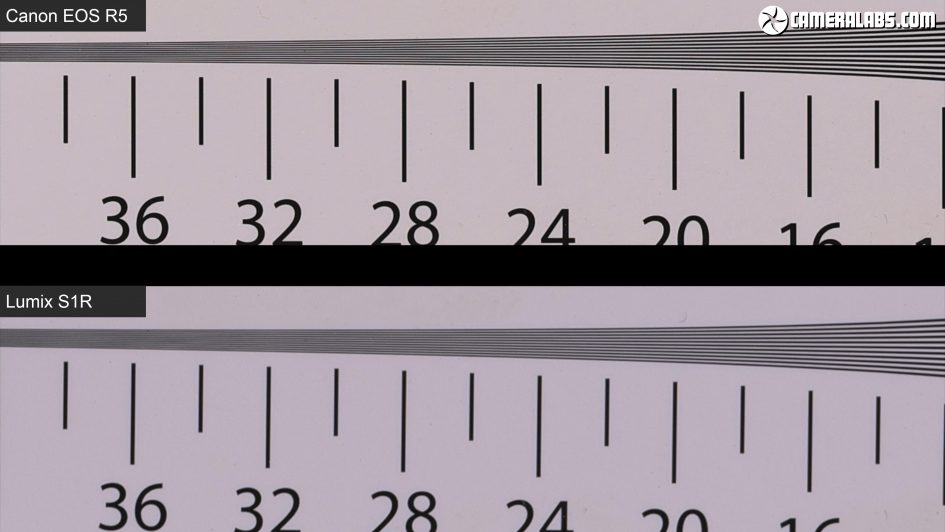 Above: Again I didn't have access to an A7r IV at the time of testing, but I did compare the Lumix S1R which at 47 Megapixels shares a similar resolution to the R5. Sharpening and optical differences aside, they're fairly close, although I'd say the Canon R5 still enjoys the edge.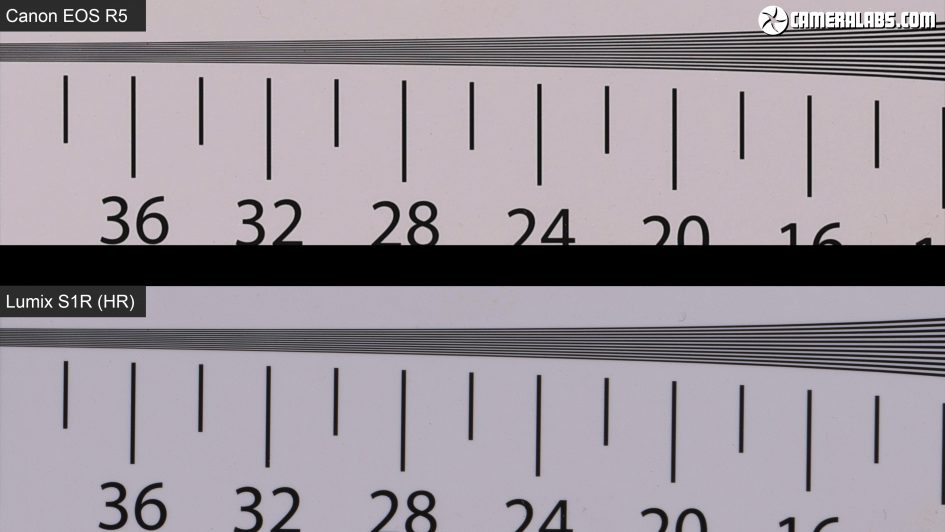 Above: Switch the S1R into its high-res composite mode though and it takes a slight lead. It's a shame the R5 doesn't offer a pixel-shift mode, but I'm still impressed by the crispness and resolution from the sensor straight out-of-camera.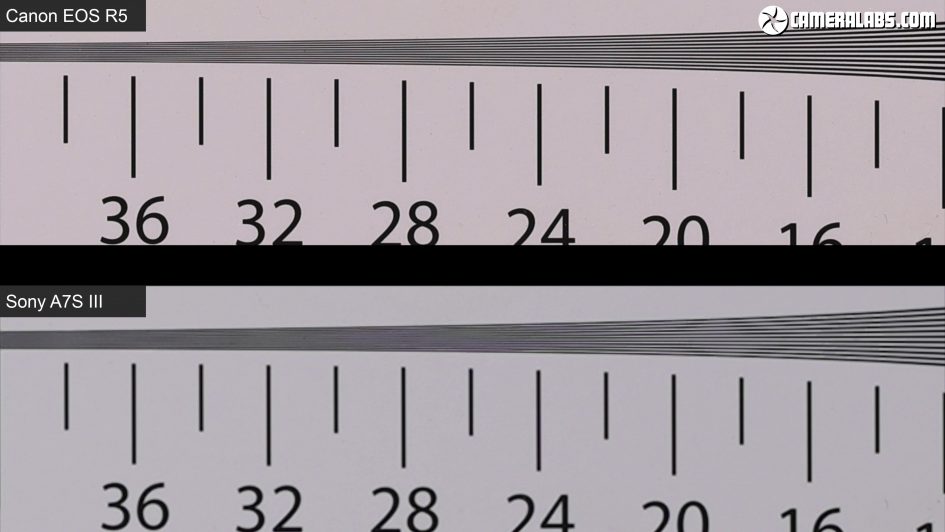 Above: And while it seems unfair to compare the 12 Megapixel A7S III against the 45 Megapixel R5, here's how it looks for fun where unsurprisingly it falls way behind on photo resolution. That said, under ideal conditions, the A7r IV should slightly out-resolve the R5 in pure photo resolution and I hope to add a direct comparison here in the future.
To compare noise levels, I photographed a still life composition with all four EOS R cameras and the A7S III at each of their ISO sensitivities before cropping-into out-of-camera JPEGs for closer examination. All of the images were taken with identical exposures, so any difference in brightness is down to their actual sensitivity variations. I've cropped the same section of the flowers with Final Cut scaling them to the height of the frame, so higher resolution bodies should reveal greater detail at lower ISOs but may suffer at higher sensitivities. I'd love to hear which camera you think is delivering the better results.
Above: Let's start with the EOS R5 on the left and the R6 on the right. You can see the full sequence in my video for photographers at the top of the page.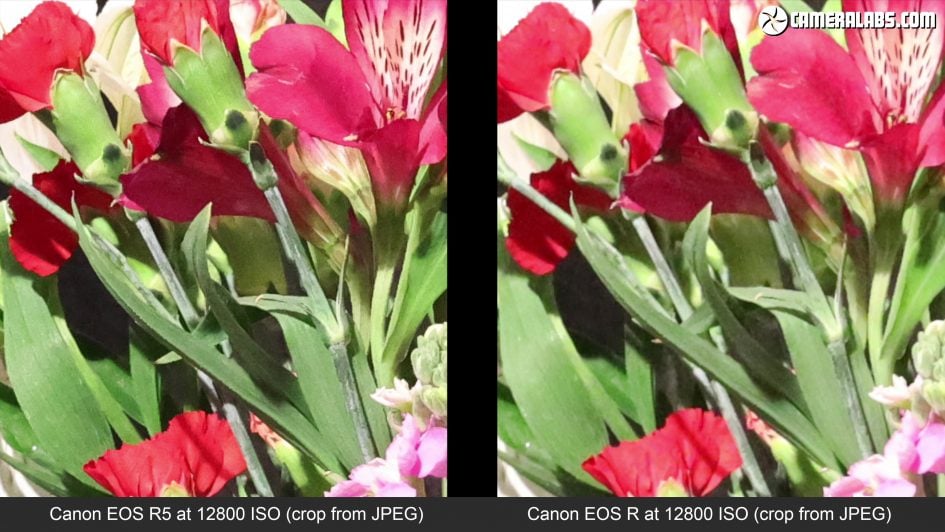 Above: Next the R5 on the left with the original EOS R on the right which again also represents the 5D IV DSLR. You can see the full sequence in my video for photographers at the top of the page.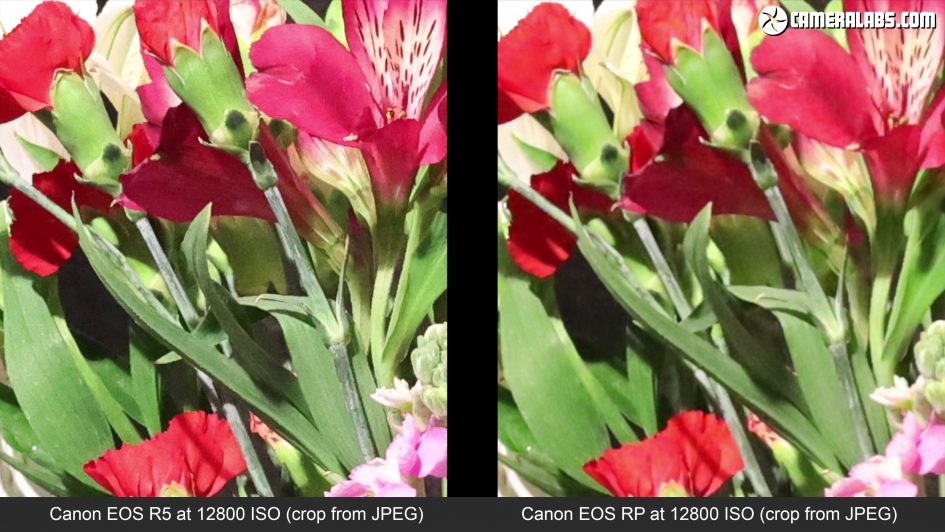 Above: Now for the R5 on the left and the budget RP on the right which also represents the 6D II DSLR. You can see the full sequence in my video for photographers at the top of the page.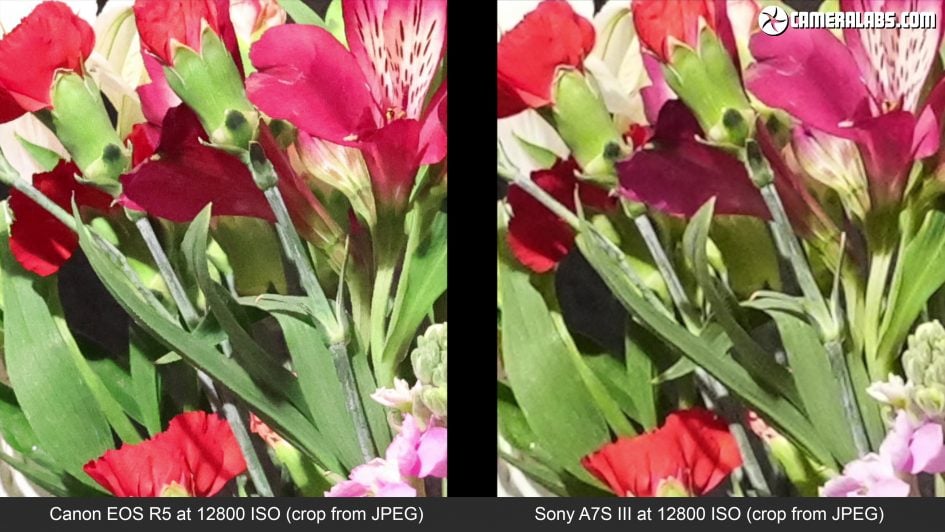 Above: And finally the R5 on the left against the Sony A7S III on the right. You can see the full sequence in my video for photographers at the top of the page. From all these results, I'd say the R5 does a great job balancing resolution and noise.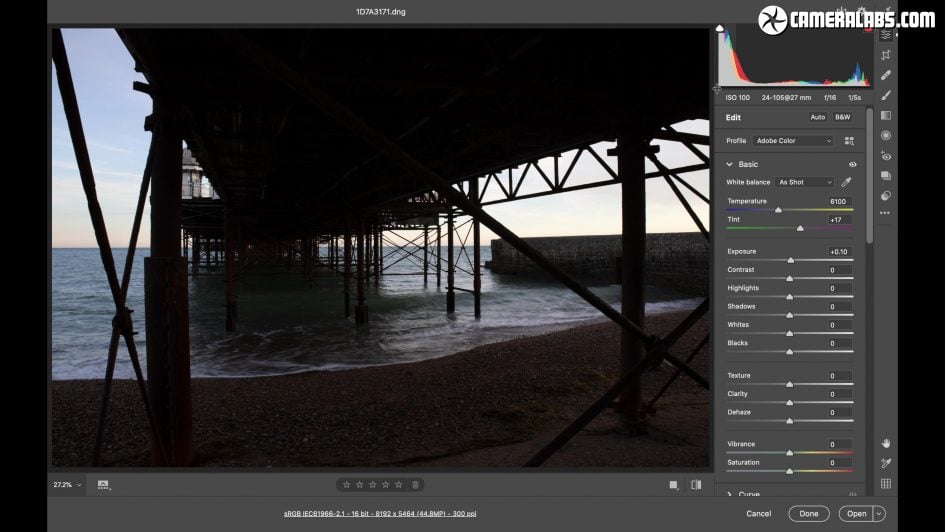 Above: Moving onto dynamic range, here's a photo I took under Brighton pier with the R5 at 100 ISO where all of the shadow detail is hidden, as well as most of the bright highlight tones in the sky, particularly on the right. I used an Adobe beta to convert my R5 RAW file into a DNG for Adobe Camera RAW to process and when I reduce the exposure you can see some sky tones recovering on the right, and when I lengthen the exposure the shadow detail returns under the pier. Zooming-in also reveals noise is fairly well-controlled and there's plenty of detail.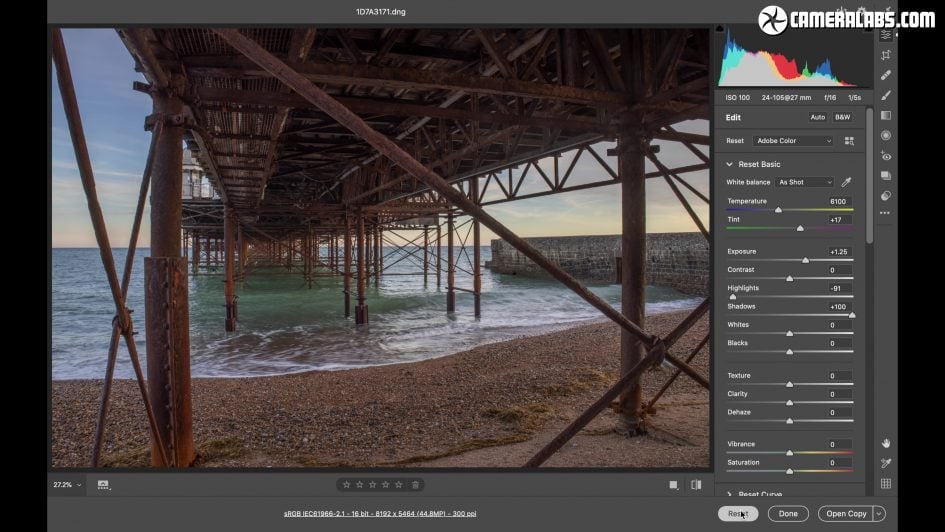 Above: In an attempt to retrieve tones at both ends of the range, I'll first reduce the highlights slider to bring back some colour to the sky, before greatly boosting the shadows slider. It's getting there but needs to be brightened overall, so boosting the exposure by about one stop on top of those previous adjustments maximises the recovered areas. Zooming-in also shows a pretty clean result and this is without tweaking the noise reduction at all. The final result may or may not be to your taste, but is a World apart from the original image when I reset the sliders.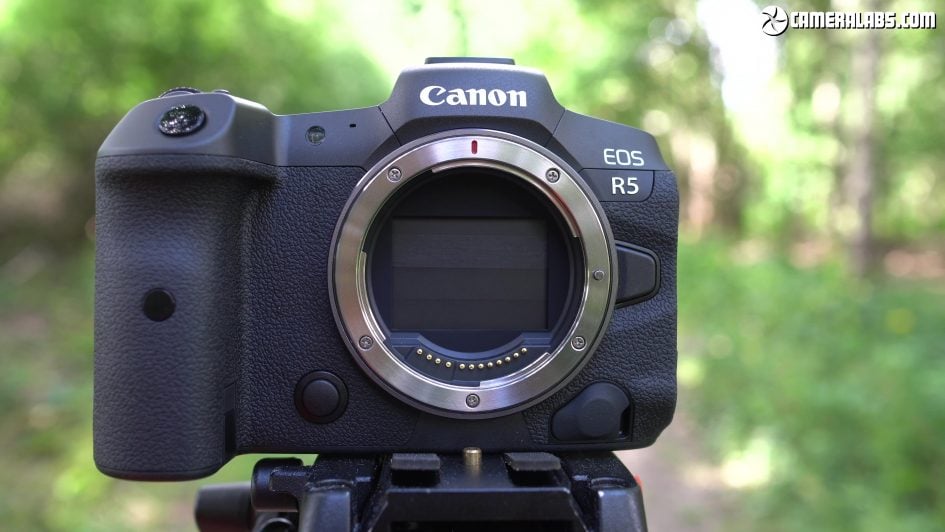 Above: Moving on, the R5 and R6 become Canon's first EOS cameras with built-in sensor-shift stabilisation which, in theory, should reduce shake on any lens you attach, new and old.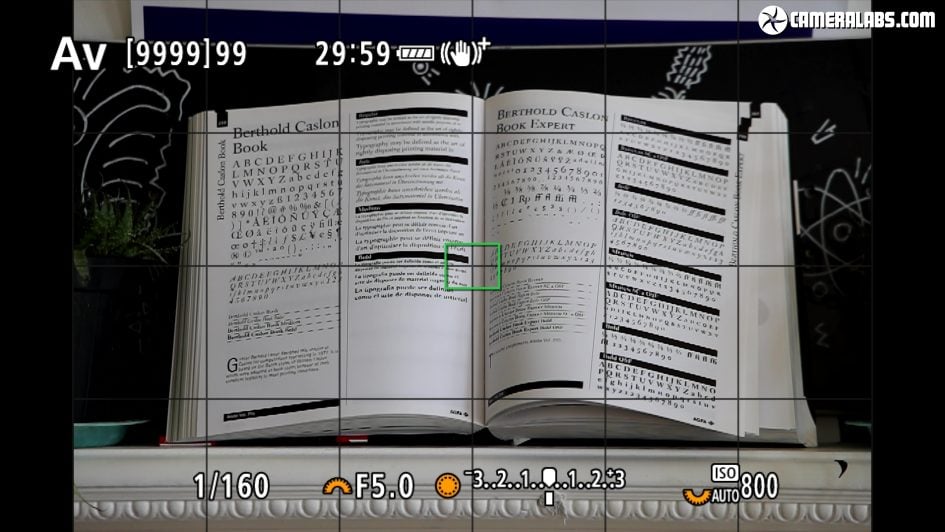 Above: To find out I tested it with three different lenses, starting with the RF 24-105mm f4L If you're using a lens with optical IS, it'll work alongside the sensor stabilisation, with the best results coming from RF lenses thanks to their improved communications with the body. If you update the firmware on RF lenses with IS, you'll see a plus symbol next to the hand icon, indicating enhanced stabilisation. The plus symbol doesn't appear when using EF lenses with IS, although the body will still work alongside the optical stabilisation. Canon quotes up to 8 stops of compensation with the RF 24-105mm at 105mm, although in my tests I managed closer to five stops with this lens on the day.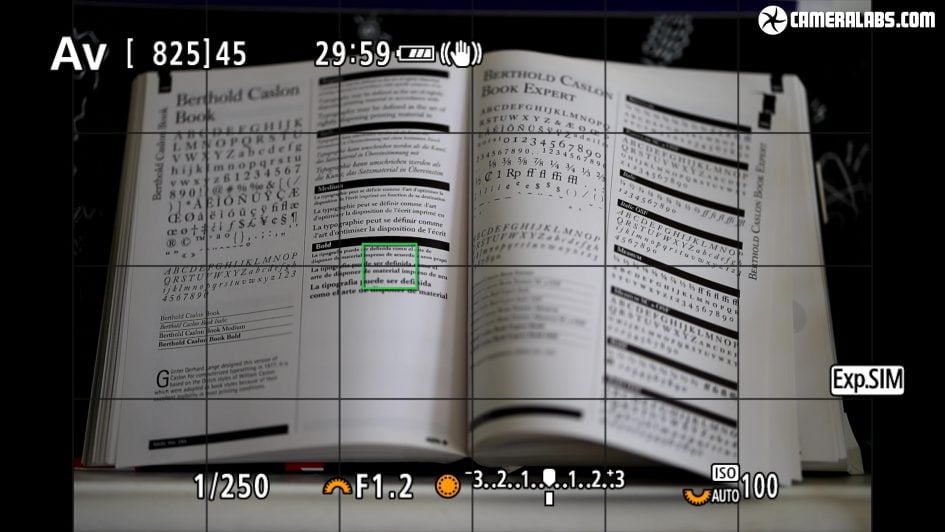 Above: Next up an unstabilised RF lens, the RF 50mm f1.2L. A huge benefit of IBIS is enjoying stable composition and longer handheld exposures on lenses without optical stabilisation, and it transforms the usability of lenses like the RF 50mm f1.2, RF 85mm f1.2 and RF 28-70mm f2. Note the hand icon no longer has the plus symbol as the lens doesn't include its own optical stabilisation. Canon quotes up to seven stops of compensation with the RF 50mm f1.2L on the R5 although in my tests I only managed four.
Now for an unstabilised EF lens, the EF 85mm f1.8, adapted to the R5 body, and while it's not quite as effective as the RF 50mm in my previous example, it still makes it considerably more usable. Again note the hand icon missing the plus symbol, although this applies to all EF lenses whether they have IS or not. This time I managed to handhold four stops slower than without IBIS.
I also tested the RF 24-70mm f2.8L, another native lens with IS lens that Canon claims up to 8 stops of compensation. In my tests I managed five stops versus the unstabilised version. Everyone's experience differs with IS, but while my own results fell several stops below Canon's ambitious quotes, IBIS on the R5 and R6 was still extremely valuable, giving me five stops of compensation with native IS lenses and four with everything else. Plus as you saw in my demos, it's not just about hand-holding longer exposures, but also enjoying a much steadier view as you compose. It's brilliant to finally have IBIS on Canon EOS cameras.
Moving onto focus, starting with the RF 24-70mm f2.8 at 70mm f2.8. Focusing with a native RF lens on the R5 can be very swift with the camera locking-onto the subject almost instantly. I have no complaints focusing with native RF lenses and have more examples in a moment.
But first, how about focusing with an adapted EF lens? I tried my EF 85mm f1.8 prime lens again, and while it's not as fast as the previous RF zoom, it's still focusing as quickly as it would on a DSLR – the slower speed is down to this particular lens. I feel Canon's done a great job at focusing adapted EF lenses in live view, starting with its DSLRs and now maturing onto its full-frame mirrorless system. Note older lenses may not support the fastest 12fps burst speeds.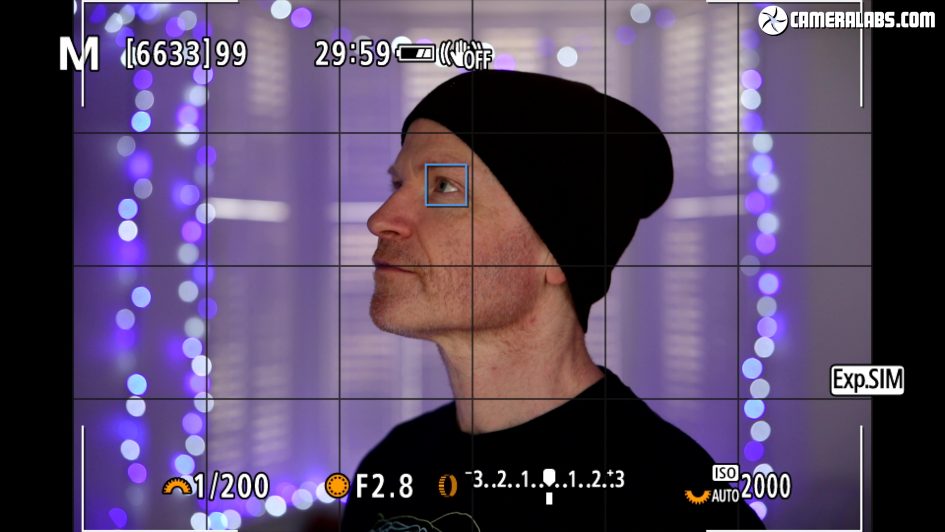 Above: Canon's also improved its face and eye detection on the R5 and R6 and here you can see it in action on the R5 fitted with the RF 24-70mm f2.8 at 35mm f2.8. Previously the only other system which could lock onto an eye at this distance was Sony, but now Canon's effectively matched it, while also tracking the subject's head when it turns away. The speed, response and stickiness of the R5's AF system represents a major upgrade over the EOS R and RP and becomes one of the most effective on the market.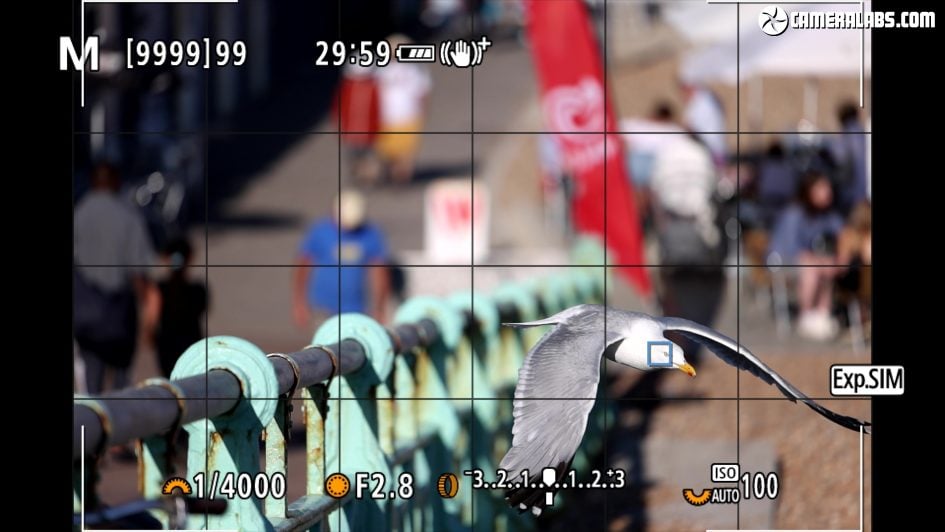 Above: Eye-detection isn't just for human subjects though – Canon's added animal eye-detection for dogs, cats and even birds, and here you can see the AF box identify and follow the seagull's eye as I adjust my framing. But wait, it also works when the bird's in flight! Here you can see the object recognition lock-onto the entire bird while it's distant, before switching to eye detection when it gets closer. Like Sony, for the best results, you'll need to manually select human or animal from the face-detection menu, but in action it's still very impressive – and while Sony can also track birds-in-flight effectively, it won't yet go as far as to offer eye-detection, so a technology win for Canon over its rival here.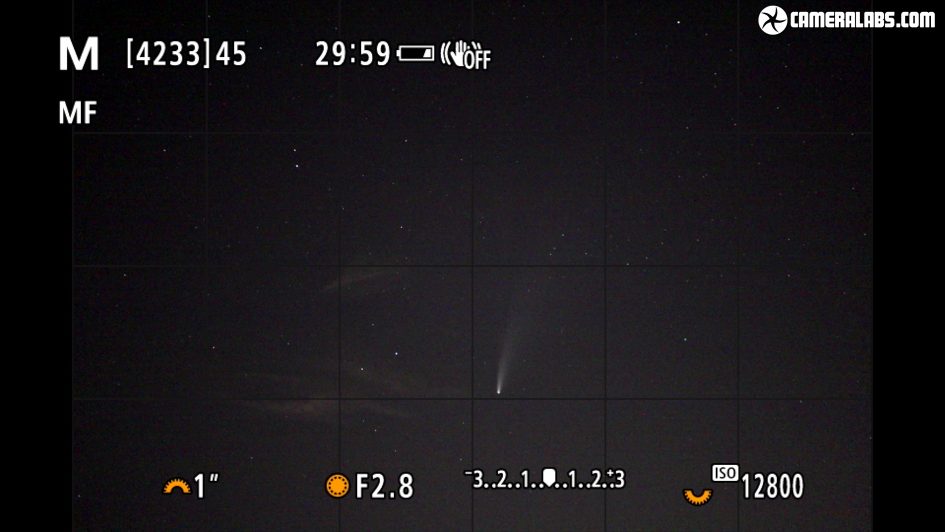 Above: During my testing, Comet Neowise was present in the night sky, albeit barely visible to the naked eye from my location. But thanks to the gain applied by mirrorless cameras, it became easily visible in the viewfinder of the R5 and the camera would even autofocus on it and the stars around. Increasing the gain unsurprisingly raises the visible noise – especially when zoomed-in to confirm focus – but the ability to simply see and focus on something that's invisible to the naked eye not to mention a DSLR viewfinder, remains a delight.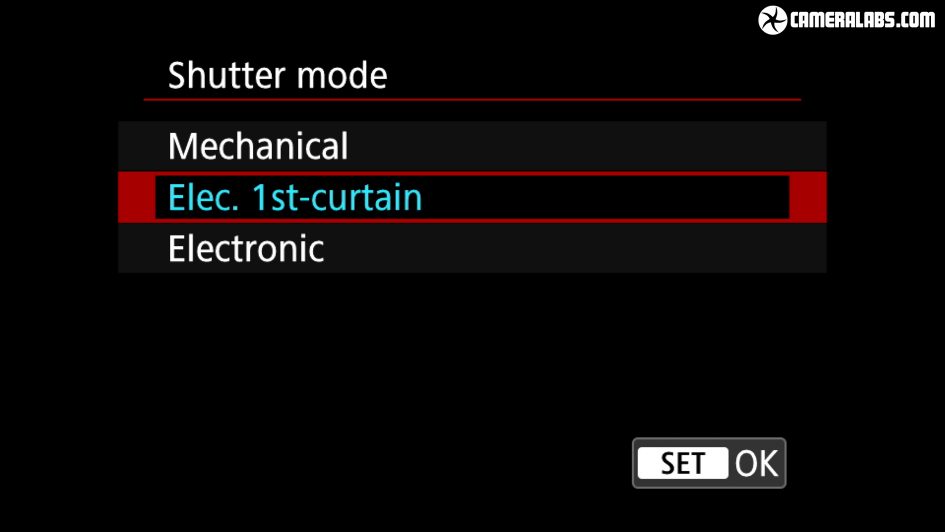 Above: Moving onto the drive modes, the R5 has the choice of three shutters: the default electronic first-curtain which reduces noise and vibration by opening the shutter electronically but closing it mechanically to avoid artefacts. Or you can choose fully mechanical or fully electronic shutters, the latter operating in full silence but with the usual caveats.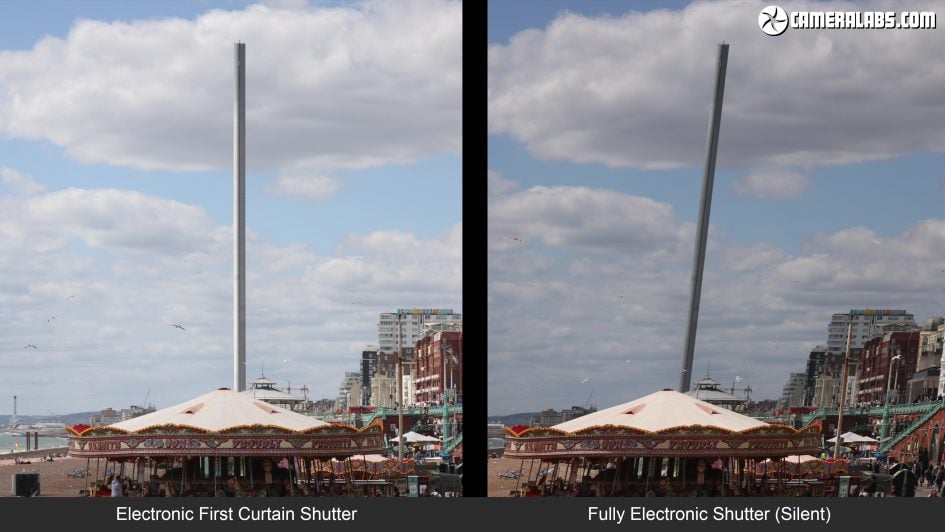 Above: I then took a series of bursts with the electronic first-curtain shutter and 12fps drive while panning with the R5 at 100mm, and as you'd expect, the tall tower and buildings are all vertical. Next a series panning at the same speed but with the fully electronic shutter and 20fps drive, and this time notice how the tower and buildings are sloping to the side – this skewing effect is down to the sensor readout speed and is typical for most electronic shutter modes, although different cameras suffer to different degrees. I found the R5 was actually pretty well-behaved for rolling shutter, and noticeably superior to the R6 for skewing. Also beware of using the electronic shutter under artificial lighting as you may experience banding effects due to flickering – Tony Northrup has some examples of this in his studio. So as always, electronic shutters can be great for achieving high speed bursts and shooting in silence, but just be aware of their limitations.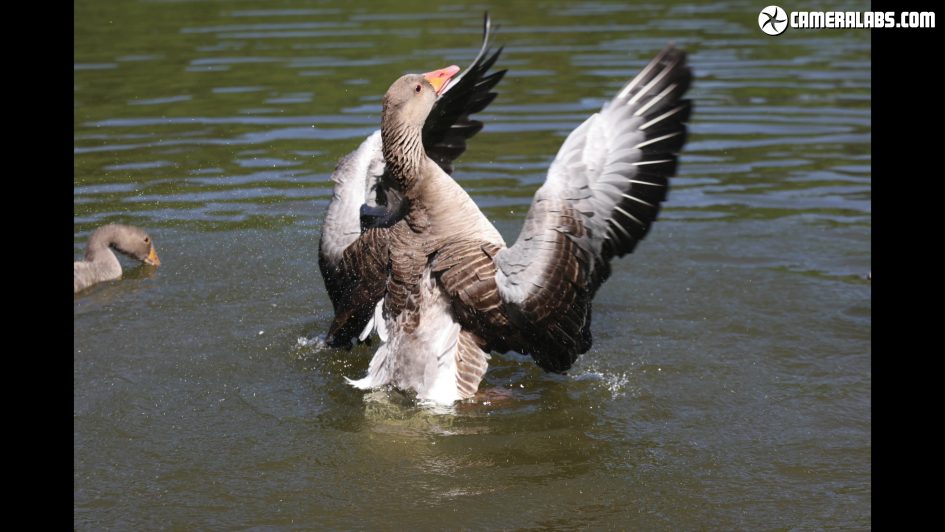 Above: The normal shutter itself is fairly quiet in use though, and while the fully mechanical shutter is a little louder, it's far from obtrusive. Shooting bursts at 12fps is a big step-up from the previous EOS R cameras, allowing you to easily capture quick bursts of action, like this goose having a bath, although you will need a good level of battery charge – and the new battery pack – to achieve 12fps, not to mention a recent lens. During this sequence the subject remained at a fairly static distance, but what happens with subjects in greater motion?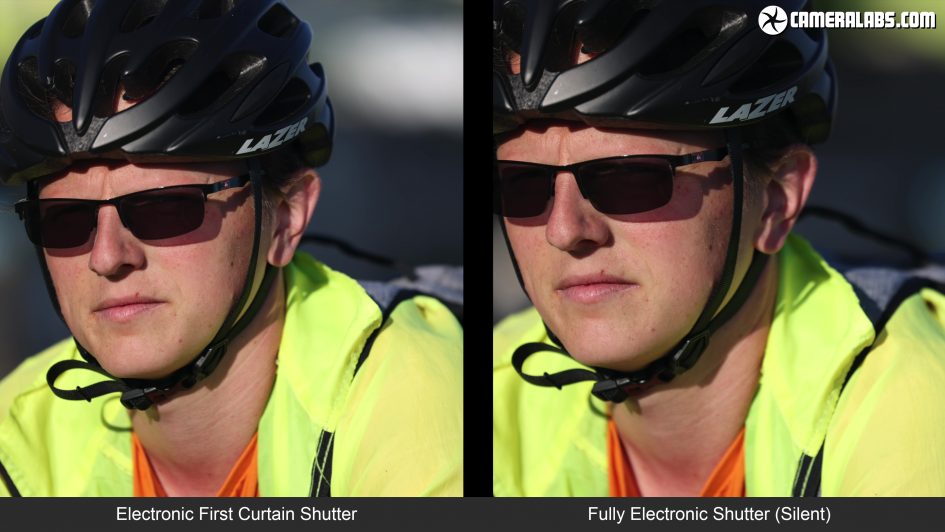 Above: So I photographed Ben cycling towards me with the RF 70-200mm f2.8L at 200mm f2.8, using the face tracking with Servo continuous autofocus and the electronic first-curtain shutter running at the fastest drive speed. In this sequence, every single shot was in focus and checking the time-stamp of each image also confirmed the R5 achieved and maintained a burst speed of 12fps over a six second period – and with Servo AF too. Here's the same test, but this time using the fully electronic shutter which claims a top speed of 20fps. Again with the RF 70-200mm f2.8L at 200mm f2.8, the R5 delivered a 100% hit-rate in this test and again when checking the time-stamps, the camera maintained the quoted top-speed of 20fps over a seven second period – impressive given the moving subject and Servo AF mode. Note in all of my AF and burst tests, I was using the default settings and case.
While Ben cycled straight towards me there was little concern over skewing due to the rolling shutter, but as he cycled past and I panned quickly to follow, you'll notice some difference between the mechanical shutter on the left and the electronic shutter on the right, with a little distortion on the latter. Again while the R5's readout is faster than many rivals, do use the electronic shutter with caution.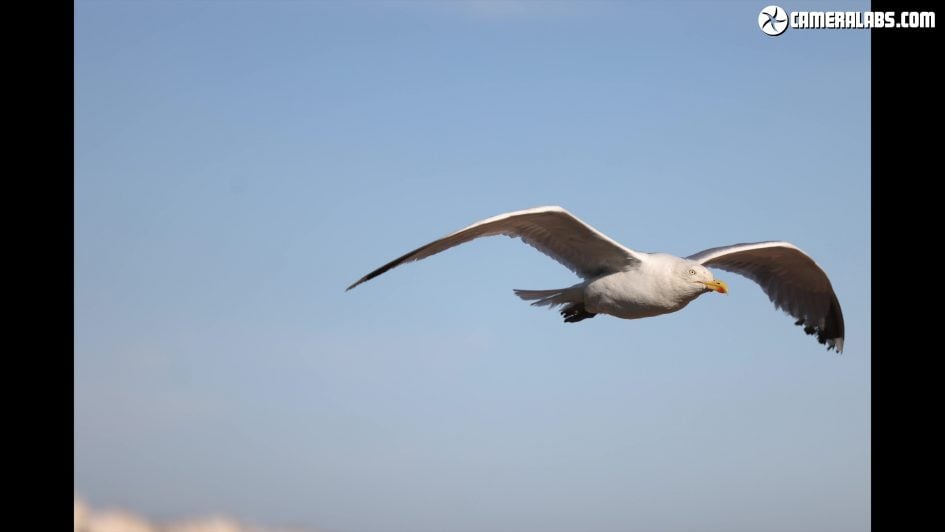 Above: You've already seen a preview of the EOS R5 tracking seagulls with its new animal eye-detection, so here's a selection of images I took during that session. All were taken with the RF 70-200mm f2.8L, mostly at 200mm f2.8 and using the tracking autofocus mode. All of these were taken with the electronic first-curtain shutter and again when checking the timestamps, the camera was achieving and maintaining its maximum burst speed with this shutter of 12fps. The R5 and RF 70-200 f2.8 proved a formidable combination for close-range action and wildlife, effortlessly tracking subjects and delivering very high or even perfect hit-rates at speeds of 12 or 20fps. It's particularly striking when compared to the original EOS R and RP which failed to impress for action and when compared side-by-side with the new models, feel positively sluggish. Indeed it's the speed and confidence of the R5 and R6 which will be most apparent to existing EOS R owners and arguably one of the biggest reasons to upgrade. Oh, and I never experienced any overheating on the R5 when shooting still photos, even during long bursts on a hot day.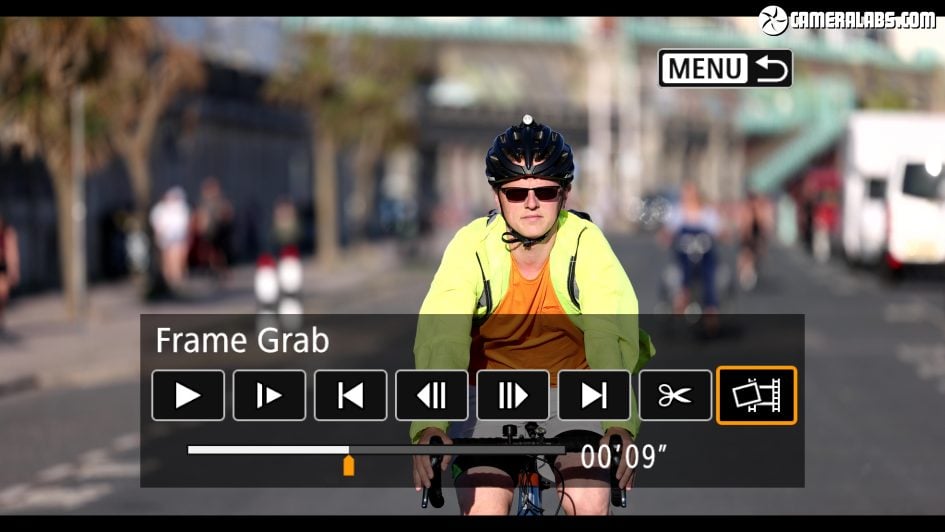 Above: If 12 or 20fps aren't fast enough to capture the moment, you can alternatively film short video clips and grab JPEG stills from them, albeit in the 16:9 shape. Here I'm playing an 8k clip I filmed on the R5 before shuttling to the moment I'd like and choosing frame grab. In the case of 8k video, the R5 can grab still images measuring an impressive 35 Megapixels and here's how this one looked. Again the 16:9 shape may be wider than standard stills, but there's still plenty of detail for cropping and remember you're capturing a moment at up to 30fps.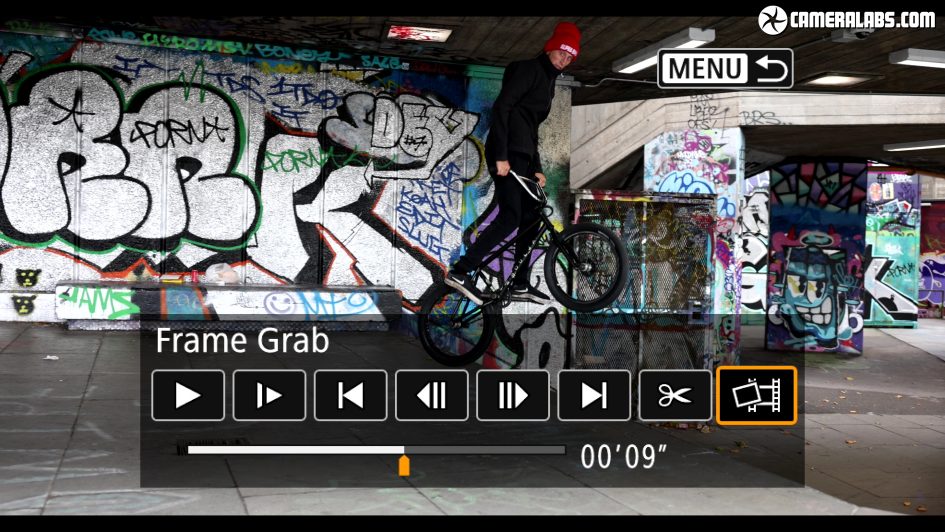 Above: Here's another example, this time grabbed from 4k 120p footage, where the resolution is reduced to 8 Megapixels, but you're capturing 120 frames per second. If you're filming with the intention of frame-grabbing though, be sure to choose photo-friendly shutter speeds or you may see motion blur – for example, here I shot at a motion friendly shutter speed of 1/250 for the 120p footage which looks great for video, but isn't fast enough to freeze the action on a still photo.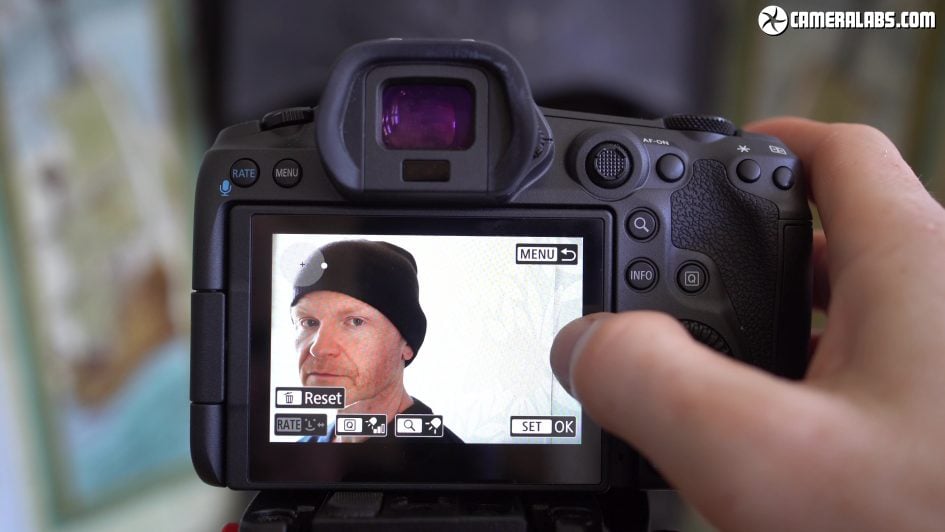 Above: New to the R5 is Portrait Lighting, allowing you to adjust the lighting on a face after the event. To use it you'll need to shoot in RAW and enable Dual Pixel RAW. Then in playback you'll find DPRAW processing which exploits the data gathered by dual pixel AF to perform portrait relighting or clarity adjustments. The former lets you choose an existing portrait – shot in DP RAW of course – although it needs a well-defined face to work. Here's one, and after pressing SET you can use the touch interface to drag a simulated light source to any side of the face, indicted by a dot inside the circle in the top left corner. The effect can be subtle, but you should see the light source effectively move around my face, potentially reducing shadows. Here's another example where I'm strongly lit on one side, but DP RAW with portrait relighting is allowing me to brighten and balance the other side of my face. I'm not sure how much I'd use this feature myself, but it's a fun way to exploit the technology behind the sensor and image processor.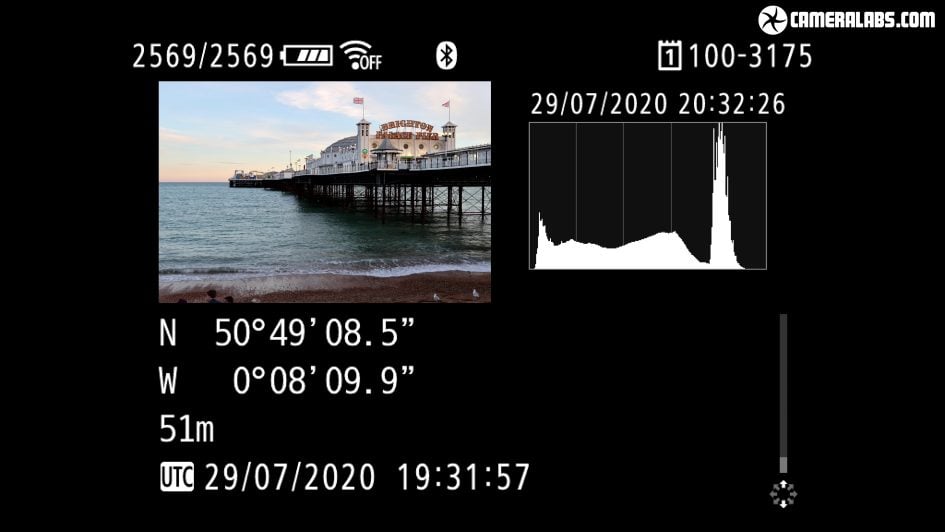 Above: I also wanted to mention GPS tagging, as many comments were left on my first-looks video lamenting the absence of a receiver built-into the camera. Like all recent Canon cameras, the R5 can effectively tag images with location information via a smartphone that's linked by Bluetooth and the Canon app running in the background. Once setup, the process happens seamlessly and without further interaction, automatically embedding the location provided by your phone, although the accuracy of course depends on the phone and its view of the sky. I used it here to tag the location of Brighton Pier during a long exposure shoot.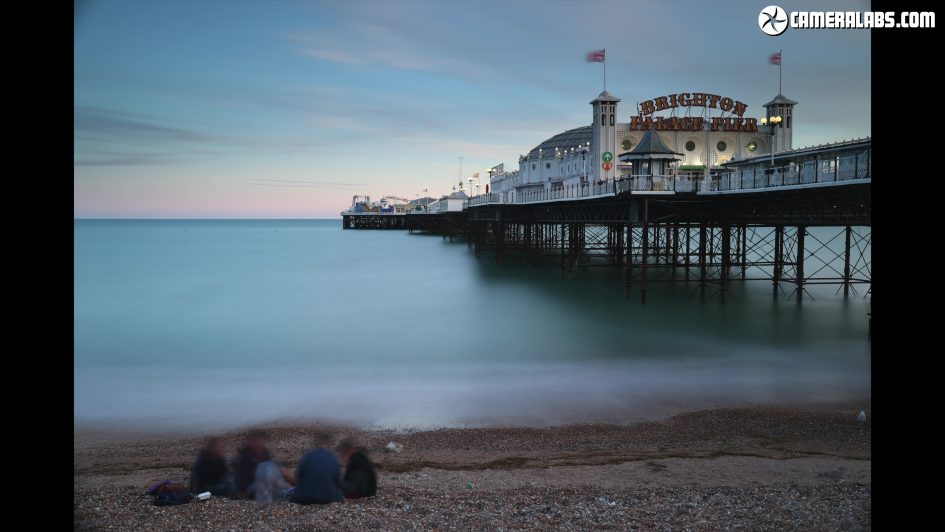 Above: Speaking of long exposures, when set to Bulb mode, the R5 unlocks its Bulb timer, allowing you to dial-in whatever exposure length you desire. Here's an image I took with a two minute exposure and with long exposure noise reduction disabled. Look closely and there's a couple of hot pixels, but in general this is a clean-looking image.

The R5 also includes a Multiple Exposure mode with up to nine frames, in-camera HDR with a variety of effects, focus bracketing for up to 999 shots albeit without in-camera stacking, a built-in interval timer, and a separate mode that can generate time-lapse movies in-camera.

In terms of photo quality, check out a bunch of examples on my samples page. I've always liked Canon's out-of-camera style and the R5 doesn't disappoint with images packed with detail, low noise at high ISOs, plenty of latitude for tonal adjustments, and pleasing colours. While 5DSR owners may feel they're not beaten on resolution, they're certainly roughly matched here, with the R5 comfortably out-resolving all other models in the range. Crucially it not only delivers a step-up in quality over existing EOS R mirrorless cameras, but a transformative upgrade in speed and overall handling. This is a camera that can pretty much do it all in terms of still photography and compared to the competition only lacks a pixel shift mode to further boost detail. Of course Sony's A7r IV and Panasonic's S1R also share a similarly capable high resolution hybrid feature-set, but this is the first time Canon's come close with its full-frame mirrorless system and it'll prove very tempting for existing Canon owners looking to upgrade.

In terms of video, I'm still completing my tests and will add a dedicated movie mode review section when I'm finished; this will include tests made with the firmware update released at the end of August 2020.

Check prices on the Canon EOS R5 at B&H, Adorama or WEX! Alternatively get yourself a copy of my In Camera book or treat me to a coffee! Thanks!