Canon EOS R review - Verdict
Verdict
The Canon EOS R is s welcome addition to the full-frame mirrorless market but a camera that will polarise opinions, impressing in some regards, but disappointing in others. If you're an existing Canon shooter, there's a lot to like including one of Canon's best sensors coupled with familiar colour science, a promising new lens mount, great video autofocus, the best mirrorless performance from adapted EF lenses, and the cheapest way to enjoy 10-bit C-log output. On the downside, there's no built-in stabilisation, only a single card slot, severely cropped 4k, modest action shooting, and lacklustre face and eye-detection. Be under no illusions, if you're not brand-loyal and are simply looking for the most capable full-frame mirrorless camera around, then the Sony A7 III comfortably out-performs it in almost every regard, has way more native lenses and also does a fair job with adapted EF lenses; it's slightly cheaper too.
With that said, let's expand on the positives. The EOS R delivers good-looking photos with an updated version of the 30 Megapixel full-frame sensor known and loved by EOS 5D IV owners coupled with the latest image processing. I was very pleased with the JPEGs out of camera, sporting Canon's famous colour science with a good balance of sharpness bringing out details without looking over-cooked.
Dual Pixel CMOS AF does a decent job at focusing both native RF and adapted EF lenses, feeling a little snappier than a 5D IV in live view and smoothly pulling-focus during movies with the utmost confidence whether tapping subjects or tracking an approaching face. I was particularly impressed with adapted EF lenses which focused similarly to a DSLR in One Shot / Single AF, but with the benefit of AF coverage across most of the frame. In my side-by-side tests using adapted EF lenses on the EOS R and Sony A7 III, the Canon combination performed with greater confidence, less hesitation and was slightly faster too – but then you'd hope it would as a 100% Canon system. Fit the Sony body with a Sony lens and it understandably becomes more successful too. But that said, anyone with a collection of EF lenses wanting to go mirrorless needs to know which body will be best for adapting them, and the answer is – again as you'd hope and expect – the EOS R.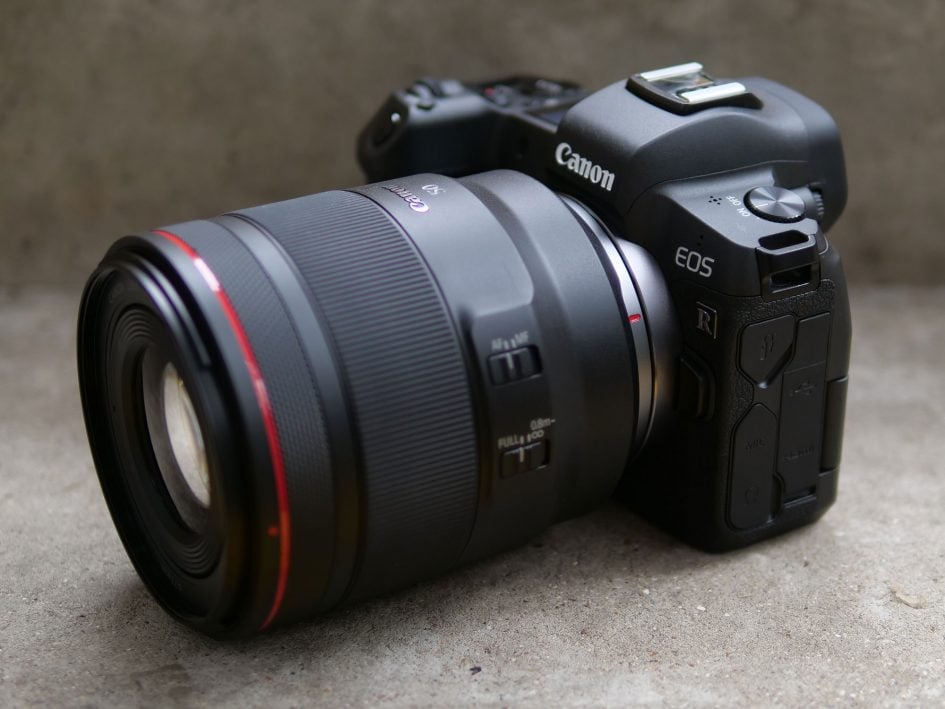 I also appreciated Canon's approach to adapters, offering not one but three, with two of them exploiting the spare space to either include the customisable control ring of native RF lenses or support drop-in filters. With the latter, I love being able to have a variable ND filter available with all EF lenses and while it's not a cheap accessory by any means I think serious movie shooters will love it – especially as they'll also prefer the mechanical focusing of older lenses over the focus-by-wire of the new ones.
Speaking of the new lenses, I'm delighted Canon has launched the EOS R with two exotic models, showcasing what's possible with the new mount: a high-performance RF 50mm f1.2 that's sharper in the corners and better-corrected than the old EF 50mm f1.2 in my tests, and the RF 28-70mm f2 which is a truly unique full-frame zoom. Of course it's early days with only four native lenses at launch, but I get the impression Canon's way more committed to a lens roadmap here than with EF-M, and in the meantime adapted EF and EF-S lenses work very well. Yes, EF-S lenses too, something that's not possible on a full-frame EOS DSLR, and something you will want to try when you learn about the 4k video.
In terms of composition, the electronic viewfinder is equal to the best of its rivals out there with a 3.69 million dot OLED panel that delivers a crisp, detailed and large image. Meanwhile the EOS R amazingly becomes the first full-frame mirrorless camera with a fully-articulated screen, allowing you to compose comfortably at high or low angles in the portrait orientation as well as flipping it forward to face you, making it ideal for vloggers or anyone who needs to film pieces to camera without a crew.
Moving on, the movie mode is a mixed bag. On the upside it's an improvement over the EOS 5D IV, giving you a way more efficient codec, focus peaking, the flip-out screen and C-log in 8-bit internally or 10-bit externally. The latter makes the EOS R the cheapest model with C-log and an ideal B-camera to a Canon Cinema workflow, and it's important to remember none of Sony's full-frame mirrorless cameras at the time of writing offered 10-bit output, nor a forward-facing screen.
In terms of quality, 1080 and 4k footage on the EOS R can certainly look good in isolation, and as mentioned earlier, the camera refocuses with the utmost confidence and reliability, especially for gentle actions like keeping a face focused during a vlog or refocusing during a product demo. But compare the video resolution against the Sony A7 III or Fujifilm XT3 and you'll see it falls behind for both 4k and 1080 footage, while also being very sensitive to rolling shutter.
There's also additional limitations which make the EOS R look weak against the best of its rivals in terms of video. Most obviously 4k is only available with a severe 1.74x crop (horizontally) which actually works out a smaller area than APSC. This may have the side-benefit of making it compatible with EF-S / APSC lenses, but there's no getting away from the fact there's zero benefit to the full-frame sensor when filming 4k and you could achieve a similar – or even better – 4k result with a good APSC camera like the Sony A6300 / A6500 or the Fujifilm XT3.
Then there's the 1080p video which is only available up to 60p – or only up to 30p when using EF-S lenses in crop mode for some reason – when most rivals are now offering 1080 up to 120p for slow motion. The EOS R does offer 120p, but only at a lower 720 resolution and without audio or autofocus, and with an inefficient codec.
Rolling shutter is also accentuated by the lack of built-in stabilisation, arguably the biggest downside of the EOS R. Sony, Nikon, Olympus and Panasonic build stabilisation into all their bodies and even Fujifilm has it on one of them, making Canon the odd one out. It wouldn't matter if all of the lenses had optical stabilisation, but of course they don't. Even two out of the four new RF lenses – revealingly the most exciting ones – aren't optically stabilised.
Then there's the single card slot, again at a time when Sony, Fujifilm, Olympus and Panasonic are all fitting their higher-end cameras with two. Only you can decide if this is a deal-breaker or not. I personally rarely shoot with twin cards even on bodies which offer twin slots, but if you're a wedding, news or event shooter you may think very differently, especially if the event is unrepeatable. That said, you can connect the EOS R to your phone over Wifi and have it copy original JPEGs over as you shoot which can provide some degree of backup; it's not a substitute for twin slots, but might offer some consolation.
In terms of sports, the EOS R is also decidedly mid-range, shooting at just 5fps with continuous AF and offering no live feedback in the viewfinder at this speed either. While the AF system was fine for modest action, it failed to keep-up with birds in flight in my own tests with an adapted EF 70-200mm f2.8L IS III. In contrast, Sony's A7 III effortlessly kept birds in focus at twice the speed (10fps) and even offered live feedback at 8fps when shooting with a native lens. Certainly if you're an EOS 5D IV or 7D owner, you'll enjoy better results than the EOS R for action and wildlife by using their older optical viewfinder AF systems instead.
Sony's also noticeably stronger on face and eye detection. In my tests the EOS R felt much less confident, only locking onto faces and eyes around half of the time and often losing them even when the subject remained much the same on the frame. When it worked, it was great, but it proved sufficiently unreliable for me to switch it off in favour of a hand-positioned single AF area instead.
After several weeks of shooting I remain unconvinced by the new controls too. I'm all for new approaches but personally feel traditional ergonomics and controls were something Canon nailed a long time ago and I really wanted its full-frame mirrorless to benefit from this experience. I'd have personally been delighted with the EOS 5D IV's controls, but instead you'll be relying a lot on the touchscreen and M Fn pad neither of which offer tactile feedback or work particularly well with gloves. I do love touch-screens but in addition to traditional controls, not instead of – as it stands, my thumb really missed an AF joystick.
Finally, while I was impressed with the quality of the new RF lenses, there's no denying they're very hefty models, especially the RF 50mm f1.2 and RF 28-70mm f2.8; indeed it's revealing how much larger the RF 50mm f1.2 is over the old EF 50mm f1.2 even when the latter is fitted with an adapter. There's nothing lightweight or compact about this system right now unless you're comparing it against a pro DSLR, but equally I appreciate many photographers do prefer larger bodies and I have to say the EOS R is one of the few mirrorless cameras which I could wrap all my fingers around without my pinkie dangling from the bottom. Indeed it feels well-balanced with the hefty RF lenses rather than mis-matched, and this could easily become a benefit over time.
Canon EOS R vs EOS 5D Mark IV
With a similar sensor to the EOS 5D Mark IV, the EOS R may at first glance be considered a mirrorless version of this popular DSLR. But the EOS R is a quite different beast and should not be considered an upgrade to it – indeed while there's a number of similarities, the 5D Mark IV still comes out on top in most regards.
In the EOS R's favour is the new RF lens mount, allowing it to access new models which are unlikely to become available in the older EF mount; Canon's roadmaps for both mounts is unknown, but I would be surprised if we see a new EF 50mm f1.2L or an EF 28-70mm f2 for instance. The EOS R can accommodate EF-S lenses with an adapter whereas the 5D IV cannot. The EOS R features a fully-articulated flip screen whereas the 5D IV's screen is fixed in place. The EOS R's movie crops and frame rates may be the same as the 5D IV, but it employs a far more efficient codec, offers focus peaking, has a C-log option for grading and the chance to output in 10-bit over HDMI. And as a mirrorless camera, the EOS R employs an electronic viewfinder that delivers more information, a larger image, and the chance to playback photos as well as composing and playing movies; that said, I know some people still prefer optical viewfinders, so this could be a negative point.
In the EOS 5D Mark IV's favour are arguably better physical controls including an AF joystick, twin card slots, a battery that lasts longer if you're using the optical viewfinder, more effective continuous AF and faster burst shooting when using the optical viewfinder, tougher build quality, and a GPS receiver built-into the body as opposed to relying on your phone over Bluetooth. If you shoot any kind of wildlife or action, you'll find the optical viewfinder AF system on the EOS 5D IV more effective than the Dual Pixel CMOS AF on the EOS R, and depending on your personal preference you may prefer composing through it too.
In short, while movie shooters enjoy a mild upgrade with the EOS R, the EOS 5D IV is tougher and faster. But equally the 5D IV is also a lot more expensive than the EOS R, so if you only desire the photo and video quality of the 5D IV in a more affordable mirrorless version, then the EOS R will give it to you – but don't expect it to handle in the same way. If you own an earlier version of the 5D, the EOS R is a good upgrade, but most owners of the 5D IV should stick with it, especially if they shoot action or wildlife. See my Canon EOS 5D Mark IV review for more details.
Canon EOS R vs Sony A7 III
Sony's third-generation A7 is the full-frame mirrorless camera to beat, and the bottom line is Canon's first-gen EOS R hasn't got there yet. Indeed it only has a handful of benefits over the Sony. In its favour the EOS R focuses more confidently than the A7 III when fitted with adapted EF lenses, has a higher resolution viewfinder, a fully-articulated screen that can face-forward, and the chance to output 10-bit video over HDMI to an external recorder. The EOS R's grip is also larger, but some may prefer the more compact size of the Sony.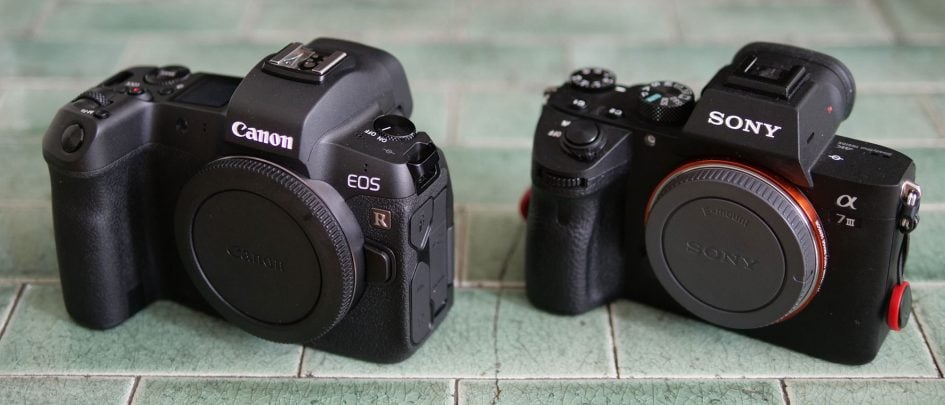 In its favour, the Sony A7 III has built-in stabilisation, twin card slots, 10fps with continuous AF (twice that of the EOS R) or 8fps with live feedback, full-frame 4k video, 1080 at 120p with audio, an AF joystick, much more confident face and eye detection, zebra patterns, and a choice of 30 native full-frame lenses versus just four in the RF mount at the time of writing. It is by far the better-featured camera and cheaper too, and while the EOS R's sensor is slightly higher resolution, it didn't make a great deal of difference in my tests, and video was softer on the Canon too.
If you're adamant on keeping and regularly using EF lenses under demanding conditions, then you should stick with Canon bodies, but if you're not brand-loyal to Canon and are willing to build a new system with native lenses, then the Sony A7 III makes more sense – and while it's not as good as the EOS R with adapted EF lenses, it still does a surprisingly good job with them during a transitionary period. See my Sony A7 III review for more details.
Canon EOS R vs Nikon Z6 – comparisons coming soon, in the meantime see my Nikon Z6 review so far.
Canon EOS R final verdict
The Canon EOS R is a full-frame mirrorless camera that both impresses and disappoints. On the plus-side it delivers good-looking photos, has a promising new mount with two exotic lenses at launch, great video autofocus, and the best performance from adapted EF lenses on a mirrorless camera. On the downside, there's no built-in stabilisation, only a single SD card slot, severely cropped 4k video, modest action shooting capabilities, and lacklustre face and eye-detection – plus those first native lenses don't exactly make for a compact system. Be under no illusions, if you're not brand-loyal and are simply looking for the most capable full-frame mirrorless camera around, then the Sony A7 III comfortably out-performs it in almost every regard, has way more native lenses and also does a fair job with adapted EF lenses; it's slightly cheaper too.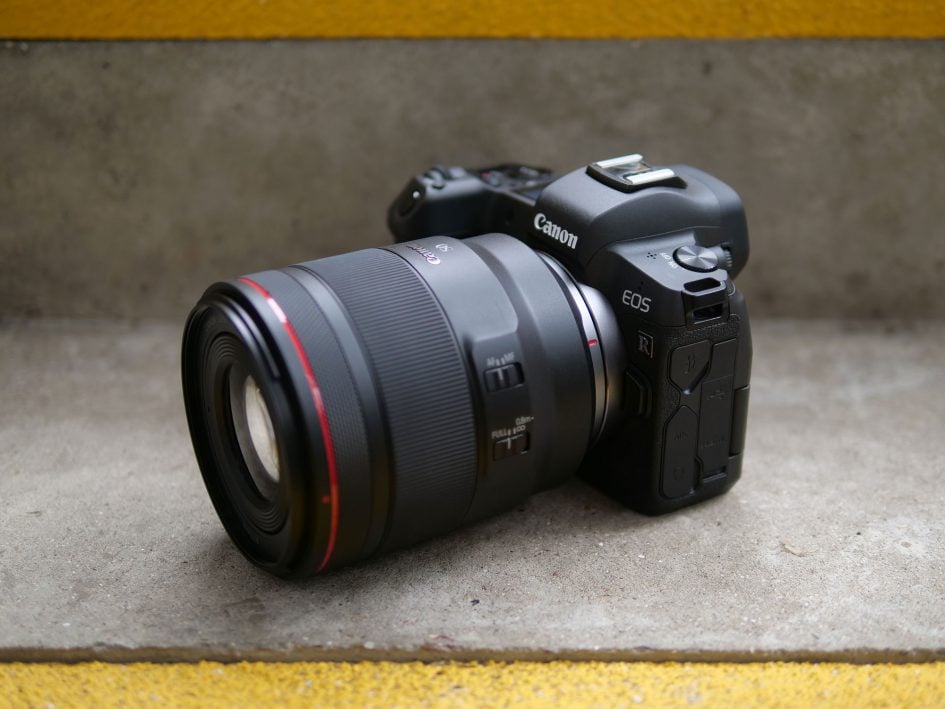 If you're a faithful Canon owner though, the EOS R becomes more compelling and is their best mirrorless camera to date. Still photographers will enjoy one of Canon's best sensors coupled with its excellent colour science, while videographers will appreciate the fully-articulated screen and C-log with 10-bit output at a much lower price than a Cinema camera. I'd say it makes most sense to EOS 5D I, II or III owners, or those with mid-range APSC bodies like the EOS 80D who are looking for an upgrade as well as a smooth transition to mirrorless that works well with existing lenses. It's also appealing to Canon Cinema owners looking for a B-camera to match their output. Ultimately the EOS R a version one product entering a market where Sony is comfortably selling its third generation bodies and an extensive range of native lenses. As such, the EOS R inevitably struggles to compete, but still shows promise in some key respects. Right now this first body only makes sense to specific Canon owners, but certainly there's a lot of promise – especially with the lens mount – and I look forward to seeing where Canon takes it.

Check prices on the Canon EOS R at Amazon, B&H, Adorama, or Wex. Alternatively get yourself a copy of my In Camera book or treat me to a coffee! Thanks!