Intro
The Canon EOS R is a mirrorless camera with a full-frame 30 Megapixel sensor, Dual Pixel CMOS AF that works down to -6EV (with an f1.2 lens), 8fps burst shooting (5fps with continuous AF), one SD card slot, 4k video with 10-bit output over HDMI, a 3.69 Million dot electronic viewfinder with 0.76x magnification, and a fully-articulated 3.1in touchscreen. Announced in September 2018, it's the first full frame mirrorless camera from Canon and launches its new RF lens mount.
Canon launched the EOS R with four new native RF lenses, along with three different adapters for fitting EF lenses and claims no compromise in performance with the latter. Unlike full-frame Canon DSLRs, it's also possible to adapt and use EF-S lenses too, albeit with a reduction in the field of view (1.6x for photos and 1.74x for movies).
The sensor shares a number of specifications with the EOS 5D Mark IV, but Canon stresses there are some differences, most notably new micro-lenses optimised for the shorter flange-back distance of the new RF lens mount. Sadly one aspect inherited from the EOS 5D Mark IV is the 1.74x crop when filming 4k video, but on the upside the compression is much more efficient, there's focus peaking, C-log and 10-bit output for grading, and the compulsory crop means you can happily use smaller, lighter and cheaper EF-S lenses for 4k filming like the EF-S 10-18mm. Meanwhile, 1080p is available up to 60p and 720p up to 120p.
I shot with the EOS R for an extended period, trying it out with both the native RF lenses and a bunch of adapted EF and EF-S lenses to find out if this is the mirrorless camera the Canon faithful have been waiting for. I also took the chance to compare it directly against the Sony A7 III and Fujifilm XT3 for photo and movie quality as well as autofocus performance, so if you're in the market for a high-end mirrorless camera – especially one that promises the best EF compatibility – read on to find out if the EOS R is right for you! I'll start with a brief overview of the key features in my first-looks video before delving into the features and performance. As always I have separate results and sample images pages, followed by my final verdict all accessible from the tabs above or the links at the end of each page.
Canon EOS R podcast review with Gordon and Doug
Canon EOS R design and controls
The Canon EOS R is a chunky camera that at first glance could be mistaken for a mid-range DSLR rather than a compact mirrorless model – a design strategy undoubtedly chosen to ease the transition for the DSLR faithful, although one equally suited to handling the surprisingly large native lenses launched with it. In your hands the EOS R feels like a serious piece of kit with a substantial grip that won't leave your pinky finger dangling off the bottom. Meanwhile a decent ridge on the rear provides plenty of purchase for your thumb, allowing you to hold the camera very securely.
Measuring 136x98x84mm and weighing 660g including battery, the EOS R body is among the largest of its mirrorless rivals. Nikon's Z7 is roughly the same width and height, but noticeably thinner and lighter too at 500g. Sony's A7 III is roughly the same height, but narrower and thinner, albeit similar in body weight. If you're coming from a comparable DSLR, the EOS R may seem relatively compact – for instance Canon's EOS 5D Mark IV measures 151x116x76mm and weighs 800g – but in the mirrorless World the EOS R is definitely on the large side. Again though, this may suit you better than a more compact model.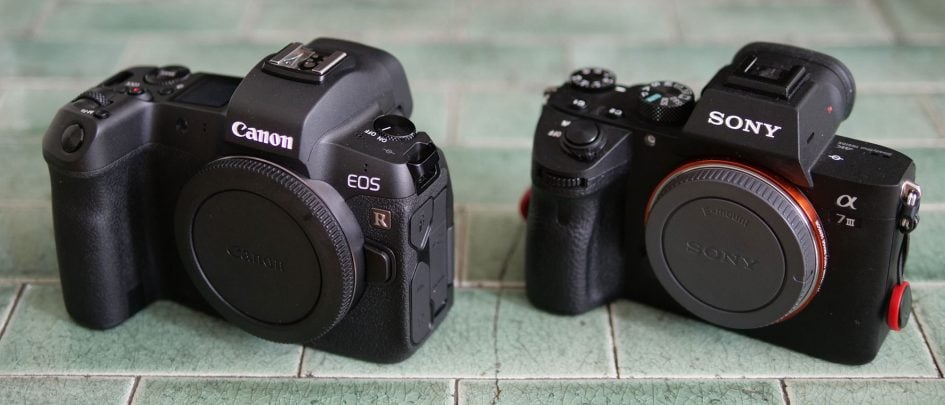 Where the EOS R really tips the scales though is when fitted with one of its native lenses, in particular the RF 50mm f1.2L (weighing-in at 950g) or the RF 28-70mm f2L (a whopping 1430g). With either mounted, you're carrying around a substantial combination, but it's testament to the body design choices that they're surprisingly easy to handle. Canon's clearly designed the EOS R to be used with larger lenses, while rival Sony's bodies often feel a bit too small when paired with the larger FE lenses. That said, I do wish Canon had launched a smaller native lens for those who want a more compact option – it's in some contrast to Sony's original full-frame mirrorless launch which introduced impressively compact 55mm and 35mm native lenses.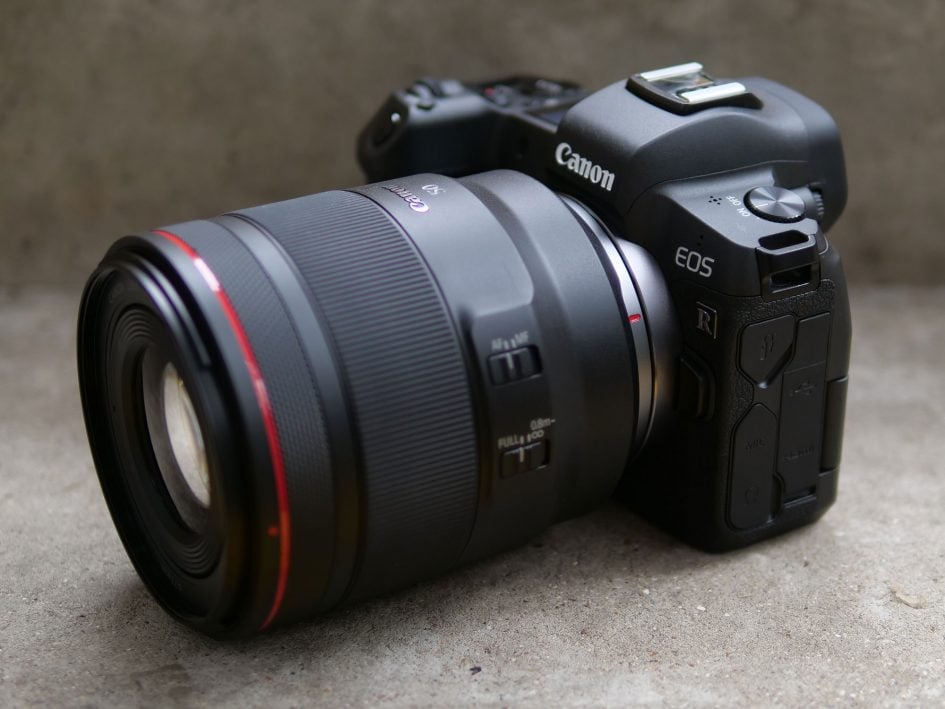 In terms of build quality, the EOS R certainly feels substantial and well-built, but in terms of sealing, Canon describes it as being equivalent to the EOS 6D Mark II. This makes it more of a mid-range model in toughness compared to, say, the EOS 5D Mark IV or EOS 7D bodies. I didn't experience any reliability issues while testing the EOS R, but beyond a little sea spray I didn't get the chance to shoot under particularly inclement conditions, so time will tell how robust it really is. Perhaps a higher-end EOS R model is in the works, but in the meantime I'd recommend using it with relative care.
I'll now move onto controls, an area where I thought Canon would play to its traditional strengths and deploy the familiar buttons, dials and switches that have been refined to perfection over the years, but instead the company has opted for an entirely different and more modern approach. I admire any company that's willing to try something different but by doing so I'm concerned Canon may have lost-out on what could have been an easy ergonomics-win over the competition. Ok, deep breath, here goes.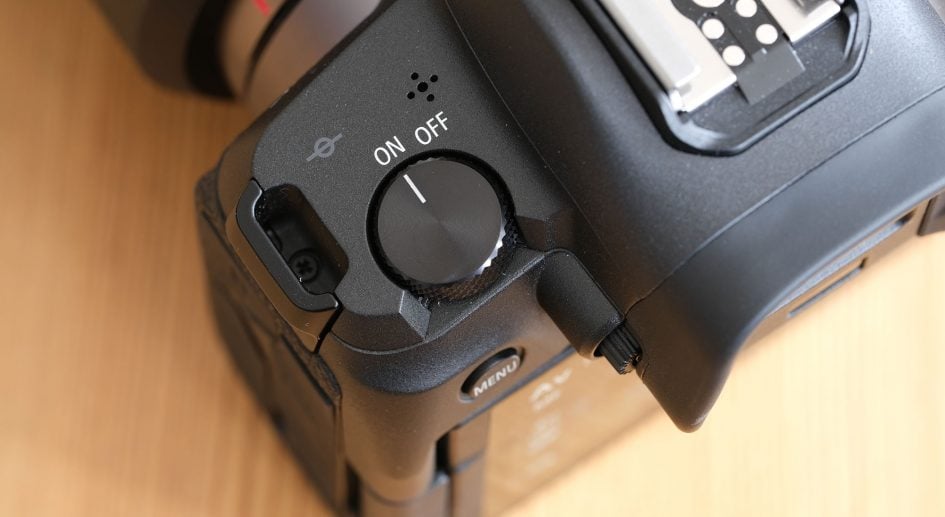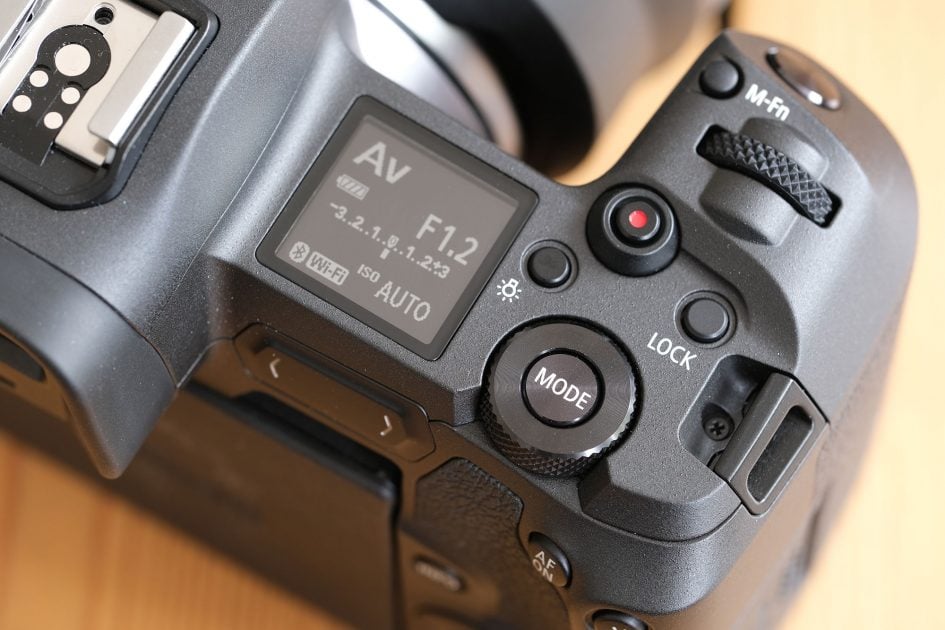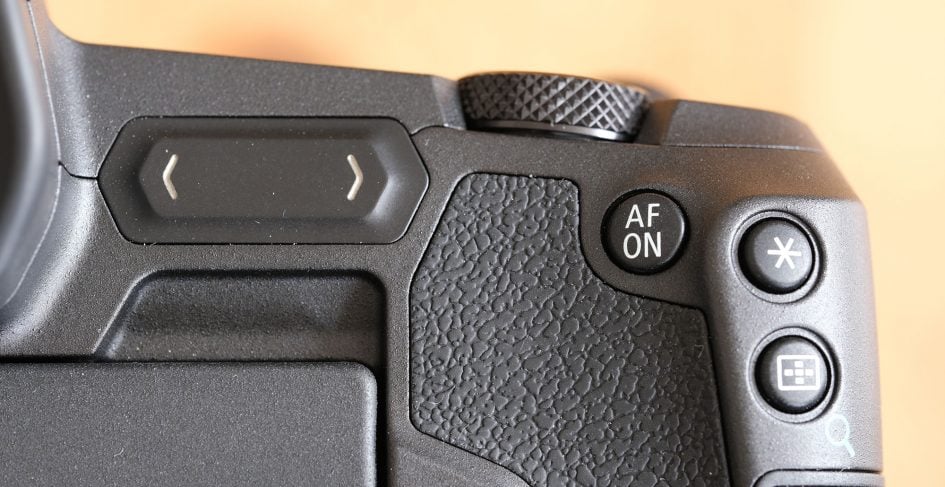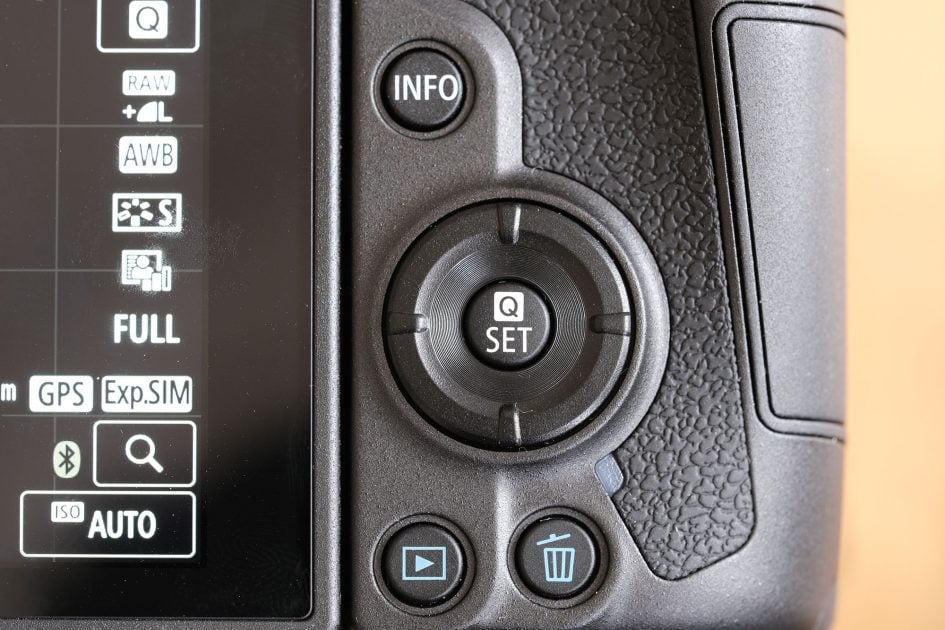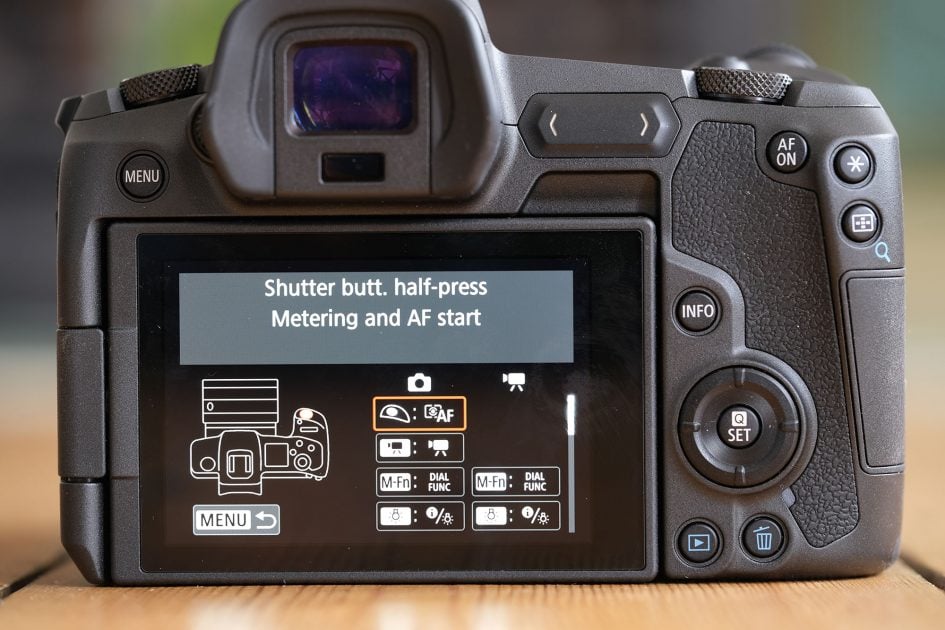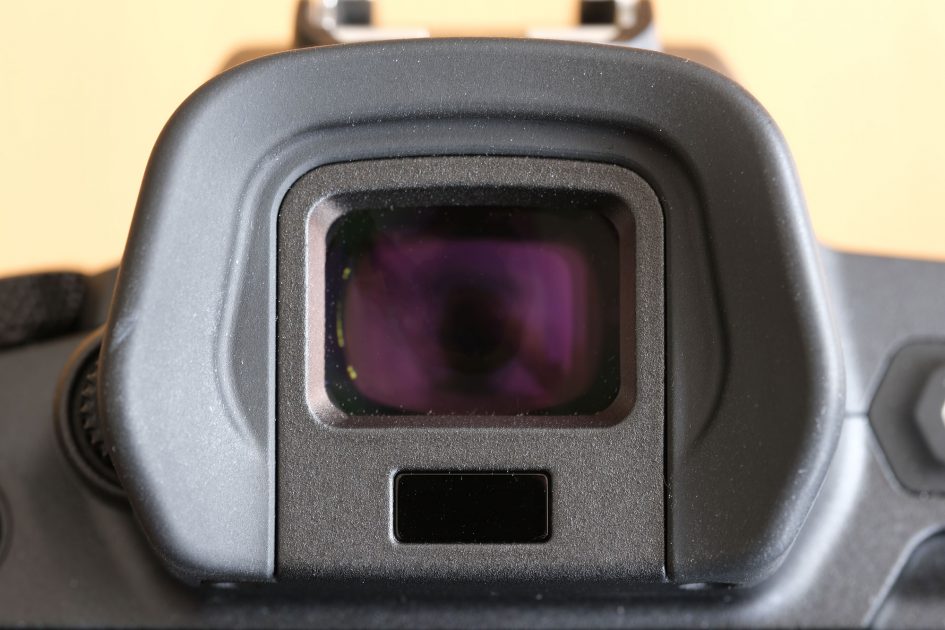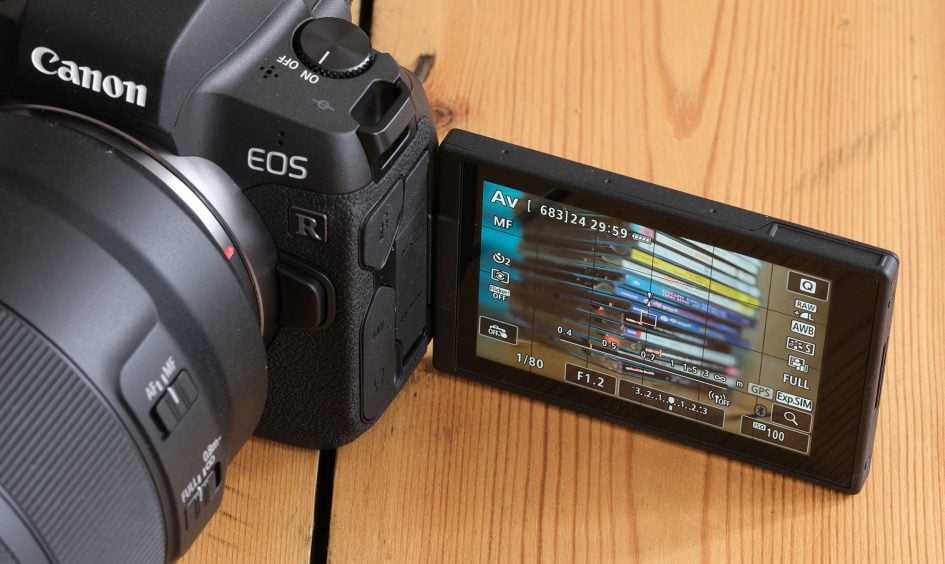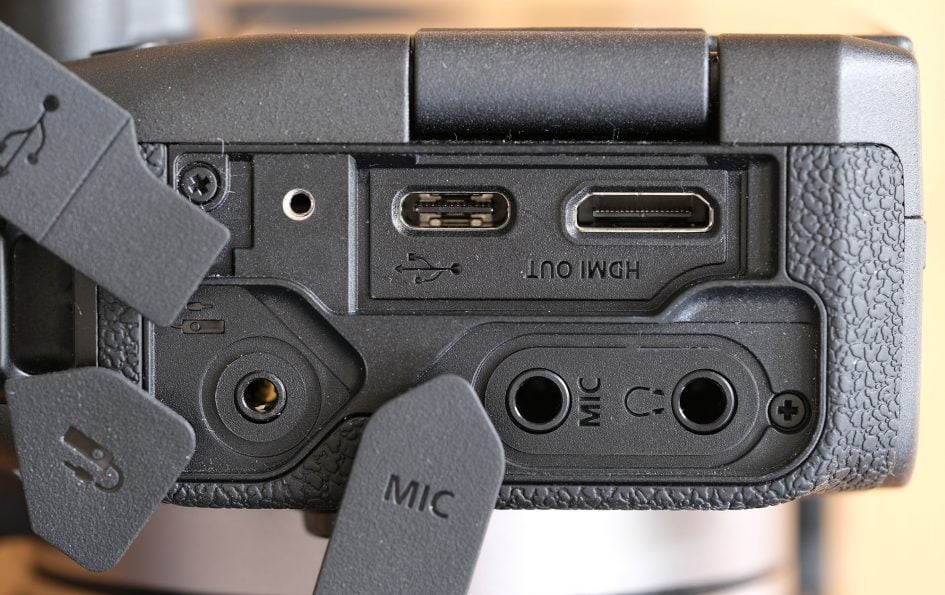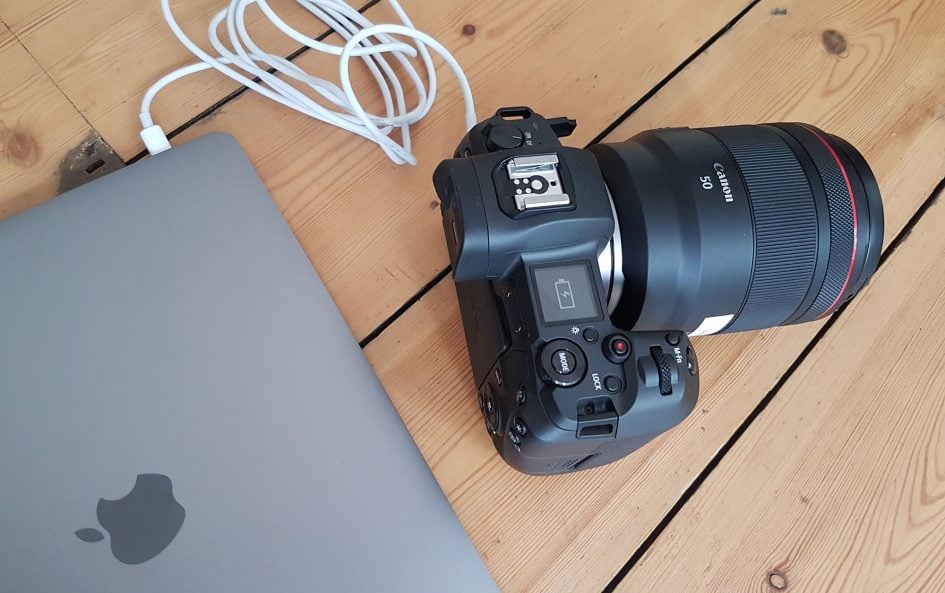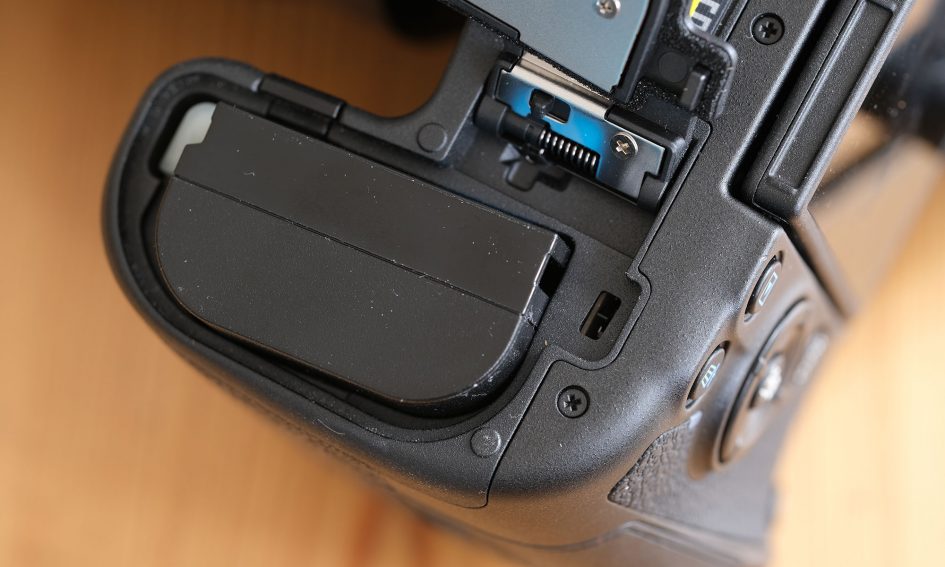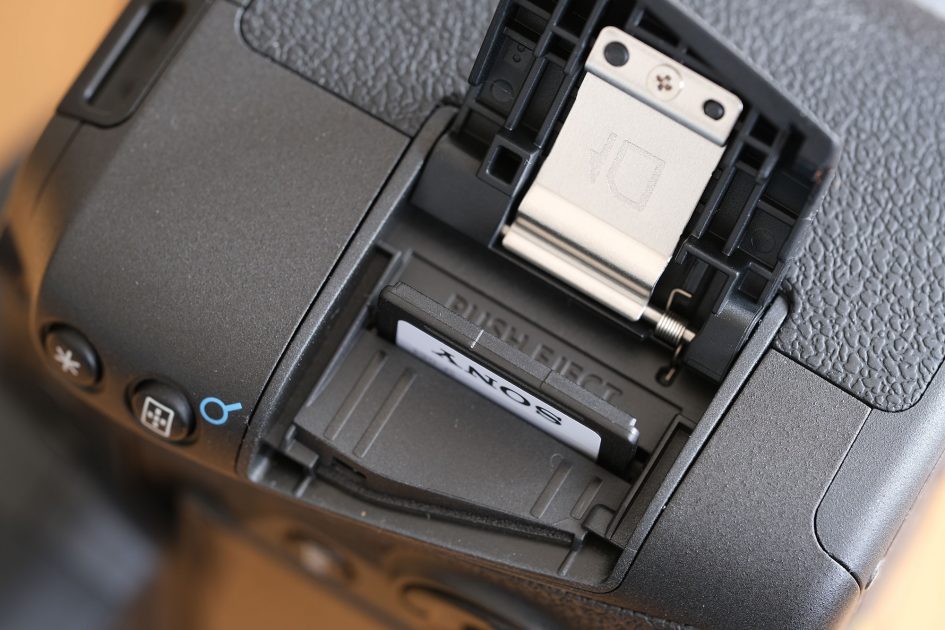 Canon EOS R lenses
The EOS R is the first body to use Canon's new RF mount, designed for full-frame mirrorless cameras. RF employs a 54mm throat diameter and 20mm flange-to-sensor distance, allowing Canon greater freedom in optical design than the previous EF mount; it also sports a new 12-pin communications system. Note the EOS R does not offer built-in sensor-shift stabilisation, instead favouring optical stabilisation built-into some of its lenses. This approach differs from Sony, Nikon, Olympus and Panasonic who all build sensor-stabilisation into most of their mirrorless cameras, and even Fujifilm offers it on one body. It's a shame as it means a large number of lenses, native and adapted, won't enjoy any stabilisation on the EOS R. Revealingly, of the four native RF lenses launched alongside the EOS R, only two are stabilised, and I personally found shooting with the unstabilised RF 50mm f1.2 and 28-70mm f2 more of a challenge than it could have been on a stabilised body. Your mileage may vary.
The RF mount diameter may be the same as the EF lens mount, but the shorter flange distance, different bayonet design and new electronics mean you can't directly mount an EF lens on an RF body or indeed vice versa. Canon's designed a variety of adapters which will let you fit existing EF and EF-S lenses onto an RF body, but you'll never be able to fit an RF lens onto an EF body due to the shorter flange-to-sensor distance they're designed for; I'll discuss adapters in a moment. Note EF-M lenses designed for Canon's APSC mirrorless format cannot be fitted or adapted to the EOS R, but it's no great loss as most EF-M lenses are just basic zooms.
The native RF lenses employ a motorised focus-by-wire system, and you can choose the direction of the focusing ring and whether the focusing ring varies with rotation speed or is linked to the rotation degree. Every RF lens also has a Control Ring that can be customised to adjust aperture, shutter speed, ISO or exposure compensation.
The EOS R launches with four native RF lenses: the RF 24-105mm f4L IS USM (smaller than the existing EF 24-105mm f4L but with Nano USM focusing and claims of higher quality), the RF 28-70mm f2L USM (the first f2 full frame standard lens, but no IS). the RF 35mm f1.8 Macro IS USM (a more affordable model for street and close-up photography), and the RF 50mm f1.2L USM (the fastest full-frame AF lens in its class and claiming better quality than the existing EF 50mm f1.2L USM, albeit again without IS). All four of these lenses have customisable control rings which click as you turn. Canon hasn't released an RF lens roadmap but commented it was already working on a series of f2.8 zooms. As for the four models at launch, they're all fairly large, especially the RF 28-70mm f2 and RF 50mm f1.2; indeed it's striking how much larger the RF 50mm f1.2 is than the older EF 50mm f1.2.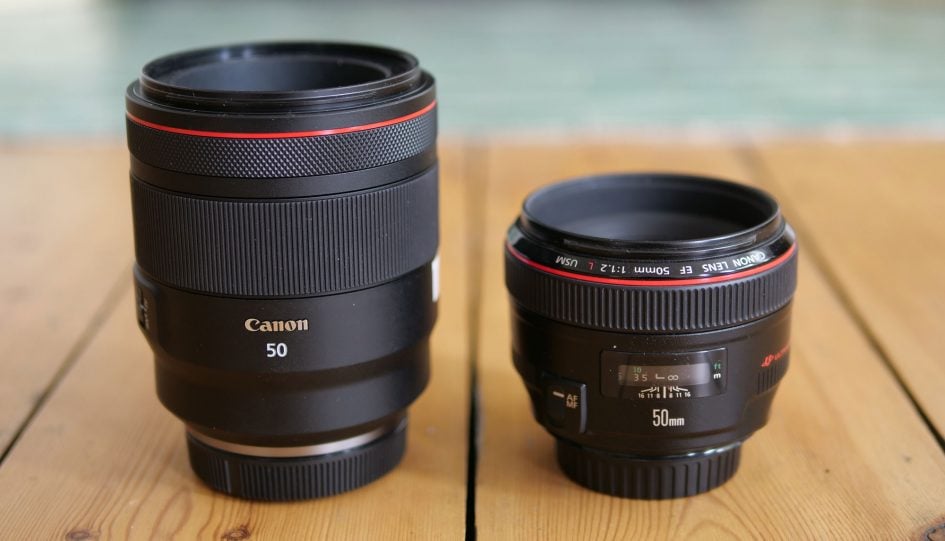 With 130 million EF lenses sold, Canon realises compatibility with existing lenses is critical to the EOS R's success, so has developed not one but four EF-EOS R adapters: a basic model that's included with the body in most regions, a second that sports the customisable function ring of RF lenses (thereby giving them the same control as a native RF lens), and two more which support drop-in filters with the choice of either a circular polariser or a variable ND. I'm really pleased to see Canon exploit the space in an adapter to provide additional functionality, whether it's the addition of the control ring or the drop-in filter holder, and the latter will delight videographers although I do wonder if it will encourage them to stick with adapted EF lenses rather than invest in native RF lenses.
The EF-EOS R adapters allow you to fit EF-S lenses in addition to EF models, an option that's not possible on Canon's full-frame DSLRs. When an EF-S lens is fitted to the EOS R, it automatically switches into a cropped mode, but the crop factor is different depending on whether you're shooting stills or filming video. If you're shooting stills, the crop factor is the same 1.6x you'd expect from an APS-C camera, and there's an understandable drop in image resolution from 30 to 12 Megapixels.
When filming video with an EF-S lens though, the EOS-R enters into its movie crop mode which applies a more severe 1.74x crop, whether you're filming in 1080p or 4k; in addition when you're in movie crop mode, the 1080 50p / 60p and 720 100p / 120p options become unavailable.
When you fit a full-frame lens, or at least one with a standard EF-mount, the EOS R gives you the choice of filming 1080p video in full-frame or movie crop mode, the latter again applying a 1.74x field-reduction. If you choose to film in 4k though, the EOS R applies the 1.74x crop regardless of the lens whether you like it or not, so if you're filming 4k, you may as well shoot with EF-S lenses or those designed for APS-C sensors. As such, two lenses that are likely to become popular with EOS R videographers are the Canon EF-S 10-18mm STM and the Sigma 18-35mm f1.8. The Sigma in particular is an interesting choice as while the optics are only corrected for an APS-C imaging circle, the lens itself physically employs an EF mount; this means the EOS R lens you film 1080p video in either crop or full-frame modes, while also unlocking the 50p and 60p options in the latter. I have demonstrations of both lenses in action in the movie mode section later.
While it is possible to adapt EF-S lenses to the EOS R, it's not possible to fit or adapt EF-M lenses from Canon's EOS M APS-C mirrorless system. To be fair, there's very few EF-M lenses available and most are basic zooms so I can't see many EOS R owners feeling too bad about not being able to adapt them, but conversely it does illustrate the benefit of Sony's e-mount which lets you fit APS-C or full-frame lenses on either its APS-C or full-frame bodies without adapters. Going forward I wonder how much Canon will continue to develop new EOS M / EF-M products now that it has a full-frame system to expand.
Understandably it's early days for the RF system, but I'm pleased Canon decided to launch with two exotic lenses that exploit the new mount, and I'm also relieved adapted EF lenses seem to work very well too. But it would also be remiss of me not to mention the alternatives which are already much more established – most notably Sony's Alpha system at the time of writing had 30 full-frame native lenses, not to mention several full-frame bodies with built-in stabilisation. Canon and Nikon are late entries here and have some catching-up to do.
Canon EOS R focusing
The EOS R employs Canon's Dual Pixel CMOS AF system for focusing, which allows most of the imaging pixels to double-up as phase-detect autofocus points. In the case of the EOS R, the coverage is 88% horizontally and 100% vertically, so it works across almost the entire frame, giving it an advantage over traditional DSLR viewfinder AF systems which concentrate their AF coverage in a smaller diamond or lozenge shape. Canon also claims the AF system can operate down to levels of -6EV, lower than other manufacturers, although only when using f1.2 lenses like the new RF 50mm f1.2; fit an f2.8 lens and it'll only focus down to -3EV, although that's still very practical as I found when testing the EF 70-200mm f2.8L IS III USM on an adapter.
There's two main focusing modes: One Shot for single autofocus and Servo AF for continuous autofocus. In terms of AF areas, you can choose from Face / Tracking (with optional eye-detection), single area, expand area (with four or eight additional points around it), or three zoned options. Remember each of these can work across almost the entire frame, so no problem if your subject is in the corner.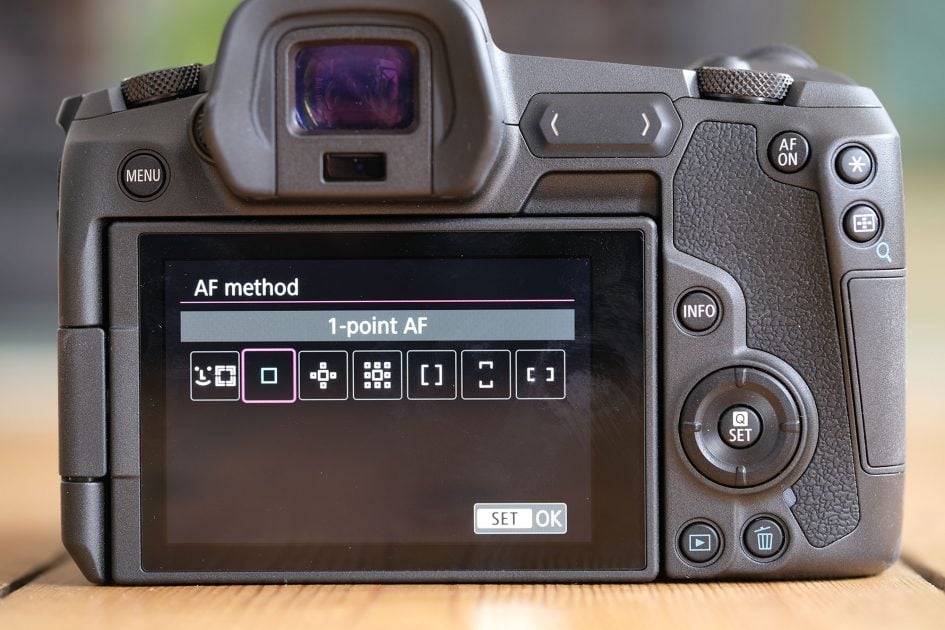 To select or move an AF area, you'll need to use the touchscreen, control dials or the cross-keys – sadly there is no AF joystick on the EOS R, and my right thumb really missed it. That said, the touchscreen does let you quickly tap to reposition the AF area and also works as a touchpad when composing through the viewfinder. When using it as a touchpad, it's possible to specify how much of the screen remains active (a side or corner for instance) to avoid inadvertent operation by your nose. You can also choose absolute or relative positioning, the latter letting you more easily move the AF area from one side of the frame to the other with a single tap rather than having to drag it across. In practice it can work well, although if you're wearing gloves you may find the touchscreen becomes less responsive or even inoperable, forcing you to use the cross keys or control dials in cold weather. Regular readers of Cameralabs will know I love touchscreens, but on a camera like this they should be in addition to traditional controls, not instead of. Personally I'd have enjoyed shooting with the EOS R much more if it had an AF joystick in addition to the touch-screen.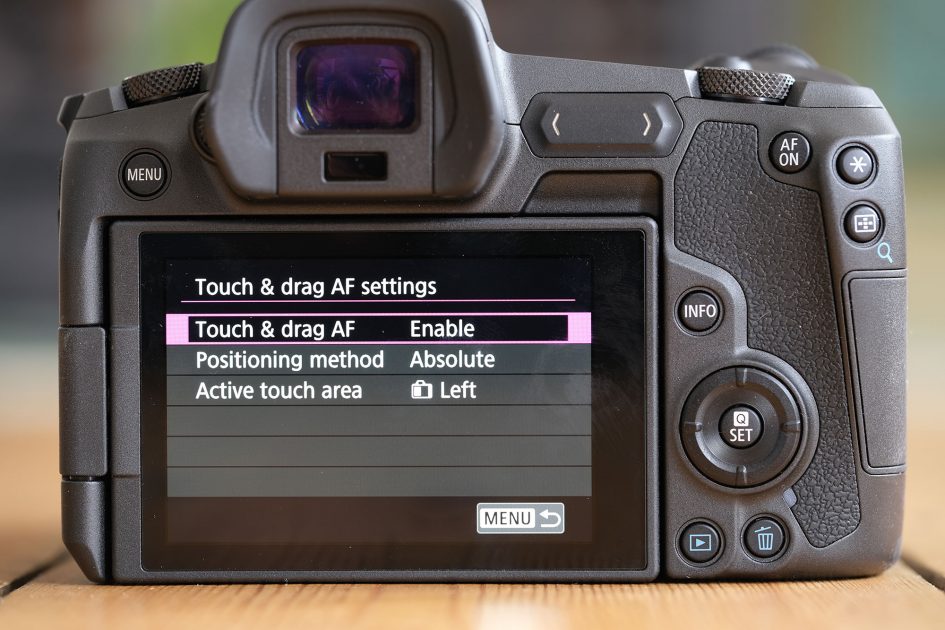 To test the EOS R's autofocus, I used a selection of native and adapted lenses, including the RF 24-105mm f4, RF 50mm f1.2, EF-S 10-18mm STM, EF-S 18-55mm STM, EF 50mm f1.8 STM, EF 50mm f1.2L USM, EF 85mm f1.8 USM and EF 70-200mm f2.8L IS III. I also tried the Sigma 18-35mm f1.8.
In casual use, the EOS R's autofocus predictably feels a lot like shooting with the EOS 5D Mark IV or EOS 6D Mark II in live view, although to me it felt a little faster and snappier overall. I was particularly impressed with adapted EF lenses which for general use continued to focus quickly and confidently while exploiting the benefit of the larger AF coverage across most of the frame. I was also pleased to find all of the AF areas and modes were available for adapted Canon lenses as well as native ones.
Face and eye detection felt less confident though in my tests regardless of the lens in use. I tried it on almost everyone I met during my test period and found the EOS R would sometimes lock-onto a face and the closest eye instantly, but at other times seem blissfully unaware a face was in front of it. Strangely it would often identify a face, then lose it seconds later even if the person or framing didn't move. When it worked, it worked well, but in terms of consistency and reliability it felt well below the likes of Sony's face and eye detection which simply feels much more confident. Sony's face and eye detection also works in continuous AF, whereas when you switch the EOS R to Servo AF, the eye-detection becomes unavailable and it's plain face detection only. Ultimately in portrait situations I often found myself switching face detection off altogether and positioning a single AF area over an eye instead.
In terms of continuous autofocus I took to the streets of Brighton to photograph the local seagulls with their unpredictable swoops, as well as my friend Ben cycling towards me for a more predictable subject. In both cases I wanted to use a bright telephoto, so in the absence of a native RF option, I adapted the Canon EF 70-200mm f2.8L IS III using the basic Canon EF-EOS R adapter supplied with my test body.
Starting with Ben on his bike, I set the EF 70-200mm f2.8L IS III to 200mm f2.8, set the exposure to Manual at 1/2000 with Auto ISO, and the focus to Servo AF with Expand Area, using the eight surrounding points and positioning it towards the centre-top of the portrait frame, keeping it positioned over Ben's face as he approached.
Canon quotes a top burst speed of 8fps or a fairly modest 5fps with continuous autofocus; the latter figure was confirmed in my tests with Ben approaching on his bike. Even at this relatively leisurely burst speed though, the EOS R won't provide live feedback between frames so while there's no blackout, you will be looking at the last frame shot, not what's actually happening right now. This doesn't pose much of an issue with subjects approaching face-on, like Ben on his bike, but unpredictable subjects moving from side to side become much harder to follow. Here's a sequence of images representing just under two seconds of action.








In terms of focusing success, the EOS R, like many mirrorless cameras, struggled to lock-onto Ben when he was quite distant and smaller than the actual AF square. Once he was a little closer though and presenting a target that overlapped the edges of the AF square, the EOS R generally snapped-onto him and kept him sharp in around nine out of ten frames. A hit-rate of around 90% certainly sounds pretty good, especially using an adapted lens, but remember this was at a speed of just 5fps, and without any live feedback. Fitted with a native lens, Sony's A7 III will deliver a similar hit-rate at 8fps with live feedback or at 10fps without, giving you twice as many focused images in the same time. Again this is when using a native Sony lens on the A7 III, but there's currently no native telephotos for the EOS R.
Moving onto birds in flight, I stuck with the EF 70-200mm f2.8L IS III at 200mm f2.8 and tried a variety of AF area modes. When the birds flew straight towards me, it was fairly easy to keep them in the frame, but as soon as they swooped off to the side, it was hard to keep them centred without live feedback while shooting. I also found the AF system regularly failed to lock-onto them at the start of a sequence, forcing me to let go of the shutter release, then depress it again a moment later in an attempt to re-acquire it; this generally worked, although obviously at the cost of even fewer frames in a sequence and the risk of losing the subject altogether. In terms of hit-rate, my tests with the seagulls proved much less successful than with Ben on his bike. The EOS R often struggled to keep the bird in focus throughout a sequence, even when it was close, and it had a hard time acquiring a target which suddenly entered the frame. Don't get me wrong, I managed to grab a few shots of birds which were in focus, but overall the experience with birds in flight was frustrating and far less successful than shooting with the Sony A7 III or Fujifilm XT3 when coupled with native lenses. I should also add that when it comes to locking-onto a subject that starts very small on the frame, I personally find DSLR viewfinder AF systems more successful.




Now of course I was using an adapted EF lens on the EOS R for this test, and the camera might end up performing better with a native RF telephoto lens when they become available in the future; it could be that customising the various AF options may yield better results. But based on my experience with an adapted EF 70-200mm f2.8L IS III, I'd say it's not the best choice for action, sports and wildlife photography, especially if the subject is moving quickly or unpredictably. The fastest burst speed of 5fps with autofocus falls way below rivals, the continuous AF struggled with fast subjects in my tests, and the lack of live feedback – even at 5fps – means you'll find it hard to follow unpredictable subjects. In the mirrorless World, it's simply out-gunned for action by the Sony A7 III and Fujifilm XT3 when they're fitted with native lenses, or of course one of Canon's better DSLRs using its viewfinder AF system and an EF lens.
Before moving on though, I was interested to see whether the EOS R could focus the adapted EF 70-200mm f2.8 better or worse than a Sony A7 III; it sounds like a crazy test, but I know there are plenty of people with existing Canon EF lenses wondering which mirrorless body will adapt and drive them most effectively, and we all know the Sony bodies can certainly work with EF lenses using a third-party adapter.
I fitted the EF 70-200mm F2.8L III to a Sony A7 III using the Sigma adapter and my hopes were initially raised by it appearing to deliver similar snappy performance for Single AF targets, and looking like it was happy to continuously refocus on Ben approaching as I held the shutter half-pressed. But once I pushed the shutter release down to capture a burst, the A7 III failed to adjust the focus. I retried with different burst speeds and AF area options, but to no avail: I just ended up with a bunch of blurry photos. The only success I enjoyed with a moving subject using the adapted Sony / EF combination, was when I fired-off single shots with continuous AF rather than bursts.
Of course this was again just one test with one lens and one adapter, but from this experience, I'd say the EOS R is delivering a better continuous autofocus performance with adapted EF lenses than the Sony – as you'd hope. I also took the opportunity to adapt the same selection of Canon EF lenses mentioned earlier to the Sony A7 III and while it performed admirably with them, it did come across as a little hesitant at times, lacking the confidence and consistency when they were adapted to the EOS R instead. So if you want to adapt your EF lenses onto a mirrorless camera and demand the best autofocus experience with them, I'd recommend using the EOS R. But be under no illusions: fit the Sony with a native lens and it'll comfortably beat the EOS R for action, sports and wildlife in every respect, not to mention boasting superior face and eye detection.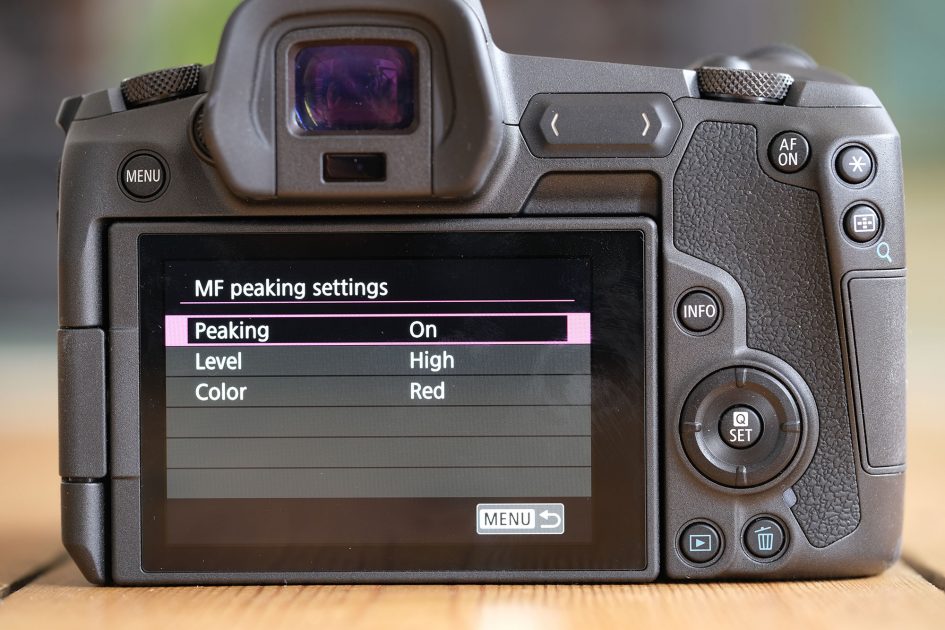 Finally, if you prefer to manually focus, you can enable peaking assistance in a choice of colours and or a visual guide which indicates as you approach or move away from the point of focus. The native RF lenses employ a motorised focus-by-wire system, and you can choose the direction of the focusing ring and whether the focusing ring varies with rotation speed or is linked to the rotation degree.
In terms of formal burst speed tests in Single AF / One Shot mode, I fired-off 108 Large Fine JPEGs in 13.54 seconds before the camera stuttered for a rate of 7.9fps. Switching to RAW (full-szie) I managed 46 shots before pausing in 5.76 seconds, again for a rate of 7.9fps. When shooting with continuous / Servo AF though, the rate fell to around 5fps in practice, although again larger bursts were possible if desired.
Canon EOS R shooting modes
The Canon EOS R offers the usual Program, Aperture Priority, Shutter Priority, Manual and full Auto modes, along with Bulb, three Custom modes and a new Flexible Priority mode. Rather than use a dedicated Mode dial though, you'll need to first push the Mode button before turning the ring around it to select the desired mode; this can just about be achieved one-handed with your eye to the viewfinder and while some may lament the loss of a Mode dial, it's worth remembering the professional EOS 1D series don't have one either.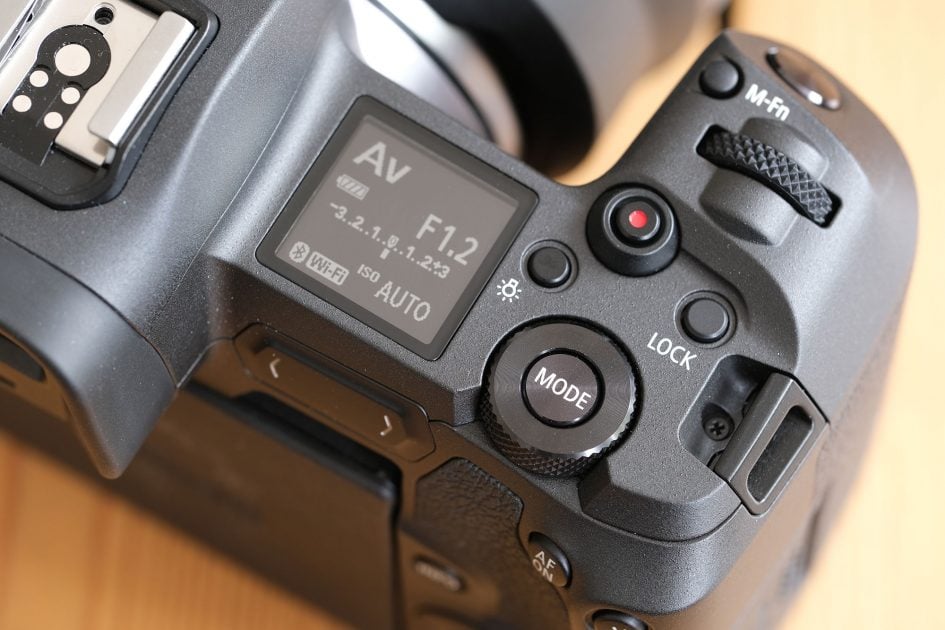 The new Flexible Priority mode is an interesting addition, initially operating in full auto for shutter, aperture and ISO, but allowing you to dip-in and adjust (or reset) each setting as desired; this effectively turns full Auto into shutter priority, aperture priority or ISO priority modes without having to actually change the formal mode itself.
The EOS R offers shutter speeds between 30 seconds and 1/8000, or a Bulb mode for longer exposures. In Bulb mode you can enable the Bulb timer which lets you preset a time between one second and a second shy of 100 hours and you can trigger it with a self-timer if desired, allowing you to deploy long exposures without any accessories. During a Bulb exposure, the time elapsed so far is also shown on the top screen. An anti-flicker mode is also available for those who shoot under artificial lighting and want to match the frequency.
The EOS R offers the choice of three 'Silent Live View' shooting options: Mode 1 is the default, and I believe uses an electronic front curtain. Mode 2 is the same but delays the shutter reset while you have the shutter release button pressed. Meanwhile if you disable 'Silent Live View' you use an entirely mechanical shutter. All three options are quite audible with the default Mode 1 making a 'ker-chack' sound that's not dissimilar to a Canon DSLR in live view.
If you prefer to operate in complete silence, the EOS R offers a Silent Shutter mode that employs a fully electronic shutter. This is completely silent and vibration-free, and while it supports the same shutter speed range as the mechanical shutter and the chance to continuously autofocus, there are some restrictions. First you can't shoot bursts in the Silent Shutter mode and second, eye-detection is not available, although basic face-detection still works. Like the majority of electronic shutters to date though, the biggest issue regards sensor readout speed and the risk of rolling shutter / skewing artefacts. The EOS R suffers quite badly here and if you're panning while shooting with the electronic shutter you'll notice verticals become diagonal; even if the frame is static, any subjects in motion, like a cyclist riding past, can also become distorted. To be fair this applies to most electronic shutters and only Sony's Alpha A9 has made a concerted effort to minimise the effect. You can see an example below with the EOS R showing the same panning motion with the default shutter on the left and the silent shutter on the right.

Auto exposure bracketing is available in two, three, five or seven frames in increments of 0.3 to 3EV, and it's possible to trigger an entire sequence using the self-timer. An in-camera HDR mode is also available, capturing and combining three frames with 1EV, 2EV or 3EV increments and the choice of processing styles from mild to garish.
There's no interval timer, but the camera does offer a timelapse movie option which generates a video in-camera in 4k or 1080p resolution using up to 3600 frames at intervals of two seconds to a second shy of 100 hours. Interestingly a one second interval is presented as an option, but every time I tried to select it, I was forced to use a minimum of two seconds; this may be due to another setting I had enabled though.
Finally, if you're looking for any fun effects, you'll be disappointed as the EOS R doesn't have any beyond the HDR mode. Suffice it to say there's no panorama mode either.
Canon EOS R movie mode
The Canon EOS R can film 4k UHD video up to 30p, 1080 up to 60p, and 720 up to 120p. All modes apart from the High Speed 720 at 100 or 120p can be encoded in the choice of IPB or All-i formats and for clips lasting up to 29:59 depending on memory. Smooth and confident Dual Pixel CMOS autofocus is available, again in all modes apart from 720 at 100 and 120p, and you can adjust the speed and tracking sensitivity. There's the option to film with the flat C-log in either 8-bit internally or 10-bit over HDMI to an external recorder. There's also 3.5mm microphone and headphone jacks, peaking assistance for manual focus, silent adjustments of aperture, shutter and ISO while filming using the touchscreen or the customised Function Bar, and chance to switch aperture increments from the usual one-third increments to finer one eighth increments. Meanwhile the fully-articulated touch-screen lets you tap to pull focus and also flip the screen forwards to face you for filming pieces to camera.
While the EOS R's imaging appears superficially similar to the EOS 5D Mark IV, these movie capabilities make it a much more usable camera for video. Compared to the standard EOS 5D Mark IV, you're getting a much more efficient codec allowing you to capture longer clips in the same memory space, the chance to encode with C-log in 8-bit internally or 10-bit externally over HDMI, a fully-articulated screen for framing pieces-to-camera, the chance to frame and review footage with the viewfinder, and focus peaking assistance too. If you're filming with EF lenses using the Drop-In Filter Mount Adapter EF-EOS R adapter, you also get a built-in variable ND filter, and there's also the chance to film with EF-S lenses too.
It's certainly more compelling for video than the 5D Mark IV, but annoyingly inherits a number of its limitations too. Most notably, a severe crop when filming 4k. The EOS R may use the 4k UHD format rather than the slightly wider Cinema 4k on the 5D Mark IV, but both capture their 4k using a 1:1 crop from the middle of the sensor which may avoid scaling artefacts but results in a rather severe crop that's actually a little tighter than APS-C. I've illustrated this by super-imposing a 4k video grab over one from 1080p footage filmed from the same position with a 24mm lens; the coverage of 4k is indicated by the outer edge of the red frame and from my measurements represents a 1.74x crop horizontally.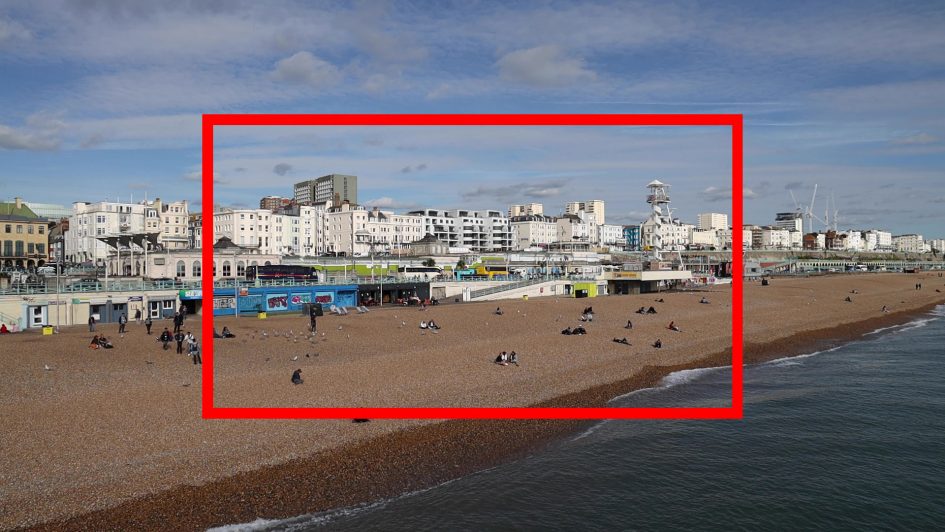 The difference as illustrated above is dramatic and means the EOS R, like the 5D Mark IV before it, enjoys no benefit to having a full-frame sensor when filming 4k; indeed if you intend to film a lot of 4k, you'll achieve similar results with a decent APS-C body like the Sony A6300, Sony A6500 or Fujifilm XT3. Like APS-C bodies, you'll also have to fit very short focal length lenses if you want wide coverage, and right now that rules out any of the first four native RF lenses.
Adapting very wide EF lenses is therefore the key, and indeed many EOS R owners may assume they'll need to go down the same route as the EOS 5D Mark IV and invest in something like the EF 11-24mm f4L. But in a unique and welcome advantage over the full-frame EOS DSLRs, the EOS R can also be fitted with EF-S lenses, and while these would normally set the camera into a lower resolution crop-mode when shooting stills, the 4k video is already cropped and fits within the optical boundaries of EF-S lenses without compromise. So EOS R 4k shooters could go for the compact, lightweight and affordable Canon EF-S 10-18mm f4.5-5.6 STM which also has the benefit of optical stabilisation. Alternatively there's the Sigma 18-35mm f1.8, a lens that's less wide and lacks optical stabilisation but which sports a constant f1.8 aperture. Both are set to be popular choices for EOS R owners filming 4k, although do note that when using EF-S lenses, the EOS R is forced into its movie crop mode, applying the same 1.74x field-reduction whether you're filming 1080 or 4k video, and also prevents you from using the 1080 50p / 60p or 720 100 / 120p options for some reason.
A side-benefit of using adapted EF and EF-S lenses on the EOS R is the ability to deploy the Canon adapter which has a built-in variable ND filter. It's almost like having a built-in ND filter on the camera, and I'm delighted Canon has used the space inside an adapter for something useful. Although do remember it only applies to adapted lenses, so once you switch back to a native RF lens, you'll be back to using screw-in NDs on the filter mount. I wonder if this will encourage EOS R film-makers to stick with adapted EF lenses rather than invest in new native ones? I suspect they'd also prefer the mechanical focusing of older lenses rather than the motorised focusing of native RF lenses.
Ultimately while there are workarounds that make filming 4k on the EOS R more practical, I don't think we should be making excuses for a camera of its class in 2018. I think the EOS R really should have been able to film full-frame 4k from the outset – after all it doesn't pose a problem for the Sony A7 III or Nikon Z cameras. And the movie limitations don't stop there either as the EOS R also has a disappointing slow motion mode, capturing 720 video at 120p without sound or autofocus, and using an inefficient compression system. Compare that again to the competition which commonly offer 1080 at 120p typically with both sound and autofocus, not to mention a more manageable codec too. And while there is focus peaking available for manual focus assistance while filming, there are no zebra patterns, again a feature that's not uncommon on the competition.
In terms of quality, the EOS R also falls behind the competition in resolution. I made a formal comparison with the Sony A7 III and Fujifilm XT3 using a resolution target and have presented 100% crops below which show the Canon delivering less detail in both 4k and 1080p modes. The 1080p cropped mode is a little better than the 1080p full-frame mode, but both fall behind their rivals. I should also add the EOS R can suffer from quite noticeable skewing / rolling shutter when panning, especially in the cropped modes.




Like many Canon cameras before it, there's a lot of pros and cons to weigh-up. On the downside, the severely cropped 4k coverage (taking no advantage of the full-frame sensor), basic slow motion and lack of zebras could rule it out for you; it's revealing that if you are a 4k shooter, you could match or beat many of the EOS R features with a smaller, lighter and cheaper APS-C body like the Sony A6300 / A6500 or Fujifilm XT3, although infuriatingly none of those have a forward-facing screen. On the upside, the Dual Pixel CMOS AF remains one of the best video autofocus systems around, it's the cheapest Canon body with C-log and 10-bit over HDMI (useful for those who want to match footage with Canon's Cinema cameras), there's the fine aperture increments, and lest we forget, at the time of writing the EOS R was the only full-frame mirrorless camera with a fully-articulated screen that could flip to face forwards which, coupled with mostly reliable face detection, makes it tempting to vloggers.
Canon EOS R wireless capabilities
The Canon EOS R is equipped with Wifi and Bluetooth, the former allowing you to wirelessly remote control and transfer images with a smartphone, tablet or computer, and the latter for easy location-tagging; an optional Bluetooth shutter release accessory is also available.
Canon's Camera Connect app for Android and iOS (I tested the Android version on my Galaxy S7) uses Bluetooth to run the show, maintaining a low power link with the camera once they've been paired.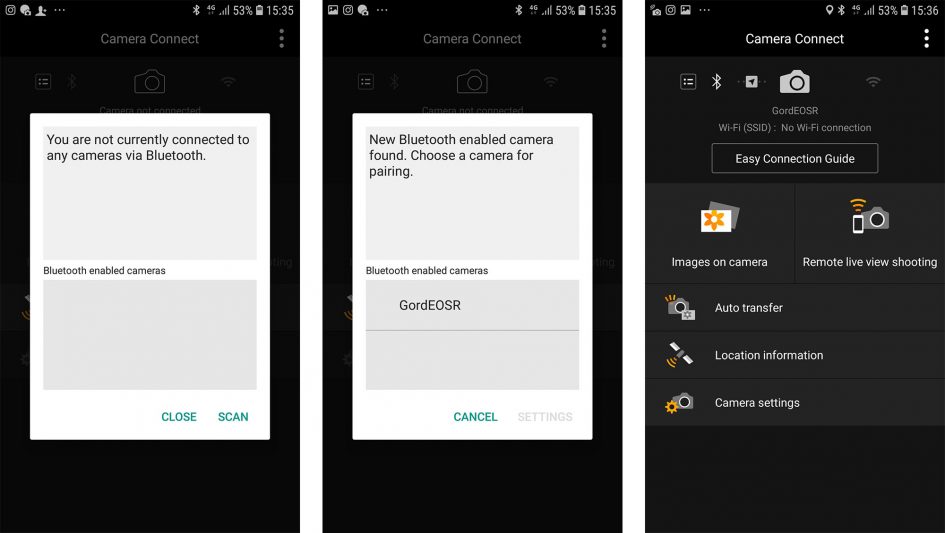 From that point on you can instruct the camera to automatically retrieve GPS positions from the phone over Bluetooth and embed them on images as you shoot – all you need to do is leave the app running on the phone and it's all taken care of. I used it to geo-tag many of my sample images and I have an example below where the co-ordinates have been entered into Google Maps. Obviously the accuracy is at the mercy of your phone which, in the example below, was in my pocket and thought I was just off the side of the pier in the sea, but it was still correct within a few meters. If you want the most accurate location, try to keep your phone near the top of a backpack where it can position itself better. Note this issue didn't affect the EOS 5D Mark IV which boasted its own built-in GPS hardware, but such features are rare in the modern World.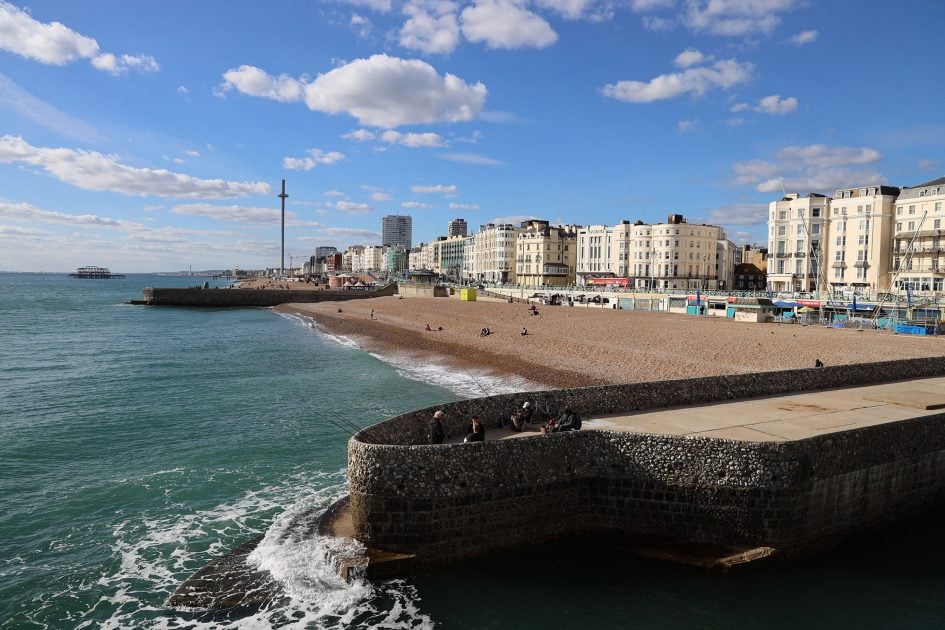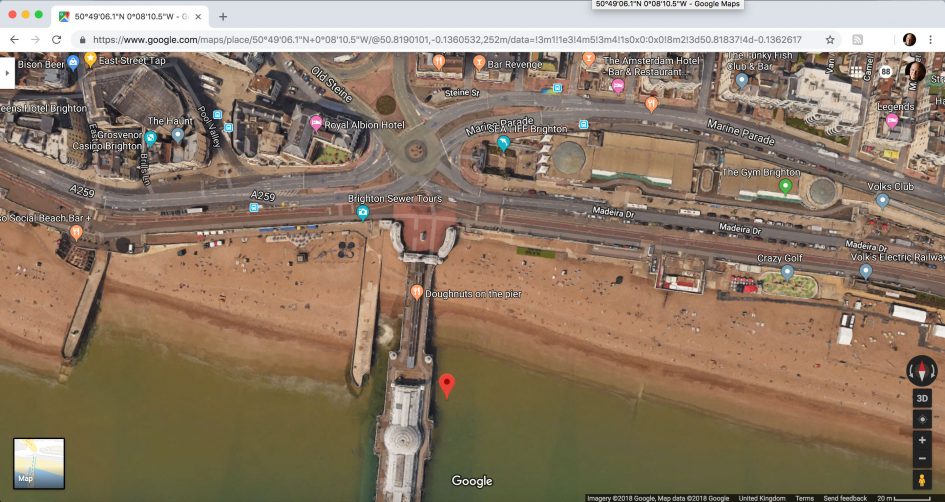 Bluetooth is also used to initiate a Wifi connection when you want to remote control the camera or transfer images. Just tap the desired icon in the app (whether 'Images on Camera' or 'Remote Live View Shooting') and the phone and camera automatically connect themselves over Wifi without the need to search for networks or enter passwords.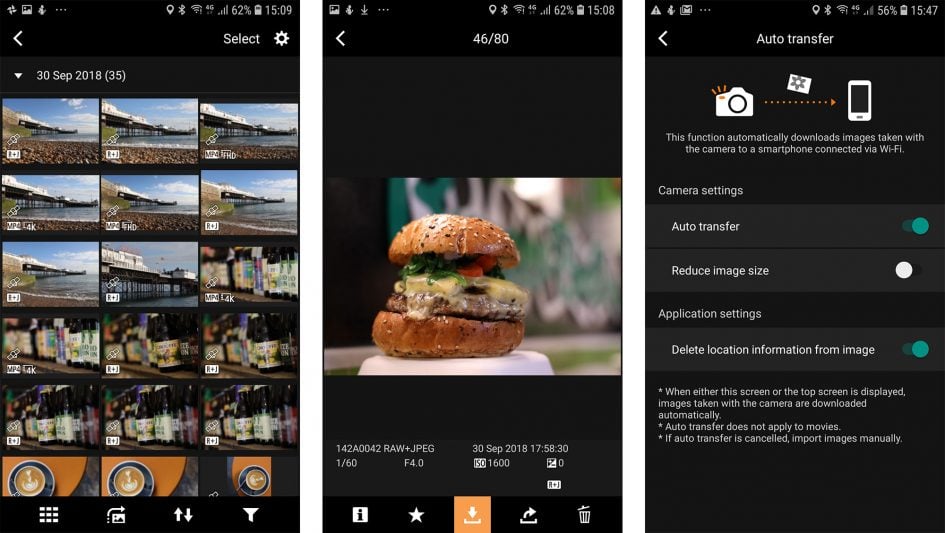 If you choose Images on Camera, you'll be presented with a page of thumbnails, including movie files, and tapping the desired one will allow you to view it larger, check shooting information and copy it to your phone if desired; photos are copied in JPEG format at either their original or a reduced size, and you can choose to have this applied with every transfer or for the app to ask your preference each time. It's also possible to wirelessly copy movies, but only up to 1080p in my tests – I couldn't copy 4k files onto my phone.
If you choose Remote Live View Shooting, you're shown a live image from the camera with the chance to tap on your phone to reposition the AF area. If the camera is set to a still photo mode, the app lets you switch between remotely recording photos or movies with a slider; if the camera's set to a movie mode, it only offers video recording via the app, although you are allowed to change the shooting mode on the camera without having to reconnect the phone afterwards.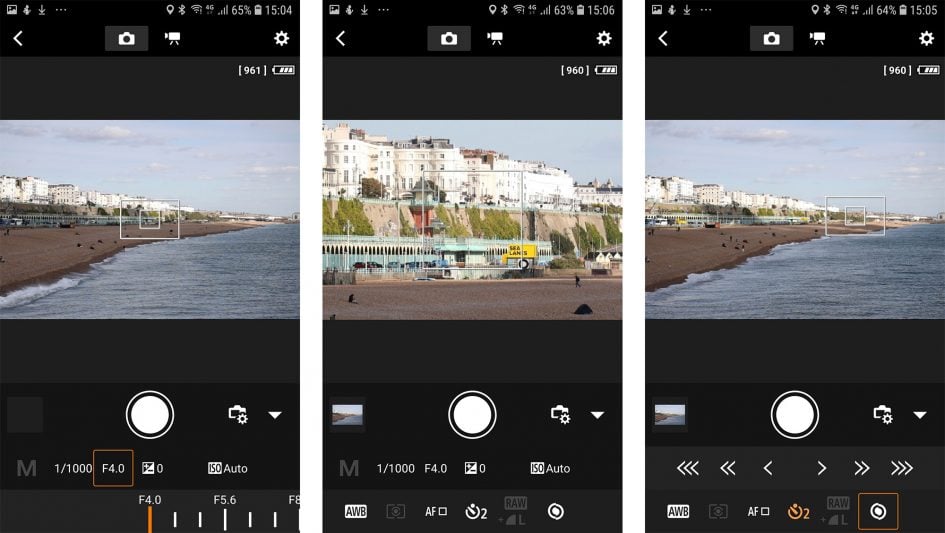 Remote Live View shooting gives you complete control over exposure, depending on the mode letting you adjust the shutter, aperture, ISO and even manual focus using your phone. You can also remotely adjust the white balance, AF mode, drive mode, and if you're in the movie mode you can change the quality and adjust audio levels on-screen.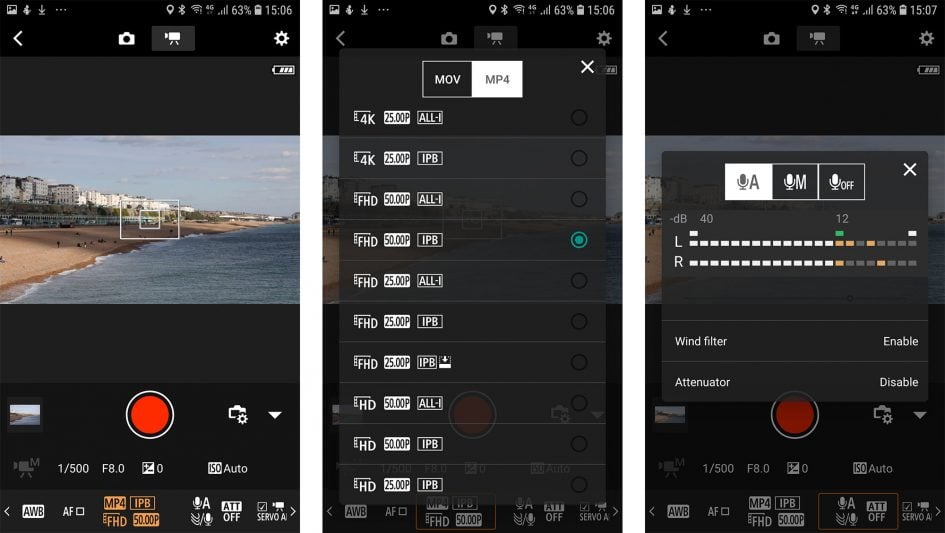 If you'd like to wirelessly push images from camera to phone, you can enable 'Auto Transfer' in the Camera Connect app or 'Send to smartphone after shot' from the camera menus. Both have the same effect and whichever one you choose will automatically enable the other. Once enabled either in the camera or the app, the EOS R will automatically copy every new photo you subsequently take to your phone over Wifi. Within the Auto Transfer settings in the app you can choose whether to copy at the full or reduced resolution and whether to strip the image of any location tagging. It works quickly and smoothly in practice but with one big caveat: the camera and phone need to be connected manually over Wifi first, and only the pictures you take while connected over Wifi will be transferred. None that you've taken prior to connection will be queued-up, and again once that Wifi connection drops for whatever reason, no more will be copied automatically until re-connected.

I'd have preferred an option where the camera could use Bluetooth to either trickle tagged images across (like Nikon's SnapBridge) or to initiate the Wifi connection by itself, as these can offer a potential backup solution, in turn softening the blow of a single memory card slot. As it stands, I'm not sure how many shooters will want to keep their EOS R and phone connected over Wifi for the entirety of an event, or even if it's technically stable or practical to do so. But it's something I'd like to explore for future tests.

Finally, it's also possible to remote control the camera and wirelessly copy images with a Windows or MacOS computer, but unfortunately neither Digital Photo Professional or the EOS Utility had been updated to work with the EOS R when I had it for testing. I hope to report back on this at a future date, but if the functionality is anything like previous EOS cameras, you'll enjoy full control with your computer over Wifi or a USB cable.

Note: when I tested the EOS R, the Bluetooth Remote Controller option in the Camera Connect app wasn't available. This is a simple but useful mode which simply triggers the shutter (or starts a movie recording) over Bluetooth. There's no live view, no exposure control, only a big button to press, but it's fast, simple and responsive, avoiding the time taken to connect over Wifi. I've used it on previous Canon models, like the EOS M50, to start and stop long Bulb exposures, and hope it becomes available for the EOS R in the future.

Check prices on the Canon EOS R at Amazon, B&H, Adorama, or Wex. Alternatively get yourself a copy of my In Camera book or treat me to a coffee! Thanks!