Canon EOS M6 II review - Verdict
Verdict
The EOS M6 Mark II becomes Canon's flagship mirrorless camera with an APSC sensor and proves the company hasn't forgotten about the system. The combination of a new 32.5 Megapixel sensor and DIGIC 8 image processor banishes many of the annoyances of earlier Canon bodies, allowing the M6 II to shoot uncropped 4k video with decent autofocus as well as supporting fast bursts with autofocus too; obviously these were things which rarely troubled Sony or even Fujifilm's recent bodies, but at least Canon has them now.
The image quality, as you've just seen, certainly has the potential to beat 24 Megapixel rivals, but not by a huge margin and crucially only when fitted with a quality lens – and in the native mount that means splurging on the EF-M 32mm f1.4 or one of Sigma's APSC primes if you want to enjoy the best results. Unfortunately the absence of built-in stabilisation means using any of these prime lenses will result in an unstabilised system, so for quality and stabilisation you'll need to adapt one of Canon's better EF lenses. Fortunately the camera does a great job autofocusing adapted EF lenses, but they are generally bigger and heavier than the native models.
In terms of video it's great to finally enjoy uncropped 4k with Dual Pixel AF on an EOS M body, but while it definitely resolves more detail than 1080, it's not as detailed as 4k from the best of its rivals, most notably the Sony A6400 and Fujifilm X-T30. But more than making up for it for most people is the sheer ease with which Dual Pixel AF can keep a subject in focus. Note: On the original release there was no 24p in any mode, but Canon's promised it in a firmware update in 2020.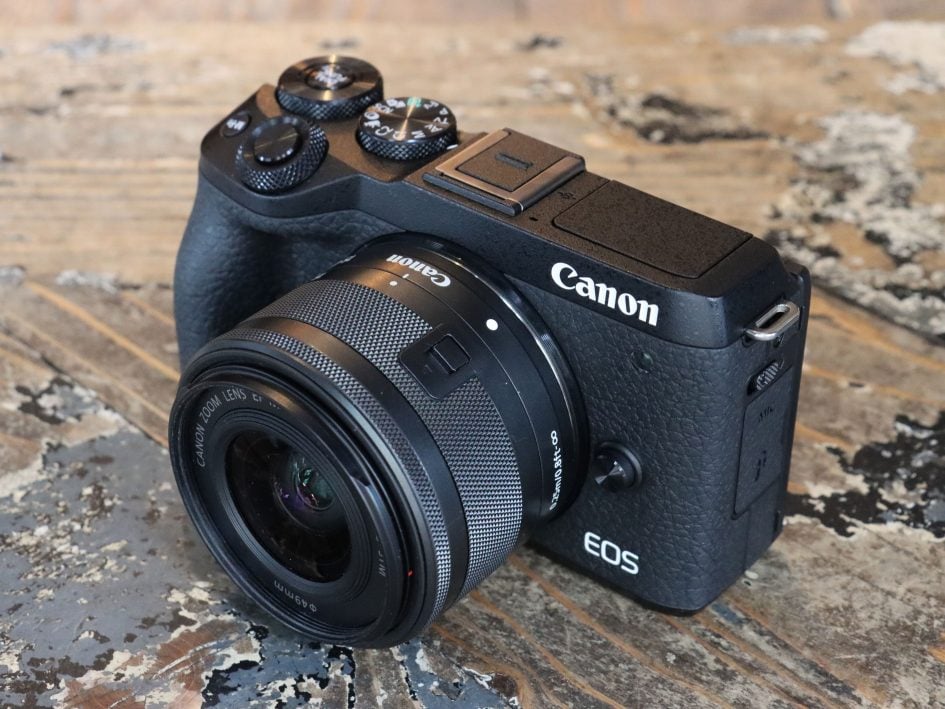 While the M6 II becomes the most powerful model in the EOS M series, it does replace a mid-range model and therefore doesn't sport a built-in viewfinder. You can slide-on a viewfinder accessory – that's also included in some kits – but it's not as convenient as having it built-in, like the Sony A6400 and Fujifilm X-T30 which cost roughly the same. And while vloggers will love having uncropped 4k with Dual Pixel AF and a microphone socket, mounting anything on the hotshoe will block the tilting screen. Again to be fair this equally affects the A6400, while the X-T30's screen won't face forward at all, but it does make me wonder if the EOS M50, with its side-hinged screen and built-in EVF, will receive a sensor and processor upgrade soon.

Indeed it's revealing that the EOS 90D launched alongside the M6 II is actually a more compelling camera for filming video. It not only has a side-hinged screen that isn't blocked by a hotshoe accessory, but also sports a headphone jack, the option of cropped 4k for better quality, cheaper native lenses and longer battery life, not to mention less chance of overheating too. See my Canon EOS 90D review for more details.

But then in a bigger surprise, the M6 II actually delivers more assured burst shooting than the 90D, making it the preferred choice for sports and wildlife. I photographed Brighton's seagulls side-by-side with the M6 II and 90D, both using the same EF 70-200mm f2.8 zoom and I was struck at how much more successful the mirrorless camera was than the DSLR. The 90D's viewfinder autofocus proved lacklustre, and while the 90D's tracking improved greatly in Live View, it's almost impossible to follow fast action with a long lens using its screen only. Of course as a mirrorless camera, the M6 II is permanently in Live View, so you can use its viewfinder and also enjoy the faster burst speed of 14fps.

As I've mentioned throughout the review, the M6 II faces tough competition from the Sony A6400 and Fujifilm X-T30, both of which feature built-in viewfinders, sharper 4k video, a broader selection of native lenses and both charging and power delivery from any USB source; see my Sony A6400 review and Fujifilm X-T30 review for more details. But the M6 II fights back with Dual Pixel autofocus, faster mechanical bursts and arguably the best grip and controls. There is no clear winner overall, so you'll need to weigh-up their respective pros and cons, but the M6 II still has more than enough going for it to earn itself a Recommendation.

Check prices on the Canon EOS M6 Mark II at B&H, Amazon, Adorama, or Wex. Alternatively get yourself a copy of my In Camera book or treat me to a coffee! Thanks!