Verdict
Canon's EOS M5 is the company's highest-end mirrorless camera to date and by far its most satisfying. It's the first Canon mirrorless with a built-in viewfinder, and the first to also deploy the fabulous Dual Pixel CMOS AF technology which allows it to confidently refocus during movies, albeit still only in 1080p here. Both should have been offered a long time ago, but at least they're here now.
In the video below, Doug Kaye and I discuss everything you need to know about the Canon EOS M5! I also have an audio podcast of this discussion at Canon EOS M5 podcast, or you can subscribe to the Cameralabs Podcast at iTunes.
The generously-sized, 3.2in fully-articulated screen sports one of the best touch-interfaces around, allowing you to tap your way through menus and settings easily, or reposition the AF area even when composing with the OLED viewfinder. The body itself may not stretch to weather-proofing, but it feels great in your hands – very solid and with good controls.
The EOS M5 also becomes the first Canon body with built-in Bluetooth, which complements the Wifi, allowing you to wake the camera from sleep and connect with your smartphone without touching the body. Bluetooth also allows the Canon smartphone app to offer a very responsive cable-less release option which is much snappier than triggering the shutter over Wifi.
It all adds up to Canon's most compelling mirrorless so far and it's a delight – not to mention a relief – to finally enjoy the company's superb Dual Pixel CMOS AF in a non-DSLR body. I enjoyed shooting with the M5 whether shooting stills or video with either native EF-M or adapted EF lenses.
It's fortunate the EOS M5 works so well with adapted lenses, as there's still only a handful of native EF-M models available – surprisingly just seven, only two of which are primes. Amazingly there's still no 50mm equivalent prime, nor a nice bright portrait lens in the EF-M mount. Of course Canon again cites the ability to mount the wealth of EF lenses, but crucially most of the ones you'll be adapting to deliver capabilities outside the EF-M and EF-S catalogues are designed for full-frame DSLRs and as such are unnecessarily large, heavy and expensive for a mirrorless body with an APS-C sensor. Yes they work and they focus well too, but native lenses remain preferable. If Canon wants us to take EOS M seriously, it really needs to expand the EF-M lineup; the recent EF-M 28mm f3.5 macro with its built-in ringlight is great but we need more.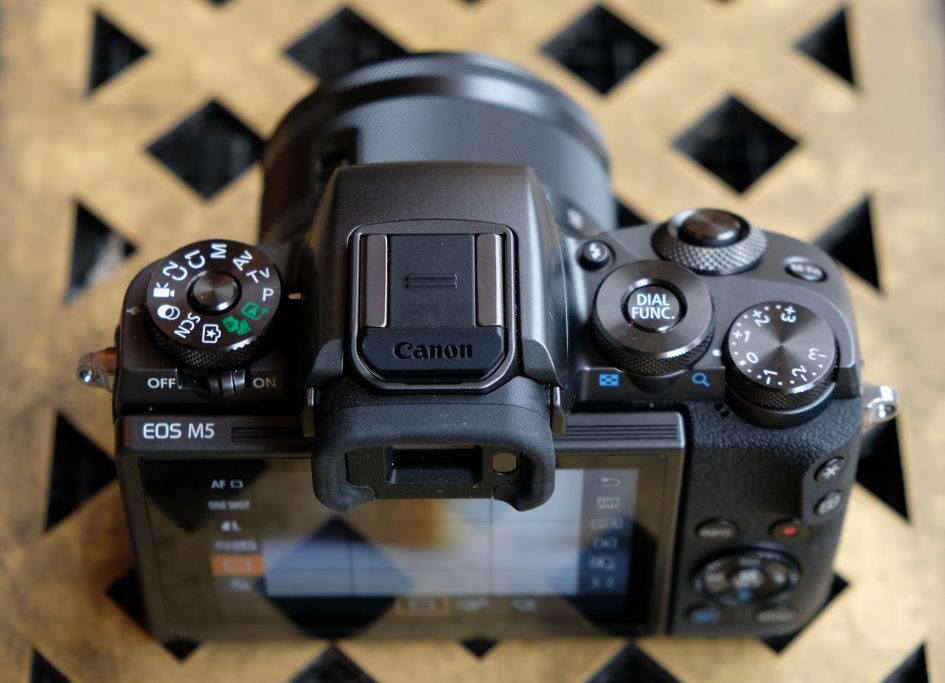 It's also important to remember the ability to autofocus EF lenses on a mirrorless body is not exclusive to Canon either. Fit a Sony mirrorless body with a Metabones Smart Adapter IV or later and they too will focus EF lenses surprisingly well. Mount them on an Alpha A6500 and you'll also enjoy built-in stabilisation and 4k video, two features notably absent on the EOS M5.
Indeed that's the big problem for the EOS M5: the variety of compelling alternatives from rival manufacturers. Fujifilm's XT20, Panasonic's Lumix G80 / G85 and Sony's Alpha A6300 in particular are all in roughly the same price bracket, but each takes the lead in some respects. All for example offer 4k video, and some add 1080 at high frame rates for slow motion too. These make the 1080 / 60p best quality option of the M5 seem somewhat dated.
Panasonic's G80 / G85 may have a smaller Micro Four Thirds sensor, but up to 6400 ISO you're not likely to notice much difference and importantly the Lumix enjoys built-in stabilisation that works with any lens you attach, as well as 4k video, a weatherproof body and more confident focusing in very low light. See my Lumix G80 / G85 review for more details.
Fujifilm's XT20 appeals to those who prefer a retro design aesthetic, while matching the APSC sensor size and resolution, but squeezing-in 4k video and some of the best out-of-camera JPEGs in the industry. That said its screen won't tilt all the way to face the subject. See my Fujifilm XT20 review for more details.
For me, the Sony A6300 represents the biggest competition for the EOS M5 if you're after a 24 Megapixel / APSC mirrorless with phase-detect autofocus. Both bodies cost roughly the same but there are a number of key differences to weigh-up. In its favour, the EOS M5 has Bluetooth for easier Wifi negotiation, and a screen that's larger, touch-sensitive and able to angle forwards to face the subject, but in the A6300's favour are faster burst shooting with more confident continuous autofocus, a larger viewfinder magnification, weatherproof body, 1080 video at up to 120p and 4k video at up to 30p. While both bodies employ phase-detect autofocus, I found Sony's was more successful at keeping-up with fast action. Neither the M5 nor the A6300 feature built-in stabilisation, but spend a little more on the Sony A6500 and you'll have it along with a touchscreen and Bluetooth. See my Sony A6300 review and Sony A6500 review for more details.
As always you have to weigh-up which features are most important to you, and if built-in stabilisation, a weatherproof body or 4k video are on that list then none of the Canon mirrorless cameras to date will be for you. Considering the absence of all three on the M5, its asking price can't help but seem a little high compared to the competition. I'm also frustrated that if you flip the screen all the way down to face you for selfies or filming vlogs, you effectively block the tripod mount – a shame since Dual Pixel CMOS AF is a gift for one-person vloggers.
But in fairness, what the EOS M5 does, it does very well. The body feels good in your hands and looks good too, you get a large tilting screen and built-in OLED viewfinder, the touch-screen user interface is one of the best around, Bluetooth is well-deployed for a responsive cable-less release, while Dual Pixel CMOS AF remains one of the most confident technologies at face-tracking and pulling-focus for movies, even with adapted EF lenses.
Once again if you're building a new mirrorless system from scratch, I still feel it's outgunned by rival models, but if you own a bunch of EF lenses and want to stay within Canon's system, it's by far the best mirrorless option yet.