In depth
Canon's EOS M5 is a mid-range mirrorless camera, aimed at enthusiasts and featuring a 24 Megapixel APSC sensor with Dual Pixel CMOS AF, a built-in electronic viewfinder and a tilting touchscreen. Announced in September 2016, it's the fifth mirrorless interchangeable lens camera from Canon since the original EOS M launched the system just over four years ago.
Having concentrated on entry-level models so far, the EOS M5 becomes Canon's first attempt at a higher-end mirrorless and indicates the company is finally taking the category seriously. Forget the non-sequential model numbering so-far: the EOS M5 is Canon's most serious mirrorless camera to date. Most obviously it's the first EOS M with a built-in electronic viewfinder, a 2.36 Million dot OLED that, despite fairly modest magnification, delivers a crisp image with a smooth 120fps refresh. This is complemented by a large 3.2in screen that tilts up by 90 degrees or down by 180 degrees to face the subject for selfies or pieces to camera (albeit handheld as tilting the screen down will block the tripod mount). As a higher-end model, the EOS M5 is also equipped with dual control dials, a dedicated exposure compensation dial and solid build, albeit not stretching to official weather-proofing.
Inside, the EOS M5 employs a 24 Megapixel sensor – the same resolution as the earlier EOS M3, but more importantly becomes Canon's first mirrorless camera to feature Dual Pixel CMOS AF which allows up to 80% of the sensor area to double-up as phase-detect AF points, supporting smooth and confident continuous AF for stills and movies. It'll shoot up to 31 JPEGs with continuous AF at 7fps and film 1080 movies up to 60p (sadly no 4k though). These specs sound similar to the EOS 80D's sensor, although Canon assured me it was a new design. The M5 does however pair the sensor with the latest DIGIC 7 processor and offers five-axis electronic (not sensor shift) stabilisation. Finally, the EOS M5 includes Wifi, but in a first for Canon, complements it with Bluetooth which can maintain a constant low-power connection with your phone. Bluetooth is used to initiate a Wifi connection without having to touch the camera, and can also be used with a new app to deliver a simple but more responsive remote shutter release. Scroll down for my full video review!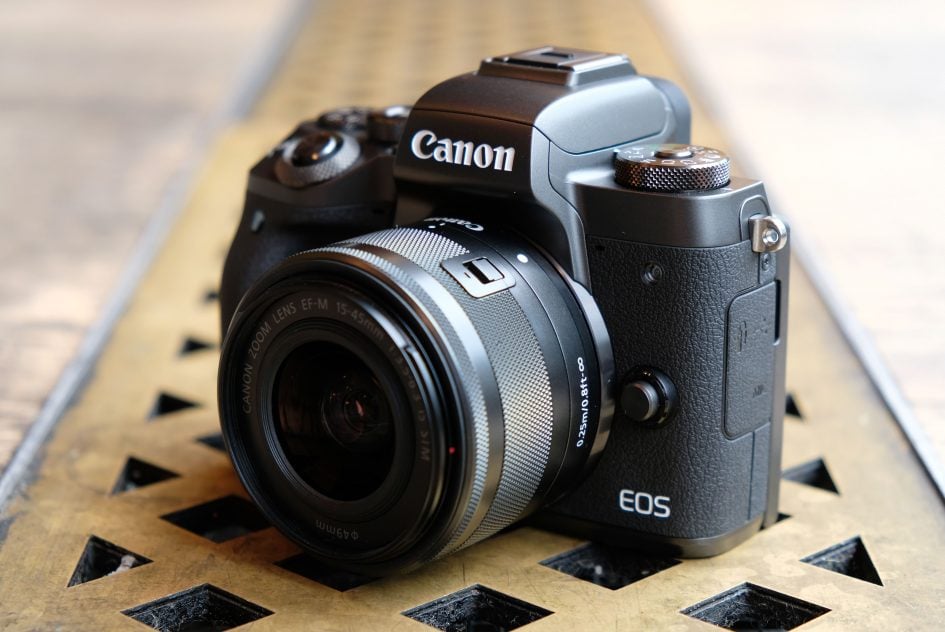 Canon EOS M5 video review / podcast
In the video below, Doug Kaye and I discuss everything you need to know about the Canon EOS M5! I also have an audio podcast of this discussion at Canon EOS M5 podcast, or you can subscribe to the Cameralabs Podcast at iTunes.
Canon EOS M5 overview
The EOS M5 is Canon's most powerful mirrorless camera to date and proves the company is finally taking the category seriously. The four earlier EOS M cameras were all aimed at entry-level photographers, but the M5 is the first that will really appeal to enthusiasts. This is thanks to the presence of two main features which arguably should have been available in the range much sooner.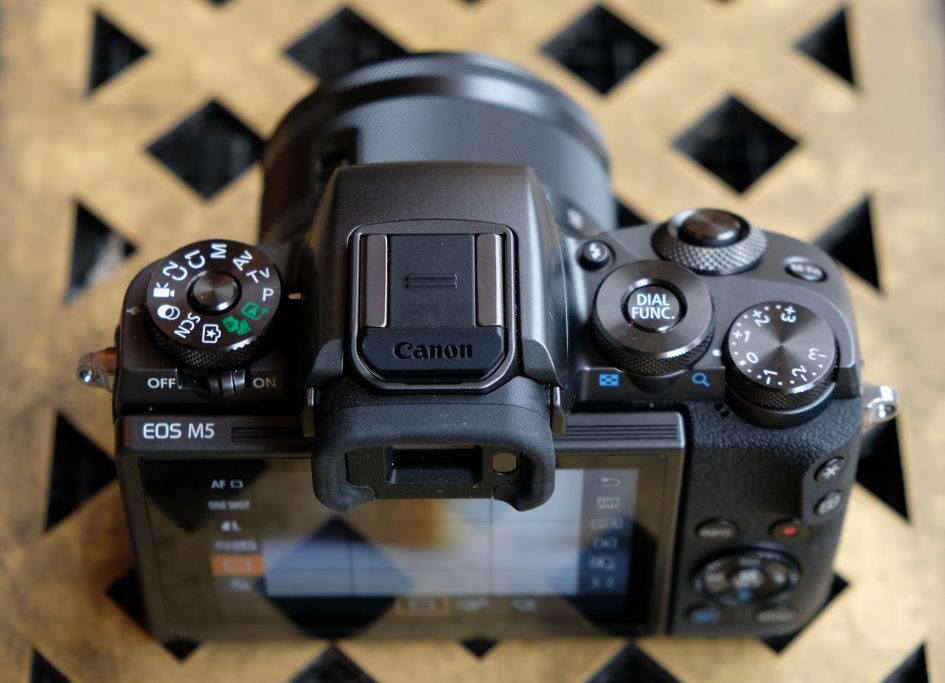 The first is a built-in viewfinder, amazingly the first time Canon has fitted one to a mirrorless EOS M body. It's a high quality 2.36 Million dot OLED with a fast refresh rate and while the image magnification is fairly small compared to other cameras in its class, it still transforms the shooting experience over using a screen alone.
The second feature making its debut on an EOS M is Dual Pixel CMOS AF, Canon's sensor technology which allows 80% of the surface area to be redeployed for phase-detect autofocus, allowing smooth and confident continuous focusing for stills and movies.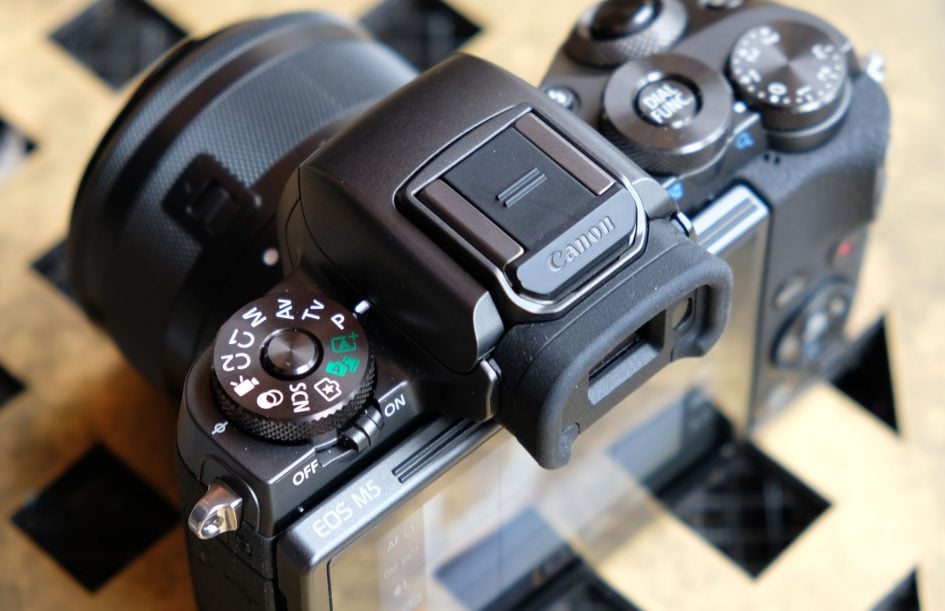 Enthusiasts will appreciate the physical controls on the EOS M5 which include four custom buttons, twin dials and a third dedicated to exposure compensation. The thumb dial can also be configured to provide two different functions, switched by a button in the middle – a little like the Olympus 2×2 switch control.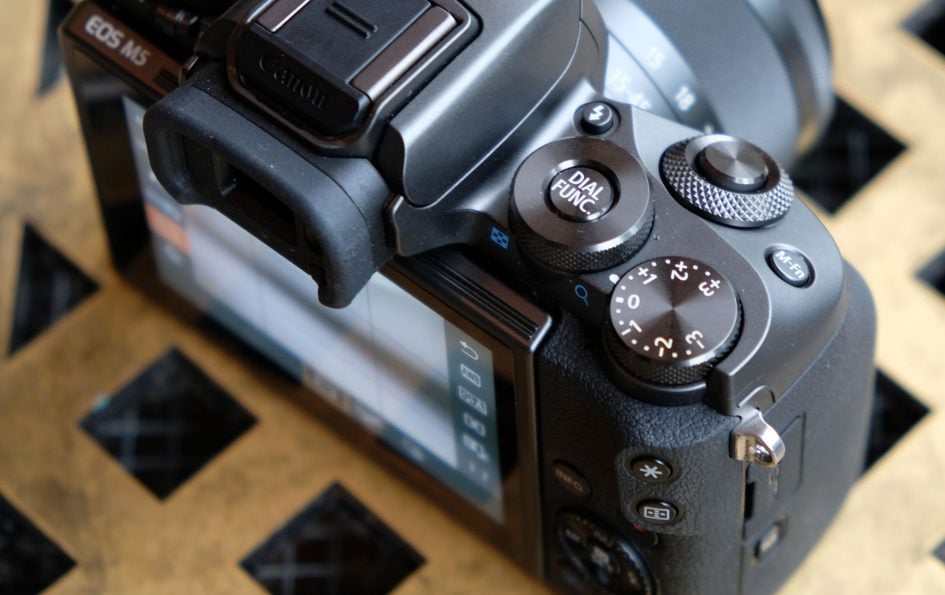 The screen is a generously-sized 3.2in touch-panel, inherited from the 5D Mark IV, and tilts 90 degrees upwards for waist-level shooting, or up to 180 degrees down for high-angles or to face the subject. The decision to angle down by 180 degrees rather than up was dictated by the presence of a central viewfinder hump, and a side-hinged screen ruled-out on thickness. So while you won't be angling the screen towards you when mounted on a tripod, it remains suitable for handheld use.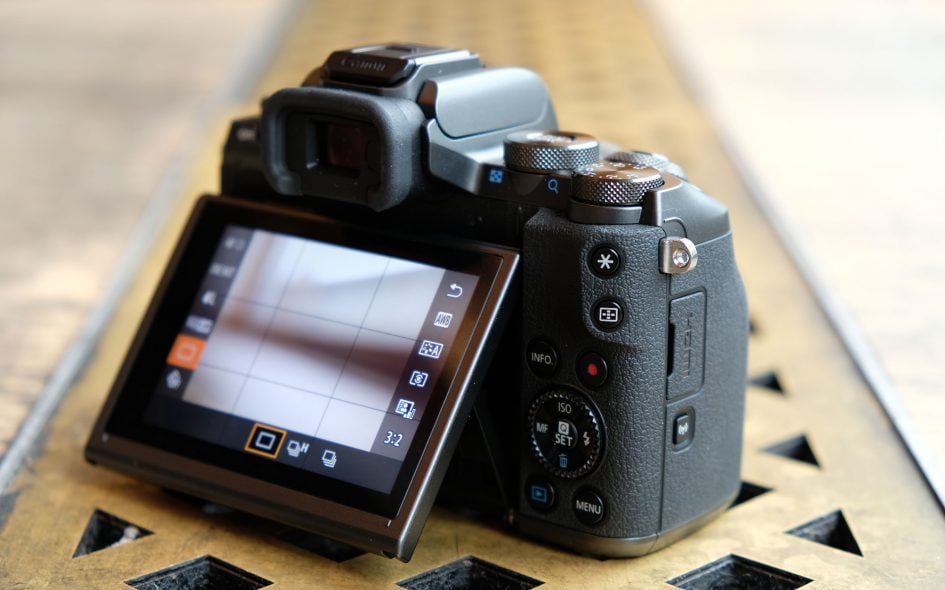 I should note Canon lets you use the touch-screen to move the AF area while composing with the viewfinder. You can also configure the size of the active screen area, so it should be possible to avoid inadvertent nose-adjustments.
The EOS M5 is launched alongside a new native EF-M lens, the EF-M 18-150mm f3.5-6.3 IS STM, offering an 8.3x range with four stops of optical stabilisation. Here's how the range looks in practice.

The EF-M 18-150mm brings the total number of native EF-M lenses to seven, which continues to be a lot less than other mirrorless systems. Of course Canon will tell you the EOS M5 can also use any of the enormous EF lens catalogue via the EF to EF-M adapter which in some regions may even be bundled with the M5. That said, since most people will be adapting EF lenses to fill-in the gaps in the EF-M catalogue, they'll be dealing with lenses that are unnecessarily large, heavy and expensive for an APSC mirrorless body. So while EF lenses will work on the EOS M5 – and focus well too – adapting remains a stop-gap. Here's how the EOS M5 looks with the EF 50mm f1.2L USM lens, followed by a sample image.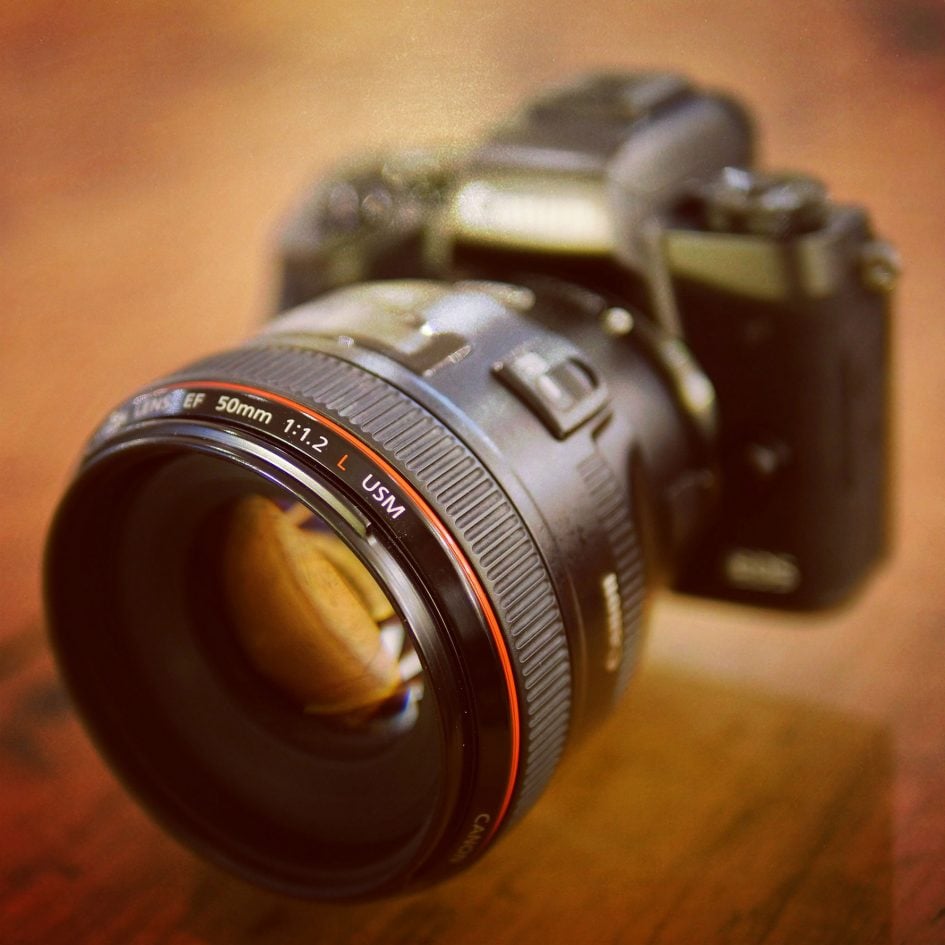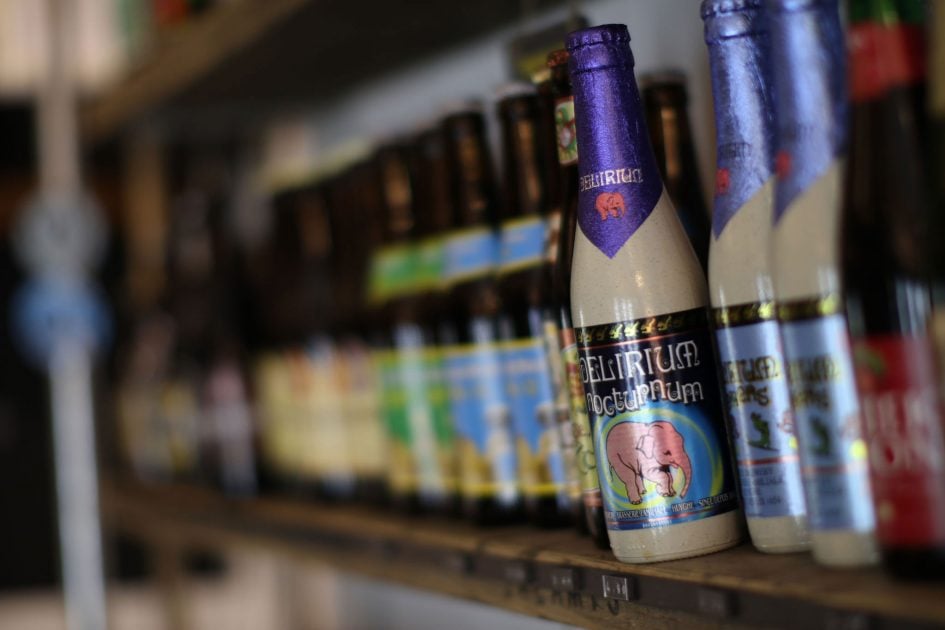 The sensor itself has 24 Megapixels and supports 1080p video up to 60p and a top shooting speed of 7fps with continuous AF or 9fps with focus-fixed. I suspect it's the same sensor as the EOS 80D, although Canon claims there are undisclosed differences.
I tried the EOS M5 with the EF-M 18-150mm and EF 70-200mm f2.8L II zooms and found it could successfully track approaching subjects at modest speeds – such as jogging, leisurely cycling or birds gliding. If the subject approached at faster speeds though, the hit rate fell dramatically compared to rivals like Sony's A6300 and A6500. This ties-in with my previous experiences with Dual Pixel CMOS AF – it's great for focus-pulling in movies or tracking subjects of slow to medium speeds, but can struggle at high speeds. Here's a couple of shots with Ben on his bike, but only after I'd asked him to slow down.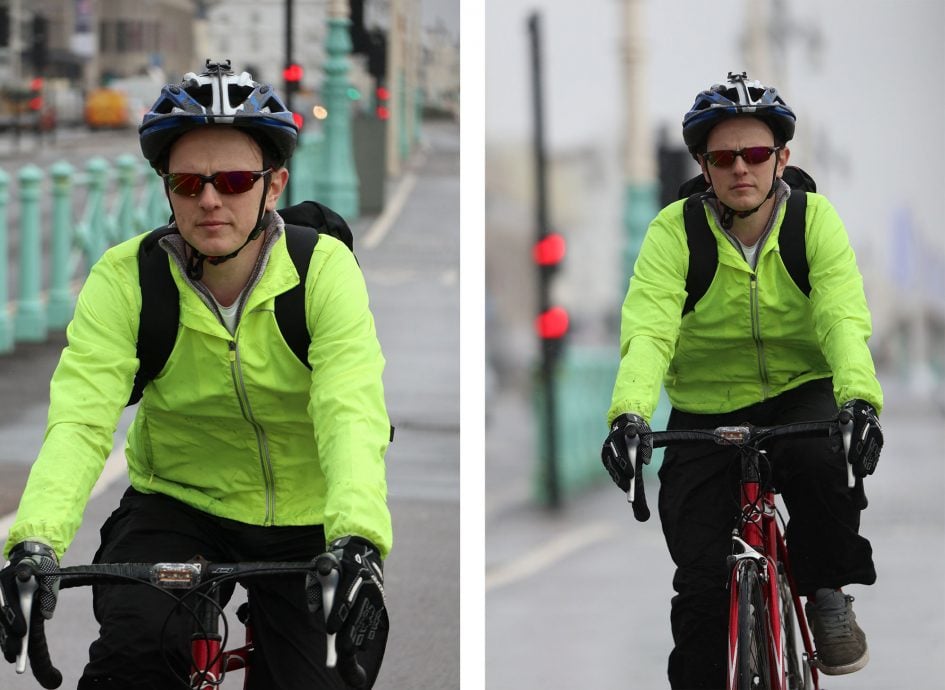 The AF system feels quick in good light, but struggles in very low light conditions. Rated down to -1 EV with an f2 lens, it's noticeably less confident in the first or last light of day than, say, Panasonic's latest mirrorless bodies which boast -4 EV sensitivity.
Canon EOS M5 movie mode
The EOS M5 can film 1080p video up to 60p with full manual control over exposure and effective continuous autofocusing thanks to the Dual Pixel CMOS sensor; there's also a 3.5mm microphone input, but unlike the EOS 80D, no headphone jack, and like all Canon consumer and mid-range bodies to date, no 4k either.
You can adjust the aperture, shutter and ISO on the M5 as desired, or opt for fully automatic. In Manual it's also possible to lock the aperture and shutter and deploy Auto ISO to balance varying light conditions.
Filming 1080p or 720p without electronic stabilisation takes the full sensor width and scales it down to the desired resolution without any field-reduction. The longest clip length is the usual second shy of half an hour (typically broken into two files on your card) and in terms of battery life, I managed to record four clips on a single charge plus a fifth lasting about six minutes; so you're looking at just over two hours worth of recording per charge, albeit again with each clip split into half hour chunks.
The highlight of the EOS M5's movie mode is Dual Pixel CMOS AF, the first time it's been deployed on a Canon mirrorless camera. It's unforgiveable Canon has made the EOS M range wait until its fifth generation to enjoy this technology, but at least it's since been implemented on the more affordable EOS M6, suggesting it could – or should – be on all interchangeable lens bodies going forward.
Dual Pixel CMOS AF allows 80% of the sensor's pixels double-up as phase-detect AF points, allowing the camera to confidently refocus without hunting. The touchscreen interface lets you tap just about anywhere and have the camera refocus on that point, or track a moving subject, such as an approaching face. It's an absolute delight to use in practice, and while you'll need an STM lens for the smoothest results, it still works well with USM models as you'll see in the clips below.
Dual Pixel CMOS AF continues to be a highlight of any Canon body that's lucky enough to have it, and you'll see it in action during some of my other clips below. Whether you're tapping to pull-focus, deploying face detection to track a person, or simply letting the camera work out where and when to focus, it works a treat. If Canon had deployed it earlier on the EOS M series, it could have been a more dominant player in the mirrorless market. But at least it's here now, albeit still not in 4k. Now for some more clips.
Next check out my quality comparisons, sample images or my final verdict!