In depth
The EOS M3 is Canon's third mirrorless camera, following the M2 and the original M. Announced in February 2015 (13 months after the M2 and two and a half years after the original M) it joins the 750D / T6i and 760D / T6s DSLRs to become the first Canon cameras to employ a 24 Megapixel APSC sensor. All three bodies share the same sensor, which supports Canon's Hybrid CMOS III AF system. This embeds phase-detect AF points for more confident continuous AF in live view and movies. Canon also claims the AF system is up to 6.1 times faster than the original EOS M.
The 3in screen touchscreen now flips out to angle down by 45 degrees or all the way up to face the subject for selfies or filming pieces to camera. There's no built-in viewfinder, but you can now slide an optional EVF accessory onto the hotshoe, or mount one of Canon's Speedlite flashguns. There's also a popup flash, along with a dedicated mode dial, exposure compensation dial and a number of customisable buttons.
Wrapping-up the specifications are 1080p video at 24, 25 or 30p with manual control over exposures, a microphone input and Wifi with NFC for wireless control and image transfer using an iOS or Android smartphone. It's a solid specification that resolves a lot of issues with the original EOS M, but it's up against a number of more established mirrorless formats. Find out in my review how the EOS M3 measures-up and whether it's the mirrorless camera for you!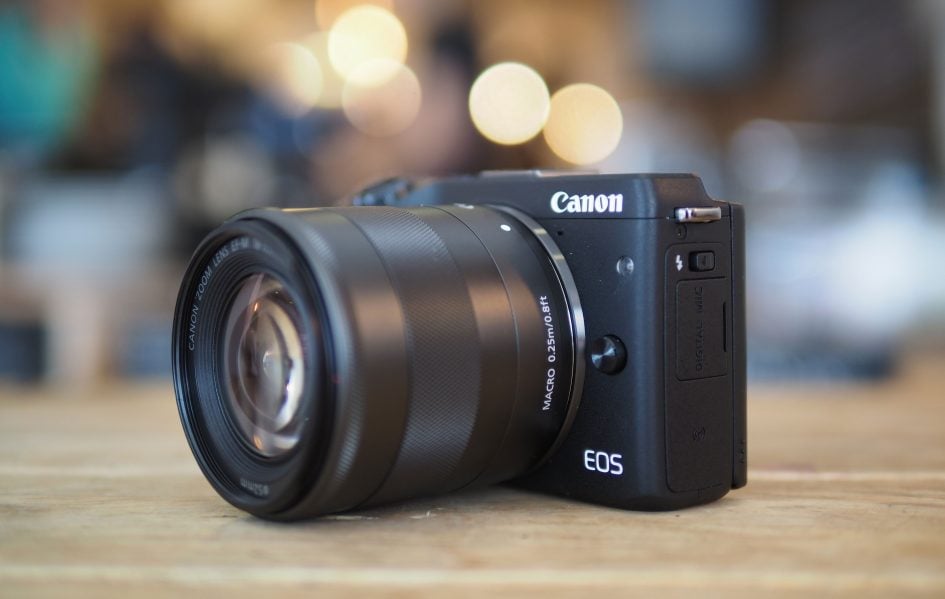 Canon EOS M3 video overview
Canon EOS M3 design and controls
Canon's EOS M3 is a compact but comfortable camera that's roughly similar in size to other flat-topped mirrorless cameras aimed at enthusiasts. It's a departure in style from the original M and M2, now sporting dials for the shooting mode and exposure compensation, along with a significantly chunkier grip. It's inevitably more complex-looking as a result, but the additional controls and more comfortable handling will be welcomed by the target audience.
Measuring 111x68x44.4mm and weighing 366g including battery, the M3 body is roughly the same width and height as the original M, but thicker thanks to its bigger grip and a little heavier too; to me it most resembles Canon's own PowerShot G1 X II.
Sony's A6000 is approximately the same height and thickness, but a little wider, although remember it also sports a built-in electronic viewfinder. I've pictured the EOS M3 alongside the A6000 below, where the biggest difference isn't their respective bodies, but their kit zooms. Canon's EF-M 18-55mm f3.5-5.6 is a non-collapsing style, whereas Sony's 16-50mm f3.5-5.6 is a retractable design that also employs a motorized zoom – handy when filming.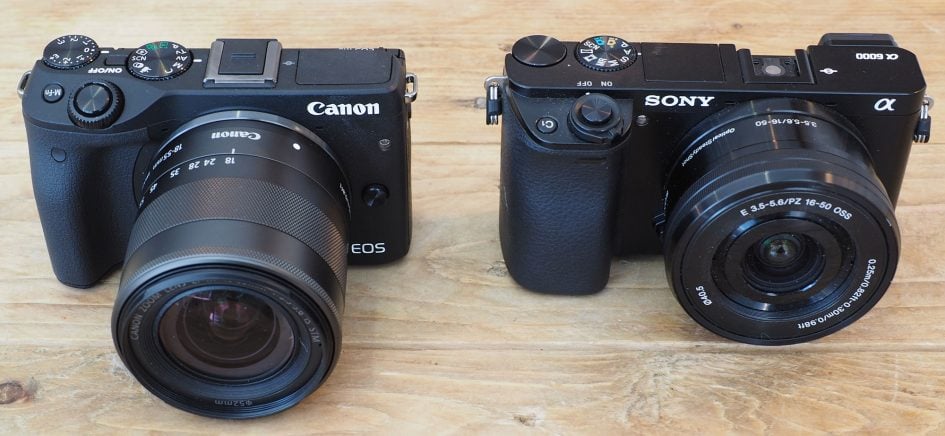 Add the EF-M 18-55mm lens to the EOS M3 and the total weight and thickness increase to 576g and 120mm. Add the 16-50mm to the Sony A6000 and when powered-down, the combination increases to 460g in weight and 65mm in thickness. You'll may notice the weight difference in your hands, but it's their respective thickness that's really striking, with the Sony kit measuring almost half that of the Canon kit – it's clear which will fit into the smaller pocket. It's also worth noting pretty much every other mirrorless system offers a collapsing kit zoom to save space, so Canon's behind the curve here. That said, in my tests I've found some of the collapsing zooms suffer optically, whereas the EF-M 18-55mm delivers good results. If you really want a smaller EOS M3 kit though, you'll need to go with the 22mm pancake prime.
Of all the flat-topped mirrorless cameras in this price bracket, I'd say the EOS M3 has one of the better grips. Unlike the somewhat angular blocks of the Sony A5100 and A6000 for example, the EOS M3's grip curves out and around, giving your fingers something more comfortable to wrap-around. It's one of the many big improvements over the original M, which was more PowerShot-styled with little more than a vertical strip on the front.
The improvements continue on the top surface. Where the original EOS M again opted for PowerShot simplicity with a single three-position switch, the EOS M3 now has a proper mode dial, and alongside it, a dedicated exposure compensation dial. The M3 also gains a second control dial around the shutter release. While most enthusiast-class mirrorless cameras have a mode dial and twin control dials, it's still a relief to find them on the M3, and the compensation dial is an added benefit.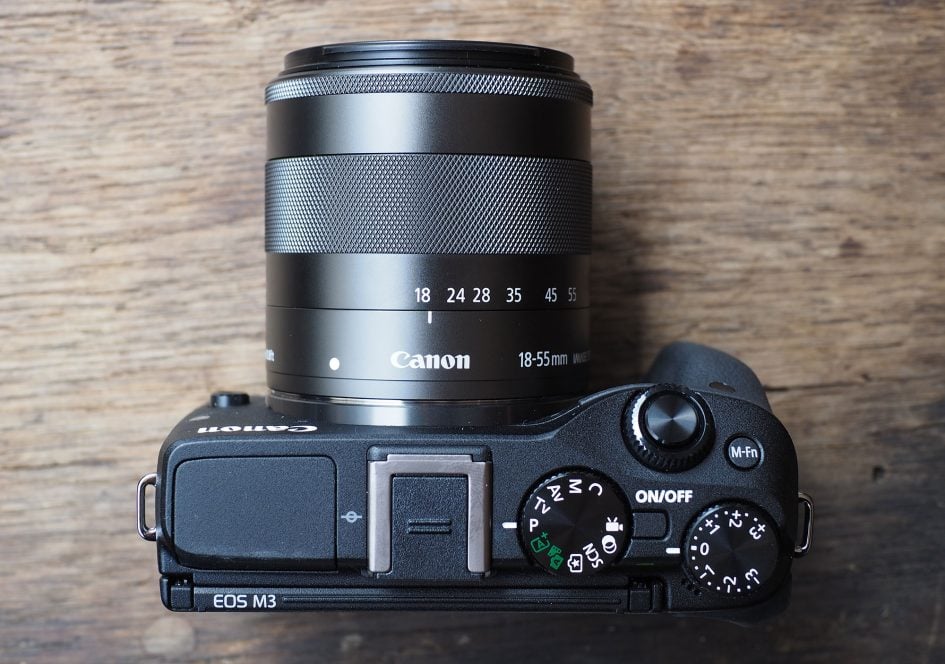 Like the original EOS M, the M3 also sports a hotshoe on the top surface that's compatible with Canon's range of Speedlite flashguns. But in another important upgrade, the M3's hotshoe can now alternatively accommodate an optional electronic viewfinder accessory – indeed the same EVF-DC1 used by the G1 X II. It's a high quality viewfinder, but of course adds to the size and (at 200 GBP / $250) the overall cost too, and I wish the EOS M3 had it built-in instead like Sony's A6000. But it is at least available as an accessory, which is a big deal compared to the EOS M.
Sticking with the top surface for a moment longer, I'd also like to give a respectful nod to the popup flash, partly because there wasn't one on the original EOS M, but also because you can use your finger to angle the spring-loaded mechanism upwards for a mild bounce. How much light will make it back down to your subject is debateable, but the presence of a built-in flash is a welcome addition none-the-less.
Turning to the rear of the camera reveals yet another upgrade over the EOS M: a screen which flips-out to angle down by 45 degrees or up by 180 degrees to face the subject for selfies and filming pieces to camera. Lest we forget the screen on the EOS M was fixed in place. Meanwhile the panel remains 3in / 3:2 shaped with 1040k dot resolution and touch-sensitivity.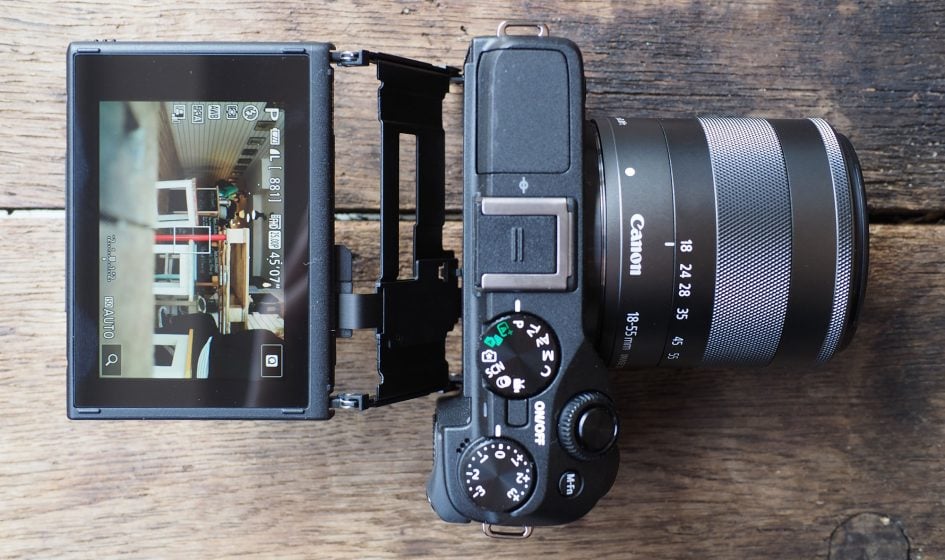 The M3's screen is much nicer to use than that on the Sony A6000 which has a wider 16:9 shape that may be great when filming HD video, but delivers a photo image that's 1cm smaller on the diagonal. The A6000's screen can angle out, but only up by 90 degrees and it's not touch-sensitive either. The more affordable A5100's screen is touch-sensitive and will tilt forward too, but won't angle down, and like the A6000 is 16:9 shaped. So the M3 for me has a better screen experience than the Sonys.
Pressing the Info button while composing cycles through up to four views, three with a live image superimposed with varying degrees of information and guides, and a fourth which fills the screen with shooting settings. You can customise what's displayed in the compositional views, including the choice of two alignment grids, a dual axis levelling gauge and a live histogram.
Canon's made good use of the touch-interface. As well as being able to tap to reposition the AF area or swipe and pinch images in playback, it's also possible to tap your way through the fourth display view, main menu system and enter text when required. It's one of the better touch interfaces around.
That said, if you prefer you can turn off the touch-screen as there's plenty of physical controls and the chance to change some of the functions. The M-Fn, Erase and Movie record buttons can all be customised, and in a clever implementation, any reassignment of the movie record button is ignored when the mode dial is set to video, at which point it starts and stops recording as expected. Three programmable function keys may not match the customisation of the A6000 which offers two function buttons and the chance to reassign the AEL button and the four positions of the rear rocker, but again it's a big improvement over the original EOS M.
In terms of ports the EOS M3 offers a USB output and microphone input behind one flap, and an HDMI Type C port behind another; the Type C port is larger than on many cameras and welcomed if you regularly use an HDMI connection.
The battery and SD memory slot are housed in a compartment below the camera, alongside a centrally-positioned tripod thread. The EOS M3 is powered by an LP-E17 Lithium Ion battery pack (1040mAh) which Canon quotes is good for around 250 shots; a fraction more than its predecessor, but still below most of its rivals which squeeze around 350 per charge. In use, I managed 128 still photos and just under eight minutes of video on a single charge before the battery icon started to flash. Somewhat alarmingly the battery died soon afterwards, giving me little warning.
The battery is charged in an external AC unit, a traditional approach that will suit some photographers, but for me I prefer the flexibility of being able to recharge the battery within the camera with a USB connection – as on the Sony cameras. This allows you to top-up while out and about using a variety of means from a laptop to a vehicle port to a portable USB battery, all without having to remember your AC adapter and finding a wall socket. As it stands, the EOS M3 chews through its battery fairly quickly and gave little warning in my tests when it was about to expire, so a spare will be necessary for most of us.
Canon EOS M3 lenses
The EOS M3 is equipped with an EF-M mount that supports native EF-M lenses, or Canon's large range of EF and EF-S lenses via the optional EF-EOS M adapter. With an APS-C sensor, the field reduction remains the same 1.6 times as Canon's range of cropped-frame DSLRs, so the standard EF-M 18-55mm f3.5-5.6 STM kit zoom will deliver a range equivalent to 29-88mm. Here's how that looks in practice.

Canon launched the EF-M system back in mid-2012 with just two native lenses: the EF-M 18-55mm f3.5-5.6 IS STM and the EF-M 22mm f2 STM. Since then, Canon has added just two more native EF-M lenses, the EF-M 55-200mm f4.5-6.3 IS STM and the EF-M 11-22mm f4-5.6 IS STM, neither of which are listed by Canon USA. While the three zooms means the system enjoys equivalent coverage between 17.6mm and 320mm with native lenses, it doesn't take long to spot some serious limitations.
At the time of writing, there was only one prime lens in the native mount, the 35mm equivalent 22mm f2. This lens is also the only native option with an aperture faster than f3.5. For me, the EF-M system really needs more bright prime lenses, starting with a popular portrait length. It's also lacking a dedicated macro lens.
Of course Canon's argument is you can simply use the EF-EOS M adapter to mount any of the huge range of EF and EF-S lenses which effectively covers any gap you can think of. But there's a big difference to adapting lenses compared to a native experience. Mounting chunky DSLR lenses via an adapter eliminates any size advantage of a mirrorless system, and unless they employ Canon's STM system, you'll also lose out on the best continuous AF experience as you shoot. Here's how the EOS M3 looks with the EF 85mm f1.8 USM mounted via the adapter, followed by a shot I took with the lens at f1.8. The AF was noticeably slower than using a native STM lens, and feels a World-apart from shooting with, say, an Olympus mirrorless fitted with the ZD 75mm f1.8 lens.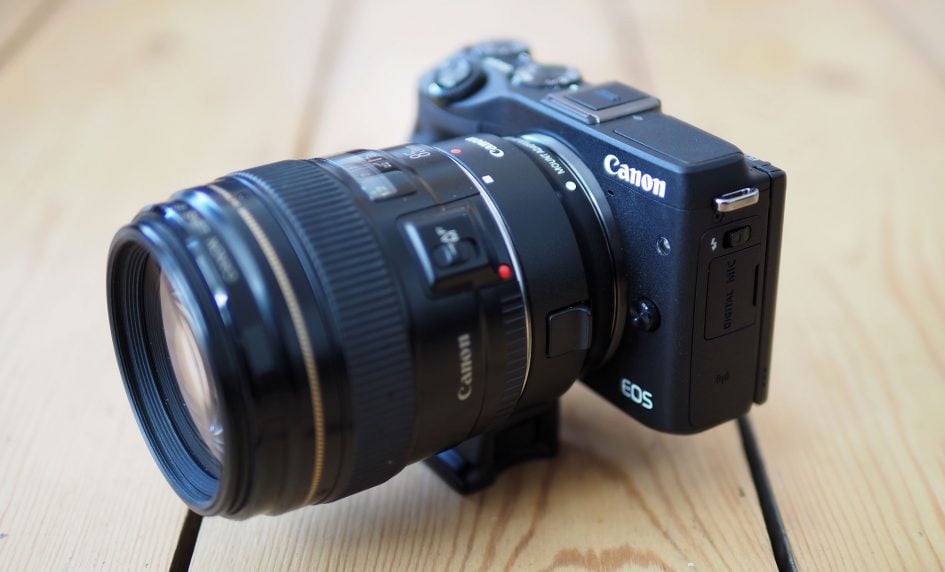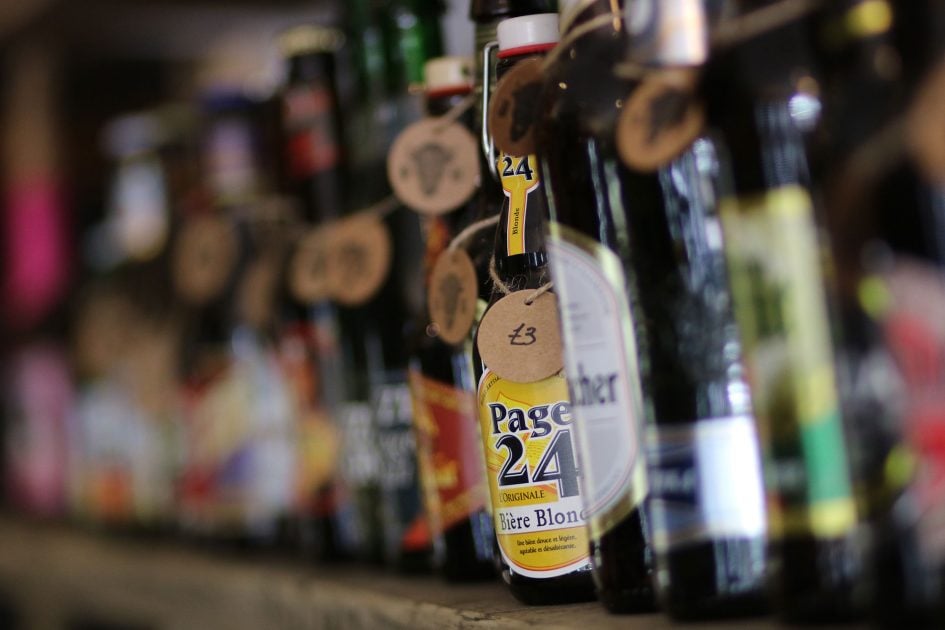 It's also worth remembering the ability to adapt lenses from the EF catalogue is far from an exclusive benefit to the EOS M. Metabones has long produced adapters for Sony's E-mount mirrorless cameras that let them use EF lenses with autofocus (albeit slowly), and Kipon has announced one for Micro Four Thirds which also supports AF. If you're willing to manually focus, adapters exist for almost any system.
Given we're three years into the EF-M system at the time of writing, the choice of four native lenses (three of which are zooms with average apertures) is hardly exciting or impressive. It shows a lack of commitment by Canon and would certainly make me think twice about investing in EOS M, at least if I didn't have an existing collection of EF lenses. Canon's aiming the EOS M3 at enthusiasts who will undoubtedly want a broader range of native lenses: models which are not just practical but exciting and aspirational too. Bring on the bright primes Canon, sooner rather than later.
Before moving onto the next section I'd like to make a quick technical note about the sensor in the M3 when used with wide focal lengths. I noticed a faint green cast towards the edges of the frame at the wide-end of the kit zoom, which I confirmed by shooting a plain white target through a diffusing filter. The cast seems independent of aperture and peripheral illumination correction, but it does reduce as the focal length increases and effectively disappears by 45mm.

Above are two examples taken at 18mm f3.5, 1/10, 100 ISO and the same white balance. The only difference is the image above left was with the EF-M 18-55mm IS STM kit zoom, while above right is the old EF-S 18-55mm f3.5-5.6 IS II kit zoom, mounted via an adapter. The mild green cast is visible towards the edges of the version taken with the native EF-M kit zoom, while the version taken with the EF-S kit zoom seems to avoid it.
I'll need to perform tests with more combinations to discover what's the culprit, but one possible explanation is the micro-lenses on the sensor are optimized for use with DSLR lenses which have a longer flange to sensor distance. Native mirrorless lenses are designed for a shorter flange to sensor distance, so wider focal lengths strike the sensor at shallower angles. This could explain why the issue is biggest with mirrorless lenses at wide focal lengths, but not at longer focal lengths, or with adapted DSLR lenses. Again I'm just speculating, and I'll need to do more tests to confirm, but in the meantime I suggest you to check out my sample images page. Can you see the cast in real-life images using the EF-M 18-55mm STM kit zoom? It's present if you're looking, but I don't think it's a huge issue, at least in the compositions I shot.
Canon EOS M3 shooting experience
In use, the EOS M3 feels a World apart from its predecessors. I had no complaints with the image quality of the original M, but the handling, particularly the AF, left me frustrated. The controls too were more point-and-shoot than the step-up from those models it was surely aiming to be. With the M3, Canon has accelerated the focus and provided the degree of control and customization a camera like this really needs, not to mention a decent grip to hold onto. While I feel a built-in electronic viewfinder would have made the experience even better, there is at least an option to mount one and in the meantime the fully-articulated screen provides compositional flexibility absent from the original, including folding back to face the subject.
Unlike the earlier EOS M and M2, the M3 sports a full mode dial, giving direct access to shooting modes without going through a menu. Along with the usual PASM modes, there's a Custom position, Scene Intelligent Auto, Hybrid Auto, Creative Assist, Scene and Movies.
The EOS M3 employs a mechanical shutter with an electronic first curtain offering a range of 1/4000 to 30 seconds plus Bulb; in the latter a timer indicates the exposure so-far on-screen, and if you're careful you can use the touch-shutter option to start and stop the exposure with a gentle tap on the screen, or go for the optional RC-6 remote accessory. The shutter sound is roughly similar in volume to the Sony A6000 – both are quieter than a DSLR, but still give an audible 'ker-chunk'. Sadly there's no silent 100% electronic shutter option as offered on an increasing number of mirrorless cameras.
There's four metering options, Evaluative, Partial, Spot and Center-weighted, and direct access to exposure compensation in a +/-3EV range using a dedicated dial on the top of the camera. Basic three-frame AE Bracketing is available up to 2EV apart. The sensitivity ranges from 100 to 12800 ISO with an extended 25600 ISO option; Auto ISO is also available and you can set the maximum between 400 and 12800 ISO.
The new Creative Assist mode selects the exposure automatically, but lets you adjust five processing parameters and the effective depth of field using on-screen controls; you can either use the dials to adjust them or touch-sliders via the Q menu. The first option, Background, defines how much blur you want in the background and effectively adjusts the aperture for you behind the scenes. After this, the Brightness, Contrast, Saturation, Colour Tone and Monotone options adjust the processing style and will be familiar to any Instagram user. The interface is intuitive and friendly.
If you prefer to shoot based on a pre-selected scene, there's six to choose from under the SCN mode, including Handheld NightScene which combines shots to reduce potential shake and noise.
Under the Creative Filters mode you can apply a series of effects. There's HDR (which takes and combines three shots with the choice of five tone-mapping styles), Fisheye, Art Bold, Water Painting, Miniature, Toy Camera, Soft Focus and Grainy Black and White. Of these, only Miniature can be applied to movies. Here's how a selection look in practice.



If you just want to point and shoot, there's Scene Intelligent Auto and Hybrid Auto, which identify a wide variety of lighting conditions, distance, motion and whether there's people in the frame to determine the appropriate settings. In general they work well too, and Hybrid Auto adds the additional fun of recording a few seconds of video before each photo and gradually assembling a behind-the-scenes movie of your day's shooting.
What you won't find on the EOS M3 though is an interval timer for timelapse photography, nor any kind of panorama mode. Most mirrorless rivals offer one or both of these features, so Canon's looking a bit dated in that regard. It's also interesting not to find the various Star / Astro-photography modes of Canon's most recent enthusiast compacts here.
In terms of autofocus, the EOS M3 employs Canon's Hybrid CMOS AF III system which uses a combination of contrast-based and phase-detect technologies, the latter embedding 49 points across most of the sensor's area. There's two AF area options: Face with Tracking or 1-point. The former attempts to identify and lock-onto a face and if one isn't recognized it'll switch to an auto-area option. Tap the screen in Face / Tracking mode and the camera will frame what it believes is the subject and follow it around the screen as it – or the camera – moves. Choose One-point and the single AF area can be positioned using the rocker or by tapping the touch-screen. If Continuous AF is enabled, the camera attempts to focus prior to touching the shutter release, and if Servo AF is enabled the EOS M3 will adjust the focus continuously on the area defined above as you half-press the shutter; if you're using an STM lens, the focus continues to adjust as you hold the shutter down to take photos, but with non-STM lenses, the focus will be fixed from the first frame. You can also magnify the view by 5x or 10x for a closer look at the focusing area.
The original EOS M was slow at autofocusing, but I'm pleased to say Canon's made significant improvements on the M3, at least for Single AF acquisitions. Fitted with their respective kit zooms, it's now roughly similar in speed to Sony's A6000 and A5100 across a variety of lighting conditions, generally locking-on in less than half a second in good light and in a second or so in dim light. In very dim light, both the EOS M3 and the Sony A6000 / A5100 cameras struggled, especially if their AF illuminators couldn't reach a distant subject. In these low light conditions, Olympus cameras are better and Panasonic's recent models are even better still, able to lock-on given much less light.
In terms of continuous autofocus, I had high hopes given the EOS M3's embedded phase-detect AF points. I tested the camera with vehicles approaching at 20-30mph and found it could certainly keep them in focus in Servo AF mode, but the continuous shooting speed fell to around 2fps. This is a World-apart from Sony's A5100 and A6000 which can shoot at their top speeds of 6 and 11fps respectively while keeping a subject in focus. I should also add I tested the EOS M3 here with the EF-M 18-55mm STM at 55mm f5.6, so it was hardly a challenging lens in terms of focal length and depth of field. In contrast I've enjoyed success with the A6000 shooting at 11fps with the FE 70-200mm at 200mm f4, and with subjects moving much faster.
I also tried the EOS M3 with two adapted lenses, the EF-S 18-55mm f3.5-5.6 IS II and EF 85mm f1.8 USM. With the Continuous AF / pre-focus option enabled, both lenses seemed to be in almost constant adjustment, typically taking a couple of seconds to settle-down on a target; if you then half-pressed the shutter release without moving, the AF was almost instant. Turn off Continuous AF (which you're bound too as it's visually and audibly distracting with these adapted non-STM lenses) and the typical acquisition time for focus was about a second, although in poor light could slow to two seconds or fail entirely. The AF process with these lenses also hunted back and forth, implying the phase-detect system was being bypassed for a contrast-based solution alone. Meanwhile Servo AF was possible, but it was insufficiently quick to track any subject in motion. So while the EOS M3 will autofocus with Canon's DSLR lenses, the experience with non-STM models is fairly leisurely and not too different from mounting them with a Metabones adapter on a Sony mirrorless. For the best experience with the EOS M3, you'll need STM lenses, whether adapted or native.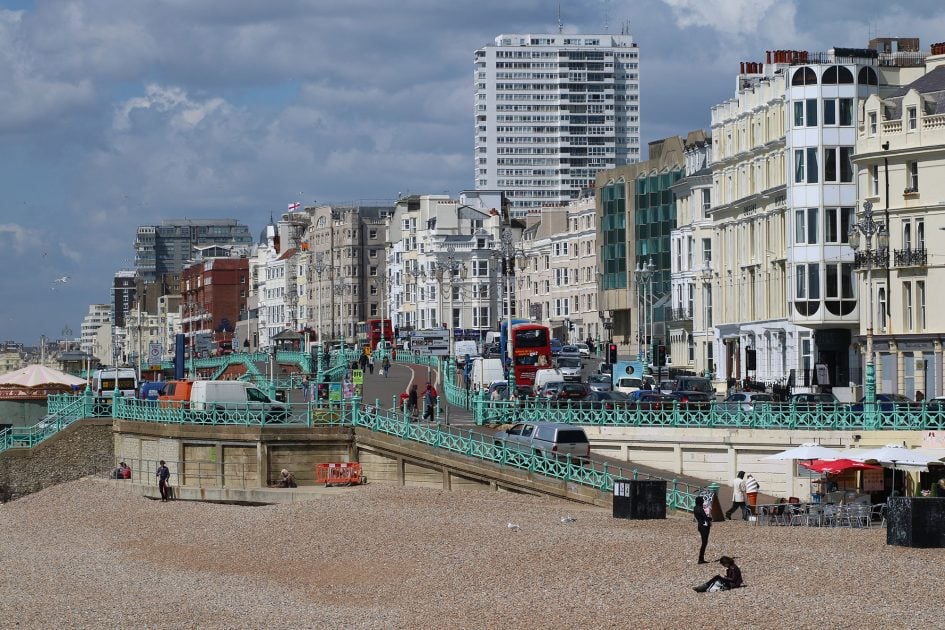 Press the rocker to the left and you'll switch the EOS M3 into Manual Focus, and again you can tap the magnifying glass icon on the screen to enter a 5x or 10x magnified view. Further aiding you is the option of focus peaking in a choice of two levels and with red, yellow or blue highlighting. Like most focus peaking systems, it's best-used in conjunction with a magnified view, but when both are running at the same time it's a doddle to confirm the focus manually – and while the manual focusing ring on the EF-M 18-55mm is rather narrow, it is at least smooth in operation.
The EOS M3 offers one continuous shooting option which Canon quotes as delivering approximately 4.2fps for up to 1000 JPEGs or five RAW images. To put it to the test I fitted a freshly-formatted SD card, set the sensitivity to 400 ISO and the shutter to 1/500. With the camera set to Large Fine JPEG quality, I fired-off 87 frames in 21.28 seconds for a speed of 4.09fps, and the camera seemed happy to keep shooting while memory remained. Set to RAW I managed four frames in just under a second, corresponding to just over 4fps, after which the rate slowed to about two frames per second. So in my tests I didn't quite attain Canon's already modest RAW buffer count, but in terms of speed and JPEG depth, the EOS M3 performed as quoted. Note the camera may shoot more slowly when Servo AF is enabled, and as noted above the speed with non-STM lenses rules it out for any kind of action shooting.
This ranks the EOS M3 at essentially the same speed as the original EOS M, but now without a practical limit on JPEGs. It's also comparable to upper entry-level DSLRs like the Nikon D5500 and Canon's own EOS T6i / 750D and T6s /760D, implying this is the sort of speed you can expect at this price point. But Sony for one doesn't play by the same rules, and offers 11fps on the A6000 at roughly the same price, or 6fps on the A5100 at a lower price.
Moving on, the EOS M3 is equipped with Wifi and NFC for wireless remote control and image transfer with iOS or Android handsets running the free EOS Remote app. Like most camera Wifi implementations, the EOS M3 sets itself up as a wireless access point which your phone needs to connect to. The process is very simple if you have a phone with NFC, such as my Samsung Galaxy S4. Even when the EOS M3 is switched off, all you need to do is hold it against an NFC-compatible phone for a second or so to initiate the process; if you haven't already installed the EOS Remote app, the tap will even have your phone find it for you on the Play store for downloading. If everything works smoothly, the EOS M3 and your phone should be connected within 30 seconds, although normally I needed to first enable Wifi manually on my GS4.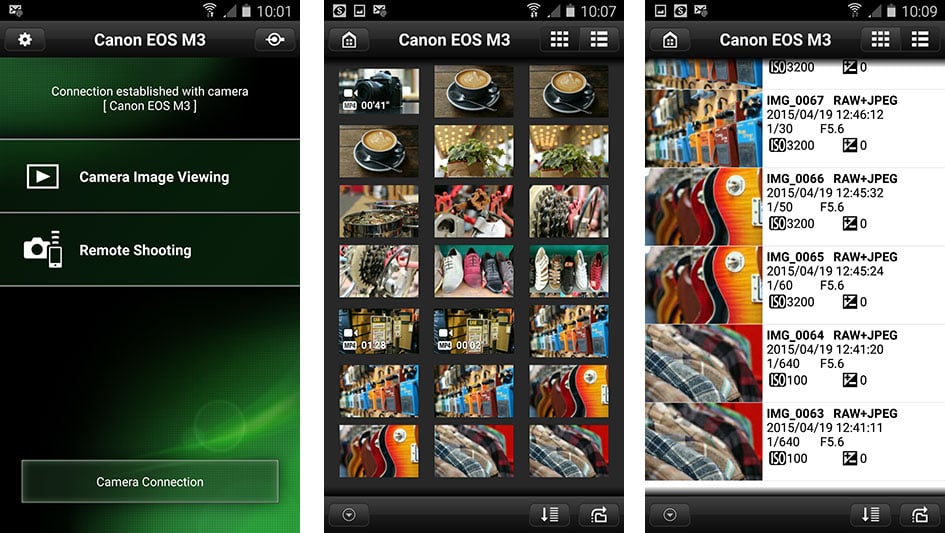 Once connected the EOS Remote app offers two main options: Camera Image Viewing and Remote Shooting. The former presents thumbnails of the images stored in the camera and lets you view their details and copy them across, either resized (in my case to 3 Megapixels) or in their original format; I confirmed the latter were identical to those on the card, a welcome update since I last tested the app with the EOS 70D.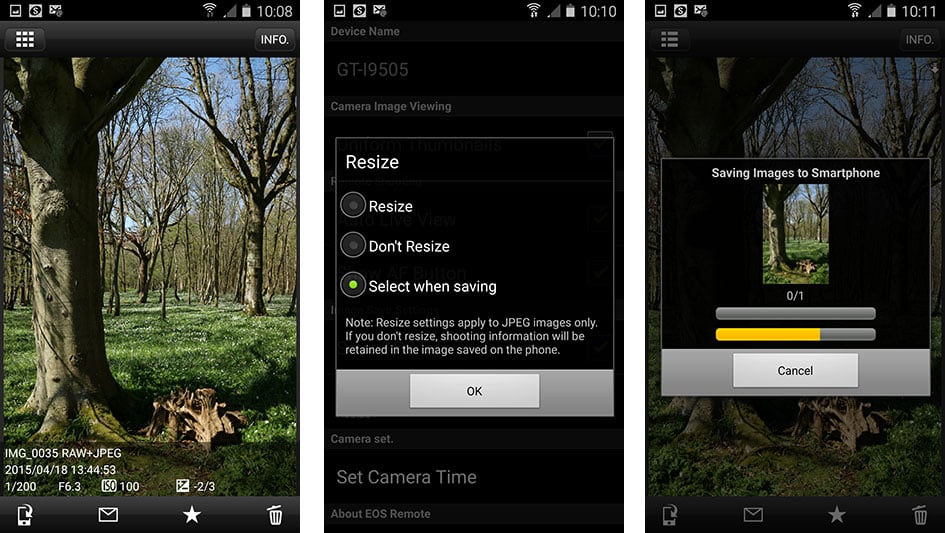 The Remote Shooting option presents a live image of what the camera sees, and lets you tap to refocus. Depending on the shooting mode set on the camera, you can use the app to adjust various settings, including the aperture, shutter, ISO, drive mode and exposure compensation. What you can't do though is change the exposure mode without physically turning the dial on the camera (and having to reconnect), nor adjust things like the white balance or image quality, despite icons for them being optionally viewable on the remote live view.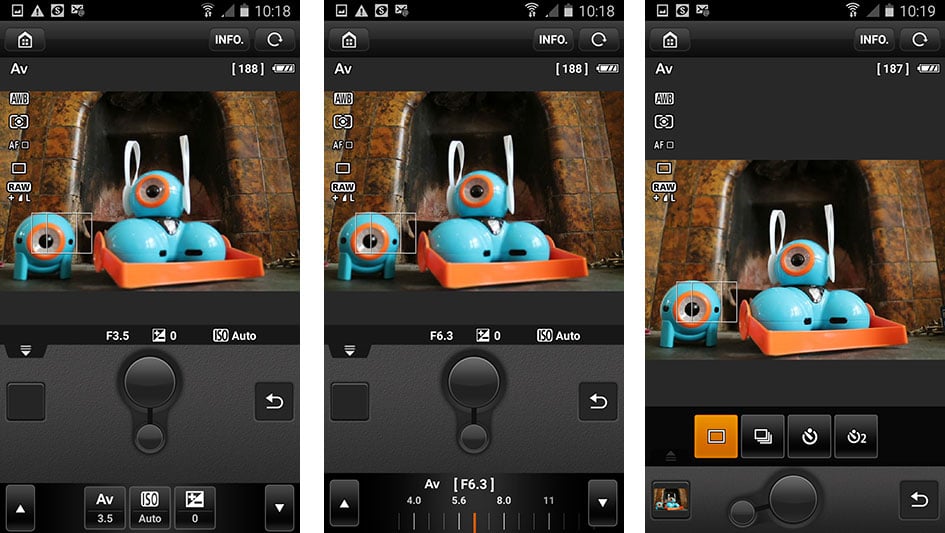 You'll also notice there's no means to make a GPS log with your phone for subsequent tagging, unlike even Canon's own Camera Connect app for its Wifi-equipped PowerShot compacts. There is a GPS tag option in the EOS Remote app's settings menu, but I believe it simply tags the position at the time of transfer rather than original capture. I say 'believe' as I couldn't get it to do anything during my tests.
Finally, if you choose to connect to a wireless access point during playback on the EOS M3, you can upload images directly from the camera to various social services including Flickr, Facebook, Twitter, YouTube, Google Drive, or a direct image sync with your computer. As with previous models, sharing to social services actually just uploads your image to Canon's own Image Gateway service which then posts on your behalf (given sufficient permissions via a web configuration). I much prefer Sony's approach of connecting directly to a service and posting to it natively, but the ability to effectively post on a variety of networks is there on the M3 if you want it, and it's surprisingly easy to tap out a caption using the screen.
Canon EOS M3 movie mode
Canon's EOS M3 can film 1080p movies at up to 30p with continuous autofocus, manual control over exposure and the chance to record audio via an external microphone input. With the video system set to PAL, you can record in 1080 / 25p, 720 / 50p or VGA / 25p. Switch the video system to NTSC and 1080 is offered at 24p or 30p, while 720 and VGA are available at 60p and 30p respectively. Sadly there's no slow motion options beyond filming 720 at 60p and importing it into a lower frame-rate project.
With AF enabled, you can choose between Face / Tracking or One-point. The former attempts to identify and lock-onto a face and if one isn't recognized it'll switch to an auto-area option. Tap the screen in Face / Tracking mode and the camera will frame what it believes is the subject and follow it around the screen as it – or the camera – moves. Choose One-point and the single AF area can be positioned using the rocker or by tapping the touch-screen.
If Servo AF is enabled the EOS M3 will deploy its Hybrid AF system to adjust the focus continuously on the target or area defined above, during composition and recording; the embedded phase-detect AF points do a good job with this and I have several examples below. It's also possible to tap the screen during recordings to reposition the AF area and automatically pull-focus, but unlike the Sony A6000 and A5100, there's no chance to adjust the AF response time or speed, and as you'll see in my clips, both can vary considerably in use.
Set the EOS M3 to manual focus and you can adjust the focusing prior or during filming, and there's also the chance to use focus peaking to indicate what should be sharp. Canon makes good use of the touchscreen throughout the movie experience, allowing you to toggle between AF and MF, along with Servo AF and single AF as you film by tapping various icons on-screen.
Videos are encoded using H.264 and stored in an MP4 wrapper. There's no choice of bit rate and the maximum recording time is the usual 29:59. If Stabilisation is disabled or set to Dynamic Mode 2, the horizontal coverage matches still photos, but if IS is enabled with Dynamic Mode 1 (enhanced), there's a mild crop to accommodate extra digital correction. Either way though, you're looking at a non-integer scaling factor on video and the subsequent moire it entails.
In terms of audio, the EOS M3 has a built-in mono microphone and a stereo microphone input. Levels can be set automatically or manually adjusted, and level meters can be seen in the display view which fills the screen, although sadly not during any of the compositional views.
You can start recording in any mode by pressing the dedicated record button, but you'll be able to preview the framing and access other options if you first turn the mode dial to Movie. In the Movie mode you can also choose between Auto and Manual exposure, the latter letting you adjust the aperture, shutter and sensitivity (up to 3200 ISO for 1080p video or 6400 ISO for 720p or VGA resolutions). It's also possible to set Auto ISO for movies, allowing you to fix the aperture and shutter and lest the camera adjust the sensitivity as light levels vary.
If you prefer having fun with your video, the Hybrid Auto mode will record short 720p clips of two to four seconds before each still photo and assemble them as a video diary of your day. Sometimes the result can be messy or embarrassing, but at other times it can provide a fun behind the scenes video.
If you like effects, you can film video in the Miniature mode, although like all Canon cameras to date you'll need to set the still photo shape to 16:9 if you'd like to record a wide HD video, and even then you'll be limited to 720p. But you can still adjust the strip of focus and produce a good-looking result.
Now let's see how it performs in practice.
Now lets check out the quality, sample images or skip back to my verdict!