Canon EOS 90D review - Verdict
Verdict
The EOS 90D becomes Canon's most powerful mid-range DSLR to date, inheriting the body, side-hinged screen, optical viewfinder and 45-point autofocus of the earlier 80D, while upgrading the sensor resolution to 32.5 Megapixels, offering uncropped 4k video at 25 or 30p, faster burst shooting at 10fps to match the 7D Mark II and reinstating the AF joystick which went missing on the three previous models in the series. As such there's upgrades whether you shoot still photos, film video, or like most owners of this series, do both.
The image quality, as you've seen, certainly has the potential to beat 24 Megapixel rivals, but not by a huge margin and crucially only when fitted with a quality lens. In terms of video it's great to finally enjoy uncropped 4k with Dual Pixel AF on an EOS body, but while it definitely resolves more detail than 1080, the uncropped mode is not as detailed as 4k from the best of its rivals, most notably the Sony A6400 and Fujifilm X-T30. The optional cropped 4k mode delivers a much sharper image due to the way Canon wrangles its pixels, but of course reduces the field of view – better for long shots, but worse for wide ones and more susceptible to overheating too. More than making up for the restrictions for most people though is the sheer success with which Dual Pixel AF can keep a subject in focus.
On paper the increase in speed and presence of an AF joystick means the 90D could be seen as a 7D II successor of sorts, but buyer-beware: the body is not as tough, it lacks the dual card slots and crucially, the 90D's 45-point viewfinder AF system is not a patch on the 63-point system on the 7D II, in my tests delivering fairly lacklustre performance when photographing birds in flight with the viewfinder. Switch to live view and the 90D's autofocus becomes much better, but the speed falls to 7fps and it's almost impossible to aim a long lens for fast action using the screen alone. This is something the M6 II does much better, allowing you to enjoy its even faster 14fps bursts and best autofocus system with the screen or optional electronic viewfinder. So Canon bird photographers should go for the M6 II over the 90D and also keep an eye open for deals on the 7D II.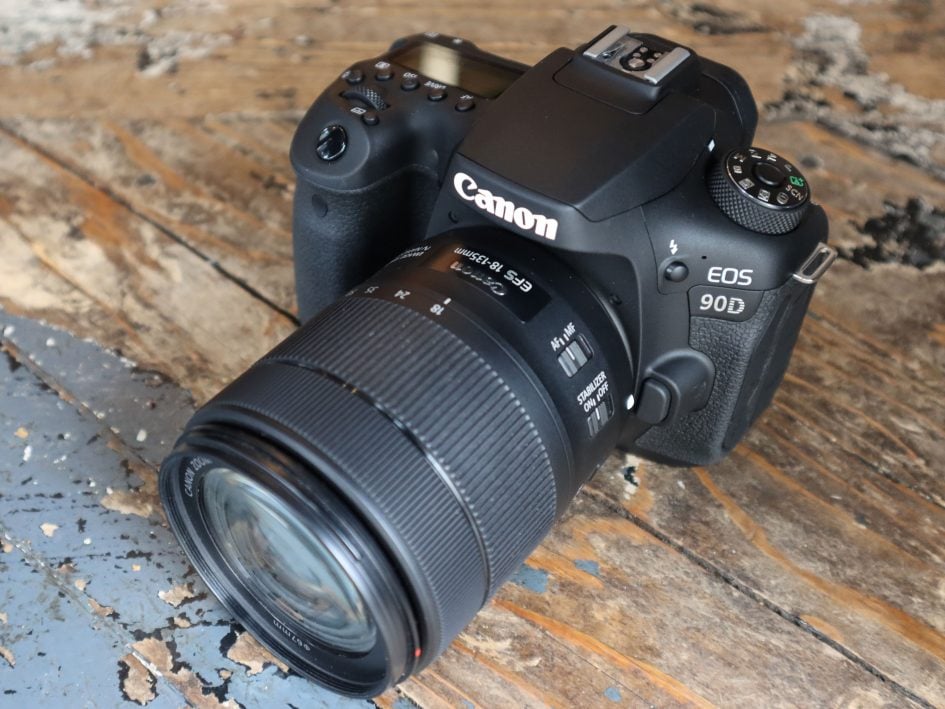 But the tables are turned for video. Sure, there's no sign of the milder All-i compression from the 80D, but with the choice of cropped or uncropped 4k with Dual Pixel AF, microphone and headphone jacks, long battery life, front-facing built-in mics and a flip-screen that isn't obstructed by hotshoe accessories, the 90D actually becomes Canon's best mid-range camera for video and vlogging whether DSLR or mirrorless. Note a firmware update also adds 24p for 1080 and 4k.

Overall I enjoyed shooting with the 90D, although again was struck by how much better it focused in live view then the viewfinder. Had Canon equipped the 90D with the 7D II's viewfinder AF system, it could have been a different story, but as it stands you should carefully consider your usage when choosing between it and the M6 II, which is actually cheaper even in a kit with its electronic viewfinder. Indeed despite my love for side-hinged screens, I'd personally go for the M6 II over the 90D. See my Canon EOS M6 II review for more details.

With the launch of each new DSLR, I also wonder if it'll be the last in its series – there's typically three years between Canon's double-digit EOS DSLRs, so will there be a market for an upgrade in 2022 – and with a 100D already in the catalogue, what would they call it? But for now, the upgrades across the board allow the 90D and DSLRs to remain relevant and compelling to those who prefer their form factor and viewfinder to smaller mirrorless cameras with all-electronic composition; it's especially tempting for 60D or 70D owners who want a bunch of upgrades but without changing the look and feel of their bodies. I think it will be a successful camera for Canon, but possibly the last of its series.

Check prices on the Canon EOS 90D at Amazon, B&H, Adorama, or Wex. Alternatively get yourself a copy of my In Camera book or treat me to a coffee! Thanks!