Canon EOS 6D Mark II review
Verdict
The Canon EOS 6D Mark II is a 'budget' full-frame DSLR aimed at enthusiasts upgrading from the original EOS 6D, or for those making their first foray into the joys of full-frame from models like the EOS 70D or EOS 80D.
The EOS 6D Mark II makes a number of upgrades over its almost four year-old predecessor: a new sensor boosts the resolution from 20.2 to 26.2 Megapixels while now sporting Dual Pixel CMOS AF for smooth refocusing in live view and movies, the AF system goes from a basic 11-point to a 45-point / all cross-type system adapted from the 80D, the burst shooting's accelerated from 4.5 to 6.5fps, and the Wifi and GPS are now complemented by NFC and Bluetooth. Physically the biggest change is the welcome addition of a fully-articulated touchscreen that works a treat with the Dual Pixel CMOS AF, although movies remain 1080 / 60p at best; there's some support for 4k, but only for in-camera timelapse movies. It's frustrating not to have 4k, but Canon's Dual Pixel CMOS AF technology continues to impress, delivering one of the best movie focusing systems around.
In use the 6D Mark II feels a lot like the EOS 80D, inheriting its viewfinder AF system as well as a fully-articulated touchscreen backed-up by a Dual Pixel CMOS AF sensor in Live View and movies. The bodies are remarkably close in size and weight, while the overall response, burst shooting and controls are also similar, allowing 80D or 70D owners to feel right at home. Of course the big difference when upgrading from an 80D to the 6D Mark II is going from a 24 Megapixel APSC sensor to a 26 Megapixel full-frame sensor. In my tests there's unsurprisingly little benefit to those two extra Megapixels in real-life resolution, but there's a significant advantage in terms of noise at higher ISOs with the 6D II enjoying one to two stops over the 80D (see my quality page) – overall the image quality is satisfyingly crisper and cleaner. And while the core Wifi capabilities are similar, the presence of GPS hardware and Bluetooth on the 6D II makes geo-tagging and connecting much easier.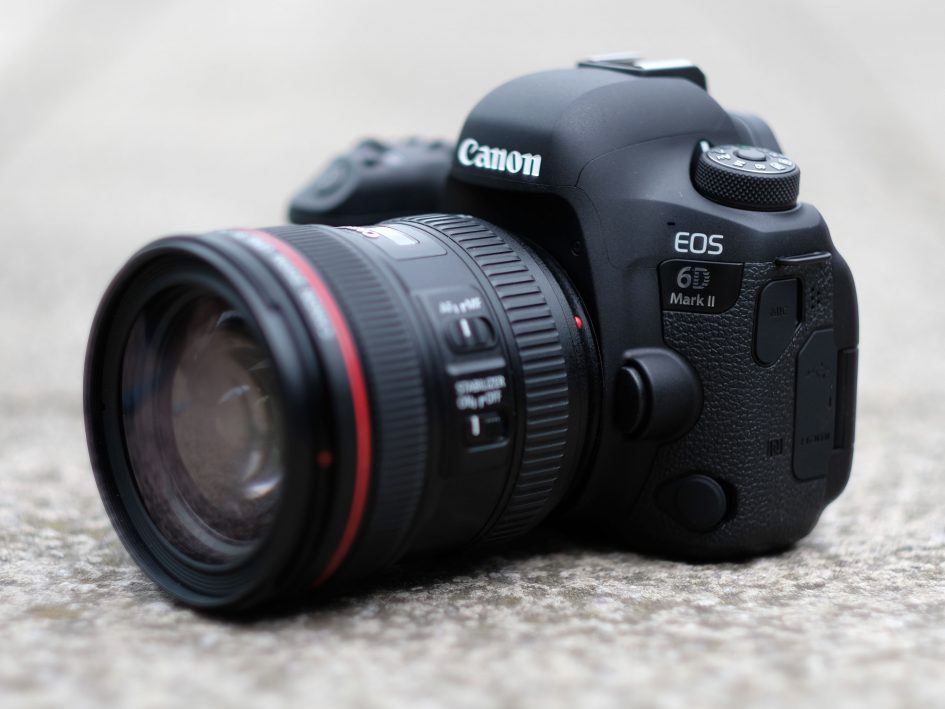 So it's easy to consider the 6D Mark II as a natural upgrade for EOS 80D and EOS 70D owners who desire cleaner images at high ISOs with the added convenience of GPS and Bluetooth. Owners of the earlier 6D Mark I also get to enjoy far superior autofocus whether shooting with the viewfinder or the screen, faster continuous shooting, six extra Megapixels, easier connectivity, and a fully-articulated touchscreen. Of these, the biggest highlight is Canon's superb Dual Pixel CMOS AF that not only transforms movie AF, but gives the viewfinder AF a run for its money even for moving subjects.
Sounds good, right? And there's certainly no denying the appeal of the 6D Mark II's general handling and output. It feels good, handles confidently, is equally happy shooting stills and movies, and delivers very satisfying images and videos with little or no modification. Canon's touch interface is one of the best around and as noted earlier, the presence of GPS and Bluetooth hardware makes location tagging and Wifi connections a doddle. It is in short, a very easy camera to shoot with and as such will actually appeal as much to beginners as it does to enthusiasts.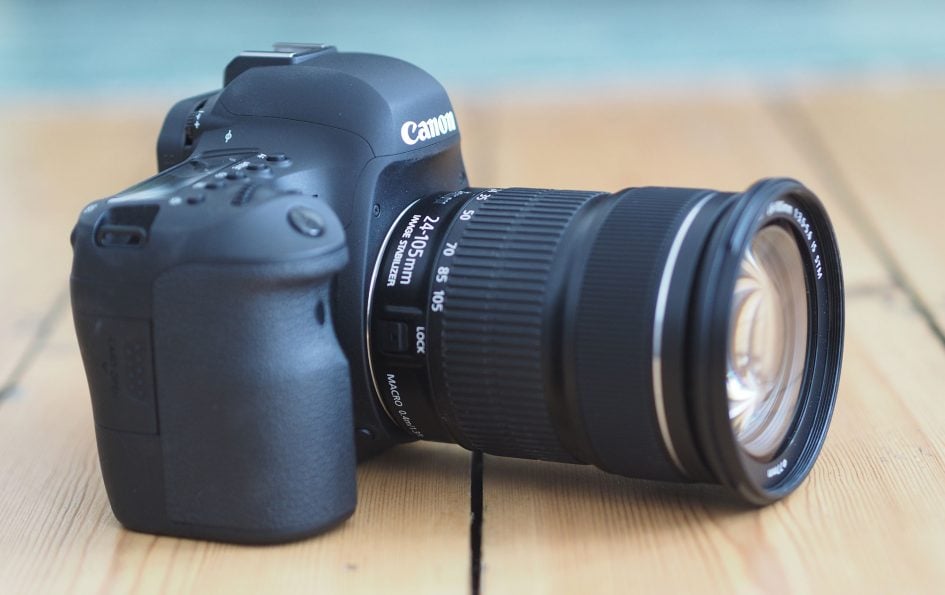 But as satisfying as it is, the 6D Mark II is not without issues, most notably the feature-set compared to rivals. As you already know, it doesn't have 4k video, something that's pretty much standard on other cameras in its class; and remember even if you don't need it now, this is a camera which Canon will likely keep in its range until the early 2020's. I also feel any camera costing over $1000, let alone double that, should be equipped with twin memory card slots and a headphone jack – again features that are becoming standard in the mirrorless World at this price and lest we forget, features the Nikon D750 offered some years ago. Of course in Canon's World, 4k, twin card slots and a headphone jack are all available on the EOS 5D Mark IV, but while the 6D Mark II's feature-set makes sense within the EOS catalogue alone, it can come across as lacking in the outside World.
Even if you live within Canon's World, it's also important to note how upgrading from the EOS 80D involves some losses as well as gains. Yes, you'll get a larger sensor as well as GPS hardware and Bluetooth, but you'll lose the popup flash, headphone jack, 1/8000 shutter, Creative Filter effects, and perhaps most importantly of all, access to a broader selection of lenses with movie-friendly STM focusing motors. As it stands, there's only one full-frame compatible lens with the wide coverage, optical stabilisation and STM focusing that's all so important to movie shooters – it's the EF 24-105mm f3.5-5.6 IS STM and fortunately it's very good. But EOS 80D owners upgrading to the 6D II will lose out on options like the EF-S 10-18mm STM, an ultra-wide zoom beloved of vloggers.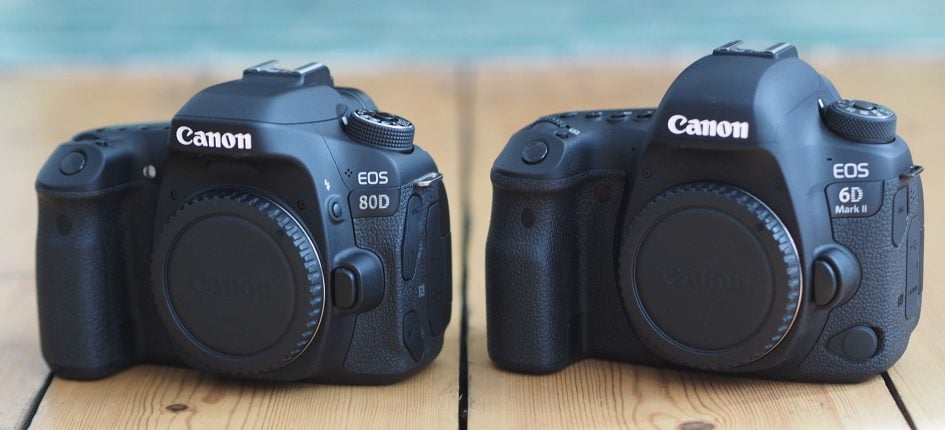 Another difference worth noting is the viewfinder AF system on the 6D II may share the same module as the 80D, but thanks to its larger imaging sensor, it covers a smaller area on the frame – indeed less than 50% of the frame width compared to around three quarters of the width on the 80D. The impact of having this concentrated but small AF coverage means you really need to try hard to keep the subject near the middle of the frame if you want autofocus through the viewfinder on the 6D II.
While the viewfinder autofocus on the 6D II works fairly well when it's over a subject, I did find it quite restrictive on composition. Sure you can focus, lock and recompose, but why should you in this day and age with a 45-point AF system? Indeed I found shooting in Live View far more flexible, being able to not only focus almost anywhere on the frame right up to the edges, but also supporting effective face detection. I was also pleasantly surprised by the continuous AF performance in Live View – sure it falls to around 4fps, but it works well and in my tests actually delivered a higher hit rate than the viewfinder AF system. The fully-articulated touchscreen also works a treat and it's only when you bring your eye to the viewfinder for stability, glare or privacy that you're reminded it won't work in Live View, playback or for movies on a DSLR. In short, the 6D Mark II's unique selling point may be its perceived flexibility as a DSLR, but it feels most confident and flexible in Live View when it essentially becomes a mirrorless camera.
Canon EOS 6D Mark II final verdict
The EOS 6D Mark II is a 'low-priced' full-frame DSLR aimed at enthusiasts and upgraders from APSC models like the 70D and 80D, but its ease of use and satisfying output means it'll also appeal to beginners wanting to splash out. The photo and movie quality looks great with the default settings and delivers noticeably less noise than the 70D or 80D at high ISOs. The combination of a fully-articulated touchscreen and Dual Pixel CMOS AF means shooting movies or in Live View is a highlight with confident focusing anywhere on the frame.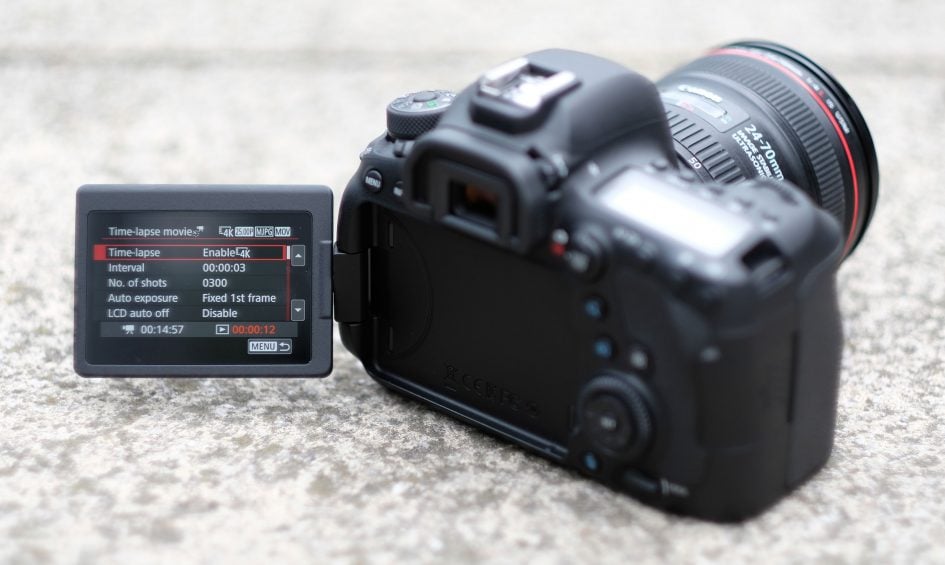 The viewfinder autofocus is less successful though with limited coverage and a lower hit rate than in Live View; indeed the 6D II feels most successful when used as a mirrorless camera. But most mirrorless cameras at this price point also boast 4k video, higher frame-rate 1080p, dual card slots and headphone jacks, four features sorely lacking on the 6D Mark II, although to be fair most also have smaller sensors. If you can live without these features but still desire full-frame, Sony's A7 Mark II costs one quarter less and also features built-in stabilisation. It's also still worth comparing the 6D Mark II against its predecessor's biggest rival, the Nikon D750.
So it's the usual story for a Canon DSLR with a feature-set carefully-pruned so not to step on the toes of its higher-end models, but coming across as limited compared to many rivals. That said, if you're wedded to Canon's World, there's no denying the overall handling from the excellent touch interface, easy Wifi, effortless GPS tagging and leading movie autofocus, to the crisp, clean and satisfying photo quality. Recommended if you desire a full-frame DSLR at this price point but I reckon a mirrorless version with 4k video and an electronic viewfinder could seriously worry the competition.
PS – use the tabs to visit the other pages which include full quality results, sample images, and my complete in depth review which includes a video overview!

Check prices on the Canon EOS 6D Mark II at Amazon, B&H, Adorama, or Wex. Alternatively get yourself a copy of my In Camera book or treat me to a coffee! Thanks!