Verdict
The Canon EOS 5Ds is essentially an EOS 5D Mark III with twice as many pixels. Sure there's a number of other small but useful upgrades, many focused on ensuring the resolution isn't squandered by vibration, but there's no denying the 5Ds is all about the sensor. Basically if you loved everything about the EOS 5D Mark III but wished it delivered bigger files, then this is the camera for you.
For the Canon faithful, a very high resolution body has been a long time coming. For generations, the company hovered around 20 Megapixels across its entire DSLR range, citing high ISO performance as a priority, but failing to deliver ultra high resolution files for the detail fanatics who desired them. Many of those who wanted more than 20 Megapixels jumped ship to Nikon when the D800 series arrived three years ago, and those who still wanted to use their Canon lenses found a solution a year later in Sony's Alpha A7r. How many customers for a high resolution EOS have already found a solution elsewhere?
A native experience is still best though, so if you want the highest possible resolution while staying within the EF system, the 5Ds (or the low-pass cancelling 5Ds R version) is a natural choice. After years of trailing behind on resolution, the 5Ds also leapfrogs the competition with Sony's A7r Mark II settling on 42 Megapixels and Nikon's D810 sounding almost pedestrian with 'just' 36 Megapixels.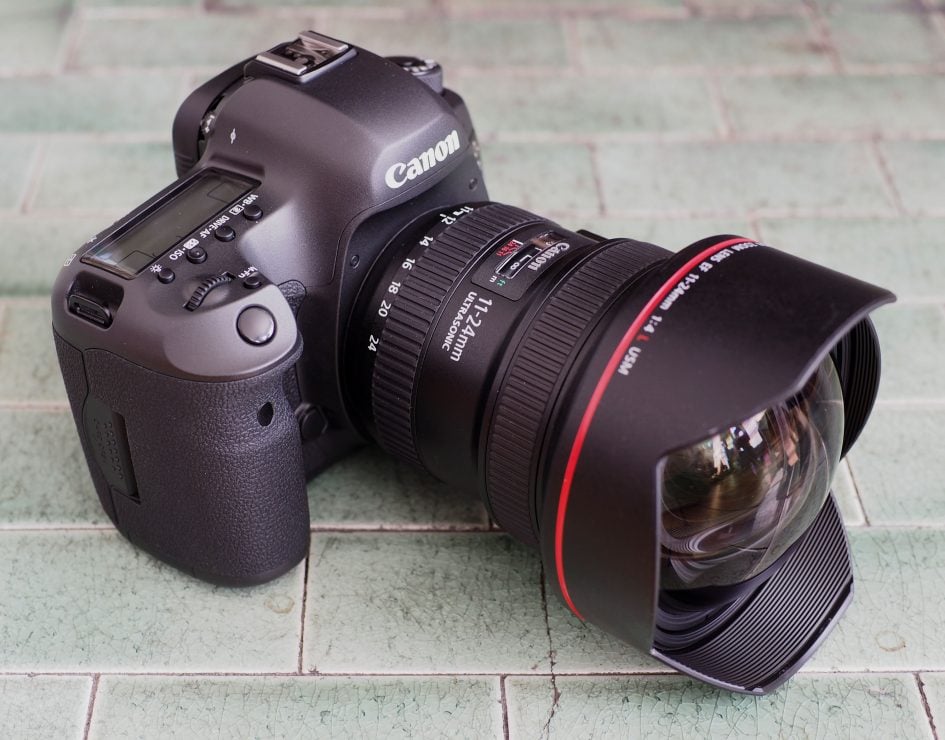 Under the right conditions, the EOS 5Ds certainly delivers the goods, recording visibly greater detail than the EOS 5D Mark III. The differences understandably become smaller compared to its 36 and especially 42 Megapixel rivals, but the fact remains it captures the highest resolution images outside of the Medium Format world – and in those terms it's both more portable and a bargain.
But those right conditions are critical to enjoying the best results. Three years ago I was struck by how carefully you needed to shoot with the D800 to enjoy its full 36 Megapixels, so it's no surprise to discover the EOS 5Ds is even fussier if you want to get the most from it. Suffice it to say you'll need to couple it with the best lenses you can, focus it with the utmost accuracy, and select the optimal aperture to avoid diffraction.
In addition you'll want to be using the lowest sensitivities – 100 or 200 ISO if possible – to deliver the best signal to noise ratio. In my low-light tests I was quite surprised how soon noise entered into the equation, and if you're thinking of shooting at higher sensitivities you'll gradually approach the 5D Mark III in real-life resolving power. Indeed I'd say if you mostly shoot above 800 ISO, there's little point in going for the 5Ds over the Mark III. Beyond this you should also ideally be shooting with a sturdy tripod and using mirror-lockup too.
Don't get me wrong, by inheriting the excellent AF system of the 5D Mark III and 1Dx, the 5Ds can track fast action with ease. Meanwhile the 5fps continuous shooting may not trouble dedicated sports cameras, but it's enough to capture some decent results. But don't be any doubt: if you want to enjoy 50 Megapixels worth of detail, you'll be shooting mostly static subjects from a mostly static position. There'll always be exceptions, but it's best-suited to landscape, architecture and studio work.
The 5Ds may seem like a 5D Mark III with a higher resolution sensor transplant, but as I mentioned at the start, Canon's made a number of enhancements to maximize your chances of enjoying the extra detail in practice. There's the new motor-driven shutter and improved tripod base-plate, both designed to reduce vibrations. Mirror-lockup has also been upgraded from a basic on / off to a page of delay options.
Beyond this, the 5Ds also now sports a built-in interval timer with a timelapse movie option and a useful Bulb timer, all very handy albeit not unique amongst rivals. It's also nice to discover the viewfinder screen now includes a raft of new icons which let you check a wealth of shooting details without your eye ever leaving the view.
All valuable enhancements, but conversely it's revealing to see how the 5Ds has effectively stood still in terms of other respects. The movie mode is essentially unchanged from the 5D Mark III in terms of frame rates and encoding. I'm not surprised to find 4k missing, but the lack of 1080 at higher rates than 30p is disappointing – even Nikon's D810 has 50p and 60p. Adding further insult to injury is the removal of the headphone jack and clean HDMI output. I'd have also liked to see a hybrid AF system with embedded phase-detect points for more confident continuous AF during movies, but it should be clear by now that the 5Ds is not about delivering industry-leading video performance.
In all the discussion about the sensor it's also easy to miss the absence of Wifi or GPS. I know these aren't important to some photographers, but for others they are, and for a new top-end camera in 2015 with a product-cycle of around three years, it seems old fashioned at best and a dangerous omission at worst. I appreciate the metal body presents challenges to radio signals, but I still feel it's something that's worth trying to resolve.
Another feature I'd value is some kind of screen articulation as it really does make composition as high or low angles much easier. Again I know some photographers don't care, but I know I would have found it useful during my time testing the 5Ds, whether shooting handheld or from a tripod.
At this point it's worth bringing in the full-frame competition to see how they compare. In terms of traditional DSLRs, Nikon's D810 also lacks built-in Wifi and GPS, 4k video, and an articulated screen, and it also now has the lowest resolution of the full-frame flagships with 'just' 36 Megapixels. But it comes in comfortably cheaper than the 5Ds, shoots 1080p video at 60p and still delivers files that are packed with enough detail for most photographers. If you prefer DSLRs and are not wedded to the EF system, it remains a contender.
Arguably the biggest rival for the 5Ds though is Sony's Alpha A7r Mark II, a thoroughly modern mirrorless camera that's packed with features while also resolving some issues with the original A7r. Starting with the sensor, it packs 42 Megapixels with no low-pass filter which in my tests delivers essentially the same real-life detail, an embedded phase-detect AF points for more confident AF during movies, and internal 4k video recording (as well as 1080 at 60p and 720 at 120p). Like the A7 Mark II, the sensor is stabilized which means you can counteract wobbles with any lens you attach, including adapted ones from other systems. The screen tilts vertically for easier composition at high or low angles, there's built-in Wifi with smartphone remote control and downloadble apps, and a huge electronic viewfinder image.
DSLR traditionalists may sneer at electronic viewfinders, citing shorter battery life and lag in low light or when panning, but they conversely enjoy many benefits over their optical counterparts, including the ability to preview any effect or white balance adjustment, the chance to employ a wealth of compositional and focusing aids including focus peaking, zebra patterns and magnified assistance, along with being able to compose movies and playback files. Indeed after shooting mirrorless for several years now, I now prefer electronic viewfinder to optical ones. I equally appreciate it's a personal preference, but it's important to know there's pros and cons to both technologies and when you're shooting at such high resolutions, any focusing aids are very useful. Certainly if you envision yourself focusing a 5Ds on a tripod using Live View on its screen, you should think about whether a native mirrorless system would be better for you. Lest we forget, with its electronic first curtain, the A7r II is also inherently better-able to avoid vibrations.
Perhaps the killer aspect of the Sony A7r Mark II though is its ability to autofocus some Canon EF lenses at reasonable speed via a Metabones adapter. I've only had a chance to try a few Canon lenses, but with the most recent models, the AF experience on the A7r II is surprisingly good and certainly very usable for handheld shooting. If you're open to the idea of a smaller, lighter mirrorless system, the A7r Mark II is certainly a tempting prospect.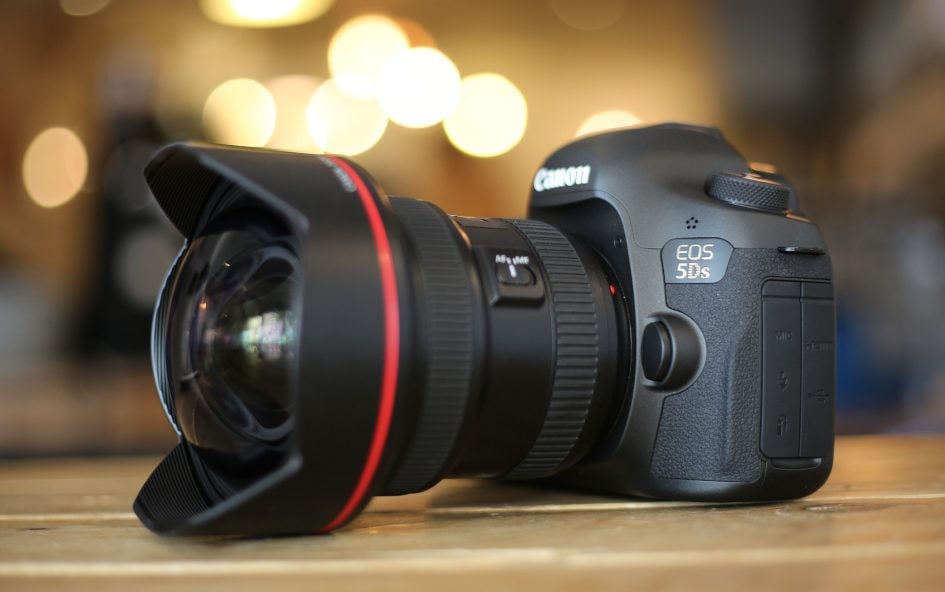 Ultimately though the EOS 5Ds is aimed at the Canon faithful. Owners of bodies like the 5D Mark III who desired bigger files, but held back from switching to Nikon or Sony through either brand loyalty or a significant investment in lenses. They've had to wait a long time, but the 5Ds now delivers the huge files, while the EF 11-24mm f4L USM finally brings a top-end ultra wide zoom to the system. Indeed they're the perfect combination, showcasing Canon's technology while leapfrogging Nikon's D810 and 14-24mm on resolution and wide coverage. Oh and while it may be lacking on the feature-set compared to the A7r II, the optical viewfinder and bigger battery allow it to shoot at least twice as many images per charge.
Which brings me back to the beginning: if you loved the 5D Mark III but wished it delivered bigger files, the 5Ds is the camera for you. The only question for those who want to stay committed to the EF system is whether to go for the 5Ds or the 5Ds R which cancels the effect of the low pass filter for potentially crisper results at the risk of greater moire. It depends on your subject and how bothered you are about moire. If you shoot natural landscapes or other organic shapes, there's normally little chance of the fine repeating patterns which can trigger moire, in which case go for the 5Ds R. But if you mostly shoot man-made textures like clothing, or even fine patterns in buildings, then moire can be an issue, in which case the 5Ds is probably a safer bet.
Good points
Industry-leading 50 Megapixel resolution.
Powerful 61-point AF system with custom presets.
Bulb timer, intervalometer, varied mirror-lockup options.
Enhanced viewfinder with lots of shooting information.
Bad points
Needs the best lenses and precision technique.
Noise creeps into files from 400 ISO.
No Wifi, no 1080 video above 30p, no 4k, no hybrid AF.
Non-articulated screen, focus peaking or zebra patterns.