In depth
Canon's EOS 5Ds is a full-frame DSLR boasting 50.6 Megapixels, making it not just Canon's highest resolution camera to date by a long margin, but also leap-frogging the 36 Megapixel Nikon D810 and 42 Megapixel Sony A7r II. Announced in February 2015, it comes in two versions with the alternative 5Ds R model employing a low-pass cancelling filter for potentially sharper results, albeit with increased risk of moire. This review applies to both models.
The EOS 5Ds comes roughly three years after the EOS 5D Mark III and shares a number of features with it and the more recent EOS 7D Mark II. You get the same 61 point AF system as the EOS 5D Mark III, with 41 cross-type and five double cross-type sensors. You get the same 1080p video as the Mark III, up to 30p with the choice of IPB or All-I encoding, although the headphone jack has sadly been removed. From the EOS 7D Mark II you get the 150k pixel metering system with Intelligent Tracking, Flicker Detection and an Intervalometer. The 5DS also shares essentially the same body and controls as the 5D Mark III, although the mirror mechanism has been redesigned. Like the 7D Mark II, it's motor-driven which reduces potential vibrations, especially coupled with the improved tripod mount.
What you don't get on the 5Ds is 1080 video at frame rates higher than 30p, nor 4k in any form. It also lacks the Dual Pixel CMOS AF of the 7D Mark II and 70D. Since the HDMI output is no longer clean and the headphone jack has also been removed, Canon's message is clear: the 5Ds will certainly do video, but it's not a priority. There's no built-in Wifi or GPS either. The 5DS is all about the big 50.6 Megapixel sensor, which even in the optional APSC crop mode still delivers a respectable 19 Megapixels (although it's not compatible with EF-S lenses). In my review I'll show you how this new Megapixel leader compares for static and action, for stills and video, while comparing it with a selection of rivals: I have a complete set of resolution and noise results for the EOS 5Ds versus the EOS 5D Mark III and another set for the EOS 5DSr versus the Sony A7r Mark II, along with separate pages of sample images for both Canon bodies. For the main review, covering the design, controls, AF, continuous shooting and movie modes on both bodies, stay on this page and keep reading!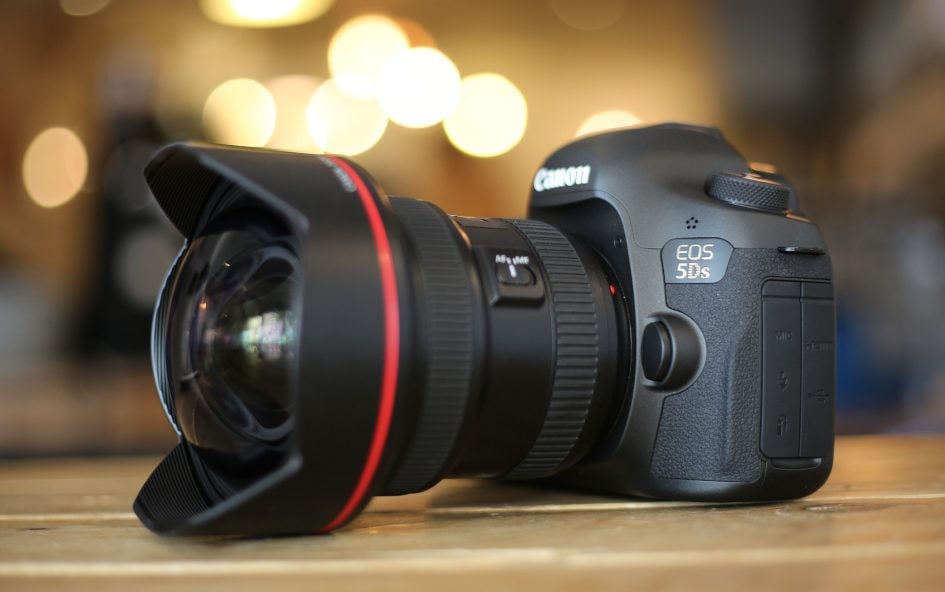 Canon EOS 5Ds video review
Canon EOS 5Ds design and controls
The EOS 5Ds is clearly aimed at owners of the EOS 5D Mark III who simply desire a higher resolution sensor. The 5Ds shares almost exactly the same body design and control layout, ensuring anyone who's familiar with the 5D Mark III will be up and running without delay. Both bodies measure 152x116x76mm, weigh 845g without battery and enjoy decent build quality that, while still not weather-proofed to 1D standards, remains fairly rugged and feels confident and comfortable in your hands.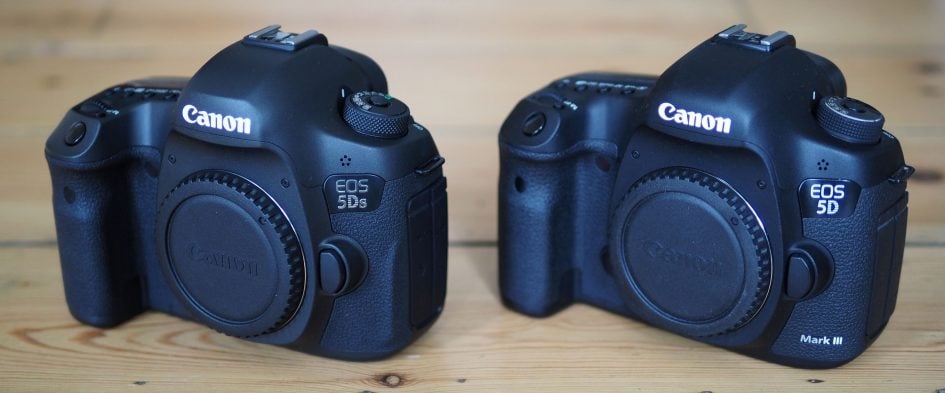 The EOS 5Ds looks so similar to the 5D Mark III that you really have to place them side-by-side to spot the minor external differences. Looking around the controls, you'll notice exactly the same buttons, dials, switches and levers, all with the same functions, although in what seems like an unnecessary move, the three dual-function buttons running along the top side of the upper LCD display now have their labels reversed. So for example, on the EOS 5D Mark III, the middle button is labeled AF.DRIVE and on the EOS 5Ds, it's labeled DRIVE.AF. But pressing it does exactly the same thing, presenting AF mode options in the top half of the rear screen and Drive mode options in the lower half.
Open the flaps on the left side of the body and you'll notice the headphone jack of the EOS 5D Mark III has been sadly removed on the EOS 5Ds, and the previous USB / AV output has now been swapped for a larger USB-3 port. And while both cameras may share a decent-sized Type-C HDMI port, the 5Ds loses the clean output of the 5D Mark III. This scuppers any use of an external recorder, although the camera does at least offer a choice of video compression, including the high bit rate All-i option.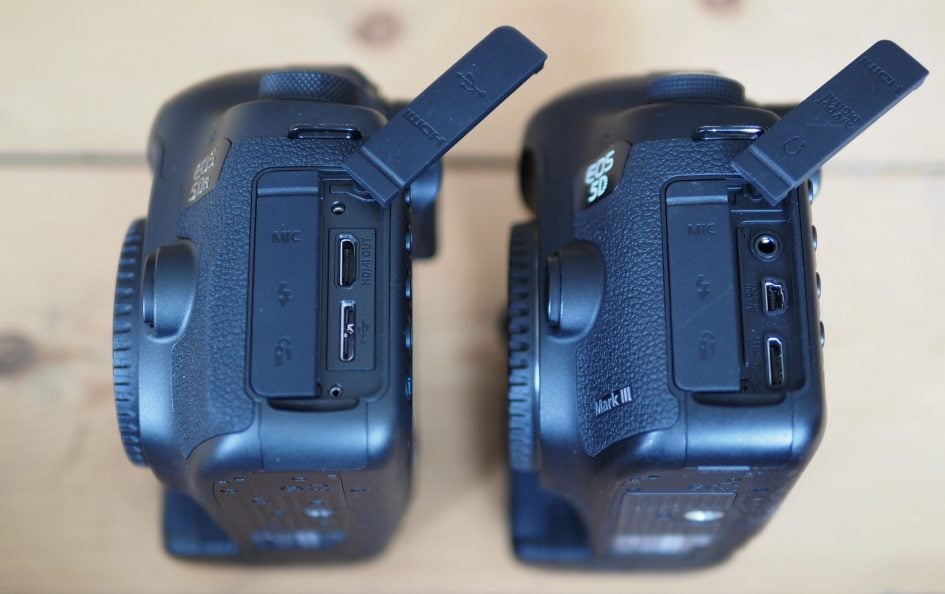 Sticking with connectivity, I'm disappointed to report the EOS 5Ds does not feature built-in Wifi, nor a GPS receiver. Canon continues to support both with expensive external accessories that bolt onto the body, forcing anyone who wants them to buy and carry around more gear. The usual argument of a metal body is used as an excuse for not supporting any internal radios, but there are a number of plastic or rubber-covered areas around the body that could surely accommodate wireless communications. I realize some photographers couldn't care less about having Wifi or GPS on a camera, but I personally find them very useful and their absence on a top-end body that will probably remain on-sale until at least 2018 feels like a mistake to me. I didn't test the 5Ds with an Eye-Fi card, but it could be an option worth considering if wireless connectivity is important.
Turn each camera upside-down and you'll notice a difference in their tripod base plates. The EOS 5D Mark III has a rubber rectangle with just one screw near the thread, whereas the thread on the EOS 5Ds is surrounded by five screws and the grip grooves are embedded into the entire underside. The absence of a rubber area on the EOS 5Ds suggests it may not grip a tripod plate as well as the 5D Mark III, but Canon has singled this out as an improvement on the 5Ds; indeed, when coupled with the new shutter drive motor and mirror lockup options which I'll mention later, the camera should be a lot less susceptible to photos spoiled by vibrations.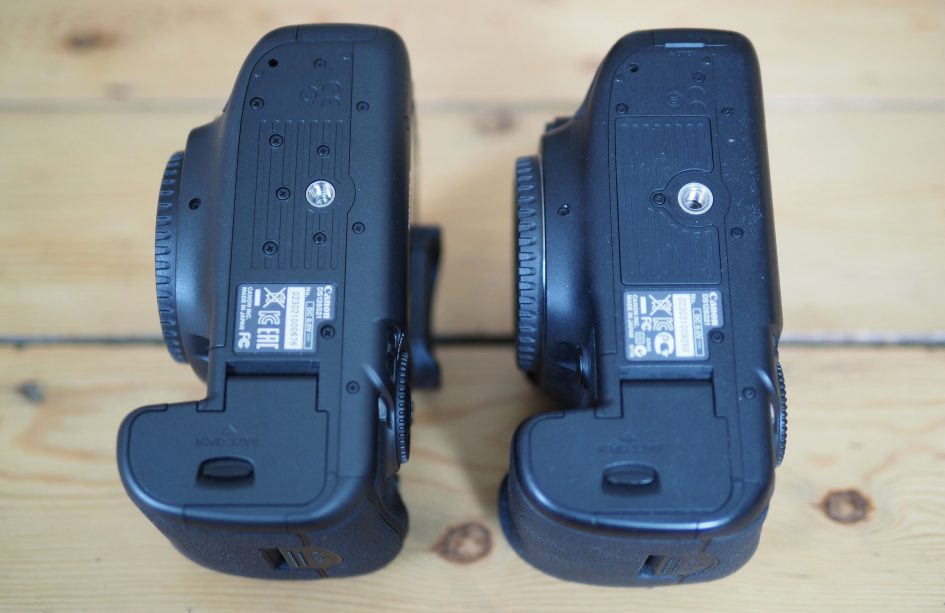 Inside the battery compartment, you'll find a slightly updated battery: the LP-E6N, rated at 1885mAh, compared to the LP-E6 (1800mAh) of the 5D Mark III. Canon quotes 700 shots per charge on the 5Ds, compared to 950 for the 5D Mark III, but I suspect that's more down to the conditions required for measurements, than a noticeably hungrier system. If you own any spare LP-E6 batteries, they'll work on the 5Ds, as does the BG-E11 battery grip.
Like the 5D Mark III before it, there's slots for both Compact Flash and SD memory cards with the chance to configure them for backup or overflow. The 5Ds can however now exploit the higher-speed writing of UHS-1 SD cards.
Both cameras feature the same optical viewfinder magnification and coverage (0.71x / 100%), but delve into the menus and you'll find more LCD overlay options thanks to a new focusing screen. You still can't swap it for a different screen, but you can now super-impose a dual-axis leveling gauge, along with a selection of icons running along the bottom to indicate the battery life, white balance, drive, AF and metering modes, image quality and whether any lighting flicker is detected. You can choose exactly which ones are displayed – I went for all of them and enjoyed being able to check and adjust all these settings without taking my eye from the viewfinder.
Both cameras appear to share the same 3.2in screen with 1040k dot resolution and 3:2 aspect ratio that matches the native shape of images. Like all Canon cameras, the Live View mode offers two clean and detailed magnified options (on the 5Ds at 6x and 16x) which makes it easier to confirm the focus, although sadly there's still no focus peaking or zebra patterns.
Going through the menus reveals additional differences including a built-in intervalometer and considerably more mirror-lockup options, all of which I'll describe later.
So when you look carefully, there are a number of small but important differences between the 5Ds and 5D Mark III, but again by sharing essentially the same body design and control layout, anyone familiar with one will be immediately at home with the other.
Canon EOS 5Ds lenses and coverage
The EOS 5Ds is fitted with an EF lens mount, making it compatible with the largest collection of native lenses. The sheer variety of available lenses is the key selling point of all Canon DSLRs, and as a full-frame body you'll enjoy them on the 5Ds without any field-reduction. I tested the 5Ds with a variety of Canon lenses, but most enjoyed the recent EF 11-24mm f4L USM ultra-wide zoom, the coverage of which I've pictured below.

Like other full-frame Canon bodies, the 5Ds is not officially compatible with EF-S lenses, due to the rear section of some models protruding into the mirror box. The 5Ds does however offer a choice of 1.3x (APS-H) and 1.6x (APS-C) crop modes, in addition to the 1:1, 4:3 and 16:9 aspect ratios (cropped from the full frame) offered on the 5D Mark III. I've pictured them all below, and it's testament to just how much resolution the EOS 5Ds starts with that even when cropped by 1.6x, you're still left with 19 Megapixel images – indeed virtually the same resolution as the 5D Mark III.


I should also mention the optical viewfinder can be configured to outline the selected crop or blank-out the area around it. While the view understandably shrinks through the viewfinder, it's still useful to preview the coverage as you compose; this is a feature absent on the EOS 5D Mark III, which also lacks the 1.3x and 1.6x crop options. Alternatively if you're shooting in Live View, the coverage automatically fills the screen, at least as much as the shape allows; it's same as the EOS 5D Mark III in this regard.
Canon EOS 5Ds shooting experience
By sharing essentially the same body as the popular EOS 5D Mark III, the EOS 5Ds hits the ground running. It's a camera so many of us are already very familiar with, we can start using it without delay. And if it ain't broke, it don't need fixing. So the EOS 5Ds inherits a fairly tough and solid body with a comfortable and nicely textured grip that feels good in your hands. The viewfinder is large, bright and now features additional LCD overlays.
Like the 5D Mark III before it, the 5Ds also feels very responsive in use. Sure, the large sensor is ideally aimed at more leisurely photography, but by featuring the same 61-point AF system as the 5D Mark III and only slightly slower continuous shooting, it'll have a good stab at tracking action and it'll also keep focusing down to fairly low (albeit not class-leading) light levels of -2EV.
Compared to a modern mirrorless camera, or even a more forward-thinking DSLR, the EOS 5Ds can't help but look a little old fashioned with its fixed screen, absence of peaking or zebra guides, lack of Wifi and fairly modest video frame rates, but as a traditional DSLR it feels confident and ultimately delivers the goods.
Like the 5D Mark III, a mode dial on the upper left shoulder lets you choose PASM modes, along with Green Square Auto, Bulb and three Custom positions. There's no effects here, and no dedicated position for movies either. Again like most higher-end Canon DSLRs, a collar control to the right of the viewfinder switches the camera between Live View and Movies, with a button in the middle either entering / exiting Live View composition or starting / stopping a video recording. Again by being identical to earlier models, it all feels intuitive and easy to use.
Like all higher-end Canon DSLRs, shutter speeds between 1/8000 and 30 seconds can be manually dialed-in using Shutter Priority or Manual, while longer exposures require the Bulb mode. I'm pleased to find a new Bulb Timer mode in the menus that allows you to preset the exposure length between one second and a second shy of 100 hours (presumably in conjunction with mains power); coupled with a self-timer, you can now capture long exposures without the need for an optional remote accessory.
As before, auto exposure bracketing is available at two, three, five or seven frames, with the latter offering a maximum capture range of +/-9EV. Like the 5D Mark III, there's also an in-camera HDR option that captures three frames at up to +/-3EV before combing them into one JPEG using a choice of five effects: Natural, Art Standard, Art Vivid, Art Bold and Art Embossed. Here's a single frame next to the HDR mode at +/-3EV with the Art Bold effect.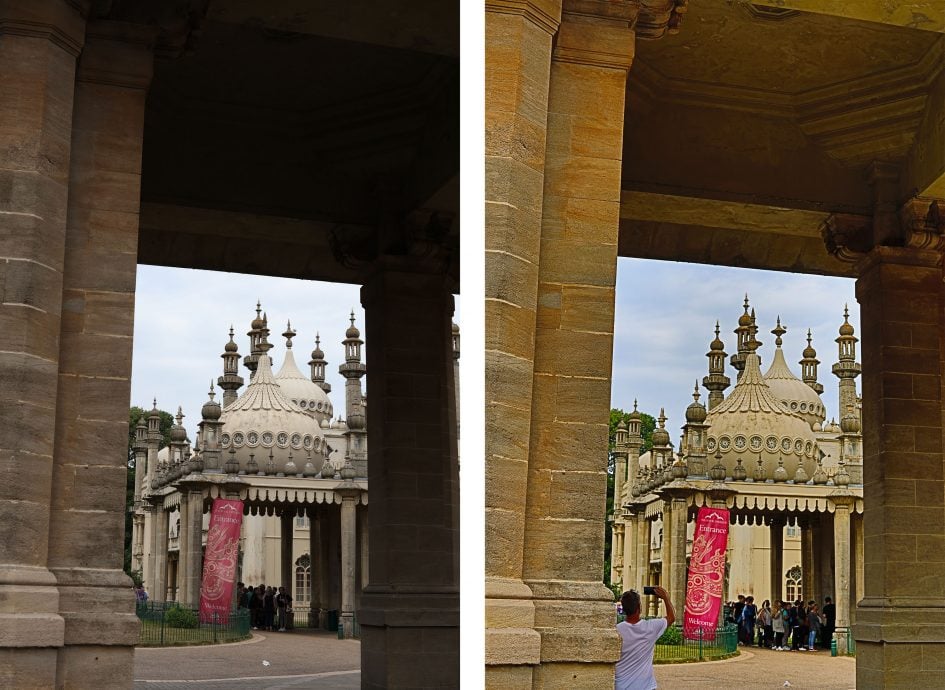 Another neat upgrade is the presence of an interval timer that can be set to capture between one and 99 or an unlimited number of frames at gaps between one second and a second shy of 100 hours. A separate Timelapse movie option alternatively captures up to 3600 images at intervals between one second and a second shy of 100 hours before encoding them into a movie; as you adjust the settings, the total capture and playback times are updated, with a 3600 frame movie lasting two minutes and 24 seconds as a 1080 / 25p movie.
Whatever mode you're shooting in, you'll notice the EOS 5Ds has a slightly quieter, more electrical sounding shutter to the 5D Mark III, which sounds quite sharp and mechanical in comparison. Like the 7D Mark II, it's now motor-driven which reduces potential vibrations, especially coupled with the improved tripod mount.
It's also nice to have a slightly quieter shutter sound as standard, although the 5Ds offers additional 'silent' drive modes. Sadly these seem to just slow down the shutter process from one contiguous sound to two more distinct sounds. It's fractionally quieter, but certainly far from silent. For me this is one of the disadvantages of a traditional DSLR compared to a modern mirrorless camera, most of which now offer full electronic shutter options which operate in genuine silence, while also generally offering even faster maximum shutter speeds. Of course there can be skewing artefacts with electronic shutters, but it's still useful to have the option for situations where true silence is valuable, such as during ceremonies.
The 5Ds has however greatly expanded its mirror-lockup options. On the earlier 5D Mark III, mirror-lockup was either enabled or disabled. On the 5Ds you have a choice of delay periods from 1/8 to two seconds, or the option to simply press the shutter release a second time to take the shot. Again the mirror-lockup works alongside the motor-driven shutter and improved tripod mounting to reduce potential vibrations.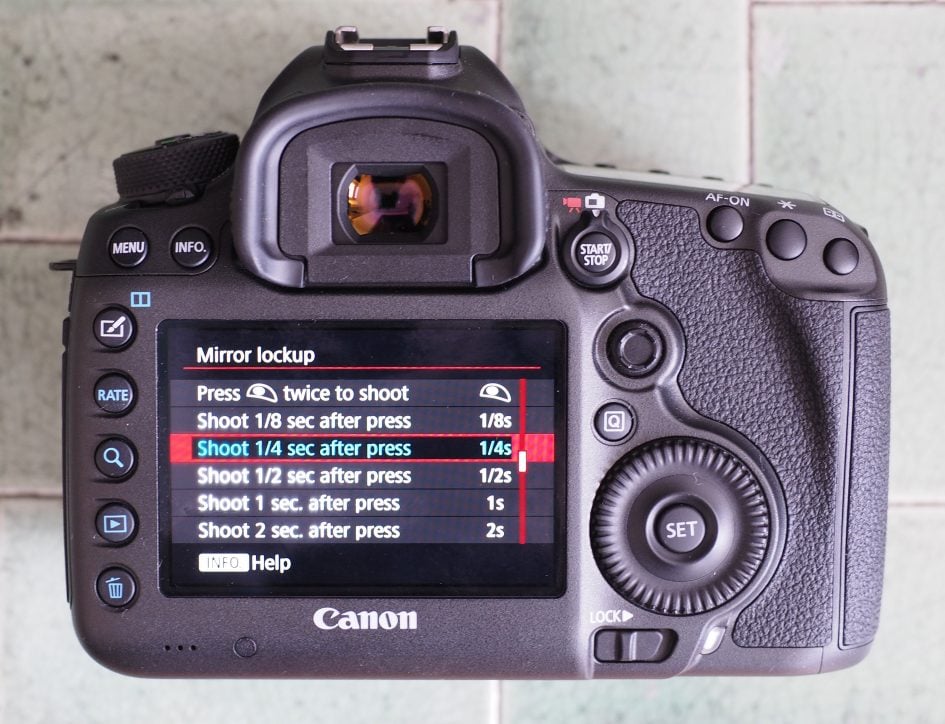 In the absence of any in-camera effects, panorama modes or Wifi connectivity, it's time to complete this section with autofocus and continuous shooting. As I mentioned earlier, the EOS 5Ds inherits the 61-point AF system of the EOS 5D Mark III, which in turn was borrowed from the flagship EOS 1Dx.
Like those models, the highlights are being able to choose from six AF area options, including single, expanded and zoned, and then being able to fine-tune the tracking sensitivity, acceleration tracking and AF point switching either manually or via six preset 'cases'. The preset cases are aimed at specific types of sports or action and are even accompanied by icons reminiscent of Olympic event graphics.
I went I to detail in my earlier EOS 5D Mark III review, so instead of repearting the specs, I'll tell you how well it worked in practice. I used the 5Ds to shoot cyclists and birds, the former fairly predictable and the latter quite erratic at times. Case 1 worked well for the cyclists, although Case 2, which reduces the tracking sensitivity, also works well when people or other objects get in the way momentarily. Since I could keep the riders fairly easily positioned in the frame, I generally opted for zoned AF, although beware like many AF systems this will prioritise whatever's closest, which may be handlebars or even a large hat. For the birds, Cases 5 and 6 worked well for me, along with a combination of either zoned or auto selection AF areas.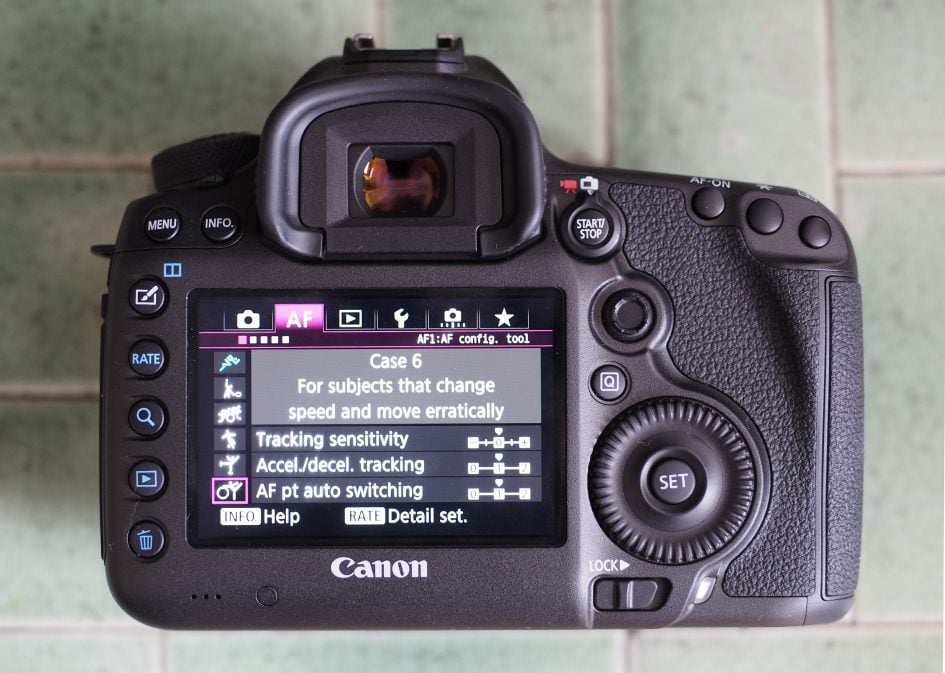 I'd previously been impressed by the AF system when testing the 5D Mark III and that continued to be the case with the 5Ds – and I'm pleased to report the less forgiving higher resolution sensor didn't pose a problem for the AF module, although you will need to be more careful with AF microadjust for any lenses which are front or back focusing.
In terms of continuous shooting, the EOS 5Ds is quoted to fire at 5fps for up to 510 JPEGs or 14 RAW images when using a UDMA 7 Compact Flash card. I tested the 5Ds with an SD card instead, albeit my fastest one, with the body exploiting its UHS-I speed. I set the sensitivity to 400 ISO and fired-off a number of bursts in Shutter Priority at 1/500.
With the EOS 5Ds set to Large JPEG, I fired-off 95 frames in 19.02 seconds for a rate of almost exactly 5fps; the camera seemed happy to continue at this speed while memory remained, although I didn't try it up to the maximum quoted number of shots.
Set to RAW, the EOS 5Ds captured 15 frames in 2.89 seconds for a speed of 5.19fps, after which the speed slowed to about 2.5fps with some periods where it slowed further to 1fps.
So in terms of JPEG and RAW, the 5Ds performed as quoted, making it only fractionally slower than the 6fps I measured for the earlier EOS 5D Mark III; even the RAW buffers are similar in size, which makes the 5Ds quite impressive considering the considerably higher resolution.
The 5Ds also offers a Silent Continuous mode which in my tests captured 20 Large JPEGs in 6.35 seconds, for a speed of 3.14fps. Like the single frame 'silent' mode, this is far from silent, but is a little quieter than the normal option.
While Canon wouldn't describe the 5Ds, or indeed the 5D Mark III, as sports or action cameras, their speed is good enough to capture some good results, especially coupled with their shared AF systems.
I've used both for some basic sports and birding photography and found them capable of delivering quality images, while also maintaining their maximum burst speeds during continuous autofocus / AI Servo mode. If you need a higher frame rate from Canon though you'll need to either consider the cropped-frame EOS 7D Mark II or full-frame EOS 1Dx.
Canon EOS 5Ds movie mode
The EOS 5Ds inherits essentially the same movie capabilities of the EOS 5D Mark III with a handful of small changes I'll mention in a moment. This means the best quality remains 1080 / 30p (29.97fps), with 1080 / 25p and 1080 / 24p (23.98fps) options also available, depending on the TV region set in the camera. You can also shoot 720p at 50p or 60p, or VGA at 25p or 30p if desired. Like the EOS 5D Mark III, the 1080p and 720p options can be encoded with IPB or All-i compression, and the maximum recording time in any mode is 29:59 or when the file reaches 4GB; I managed to record a clip lasting 8:49 in 1080 / 25p in IPB, split over two files before the camera shut itself down, albeit not over battery or capacity. So no 4k, and no video of any description above 50p / 60p, meaning no chance of proper slow motion; as such, it's looking somewhat old fashioned compared to the latest models from Sony and Panasonic.
Like earlier Canon DSLRs, the 5Ds offers full Auto exposure or full Manual exposure for movies, the latter requiring you to set the mode dial to M. In Manual mode, you can set the aperture, shutter and ISO, the latter in a range of 100 to 12800 ISO or with an Auto option that lets you fix the aperture and shutter and have the sensitivity compensate for changes in brightness as you film.
Like the 5D Mark III there's a Silent Control option which, when enabled, allows you to tap or hold your finger against the top, bottom, left or right of the rear wheel to make adjustments while filming. As before, you need to enable the feature in a menu, start recording a video, press the Q button, then you'll see the options you can adjust, such as the aperture, ISO or audio levels. Simply tap gently up or down on the inside of the wheel to select the desired parameter, then tap left or right to adjust it; you can keep your finger held against the wheel to keep increasing or decreasing the value.
Audio is recorded by the built-in mic or an external mic connected to a 3.5mm jack, and like the 5D Mark III you can set the audio levels automatically or manually, using graphic peak meters on-screen. Unlike the 5D III though, there's no headphone jack on the EOS 5Ds to monitor audio.
New to the 5Ds over the 5D Mark III though is Movie Servo AF. This regularly triggers the camera's AF system to refocus if necessary, presenting an illusion of continuous autofocusing. In terms of AF area, you can choose a single rectangle which you can move around the screen using the joystick, or opt for tracking / face detect, which tracks a subject across the frame.
Movies and Live View on the 5Ds however use a 100% contrast-based AF system which means any refocusing is leisurely and invariably involves some hunting to find the target. It's certainly far from the swift and confident refocusing of a sensor with embedded phase detect AF points, like Canon's own EOS 760D / T6s, EOS 70D or EOS 7D Mark III, so it's really only suitable for pulling focus from one static subject to another, rather than tracking a moving subject. Here's how it looks in practice when filming with the EF 50mm f1.8 STM with its aperture wide-open and the single AF area locked to the middle of the frame.
Like the EOS 5D Mark III, the 1080p frame is generated from the full sensor width, resulting in no reduction in the horizontal field of view. But there's a critical difference: the full sensor width of the EOS 5D Mark III was 5760 pixels, into which 1920 (the width of 1080 video) fitted exactly three times. This meant no non-integer scaling factors, which in turn can introduce undesirable artefacts.
In contrast, the full sensor width of the EOS 5Ds measures 8688 pixels, which when divided by 1920 results in a non-integer reduction of 4.525. Does this uneven scaling introduce worse artefacts than the 5D III? To find out I filmed the same scene with the same lens from the same position, moments apart with each camera.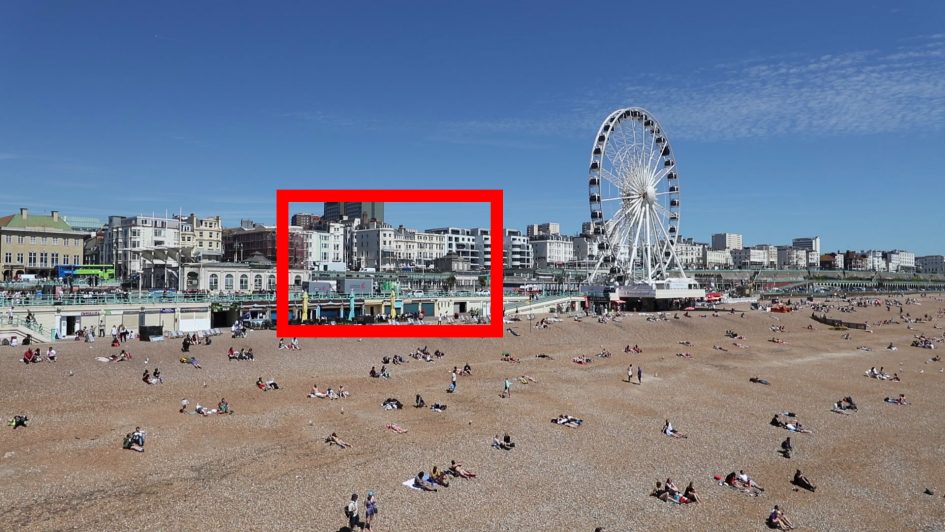 In the cropped areas above, both cameras are delivering surprisingly similar results in terms of detail and artefacts, although the 5Ds is a tad crisper and more contrasty using the Standard profile. Comparing the actual clips themselves for moire and motion artefacts reveals what's arguably fractionally higher detail from the 5D Mark III, most notably in grills and shutters, but it's really very close indeed. I'd be interested to hear your thoughts, so if you'd like to download the clips for yourself for closer perusal, here they are! Canon EOS 5Ds daylight movie at 1080 / 25p / All-i, Canon EOS 5Ds daylight movie at 1080 / 25p / IPB, and Canon EOS 5Ds daylight movie at 1080 / 25p / All-i / Neutral profile; the last clip is for those who want to try grading a clip. And now for the Canon EOS 5D3 daylight movie at 1080 / 25p / All-i and Canon EOS 5D3 daylight movie at 1080 / 25p / IPB.
At this point it's important to note 4k footage from mid-range Panasonic mirrorless cameras like the Lumix G7 easily out-resolves either the 5Ds or 5D Mark III in bright conditions. Sure, you won't get the same potential for shallow depth-of-field effects or low light performance from a smaller sensor, but if it's detail in good light you're after, I'd recommend one of those models instead. I plan on adding some detail and noise comparisons with the Sony A7r Mark II soon, which of course offers 4k on a full-frame sensor.
Moving on, I also wanted to test the video noise performance in low light between the EOS 5Ds and EOS 5D Mark III, so I filmed a low light scene with the EF 11-24mm at 24mm at their highest video sensitivities. Here's a grab from the EOS 5Ds video using VLC below, with the cropped area marked by a red rectangle.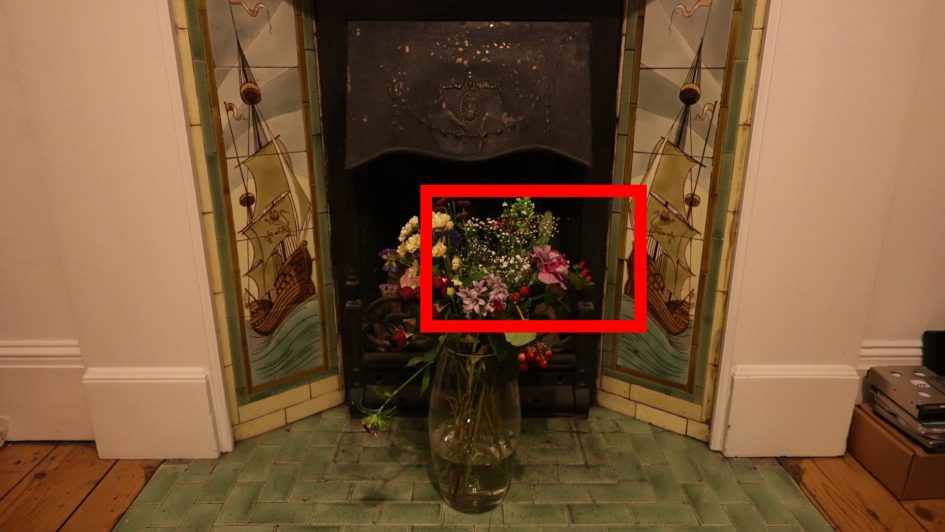 Here's some more sample filmed with the EOS 5DS.
Canon EOS 5Ds sensor
The most important new part of the EOS 5Ds is of course its sensor: a full-frame CMOS with a whopping 50.6 Megapixels, the highest of any camera outside of medium format at the time of writing. Compare that to the 42 Megapixels of the Sony Alpha A7r Mark II, the 36 Megapixels of the Nikon D810 and original Sony A7r and the now somewhat paltry-sounding 22.3 Megapixels of the EOS 5D Mark III, which was Canon's previous highest resolution full-frame DSLR.
So what do these resolutions mean in practice? The EOS 5Ds delivers images with 8688×5792 pixels, compared to 7952×5304 on the Sony A7r Mark II and 7360×4912 on the D810, allowing you to output each in 300dpi at 29x19in, 26.5×17.7in or 24.5×16.4in respectively. If we're staying within Canon's World, it's a huge jump from the 5760×3840 pixels of the EOS 5D Mark III: so on the 5Ds you can output at 29x19in at 300dpi versus 19x13in for the 5D Mark III.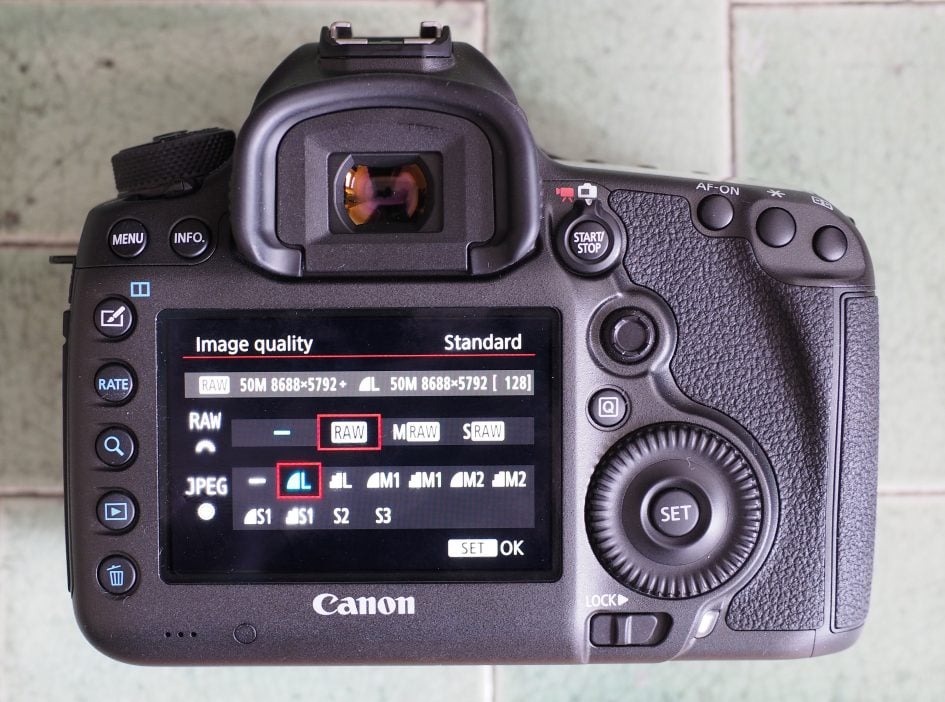 For some photographers, this is all they need to know. If you loved everything about the EOS 5D Mark III but just wished it generated bigger files, larger even than Nikon and Sony's current flagships, then the 5Ds is the camera for you. It delivers a native experience with Canon's vast EF lens catalogue and records massive industry-leading 50 Megapixel files which typically weigh-in at 25MB for Large Fine JPEGs or a considerable 75MB for 14-bit RAW files; yep, if you shoot RAW+ JPEG at the full image size, you could be recording about 100MB with every frame. If you facy smaller RAW files, there's Medium (6480×4320) and Small (4320×2880) options.
As you probably know, there's also the EOS 5DSr version which includes a low-pass cancelling filter for potentially sharper results, albeit with increased risk of moire. A quick note on that. The low pass filter in a digital camera slightly blurs the image to avoid moire when it's sampled by a fixed array of pixels, but as resolutions increase it becomes less of an issue, and some subjects rarely trigger the effect anyway. So if we're chasing the ultimate resolution, why bother with a low pass filter?
Nikon was the first to embrace this concept, offering two versions of the earlier D800: the standard version with a low pass filter, and the D800e which employed an additional filter which effectively cancelled-out the low pass filter. Then for the D810 it just went for one version with no low-pass filter at all.
Canon seems to be repeating Nikon's earlier strategy for the D800 by offering two versions, one with a low pass filter (the 5Ds) and the other with an additional filter which cancels it out (the 5DSr). Perhaps in the future, Canon will be brave enough to offer a model with no low pass filter at all and perhaps call it the 5Ds Mark II, but in the meantime you have the choice of two models with about a $200 premium on the 5DSr version.
So which to choose? It depends on your subject and how bothered you are about moire. If you shoot natural landscapes or other organic shapes, there's normally little chance of the fine repeating patterns which can trigger moire, in which case go for the 5DSr. But if you shoot man-made textures like clothing, or even fine patterns in buildings, then moire can be an issue, in which case the 5Ds is probably a safer bet.
Now it's time to check out my quality and sample images pages or skip back to my verdict!