Verdict
The EOS 4000D is the least expensive DSLR in Canon's line-up and one of the cheapest routes into 'serious' photography for beginners, students, and anyone else who wants to go further with their photography than a phone will allow. There are other options (which I'll mention shortly) but with an 18 Megapixel APSC sensor, an optical viewfinder, basic HD movie capabilities and wireless connectivity, it's certainly good value for money.
At three frames per second, the EOS 4000D's continuous shooting performance is pedestrian, and its 9-point AF system was introduced on the 2011 EOS 1100D / T3. But for most non-action situations that's perfectly adequate. The 2.7 inch 230k dot screen also feels dated, but it's more than up to the task of displaying exposure data and quick menu options when shooting, for reviewing photos and for recording the occasional movie.
There's little point in comparing the EOS 4000D with higher end models, you already know they're better – and more expensive. The question is can you do better in this price bracket?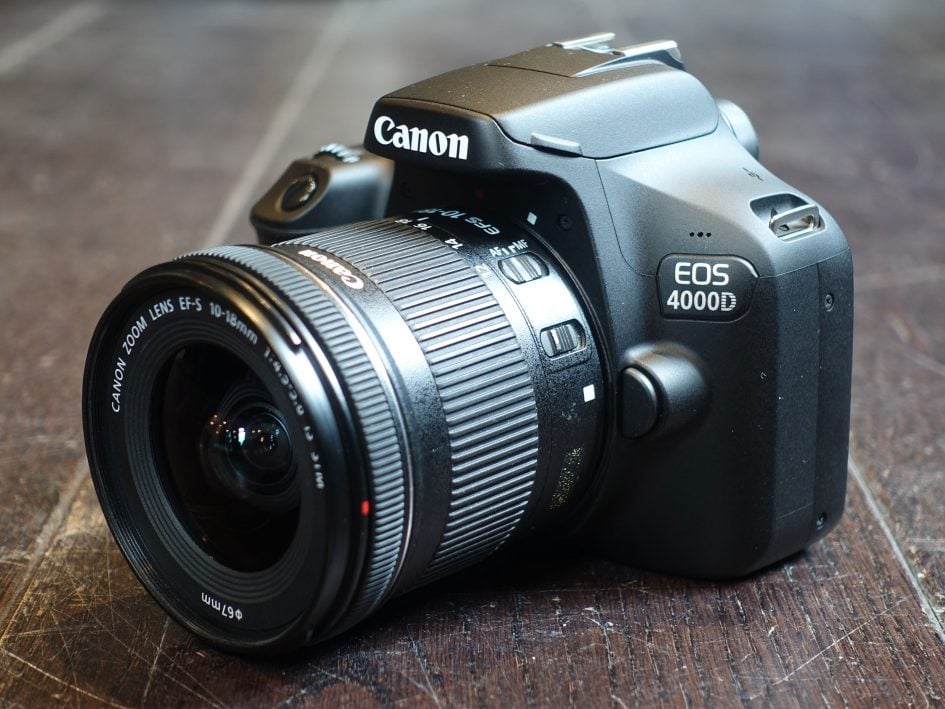 Launched alongside the EOS 4000D, the EOS 2000D / Rebel T7 is Canon's other entry-level DSLR, replacing the two year-old EOS 1300D / Rebel T6. Essentially, it's a 4000D with higher resolution 24 Megapixel sensor and a bigger, higher resolution 3 inch 920k dot screen. It also has an NFC chip to simplify connecting via Wifi with an Android phone. Other minor differences include a separate on/off switch, a metal lens mount and swankier labels on the buttons. In every other respect it's the same as the EOS 4000D. Of that list, arguably the most important is the nicer screen, though an extra six megapixels could be useful to you if you make big prints. So you only need to ask yourself if that's worth an extra 25 percent (or around £100 in the UK at current prices). See my Canon EOS 2000D / Rebel T7 review for more details. The other factor to consider is the kit lens – which is stabilised on the 2000D / T7 kit. If you do decide to opt for the 4000D I'd recommend you go for the same stabilised EF-S 18-55mm f3.5-5.6 IS II kit lens.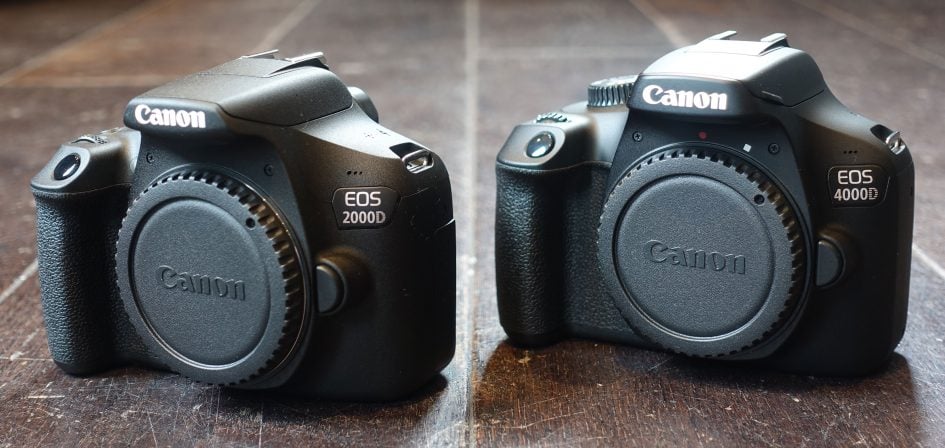 Alternatively, while it's still available the EOS 1300D / Rebel T6 looks like remarkably good value. Essentially it's the same as the EOS 2000D / Rebel T6, but with the same 18 Megapixel sensor as the EOS 4000D. Not only is it around 40 percent cheaper then the EOS 2000D, it currently undercuts the EOS 4000D (and that's with the stabilised kit lens) – a situation that's unlikely to last for long. See my Canon EOS 1300D / Rebel T6 review for more details.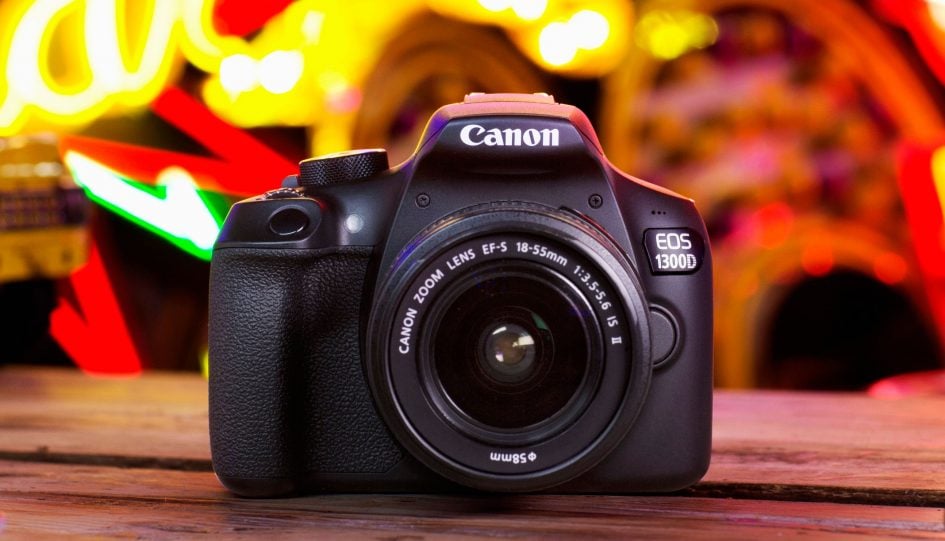 Canon EOS 4000D final verdict

If you thought the cost of a new DSLR was out of reach, Canon's EOS 4000D might make you think again. It may be in the budget category, but Canon's made sensible economies to produce a camera that's priced well below the entry-level EOS 2000D / T7 without compromising too much on quality or features. Long story short, it's a 2000D / T7 with a lower resolution 18 Megapixel sensor, plastic lens mount, a smaller 2.7in screen and no stabilisation on the standard kit lens. But remember you're still getting an APSC sensor, optical viewfinder, full manual control and the chance to swap lenses at a low cost of entry. This makes the EOS 4000D a great choice for students or beginners, but compare it closely with the earlier EOS 1300D / Rebel T6 which shares the same sensor, processor, movie mode, AF system and burst speed, but with a metal lens mount, NFC to complement the Wifi and a larger and more detailed 3in / 920k dot screen. If the price is similar, the older model makes more sense and indeed is being kept current in some markets instead of the 4000D.

Check prices at Amazon, B&H, Adorama, or Wex. Alternatively get yourself a copy of my In Camera book or treat me to a coffee! Thanks!