Canon EOS 200D / Rebel SL2 review - Verdict
Verdict
Canon's EOS 200D, or Rebel SL2 as it's known in North America, continues the premise set by its predecessor, the 100D / SL1: a step-up from the entry-level model in the range with higher resolution images, better movie features, more connectivity, and crucially, a smaller and lighter body that's now available in three colours. Indeed the 200D / SL2 is the smallest DSLR in Canon's current line-up and while it remains larger than most mirrorless cameras in its class, it's still comfortably more compact than any other DSLR around.
The 24 Megapixel sensor delivers good quality images and 1080p movies, while Canon's Dual Pixel CMOS AF ensures the camera refocuses confidently when shooting video or stills in Live View. The wireless features are some of the best around with full remote control or image transfer on Android or iOS devices along with Canon's excellent free tethering software for Mac OS and Windows systems. The addition of Bluetooth means the camera and phone take care of the connecting the Wifi for you, while also providing pain-free GPS tagging as you shoot. Canon may have been late to equip its cameras with wireless connectivity, but its latest solutions are among the best. A respectful nod also to the recently revamped user interface which uses icons to guide and encourage beginners to explore the creative options without ever patronizing more advanced photographers.
Revealingly the traditional DSLR aspects of the 200D / SL2 – namely the optical viewfinder and 9-point AF system – are actually its weakest points. The viewfinder size, like all cheaper DSLRs, is small and basic compared to electronic viewfinders, and of the 9 AF points, only the centre one felt confident tracking action or operating in low light. While the optical viewfinder does have the advantage of consuming less power and being easier to use than the screen in bright light, I still preferred shooting with the 200D / SL2 in Live View where I could focus using almost the entire frame, deploy face detection and more sophisticated exposure metering, along with composing at any angle with the fully-articulated touch-screen. Indeed, that's the main selling point of the 200D / SL2: it's the cheapest – and smallest – Canon DSLR to include the flip-out touch-screen and superb Dual Pixel CMOS AF system. These and the inclusion of a microphone input also means it's perfect for vloggers. Here's a short video I filmed of the highlights, although note I made a mistake about the earlier 100D / SL1 which did have a touchscreen, albeit not articulated.
Of course there's no 4k video on the 200D / SL2, nor higher frame rates for 1080p than 60p for slow motion – it is after all a Canon camera and in their wisdom such features don't arrive until much higher in the range. And it's higher in the range you'll also need to aim if you want a better viewfinder autofocus system and faster burst shooting too – as it stands, the 200D / SL2 definitely feels on the entry-level side when it comes to shooting action.
If you do want more sophisticated viewfinder autofocus and slightly faster burst shooting from Canon, you should aim for the EOS 800D / Rebel T7i, which offers a 45-point AF system with a central point that works in much lower light and 6fps shooting. See my Canon EOS 800D / Rebel T7i review-so-far for more details. From this point upwards, Canon gradually adds more features and greater sophistication, although the viewfinder AF remains the same 45-point module: above the EOS 800D / T7i comes the EOS 77D, and above that is the older but still very capable EOS 80D with slightly quicker 7fps shooting and a larger penta-prism viewfinder – see my Canon EOS 77D review-so-far and Canon EOS 80D review for more details.
But each step-up from the 200D / SL2 comes not just at a higher cost, but also with a larger, heavier body, and it's important to remember the 24 Megapixel photo quality, 1080p video and Live View capabilities remain essentially the same across all these models until you gain the headphone jack at the EOS 80D – and as an older model, the 80D misses out on the Bluetooth of the latest ones. I can see a lot of photographers, and in particular videographers, going for the 200D / SL2 in favour of these higher-end models if they don't need the best viewfinder AF experience.
Meanwhile going in the opposite direction brings you to the entry-level EOS 1300D / Rebel T6, Canon's most affordable DSLR. It really is amazing to buy a new interchangeable lens camera with an APSC sensor and a viewfinder at this price, and it remains one of the best options for those on a tight budget, but if you can afford the extra, the EOS 200D / SL2 simply outclasses it. It gives you not just higher resolution images, but movies with great autofocus (versus no movie AF at all), a fully-articulated touchscreen, better connectivity, and of course that smaller body too. This is all why I believe that unless you really want better viewfinder AF for sports and action shooting, the 200D / SL2 strikes a compelling sweet-spot in Canon's EOS range.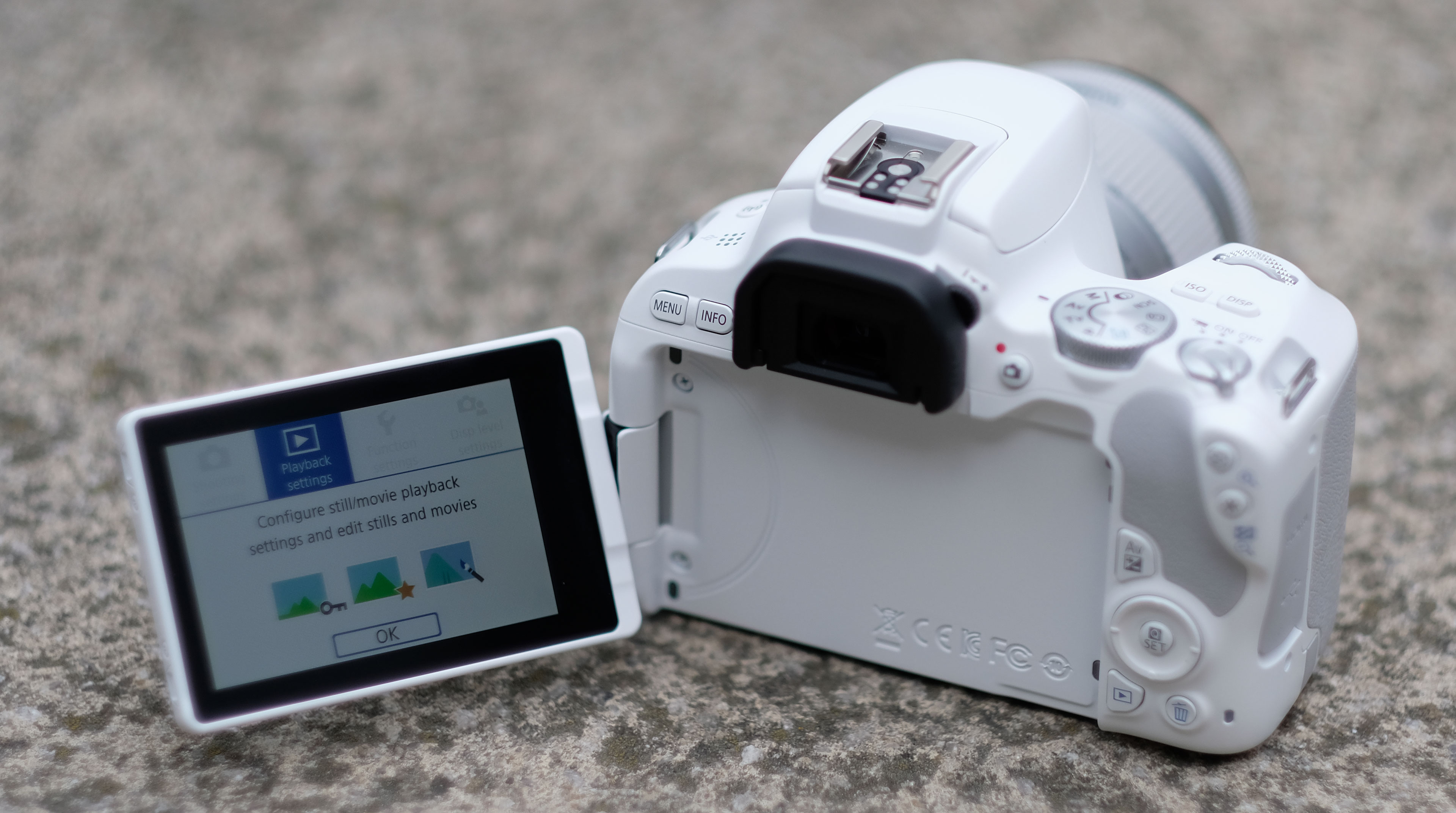 Of course this is just within Canon's own World. Step into the World of rival mirrorless cameras and you could be enjoying 4k video and or better action shooting capabilities, not to mention a smaller body still, and smaller lenses too. Trouble is, most mirrorless cameras with viewfinders start at a slightly higher price point, unless they're older models, and many of the lenses an be pricier too. Panasonic's Lumix GX800 / GX850 represents one of the lowest-priced options with interchangeable lenses and 4k video, but there's no viewfinder or mic input and the Micro Four Thirds sensor is smaller and lower resolution than the APSC sensor in the Canon. Spend more on the Lumix G80 / G85 and you'll enjoy a superb all-rounder with 4k and a viewfinder, but again the sensor's smaller, lower resolution and the price higher too. That said, they are still contenders for anyone considering the 200D / SL2, so check out my Lumix GX800 / GX850 review and Lumix G80 / G85 review for more details. And if you're into shooting sports and action, look no further than the older Sony A6000 which shoots around twice as fast as the 200D / SL2 with a high success rate, and includes the same sized and resolution sensor, plus an electronic viewfinder for much the same price. See my Sony A6000 review for more details.
Canon EOS 200D / Rebel SL2 final verdict
Canon's EOS 200D / Rebel SL2 is a compact DSLR aimed at photographers and vloggers buying their first interchangeable lens camera. Replacing the four-year-old EOS 100D / SL1, it offers a more sophisticated point-of-entry than the cheapest DSLRs and a smaller body to boot. You get a choice of three body colours, a 24 Megapixel APSC sensor with Dual Pixel CMOS AF for smooth and confident refocusing in Live View and movies, a fully-articulated touchscreen, and Wifi with NFC and Bluetooth for easy connectivity. The entry-level EOS 1300D / T6 may remain Canon's cheapest DSLR, but with its smaller body, superb movie autofocus, mic input and flip-out touchscreen, the EOS 200D / SL2 is simply much more compelling for first-time DSLR buyers who are willing to spend a little extra. It may not have 4k video, and the viewfinder autofocus and burst shooting are basic for sports and action, but overall for the money it remains a highly desirable and highly recommended camera, especially if you're into video.
PS – There's much more to this review: use the tabs to visit the other pages which include full quality results, sample images, and my complete in depth review which includes a podcast / video all about the camera!

Check prices on the Canon EOS 200D / Rebel SL2 at Amazon, B&H, Adorama, or Wex. Alternatively get yourself a copy of my In Camera book or treat me to a coffee! Thanks!