Canon EOS 2000D / Rebel T7 review - Verdict
Verdict
The EOS 2000D / Rebel T7 is Canon's newest entry-level DSLR, replacing the two year-old EOS 1300D / Rebel T6. The big change, and indeed, pretty much the only one, is the sensor, upgraded from 18 Megapixels to 24, producing images that measure 6000×4000 pixels. The Digic 4+ processor produces JPEGs with a choice of two quality (compression) settings and, of course, the option to shoot RAW. The 2000D / Rebel T7 retains its predecessor's 3 inch 920k dot LCD fixed screen as well as the pentamirror optical viewfinder. There are 9 AF points with a cross type sensor at the centre with contrast-detect AF for live view shooting.
In continuous mode the EOS 2000D / Rebel T7 can shoot a leisurely 3 frames per second. It can record 1080p HD video at 30, 25, and 24fps as well as 720p and 640p modes. It doesn't have continuous AF in movie modes, so you need to half press the shutter to lock focus on your subject before pressing the record button. There's built-in Wifi and NFC for transferring your photos to a smartphone as well remotely controlling the camera and though there are no new features here it works much more smoothly than on the earlier 1300D / T6.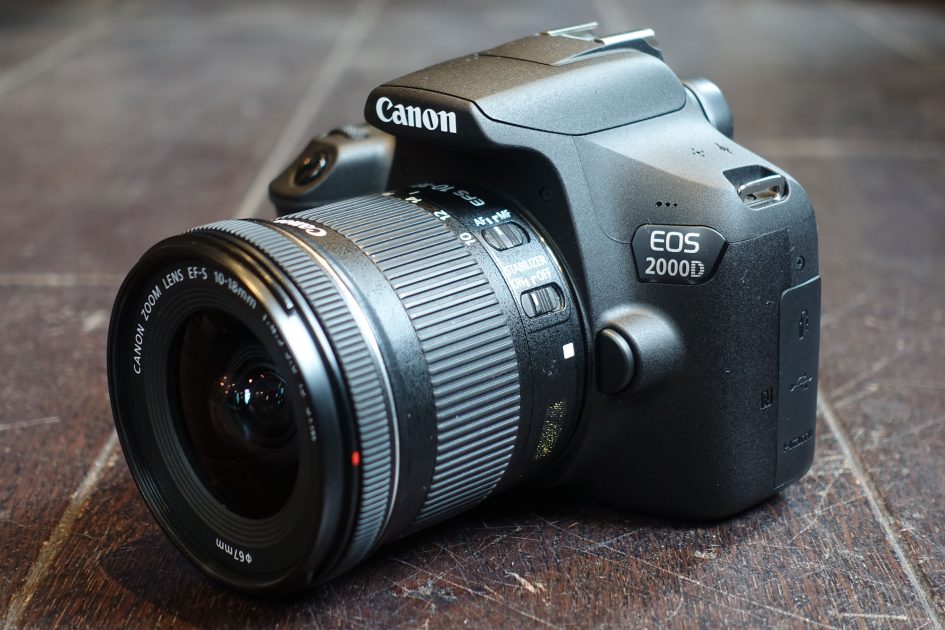 All of this adds up to an attractive and affordable package for phone upgraders, students and those unconvinced of the benefits of mirrorless models. But it isn't by any means the only budget DSLR option out there.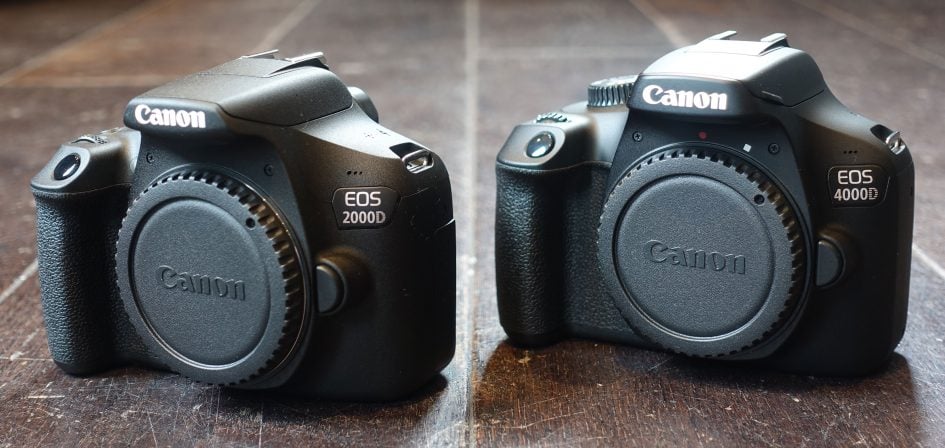 An obvious alternative for those on a tight budget outside North America is the Canon EOS 4000D. In the UK it sells for around £100 less than the 2000D / Rebel T7, a big saving if an 18 Megapixel sensor is sufficient for you and you can live with a smaller, lower resolution screen and no lens stabilisation in the standard kit. If you can afford it though, it's worth paying a little extra for the 18-55mm f3.5-5.6 IS II kit lens option. See my Canon EOS 4000D review for more details.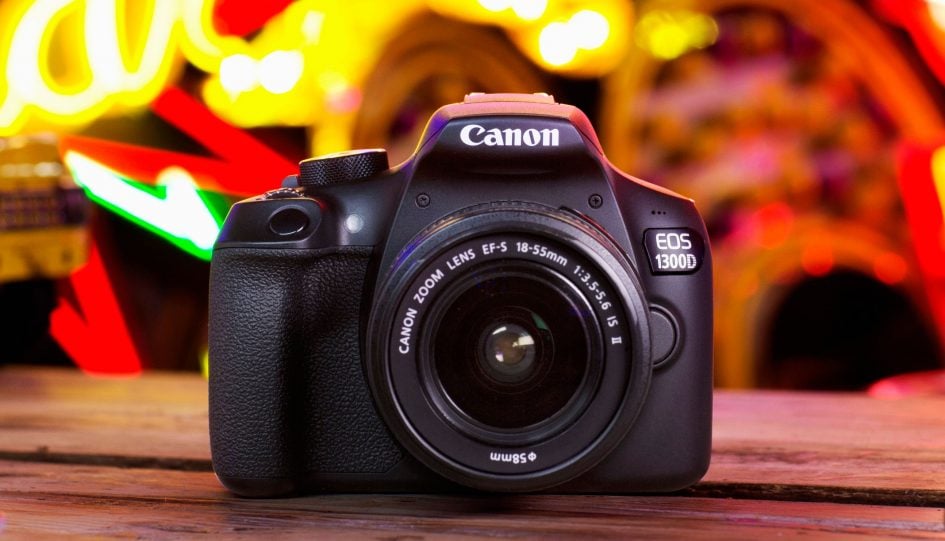 Alternatively, while it's still available the EOS 1300D / Rebel T6 looks like remarkably good value. Essentially it's the same as the EOS 2000D / Rebel T6, but with a lower resolution 18 Megapixel sensor and a price tag that's around forty percent cheaper. See my Canon EOS 1300D / Rebel T6 review for more details.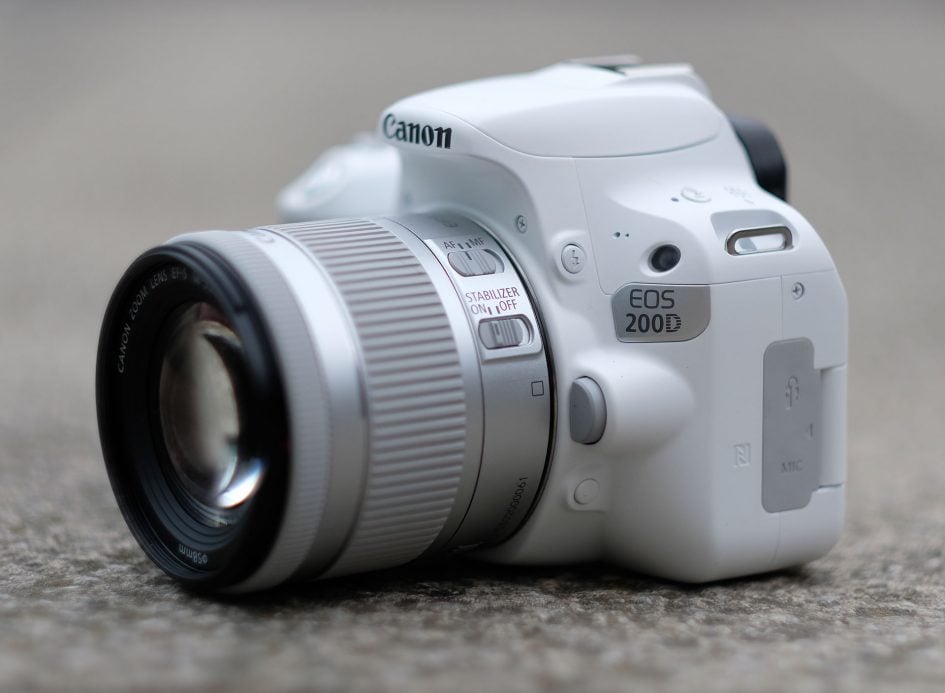 If you have a little bit more to spend, Canon's EOS 200D / Rebel SL2 is a step up from the EOS 2000D / Rebel T7 with a more sophisticated feature set and a smaller body available in a choice of three colours. Like the EOS 2000D / Rebel T7 it has a 24 Megapixel sensor, but with Canon's Dual Pixel CMOS AF for smooth and confident refocusing in Live View and movies, a fully-articulated touchscreen, and a mic input it offers a much more compelling package for first-time DSLR buyers who are willing to spend a little extra. It's also one of the best options for vloggers on a budget. See my Canon EOS 200D / Rebel SL2 review for more details.

Canon EOS 2000D / Rebel T7 final verdict

The Canon EOS 2000D / Rebel T7 provides one of the most affordable pathways to serious photography for beginners on a budget. Interchangeable lenses, a 24 Megapixel APSC sensor, an optical viewfinder and a good LCD screen don't come much cheaper than this. Unless of course you're talking about the earlier EOS 1300D / Rebel T6 which is the same bar a lower resolution 18 Megapixel sensor and currently incredibly good value for money. Outside North America there's also the simultaneously released EOS 4000D with an 18 Megapixel sensor and smaller 230k dot screen. If you have a little more to spend, the EOS 200D / SL2 also represents a big step-up for movie shooters with continuous autofocus, articulated touchscreen and mic input.

Check prices at Amazon, B&H, Adorama, Wex. Alternatively get yourself a copy of my In Camera book or treat me to a coffee! Thanks!