Canon EOS 1300D / Rebel T6 review - Verdict
Verdict
The EOS 1300D / T6 is Canon's latest entry-level DSLR and replacment for the two year old 1200D / T5. It's a minor update which retains the older model's body, 18 Megapixel sensor and viewfinder with much the same set of stills and movie shooting modes.
What's new is built-in Wifi for remote control and downloading images to a smartphone with NFC for tap connections with devices that support it. The screen gets a boost in resolution to 920k dots and there's a new Food scene mode as well as a handful of creative filters that can be applied in camera.
It's great to see Wifi finally make an appearance on Canon's entry-level DSLR but it's really a feature that should have made its debut on the previous model. Had it done so, Canon might by now have ironed out some of the clunkier aspects of the remote shooting app so that it was on a par with the competiton. There are also many other areas where even small improvements would have made the 1300D / T6 a more desirable proposition for those looking for their first serious camera. A bigger viewfinder, a touch or articulated screen, more sophisticated AF, faster continuous shooting, improved movie AF or an external mic input; any of these would help redress the balance which is moving inexorably in favour of mirrorless rivals with a lot more to offer those who aren't wedded to an optical viewfinder.
Read on to find out how the 1300D / T6 compares with its main DSLR rival the Nikon D3300 and two similarly priced mirrorless alteratives – the Sony A5100 and Panasonic Lumic G7.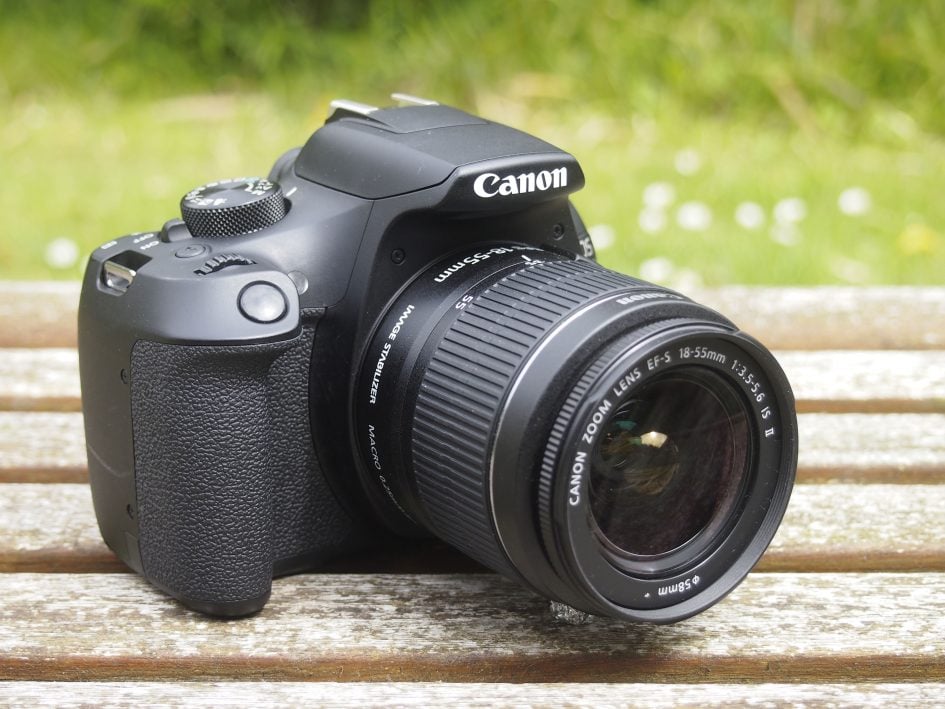 The most obvious alternative to the EOS 1300D / Rebel T6 is Nikon's entry-level DSLR the D3300, with both costing roughly the same with stabilised kit zooms. The biggest difference between the two is the sensor, with the D3300 sporting a 24 Megapixel sensor with no optical low pass filter (OLPF) providing a slight increase in detail and image sharpness. If an optical viewfinder is what draws you to a DSLR rather than a mirrorless model then the D3300's larger viewfinder image will also appeal. The 1300D / T6's new 920k dot screen now matches the Nikon D330's in terms of resolution.
The D3300 also has a wider range of movie modes with 1080p60 at the top compared with 1080p30 on the T6 / 1300D. Both models have built-in mono mics but, unusually for an entry level DSLR, the D3300 has an input for an external stereo microphone. The T6 / 1300D provides fully manual PASM exposure modes for movie shooting whereas the D3300 offers control over the shutter speed and ISO sensitivity. Though the D3300 provides continuous AF for movies, if you check the example on my D3300 review you'll understand why it's probably best avoided.
The D3300 offers superior continuous shooting at 5fps compared with 3fps on the T6 / 1300D. Its built in flash is slightly more powerful, it has a separate compartment for the SD card, and can take 700 shots on a full charge compared with 500 quoted for the T6 / 1300D. On the whole, it outperforms the 1300D / T6, in all but one respect – it lacks built-in Wifi, but you could simply fit an Eye-Fi memory card to equip it with wireless image transfer. Of course you could also fit an Eye-Fi card to the older Canon EOS T5 / 1200D to equip it with wireless image transfer too, so it's well worth checking prices on these older models. See my Nikon D3300 review and Canon 1200D T5 review for details.
But if you're not totally committed to an optical viewfinder the world of mirrorless compact system cameras is open to you. The Sony A5100 lacks a viewfinder of any description, so you need to be comfortable composing using just the screen, but the screen is at least touch-sensitive and can flip vertically up for shooting at low angles or even forwards to face the subject for selfies or filming pieces to camera. Its 24 Megapixel APSC sensor is the same physical size as the 1300D / T6's and, given a decent lens, can slightly out-resolve the Canon – and while the 16-50mm kit zoom isn't as sharp in the corners as the Canon kit lens when zoomed-wide, it does enjoy slightly broader coverage. The A5100 also offers faster continuous shooting with very respectable continuous autofocus, inherited from the A6000, and the autofocus also works a treat during movies, refocusing better than any other camera mentioned here. It also has better Wifi features than the 1300D / T6, plus you can add features through downloadable apps. On the downside, battery life on mirrorless cameras tends to be poor compared with DSLRS and the A5100 is no exception; at best you'll get around 400 shots from the A5100 compared with 500 from the 1300D / T6, but you can at least recharge it in-camera over USB. See my Sony A5100 review for more details.
If you must have a viewfinder, but it doesn't have to be optical, consider the Panasonic Lumix G7. Its 2360k dot OLED EVF is more than a match for the 1200D / T6's optical viewfinder. Its 16 Megapixel Micro Four Thirds sensor is physically smaller than the 1200D / T6's with a lower pixel count, but image quality and noise performance is a lot closer than you'd think for most situations, and the standard Lumix kit zoom
In addition to the electronic viewfinder, the G7 has a fully articulated touch-screen, fast AF, 6fps continuous shooting with AF and is packed with other features. Its 4k video not only offers better quality than the 1080p movies offered by the other cameras here, but provides innovative 4k photo (effectively 30fps continuous shooting) and Post focus modes. It also has a much better Wifi implementation than the Canon (though no NFC). See my Panasonic Lumix G7 review for more details.
Depending on where you shop, the Sony A5100 and Lumix G7 cost a little bit more than the 1300D / T6, but if you can afford it, I reckon they're worth the extra. And again if you prefer DSLRs, the Nikon D3300 edges ahead in most respects for roughly the same price, lacking only Wifi.
The abundance of alternatives to the EOS 1300D / Rebel T6, both DSLR and mirrorless, highlights the need for Canon to keep pace with its competitors if its entry-level DSLRs are to continue to be attractive options for aspiring photographers. As a response to that challenge, the EOS 1300D / Rebel T6 is frankly a little underwhelming. But though it may be a little lacklustre, it nonetheless remains one of the least expensive routes to a body with an APSC sensor, optical viewfinder and interchangeable lenses. As such it'll continue to attract beginners and students, but remember if you want a kit lens with stabilisation, make sure you get the bundle with the EF-S 18-55mm f3.5-5.6 IS II rather than the DC III version which is unstabilised and only fractionally cheaper.

Check prices at Amazon.com, B&H, or Adorama, or Wex. Alternatively get yourself a copy of my In Camera book or treat me to a coffee! Thanks!