Canon EOS 1300D / Rebel T6 review
In depth
The Canon EOS 1300D, or Rebel T6 as it's known in North America, is Canon's latest entry-level DSLR. Announced in March 2016, it's a minor update to the 1200D / T5 launched two years previously.
The EOS 1300D / T6 shares a great deal with its predecessor, including the same body, viewfinder, 9-point AF system and 18 Megapixel CMOS sensor which supports 1080p movies up to 30p and 3fps continuous shooting. New to the 1300D / T6 over the 1200D / T5 are the long overdue inclusion of Wifi – here with NFC for touch initiation on compatible phones – a slightly faster image processor with a new food preset and better-handling of Tungsten white balance, along with a higher resolution panel for the screen.
While it's great to see Canon building Wifi into more of its DSLRs, it's a feature that was already commonplace with mirrorless rivals back when its predecessor was launched. Indeed for much the same money in some regions you could go for either the Sony A5100 or Lumix G7, both of which represent a better-bet for beginners or intermediate photographers. But equally I understand there are those who still like having an optical viewfinder, and it has to be said, many photography students are still encouraged to buy DSLRs by their tutors. At least with the latest 1300D / T6 they'll now have built-in Wifi for remote control and image transfer. In my review I've made some comparisons with Nikon's current (but still two year old) entry-level DSLR, the D3300 as well as the Sony A5100 and Lumix G7.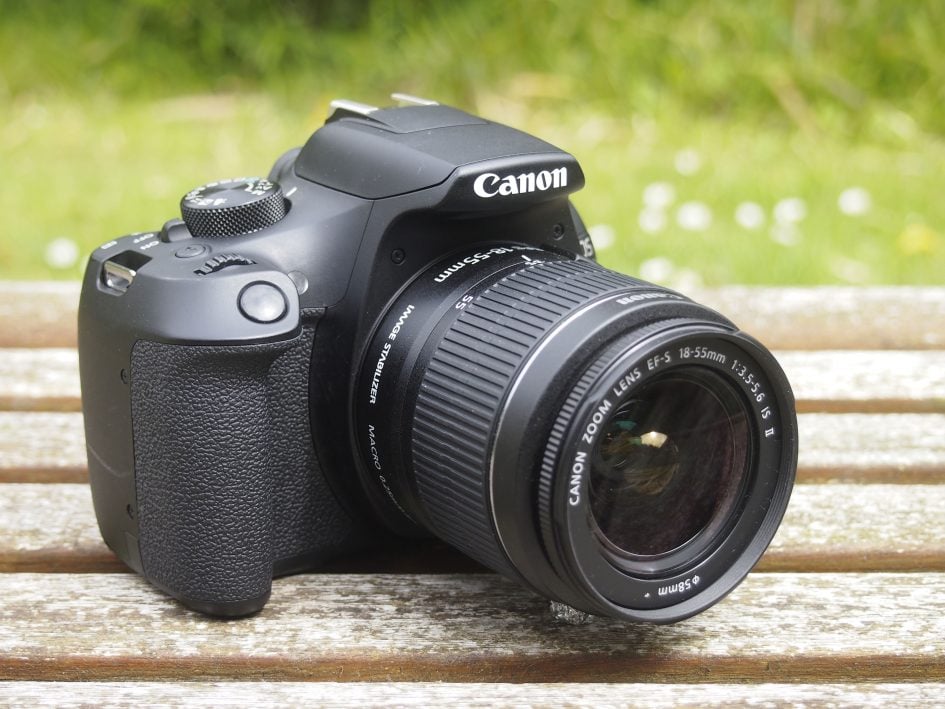 Canon EOS 1300D / Rebel T6 design and controls
Beyond some very minor changes to the dimensions, the EOS 1300D / T6 retains the same body and controls as its predecessor, the 2014 EOS 1200D / Rebel T5. It's a millimetre and a half taller, presumably to accommodate the Wifi antenna, which also adds 5g to the weight and there's a little LED on the back panel to indicate when Wifi is active, but beyond that it's pretty much identical.
It's easy to forget when you haven't held a DSLR in your hands for a while, but the size and shape of the EOS 1300D / T6 makes it an ideal fit for your hands. It fits snugly and securely in your right hand and the rear panel control layout is nicely spaced with everything easily accessible simply by moving your thumb from the ample rubberised thumb rest.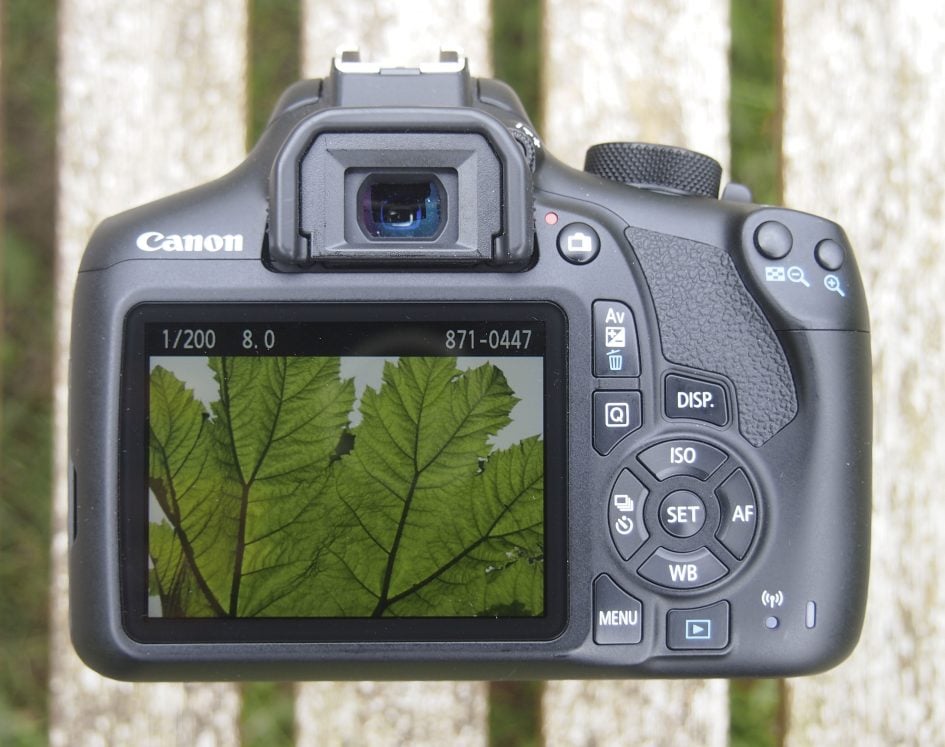 I'll mention the dimensions so that we can make some comparisons – 129x101x 77.6mm and the weight is 485 grams. Add the 18-55mm f3.5-5.6 IS II kit lens and the total weight comes to 685g. For comparison, the Nikon D3300 body measures 124x98x76mm and weighs 460g with battery, so it's very similar in terms of an entry-level DSLR.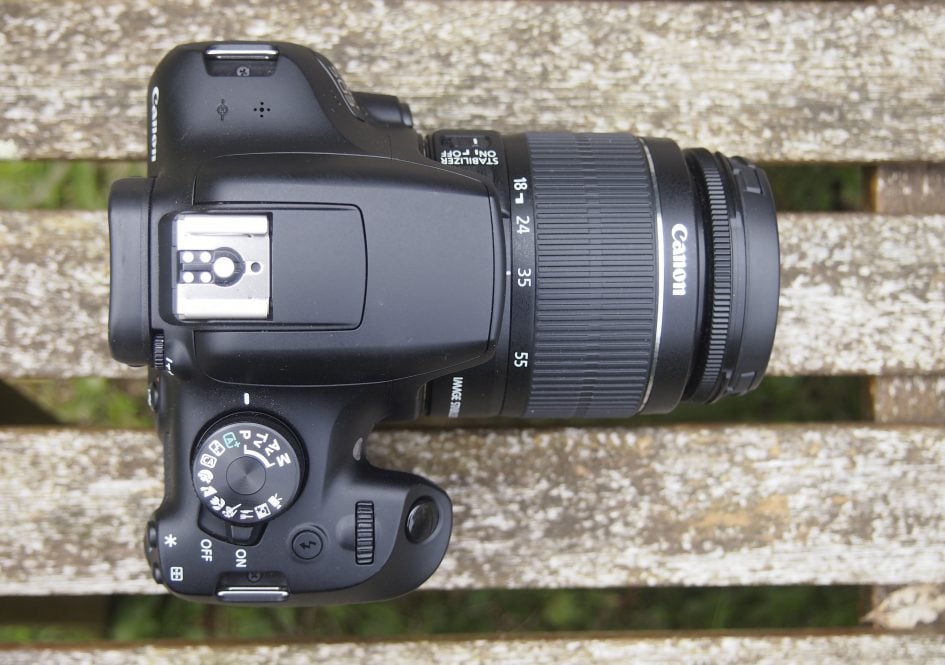 But when it comes to compactness, the 1300D / T6 is no match for mirrorless system cameras. Measuring 110x63x35.7mm and weighing 283g with battery but without lens, the Sony A5100 is very compact, and even once you mount the kit zoom (adding 30mm to the body thickness and bringing the overall weight to 400g) you're left with a camera that's very portable. Panasonic's Lumix G7 is closer in terms of styling to the EOS 1300D / T6, measuring 125x86x77mm and weighing 410g without a lens attached. So the G7 body is 75 grams (just over two and a half ounces) lighter and with Micro Four Thirds lenses being much lighter and more compact than EF-S lenses, whatever lens you have attached, there'll be further size and weight advantages.
The new 920k dot resolution screen puts the 1300D / T6 on an equal footing with the Nikon D3300, but on both DSLRs the screen is likely to be used mainly for playback, checking settings and movie shooting as the Live view AF is painfully slow. Even so, the higher resolution screen is still nice to have.
The EOS 1300D / Rebel T6 takes the same LP E10 battery as its predecessor, with the same estimated 500 shots delivered from a full charge. As before, the combined battery and card compartment is in the base of the grip. Both the D3300 and Sony A5100 have separate card compartments accessed via a side door, but Canon did away with this arrangement on the T3 / 1100D. It keeps the cost down, but makes it impossible to change the card with the camera mounted on a tripod.
The 1300D / T6's 500 shots under CIPA standard conditions is 200 short of the Nikon D3300's 700-shot capacity. Due to its lack of an optical viewfinder the Sony A5100 provides a more modest 460 shots, although that is pretty close to the Canon. Last in line is the Lumix G7 with a comparatively dismal 360 shots. But as with all cameras, once you start using Wifi or filming movies, expect the battery life to reduce much faster. I should also add of the group of cameras mentioned, only the Sony A5100 allows USB charging in-camera – the rest require their supplied AC-powered chargers.
Canon EOS 1300D / Rebel T6 lens and stabilisation
The 1300D / T6 is available as a kit with either the non-stabilzed EF-S 18-55mm f3.5-5.6 DC III or the EF-S 18-55mm f3.5-5.6 IS II stabilized kit lens. Depending on where you shop the price difference varies, but the most you'll save is the cost of one or two SD cards, in my view a price well worth paying for the kit with the stabilised lens – so look out for the version with the IS lens. The Nikon D3300, Sony A5100 and Lumix G7 kits all come with stabilized kit lenses.

One of the major benefits of buying a Canon or indeed a Nikon DSLR, is having access to a very broad catalogue of lenses. That said, most owners of entry-level bodies tend to stick with the popular zoom ranges or portrait primes and for these lenses all the rival systems, mirrorless included, are well-catered for. Sony's E mount and the Micro Four Thirds systems are now relatively mature and offer a wide range of fixed focal length and zoom lenses to choose from. Sticking with the kit lenses for now, Sony's A5100 is typically sold in a kit with the SELP1650 16-50mm f3.5-5.6 Power Zoom lens. With it's APS-C sensor, the same physical size as the EOS 1300D / T6, the field reduction on the Sony A5100 is 1.5x, giving it a 35mm equivalent range of 24-75mm compared to 29-88mm for the 1300D / T6 with the 18-55mm kit lens fitted.
The smaller Micro Four Thirds sensor in the Lumix G7 results in a 2x field reduction, giving its 14-42mm f3.5-5.6 kit lens an equivalent range of 28-84mm. With all these kit zooms the f3.5-5.6 focal ratio means you won't be achieving very shallow depth-of-field effects, a fact further accentuated by the smaller Micro Four Thirds format.
To test the stabilisation of the 1300D / T6 with the 18-55mm f3.5-5.6 IS II kit lens I zoomed it to 55mm and in Shutter priority mode took a series of shots at progressively slower shutter speeds first with the stabilisation turned off and then with it activated. As you can see from the crops below, with the kit lens the 1300D / T6 is capable of being hand-held at speeds down to 1/10, which is three stops slower than you'd likely be able to manage unaided.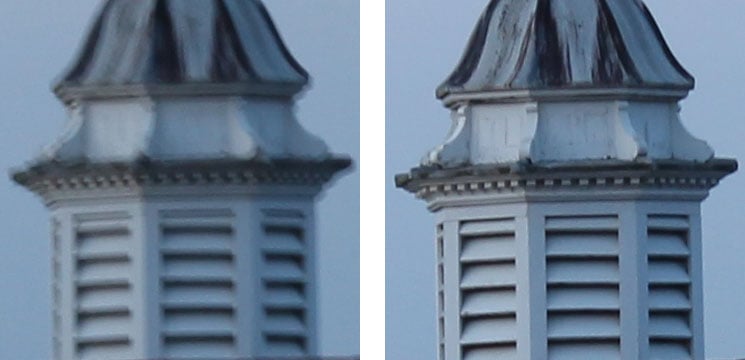 Canon EOS 1300D / Rebel T6 movie modes
The EOS 1300D / T6 inherits the movie modes of its predecessor. As on other Canon APS-C DSLRs you can choose to shoot in 1080p at 24, 25 and 30p. There are also 720p50 and 720p60 options as well as 640×480 at 25 or 30fps. Files are saved using the H.264 codec in a QuickTime wrapper with a .mov file extension in the same folder as still images.
The maximum time per file remains 29 minutes and 59 seconds, but if the file size reaches 4GB a new file is created and recording continues. HD files are encoded at an a average bit rate of 330MB/min so the 4GB mark will occur after around 12 minutes, if you want to shoot for longer than that be sure to use a card with a capacity of more than 4GB. A fully charged battery should last for around an hour and a quarter of recording and you'll need a Class 6 (or higher) SD card to support the maximum recording quality and times.
Audio is recorded using a built-in mono microphone, and there's no option to connect an external one. This is only one area where its rivals take a lead, as Nikon's D3300 and the Lumix G7 both have a 3.5mm jack for connecting an external mic and the G7 also has built-in stereo mics.
More of an issue is that the EOS T6 / 1300D has no continuous autofocus mode for movies. This is something that's included on the Nikon D3300, but it's not what you'd call one of its strong points. If continuous AF for movies is a priority for you the Sony A5100 and the Lumix G7, both of which have continuous AF and the ability to focus using their touch screens, make a much better job of it. The A5100 in particular is very good at continuous AF thanks to its embedded phase-detect AF points on the sensor being better at knowing which direction to focus the lens and when to stop turning.
But it's not only audio and AF where mirrorless rivals can out do the EOS 1300D / T6. The Lumix G7 offers 4k UHD capture, full control over exposure, silent screen-based adjustments, flat profiles, focus peaking and zebra patterns. And in addition to very effective hybrid AF for continuous autofocus for movies, the Sony A5100 provides multiple encoding options for 1080 / 25/30p and 1080 / 50/60p at high bit rates using the XAVC S format.
With the EOS 1300D / T6 it's important to set the focus before you start shooting by half-pressing the shutter release. It's easy to forget this if you're used to filming with a camera that has continuous AF, I ended up with a few clips that were very out of focus from beginning to end – something that's not obvious on the EOS 1300D / T6's screen, despite the increased resolution. You can also refocus during a shot by half-pressing the shutter release, providing you first enable the AF w/ shutter button feature from the movie menu, but it's a single-shot process which can take a few seconds at a time and is quite distracting if recorded in the video.
The EOS 1300D / T6 provides full manual exposure control. You can manually set the aperture, shutter speed and ISO sensitivity prior to shooting and even adjust exposure during recording though unfortunately the main dial makes a very audible clicking sound.
Here's a selection of clips to demonstrate the EOS 1300D / Rebel T6 video performance in various conditions.
Canon EOS 1300D / Rebel T6 shooting experience
The 1300D / T6 retains its predecessor's 9-point AF system with a single cross-type sensor in the middle. This system is in fact now three generations old having been originally employed on the 1100D / T3. On paper it trails behind the Nikon D3300's slightly more sophisticated AF system which boasts two extra AF points, dynamic area mode which considers adjacent AF points around the selected one, and 3D Tracking mode which also exploits colour information to better track a subject.
In Live View, the 1300D / T6 offers the choice of three AF modes: the default Live Mode employs a leisurely but accurate contrast-based system, to which Face Live mode adds face detection; finally there's Quick mode, which temporarily flips down the mirror to take an AF reading with the phase-change system before returning to a live image a second or so later.
In practice, I found the 1300D / T6's AF worked pretty well in most situations, though its weak spot is that it's not as good as its competitors at keeping track of moving subjects, especially in low light.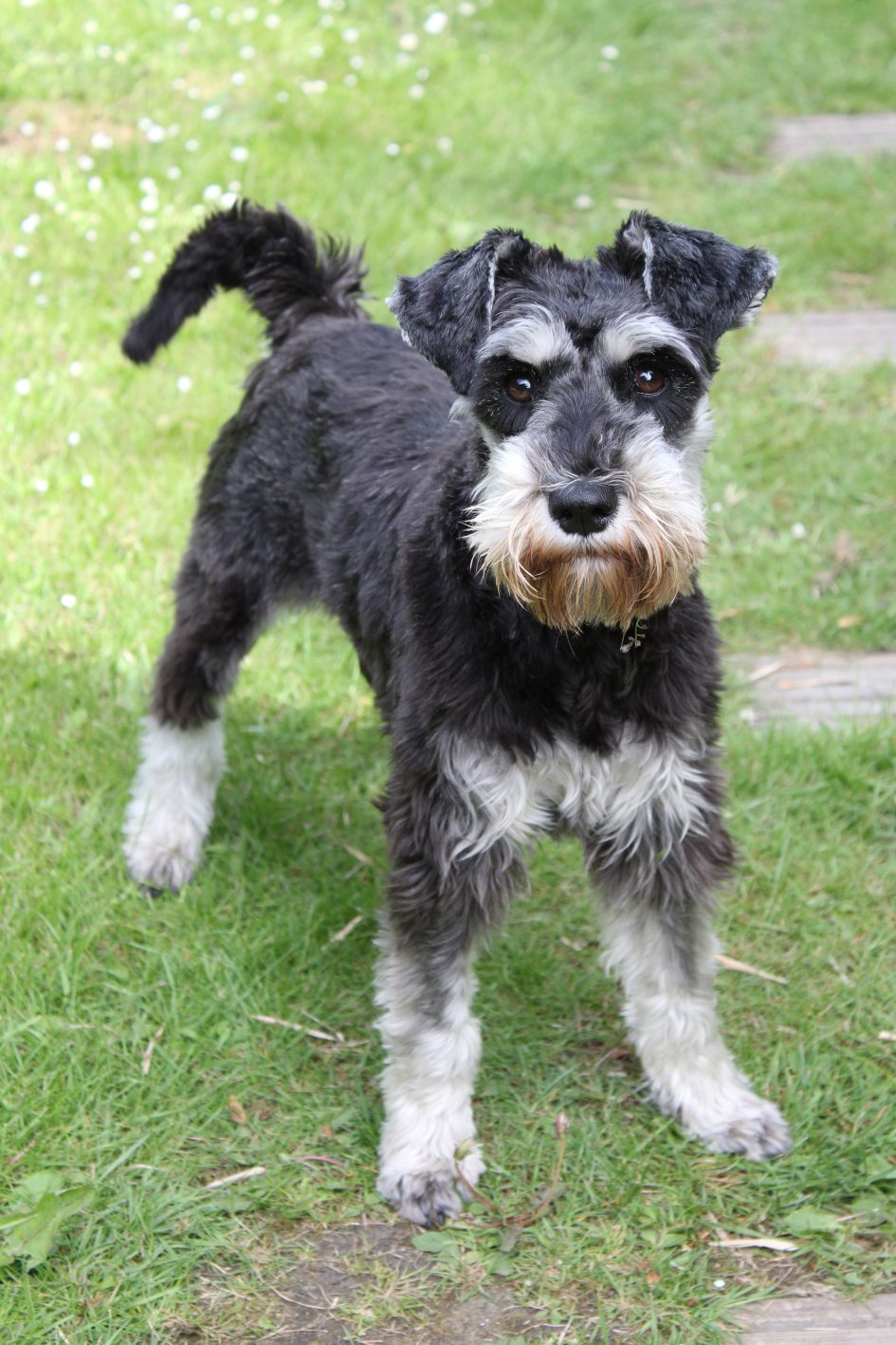 The EOS 1300D / T6 is capable of continuous shooting at 3fps and according to Canon should maintain that rate for 1110 (they may as well say indefinitely) large fine JPEGs or 6 RAW fles. To test it, I fitted the 1300D / T6 with a fast, freshly formatted SD card, set the image size to large fine JPEG and selected the continuous shooting drive mode. With the shutter release held down the 1300D / T6 fired off a sequence of 100 frames with metronomic regularity and would in all probability have continued for 1110 frames had I not taken my finger off the button. I timed the 100 frame burst at exactly the quoted 3fps. Set to RAW, the 1300D / T6 managed the same 3fps rate for a burst of 7 shots before stalling and continuing at a much slower pace around 1fps.
The D3300 offers a slightly quicker 5fps continuous shooting speed for a burst of 100 shots. At the risk of sounding like a broken record, unless you want to fork out for a semi-pro DSLR, for reasonably fast continuous shooting with reliable AF, the mirrorless models are the way to go. The Lumix G7 offers 6fps with continuous AF and its 4k Photo mode effectively gives you 30fps at 8 Megapixel resolution. And the Sony A5100 boasts 6fps with its hybrid AF system delivering a high percentage of keepers.
One thing that does work in the 1300D / T6's favour where continuous shooting is concerned is its optical viewfinder which provides a continuous (with brief interruptions when the mirror flips up) view of your subject in real time, compared with the last frame view you get in an electronic viewfinder or on the screen on a mirrorless model.
Canon EOS 1300D / Rebel T6 Wifi
The EOS 1300D / Rebel T6 is now equipped with Wifi which lets you wirelessly remote control the camera and transfer images. You'll first need to install the free Camera Connect app then register your phone with the camera; you can then select the phone via the Wifi menus.
Like most Wifi implementations, the camera sets itself up as an access point which you then connect to with the phone. The presence of NFC eases the process on compatible Android phones, you'll need to turn Wifi on yourself on the Canon, and depending on your luck with NFC, you may need to initiate the connection too. I tested the EOS 1300D / Rebel T6's Wifi using my iPhone 6 which required me to select the camera's SSID in Wifi settings and enter a password displayed on the camera's screen. Once this is set up you can connect automatically without the need for the password and there are four presets for registering different devices.
Once you're connected, the smartphone app presents three options: Images on Camera, Remote Shooting and settings. The first option presents a series of thumbnails which you can examine before copying over if desired. The remote control option presents a live view of the scene with the chance to adjust the exposure manually if desired, along with choosing various other options.
I was pleased, not to say relieved, to discover that the EOS 1300D / Rebel T6 allows you to tap your phone screen to remotely set the AF area. You can also force the lens to focus, but first you need to go into the settings to select the 'Show AF button' option. You can adjust the exposure settings depending on the position of the mode dial on the camera; for example in Aperture Priority mode you can change the aperture, the ISO sensitivity or exposure compensation. You can also manually focus by tapping the MF button and then tapping nudge buttons to move the focus in or out, but one thing you can't do is switch modes – either from the phone or the camera. If you move the mode dial the connection is immediately dropped and you have to start over.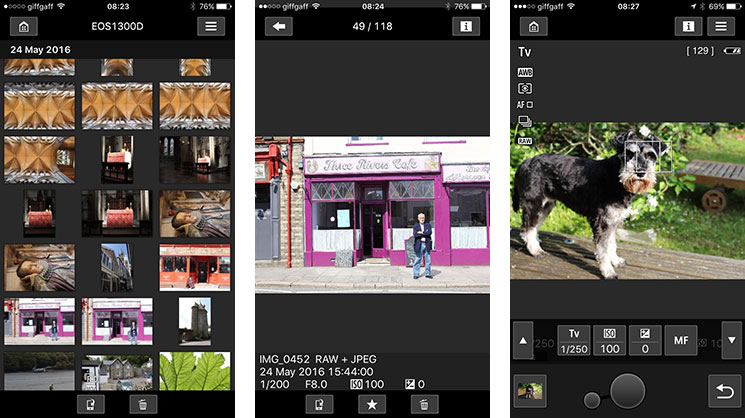 That wouldn't be so bad were it not for the fact the the EOS 1300D / Rebel T6's wifi connection was a little temperamental during my tests. Once the connection dropped it took me several minutes to re-establish it. First the SSID wouldn't appear on my phone, then when it did the Camera connect app would accept that there was a Wifi connection. There followed the usual sequence of events when this kind of thing happens – turn the Wifi on and on again, quit and relaunch the app, turn the camera on and off again. It's all a bit reminiscent of camera Wifi from two or three years ago. Other manufacturers like Panasonic and Sony have moved well beyond this kind of clunkiness and Canon still has some way to go before Wifi implementation matches the sophistication on offer from competitors. That said, to be able to remotely operate the camera with control over focus and exposure is a step in the right direction.
With one exception, the EOS 1300D / Rebel T6's mode dial offers the same options as its predecessor. In addition to the PASM modes there's Scene intelligent auto, Flash off mode, Creative Auto, five scene mode positions and finally Movie. It makes sense to have scene modes on an entry-level model, but their inclusion does make for a busy mode dial. What's more, it doesn't rotate through 360 degrees from the last position back to the first, which means it's a long haul from Movie mode back to the PASM modes at the other end of the dial.
The newcomer on the mode dial is the Food scene mode which is designed to make those snaps of your restaurant meal look more appetising. The default setting saturates colours slightly and you can also adjust the tone to produce a warmer or cooler result.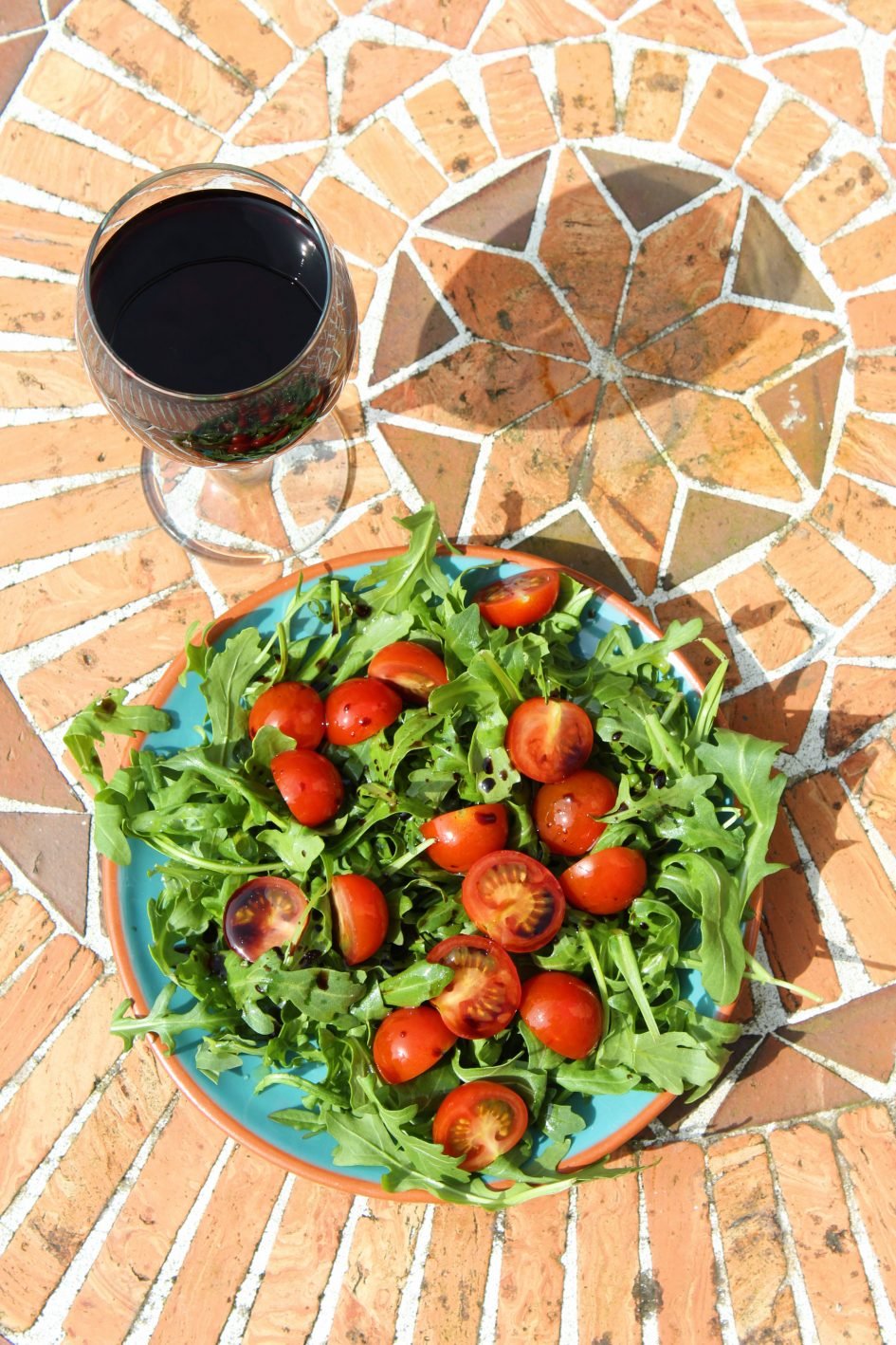 Following on from my criticism of their lack on the EOS 1200D / Rebel T5, it's good to see Canon include some effects filters on the newer model. They're not available when shooting but are applied during playback. There are five in total – Grany B/W, Soft focus, Fish eye effect, Toy camera effect and Miniature. They can only be applied to JPEGs, not RAW files or movies, but are saved to the card as a new file, so your original is untouched.There's also Creative auto mode, which offers a selection of 'Ambience' picture style options. If you're shooting RAW +JPEG you get the unadulterated RAW file to fall back on should decide you don't want the effect.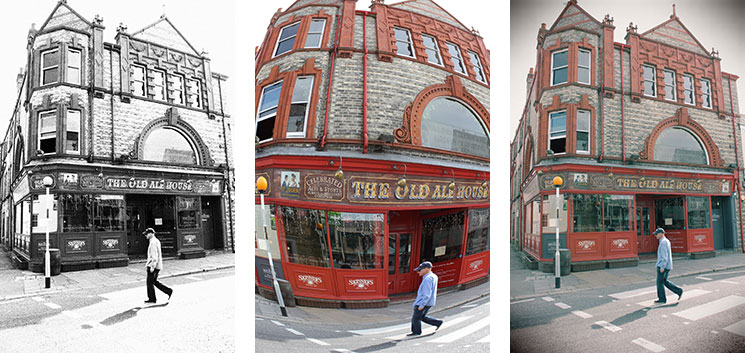 Check prices at Amazon.com, B&H, or Adorama, or Wex. Alternatively get yourself a copy of my In Camera book or treat me to a coffee! Thanks!