Canon EF-M 32mm f1.4 STM review - Verdict
Verdict
The Canon EF-M 32mm f1.4 STM is a standard prime lens for the EOS M mirrorless system, delivering 51mm equivalent coverage coupled with a fast focal ratio that's ideal for shallow depth-of-field effects. As the eighth native EF-M in almost as many years though, the Canon EF-M 32mm f1.4 is arguably the most overdue lens of any modern system. Canon's kept the EOS M faithful waiting seven years for a standard large aperture prime lens, a model that really should have been available from day-one. But it's finally here and thankfully doesn't disappoint, delivering visibly sharper results across the frame than the kit zooms, while also offering far greater potential for shallow depth-of-field effects. There may be no image stabilisation nor weather-sealing, but this compact prime is a great general-purpose lens that's also ideal for portraits, low light or still-life.
While the 32mm f1.4 is the first standard prime in the native EF-M mount though, there are alternatives if you're willing to adapt. The closest is the Sigma 30mm f1.4 ART in the EF fit, matching the aperture although costing a tad more. Then from Canon, there's the EF 35mm f2, a stop slower, a little heavier and slightly more expensive, but sporting image stabilisation and compatible with full-frame bodies if you're thinking of upgrading. I should also add if you simply want the cheapest way to blur backgrounds on portraits, just get yourself the Canon EF 50mm f1.8 STM for a quarter of the price and use it with an adapter.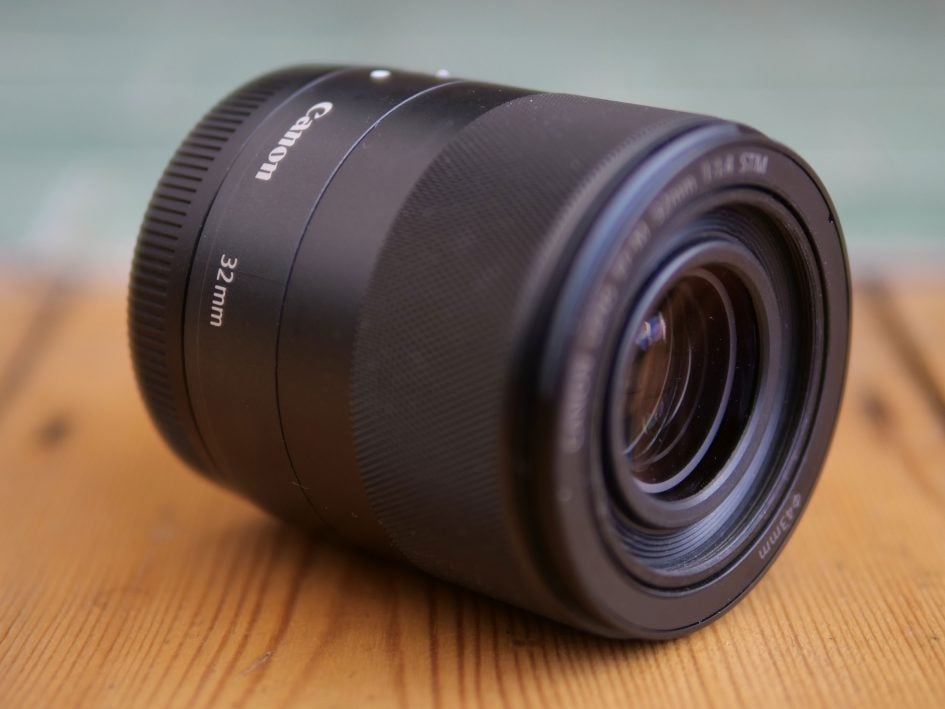 Looking outside the system for a comparison of value, Sigma makes another 30mm f1.4 non-ART lens that's native to the Sony e-mount or Micro Four Thirds which sells for about two thirds the price – I wish this and the other APSC Sigma lenses were available in native Canon EF-M and Fujifilm X versions. It's also revealing to compare Canon's RF 35mm f1.8 IS Macro for its full-frame EOS R system which is actually a tad cheaper than the EF-M 32mm and while it's a little slower, it's full-frame compatible and includes image stabilisation; shame it can't be adapted to EOS M. But before you think the EF-M 32mm f1.4 is on the expensive side though, console yourself that Fujifilm's XF 35mm f1.4 – another native APSC mirrorless lens – actually costs about a quarter more.

That said, if you exclude the EF-M 18-150mm, the EF-M 32mm f1.4 becomes the most expensive EF-M lens to date, but equally the only one with an f1.4 focal ratio. As a fan of fixed focal length prime lenses, I fell for it, although you may be able to satisfy your creative desires more cheaply with the EF-M 22mm f2, EF-M 28mm f3.5 Macro, either for half the price, or an adapted EF 50mm f1.8 STM for even less. But if you desire standard coverage equivalent to 50mm or thereabouts with a fast aperture, there's only one native option for the EOS M cameras and it offers a better overall experience than an adapted lens. In short, the EF-M 32mm f1.4 may not be a casual purchase, but it remains the best choice for EOS M owners who desire standard coverage and great creative control with a native lens. The only major downside is it should have been available seven years earlier at the launch of the EOS M system, but at least it's here now.

Check prices on the Canon EF-M 32mm f1.4 at Amazon, B&H, Adorama or WEX.