I love cooking and wanted to increase the number of vegetarian dishes for everyday family meals. Here are my favourites: quick, easy and very tasty! I'll be adding more soon!
Courgette Pie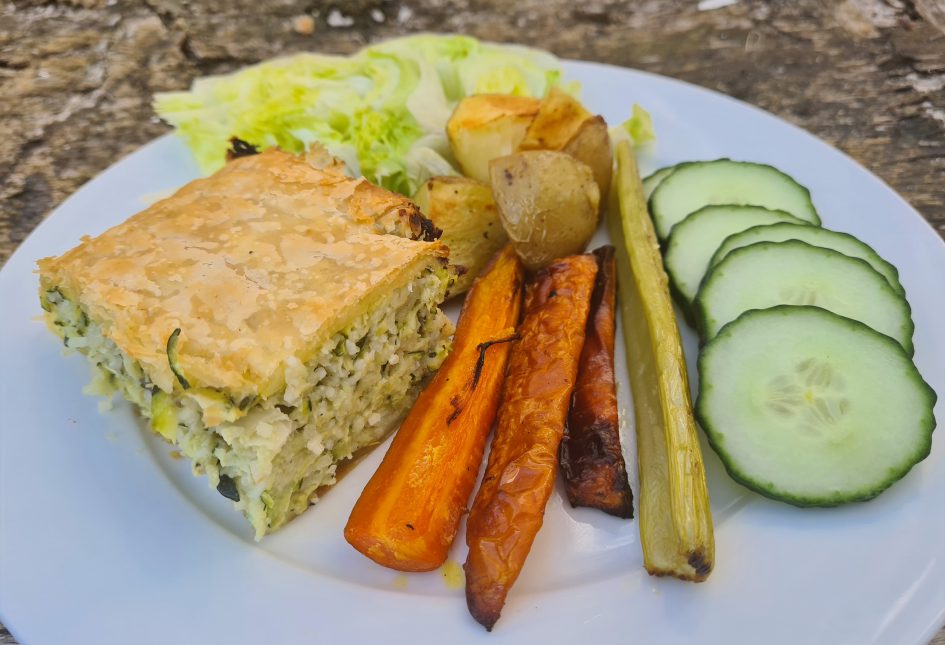 Adapted from the fantastic Veg: River Cottage Everyday cookery book, the courgette pie has quickly become a family favourite. This Greek-influenced dish is reminiscent of the classic spinach and feta pie, but with a twist where the spinach is replaced by grated courgette, and the excess liquid from the veg used to cook the rice within the pie. It's incredibly quick and easy. Since the oven's already on, I normally throw in some potatoes and carrots on another tray to have with it.
Prep: 10 minutes, cooking time 45 minutes. Pre-heat oven to 200 C.
Ingredients
750g courgettes, grated
130g rice (I use Basmati)
130g grated cheese (I use Cheddar)
3 eggs, whisked
1 red onion, finely chopped
1 pack puff pastry, I use shop-bought
Method
You're making a large pastry roll here, so drape the puff pastry over a medium baking dish, with the spare pastry hanging over the edges. Then simply mix the rest of the ingredients thoroughly in a large bowl, add some salt and pepper, then spoon onto the pastry before folding over the ends. If you're using a roll of bought puff pastry, it'll be a tight fit, but the ends should just meet with enough to punch them together. Then bake in a pre-heated oven at 200 C for about 40-45 minutes or until the pastry is golden brown. I cut the entire pie in half for two meals, with each half giving you four good portions when served with vegetables.
More recipes coming soon!