I love cooking and wanted to increase the number of vegetarian dishes for everyday family meals. Here are my favourites: quick, easy and very tasty! I'll be adding more soon!
Black Bean Burger and Buffalo Cauliflower Wings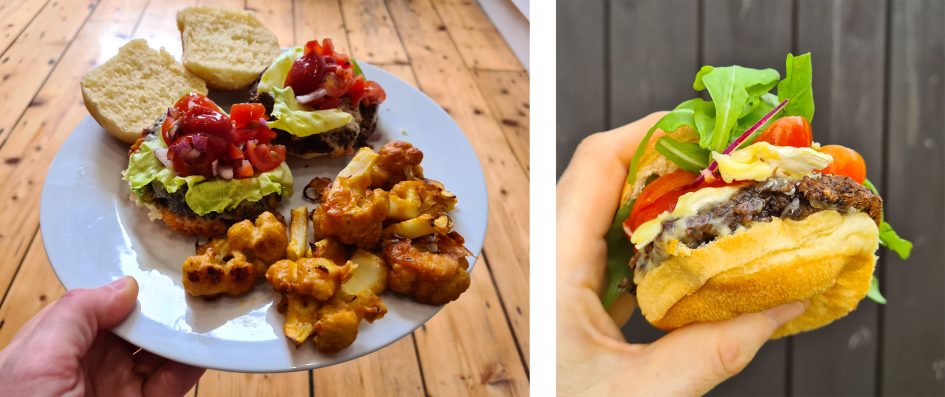 Saturday night is Burger and wings night at the Laing residence, with regular experiments in recipes and combinations. My favourite vegetarian burger recipe so far is Jamie Oliver's Roasted Black Bean burger, here adapted to the ingredients I can find and very quick to rustle-up. Forget fries though, the best accompaniment in my view are buffalo cauliflower wings, adapted from the Tasty website recipe. Cauliflower continues to be a revelation to me in texture and flavour – don't forget to include the main stalk too; I always keep this part when cooking other recipes and add it to the mix when it's wings night!
Prep: 15 minutes, cooking time 30 to 45 minutes. Pre-heat oven to 200 C.
Ingredients
200g wild mushrooms (such as Oyster and Shitake)
100g rye bread – I use Aldi's
1 red onion, roughly chopped
1 tin / 400g black beans (already cooked if not tinned)
2tbps freshly ground coriander
1 Cauliflower, broken into large florets and with stalk cut into strips
Half a cup of self-raising flour
Half a cup of milk
1tbsp garlic powder
1tbsp ground turmeric
1tbsp paprika
Brioche rolls and garnishes to serve
Method
Brush any dirt from the mushrooms, then pop them, the rye bread, onion and half the coriander into a food processor and blend for a few seconds. It's possible to use a pack of brown mushrooms in place of wild mushrooms, but beware the additional liquid in them can result in a slightly soggy burger. Next drain and wash the black beans, taking care to shake away as much liquid as possible, then add to the processor and blend to a thick paste – try to leave some texture in there. Then shape into eight burgers about 8cm in diameter and 15mm thick, place on an oiled baking tray, sprinkle over the remaining coriander and a splash of olive oil, then bake / roast for 30-40mins. Five minutes before serving, you can pop on some slices of cheese.
For the wings, simply whisk the flour, milk and flavourings into a batter in a large bowl, then add all the cauliflower pieces including the chopped stalk (plus any extra chopped cauliflower stalks or even broccoli stalks you've been saving), then spread out onto an oiled baking tray and roast for 30-40mins, turning once halfway. During the final 10 minutes, brush with a mix of olive oil and either hot or barbeque sauce for extra colour and flavour.
Courgette Pie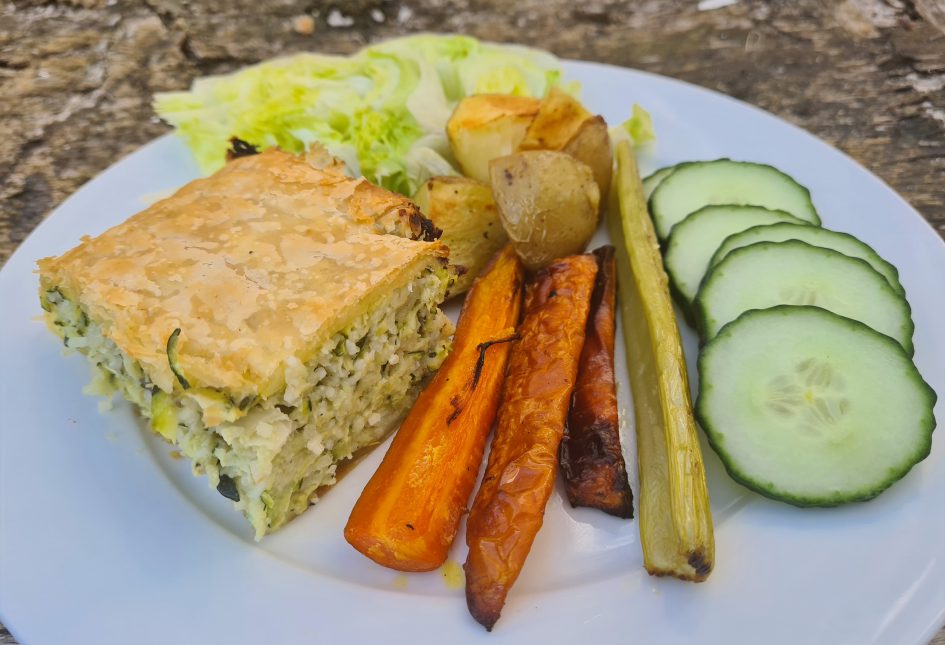 Adapted from the fantastic Veg: River Cottage Everyday cookery book, the courgette pie has quickly become a family favourite. This Greek-influenced dish is reminiscent of the classic spinach and feta pie, but with a twist where the spinach is replaced by grated courgette, and the excess liquid from the veg used to cook the rice within the pie. It's incredibly quick and easy. Since the oven's already on, I normally throw in some potatoes and carrots on another tray to have with it.
Prep: 10 minutes, cooking time 45 minutes. Pre-heat oven to 200 C.
Ingredients
750g courgettes, grated
130g rice (I use Basmati)
130g grated cheese (I use Cheddar)
3 eggs, whisked
1 red onion, finely chopped
1 pack puff pastry, I use shop-bought
Method
You're making a large pastry roll here, so drape the puff pastry over a medium baking dish, with the spare pastry hanging over the edges. Then simply mix the rest of the ingredients thoroughly in a large bowl, add some salt and pepper, then spoon onto the pastry before folding over the ends. If you're using a roll of bought puff pastry, it'll be a tight fit, but the ends should just meet with enough to pinch them together. Then bake in a pre-heated oven at 200 C for about 40-45 minutes or until the pastry is golden brown. I cut the entire pie in half for two meals, with each half giving you four good portions when served with vegetables.
More recipes coming soon!