Intro
Sony's Cyber-shot DSC-T77 is a slim 10.1 Megapixel compact with a 4x optically-stabilised lens and a 3in touch-sensitive widescreen display. Announced in August 2008, it's the successor to the Cyber-shot T70. Sony's kept the display, sliding front panel and minimal physical controls, but increased the resolution by two Megapixels, extended the zoom range from 3x to 4x, enhanced a number of the automatic settings, and slimmed the unit down to a mere 15mm thick.
The earlier T70 was popular with gadget-lovers who were drawn to the touch-sensitive controls and smile-shutter feature which actually waited until the subject looked sufficiently happy before automatically taking the shot. With the new T77, Sony's further enhanced these features while adding a longer zoom and making the body even slimmer. As before though, the big question is whether the touch controls are a novelty or a genuine enhancement to the user interface. Find out in our review of the Cyber-shot T77 where we'll test the new features and compare its image quality against key rivals in a similar price bracket.
Measuring 94x57x15mm and weighing 151g including battery, the Cyber-shot T77 looks roughly the same as its predecessor when viewed face-on, but is comfortably slimmer; indeed Sony claims it's the thinnest camera to feature a 4x optical zoom range. It's sufficiently slim to slip into almost any pocket, whether in skinny jeans or a shirt front; certainly you'll hardly notice it in larger coat pockets.
Like other Cyber-shot T models, the T77 employs a front panel which slides up and down to power the camera on and off, along with protecting the lens when shut. It takes a little practice to do it quickly, but once learnt it shifts back and forth with a satisfying snap like a quality flip-phone.
The metal body and flip mechanism are well-built, but there's little to hold onto in use. Like many of today's compacts, there's only a cross-hatched logo on the front for your finger to grip, although Sony's cleverly written Cyber-shot vertically here to maximise its contact with your right middle finger. Round the back there's a small metal plate with vertical ridges which act as a thumb rest. We found it quite hard to hold one-handed, and if you use both hands you have to be careful not to block the lens with one of your left fingers.
Ultimately while it's not the easiest camera to hold, the T77 is certainly a stylish compact, With its slim dimensions and smart brushed-metal body available in five colours, it's a head turner which attracted more attention than any other compact we tested at the same time.
Look around the body and you'll find no doors hiding any ports. Instead like its predecessor, there's a single proprietary connector on the underside of the camera. This in turn connects to an equally proprietary combined TV and USB cable – one's supplied, but don't lose it or you're looking at buying a non-standard accessory. You can alternatively connect an optional Component video cable for making HD slideshows in the 1080i format.
Between this and a metal tripod thread is a compartment for the NP-BD1 Lithium Ion battery pack and a slot for Memory Stick Duo cards. Sony claims each charge is good for around 220 images.
In one of the biggest upgrades over its predecessor, Sony's boosted the T77's optical range from the unremarkable 38-114mm 3x range of the T70 to a new 4x range equivalent to 35-140mm – that's only a tad wider and still no rival for models with genuine 28mm coverage, but at least it's now comfortably longer than before. We counted 17 steps between wide and tele using the (unnecessarily) tiny zoom lever, and the lens remains housed in the body at all times. You can see an example of its coverage below, and further examples of how you can use it in our sample images Gallery.
Support this site by shopping via these links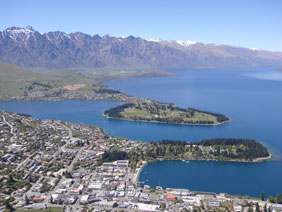 Sony Cyber-shot DSC-T77 coverage

6.18-24.7mm at 6.18mm (35mm equivalent)

6.18-24.7mm at 24.7mm (140mm equivalent)
Since the lens doesn't need to physically extend, you'd imagine the T77 can start up pretty quickly. In practice though it takes around the same 1.5 seconds to power-up as most of its similarly-priced rivals which do extend their lenses. So while hardly a slouch, it doesn't enjoy an advantage in this respect. At least the T70's impressive closest focusing distance of just 1cm remains available in the T77's Extreme Macro mode.
The T77 features optical 'SteadyShot' stabilisation which can be enabled continuously or only as you take the shot; alternatively you can switch it off, such as times when the camera's mounted on a tripod.
Sony Cyber-shot DSC-T77 SteadyShot off / on (Continuous)

100% crop, 6.18-24.7mm at 24.7mm, 1/13, 100 ISO, IS off

100% crop, 6.18-24.7mm at 24.7mm, 1/13, 100 ISO, IS on
Above are examples taken with and without stabilisation with the T77 full zoomed-into its maximum equivalent of 140mm at a shutter speed of 1/13. Traditional photographic advice would recommend a shutter speed of at least 1/140 to eliminate camera shake, so the unstabilised version at 1/13 is unsurprisingly blurred. The T77's stabilisation couldn't quite deliver a sharp result at 1/13, but it steadied-up at 1/25, corresponding to around two and a half stops of compensation. That's a tad below the average of three stops and not made any easier by a body that can be tricky to hold steadily – but it's still much better than no stabilisation at all.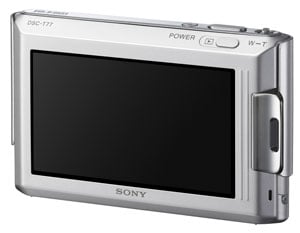 Round the back, the T77 is equipped with the same 3in widescreen touch-sensitive display as its predecessor; both models sport 230k screen resolution. Beyond the power, shutter and play buttons and a ridiculously tiny zoom lever, everything is controlled with the T77's touchscreen using either your finger or the supplied stylus – and like the T70 before it, this can take some getting used to. It should also be noted there's inevitably more fingerprints visible on the T77's screen, especially under bright conditions.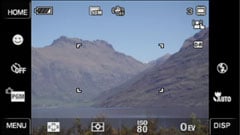 Most of the adjustments involve tapping an icon on-screen to view its options, before then tapping the desired setting. Annoyingly though, you'll then generally need to tap another icon to confirm and apply the action or return to a main menu. These multiple taps may prevent unwanted changes from being made when the camera's in a bag or pocket, but are slower to execute than a traditional menu system, especially as some taps aren't recognised first-time. At times it seems unnecessarily laborious and that you're being inconvenienced just for the novelty of touch-controls, but over time you get used the system and are able to operate it more quickly.
| | |
| --- | --- |
| | |
| | |
| | |
The actual icons themselves are distributed around the left, right and bottom edges of the screen. If you're shooting in the native 4:3 aspect ratio of the sensor, there's black bars running down either side of the frame which effectively separate most of the icons from your composition. But if you switch the T77 to a cropped 16:9 mode in order to fill the screen, the icons will clutter the edges of your view.
Tapping the DISP icon in the lower right corner allows you to reduce the number of on-screen details and icons for a cleaner view, albeit one without many means of adjustment. The DISP menu also offers a Live Histogram, and if you delve into the menu system and you'll also find an option to enable a three-by-three grid.
The touchscreen doesn't always feel like it's getting in the way though. Like Sony's camcorders, you can tap at an area you'd like the camera to focus on. The T77 takes this further by allowing you to tap a face to give it priority in a group shot.
During playback, you can tap to zoom-in on particular areas of an image, then drag the magnified view with your finger or even draw on it with a paintbrush. Admittedly it's still a novelty, but quite fun in practice. While in playback you can also apply a number of filters, including sharpening, blurring or fisheye effects wherever you tap the screen, along with one which adjusts glum faces into smiles with surprisingly convincing results. The T77 also allows you to view a brightness histogram during playback, and like most Sony compacts you can have slideshows with stylish transitions and your choice of background music uploaded to the camera in MP3 format.
The Cyber-shot T77 has access to shutter speeds from two seconds to 1/1000 along with four aperture settings, and happily displays what settings it's going to use in most of its modes, but annoyingly there's no means for you to manually adjust them.
The closest you'll come to manual controls is in the T77's Program mode, which lets you adjust the metering, exposure compensation, sensitivity and focusing, the latter with a choice of four preset distances in addition to three AF options.
The fully automatic mode hides the controls mentioned above, but offers the T77's Smile Shutter and new Intelligent Scene Recognition options. The latter switches the camera between eight scene presets depending on their content. In practice this worked well, recognising landscapes, portraits, macro shots or twilight scenes and automatically switching to the corresponding preset. Face detection was also very effective and Sony even lets you prioritise children's faces over adults if desired.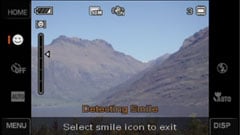 Smile Shutter works as before, so once activated, waits for the subject to smile sufficiently before automatically taking the shot. Again as before there's also the opportunity to adjust the sensitivity, although since the feature looks out for toothy grins and squint eyes, demure smiles will rarely make the grade. New to the T77 though is a scale while reveals the current cheeriness and how close you are to the trigger point – this is handy as its predecessor could have both the subject and photographer wondering just how much they needed to smile to set the thing off.
Either way, despite smile recognition now being offered on rival compacts from Pentax and Olympus, Sony's system feels more sophisticated and successful in use. It is of course another novelty, but undeniably fun to play with, and as mentioned above, subjects who resist the chance to smile can be digitally cheered-up by the T77 later in playback – clearly smiling is very important at Sony HQ.
Beyond Program and Auto are direct access to four popular scene presets, a further six through a sub-menu, and ISO boost option for shooting without the flash in low light, and an Easy mode which reduces the number of on-screen options to the bare minimum.
The T77's Movie mode offers three recording options: 640 Fine (640×480 pixels at 30fps), 640 Standard (640×480 pixels at 17fps) and 320 (320×240 at 8fps). The maximum length of clips is approximately ten minutes and they're recorded in the dated MPEG1 format. Set to its best quality 640 Fine mode, the video looked smooth and fairly detailed, consuming around 1.3MB/s. Impressively you can optically zoom while filming, and the operation is inaudible.
A Burst mode can shoot a continuous sequence of up to 100 images. We counted five in 3.2 seconds before it paused for a moment, or 20 shots in 17 seconds, corresponding to a rate of 1.5fps at best, or 1.2fps over a longer sequence. Along with a 10 or two second self-timer, there's also three exposure bracketing options which take three frames either 0.3, 0.7 or 1EV apart.
At the heart of the Cyber-shot T77 is a 10.1 Megapixel Super HAD CCD sensor measuring 1/ 2.3in. This delivers images with a maximum resolution of 3648×2736 pixels, which can be printed up to 12x9in at 300dpi. Three lower resolutions and cropped 3:2 or 16:9 modes are available, but there's no control over the degree of JPEG compression. The sensitivity ranges from 80 to 3200 ISO, all recorded at the full resolution.
Best quality 10M files typically measure around 5MB each, which means you'll generally squeeze about three into the 15MB of built-in memory. So you should be investing in a Memory Stick Pro DUO card as soon as possible – besides, you'll also need a Pro DUO card to support the best quality movie mode.
To see how the quality of the Cyber-shot T77 measures-up in practice, take a look at our real-life resolution and high ISO noise results pages, browse the sample images gallery, or skip to the chase and head straight for our verdict.