Sony Cyber-shot DSC-HX1 verdict
Sony's Cyber-shot DSC-HX1 is a powerful super-zoom camera with some pretty unique features that allow it to stand out from the crowd. At the core is a flexible 20x optical zoom range taking you from 28mm wide-angle to serious 560mm telephoto, complete with effective image stabilisation. Round the back is a vertically-tilting 3in screen which allows you to easily compose at high or low angles. And completing the traditional respects is full control over exposures with manual, aperture and shutter priority modes.
Images exhibit the usual Sony punchiness, although considering previous models, the company has been surprisingly restrained in terms of saturation and noise reduction (both of which are also adjustable). In our real-life tests, the HX1 recorded a similar degree of detail to the Canon PowerShot SX1 IS, despite having one less Megapixel. There was visible fringing at times, but while disappointing not to see it reduced in-camera like the Panasonic FZ28, the Canon SX1 IS suffers equally in this regard. Like most non-DSLRs these days, there's noise visible throughout the range, but while the Canon SX1 IS was a little cleaner at low sensitivities, the Sony took the lead at higher ISOs. You can see a full report in our results pages.
So far so good, but in terms of features, it's nothing you can't get with rival super-zooms, including key models which cost up to 25% less. What makes the Sony HX1 really special though is its CMOS sensor, and as crucially, the cunning ways Sony has exploited its capabilities. The HX1 is only the second non-DSLR to employ a CMOS sensor, following the Canon PowerShot SX1 IS, and like that model, the fast data readout allows it to boast HD video recording and quick continuous shooting.

Sony's HD movie mode isn't quite full HD, recording a 1440×1080 frame instead of the usual 1920×1080 pixels. Like the HDV camcorder format before it, this frame is stretched into a 16:9 widescreen image during playback or editing though and in our tests it looked almost as good as native 1920×1080 footage. Interestingly, the HX1 employs surprisingly high compression on its videos, with a bit rate almost one quarter that of the Canon SX1 IS. This will let you record almost four times as much in the same space, although obviously compression artefacts may become a concern. To be fair we didn't notice many on our leisurely footage, but fast or complex scenes will almost certainly suffer more than the Canon.
While the Canon SX1 takes a potential lead in terms of video, the HX1 responds with the most impressive continuous shooting mode we've ever tested on a non-DSLR. The SX1 IS was already very capable, with its CMOS sensor allowing continuous shooting at 4fps, but the HX1 blows it out the water with nothing less than 10fps at its full resolution. Indeed, 10fps takes it way beyond all consumer and semi-pro DSLRs and into top-end pro sports DSLR territory. Indeed Canon's EOS 1D Mark III sports DSLR is the only other camera to offer 10fps at its full 10 Megapixel resolution, but it costs ten times the price of the HX1. There's got to be a catch, right?
Of course there is: the HX1 may be able to shoot at 10fps, but only for a maximum of 10 frames, so it's all over in one second. The camera is then tied-up for between 15 and 20 seconds as it writes the images to your card. As we said in our main review though, this could be less restrictive than it sounds, as most action sequences which justify 10fps are over pretty quickly, and if you spot a better opportunity coming up, you can abort the recording and be ready to shoot again. For longer sequences, the HX1 can also be switched to 5 or 3fps, which for the maximum ten frames, gives you two or 3.3 seconds worth of coverage.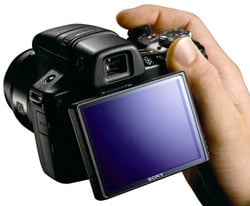 We've tested many compacts with ambitious claims that simply don't deliver in-the-field, but the HX1's burst mode really can deliver the goods – so long as your timing is ok. Thanks also to the faster-than-average auto-focusing, we managed to grab a number of quick action sequences with the HX1 which would be simply out of reach for most cameras, including many DSLRs. Admittedly the Canon SX1 IS is no slouch either in this respect and has the advantage of shooting at 4fps until it runs out of memory, but if you need quicker shooting without laying-out on a higher-end DSLR, the HX1 is the camera for you. See our Gallery for sample images.
Like Canon, Sony could have left the HX1 at that, but ever the innovators, the company has dreamt up other ways to exploit this ultra-fast shooting capability. First are the Anti Motion Blur and Handheld Twilight modes which fire-off six frames in quick succession, then use elements from all images to either reduce the effect of camera-shake, or minimise visible noise. It's a shame Sony hasn't taken the opportunity to also offer an auto-HDR option, but the two modes are clever none-the-less and really work too.
Support this site by
shopping below
Arguably more useful still though is the Sweep Panorama mode. Rather than manually taking a series of photos and carefully turning the camera between each one, the HX1 grabs everything it needs in a single handheld sweep, before then automatically stitching them into a panoramic image. So in a single motion lasting a couple of seconds, you could generate a spectacular wide panoramic image without any effort. It's not perfect of course, limited in resolution and with occasional stitching errors, but it remains a useful and fun facility.
The Sweep Panorama, Anti Motion Blur and Handheld Twilight modes show Sony continuing to innovate and think outside the box. They're also perfect gadgets in not just being technologically impressive, but also fun and genuinely useful.
Alongside all this gadgetry, the Smile Shutter mode seems almost pedestrian, but it's still there from earlier Sony models, recognising grins and triggering the shutter at the preset level of cheeriness – teeth preferred, but certainly not mandatory. Sony's also enhanced the automatic modes, with improved scene detection and automatic macro focusing or face detection depending on the subject. In practice it all comes together very successfully, complementing the full exposure control offered by the traditional PASM modes.
The Cyber-shot HX1 isn't without its faults or limitations though. The screen may vertically tilt, but it doesn't horizontally flip for the ultimate flexibility; the EVF is also fairly small. Following earlier criticisms, we're pleased to see Sony include noise reduction controls on the HX1, but considering the level of sophistication in the rest of the camera, it seems bizarre not to have any control over image compression; suffice it to say there's no RAW mode either.
For a master of industrial design, it seems lazy to have a lens cap that's physically prodded-off as the camera powers-up, and while the HX1 is one of the fastest at continuous shooting, it's shockingly slow at entering menus. Then there's Sony's continued bullying tactics to force owners into proprietary accessories: the HX1 unsurprisingly uses the company's own Memory Stick Duo format, while the only connector is a proprietary port which requires the equally proprietary cable or HDMI dongle. These may be supplied, but if you break or lose them, there's no cheaper third-party alternatives.
It's revealing that every single one of these complaints is addressed by its arch rival the Canon PowerShot SX1 IS, although of course the Sony has advantages of its own, not least a lower price tag. So before our final verdict, let's see how it compares to the only other CMOS-equipped super-zoom at the time of writing.
Compared to Canon PowerShot SX1 IS

Of all the super-zooms available at the time of writing, Canon's PowerShot SX1 IS is the closest rival to the Cyber-shot HX1. Both cameras sport the same 28-560mm equivalent range with stabilisation and fast AF, full manual control over exposure, HDMI ports and uniquely boast CMOS sensors supporting HD video and fast continuous shooting. There are however a number of differences which will almost certainly make one more suitable for you than the other.
In its favour, the Sony HX1 has a larger 3in screen compared to 2.7in on the Canon (or 2.3in if framing in 4:3), much faster 10 fps continuous shooting compared to 4fps (albeit limited to ten frames on the Sony), auto scene detection, auto switching into face recognition or macro shooting, smile detection, and Sony's unique Handheld Twilight, Anti Motion Blur and Sweep Panorama modes. The HX1 is also a little smaller and comfortably lighter, and many will also prefer its use of a Lithium Ion battery, which additionally gives accurate feedback on the remaining life. In our results, we also preferred the Sony at higher sensitivities, and crucially, it additionally comes in cheaper than the Canon.
In its favour, the Canon PowerShot SX1 IS sports an extra Megapixel (not that it makes much difference in real-life detail), a fully-articulated screen (that may be smaller, but gives a bigger image when framing in 16:9), a larger EVF image regardless of aspect ratio, more compression options including RAW recording, Full HD recording at 1920×1080 (as oppose to 1440×1080 on the Sony), a flash hotshoe for external Speedlites, and while the continuous mode is slower, you can keep shooting until you run out of memory. Some will also prefer the use of standard SD cards along with AA batteries even if the latter add to the weight. Videophiles will additionally favour the considerably milder HD compression (even though it'll consume more memory), and while the still image quality deteriorates at higher ISOs, the SX1 IS has the edge at its lowest sensitivities.
Ultimately the Sony wins on gadgetry and innovation, but the SX1 IS takes the lead in traditional photographic respects and quality at the lowest sensitivities. So if you value aspects like RAW recording, a flash hotshoe, greater screen flexibility and milder compression, then it's worth spending the extra on the Canon. See our Canon PowerShot SX1 IS review for more details.
Also consider

If you can live without 1080p HD video and ultra-fast continuous shooting, there's a number of alternative, and cheaper, super-zooms to consider. Most obviously there's Canon's PowerShot SX10 IS, a virtual clone of the SX1 IS with the same zoom range and fully-articulated screen mounting, but lacking the HD movies, 4fps shooting, RAW mode, HDMI port and 16:9 monitor. Costing around 25% less than the Cyber-shot HX1, it's justifiably one of the current best-sellers – see our Canon PowerShot SX10 IS review for more details.
Also costing around 25% less than the Cyber-shot HX1 is Panasonic's Lumix DMC-FZ28. The lens isn't quite as long and the screen fixed in position, but you do get RAW files, in-camera reduction of fringing, and while there's no 1080p movies or HDMI, it does offer 720p video and an analogue Component HD connection.
Unsurprisingly, you don't get 10fps at the full resolution, but the FZ28 still has a fun burst mode that shoots at a similar speed at a reduced resolution of 3 Megapixels. We wouldn't be surprised to find a successor to the FZ28 coming soon with HDMI, AVCHD movies and perhaps a slightly longer zoom, so keep an eye for bargains on the older model – see our Panasonic Lumix DMC-FZ28 review for more details.
Sony Cyber-shot DSC-HX1 final verdict

Sony's Cyber-shot DSC-HX1 is a camera of two sides: on the one you have the traditional super-zoom aspects which, like several rivals, deliver a massive stabilised range with full manual control and a flexible screen, while on the other you have the CMOS sensor unleashing Sony's innovation, going beyond the HD video and fast continuous shooting of the Canon SX1 IS, to offer some truly unique capabilities.
It all comes together very well too. Judged as a traditional super-zoom alone, the camera performs respectably with a decent range, flexible screen (albeit tilting vertically only), the choice of manual control or clever automatic modes, quick auto-focusing and good image quality.
In itself, these would be sufficient to make it a contender, but it's the CMOS sensor, and crucially what Sony's done with it, which makes it truly unique in the market. The HD movies may have slightly lower horizontal resolution than the 1920 pixel width of Full HD, but more than making up for it are extremely fast 10fps continuous shooting and innovative modes including the Sweep Panorama. Unlike some of Sony's previous gadgetry, these modes go beyond gimmickry to become genuinely useful, and the company is to be congratulated for thinking out the box.
As described above, there are downsides and caveats, most notably a maximum of 10 frames on the burst mode and the fact a full set will subsequently tie the camera up for the best part of 20 seconds. But no other camera, DSLR or otherwise, can come close to this speed at the full sensor resolution without spending considerably more.
As detailed above, Canon's PowerShot SX1 IS offers more traditional photographic features and better quality at the lowest sensitivities, but if you want or need faster than 4fps continuous shooting, then the HX1 is currently the only affordable choice. A number of annoyances or limitations listed near the start of this page prevent the HX1 from earning our top award, but it still easily comes Recommended – and once again if capturing very fast action is your priority, its combination of a long zoom, fast AF and supremely quick continuous shooting is unrivalled at the price.
---



Good points
Massive 20x range with 28mm wide angle.
HD video at 1440×1080 with stereo sound.
Ultra-fast 10fps continuous shooting.
Vertically-tilting screen.

Bad points
Burst mode ties-up camera for 18 seconds.
No RAW or control over JPEG compression.
Proprietary port and Memory Stick cards.
Main menu system very slow to enter.

Scores
(relative to 2009 super-zooms)


Build quality:
Image quality:
Handling:
Specification:
Value:

Overall:



17 / 20
15 / 20
18 / 20
19 / 20
18 / 20

87%