Panasonic Lumix FZ1000 review
Intro
The Lumix FZ1000 is Panasonic's classiest bridge camera to date and while undoubtedly inspired by Sony's RX10, it takes the concept of a high-end option even further. The use of a 1in sensor allows the FZ1000 to enjoy much better quality than the company's earlier 1/2.3in super-zooms, and while the lens may not sport a constant focal ratio, it still works within a fairly bright f2.8-4 range while also boasting a much longer focal length than the RX10.
Indeed that could be all many people need to know: a sensor that's arguably identical to the RX10 (it certainly delivered essentially the same quality in my tests), but coupled with a much longer and more flexible 16x / 25-400mm zoom range along with 4k video. Given the FZ1000 also boasts 1080p with a four-times slowdown, a higher resolution viewfinder, fully-articulated screen, built-in timelapse, deeper bracketing, flat video profiles, more powerful smartphone remote control and an AF system that's quicker and works under lower light than the RX10, and it quickly sounds like a no-brainer.
It's not completely one-sided though. The RX10 still boasts weather-sealing, a constant focal ratio, aperture ring, headphone jack and optional XLR inputs over the RX10, along with higher bit rates for 1080p thanks to a recent firmware update. In my tests the resolution and noise levels may have been essentially the same, but the shorter zoom range allowed the RX10 to deliver crisper details in the corners at mid focal lengths. Some may find these benefits outweigh those of the FZ1000, but I'm guessing it'll be a small and select group. Before my final verdict below, I'll make a more detailed comparison between the FZ1000 and RX10 for you.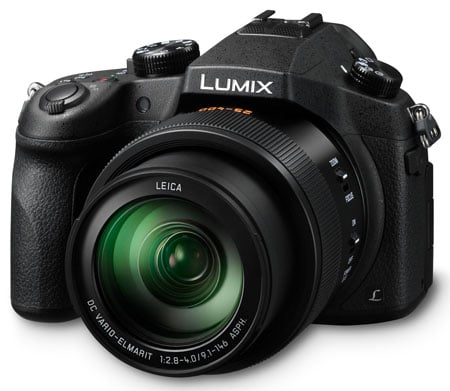 Panasonic Lumix FZ1000 vs Sony RX10

The biggest rival for the Lumix FZ1000 is of course Sony's RX10 and both cameras share a great deal in common. They're both DSLR-styled cameras sporting most likely the same 20 Megapixel / 1in type sensor, articulated screens, high resolution electronic viewfinders, powerful movie capabilities and tons of manual control. But scrape the surface and numerous differences emerge.
The Sony RX10 has a lens with a constant f2.8 focal ratio, whereas the FZ1000's varies between f2.8 and f4. The RX10 also lets you adjust the aperture with a dedicated ring on the barrel which can be configured between stepped and stepless, the latter delighting videographers. It has a headphone jack for monitoring audio, and Sony's hotshoe supports optional accessories including XLR jacks for superior audio inputs. There's a built-in ND filter, which is useful for implementing slow shutter speeds in video. A recent firmware update boosts the maximum bit rate for 1080p video to 50Mbit/s in the XAVC S format. Oh and the RX10 also has a small LCD screen on the top surface showing basic shooting information. The RX10 is also sealed against dust and moisture, whereas Panasonic makes no mention of weather-sealing on the FZ1000. Finally, in my tests the shorter zoom range of the RX10 allowed it to deliver crisper details in the corners at mid-focal lengths at times when the FZ1000's corners could become a little softer.
In its favour, the Lumix FZ1000 has almost double the total optical range, zooming to twice the maximum focal length, 400mm versus 200mm on the RX10. The electronic viewfinder is higher resolution and the screen is fully articulated, letting it twist as well as flip around, whereas the RX10's screen can only tilt vertically. The FZ1000 records 4k UHD video where as the RX10 is limited to 1080p. The FZ1000 also offers 1080p at high frame rates up to 120fps (100fps in PAL regions), allowing a four-times slow-down. Pro videographers will also welcome flat Cinelike profiles inherited from the GH4. Both employ contrast-based AF systems, but the FZ1000's includes DFD for faster and better continuous AF, and it also works in lower light levels down to -4EV. The optional use of an electronic shutter allows silent operation, and a top speed of 1/16000 and fast 50fps continuous shooting at 5 Megapixel resolution. The fastest full resolution continuous shooting speed is 12fps. The free smartphone app offers more sophisticated control and also supports geo-tagging, a feature sorely lacking on the RX10. The FZ1000 also has finer and deeper AE bracketing, along with built-in timelapse and stop motion capabilities.
On its release, the FZ1000 enjoyed a significantly lower price than the RX10, a situation that has rapidly altered, with RX10 prices dropping to the point the point where the two are now more or less the same price – as always it pays to shop around to get the best deal. For the money, the FZ1000 is certainly better-featured, although some videographers may still prefer the constant f2.8 focal ratio, stepless aperture control, headphone jack, built-in ND filter and optional XLR inputs on the RX10.
See my Sony RX10 review for more details, including an in-depth comparison with the Lumix FZ200 and Olympus STYLUS 1.
Panasonic Lumix FZ1000 final verdict
The Lumix FZ1000 is an interesting and exciting development in the evolution of bridge super-zooms. Though not the first to equip a bridge camera with a big sensor, Panasonic has included other key features which you'd ordinarily expect to pay a lot more for. The obvious one is 4K UHD video, but while being dazzled by the FZ1000's video capabilities it's all too easy to overlook some of the things that also make it a great choice for stills shooters. Prime among them, for me at least, is the 2359k OLED viewfinder. It's great to see Panasonic continuing to push advanced viewfinder technology in fixed lens models. If you're shooting with an older super-zoom with an EVF that numbers its pixels in thousands rather than millions you'll be amazed at the difference.
Just to recap on some of the other great features the FZ1000 has to offer – 12fps continuous shooting, 1/4 speed 1080p video recording, built-in timelapse and stop motion shooting, 7-frame auto bracketing, fast DFD-assisted 49-area AF, and excellent wifi features. The only things it's really missing for me are a touch-screen and a built-in ND filter, but there's still loads of controls and of course the opportunity to mount an ND filter on the barrel if necessary; plus with an electronic shutter option at up to 1/16000, you'll easily be able to deploy large apertures outdoors for stills.
Sony may have enjoyed a temporary lead in the premium superzoom / bridge market, but with the FZ1000, Panasonic has grabbed it back. The FZ1000 is one of the most exciting cameras of 2014 and arguably the classiest bridge camera to date which naturally qualifies it for a Cameralabs Highly Recommended award.
Good points
Excellent image quality and noise performance.
2359k dot EVF with eye sensor and eye-detect AF.
Fully-articulated screen.
4K100Mbit/s UHD video.
100 / 120fps 1080p for slow motion.
Fast 49-area AF with DFD for improved Continuous AF.
7 frame auto bracketing.
Wifi and NFC with good smartphone remote control app.
Built-in time-lapse with opportunity to create video in-camera.
Bad points
No weather-sealing.
Slow zoom controls.
No Auto ISO in movie manual exposure mode.
No silent exposure control for movies.
Screen isn't touch-sensitive.
Can't switch between regional video frame rates.
No built-in ND filter.