Olympus E-400 with Zuiko Digital 14-42mm f3.5-5.6 ED - Olympus E-400 sensor and files
Olympus E-400 sensor and files
Olympus E-400 features continued…

Lenses and viewfinder / Screen and menus / Sensor and processing / Anti dust
Support this site by shopping via these links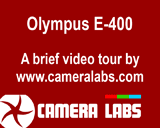 The Olympus E-400 is equipped with a brand new 10 Megapixel CCD sensor developed by Kodak which makes the E-400 the highest resolution Four Thirds body to date. Measuring 17.3x13mm, this sensor delivers 4:3 aspect ratio images with a maximum resolution of 3648×2736 pixels. At 300 dpi, this allows for reproduction at around 12x9in and sensitivity is offered from 100 to 1600 ISO in one-third EV increments.
When set to the highest resolution, you have the choice of two different JPEG compression ratios, along with an option to record an accompanying RAW file in the Olympus ORF format. At the time of writing, the E-400's RAW files weren't supported by Adobe Camera RAW, but Olympus supplies a copy of its Master software for basic conversions.
Like other Olympus cameras, the best quality SHQ JPEG mode employs a very mild compression ratio of just 1 / 2.7 which essentially eliminates any compression artefacts, albeit with fairly hefty files sizes as a result – you're looking at around 7MB each SHQ JPEG, or 21MB for an uncompressed RAW file. As mentioned above though, you can always switch to a higher compression ratio, or choose one of six lower resolutions, each employing a fixed JPEG setting. We're pleased Olympus offers this super-fine SHQ JPEG option though.

Exposure options

The E-400 offers shutter speeds from 1/4000 to 60 seconds plus a Bulb option up to eight minutes. Unfortunately the longest exposure time in Bulb mode reduces as the sensitivity is increased, so between 1000 and 1600 ISO you're restricted to just two minutes. This is a shame for anyone into astrophotography or creative long exposure photography.
On the upside exposure compensation is offered in a wide range of +/-5EV. Metering options consist of spot, center-weighted and 49-zone multi-pattern.

Colour and white balance

The E-400 offers Auto, daylight, cloudy, shade, incandescent and three fluorescent white balance presets along with a custom measurement option and manual temperature entry from a wide range of 2000 to 14000K. You can also fine tune any of the white balance presets using separate red and green sliders along with a preview activated by pressing the AE / AF lock button.
Contrast, sharpness and saturation are applied using a choice of five Picture Modes, including monotone and sepia options. In the three colour Picture Modes of Vivid, Natural and Muted, all three settings can be adjusted on a scale of -2 to +2. We used the default Vivid mode for all our test and gallery shots which delivered punchy, consumer-friendly JPEGs from the camera, although for a more subdued approach you may prefer to select the Natural or Muted options.
Image processing and handling

Olympus claims a continuous shooting rate of 3fps for up to five frames in SHQ JPEG or RAW mode. To put this to the test we fitted the E-400 with a 1GB Olympus xD memory card, set the shutter speed to 1/1000 and selected the continuous drive mode.
The E-400 performed pretty much to spec, firing-off five frames in about 1.7 seconds, whether set to SHQ JPEG or RAW mode, corresponding to a rate of approximately 3fps.
In terms of power-up, the E-400 performed very similarly to the Panasonic Lumix L1, taking about one second to start and firing-off its first shot from cold power-up in about 1.5 seconds. This may be slightly slower than its super-fast rivals from Canon and especially Nikon, but it's important to note the startup period on both the E-400 and Panasonic L1 include the SuperSonic Wave Filter anti-dust process which we'll cover on the next page.
Finally, the autofocus performance was quick and accurate with the kit lens, and the motors and gearing at a similar level to the Canon 400D / XTi with its kit lens. Like the Lumix L1 and E-500 before it, the AF system is a fairly basic three-point system which while fine for general use, isn't as well-suited to tracking moving subjects, especially off-center as the more sophisticated nine and 11-point systems of rival DSLRs.