Nikon 80-400mm f4.5-5.6G VR review
Intro
The AF-S Nikkor 80-400mm f/4.5-5.6G ED VR is Nikon's long awaited successor to the venerable and now 13-year-old AF 80-400/4.5-5.6D VR. It covers a 5x zoom-range and has an improved optical design with quicker and quieter focusing and better image stabilization – lest we forget the original was the first Nikkor to sport VR. It's one of the most highly anticipated updates in the Nikon catalogue but one that's unfortunately catapulted the price well beyond the 2000 EUR/USD mark; indeed it costs roughly double the old model in some regions. So the big question is: are the improvements really worth the money?
But first, who's it for? Most obviously it's ideal for sports, wildlife and even portraiture. It's also a perfect partner for a 24-70mm or 24-85mm standard zoom. With this combo you can almost seamlessly cover a 16.7x zoom-range from fairly wide-angle to a long tele with only two lenses. And while the 80-400mm is corrected for full-frame FX format bodies, you could equally use it on a cropped-frame DX-body where it gives you an equivalent 120-600mm coverage plus future-proofing should you upgrade to an FX-body at a later date. DX owners can also make a great twin lens kit with the 80-400mm and any of Nikon's longer general-purpose zooms like the DX 18-105mm or DX 16-85mm.
In my Nikon 80-400mm f/4.5-5.6G VR review I'll put this zoom to the test on a 36MP Nikon D800 body to see whether it's a good match for the highest resolution full-frame DSLR.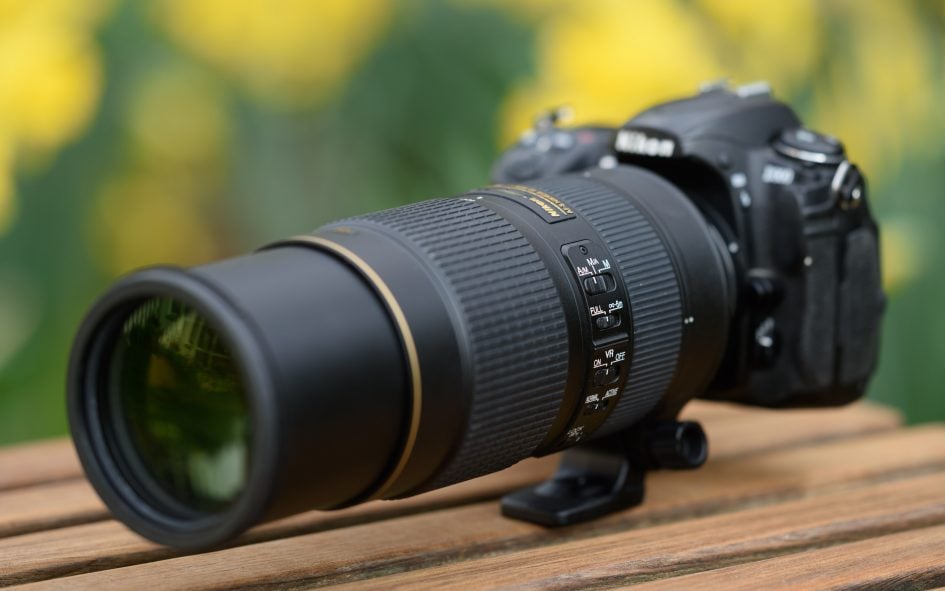 Facts from the catalog
As usual I'll have a look at the technical data first. I've rated the features with a [+] (or [++]), when it's better than average or even state of the art, a [0] if it's standard or just average, and [-] if there's a disadvantage. I'll compare it with Nikon's AF-S 70-200/2.8G ED VR II (the "70-200/2.8" for short) because you can put a 2x tele-converter (TC) on that lens and make it a 140-400/5.6. So it might be a viable alternative to the new zoom. The other alternative being its predecessor, the old Nikon AF 80-400/4.5-5.6D VR which is still being sold.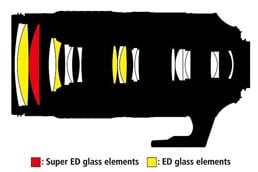 Size (diam. x length): 96 x 203 mm (3.8 x 8.0 in.). The predecessor was a very compact 91x171mm, but the new zoom still is astonishingly short for a zoom reaching 400mm. That is until you add the hefty lens-shade (+88mm) and zoom-in to 400mm focal length (+57mm). That makes a total length of almost 35cm (9.8in.). But the combo of 70-200/2.8 and a 2x TC isn't much shorter (see image below). The girth of the new zoom is also quite impressive. [0]
Weight: 1,570 g (3.5 lb.). Similar to the 70-200/2.8 without the 2x TC (which adds another 326g). The predecessor was much lighter at only 1340g. But still I'd qualify the new lens as "bearable". Use a good shoulder-strap and you can carry it around all day. [0]
Optics: 20 elements in 12 groups. This is pretty low for a 5x zoom and follows in the footsteps of its predecessor which had 17 elements in 11 groups. Compare this to the 28 elements in 21 groups of a 70-200/2.8 combined with a 2x TC. The lens features Nikon's Nano Crystal Coat to reduce flare and ghosting and has five extra-low dispersion elements. [+]
Closest focus distance/max. magnification: 1.5 m (4.9 ft.) / 1:5.1 in manual focus which I could confirm in my test. That's a nice boost over the standard 1:8 – 1:10 magnification you often find. But you need to get much closer to achieve this magnification than with the predecessor which reaches 1:4.8 magnification at only 2.3 m (7.5 ft.) distance. The new zoom behaves like its maximum focal length is shrinking almost 50% from 400mm to 205mm at minimum focus distance (MFD). It also means that at MFD the zoom-range of this lens is only 3.5x. This may sound dramatic but it's more or less a byproduct of modern zoom designs. When Nikon released the latest version of the 70-200/2.8 there was an outburst of rage in the web-community because that lens shrinks 33% at MFD which was also stronger than with its predecessor. In my opinion the achievable maximum magnification is more important than whether you achieve that at 1.5m or 2.3m distance. Because at those distances you can normally "zoom with your feet" and get as close as you need to your subject. Plus, the effect is greatly reduced at longer distances: at 4m the lens shrinks only 25% and can give you a magnification of 1:11.4. [0]
Filter-thread: 77mm = standard with most pro-lenses. [+]
IS: Yes, VR 2nd generation = great! At focal lengths beyond 100mm and with today's high resolution sensors image stabilization is an indispensable feature. The predecessor had one of the first generation image stabilization. The VR can be switched off and also sports a "normal" and an "active" mode. The latter is recommended when shooting from a moving vehicle. [+]
AF: AF-S with SWM (silent wave motor), so it does work on D60/3×00/5×00-bodies. Manual-focus override is by simply turning the focus ring. The predecessor had no AF-motor of its own and you needed to turn a switch to manually focus. [+]
Covers full frame/FX or smaller = very good. [+]
Price: around 2200 EUR new (incl. 19% VAT). The price comes as a real shock as the predecessor is currently available at around 1100 EUR. The 70-200/2.8 is currently at 1850 EUR and the Nikon AF-S TC-20E III 2x tele-converter costs another 450 EUR. So that combo at 2300 EUR would cost around the same as the new 80-400. [-]
Comes with a very nice semi-soft lens-case that is well padded, the lens-shade is included, reversible for transport with an interlock to prevent accidental loss, the lens-caps are standard Nikon's, and the removable tripod-collar is included. The front of the lens-shade is flat so if you put the lens "face-down" on a flat surface it is not so prone to topple over than e.g. the 70-200/2.8. [+]
Distance information is relayed to the camera, so the Nikon body can do all the advanced exposure-related stuff with this lens. [+]
Aperture ring = no. [0]
Sealing: yes! A rubber grommet at the lens-mount and a rubberized front-end that acts as a seal when the lens-cap is attached. The 70-200/2.8 plus 2x TC combo does not offer protection at the mount. Although to be fair the 70-200/2.8 in itself should be better protected against the elements than the 80-400mm. [+]

The score in the "features-department" is 1[-]/4[0]/8[+]. The minus-point being the high price.
How to reach 400mm focal length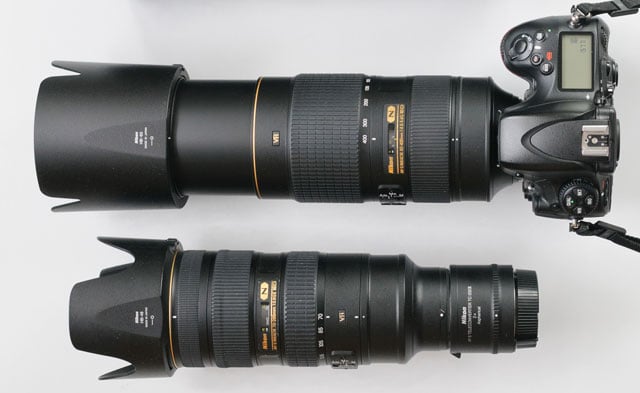 Nikon 80-400/4.5-5.6 (top) vs. Nikon 70-200/2.8 with Nikon TC-20E III 2x converter (bottom)
Alternatives
:
– There's no stabilized 80-400 zoom from Sigma, Tamron, or Tokina currently on offer although Sigma once had the AF 80-400mm 4.5-5.6 EX DG APO RF OS.
– Sigma offers the AF 120-400mm 4.5-5.6 DG APO HSM OS which is only 700 EUR, but you loose 40mm on the short end. See my Sigma 120-400/4.5-5.6 review.
– Sigma also offers the 150-500mm f/5-6.3 DG OS HSM which starts longer, but ends longer too. See my Sigma 150-500mm f/5-6.3 review.
– There's also the Sigma AF 50-500mm 4.5-6.3 DG APO OS HSM which has double the zoom-range of the 80-400mm and goes for around 1200 EUR. I've not tested it yet.
– From Nikon there's the predecessor, the AF 80-400mm f4.5-5.6D ED VR. Read about my impressions of this lens in my Nikon 80-400/4.5-5.6D review.
– You could alternatively use a 2x tele-converter plus a matching 70-200/2.8 lens to get a 140-400/5.6 zoom. As the tele-converter magnifies every weakness and deficiency of any 70-200mm lens that is quite a risky business. But if you already own or plan to get a 70-200/2.8 lens the addition of a 2x TC is certainly the cheapest alternative to reach 400mm. See my Nikon AF-S 70-200/2.8G VR II review or my Sigma 70-200/2.8 OS review for possible candidates. Those reviews include images taken with a 1.7x TC.
Focus, build quality, and image stabilization
Focus accuracy and repeatability is critical to consistently produce sharp shots. Repeatability (the accuracy of focus on the same subject after repeated focus-acquisition) of this lens is very good with no outliers over a series of 80 shots. And there is no performance variation whether the lens focuses from infinity or from the minimum focus distance. The lens focuses pretty fast: around 0.7 sec from infinity to 1.8m, which is a good value. It offers a focus limiter which can be set to "full" or "infinity – 6m" to prevent the AF from hunting in the foreground. The lens shows a little focus breathing: If you focus closer, the viewing angle becomes a bit larger, the magnification smaller.
The focus ring has no slack/play between its movement and the focus-action and a very short throw of only 60 degrees which makes accurate manual focus wide open beyond 250mm a bit tricky. The focus ring is easy to grip and movement is very smooth. The zoom-ring needs quite a bit more force but still is prone to creep. Fortunately the lens sports a zoom lock at 80mm to prevent creeping. But that doesn't help to keep focal-length stable at other settings.
AF-operation is audible from the outside, and if you record video with the built-in microphone every focus-movement starts and stops with an audible "clack" and the AF-drive can be heard in-between. But the VR-system is virtually silent on the outside and when recording video. Shaking the lens produces some noises and the lens shade is not a tight fit and rattles a bit.
The tripod-collar and mount weighs a meager 92g and can be completely removed from the lens when you've detached the lens from the camera. Unfortunately my tests showed that it is not rock-solid: even shooting on a very sturdy tripod with mirror-up showed traces of blur with shutter speeds around 1/20 sec – 1/80 sec. Allegedly there is a trick to reduce the residual shake: press-fit a suitable object between the foot of the mount and the AF-ring of the lens. I have not yet tested this trick and it will block manual focusing.
Nice panel but shame on the tripod collar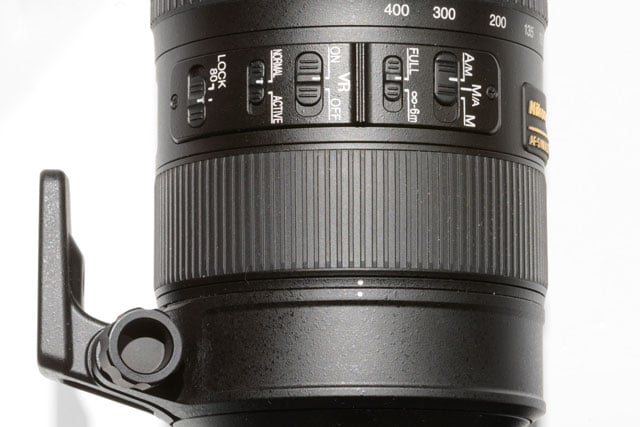 Nikon 80-400/4.5-5.6G VR control panel for AF and VR plus detachable tripod collar
In general the impression of build quality is that of an upmarket/enthusiast albeit not pro-level lens: A high quality metal/plastic construction combined with a weather sealed metal lens-mount, and nine rounded aperture blades.
To test the effectiveness of the image stabilization I did a series of over 500 test-shots hand-held at 80mm, 200mm, and 400mm focal length. Around half of those were with VR=OFF at speeds that equal 1/focal-length of a second and the other half was with VR=ON and shutter-speeds that were 4 – 8 times slower. After rating the sharpness of those images at 100% magnification on a scale from 0 to 5 I compared the samples with shorter shutter speeds and VR=OFF to those samples with longer shutter-speeds and VR=ON. At 200mm and shorter focal lengths the image stabilization on this lens gives you an advantage of at least 3 stops. Compare this to the results of other stabilized 70-200mm lenses and you'll see that this is a very good result, comparable to the third generation VR of Nikon's 70-200/4.0G VR zoom. But at 400mm the stabilizing effect initially was more around 2 stops. That's nothing to rave about and would be a real letdown for a brand-new design so I finally sent the lens to Nikon for servicing. Testing the lens again after service I can report that the VR is now good for at least 3 stops of image-stabilization at the 400mm focal length too.
Now it's time to check out the results in my Nikon 80-400mm f4.5-5.6G VR quality and Nikon sample images pages, or if you'd like to skip to chase, head straight for my verdict!