Nikon 70-200mm f4G VR review
Intro
The Nikkor AF-S 70-200mm f/4G ED VR is Nikon's newest addition to the popular range of 70-200mm zooms. But this time it is not a replacement for an older lens but an alternative to the top of the range AF-S 70-200/2.8G ED VR.
Both lenses are compatible with full-frame DSLRs and feature vibration reduction to counteract camera shake. Both additionally have gold rings and constant apertures which classify them as high-end options, but where they differ is their maximum aperture: f4 on this new model compared to f2.8 on the older one.
This difference means the f2.8 version may enjoy a shallower depth of field and a one stop light gathering advantage, but allows the f4 version to come in at a lower price, a considerably lighter weight and even have the potential to deliver better quality. The big question of course is how the 70-200mm f4 performs in practice compared to the premium f2.8 model, so in this review I've compared them both using a D800 to find out.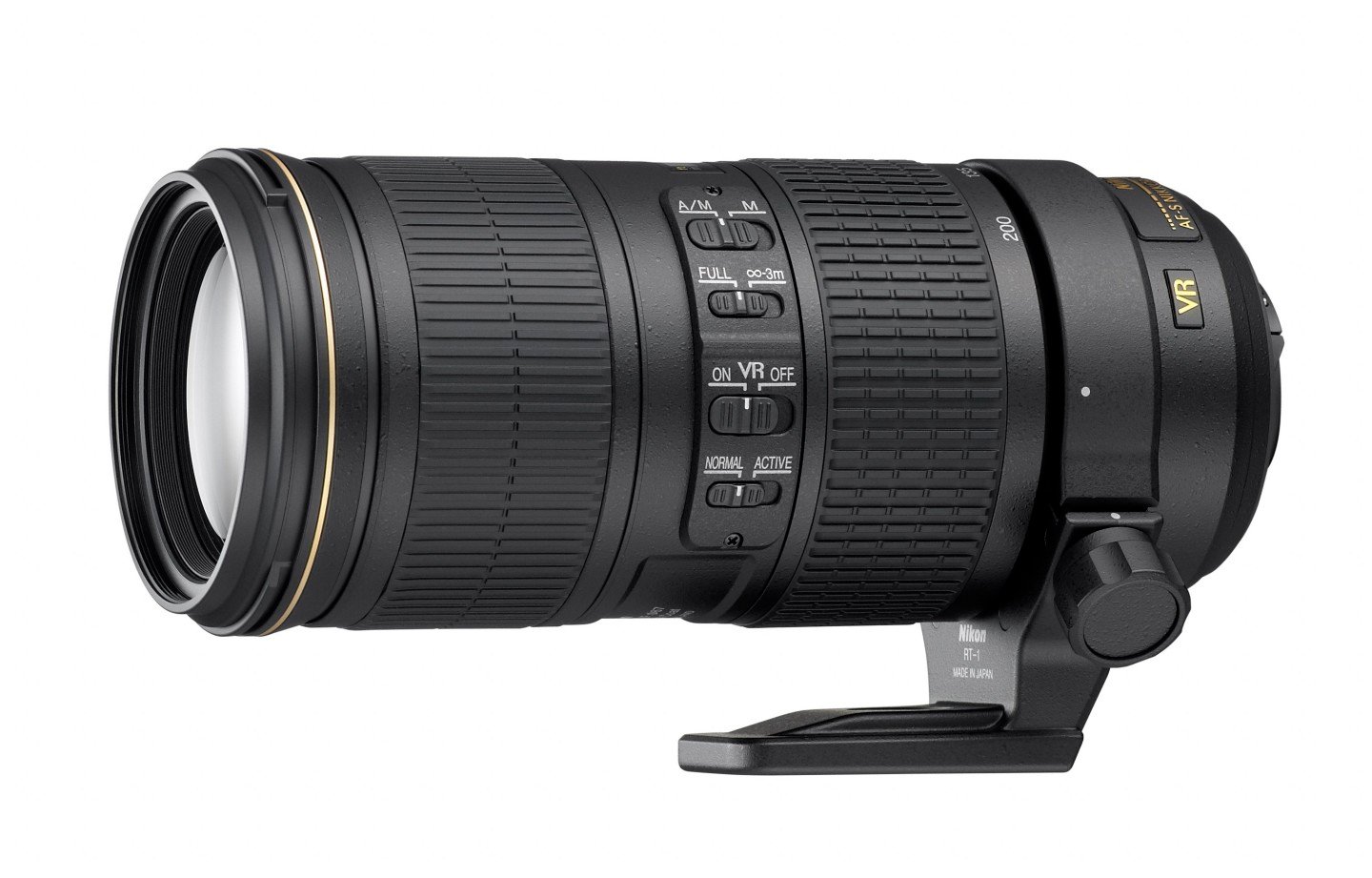 Facts from the catalog
As usual I'll have a look at the technical data first. I've rated the features with a [+] (or [++]), when it's better than average or even state of the art, a [0] if it's standard or just average, and [-] if there's a disadvantage. To give you a better insight as to how this lens compares to its bigger brother I've supplied data for the AF-S 70-200/2.8G VR II too, denoted here just as the "f2.8" for short.
Size (diam. x length): 78 x 179 mm (3.1 x 7.0 in.) compared to 87 x 206 mm (3.4 x 8.1 in.) for the f2.8. The lens-hood adds another 36mm (to a total length of 215mm). The lens does not change length during zooming or focusing. [+]
Weight: 850 g (30.0 oz.) vs. 1,540 g (3.4 lb.) of the f2.8. The difference of almost 700g is clearly felt and a major benefit over the f2.8. [+]
Optics: 20 elements in 14 groups compared with 21/16 elements/groups for the f2.8. That's standard for modern zooms in this range. And as 14 groups have 28 air/glass-surfaces that produce a lot of opportunities for flares and ghosts Nikon has applied their special Nano Crystal Coat. The cross-section shows three extra-low dispersion elements and there's also one element with a high refractive index. [+]
Closest focus distance/max. magnification: 1.0 m (3.3 ft) / 1:3.6. In my test I was able to go down to almost 1:3.3. This is pretty useful for capturing nature close-up – see one of my images from the gallery. And it also means that the effective focal length shrinks only some 12% when focusing close. [+]
Filter-thread: 67mm = smaller than the usual 77mm of the pro-lenses. Thus filters are cheaper [+]
IS: yes, the new version 3 of Nikon's VR system. Nikon claims it gives you up to 5 stops of stabilization, one stop more than with the previous version 2. [+]
AF: AF-S with SWM (silent wave motor), so it does work on D60/3×00/5×00-bodies, manual-focus override by turning the focus ring [+]
Covers full frame/FX or smaller = very good [+]
Price: already down to 1200 EUR new (incl. 19% VAT), but that's still a lot of money, and the tripod collar RT-1 is an extra. The Sigma AF 70-200mm 2.8 EX DG APO HSM OS is 20% cheaper, the new Tamron SP AF 70-200mm 2.8 Di VC USD 30% more expensive, and the Nikon 70-200/2.8G VR hovers around 1800 EUR street price – and all three come with a tripod collar. But if the new Nikon zoom delivers performance-wise I'd say the price is adequate. [0]
Comes with a cheap flexible lens pouch, the lens-shade is included, reversible for transport, and the lens-caps are standard Nikon's. But there's no tripod collar ring as with the f2.8. That has to be bought separately for an additional 130 EUR. [-]
Distance information is relayed to the camera, so the Nikon body can do all the advanced exposure-related stuff with this lens. But this is true for all alternatives too. [+]
Aperture ring = no, just like all competitors. [0]
Sealing: yes! A rubber grommet at the lens-mount. [+]
The score in the "features-department" is 1[-]/2[0]/10[+]. So this lens checks almost all boxes. The minus-point being the missing tripod collar. But the lens is so lightweight that you can easily mount the combo via the body on a tripod. It's just that this method is more prone to residual shake than mounting the combo through a sturdy tripod collar.
Motivation
:

A stabilized 2.9x zoom with a focal range of 70-200mm is an excellent complement to a 24-70mm standard zoom on an FX body. The new lens from Nikon is much lighter than the alternatives and thus is much easier to carry around. the one stop smaller aperture is the price you pay for this but that could be compensated for by the next-generation image-stabilizer. And if smaller and lighter means that you have this lens more often with you than a heavier and larger alternative than it's a clear winner.
Alternatives
:
– Sigma's AF 70-200mm 2.8 EX DG APO HSM OS is the cheapest way (around 950 EUR) to get a stabilized 70-200mm zoom. And it has an f2.8 aperture. I hope to test this lens soon.
– The not yet released Tamron SP AF 70-200mm 2.8 Di VC USD: The cheapest listing of around 1500 EUR certainly is not a real street price yet.
– Nikon's AF-S VR 70-200mm 2.8G ED VR II is the instrument of the pros with a sturdy built and a price to match: currently around 1800 EUR.