Nikon D5300 vs Canon EOS T5i 700D Noise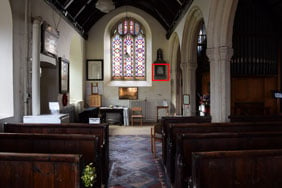 To compare noise levels under real-life conditions, I shot this scene with the Nikon D5300 and the Canon EOS T5i 700D, within a few moments of each other using their best quality JPEG settings
The Nikon D5300 was fitted with the 18-55mm f3.5-5.6 G VR kit lens and the Canon was likewise fitted with its 18-55mm f3.6-5.6 IS STM kit lens.
Both cameras were set to Aperture priority mode and, with the exceptions noted below, all camera settings were left on the defaults.
I Also shot this test using the D5300's 12-bit RAW mode and will publish those results as soon as suport for th D5300's RAW files is available in Adobe Camera Raw.
The image above was taken with the Nikon D5300. I'd earlier determined that the best results from the 18-55mm kit lens on both the D5300 and the Canon EOS T5i 700D were produced at f5.6 so both cameras were set to aperture priority and f5.6 was selected. At 100 ISO both selected an exposure of 1/2s. Active D-lighting on the D5300 and Auto Lighting Optimizer on the T5i 700D were turned off as they can affect noise. The D5300 JPEG file measured 9.59MB and, as usual, the crops are taken from the areas marked by the red rectangle.
The 100 ISO crop from the Nikon D5300 is hard to fault, if there are any noisy pixels there you'd have to look very hard indeed to spot them in this 100 percent crop. The text is nice and crisp as are the edges of the memorial panel, there might be just the tiniest hint of a texture in the white background of the panel but it doesn't detract from the image quality in any way.
At 200 ISO there's a very slight increase in that texture and it's also making an appearence in the cream-coloured wall behind the panel, it's stil very slight though and nothing to worry about and the same can be said of the equally small increments in noise that occur at 400 and 800 ISO. There's obviously a visible difference between 100 ISO and 800 ISO, but you can use any of these sensitivity settings without risking image quality even at 100 percent output sizes.
1600 ISO sees a bigger drop in image quality as a result of noise, but it's still holding up well and although there's now a fine graininess to the whole crop area, I'd stil be more than happy with this at 100 percent. It's not until you get to 3200 ISO that things start to look quite clumpy and medium sized detail is obscured. Even so, the text is still readable and for some subjects a 100 percent print at this ISO setting wouldn't be a problem. At 6400 ISO things are starting to look ugly though, and from here on up it's a question of use only in emergencies, but that doesn't mean these higher ISO settings are superfluous. The saturation and colour balance holds up and at smaler sizes they look almost respectable.
So how do these crops from the Nikon D5300 compare with those from the Canon EOS T5i 700D? At 100 ISO there's not a lot in it, but it looks to me like the Canon crop has a marginaly higher level of noise and less of the fine detail is visible. The text looks comparatively soft, as though covered by a fine gauze. As it stands it's a perfectly good result, but there's no denying the D5300 crop looks crisper and cleaner.
From 200 to 1600 ISO, the sensitivities most people probably use most often in low light, there's the same marginal gap, you'd have to be pixel-peeping these 100 percent crops to spot it, but it's definitely there. At 3200 ISO I reckon the gap widens slightly, with the Nikon D5300 crop displaying less clumpiness and colour noise than the one from the T5i 700D. From there on up it looks to me like the D5300 crops maintain a lead, though it's of limited practical use as neither look great. Overall though, I think there's no doubt that the D5300's 24 Megapixel sensor delivers better noise performance than the T5i 700D's 18 Megapixel one. That comes as no surprise given that I got broadly the same result comparing the D5200 with the EOS T4i 650D a little under a year ago.
Of course this page is also comparing each camera's processign engines as I'm looking at out-of-camera JPEGs. Once the D5300 is supported by ACR I'll be making an additional RAW comparison using the same settings to see what each are capable of delivering. Now head over to my Nikon D5300 sample images to see some more real-life shots in a variety of conditions, or skip to my verdict!
| | | |
| --- | --- | --- |
| Nikon D5300 JPEG | | Canon EOS T5i 700D JPEG |
| | | |
| f5.6 100 ISO | | f5.6 100 ISO |
| | | |
| | | |
| f5.6 200 ISO | | f5.6 200 ISO |
| | | |
| | | |
| f5.6 400 ISO | | f5.6 400 ISO |
| | | |
| | | |
| f5.6 800 ISO | | f5.6 800 ISO |
| | | |
| | | |
| f5.6 1600 ISO | | f5.6 1600 ISO |
| | | |
| | | |
| f5.6 3200 ISO | | f5.6 3200 ISO |
| | | |
| | | |
| f5.6 6400 ISO | | f5.6 6400 ISO |
| | | |
| | | |
| f5.6 12800 ISO | | f5.6 12800 ISO |
| | | |
| | | |
| f5.6 25600 ISO | | f5.6 25600 ISO |