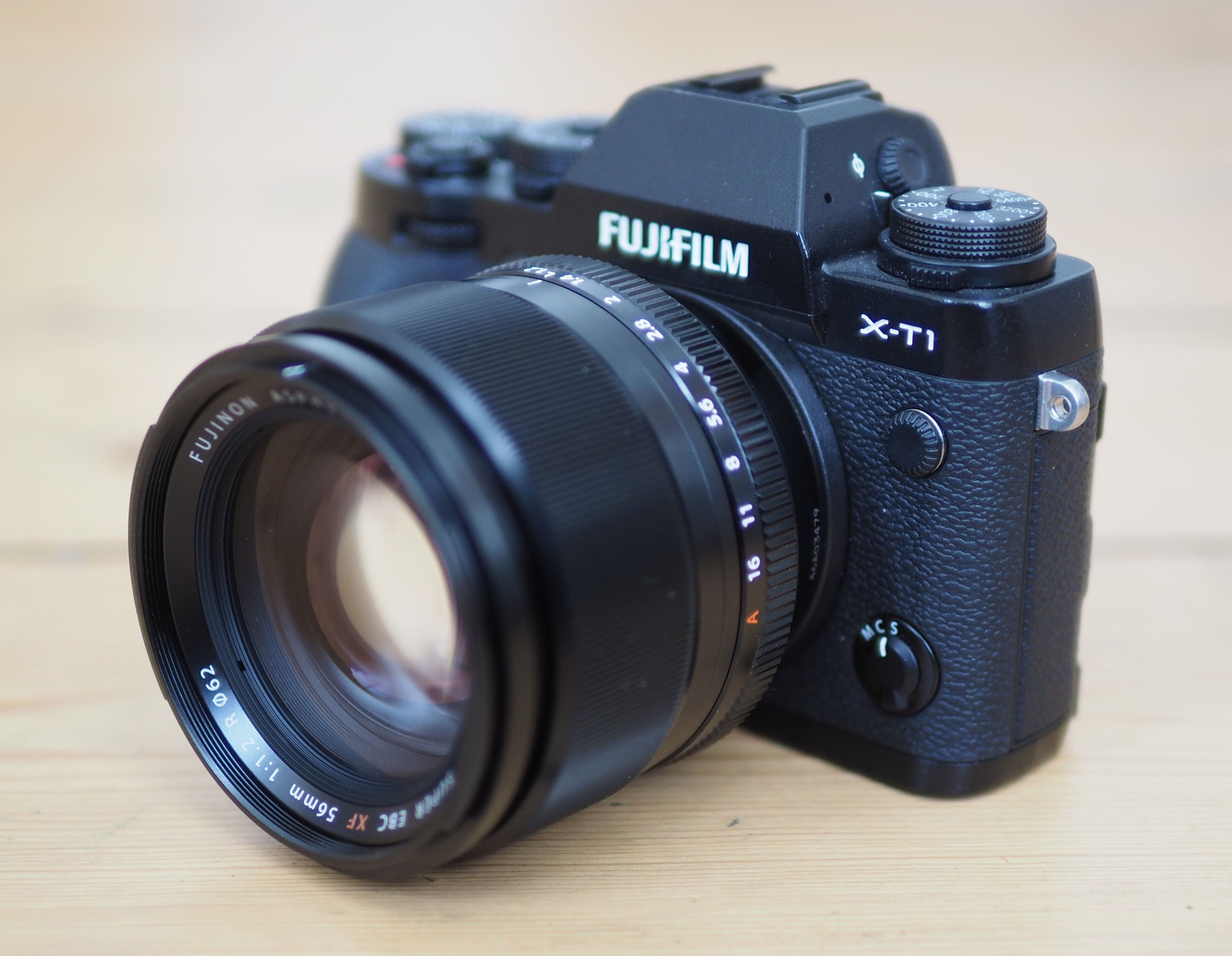 Fujifilm X-T1 verdict
The X-T1 is Fujifilm's sixth X-mount camera, but the arguably the first where all the company's goals and technologies come together in a truly coherent and desirable product. It all started with the X-Pro 1 two years earlier which demonstrated the quality of the X-Trans sensor and X-mount lenses, along with driving the fashion for retro styling. But while the clever hybrid viewfinder attracted some photographers it equally felt irrelevant to others, and most would agree the handling and AF left much to be desired. The system was gradually refined with the smaller X-E1 and X-M1, but it took the X-E2 before the AF and handling enjoyed a significant boost and Wifi made an appearance.
Which brings us to the X-T1, which takes everything good about the series so far, adds a huge viewfinder with clever display modes, a tilting screen, continuous autofocus that actually works and repackages the lot into the increasingly popular mini-DSLR form factor, and as the icing on the cake seals it against dust and inclement weather. The result is a very impressive camera that's a joy to use and delivers superb results.
The combination of the X Trans sensor, X Mount lenses and Fujifilm's latest image processing, which includes diffraction and edge softness compensation, simply delivers outstanding quality. In my RAW noise tests the X-T1 was two stops ahead of the Olympus OMD EM1 and exhibited less noise speckles than some of my tests with full-frame cameras. But while Adobe now finally supports Fujifilm's Film Simulations in ACR, it was the in-camera JPEGs that most impressed me on the X-T1, consistently producing photos packed with crisp detail, beautiful colour and natural rendering. They were among the nicest-looking images I've seen from any digital camera and what made it all the more impressive is many were captured with the 18-55mm f2.8-4 kit zoom. As illustrated in my main review, Fujifilm's Lens Modulation Optimisation is clearly doing the business for in-camera JPEGs and enhancing the results from lenses which were already very respectable to start with.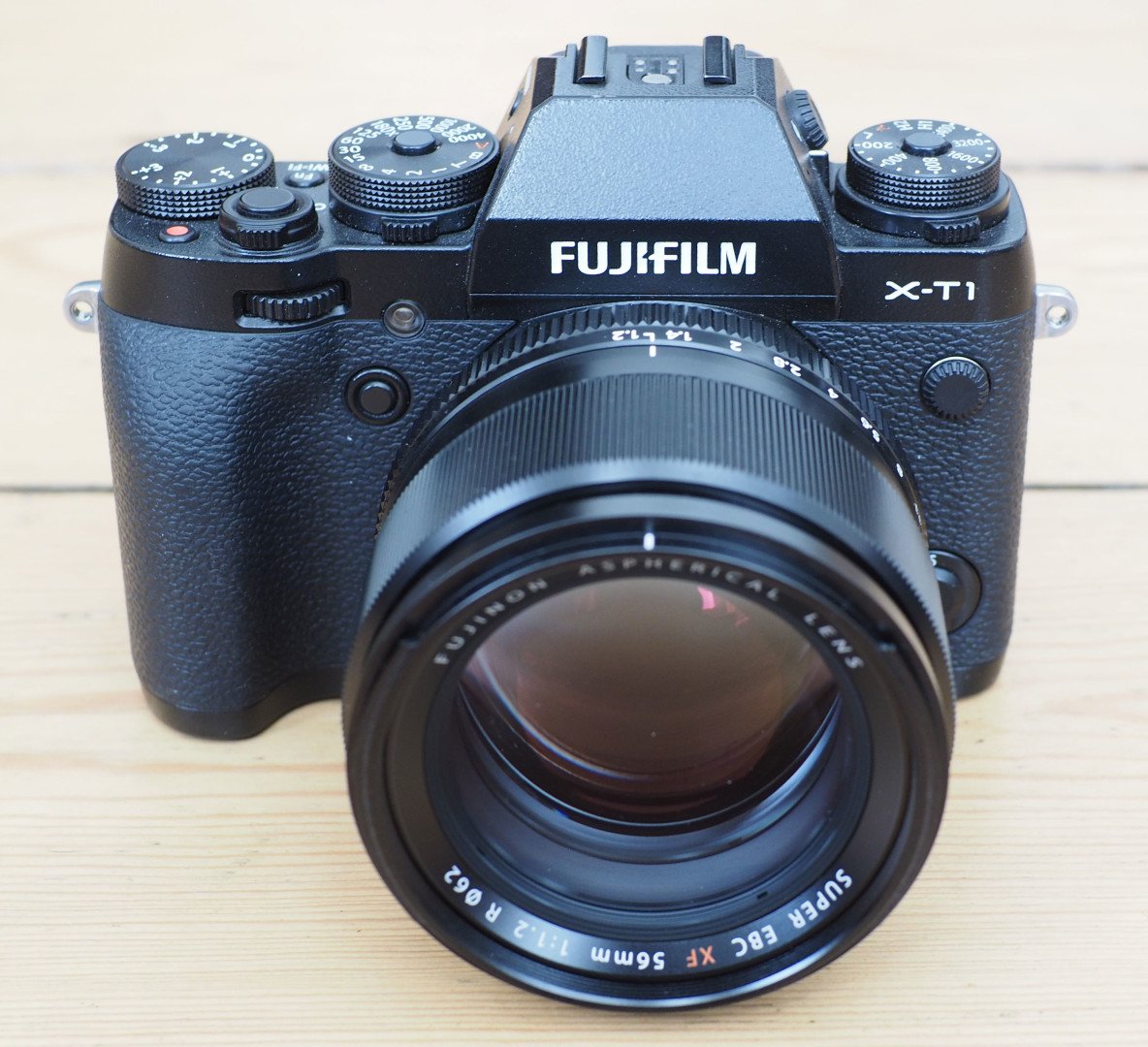 Of course we've seen great image quality from earlier X-mount cameras, but as I mentioned at the top of this page, the X-T1 makes it more usable with the best handling experience in the series to date. I'll start, perhaps inevitably, with the viewfinder. I don't care that it's 100% electronic as this is one of the best viewfinder experiences I've had outside of shooting medium format. The OLED panel resolution may not be any higher than the OMD EM1 and Sony A7 / A7r, but the magnification sure is, delivering a huge image that's very immersive.
But it's what Fujifilm does with the panel that's really clever, offering display modes including twin windows in manual focus, one showing the full composition and the other a magnified view for confirmation. The magnified view can also employ focus peaking or a digital split image to further enhance the manual focusing experience. Even in the full image modes it's fun to press the Focus Assist button for an immediate magnified view. Turn the camera on its side to shoot in the portrait orientation and the shooting information also turns to remain upright – why hasn't anyone else thought of that? (although strangely Fujifilm forgot to implement the same trick when shooting with the screen).
Then there's the continuous autofocus which for the first time on a mirrorless camera of its class actually works, allowing you to track and successfully record action sequences even at the top speed of 8fps. There's still no live image between frames (and the viewfinder becomes noisy in low light) which means sports pros will still prefer using a DSLR, but for the first time mirrorless owners can actually capture subjects in motion with a decent degree of success. Yes, I know the Nikon 1 system can do this too, but its smaller sensor and shorter actual focal lengths are much more forgiving on focus, and of course its images are noisier too.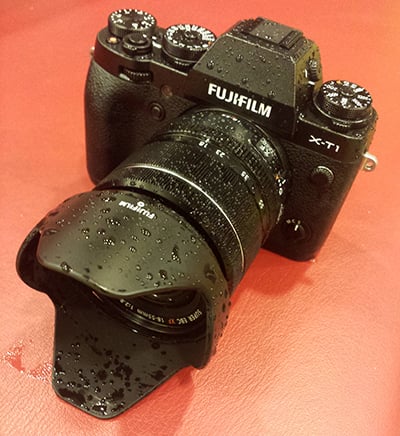 The X-T1 also becomes the first X-mount camera to enjoy weather-sealing and a tilting screen, to which I say about time too. I use the articulated screens on other cameras all the time and found it off-putting not to have the facility on earlier Fujifilm cameras, although I wish they'd gone all the way and also added a touch-sensitive panel. As for the weather-sealing there may not be any equally-sealed lenses available at the time of writing, but it didn't stop me shooting with the X-T1 in a rain shower and having the camera – along with the (admittedly not sealed) 18-55mm kit zoom – emerge without complaint. I should also add the build quality was excellent with the camera feeling very solid and confident in my hands. I also love that the optional handgrip features a dovetailed base which can slot right into Arca Swiss quick release system without additional accessories – Fujifilm may have done this before, but it's still a great feature.
Wow, I feel like I'm gushing. There's so much I like about the X-T1, but equally a fair amount which perplexed or frustrated me. I'll start with RAW files which strangely aren't available at certain times, like when shooting with the extended sensitivities of 100, 12800, 25600 or 51200 ISO, or when using the bracketing options for ISO, Film Simulation, Dynamic Range or White Balance. This was frustrating for me as when shooting long exposure landscapes I often seek out the lowest ISO even if it's extended, but on the X-T1 that means shooting in JPEG only.
Staying with bracketing, I appreciated the way the X-T1 could fire-off an entire AEB sequence with a single press of the shutter release or the self timer, but why limit it to just three frames up to 1EV apart. I'm no fan of HDR, but those that are will wonder why there isn't five or seven frame bracketing with broader increments too.
For a camera of its class I'd have also liked a broader shutter speed range, up to 1/8000 at the fast end for freezing quick action or using large aperture lenses in bright conditions, and 60 seconds at the slow end for usable long exposure work without further accessories. You can deploy long exposures on the X-T1 but anything over 30 seconds requires Bulb and a cable release, and in another annoyance Fujifilm didn't bother to implement the threaded cable release of the X-E2 here, forcing you to buy a more expensive accessory.
The viewfinder may be huge and boast a wealth of display modes, but in low light the X-T1 prefers to keep the refresh fast at the cost of increased noise. Compared side-by-side with the Olympus OMD EM1 the X-T1's viewfinder image in low light is noticeably noisier, although to be fair the EM1's opposite approach means its refresh is slower under the same conditions.
The continuous focusing may be unparalleled on a mirrorless camera of its class, and the manual focusing aids wonderful, but the face detection falls behind what Olympus, Panasonic and Sony have achieved on their latest models. This may illicit a big 'so what' from many photographers, but personally speaking I've found decent face detection coupled with very fast Single AF modes have transformed my portraits of subjects who can't keep still for long like kids. The fact is, models like the Olympus OMD EM1, Panasonic Lumix G series, and Sony Alphas are much better at this, and the Olympus and Panasonic bodies enjoy the additional advantage of being able to simply tap where you'd like them to focus. As it stands the X-T1 not only doesn't have a touch-screen, but forces you to enter a specific focus mode before you can finally move the AF area, by which time many subjects may have grown bored and wandered off. Yes I know you can lock focus and recompose, but at close range with larger apertures, this can result in images that aren't in perfectly sharp focus. It's just not an issue with its rivals.
Moving onto movies, you may think Olympus implements them as little more than an afterthought, but they're positively sophisticated compared to the video options and output from the X-T1. Yes the X-T1 has 1080p at 60p, but that's the only thing of note. No manual exposure control other than compensation, no effects, no slow motion, poor continuous AF with no over-rides, and while there is a microphone input, it's 2.5mm forcing you to use an adapter with most external microphones. And the quality? Not very good at all. Put it this way, if you're at all interested in video, I wouldn't bother with the X-T1.
To be fair most of my complaints so far could be minor or even non-issues for many photographers, but I know my last whinge is going to be the most contentious: I didn't get on with the controls on the X-T1. I love the look of all the dials, but in use I often found them slowing me down. For instance I didn't like the way I needed to first turn the shutter dial to T before then having to use the front soft dial to select exposures between 2 and 30 seconds; why force a photographer to use two dials when a single soft dial could access the entire shutter range including finer increments? Then there's the ISO dial which only offers two extended high positions when the camera actually has three, thereby forcing you into a menu to choose which two will be implemented. Or the exposure compensation dial which had almost always turned when I removed it from my (admittedly tight) bag.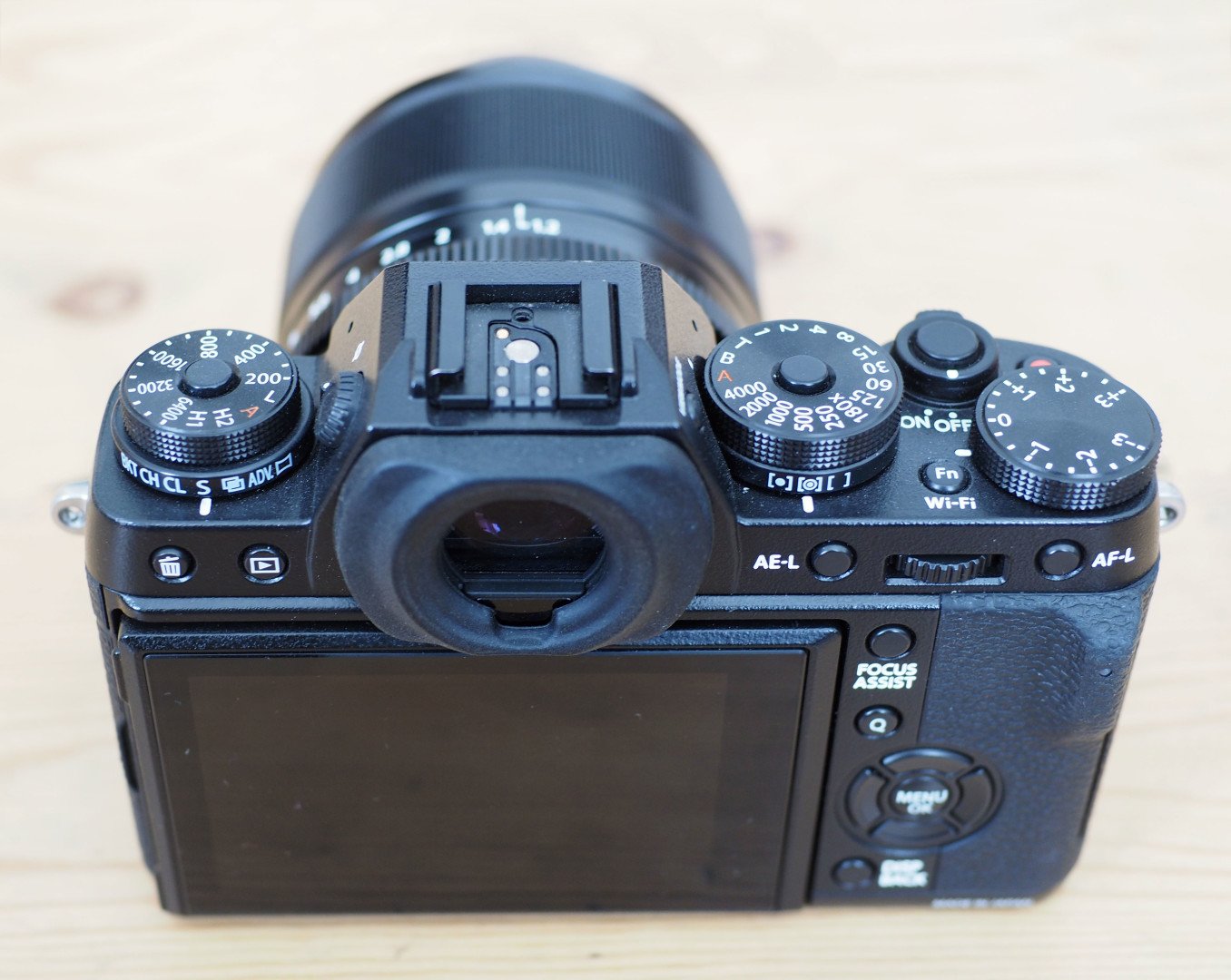 And while I like the way you can push and hold the six function buttons to reassign their function, they really are too small, especially the cross keys. You can't use real estate as an excuse either as the Olympus OMD EM1 is much the same size as the X-T1 and manages to deploy much larger buttons that are more tactile and easier to press when wearing gloves.Don't get me wrong, I love the look of retro styling of the X-T1 and as someone who used manual film SLRs for two decades I'm perfectly at home with a shutter speed dial and aperture ring. But for my style of photography I found the dials on the X-T1 did not enhance my experience, indeed they often forced me to use additional dials, enter menus or make corrections. This made me feel the dials were there more for style rather than function – retro for retro's sake.
Once again I appreciate this is going to be a contentious opinion as many photographers will actually choose the X-T1 based on its controls. But this is only a personal opinion and mine is that the X-T1's controls just didn't work as well for me as models like the Olympus OMD EM1 – even when I first started testing it. Which brings me to some final comparisons before wrapping-up.
Fujifilm X-T1 vs Olympus OMD EM1
The OMD EM1 is the flagship mirrorless camera from Olympus, and with a similar price to the X-T1 is one of its biggest rivals. Superficially they share a lot in common, including weatherproof bodies, 16 Megapixel resolution from a sensor with a hybrid AF system and no OLPF, tilting 3in screens and EVFs with the same detail, but drilling down into their feature sets reveals considerable differences.
In its favour the X-T1 has a bigger sensor which in my tests delivered much lower noise levels and cleaner images. Their electronic viewfinders may share the same resolution, but the X-T1's is larger and boasts innovative display options which really help with focusing or composing in the portrait aspect ratio. Both may have embedded phase detect AF points on their sensors, but the X-T1 is far more successful at continuous AF and tracking action. The X-T1 also offers a neat grip extension which features a dovetailed base that'll slot straight into Arca Swiss compatible quick release systems.
In its favour the OMD EM1 has access to a native lens catalogue that has around twice as many options as the X-mount, it features very effective built-in stabilisation that works with any lens you attach, a broader shutter speed range between 1/8000 and 60 seconds, a screen that's touch-sensitive, faster Single AF speed with more effective face detection, a viewfinder image that's not as large but less noisy in low light (albeit at the cost of slower refresh under the same conditions), slightly faster continuous shooting (10fps vs 8fps) and for longer bursts, a deeper grip, larger buttons and soft dials that are easier to use with gloves, the chance to apply effects to movies or record a timelapse in-camera (albeit both at a relatively jerky 15fps), deeper AE bracketing with five and seven frame options, and more sophisticated smartphone remote control over Wifi.
At the time of writing the X-T1 body was a little cheaper than the OMD EM1, but add a lens and any significant difference could be eroded. Photographers without specific requirements will inevitably be drawn to the X-T1 with its superior image quality, bigger viewfinder and better continuous AF, but others will prefer the EM1's broader lens catalogue, built-in stabilisation, faster single AF and touch-screen. I'm sorry to disappoint you but I can't say one is definitively better than the other. Both are excellent choices and a decision between them should involve comparing their feature-sets and capabilities very closely to see which best matches your style of photography.
See my Olympus OMD EM1 review for more details.
Fujifilm X-T1 vs Sony Alpha A7
Sony's Alpha A7 is another key rival for the Fujifilm X-T1, and once again there are a number of similarities including roughly the same body size, the same resolution viewfinder, a 3in tilting screen, and a sensor with embedded AF points. But once again there are key differences.
In its favour the X-T1's electronic viewfinder may share the same resolution as the A7, but it's larger and boasts innovative display options which really help with focusing or composing in the portrait aspect ratio. Both may have embedded phase detect AF points on their sensors, but the X-T1 is far more successful at continuous AF and tracking action. The X-T1 shoots faster too at 8fps vs 5fps on the A7. The X-mount system currently offers more than double the number of native lenses compared to Sony's FE mount. The X-T1 also offers a neat grip extension which features a dovetailed base that'll slot straight into Arca Swiss compatible quick release systems. The X-T1 is also more affordable and for the same price as the A7 body you could buy the X-T1 with the (rather good) 18-55mm f2.8-4 zoom.
In its favour the Sony A7 has a much larger full-frame sensor with a higher resolution of 24 Megapixels too. I've not made side-by-side comparisons yet, but judging from my previous results the A7 doesn't seem to enjoy a definitive advantage on noise levels over the X-T1, but its sensor size coupled with longer actual focal length lenses can certainly deliver shallower depth of field effects. The full-frame sensor also allows you to use third party lenses without a field reduction factor. In terms of AF I may have found the X-T1 more effective at continuous focusing, but the A7 was superior for face and eye detection. And in terms of video the A7 is far from perfect, but it does represent a step up in features and quality over the X-T1.
Choosing the A7 over the X-T1 is all about wanting that big full-frame sensor, although you may be surprised how close the X-T1 comes to it in quality. What the X-T1 can't do though is offer uncropped coverage from third party full-frame lenses, nor does it find it as easy to obliterate the background with a shallow depth of field. But if neither of these are of critical importance to you, I feel the X-T1 is the better and more affordable bet, plus you'll have access to smaller and often more affordable lenses. I do like Sony's full-frame mirrorless cameras, but for me the A7r is by far the more desirable of the two, and its body price is almost double that of the X-T1 putting it in an entirely different class.
See my Sony A7 review and Sony A7r review for more details.
Fujifilm X-T1 vs Fujifilm X-E2
The camera that's closest to the X-T1 is arguably Fujifilm's own X-E2. It shares many of the same technologies including the same sensor and of course the same lens mount. I've not tested the X-E2 yet, so can't comment any further, but if you like the X-T1's image quality but don't mind it in a different form factor without weather-proofing or quite as large a viewfinder image, you could save money by going for the X-E2 instead.
Fujifilm X-T1 final verdict
The Fujifilm X-T1 is an outstanding camera, boasting superb image quality, a fantastic viewfinder and continuous autofocus which actually works, letting you successfully capture subjects in motion. All this plus superb manual focusing assistance and Wifi with smartphone remote control packed into a compact but perfectly proportioned weatherproof body. It's one of the best cameras around at this price point whether mirrorless or DSLR and one I can highly recommend.
Before you get too carried away though, there are some downsides: the AE bracketing is basic, the exposure range should be broader, the movie mode best forgotten, many of the buttons are too small, access to exposures longer than a second requires the turn of two dials, manual AF point selection should be easier, the viewfinder becomes noisy in low light, and the face detection / single AF speed isn't as slick as some rivals. And I know this will upset or confuse the diehard fans, but I also didn't get on with the retro controls, which too often forced me to use additional dials, enter menus or make corrections. This made me feel the dials were there more for style rather than function – retro for retro's sake. I've detailed each of these earlier on this page – and in the main review. But they may not be issues for you personally, and it's testament to the camera's good points that I'm willing to forgive it most of my frustrations.
I enjoyed shooting with the X-T1 and always found myself looking forward to using it. It looks great, feels good in your hands, handles confidently and you know the images you're recording will look good too. Meanwhile the collection of high quality native X-mount lenses continues to grow and while I was disappointed not to test the X-T1 with any of Fujifilm's own primes, I was very pleasantly surprised to discover just how good even the 'basic' 18-55mm f2.8-4 kit zoom could be. It was already good to start with, but Fujifilm's Lens Modulation Optimizer makes it even better for in-camera JPEGs.
Is it the best high-end mirrorless camera? It might be depending on your personal requirements, but there's strong competition from the Olympus OMD EM1 and the two Sony full-frame Alphas. Certainly the frustrations I noted prevent it from being a slamdunk for everyone. But just look at the rivals I mentioned – they're not perfect either, and revealingly the X-T1 manages to come in cheaper before it's even enjoyed the benefit of discounting.
The X-T1 certainly delivers one of the most satisfying and enjoyable experiences at its price point, or indeed at price points twice as much. I'm confident it'll delight both high-end enthusiasts and pros, the latter possibly buying it as a backup to a top-end DSLR and who'll almost certainly end up using it more and more as time goes on. The Fujifilm X-T1 is very deserving of our Highly Recommended award.
Good points
Superb image quality. JPEGs especially good.
Huge, detailed EVF with clever display modes.
Weather-proof body with comfortable grip.
Tilting screen.
Effective continuous AF lets you track action.
Fast continuous shooting of 8fps with CAF.
Built-in Wifi with smartphone remote control.
Interval timer.
Growing collection of high quality native lenses.
Bad points
Viewfinder image becomes noisy in low light.
Retro dials don't offer access to all settings.
Some buttons are too small – esp cross keys.
AF point selection could be quicker.
Should have 1/8000 shutter.
Basic three-frame AE bracketing.
Very basic movie mode with poor quality output.
RAW unavailable for extended ISOs, inc 100 ISO.
Microphone input uses 2.5mm jack.
Face detection not as slick as rivals.
Tripod thread not central without grip accessory.
Only one memory card slot.
No silent / electronic shutter option.
No touch-screen.