Canon Digital IXUS 100 IS / PowerShot SD780 IS ELPH
Intro
Canon's Digital IXUS 100 IS (or PowerShot SD780 IS Digital ELPH as it's known in North America) is a 12.1 Megapixel compact with a 3x optically-stabilised zoom and 2.5in screen. Announced in March 2009, it's the successor to the IXUS 85 IS / PowerShot SD770 IS. The new model adds two extra Megapixels, HD video recording in the 720p format, an HDMI port for HD slideshows and Scene Recognition in Auto. At just 18.4mm thick, it's also the slimmest compact in Canon's current range.
While the higher resolution and auto scene detection are key improvements to the specification, the big new addition is High Definition, both for video capture and TV output. While Panasonic has offered HD capture and output (albeit with analogue component) for some time in its Lumix range, these are all brand new features for a Canon compact. Also new over its predecessor is Canon's latest DIGIC 4 processor, which equips the IXUS 100 IS / SD780 IS with more efficient H.264 compression for movies, face detection with improved handling of profiles, and a Servo AF mode for tracking subjects in motion. It's a powerful feature-set to find in such a small body, but the question as always is whether it can live up to the promise and deliver the goods in practice. Find out in our review where we'll detail the new features and directly compare the image quality against key rivals.

Measuring 87x55x18mm and weighing 132g with its rechargeable battery, the new IXUS 100 IS / SD780 IS is essentially the same size as its predecessor when viewed from the front, but 2mm thinner; this may not sound like a great deal written down, but in your hands, the IXUS 100 IS / SD780 IS really does look and feel very small and will easily slip into most shirt pockets.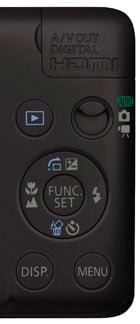 Canon's gone for a smooth body with rounded corners and an absence of sharp edges, giving the IXUS 100 IS / SD780 IS an organic look that feels comfortable in your hands and never digs into your body when pocketed. At first glance there worryingly doesn't appear much to hold onto – no ridge nor even a cross-hatched logo to prevent your right middle finger from slipping – but the body's semi-matt finish provides surprisingly effective purchase. Your right middle finger naturally bends and rests on the front surface without slipping, while your thumb finds some grip in the tiny mode switch on the rear. You really can hold the camera quite comfortably and confidently in one hand.
Overall the stainless steel body is finished to a very high standard, feeling as good as it looks with no creaks or poor joins – and if you don't like the black finish pictured above, Canon also offers the IXUS 100 IS / SD780 IS in silver, gold or red. If you'd literally like to make a splash, Canon also offers an optional WP-DC31 waterproof housing that'll protect the camera to depths of 40m.
The IXUS 100 IS / SD780 IS is powered by an NB-4L rechargeable Lithium Ion battery pack which Canon claims is good for 210 shots under CIPA conditions – down from the 300 shots of its predecessor with its NB-6L pack. The battery pack can also be switched for an optional ACK-DC10 AC adapter kit for mains operation. The battery compartment also houses an SD memory card slot, and alongside the door, just off-centre, is a metal tripod thread.
Behind a small flap in the upper right corner of the camera's rear are a combined USB and standard TV output, alongside an HDMI port. This makes the IXUS 100 IS / SD780 IS one of Canon's first compacts to feature an HDMI port, allowing it to make HD slideshows on suitably-equipped HDTVs. Note the HDMI port isn't active during composition, although you can monitor the live feed over the standard definition TV output.
The optical zoom range remains the same 3x as its predecessor, although the equivalent coverage on the IXUS 100 IS / SD780 IS is fractionally wider: 33-100mm compared to 35-105mm on the IXUS 85 IS / SD770 IS. It's worth noting though the lens on the new model is optically a little darker than its predecessor at f3.2-5.8 compared to f2.8-4.9.
While a tad wider than before, the IXUS 100 IS / SD780 IS is still lacking true wide angle coverage. Strangely Canon continues to avoid equipping the majority of its compacts with decent wide angle facilities, while rivals like Panasonic offer 28 or even 25mm coverage on equivalent models. Once again we request wider lenses on the entire IXUS and PowerShot ranges please! In the meantime, you can see an example of its coverage below, and further examples of how you can use it in our sample images Gallery.
Support this site by shopping via these links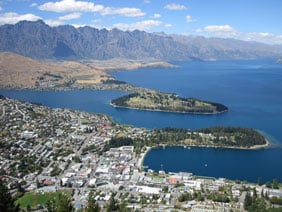 Canon IXUS 100 IS / PowerShot SD780 IS coverage

5.9-17.9mm at 5.9mm (33mm equivalent)

5.9-17.9mm at 17.9mm (100mm equivalent)

The lens extends rapidly upon power-up with the camera ready for action in around 1.7 seconds. A rocker around the shutter release operates the zoom motor with the IXUS 100 IS / SD780 IS offering seven steps between wide and telephoto, with a little lurching at the wider-end of the scale. The closest focusing distance in macro mode when zoomed-out is 3cm.
The IS in the camera's title stands for Image Stabilisation, which helps combat camera shake. It's an optical system and Canon offers three modes: Continuous where the system operates all the time, Shoot Only which only applies stabilisation as you take the photo, and Panning which only stabilises in the vertical axis for when you're moving the camera horizontally as you take the photo – for an example of using the latter, see the Blurring Action tutorial at our sister site, DSLR Tips.
Canon IXUS 100 IS / PowerShot SD780 IS Image Stabilisation off / on (Continuous)

100% crop, 5.9-17.9mm at 17.9mm, 1/10, 80 ISO, IS off

100% crop, 5.9-17.9mm at 17.9mm, 1/10, 80 ISO, IS on
Above are examples taken with and without Continuous stabilisation with the IXUS 100 IS / SD780 IS fully zoomed-into its maximum equivalent of 100mm. Traditional photographic advice would recommend a shutter speed of at least 1/100 to eliminate camera shake, so by achieving complete sharpness at 1/10 with stabilisation proves the system is good for just over three stops of compensation.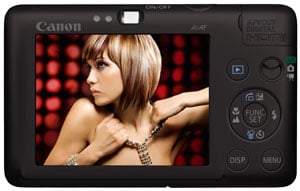 Round the back is the same 2.5in screen as its predecessor with 230k pixels – it's one of Canon's Pure Colour II panels, which delivers a bright, vibrant image with a wide viewing angle and which remains fairly visible under direct sunlight. Unusually in today's compact market though, the IXUS 100 IS / SD780 IS also offers an optical viewfinder as an alternative means of composition. This gives a tiny view though and like most (non-SLR) optical viewfinders, the coverage is far from the whole picture, but it's still handy when the Sun is making the screen harder to view, and you'll also save battery life when using it.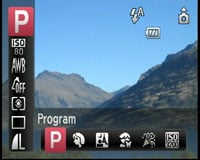 Returning to the screen, the IXUS 100 IS / SD780 IS employs a similar user interface to previous Canon compacts, based around a superimposed menu which runs vertically down the left side of the screen when you press the FUNC SET button. Pressing the up and down buttons will highlight each setting available in the current mode, with the options for each shown in a strip running along the bottom of the screen; you then simply press the left and right buttons to set the desired value. This system allows you to quickly and easily adjust aspects like the shooting mode, image quality, sensitivity, white balance and metering.
The direction buttons double-up outside of the Function menu to offer direct adjustments over the exposure compensation, flash, drive and focus modes.
While shooting, the DISP button switches between three modes: a clean view of the image, one with shooting information or off when you're using the optical viewfinder. You can enable a three-by-three grid in one of the menus, but sadly there's still no live histogram.
During playback, the DISP button cycles between a clean view and ones with basic or detailed shooting information, the latter including a brightness histogram. An additional page in playback shows a thumbnail of the image alongside an enlarged portion showing the active focus area. If the photo was taken with Face Detection, then the enlargement will show the primary subject's face, allowing you to quickly check their expression and confirm the focus. You can also zoom-in further on the detail if desired, or switch between other focus points – it's a handy feature in practice. Turning the camera to the side will rotate the image by 90 degrees to always remain upright – handy for filling the screen with a portrait aspect shot.
The IXUS 100 IS / SD780 IS has access to shutter speeds from 1/1500 to 15 seconds along with two aperture settings and is perfectly happy to report what it's going to use, but like its predecessor, there's no means for you to manually adjust them. The closest you'll come is setting the shutter speed from one to 15 seconds in the Long Shutter scene preset.
A three-way switch on the rear of the body sets the camera between Auto, Normal Recording and Movie mode. Auto on the IXUS 100 IS / SD780 IS now employs Scene Detection, making it one of Canon's first models to sport the facility, although the company is a little late to the party as Panasonic, Fujifilm and Sony all offered it on previous generations.
Canon's Scene Detection works a little differently to its rivals though, recognising not just people, landscape or close-up shots, but also the lighting conditions for each, differentiating between bright conditions, blue skies or night-time, and whether the subject is backlit or not. In each instance, the exposure and flash are adjusted accordingly, and the camera will even attempt to recognise a Sunset and boost the colours.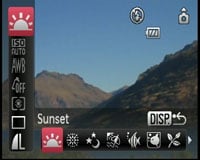 In practice, the system works well, seamlessly switching to portrait mode with face detection when faced with a person, or into macro mode when placed close to a subject. It's also interesting to watch the change of icons in the corner of the screen as the camera detects different lighting conditions, although Canon admits pointing it at a blue or orange wall can fool the camera into thinking it's either a glorious day or a spectacular sunset. That said, it's a step-up in sophistication over the scene detection we've seen so far and a welcome addition to the Canon line.
If you fancy greater control, set the mode switch to its middle 'Normal' position, which by default puts the camera in Program mode; this unlocks the full range of settings the superimposed Function Menu can adjust. Pressing the FUNC SET button also lets you switch the shooting mode from Program to Portrait, Night Snapshot, Kids and Pets, Indoor or Sunset presets; pressing DISP on the latter reveals further presets including Fireworks, Long Shutter, Beach, Underwater, Aquarium, Foliage and Snow, along with additional options for 3200 ISO, Digital macro, Colour Accent, Colour Swap and Stitch Assist.
The Colour Accent and Colour Swap options are also offered in the Movie mode. Like other Canon compacts, the Colour modes allow you to select a colour and either change it to something different (such as turning a red London bus green) or make it the only colour in an otherwise black and white image (like the girl with the red balloon in Schindler's List).
The movie mode on the IXUS 100 IS / SD780 IS can capture video at either 320×240, 640×480 or 1280×720 pixels, all at 30fps. The '1280' mode makes the IXUS 100 IS / SD780 IS one of the first Canon compacts to offer HD recording, although interestingly it's in the 720p format and not the more detailed 1080p format of the PowerShot SX1 IS super-zoom and the EOS 5D Mark II DSLR. This is however in-line with most other compacts offering HD movies, and of course results in more manageable file sizes, not to mention easier playback.
Like all Canon models which employ DIGIC 4, the IXUS 100 IS / SD780 IS compresses the video using the modern H.264 format and encodes mono audio as Linear PCM at 16 bit / 44.1KHz, then stores the result in a QuickTime MOV wrapper. The maximum movie length is a second shy of 30 minutes in HD or one hour in the other formats, or when the file size reaches 4GB. Annoyingly the optical zoom is locked once you start filming, with only an increasingly fuzzy digital zoom at your disposal; you also cannot take still photos during a video recording.
The 1280 HD movie mode on the IXUS 100 IS / SD780 IS delivers good-looking footage that's a step-up in detail over the standard VGA modes, although somewhat restrained image processing results in a soft and muted appearance at times. This is a little odd as the default processing options for still photos are quite punchy. You can see an example here, handheld with Continuous Stabilisation and demonstrating the fuzzy digital zoom towards the end of the clip – registered members of Vimeo can also download the original file for closer inspection.
We shot the same sequence using the Canon and Panasonic's Lumix DMC-TZ7 / ZS3 for direct comparison. Both cameras offer 720p recording at 30fps and H.264 compression, but adopt starkly different strategies for image processing, with Panasonic going in the opposite direction for a result that's arguably over-sharpened and with too much contrast. Side-by-side, the Canon result looks particularly soft, but examine them closely and you'll see both cameras are actually recording roughly the same amount of detail, and are just processing it differently. You can view a clip from the Panasonic in our Lumix TZ7 / ZS3 review.
Another difference between the cameras was the bit-rate. Panasonic's rival compacts now offer 720p modes at 9, 13 or 17Mbit/s, while Canon's 720p HD mode is fixed at a much higher rate of around 24Mbit/s, which works out at about 3Mbyte/s. Quality fanatics will be pleased to see such mild compression, but it will eat through your memory card much quicker, especially with no lower quality alternatives. It should also be mentioned the HD video from the Panasonic at 17Mbit/s didn't appear to be suffering from greater compression artefacts. It's a shame Canon isn't offering lower bit rate options on these latest models, but at least the 720p mode here is more manageable than the 40-50Mbit/s consumed by the 1080p modes on the SX1 IS and EOS 5D Mark II. Note there's no separate audio recording facility.
| | |
| --- | --- |
| | |
| | |
Like other DIGIC 4 models, the IXUS 100 IS / SD780 IS offers a Servo AF mode which tracks a subject while the shutter release is half-pressed; this proved effective when photographing the approaching Steamship in our Gallery section, although the tracking stops once you start shooting.
Face detection has also been improved with faster response and better recognition of profiles – in our tests the IXUS 100 IS / SD780 IS stayed locked onto faces turning to profile longer than previous DIGIC 3 models. There's also a clever Face Self-Timer mode which waits until it sees another face enter the frame before pausing for two seconds then taking your choice of one to ten photos. Finally, DIGIC 4 offers I-Contrast options which can tweak the brightness of dark areas in the frame to improve their appearance, although in our tests it was subtle to say the least.
Support this site by
shopping below
We're also pleased to see Canon finally combining its AiAF and Face Detect auto-focusing options, with the camera automatically switching from the standard nine-area system to face-detection once someone enters the frame. This is much easier than forcing you to manually select face detection or a portrait mode when shooting people, and while the system sometimes mistakes other objects for faces, we're not complaining as the primary subject is almost always correctly identified and focused-on. A single area option is also available if you prefer to be more specific though.
New to the IXUS 100 IS / SD780 IS is Blink Detection. As its name suggests, this can spot when a subject has blinked at the moment the photo was captured. This works in practice, briefly displaying a blinking face icon in the corner of the screen as a warning immediately after taking the photo. It will however only work if the subject in question has already been acquired by the face detection system.
There's also a Date and Time Stamp option which forever embeds details of either or both into the corner of your images if desired.
The IXUS 100 IS / SD780 IS offers a basic continuous shooting mode that may fire until you run out of memory, but at a slow rate of 0.8fps which isn't appropriate for any kind of action photography. It's a shame there's no faster option, either with a reduced number of frames or at a lower resolution, like those offered by Panasonic.
Sticking with drive modes, the usual 10 and two second self timers along with the Face timer mentioned above, are complemented by a custom option which lets you set the countdown to as long as 30 seconds, and have the camera take one to ten shots at the end. This is handy for maximising your chance of successful poses and expressions in timed group shots.
At the heart of the IXUS 100 IS / SD780 IS is a 12.1 Megapixel CCD sensor measuring 1/ 2.3in; that's two more Megapixels than its predecessor in the same surface area. The sensor delivers images with a maximum resolution of 4000×3000 pixels, which can be printed up to 13.3x10in at 300dpi. Four lower resolutions and a cropped 16:9 mode are available, and images can be recorded with either Normal or Fine JPEG compression (no Super-fine option here though). Unsurprisingly, there's no RAW mode – you'll need the PowerShot G10 or PowerShot SX1 IS for that.
Set to 12.1 Megapixel resolution, these compression settings deliver files that typically measure 1.4 or 3MB respectively. Like other Canon compacts, there's no built-in memory, but depending on your region Canon may supply a 32MB SD card to get you started – since this is only good for about ten Fine JPEGs though, you'll be wanting to fit a bigger card sooner rather than later.
The sensitivity ranges from 80 to 1600 ISO at full resolution, with a 3200 ISO Scene Preset operating at a greatly reduced resolution of 2 Megapixels. To see how the quality of the IXUS 100 IS / SD780 IS measures-up in practice, take a look at our real-life resolution and high ISO noise results pages, browse the sample images gallery, or skip to the chase and head straight for our verdict.