Canon ELPH 330 / IXUS 255
Intro
The Canon IXUS 255 HS is a 12 Megapixel compact with a 10x optical zoom and a 3 inch LCD screen. Known in North America as the ELPH 330 HS I'll refer to it from this point on as the IXUS 255 HS / ELPH 330 HS.
Launched in January 2013 it sits right in the middle of the IXUS / ELPH line-up. Below it are three models built around Canon's 16 Megapixel CCD sensor and older Digic 4 processor. What you gain by spending a little more on the IXUS 255 HS / ELPH 330 HS is better low light performance, more sophisticated metering and shooting modes including reduced resolution high speed burst modes and a more capable movie mode with full HD 1080p recording as well as Super Slow motion modes. It's also equipped with Wifi for wireless image transfer and sharing.
With the introduction of the new entry-level IXUS / ELPH models, the dividing line between the IXUS / ELPH and the traditional budget PowerShot A ranges has become less clear cut and deciding which models offer the best combination of features and value for money isn't as easy as it once was. So in my review I've compared the IXUS 255 HS / ELPH 330 HS with the less expensive IXUS 140 / ELPH 130 IS as well the PowerShot A3500 IS which is cheaper still. From top to bottom that's 10x, 8x, and 5x zoom compacts to choose from, but aside from the zoom ranges the differences between them are quite subtle. Read my full review to decide if there's more to the IXUS 255 HS / ELPH 330 HS than just a longer zoom, and whether it's worth paying the extra for.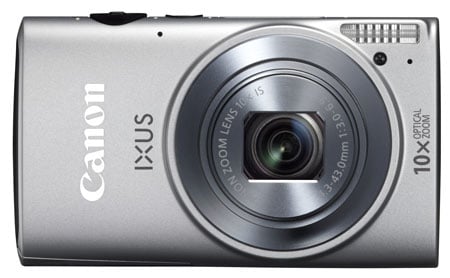 Canon IXUS 255 HS / ELPH 330 HS design and controls
After the slightly unorthodox control layout of the IXUS 230 HS / ELPH 310 HS, the IXUS 255 HS / ELPH 330 HS returns to a more conventional layout in line with the other models in the range. It's a couple of millimetres wider and thicker than the IXUS 140 / ELPH 130 IS and 11 grams heavier, differences so small you'd hardly notice.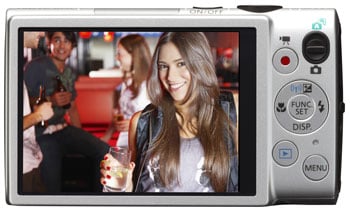 The same could be said of the design, there are small differences – the moulding on the lens bezel, a different shaped battery compartment door, a differently positioned AF illuminator and a rectangular panel on the top – minor differences that'll go unnoticed by most people.
Canon has long since dispensed with mode dials on its point-and-shoot compact ranges and the IXUS 255 HS / ELPH 330 HS has a mode switch on the rear panel for choosing between Hybrid Auto mode (which I'll talk about, along with the other shooting modes, in the Shooting Modes section below) and one of the alternative shooting modes. The default setting is Program Auto and the alternatives, are selected from a menu screen when the mode switch is in this position.
Below and to the right of the mode switch there's a dedicated movie record button and below that the familiar four-way controller, with playback buttons below it. In shooting modes the four-way controller provides one-touch access to exposure compensation, flash settings, display overlays and macro mode, in playback mode the top position activates the Wifi features.
The top panel is home to the shutter release and on/off button. There are no other controls, but a three-holed speaker grille, a mysterious rectangular panel (possibly the Wifi antenna is underneath) and a series of cosmetic dimpled indents give it more 'engineered' look than previous IXUS / ELPH designs. On the right side (as you hold the camera) a pull-out plastic flap reveals a combined USB / A/V port as well as a mini HDMI connector, something you won't find on the lower-end IXUS models like the IXUS 140 / ELPH 130 IS or the PowerShot A3500 IS.
The IXUS 255 HS / ELPH 330 HS has a built-in flash which is situated on the top edge of the front panel near the left corner, so you need to take care to keep your fingers out of the way when it's in use. It has Auto, On, Off and Slow Synchro modes with Red Eye reduction using the AF lamp as well as a built-in software fix. The quoted range is 4 metres at the wide angle end of the zoom range and in practice the flash provided bright, even illumination for subjects close to the camera. If you want a bit more power you can attach the HF-DC2 optional external flash.
On the bottom is the door to the combined battery and card compartment. The IXUS 255 HS / ELPH 330 HS takes the NB-4L battery, with a higher 760mAh rating, than the 680mAh NB-11L in the IXUS 140 / ELPH 130 IS and PowerShot A3500 IS. You can expect around 220 shots from a full charge compared with 190 and 200 from the other two models respectively.
Canon IXUS 255 HS / ELPH 330 HS lens and stabilisation
The IXUS 255 HS / ELPH 330 HS has a 10x stabilised optical zoom with an equivalent range of 24-240mm and a maximum aperture of f3-6.9 It's the only IXUS / ELPH with a 10x zoom and the only one, with the exception of the 2012 IXUS 125 HS / ELPH 110 HS and IXUS 240 HS / ELPH 320 HS to start at a super-wide angle 24mm. This is a pretty handy range to have in a point-and-shot compact and, unless you're really into sports or wildlife photography you're unlikely to find yourself unable to frame subjects exactly the way you want. The (again older) IXUS 500 HS / ELPH 520 HS and touch-screen IXUS 510 HS / ELPH 530 HS sport 12x zooms but, while you get a longer telephoto you sacrifice the 24mm wide angle for a 28mm. In my view, the 10x zoom on the IXUS 255 HS / ELPH 330 HS is better equipped for all-round shooting.
| | |
| --- | --- |
| Canon IXUS 255 HS / ELPH 330 HS coverage wide | Canon IXUS 255 HS / ELPH 330 HS coverage tele |
| | |
| 4.3-43mm at 4.3mm (24mm equiv) | 4.3-43mm at 43mm (240mm equiv) |
The IXUS 255 HS / ELPH 330 HS is equipped with Intelligent IS optical image stabilisation, which uses scene detection to decide how best to apply stabilisation. The great thing about this is you don't have to worry about setting special modes for panning, Intelligent IS just manages it for you. There are three modes, Off, Shoot only and Continuous. Image stabilisation needs power, so with it enabled you'll get fewer shots from a full charge. Shoot only cleverly applies stabilisation just before you shoot, saving on battery power but, unlike earlier models, it isn't activated when you half-press the shutter, only at the instant of exposure. So if you want to see a steady image on the screen you need to set Continuous mode.
Canon claims Intelligent IS on the IXUS 255 HS / ELPH 330 HS will allow you shoot three stops slower than without it. To test the claim I zoomed the IXUS 255 HS / ELPH 330 HS to its maximum 240mm equivalent focal length and took a series of shots at progressively slower shutter speeds both with Intelligent IS on in Continuous mode and off.
As you can see from the crops below, you can shoot hand-held with the IXUS 255 HS / ELPH 330 HS at speeds down to 1/10 and still get sharp results. That's an impressive result well in excess of the three stops of stabilisation claimed by Canon.
Canon IXUS 255 HS/ ELPH 330 HS Intelligent IS Continuous/Off

100% crop , 4.3-43mm at 43mm, 100 ISO, 1/10th, IS off.

100% crop , 4.3-43mm at 43mm, 100 ISO, 1/10th, IS Continuous.
Canon IXUS 255 HS / ELPH 330 HS shooting modes
I've already mentioned the mode switch on the IXUS 255 HS / ELPH 330 HS, which has a different function from the entry level IXUS / ELPH models, where it's used to switch between Smart Auto and Program or other modes. On the IXUS 255 HS / ELPH 330 HS the lower position with a black camera icon is used for selecting all modes including Smart Auto and Program Auto, from the Func menu. Slide it to the top position, marked with a green camera and film clip icon and you enter Hybrid Auto mode.
Hybrid Auto mode is what Canon used to call Movie Digest mode. A short clip of 2-4 seconds is recorded prior to each shot you take and these are assembled into a 'digest' movie of the day's events. It's one of Canon's great ideas, allowing you to shoot and create a movie with almost no effort whatsoever and having a dedicated position on the mode switch puts it right under people's noses. If that means they're more likely to discover it than if it was buried away on a menu somewhere that can only be a good thing.
Hybrid Auto will drain the battery more quickly though, and while it's great for events and days out, you don't always want a movie of the days shooting. Flip the switch down and you'll get whatever shooting mode you last set on the Func menu – most of the time that'll most likely be either Smart Auto or Program Auto.
Smart Auto uses Scene detection to determine the best exposure. We're used to seeing scene detection on modern compacts, but not all scene detection modes are created equal and there's an important distinction between the IXUS 255 HS / ELPH 330 HS which is fitted with Canon's Digic 5 processor and entry level IXUS / ELPH models from the IXUS 140 / ELPH 130 IS down, which use the older Digic 4. Scene detection in the newer Digic 5 models is more sophisticated and able to detect a greater number of scenes – 58 compared with 32 for the Digic 4 models. In particular, the IXUS 255 HS / ELPH 330 HS can recognise people who are smiling or sleeping and can tell the difference between adults and babies.
In Smart Auto mode the IXUS 255 HS / ELPH 330 HS is a true point-and-shoot, there's not much for you to do other than, well, point-and-shoot. Switch to Program Auto mode and you get a little more control over things, though nothing even approaching semi-auto or manual exposure control. You can set the sensitivity from 80 to 6400 ISO and pushing the top position on the four-way controller provides +/- 2 stops of exposure compensation.
Further down the mode menu you'll find a variety of scene modes including the Handheld NightScene low-light stacking mode, Smart Shutter, High-speed burst and creative effects filters. Shown below you can see from left to right on the top row Fish-Eye Effect, Miniature and, Toy Camera Effect, and on the the bottom row Monochrome, Super Vivid, and Poster Effect.
The IXUS 225 HS / ELPH 330 HS can shoot full resolution images at 2.4 frames per second, but if you're prepared to sacrifice image size you can shoot 3 Megapixel images at a very respectable 6.2 fps until the card becomes full. I tested the continuous shooting capabilities of the IXUS 225 HS / ELPH 330 HS by fitting it with a freshly formatted Sandisk Extreme card with a Class 10 speed rating, setting High Speed Continuous mode and holding the shutter down for 50 frames which took 9.2 sconds. That's 5.4fps, a little slower than the quoted rate, but pretty good in a compact of this class all the same.
It's worth noting that the non HS models lower down the IXUS / ELPH range like the IXUS 140 / ELPH 130 IS don't offer fast continuous shooting, the best the IXUS 140 / ELPH 130 IS can manage is slower than one frame per second.
Canon IXUS 255 HS / ELPH 330 HS movie modes
The IXUS 255 HS / ELPH 330 HS can record Full HD movies with stereo sound and control over the optical zoom while you're filming. In all, there are three movie modes, 1080p24, 720p30 and 640×480 at 30fps. All are encoded using the H.264 codec and saved as QuickTime files with a .mov extension in the same folder as still photos.
To start filming you simply press the movie record button on the back with your thumb, at which point the IXUS 255 HS / ELPH 330 HS starts recording in either Smart Auto or Program Auto mode, depending on the position of the Mode switch. In Smart Auto mode stabilisation is employed and the Intelligent IS system selects power IS for when shooting at long zoom magnifications or Powered IS to iron out more extreme movement, for example when walking. With scene detection and Intelligent IS making most of the decisions for you, Smart Auto really is the best mode for movie shooting. Program Auto doesn't provide a lot more control, the exposure and sensitivity is still set automatically, but you can use exposure compensation prior to shooting. The IXUS 255 HS / ELPH 330 HS also has the Super Slow Motion movie feature which shoots 640 x 480 clips at 120fps and 320×240 clips at 240fps. When played back at 30fps these are slowed-down by a factor of 4x and 8x respectively.
I've already mentioned what used to be called movie digest mode, now known as Hybrid Auto mode, which shoots a short video clip prior to each shot and assembles them into a movie of the day's events. The IXUS 255 HS / ELPH 330 HS has one other neat movie feature and that's the ability to apply some of the creative effect filter to movies. Most are available for movie shooting including Miniature, Monochrome, Super Vivid, Poster Effect, Colour Accent and Colour Swap. As with other Canon compacts you have to first switch to 16:9 still image format to shoot in effects modes at 720p resolution, otherwise it defaults to 640×480.
Canon IXUS 255 HS / ELPH 330 HSsample video 1: outdoors, cloudy bright, handheld pan
This clip, like the others below was shot using the IXUS 255 HS/ ELPH 330 HS's best quality 1080p24 video mode. The camera makes a good job of the exposure in not particularly demanding conditions and the Intelligent IS keeps things nice and steady, even at the 10x limit of the zoom.
Canon IXUS 255 HS / ELPH 330 HSsample video 2: outdoors, sunny, tripod pan
For this tripod mounted pan the image stabilisation was turned off. Again, the IXUS 255 HS / ELPH 330 HS does a good job with both the exposure and focus here. Interestingly, you could hear the slight buzz of the zoom motor on the previous clip, but it's silent here.
Canon IXUS 255 HS / ELPH 330 HSsample video 3: indoors, low-light, handheld pan
There's a little bit of noise visible in this interior low light panning shot, but it isn't too intrusive and the quality is generally good. The Intelligent IS does a good job of keeping things steady during the pan, but the white balance looks a little variable at the end of the clip.
Canon IXUS 255 HS / ELPH 330 HSISsample video 4: indoors, continuous AF
To test the continuous AF performance of the IXUS 255 HS/ ELPH 330 HS I zoomed the lens in a little and panned from the close-up coffee cup to the bar and back again several times. It does pretty well here, transitioning the focus from near to far and back almost as soon as the camera starts moving.
Canon IXUS 255 HS / ELPH 330 HSsample video 5: Miniature mode
Finally, here's an example of the IXUS 255 / ELPH 330 HS with the Miniature effect. It's quite versatile, with the option to choose the size and position of the focus zone and the choice of three speeds. This is the fastest 20x setting which plays back four minutes of real time shooting in a 12 second clip.
Canon IXUS 255 HS / ELPH 330 HS handling
The IXUS 255 HS / ELPH 330 HS features a control layout and menu system that has evolved over many years and as such it will be familiar to anyone who has owned a Canon point-and-shoot compact in the last few years. What's different is the allocation of one of the two positions on the mode switch to Hybrid auto mode, or what used to be called Movie Digest mode. I think this is a pretty smart move and one which will benefit most point and shoot users. Why? Because there'll be a significant number of people who wouldn't have bothered with movie digest if they had to choose it from a menu, but will be pleasantly surprised to discover they have a movie of their friend's wedding, or child's birthday, possibly without even realising they were shooting one.
If you aren't interested in movie digest and want to conserve your battery power, it's easy enough to turn off. You no longer have the option of quickly switching between Smart auto and Program auto, as you do on the IXUS 140 / ELPH 130 IS and other IXUS / ELPH models, but I think it's a trade-off that's well worth it.
Generally, I think that Canon's focus on simplicity works for the IXUS 255 HS / ELPH 330 HS, it is, after all, a point-and-shoot compact, but the one thing that I think is a bit of an effort is the lengthy shooting mode sub-menu. This now has 22 options on one lengthy scrolling list and, as beyond Smart Auto and Program Auto at the top, it includes a handful of scene modes, Smart shutter self-timer options, High-speed burst shooting, the Handheld Night Scene stacking mode, all the creative effects filters, and, finally, Super Slow Motion Movie modes.
This could be shortened and simplified and Canon could make a start by ditching the dated and fairly pointless panorama assist modes which provide a guide for shooting overlapping images but doesn't actually stitch them – you need to use a separate application included in the box for that. It would also make sense to move the creative effects filters to their own menu, making them easier to get to for those who want them, and keeping them out of the way for those who don't.
The IXUS 255 HS / ELPH 330 HS is one of four IXUS / ELPH models to include built-in Wifi, which you can use to wirelessly transfer images to a computer, for wireless printing, to send shots to sharing and social networking sites via Canon's image gateway platform and to connect and transfer photos to a smartphone. You can also use the GPS capability in your smartphone to tag images.
Uploading images and video to Twitter, Facebook and YouTube is less straightforward than it could be due to the need to first sign up for a Canon image gateway account and register your camera. To do that, you must first install the CameraWindow program and connect the camera using the supplied USB cable.
When connecting to a smartphone you can either either establish a peer-to-peer connection using the camera as an access point or connect both devices via another access point, but you can't log into a public Wifi hotspot. Viewing and downloading images using the mobile CameraWindow app is a breeze once the connection is established. I tested it on my iPhone 4S where the app gives you the option of downloading originals or medium or small resized shots.
The GPS function works very well. But I wonder how many people will bother to install the CameraWindow app and start the GPS logging function, then complete the process by connecting to the camera and transferring the data to their photos. It's not particularly onerous and it's something I can see, say, enthusiasts on a photo walk doing. But often with a point-and-shoot photography isn't the main event, it's just a quick, spontaneous thing. So while it's good to have the option of a smartphone GPS connection, you can't beat the convenience of built-in GPS.
Canon IXUS 255 HS / ELPH 330 HS Sensor
The IXUS 255 HS / ELPH 330 HS has a 12.1 Megapixel CMOS sensor paired with a Digic 5 processor. It produces JPEG images with a maximum size of 4000 x 3000 pixels with the choice of two compression ratios, Fine and Superfine. Large Superfine photos are typically around 3 to 6MB in size. The sensitivity ranges from 80 to 6400 ISO and the shutter speed range is 15 -1/2000 (1-1/2000 in Auto modes).
To see how the quality of the IXUS 255 HS / ELPH 330 HS measures-up in practice, take a look at my IXUS 255 HS / ELPH 330 HS quality and IXUS 255 HS / ELPH 330 HS noise results pages, browse my IXUS 255 HS / ELPH 330 HS images, or skip to the chase and head straight for my verdict.