Intro
The Canon PowerShot A2100 IS is a 12.1 megapixel compact with a 6x optical zoom and 3in screen. Launched in February 2009, it replaces the PowerShot A2000 IS as the flagship model in the PowerShot A range. The two tone colour scheme has been abandoned in favour of an all black casing but, other than that, the styling and controls closely mimic its predecessor and, as before, two AA batteries provide the power.
The A2100's Digic 4 sensor produces 12.1 megapixel images measuring 4000×3000 pixels at the highest resolution setting. A new Smart Auto shooting mode uses Canon's Scene Detection Technology to asses the scene and automatically select one of 18 scene modes for the best results. Easy mode, introduced in the A2000 IS, now also utilizes scene detection, but there's no return to the manual shooting modes of the early days of the A range.
So, with an extra two million pixels, a new sensor and enhanced auto shooting does Canon's new top of the A range model mark a significant advance and how does it compare for quality and ease of use over similarly-priced models like the Sony Cyber-shot DSC-W270 / W290 and Panasonic Lumix DMC-FS25? Find out in our review!

Measuring 102 x 64 x 32 mm and weighing 185g without batteries the A2100 IS is no lightweight and won't sit comfortably in your trouser pocket either, so you'll need to keep it in your jacket or bag. That said, it feels solid and well-built, an impression that's re-inforced by the chunky wedge-shape and matt black exterior.
Its size also makes it comfortable to hold. A metal strip provides a solid resting place for you fingers and a plastic ridge on the rear makes a well placed thumb-rest. If you've got big hands you won't find this camera fiddly and it's one of the few models we've felt comfortable with shooting one-handed while holding it over the edge of boats and tall buildings. Another advantage of the slightly larger form is that there's space for you thumb on the rear without touching the screen.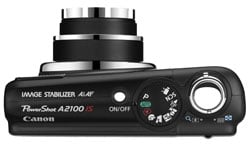 The camera is powered up via a recessed metal button on the top and is ready to shoot in just over one second. Next to the on/off button, the mode dial with its clearly labelled icons provides access to the Program, Auto, Easy, Scene and movie modes. We especially liked the way the dial rotates through 360 degrees, so you can switch from movie to program mode in one clockwise click rather than having to backtrack anticlockwise through every mode. The far right of the top panel is occupied by a nice big shutter release surrounded by the zoom ring.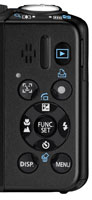 The rear control panel to the right of the LCD screen occupies about a quarter of the available space. There are dedicated buttons for playback, printing, face detection, display modes and the menu system. Like most Canon compacts a Func / Set button provides access to a superimposed function menu and this is ringed by four direction buttons used to select options for the currently selected shooting mode. The direction buttons double up as one-click selectors for exposure compensation, flash, self timer and macro modes.
The built-in flash has a quoted maximum range of 3.5 metres with auto, on, off and slow synchro settings as well as red-eye correction and a red-eye lamp mode which illuminates the AF-Assist beam when you press the shutter release half way. Red-eye wasn't apparent in any of the flash portraits we took, but if it does occur there's also an option to remove it subsequently by applying the red-eye correction during playback. The flash was quite slow to charge with a delay of around seven seconds between shots.
The A2100 IS is supplied with a pair of alkaline batteries, although once these have expired you'll want to replace them with rechargeable NiMhs – cheaper in the long run, better for the environment and they last longer. According to Canon you can get 400 shots from a set of fully charged MiMH batteries compared with 140 from alkalines. This figure is based on the CIPA (Camera and Imaging Products Association) standard, so you can compare it with other manufacturer's CIPA quotes, but your own experience is likely to vary.
The A2100 IS has a 6X optical zoom lens with a range of 6.4 – 38.4mm which is a 35mm equivalent of 36mm – 216mm. If you take a lot of landscapes and interiors the limitation at the wide angle end of the range will be a problem. On the upside the A2100 has a longer telephoto than similar models from other manufacturers. The maximum aperture is f3.2-f5.9.
The lens extends rapidly on power up and the camera is ready for action in a little over one second. The closest focusing distance is just 1cm in macro mode, although at this point it's tricky to avoid casting a shadow on the subject.
The zoom is swift, covering the full range in a little over a second, but lacks finesse. Giving the rocker the briefest of nudges you can manage 14 discrete steps, but hold onto it for more than a fraction of a second and you jump two or three positions. We'd be happy to sacrifice some of that speed for more control, or maybe a dual-speed option.
Support this site by shopping at Amazon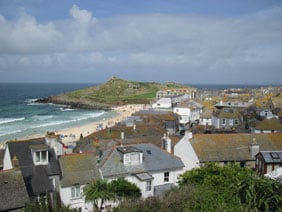 Canon Powershot A2100 IS coverage

6.4-38.4mm at 6.4mm (36mm equivalent)

6.4-38.4mm at 38.4mm (216mm equivalent)
The IS in the camera's title stands for Image Stabilisation. The PowerShot A2100 IS uses an optical system to stabilize the image and avoid camera shake at slow shutter speeds. There are three modes available – continuous, which is on all the time, Shoot only, which activates when you press the shutter release half way and panning which only stablises the vertical axis and is used when you pan horizontally to follow a moving subject. See the Blurring Action tutorial at our sister site DSLR Tips for an example of this.
The examples below were taken with the A2100 IS at maximum zoom with image stabilisation off and on in continuous mode. The shot on the right shows that the camera effectively provides four stops of compensation producing a sharp steady image at 1/10th of a second at the maximum zoom of 216mm (35mm equivalent). The accepted norm is that to avoid camera shake at this focal length a shutter speed of around 1/200th would be required.
Canon Powershot A2100 IS: IS off / continuous

100% crop, 6.4-38.4mm at 38.4mm, 1/10, 200 ISO, IS off

100% crop, 6.4-38.4mm at 38.4mm, 1/10, 200 ISO, IS on
The A2100 IS has a dedicated face recognition button and the camera locked onto and tracked faces quickly and consistently maintaining the lock even when faces turned almost to full profile. It coped well in low light with the aid of the auto assist beam, but if you do have problems with the AF (we didn't) there is an option to designate a central frame as the AF region, and you can even change the size of it. Pressing the right direction button (macro) on the rear of the camera while the shutter is half depressed activtes AE lock. Even on a 3in screen it can be difficult to tell if the focussing is accurate, but the A2100's AF point Zoom feature magnifies the AF frame so you can get a more detailed view. Probably not something you'll use a lot, but it's good to know it's there if you need it.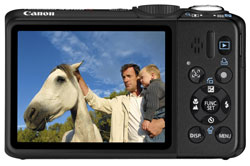 The A2100's 3in TFT LCD screen has 230k pixels. In the absence of an optical viewfinder, this is all you've got and the large size and generous resolution provide an excellent quality image in nearly all situations. Like most LCD panels sunlight is its nemesis and while you can see just about well enough to compose a shot in bright sunlight, we found ourselves having to run for cover to be able to see what we were doing with menu settings.
The other issue we had was with viewing angle. If you ever need to hold the camera above your head you'll be relying on a large degree of guesswork as the vertical angle of view is extremely limited. The one big adavantage of the A2100 IS screen is that, as it doesn't take up the entire camera back it's less susceptible to the scourge of greasy finger and thumb prints than other models with 3in screens.
The display button toggles an overview which, in program mode includes all of the most relevant information including shooting mode, ISO, metering mode, flash, image stabilisation and the number of available shots remaining. Auto, easy and the movie mode show different information and less of it.
Pressing the Func / Set button activates a menu overlay providing access options including, again in program mode, ISO, White balance, colour rendering presets, metering mode, single or continuous shooting mode, and image quality.
This system is extremely quick and simple to use. The options appear down the left side of the screen and, having used the up and down buttons to select the one you want you then use the left and right buttons to select the required setting from a strip along the bottom. In automatic mode only the quality settings can be altered, the others are greyed and other modes offer appropriate settings.
You can overlay a 3×3 grid on the screen, which is useful for keeping horizons level and as a compositional aid, while a 3:2 option greys out the top and bottom sections of the screen providing a guide if you need it for 3:2 aspect ratio images; there's still no live histogram option.
Pressing the Display button in playback mode toggles through four possible display modes. The first shows just a clean image, next up, an overlay displays the image number and the total number of images, the date and time taken and the quality setting.
Press Display again and you're provided with a smaller image thumbnail with a lot more metadata including the shooting mode, metering mode, ISO setting, exposure and white balance settings, file size and pixel dimension and the all-important histogram.
If the elimination of manual exposure controls from its predecessor pointed the direction Canon is taking, this latest model confirms that ease of use, rather than advanced settings is where the A range is headed.
Scene detection has been added to Auto and Easy modes, so there's less to think about even when confronted with difficult subjects and lighting.
Program mode offers the most control, allowing setting of ISO, white balance, colour rendering, metering mode, continuous or single shooting and image quality. In addition to the automatic white balance and presets there's an option to evaluate white balance by taking a reading from the scene.
In Auto mode Canon's automatic scene detection worked quickly and in most case accurately assessed the scene, displaying a scene icon in the top left of the frame.
It dealt particularly well with people, backlit subjects, close ups and night scenes. More generic subjects often failed to elicit any kind of categorisation but, to be fair, the camera produced a good result nonetheless.
New to the A2100 IS is i-contrast, a dynamic range enhancer that improves detail in shadow areas and can be applied during shooting or playback. The self timer options have been expanded to include a Face Self timer which takes a shot two seconds after an additional face appears in a group, and a custom self-timer.
The A2100 IS can shoot video at one of three quality settings; 640×480 640×480 LP (Long Play) and 320×240. All three use the same 30fps frame rate. Interestingly despite Canon's other Digic 4 models compressing video into H.264-encoded MOV files, the A2100 IS sticks with the older Motion JPEG AVI format of its predecessor and earlier Digic III models. The highest quality setting uses a data rate of 15 Megabits per second, and you can record a single video file for around an hour or until the file size reaches 4GB. Annoyingly the A2100 IS can't operate its optical zoom once you start filming – a frustrating limitation of most of Canon's compacts.
The lack of zoom aside though, it's difficult to fault the quality of the A2100's video compared to other VGA models, but it's disappointing Canon hasn't managed to also include an HD option. This puts it at a disadvantage compared to the Sony Cyber-shot DSC W270 / W290 which boasts a 720p mode, and while Panasonic's Lumix FS25 is also sadly standard definition only, at least it additionally offers a 16:9 WVGA option at 848×480 pixels, which delivers wider footage than the Canon. We've included a sample clip, filmed handheld with the lens zoomed-out; registered members of Vimeo can download the original file for closer evaluation.
The PowerShot A2100 IS offers a basic continuous shooting mode that may fire until you run out of memory, but at a very modest rate of just 1.1fps which isn't really appropriate for any kind of action photography. It's a shame there's no faster option, either with a reduced number of frames or at a lower resolution.
At the heart of the PowerShot A2100 IS is a 12.1 Megapixel CCD sensor measuring 1/2.3in and delivering images with a maximum resolution of 4000×3000 pixels, that can be printed up to 13.3x10in at 300dpi. There's the choice of four lower resolutions along with a cropped 16:9 aspect ratio.
Images can be recorded with either Fine or Normal JPEG compression settings, although the SuperFine option of higher-end Canon compacts is missing here; unsurprisingly there's no RAW option either. Like other Canon compacts, there's no built-in memory, but depending on your region Canon may supply a small SD card to get you started. You'll want to replace this with something much larger as soon as possible though.
The sensitivity ranges from 80 to 1600 ISO at full resolution, with a 3200 ISO Scene Preset operating at a greatly reduced resolution of 2 Megapixels. To see how the quality of the PowerShot A2100 IS measures-up in practice, take a look at our real-life resolution and high ISO noise results pages, browse the sample images gallery, or skip to the chase and head straight for our verdict.