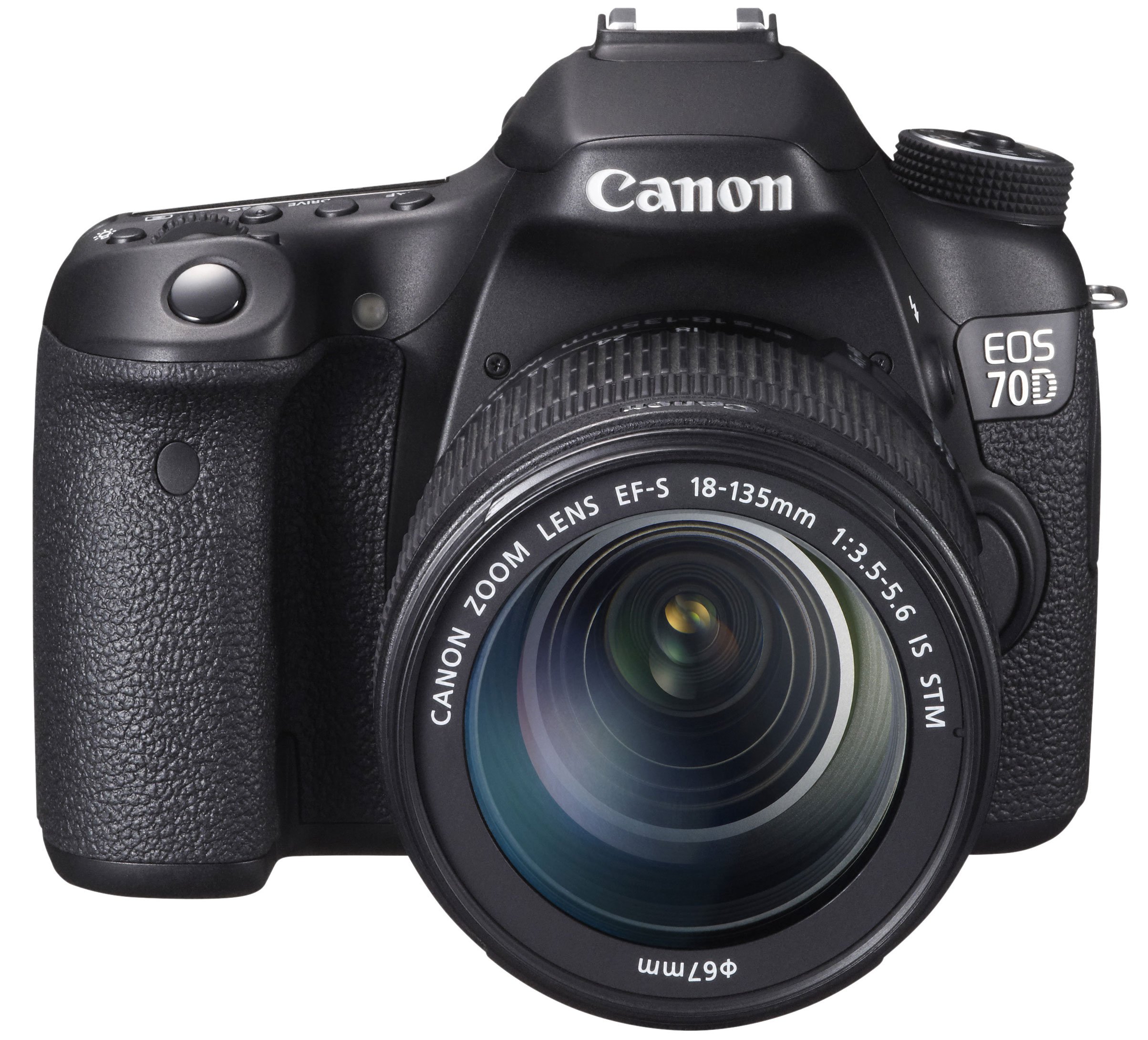 Verdict
The Canon EOS 70D is one of the most capable all-round cameras I've tested, DSLR or otherwise. By enhancing the viewfinder, AF and burst shooting, it approaches the response and handling you'd expect from a semi-pro DSLR, making it a confident performer for sports. But the Dual Pixel CMOS AF banishes almost all issues DSLRs have when it comes to shooting movies or in Live View, delivering single AF performance that's as good as the best mirrorless cameras around, not to mention the most confident movie AF of any camera I've tested. In short, it offers the best of both worlds, albeit in a body that can't exactly be described as compact and light.
The big story is of course Dual Pixel CMOS AF, but it's refreshing to find Canon not neglecting the traditional aspects of the camera. Indeed, after effectively down-grading the xxD series from semi-pro to mid-range with the introduction of the 60D, Canon has listened to feedback and aimed the 70D at higher ground, reinstating and enhancing traditional features to satisfy photographers who felt cheated by the 60D. Indeed it approaches and in some cases matches or surpasses the higher-end 7D which begs the question if there'll be an update to this model. It is after all an approach that hasn't harmed Nikon which offers an advanced mid-range model and seems in no hurry to introduce a D300s successor.
So with the 70D you get a camera that takes great quality stills and movies. Compose with the viewfinder and you'll enjoy a fast AF system and quick burst shooting which makes it ideal for action or quick portrait and street shots. Switch to Live View and you'll enjoy a fully-articulated touch-screen and Single AF acquisition that's as good as the best mirrorless models. Start filming video and you'll benefit from the best continuous movie AF on the market.

The Dual Pixel CMOS AF system really is revolutionary in this regard. Existing hybrid systems may give a taste of confident phase-detect AF for movies, but they have limited coverage on the frame both in terms of total area and number of active points. Sony's SLT system additionally suffers from the necessity to operate at maximum apertures, ruling out filming with smaller apertures for either a large depth of field or when using tele-converters with slower lenses.
In contrast, Dual Pixel CMOS AF allows 80% of the 70D's sensor area to double-up for AF, then cunningly switch back to image capture when you take the photo. In plain Live View when coupled with pre-focusing, it allows the 70D to lock-onto subjects as quickly as the best mirrorless models, but it's when filming video that it really shines. Set the 70D to face tracking and as soon as a face enters the frame it'll follow and keep it in focus without a hint of searching. I've provided 12 video samples in the main review, but if you only have time to check out two, then make it these ones. In the first see how confidently the 70D refocuses between the foreground and background as I touch the screen – and with no distracting searching either. In the second clip you'll see me walk towards the camera along a church aisle as the 70D keeps my face in sharp focus, even when I get really close to it.
Canon EOS 70D with EF-S 18-135mm STM sample video: indoors, touch-screen focus-pulling
In this video I placed the EOS 70D on a tabletop and used the touch-screen to pull focus between the jar of sugar cubes in the foreground and the rear of the cafe in the background. I had the 18-135mm lens set to 50mm and the aperture opened to the maximum available value, in this case, f5. This may not seem particularly fast, but with the jar positioned close to the minimum focusing distance and the rear of the cafe some distance away, the resulting shallow depth of field provides a considerable challenge to any continuous AF system. But once again the EOS 70D manages to pull-focus effortlessly between the macro foreground and distant cafe with barely if any evidence of searching. Rival contrast-based systems would not only search to confirm the final focus, but would almost certainly struggle to lock onto the highly blurred subjects. Here the 70D has done a great job. I should also note the focusing area for the jar was towards the left side of the frame, which would normally be outside the region covered by previous hybrid AF systems.
Canon EOS 70D with EF-S 18-135mm STM sample video: indoors, face-tracking
In this clip I tried out the continuous autofocusing coupled with face detection by walking up and down an aisle in a dimply-lit church. I zoomed the lens to around 50mm, opened the aperture to its maximum value of f5 at this focal length, and set the sensitivity to 1000 ISO. The AF mode was set to 'Face Detection with Tracking' and I simply started the video recording, then stood in front of the camera, walked away, then turned and walked back again towards it. At no point did I pre-focus the camera or ensure face detection had been acquired – it was a fully automatic process. As you'll see in the video though, the EOS 70D has once again done a fantastic job at quickly and smoothly refocusing on me without fuss and the minimum of searching. It locked onto me at the start, and once I'd turned around at the end of the aisle, it had no difficulty tracking and keeping my face in focus as I walked back, even when I was very close to the lens at the end. To be fair, I was walking quite slowly, but it's clearly something which could work well at a wedding or similar event. You'll also notice the AF sound of the STM lens is virtually silent.
While the obvious application is for easy focus-pulling or wedding videos, anyone who films pieces to camera by themselves will love the technology. All you need to do is stand in front of the 70D and it'll immediately refocus on your face even if you move around the frame or lean forward or backward a little – again all without any distracting searching. Take it to a party full of kids moving around and it'll even ensure they're in focus too. It is in short the movie AF everyone wants – and expects – but is only now finally being delivered. If you want a camera that autofocuses this confidently anywhere on the frame while filming video, the 70D is for you, although I should note Sony's SLTs can offer similar performance at a lower price if you understand and work with their technical restrictions.
Dual Pixel CMOS AF isn't however perfect. It will refocus confidently but only with subjects moving quite slowly. This may suit most video applications, but proves more limiting when shooting stills in Live View – it essentially rules out using Live View for shooting fast action. The DSLR optical design also means you could be waiting for up to two seconds before a live image is returned to the 70D after taking a photo, which in turn makes portrait or street sessions frustrating even if the subject is fairly static. While most mirrorless cameras also struggle with fast continuous AF, their native Live View design means you'll be able to see your subject again much faster after taking a shot.
But this is forgetting the 70D's trump card: as a DSLR you can of course ignore Live View and shoot with the optical viewfinder instead, at which point you can enjoy a traditional AF system which can track fast action and which returns a 'live' image the instant the mirror flips down.
When I first heard about Dual Pixel CMOS AF I immediately thought this is the technology which could revolutionise mirrorless cameras and put another nail in the coffin of DSLRs. But after using the 70D for some time I realized the ability to compose and shoot with either a traditional optical viewfinder or a modern Live View system actually offers the best of both worlds. Again a mirrorless camera may boast quicker shot-to-shot times in Live View, but it can't swap to a traditional optical viewfinder and confidently track fast action.
Does this make the 70D the perfect camera? Of course not, but it is one of the most flexible and capable I've tested, confidently shooting or filming in a wide variety of conditions which other models can struggle with. As always you should think carefully about how you shoot stills and video in order to pick the most appropriate model.
If you want to only or mostly shoot stills with the screen then a native mirrorless camera remains a better choice with faster shot-to-shot times, although most will still struggle with refocusing on fast moving action. If you want to shoot fast moving action stills with a screen then consider a Sony SLT as these will out-perform current mirrorless and DSLRs for continuous AF in Live View, but remember a DSLR will deliver much the same continuous AF performance if you compose with their optical viewfinders.
The dual compositional nature of modern DSLRs may seem like a compromise, but it's actually their advantage over native mirrorless models. Equipping Dual Pixel CMOS AF to a mirrorless camera may resolve the 70D's poor shot-to-shot times, but in its current version still wouldn't deliver continuous AF that's quick enough to capture fast-moving action. For that you still need the traditional phase detect AF system housed inside a DSLR (or SLT) viewfinder.
Before comparing the 70D to a number of rival models, a quick note on some of the downsides I found when testing it. Beyond the Live View limitations noted above, the Wifi implementation is good but it could be even better – it currently doesn't let you transfer original images to smartphones, and the laptop utility only works wirelessly via a wireless LAN rather than offering a peer-to-peer option. The absence of built-in GPS is also frustrating, as are the lack of suggestions for syncing with a smartphone log; Canon really wants you to buy its $250 USD GPS accessory instead.
The viewfinder, AF and burst shooting may have been improved, but there's still only a single memory card slot when models like the Nikon D7100 have two. The movie mode may offer the option of compression, timecode and a zoom crop, but there's no headphone jack, no focus peaking, no 1080p at higher frame rates than 30fps, and not even any special effects like a miniature movie mode. And sticking with the fun stuff, why oh why does Canon continue to resist equipping any of its cameras with panorama stitching?
In terms of image quality compared to earlier 18 Megapixel APS-C Canon DSLRs, I didn't see any benefit to the extra 2 Megapixels on the 70D, but that's not too surprising as it translates into a minor boost in linear resolution. I did however notice the JPEGs using the 70D's default settings actually looked a little softer than earlier models, but I'm pretty sure this is down to image processing – if you take the 70D's RAW files and sharpen them, you'll see there's loads of crisp detail waiting to be extracted. But if you mostly shoot JPEG and like punchier images, you may prefer to boost the sharpening setting.
As a long-term mirrorless user it would also be remiss of me not to mention the size difference. The 70D may be averagely sized for a mid-range DSLR, but it's considerably larger and heavier than a typical mirrorless camera, even a higher-end one like the Olympus OMD EM5. The 70D's so-called silent shooting mode is also a far cry from being genuinely silent as the electronic shutter options on some mirrorless cameras now are. Whether any of this is a downside or an upside though is entirely down to personal preference.
Now let's look at how some rival models compare before my final verdict.
Compared to Canon EOS 60D
The EOS 70D is the successor to the EOS 60D and with three years between them Canon has made some significant improvements. The two bodies may be essentially the same size, weight and share similar build quality along with 3in articulated screens, but there are many benefits to the new model.
It offers a more capable 19-point all cross-type zoneable AF system (vs 9-point all cross-type), faster continuous shooting (7 vs 5.3fps), built-in Wifi, broader viewfinder coverage (98 vs 96%), a touch-screen, the choice of movie compression, deeper bracketing (seven frames vs three), AF micro-adjustment, a choice of movie compression and a couple of extra Megapixels to boot. Before you even consider the EOS 70D's trump card, these all add up to a significant upgrade – indeed they approach the feature-set of the EOS 7D.
But what a trump card the EOD 70D has to play. If you're at all interested in shooting in Live View or filming movies, the new Dual Pixel CMOS AF system is a game-changer. Even if you hate Live View and are a die-hard viewfinder user though, you might find use for an AF system that works on lenses with a maximum aperture of f11. Imagine having a slower telephoto lens with a teleconverter and now being able to autofocus with it – who wouldn't like that?
So overall the EOS 70D represents a decent upgrade for existing 60D owners and is a considerably more capable camera. The good news is it should see the price of the 60D fall to a point where it becomes a great option for anyone who'd normally be shopping for an entry-level DSLR.
See my Canon EOS 60D review for more details.
Compared to Canon EOS 7D
Canon's EOS 7D officially remains the company's flagship APS-C DSLR, although the 70D comes close in many respects and surpasses it on others – not surprising since there's four years between them.
Both cameras share the same 19-point AF sensor (although the 70D lacks the AF Point Expansion and Spot area options), both share 3in screens and are quoted as having the same degree of weather sealing. In its favour the earlier EOS 7D is tougher though with a magnesium alloy shell, sports fractionally faster continuous shooting (8fps vs 7fps), full 100% viewfinder coverage (vs 98%) with 1x magnification (vs 0.95x), along with a PC Sync port. As noted above, the AF sensor may be the same, but the 7D has five AF area modes compared to three on the 70D, and the two absent on the new model may be missed by serious action, wildlife or macro shooters..
In its favour, the EOS 70D offers a fully-articulated screen that matches the shape of the images and boasts a touchscreen interface, it has built-in Wifi, deeper bracketing (seven frames versus three), a choice of movie compression, and two extra Megapixels too. It's also lighter.
So far there's definite pros to both bodies, but what could swing it in the 70D's favour is of course its Dual Pixel AF system which allows 80% of the pixels to temporarily turn into phase-detect points then back again to record the image, allowing confident continuous AF for live view and movies in low light or small apertures.
But at a price that could undercut the EOS 70D, the EOS 7D remains an interesting option for some. But bear in mind rumours that a 7D Mark II could be in the pipeline, presumably equipped with much of the same new tech as the 70D. A 7D2 wouldn't be cheap, but it could see the original 7D fall to a highly compelling price for a magnesium alloy semi-pro body with a 100% viewfinder and 8fps shooting. The old 7D still has a lot going for it.
See my Canon EOS 7D review for more details.
Compared to Nikon D7100
The closest current rival for the EOS 70D is of course Nikon's D7100. Both are highly-capable mid-range DSLRs which more than dip their toes into what would previously be known as the semi-pro category. There's lots to weigh-up.
In its favour, the EOS 70D features a fully-articulated screen that matches the shape of the images and boasts a touchscreen interface, it has built-in Wifi, deeper bracketing (seven frames versus five), the option to choose lower compression for movies, faster continuous shooting (7 vs 6fps at least when the D7100 is operating at 24 Megapixels), and last but by no means least, the trump card of the Dual Pixel CMOS AF system which delivers far superior AF during live view or movies.
In its favour, the D7100 sports four extra Megapixels, a sensor without an anti-aliasing filter, a 1.3x crop mode with handling benefits, some magnesium alloy elements in the construction, dual SD memory card slots, a viewfinder with 100% coverage, a slightly larger 3.2in screen, a headphone jack, and a 51-point AF system (albeit with slightly fewer 15 cross-type sensors).
Once again there's lots to weigh-up, and while in my tests the D7100 delivered slightly better image quality, the 70D was more flexible overall thanks to its Wifi, Live View and movie AF. Ultimately it boils down to seeing which feature-set best suits you as both are excellent choices,
Check out my Nikon D7100 review for more details.
Canon EOS 70D final verdict
Putting aside the new Dual Pixel AF system for a moment, the EOS 70D represents a decent upgrade over its predecessor. It offers a more capable 19-point all cross-type zonable AF system, faster continuous shooting, built-in Wifi with laptop or smartphone remote control, broader viewfinder coverage, a touch-screen, the choice of movie compression, optional timecode, deeper bracketing and AF micro-adjustment. Considering the minor refresh that became the EOS T5i / 700D, the EOS 70D represents a significant move forward by Canon. Indeed it brings the 70D close to what's offered by the EOS 7D, surpassing it in some respects, and having us all speculate what the company has up its sleeve for a possible successor in the semi-pro category.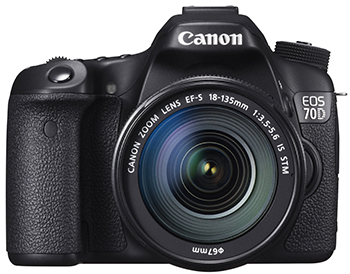 But of course the big story here is the debut of Dual Pixel CMOS AF. Sure Canon didn't push the sensor resolution to beat Nikon, nor did it adjust the colour filter array like Fujifilm, nor even dispense with the anti-aliasing filter as many are now doing, but by effectively turning every single pixel into a potential focusing point and turning them back again to capture the image, Canon has delivered one of the most exciting developments in sensor technology for years.
It really works too. I've gone into much more detail in my main review, but in brief it accelerates single AF in Live View to much the same speed (and frame coverage) as the best mirrorless models, while managing to out-perform every camera I've tested in terms of continuous AF for movies. Put it into Face tracking and you'll be amazed as it confidently follows and refocuses on subjects as they move around the frame without a hint of hunting. The continuous AF may still not be fast enough in Live View to capture fast action, but to be fair this currently eludes all mirrorless models too. The point is Dual Pixel CMOS AF gives you the best continuous movie AF on the market and if you want to shoot action, just frame it through the viewfinder and use its very capable traditional system instead.
Once again when I first heard about Dual Pixel CMOS AF I immediately though this is a technology which could revolutionise mirrorless cameras, and if Canon implements it on their EOS M system – which surely it must – then it would transform this much mocked system into one of the most desirable mirror-less cameras around.
But the more I used the 70D the more I felt it actually offered the best of both worlds: the traditional viewfinder for capturing fast action and the Dual Pixel CMOS AF for the best movie tracking. The only part where it technically falls down compared to a native mirrorless system were the slow shot-to-shot times in Live View which ruled-out responsive portrait sessions, at least when composing with the screen. But again you could always just turn to the viewfinder for quicker response when desired. And if you're really not bothered about any of this, the core upgrades listed at the start still make it an equally compelling mid-range DSLR which can confidently go up against the likes of the D7100.
Okay, what's not to like? The Live View AF still can't track fast action, the shot-to-shot time in Live View is too slow, there's no built-in GPS nor twin memory card slots, the smartphone app can't access original image sizes, the EOS Utility needs a wireless LAN to operate wirelessly, there's no in-camera panorama stitching and no special effects for movies either.
Only you can decide if any of them are deal-breakers for you personally, but to me there's no major technical issues to worry about. Indeed the biggest issue for me personally is the 70D's size and weight as I've mostly been shooting mirrorless recently, so it inevitably feels large and heavy. But conversely that size and weight is seen as a benefit to others and there's no denying it's a comfortable camera to hold and sports reassuring heft. Again size and weight are a personal choice.
Which only leaves me to say I've been predicting the death of the DSLR for some time, but companies like Canon and Nikon keep coming up with designs and technologies that make this form factor more attractive than ever. And while Dual Pixel CMOS also has the power to revolutionise Canon's mirrorless system, not to mention resolve the slow shot-to-shot times of the 70D in Live View, it won't have the option to switch to a traditional optical viewfinder when you want to track and shoot fast action.
Many cameras involve some compromises in what you can take, but the 70D suffers from little if any of those limitations. It can quickly respond to a wide variety of situations, taking high quality stills, tracking fast action through the viewfinder, shooting high speed bursts and confidently refocusing for movies. These make the 70D one of the most capable all-round cameras I've tested, even if the star of the show is the continuous movie AF. And if continuous AF while filming is important to you, then you've definitely found your camera.
Good points
Great image quality, high resolution and low noise.
Best continuous AF for movies on the market.
1080p movies with compression and timecode options.
Large viewfinder with on-demand guides.
Fully articulated touchscreen display.
Fast continuous hooting at 7fps.
Built-in Wifi with laptop or smartphone remote control.
19-point zonable AF system with AF microadjustment.
Seven frame exposure bracketing and in-camera HDR options.
Bad points
Live View AF only suitable for slow moving subjects.
Slow shot-to-shot times in Live View.
No built-in GPS nor supplied means to sync with log.
No in-camera panorama stitching.
Smartphone app can't transfer original image size.
EOS Utility need a wireless LAN to operate wirelessly.
Single memory card slot rather than a pair.
No miniature effect for movies.