Canon EF 17-40mm f/4L USM lens (full-frame tests)
Outdoor scene, Canon EF 17-40mm f/4L versus EF 24-105mm f/4L with EOS 5D
Canon 17-40mm results continued…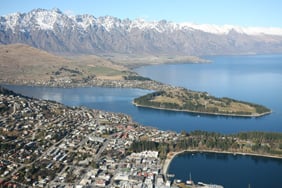 Outdoor / Resolution / Corner sharpness / Fringe and macro / Geometry / Vignetting
To compare real-life performance we shot the same scene with each lens within moments of each other using a Canon EOS-5D at f8 in Aperture Priority mode.

The 5D was set to Large Fine JPEG mode and the Standard Picture Style. The crops are taken from the originals and presented here at 100%.

The image left was taken with the Canon EOS-5D using the 17-40mm at 40mm f8; the original JPEG measured 5.56MB. The 24-105mm sample was also taken at 40mm f8.

With both lenses set to 40mm f8 and focused at infinity, they deliver virtually the same result in the center of their fields as seen in the middle crop. The first and third crops, taken from closer to the edges of the frames though couldn't be more different: the 24-105mm maintains its sharpness to the edge, whereas the 17-40mm suffers from considerable softening.
This could be a bad 'copy' of the 17-40mm, but we have experienced the same effect with another model. Interestingly the softening issues at the edges seen below are much less apparent when the lens is zoomed-out to wide angle. Indeed you only have to look at our Gallery samples to see the 17-40mm is a superb performer at 17mm. But at the 40mm end, it doesn't appear to perform as well towards the edges. If you mainly shoot at the wider focal lengths, this will be less of an issue, or even none at all, but at 40mm, be prepared for softening as you approach the extremes of the frame.
| | | |
| --- | --- | --- |
| Canon EF 17-40mm f/4L USM | | Canon EF 24-105mm f/4L IS USM |
| | | |
| 1/250, f8, 100 ISO | | 1/250, f8, 100 ISO |
| | | |
| | | |
| 1/250, f8, 100 ISO | | 1/250, f8, 100 ISO |
| | | |
| | | |
| 1/250, f8, 100 ISO | | 1/250, f8, 100 ISO |