Introduction
The Olympus E-P1 opens up a new category in digital photography, sitting between high end compacts or superzooms and entry level DSLRs. Based on the microFourThirds system, the key features are a DSLR sized sensor and the ability to change lenses. Unlike DSLRs there is no mirror assembly allowing smaller sized bodies to be produced. This is also used by Panasonic in their G1 and G1H models. However in Panasonic's case, they went for a DSLR like styling and usage. Olympus' E-P1 is more like a large compact.
The E-P1 is currently available in two lens kits, one with a 14-42 zoom lens, the other with a 17mm pancake prime lens and matching optical viewfinder. This review is based around the 14-42 zoom lens only.
Styling
The Silver/Black E-P1 with additional leatherette wrap from
here
.
This is an object of beauty in a modern retro sort of way. To the casual eye, it doesn't look as intimidating as a DSLR.
It currently comes in two colour schemes, a white model which manages to avoid the Apple lookalike syndrome, and a silver/black one. Some may prefer a black body, which is possible with a 3rd party leatherette skin coating, pictured below on the silver/black model. Note the silver is actual finished metal, not painted plastic.
Key specifications
FourThirds sized sensor (½ the horizontal size compared to 35mm format)
12MP 4:3 aspect ratio
720p video in mjpeg format
Sensor shift stabilisation
3 inch display (approx 320x240x3)
up to 3 fps
Features and design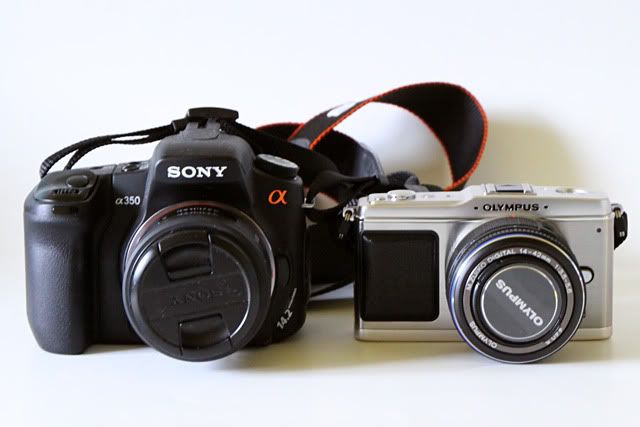 Size comparison against Sony A350
The zoom 14-42 f/3.5-5.6 lens range is roughly equivalent to a 18-55 lens on APS-C sensor DSLRs. The kit zoom has an interesting feature in that it has a fully retracted storage position. You need to "zoom out" into the operating range. As you enter this, a latch activates to prevent you from zooming out of the operating range unless the mechanical latch is bypassed. The lens is roughly up to double the length in operating position compared to the storage position, being shortest at 25mm and longest at 42mm. The lens front extends when close focusing, and while doing so it rotates so is not ideal for use with polarisers or other filters where orientation is important. The lens body is made from plastic and feels lightweight. The focus ring operation has a nice feel to it. Common to other Olympus lenses, it uses the focus by wire system so there is no direct mechanical connection between the focus ring and lens mechanics itself.
The body is made out of metal and feels solid. Dominating the back is a 3 inch screen. This is a lower resolution screen than can be found on some DSLRs now, but the brightness and angle of view make using it a comfortable experience. While degraded in contrast, I find it very usable in direct sunlight. This is important as it is the only way to compose shots unless you use an external optical viewfinder. Also on the back are most of the user controls. 4 buttons next to the screen provide exposure/focus lock, playback mode, delete and a menu button. Above and below the directional pad are function and info buttons. The directional pad doubles as access to ISO, AF mode, white balance and timer/continuous settings. A central button is used to select. The directional control also rotates, although annoyingly this operates menus in the opposite direction compared to the iPod. So far I've not found any menu option that lets you change this. Finally, there is also a second scroll control on the back.
On the camera top is the mode dial. In addition to the regular PASM and auto modes, there are movie, scene and art modes. A push button turns the camera on and off. Next to it is the shutter button and the exposure compensation control. A flash hotshoe is also present.
Underneath is a door to the compartment holding the battery and SD card. A standard tripod mount is also present. To the right is a door to the USB/AV and HDMI sockets.
User Interface
Due to the small body they didn't try to fit too many buttons on it. As such, navigating to some functions can be a bit fiddly. Pressing OK calls up assorted settings. Functions like metering area and AF area can be accessed in an overlaid menu structure, but not directly by single button.
Repeatedly pressing the info button cycles through various displays and overlays, some of which can be turned on and off in the menu system. This includes histograms, grid overlays and my favourite, a tilt sensor display. The last one makes use of in body sensors and tells you if you are holding the camera level or not, which can be useful for landscape shots.
Depending on your needs, some of the buttons are configurable. For example, by default the Fn button toggles face recognition mode on and off. As I have no need for that other than hunting ghosts, I have changed this to toggle between AF and MF modes.
Focusing
This is possibly one of the biggest area of interest and concern amongst those wondering if they should buy into this as a supplement to a DSLR. The microFourThirds system ditches the mirror system of a SLR to provide a more compact body, so does not get the benefits and drawbacks of the mirror. One such feature is phase change AF, which gives DSLRs their fast ability to find focus. Without this, the camera has to analyse the image captured at the sensor for image contrast to decide when it is in focus or not. The AF cycle typically takes up to a second or so, providing there is enough subject detail in the AF area. This has improved a bit with the release of firmware version 1.1 after launch.
To improve responsiveness, a technique using MF can be used, where the focus is obtained prior to needing the shot. You can use AF to focus, then switch to MF. In MF, there is no significant delay from pressing the shutter button and the continuous shooting speed is as fast as the camera can go.
If you do use MF, by default the camera will automatically zoom in on the image to help you get fine focus. This can be disabled in the menu.
The AF accuracy is pretty good, however like phase change systems, if you have a low contrast subject in front of a high contrast background, the system does tend to pick the latter. Also the minimum focus area is somewhat large, so it can be hard to get precise focus on smaller objects and care needs to be taken.
The camera also offers a continuous AF mode. With a half press, it performs AF continuously. With the original 1.0 firmware, it repeatedly went through the full slow cycle and was not good for tracking moving subjects. With firmware 1.1 it now does a long seek first followed by smaller checks. As such it holds focus better and reduces the lag when you do want to take a shot. If you're in continuous shooting, it still doesn't really satisfy. Between continuous shots it will do the slower long seek again. You still have to make the 1st shot count.
Overall, the contrast AF is good for the job. What do I mean by that? In single shot mode it is fine for static or slow moving subjects. However before every shot there is a slight delay while it reseeks even if the focus is unchanged. So there is a bit of shutter lag. If you press the button all the way, it will AF and take the shot immediately. If you want to do lots of sports/fast action shooting, this isn't ideal but then again, you'd probably want something a bit more meaty anyway.
Image stabilisation
Olympus have managed to squeeze in sensor shift based image stabilisation into the camera, thus is not limited to implementing IS in the lens. This could allow for smaller lenses at the cost of a bigger body, particularly useful for smaller prime lenses. The effectiveness seems at least as good as that in other Olympus DSLRs or equivalent from Sony.
Image quality
My usage has been limited to shooting in jepg only. It is believed the camera performs distortion correction in body for jpeg like the Panasonic models. This may help improve image quality in general, at the cost of a reduction in absolute sharpness.
Impressions compared to other DSLRs are generally positive. On a minor downside, at low ISO levels there seems to be more luminance noise than Sony/Canon DSLRs. The processing is very effective at controlling chroma noise throughout the ISO range. At ISO3200 I prefer the E-P1 over the Canon 50D which starts to suffer from banding around that point.
Following is an ISO setting vs noise test. I couldn't resist the subject for obvious reasons.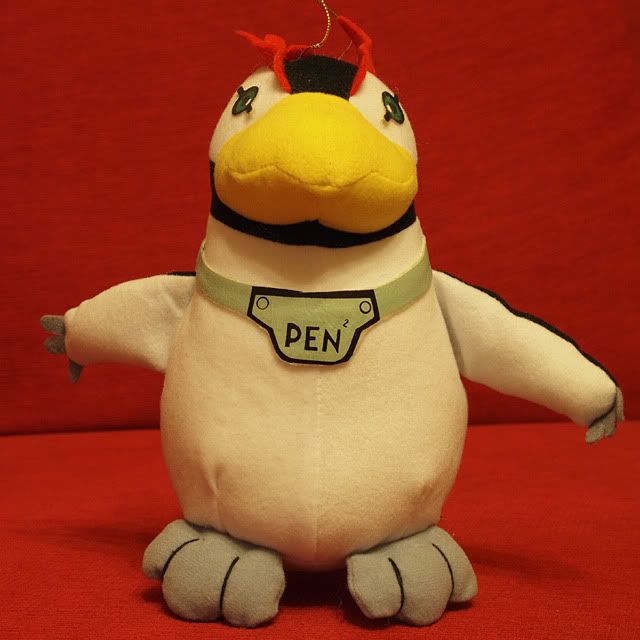 Key settings were aperture priority mode to f/8. ISO varied. Whole scene metering. AWB. Camera on tripod and 2 second delay. Focus on the PEN2. Below lossless crops from camera jpeg (large fine). Other settings as the camera arrived.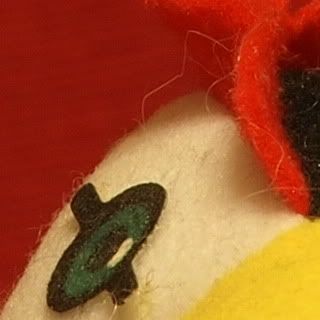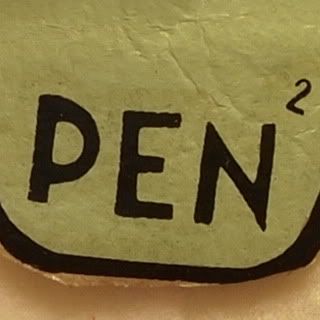 ISO100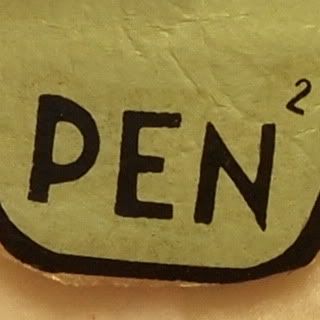 ISO200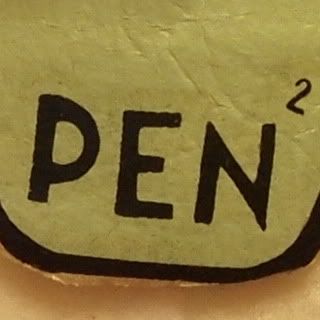 ISO400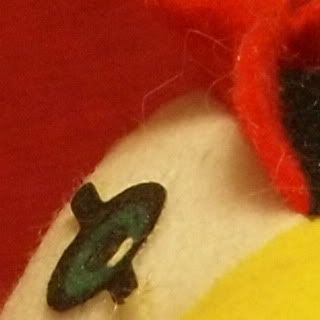 ISO800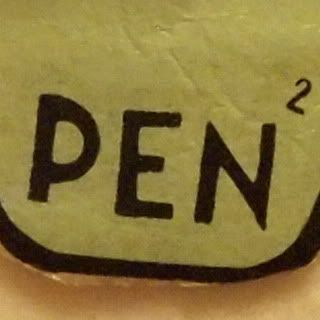 ISO1600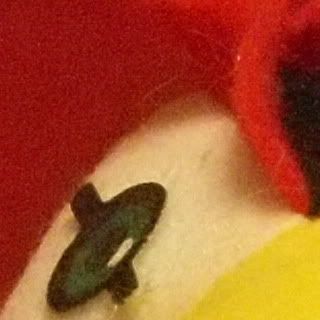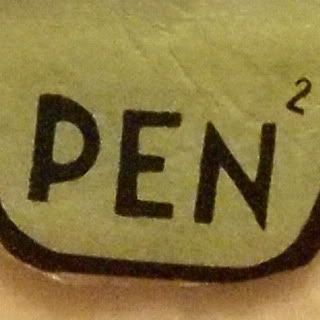 ISO3200
ISO6400
Notice how ISO100 and ISO6400 are slightly different colour from the mid range. The chroma noise is extremely well controlled, leaving varying levels of luminance noise and general softening as the ISO is increased. Out of the box, the auto ISO range is up to 1600. This seems a reasonable choice for general use as the 3200 setting is where significant noise and detail loss really kick in hard. Not surprisingly 6400 is worse.
Practical considerations while shooting
Using only the screen you hold it as you would most compact cameras, but with the lower weight compared to a DSLR it places less stress on the arms. The usable high ISO ability combined with stabilisation works great combined with the short kit zoom lens. Only in more extreme conditions like trying to take shots at minimum focus distance might a bit more stability be desired. With the neck strap fitted, I found that holding the camera out to bring it under tension gives a stability comparable to using a DSLR viewfinder.
The battery life seems reasonable. From my first charge I got over 500 shots and a couple of short video clips. The battery indicator only just went down to one bar out of two at that point where I had to recharge for a day away. Of course, results may vary significantly depending on how you use it. The manufacturer quoted life is 300 shots.
Used with a 2GB 150x SD card, it seems more than adequate for jpeg shooting and video. During testing there were no occasions limited by waiting for the camera to respond. Raw shooting was not tested and results may vary there.
The camera does not include a built in flash. The combination of high ISO ability and stabilisation work well to get around this, although if you find yourself in a situation needing fill flash, you're out of luck. External flashes are available, taking away some of the size benefits.
Zoom lens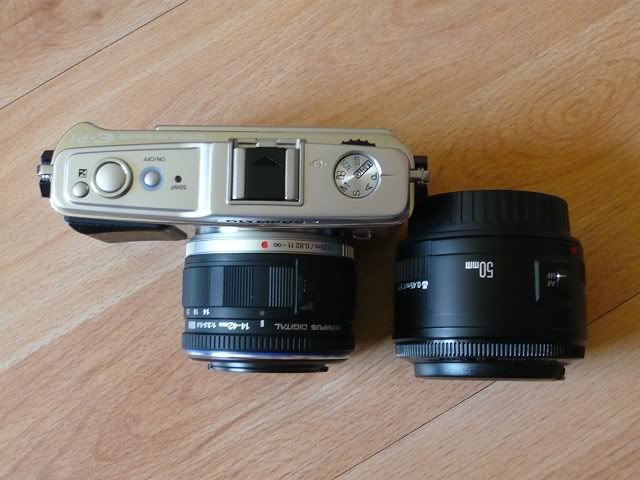 The lens itself could be described as cute. It is much like other interchangeable lens formats, except much smaller. It is roughly the same size as a Canon 50mm f/1.8 II lens while it is in storage position.
It is no macro lens but has some closeup ability. In a practical measurement (based on the specified sensor width of 17.3mm) the maximum magnification I got was about 0.37x. Not so great for bugs as the working distance is quite short.
The lens takes 40.5mm filter size, and while not common for DSLRs it does seem to be one used on compacts and/or camcorders. So while the high end accessories are not common in that size, the basics like a UV filter or a polarising filter are obtainable.
The lens does not come with any hood. I suspect that is due more to keeping the overall package size down than a lack of generosity. Even without one, the lens does quite well at flare control with no significant flare unless the sun is in shot.
I have found the lack of a hood does mean I have had more near misses with the front of the lens than on a DSLR, so I have taken to fitting a protection filter. While a filter is insignificant on a DSLR lens, it does stand out more on such a tiny lens.
As discussed earlier, the front section of the lens does rotate when focusing so it means a little more effort is required to use filters that are directionally sensitive such as polarising filters. As the system does not make use of phase change AF, I believe this means a circular polariser is not essential and a linear one will suffice.
Step up adapter rings are available to allow the use of bigger accessory sizes.
Video mode
In a quick test, I took a long recording, and it lasted over 5 minutes before it just stopped. Filesize was about 1.5 GB and there was still free space on the card. Playing back, you can see automatic exposure in process. I didn't vary subject enough to know if it was auto AF too. The stabilisation wasn't enough to take out the wobble from me walking with it, but works great when standing still.
When manually zooming the lens, the body microphone picks that sound up loudly.
Sample videos
here
and
here
.
Conclusions
Overall this delivers what you would expect from the package size. The sensor is DSLR class and delivers image performance consistent with that, with variations remaining more due to processing differences. The smaller size compared to a DSLR makes it less conspicuous when out and about. You also feel the reduction in weight compared to even smaller DSLRs.
Potential limitations are the lack of any viewfinder, but the included screen is up to the job for normal use. The focus lag and speed is another potential issue if you're after a spontaneous moment or high action shooting, but is of no problem for slow moving or stationary targets. The lack of flash may limit in some extremely low light situations.
As the microFourThirds system is comparatively new, even with the Panasonic lenses, there is very little native lens choice at the moment. An adapter allowing use of FourThird format lenses is available but you lose the size advantage there, but that is not as bad as it seems. The benefit of the microFourThirds system mount is a shorter registration distance from lens mount to sensor. This helps in the design of wide angle lenses, but doesn't really affect telephoto lenses, which are mostly limited by the focal length and aperture, and laws of physics dictate it will be the same size as similar lenses on other systems there.
Overall, this is fine for general photography but may be more challenging to use if speed and timing are critical, where a conventional DSLR would be easier to use.
As a relatively new camera, the cost may be elevated at the moment. It is comparable to higher entry level DSLRs, which would generally provide a better technical experience if size is not so important. Existing DSLR owners would be unlikely to switch solely to the E-P1, where it is more useful as a supplement to a DSLR.
Also consider
What else is there with big sensor in small size? Not too much.
Panasonic G1 and G1H: These are the closest cameras to the E-P1, but in a more DSLR like format and thus is bigger. AF performance is reported to be as good as entry level DSLRs. Common to other Panasonic cameras, they do not use body stabilisation and implement it in the lens so this may be a consideration if it is a desired feature.
Sigma DP1 and DP2: These feature a Foveon sensor which is actually a little bigger than the E-P1. However they only has a fixed prime lens.
Entry level DSLRs: The smallest DSLR is probably from Olympus, in particular their E-4xx series.
Looking further ahead, rumours are that Panasonic will be announcing their equivalent model later this year. Two future Olympus models have been described as being above and below the E-P1 without further detail. The Samsung NX will be a competing format.
Image Samples
This is a mix of normally processed pics as well as some 100% lossless crops from camera jpeg output.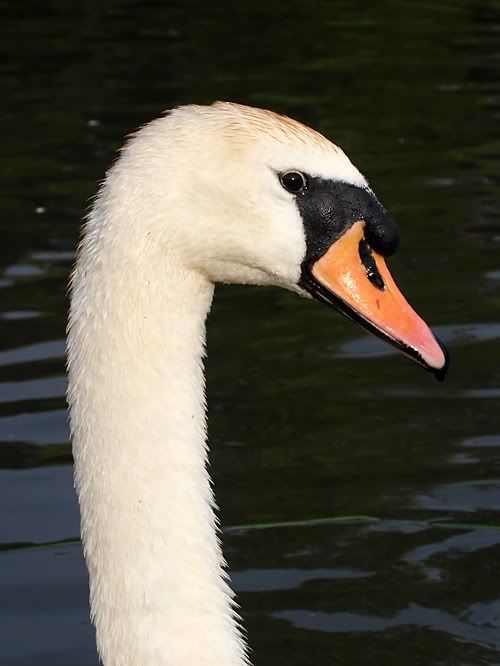 Crop and processed normally.
100% lossless crop from original of above.
Resize only and processed normally.
100% lossless crop from original of above.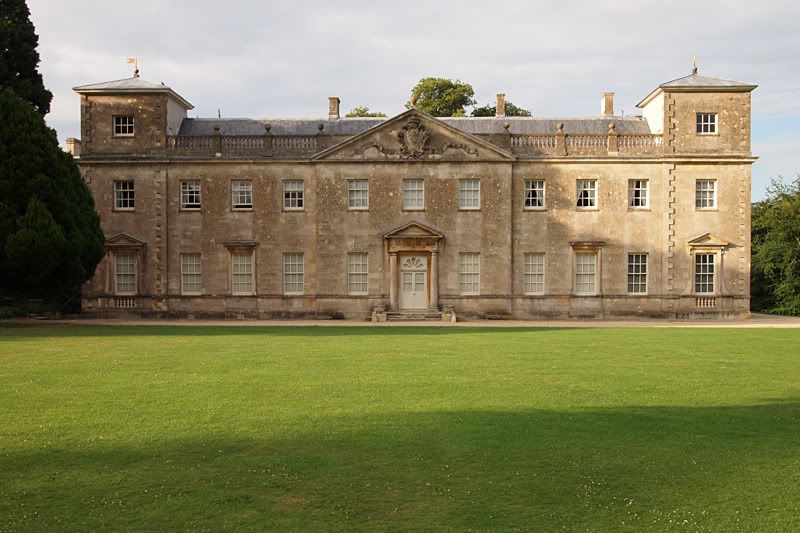 Slight crop to 3:2 aspect, processed normally including cloning out some junk on the lawn.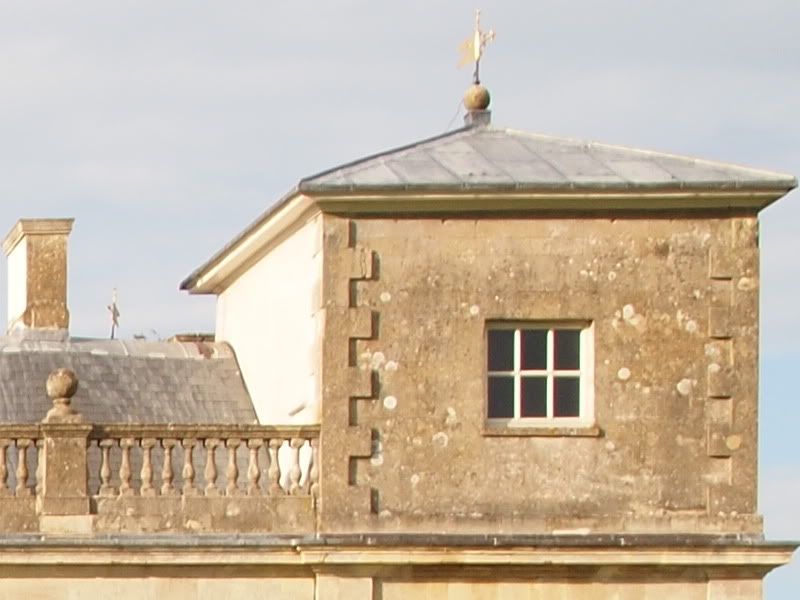 100% lossless crop from original of above. Note slight CA in window.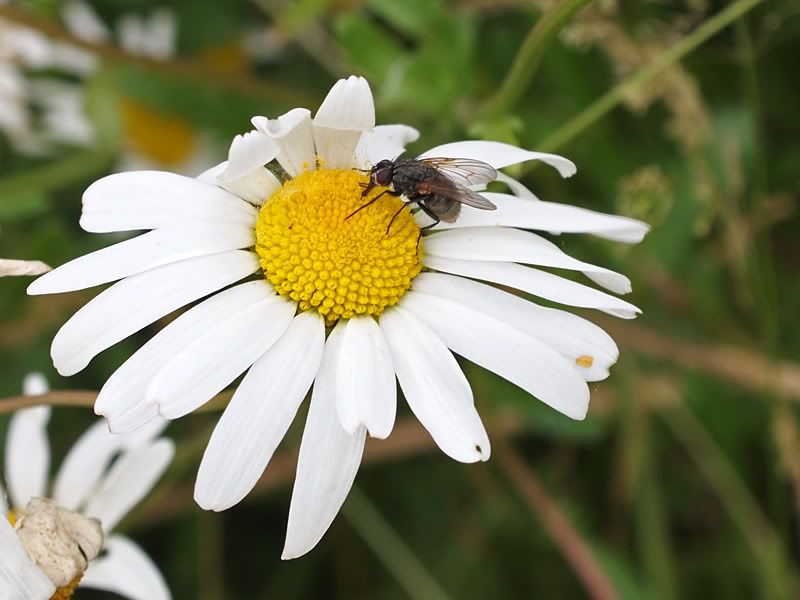 Crop and processed normally.
100% lossless crop from original of above.
Resize only and processed normally.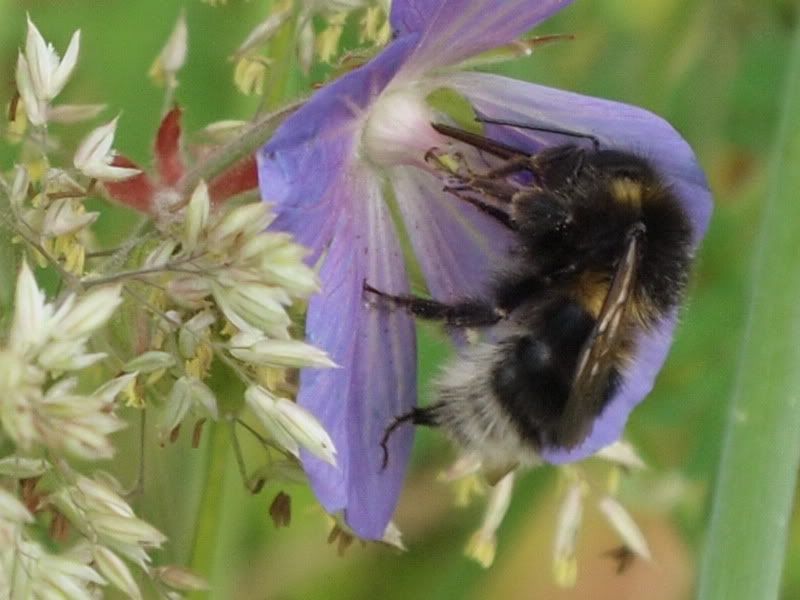 100% lossless crop from original.
Crop and processed normally.
Crop and processed normally.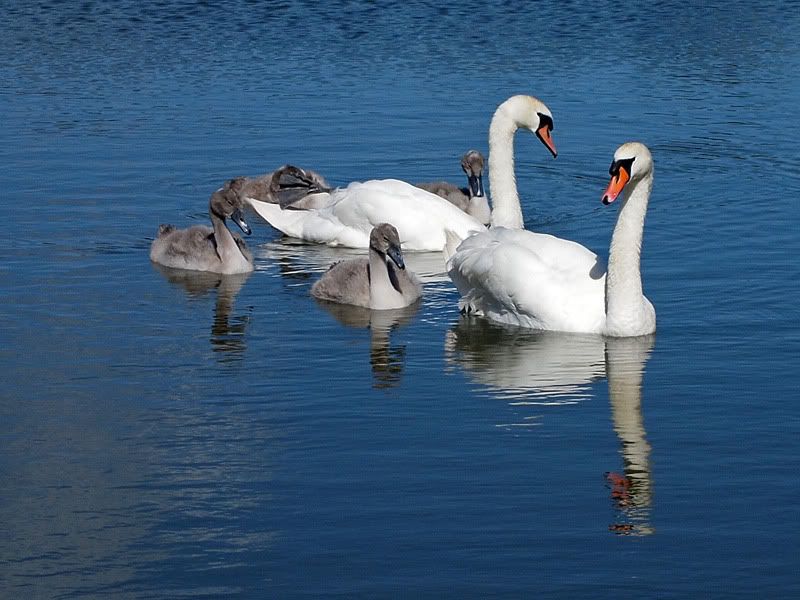 Crop and processed normally.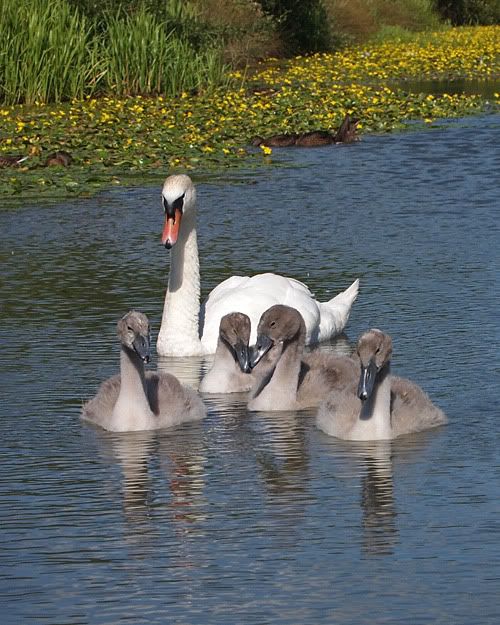 Crop and processed normally.
Shot left handed. Crop and processed normally.
EXIF should be intact on all if you want to know settings.
Most of the above images were taken with the camera in fine jpeg mode, although some might also be taken in normal.
IR
Tested using a Hoya R72 filter. Aperture priority at f/8 for all shots.
Normal shot: 1/160s, f/8, ISO200
With Hoya R72 held in front of lens: 1.6s, f/8, ISO1600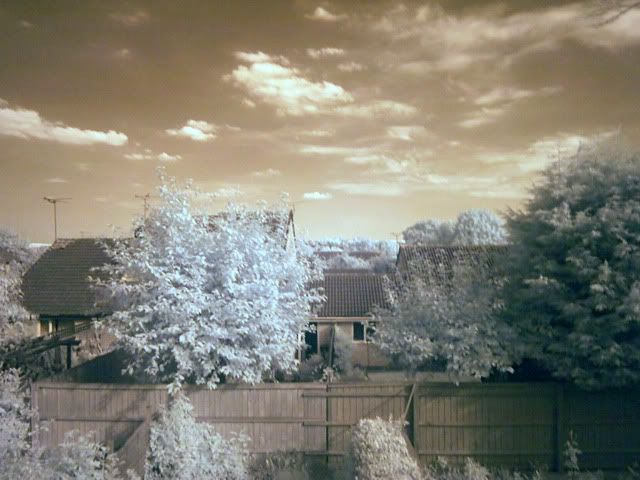 IR image with some white balance processing.
Enough IR gets through to the sensor for the live view to give an image. AF works providing there is a bright and high contrast subject.
The kit zoom lens does suffer from a central hotspot in IR photography.