I've been researching bags up and down and have come upon these companies thus far. This, by far, is not a comprehensive list, but a list of my personal tastes. What constitutes being added to the list are these main factors:
1 · A backpack or messenger style bag.
2 · Designed to carry a camera, a laptop of 15 inches" or more, and still have extra space for books and/or art supplies... or otherwise easily converted.
3 · Prefer a price between $0 - $150 but... you do get what you pay for, for the most part.
4 · Designed to look good, but understated. I don't want to attract, I want to blend.
Prices can vary on the web, but I am linking to Amazon and B and H since they are affiliates of ours, however, some items are not found on them, so I will use the actual company's website for reference. Most likely the top 3 will receive an in-depth price search unless there's a clear winner.
If am I allowed, I will post the company links because they have a great deal of information about the product. This will come a bit later with the nod of an moderator and more time on my part.
The two Rothco's and the Chrome are not camera specific bags, but the use of inserts may change that. I did check dimensions on all of the bags and granted, some are very tight in terms of what I deem "minimum spacing"; 12" Wide X 14" Height X 6" Deep
Sinking Barge
The Sinking Barge is pretty much my perfect bag... except the price. Looks well designed, understated in black, lots of room to lug stuff... 35 views and only 1 vote.
thinkTANK Urban Disguise 50
My next choice... of course the price point causes me to push to search longer... but this is close.
Update: I've read a few reviews for this, some say it's stealthy, others say it screams expensive equipment inside. What are your thoughts? It seems to hold all the equipment and laptop okay... but there seems to be a lack of room for notebooks, sketch pad, etc.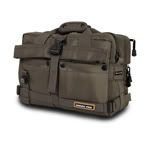 Naneu Pro Military Ops Tango
The price is getting better, the design is cool (as most military looking items are), however there are strange issues I read on Amazon, and in various blogs regarding Naneu Pro. Customer Service is really good... so I've read.
Update: Reading more... lots of pockets. Laptop is secured in back, which will press against your body. That can be problematic, in my opinion. One user says a 14" 'hidden pocket' in the front is a better place for a laptop. It holds a whole lot.
Chrome Soma
plus
Domke FA-210 Insert
etc.
Looks good, functions like I'd want... but it's not a camera bag. It'll be a tight fit with a laptop, D80, a textbook, etc. Still... it looks good...
Update: Not going with this as it is not cost effective. However, I hear really good things about this company products.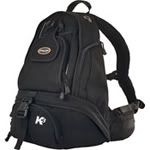 Naneu Pro K3L
Couldn't find this on BandH or Amazon... bland styling but it would do the job. Price is not that grand...
Update: Not going with this simply because the style isn't appealing and there are better choices within this company's line.
Naneu Pro Military Ops Alpha
Neat looking backpack with a cool price point to boot. Again... hesitation comes regarding the negative reviews... has anyone used these products?
Update: A more in depth review reveals that the shoulder straps are fairly close together. Big and tall folks will have issues. I'm tall and lean, so it's still a possibility. The hidden compartment in the back is highly appealing.
Naeu Pro Military Ops Echo
This looks cool! However, I emailed the company to see if a laptop can fit... I doubt it. I'm hoping but... looks like a day bag.
Update 1: I have read a 15" macBook can fit inside. It has easy access to the gear and is comfortable. The downside is that there's isn't much room for much else, apparently. The cost isn't too bad though...
Update 2: Just heard from the Product Manager of Naneu Pro;
"Daniel,

Thank you for your inquiry regarding our Echo messenger bag. Sorry, but this model does not accommodate a laptop. We do offer other models that will hold a laptop: http://www.naneupro.com/products/category/laptop/ . If there is anything that I can do to assist you, please do not hesitate to contact me.


Thank you,

Michael A. Lawhon
Product Manager
Naneu Pro
michael@naneupro.com"
Enough said. :T And a quick reply from them is a big plus in my book. Offering alternate products is also good... unless it's a bait and switch (which this is not).
Rothco M-51 Engineers Field Bag
plus
Domke FA-210 Insert
and
Domke FA-220 Insert
DIY FTW! But a very very very tight fit.
Update: Not going with this to hold all my stuff. But... for walk around San Francisco or something... single lens, body, and a sandwich...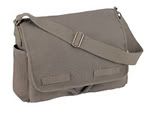 Rothco European School Bag
plus
Domke FA-210 Insert
and
Domke FA-220 Insert
Price can't be beat. But perhaps everything else about it can?
This doesn't seem too bad. I need to figure out the exact number of inserts it would take as well as how to secure them within. Most likely buying industrial strength Velco with a sticky side. I'd have to plan where and what and how everythings going to come together. This is the most stealthy of the lot...