Hi All,
I do not own all of these gears and my review is subjective.
The gears that I personally tried are: Canon XT, Pentax k100d and Canon 40D
The comparison chart and scores based on my knowledge:
reading user reviews and expert reviews, feedbacks
and some statistics from manufacturer.
I hope it helps for users that want to buy new camera, upgrade
or switch brands.
Notes:
Noise Handling
: Ability to handle noise level and iso range
Auto Focus:
Burst speed, speed and accuracy of focusing and AF points.
Features:
Modern 2008 standard features such as live view, dust management, image stabilization and user features
Lens Selections:
Variety of lens selection and price of lens in particular brand.
Image Quality:
Max resolution, image processing, accuracy of color balance
Price Value:
Pricing and value of the product.
Body Handling:
Construction and Ergonomics.
Digital Camera SLR for beginner: 2008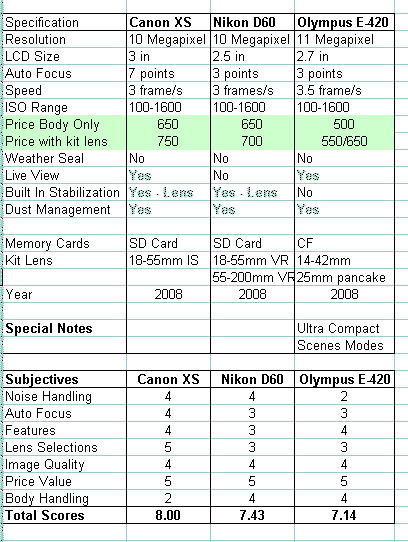 Digital Camera SLR for beginner: Before 2008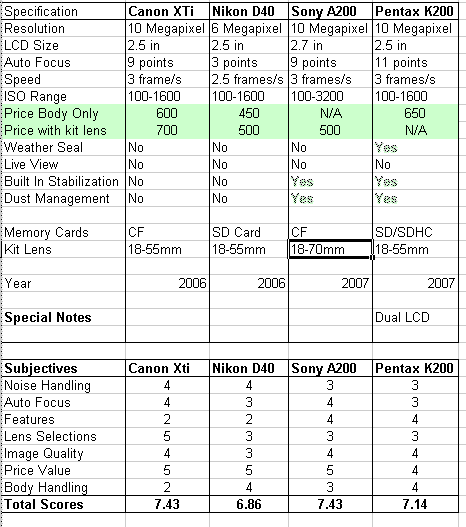 Digital Camera SLR for enthusiasts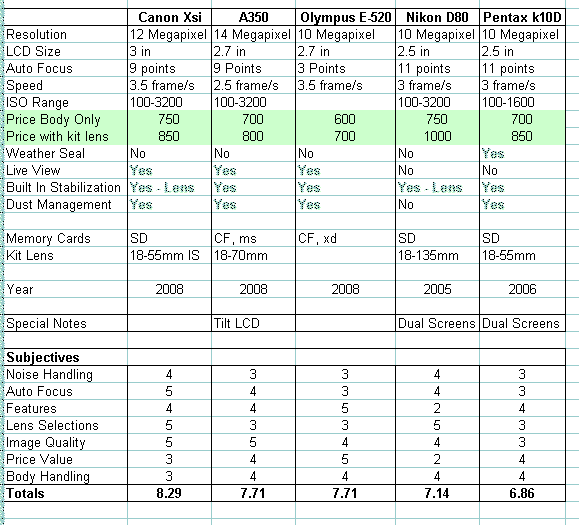 Digital Camera SLR for semi pro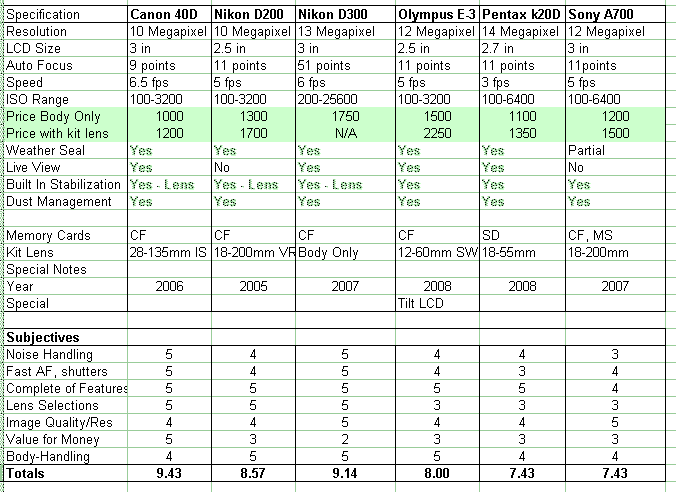 Digital Camera SLR for professionals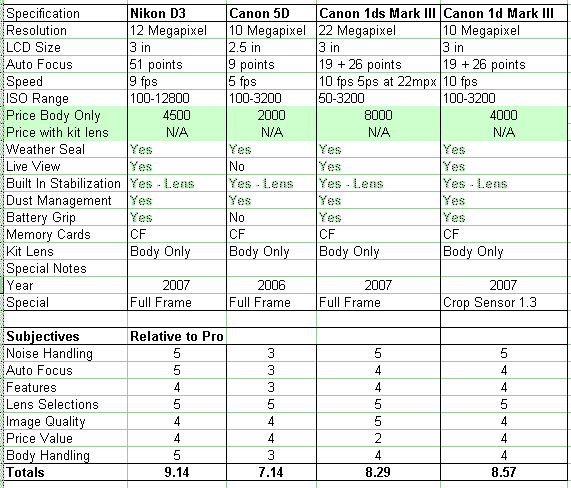 Notes: XS, XSi and XTi are also known as Canon 1000D, 450D and 400D

From those statistics, I conclude that:
Best Buy for Beginners and low budget
1. Canon XS
2-4. Canon Xti dan Nikon D60, Sony A200
5-6. Olympus E-420 and Pentax K200d
7. Nikon D40
2008 Best Buy for enthusiasts
1. Canon XSi
2-3. Sony A350, Olympus E-520
4-5. Nikon D80, Pentax k10d
2008 Best Buy for semi professional
1. Canon 40D
2. Nikon D300
3. Nikon D200
4. Olympus E-3
5. Sony A700
6. Pentax k20d
2008 Best Buy for Professionals
1. Nikon D3
2. Canon 1D Mark III
3. Canon 1Ds Mark III
4. Canon 5D
Other Important Notes:
*I am assuming that buyers have flexible budget.
* Points for profesional level is relative to Profesional camera, so
we can't compare the total scores of professional camera to beginner/semi-pro.
* The review does not take account of personal condition and needs.
For example, if you value ultra small size more than any other feature,
then you should probably choose Olympus E-420 although it is listed no. 5-6.
If you have many Sony and Konica Minolta lenses and equipment, you
might be put higher consideration on Sony Alpha cameras.
* If I make mistakes on the number/facts please correct me.
Thank you for reading this...
*me feels so geeky now haha..
Last edited by Enche Zein on Tue Jun 17, 2008 11:28 pm, edited 9 times in total.