Recently got a chance to visit Sikkim, a small state in India above West Bengal and on the eastern fringes of the Himalayas.
This is a mountain top tourist destination of great beauty and the best time to visit is from end March till June end when flowers at this region are in full bloom.There is in fact a place near Yumthang in North Sikkim called the valley of flowers and called so not for no reason.
Now is end winter there. To avoid rush and to view the snow covered peaks, selected this time to visit.
In 2011 Sikkim - mostly North Sikkim was pounded by a sever earth quake which caused huge land slides. The state is still recovering from that blow and from the ensuing very lean tourist season that followed.
Came back with some pictures trying to present fractions of the mountains,roads,scars left behind from the quake, few people and monastery. Here are a few of them. The quality of these shots is not good in most cases and many are taken from a moving vehicle, but yet I post them just that it will be possible to visualise Sikkim to a little extent.
The crown
Mountains always look misty from a distance but that adds to the character of the place IMO.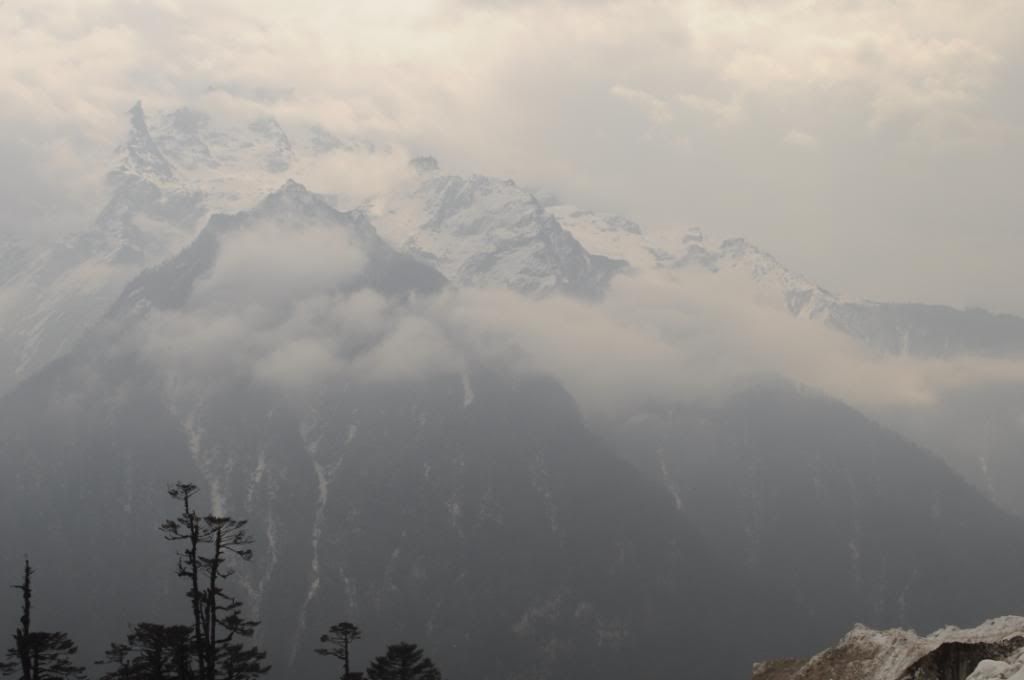 Ice Crevice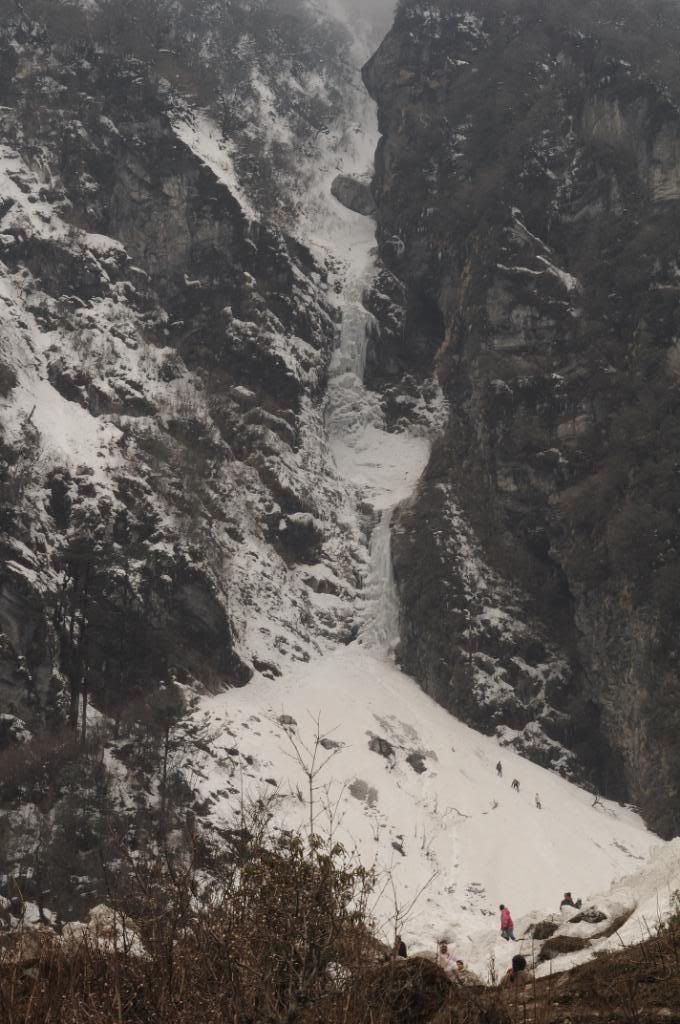 Where Eagles Dare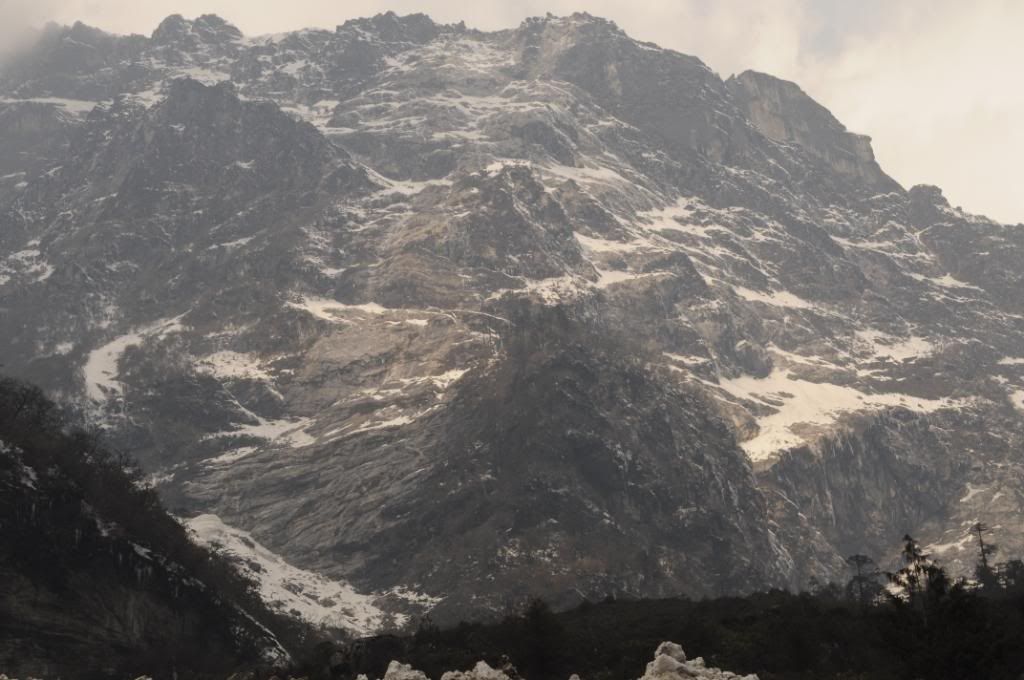 Freezing Moments
A honeymoon couple freezing a few moments in the frozen weather.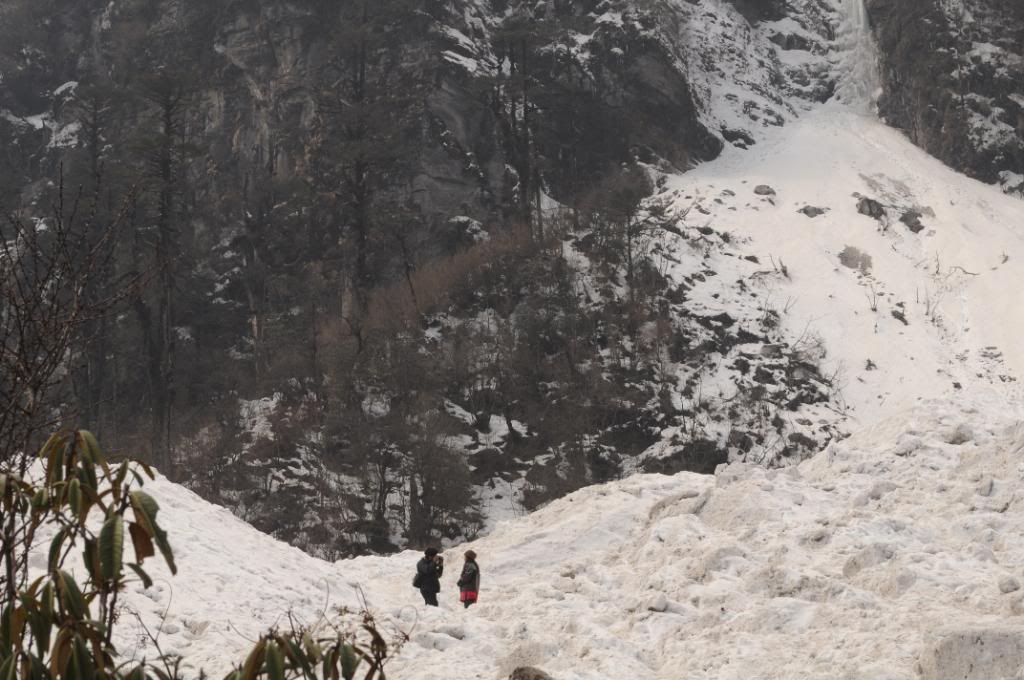 Light and Shade
Chhangu Lake - frozen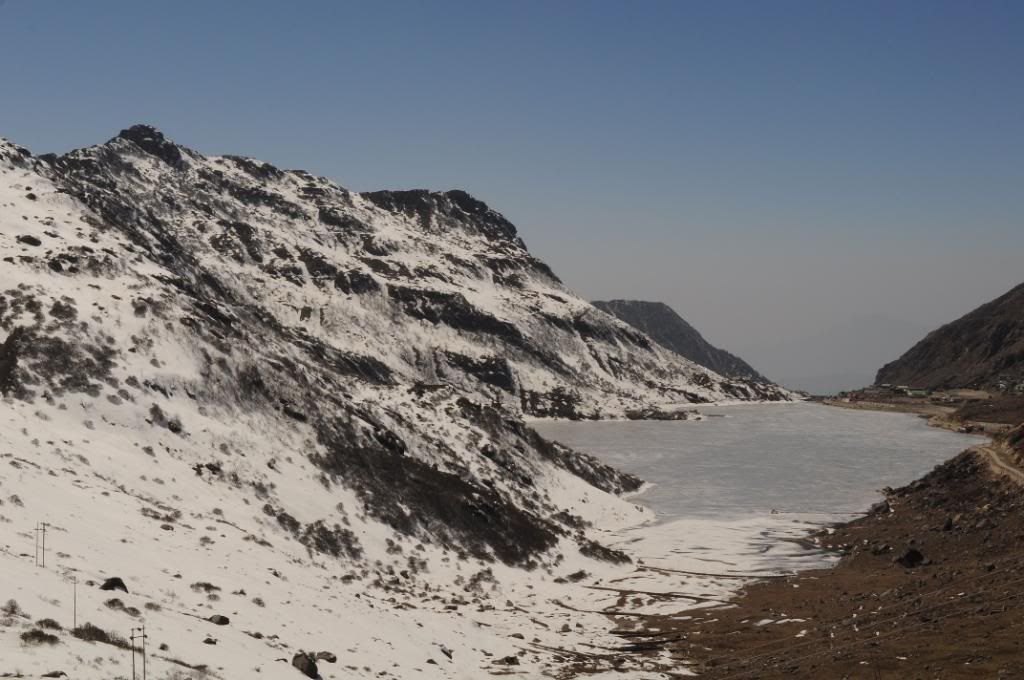 Height Adjustment - tourist trying to get a different perspective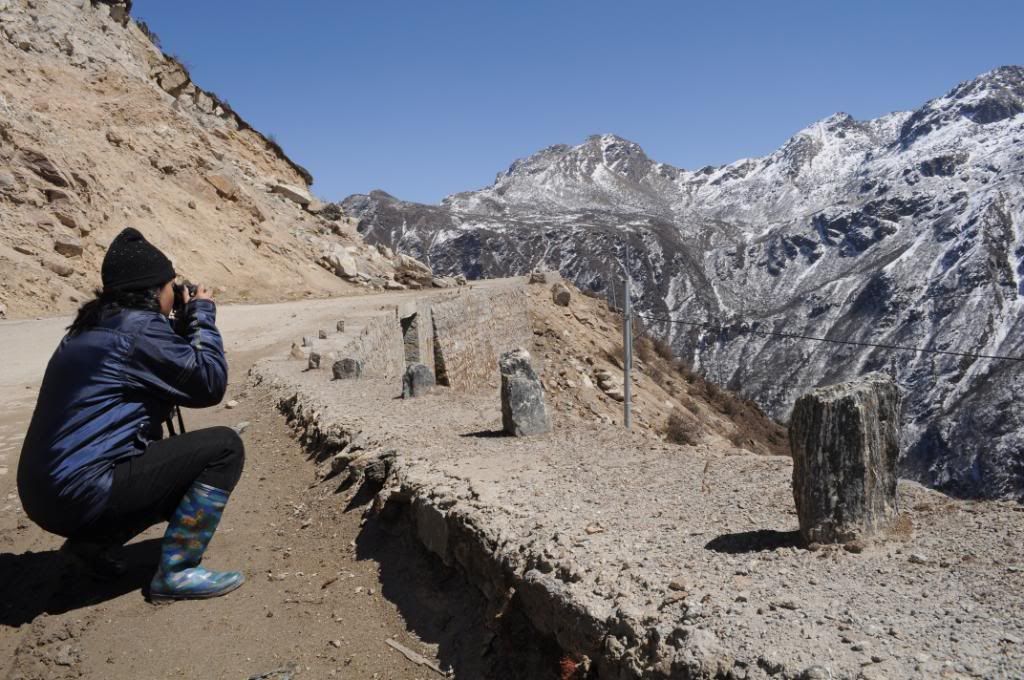 Road between ranges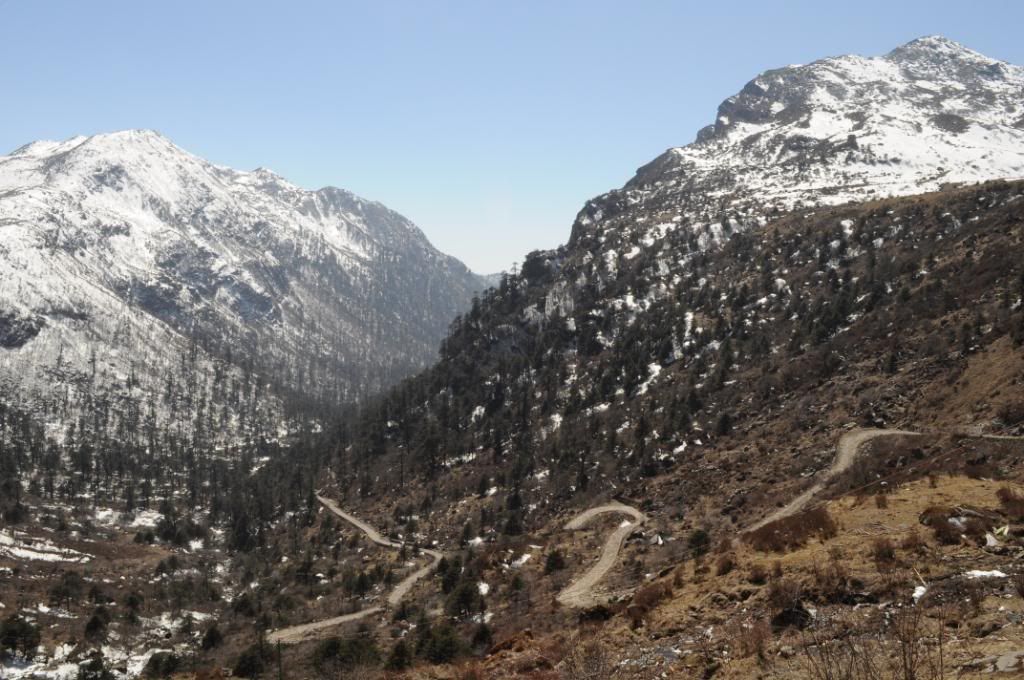 Risky Road - These narrow paths full of ice and slush can be very treachorous to the new hands and slightest lapse will direct towards a destination of no-return!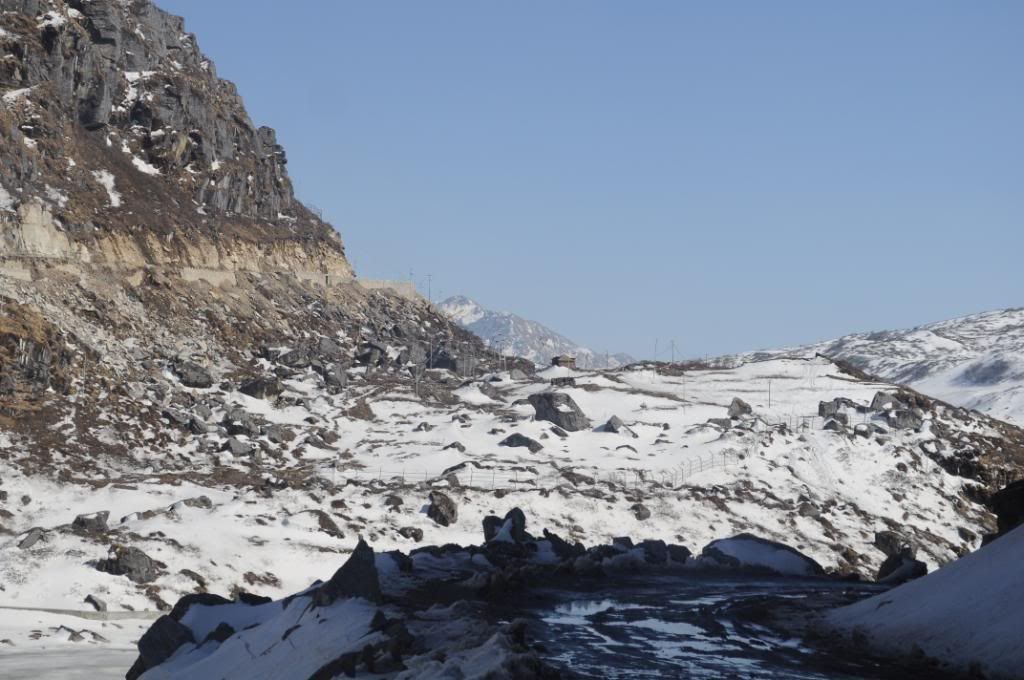 Stairway to...hell...
This stairway that once was... is now as visible...totally broken and covered with glistenning ice. The inclination is much more than appears in the photo. Climbing down is no less than any trekking adventure!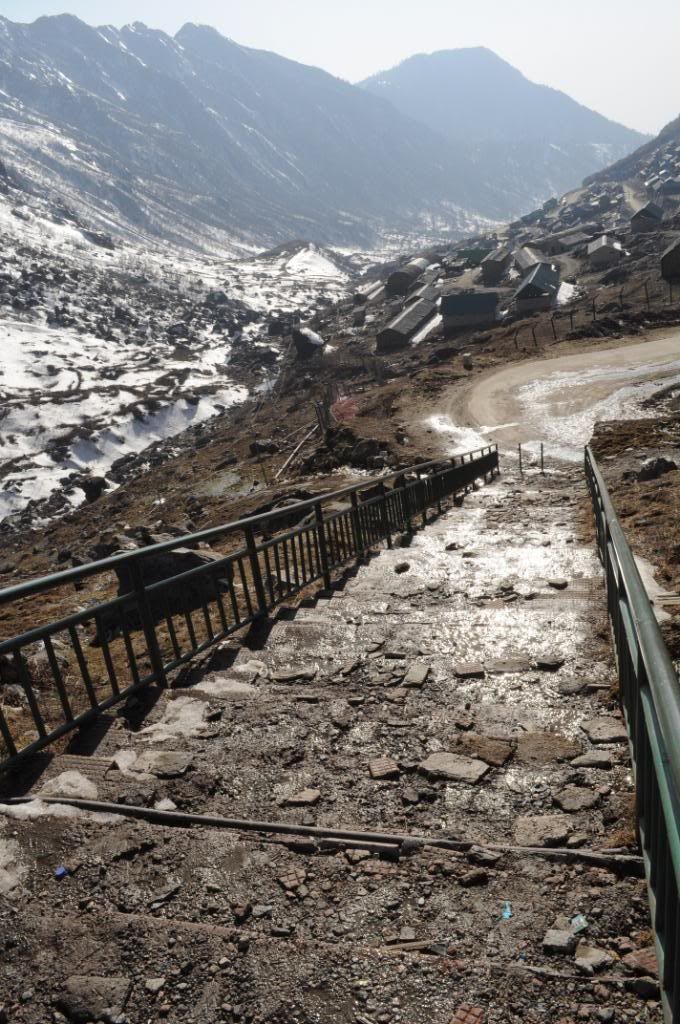 Range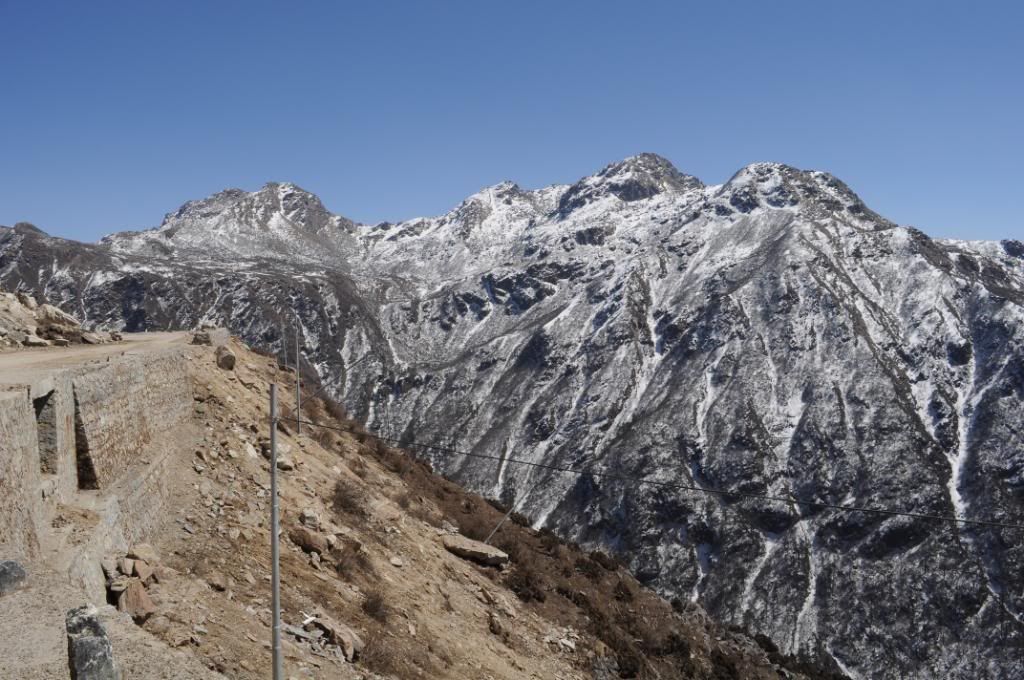 Rock wall
Photo Sensitive
A tourist showing her photo to the subject.... and she is happy. The image is faintly visible on the LCD of the Lumix.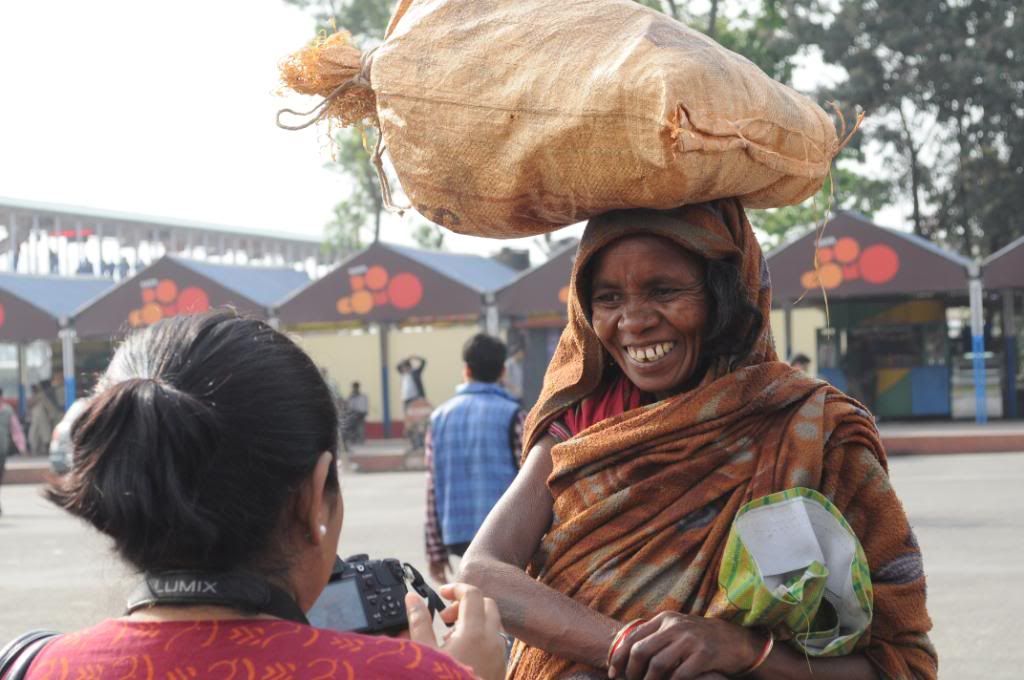 A vendor waiting
A vendor by the road side while travelling from New JalpaiGuri to Gangtok via Sevoke road.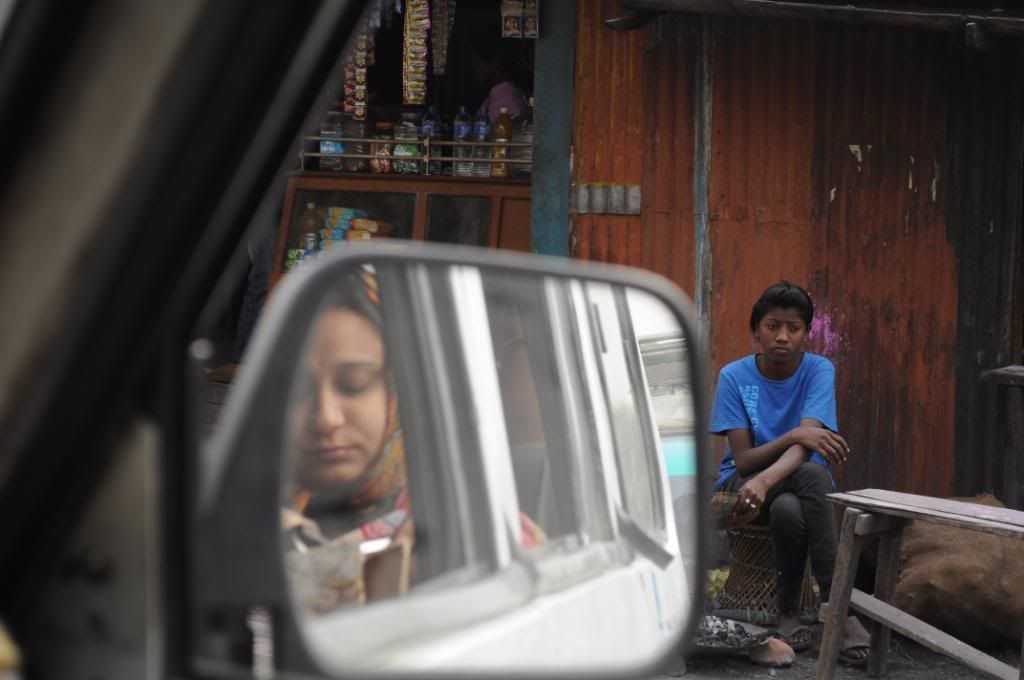 Shanties
These houses also serve as stop-by eateries and tit-bit provision stores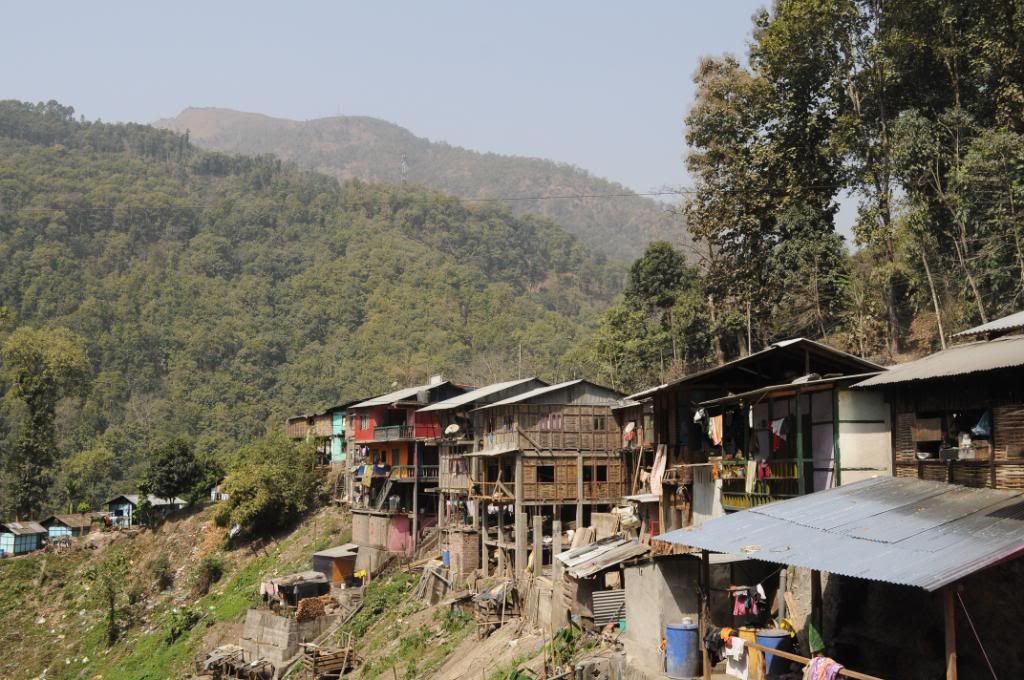 Wall in ahotel room
Due to devastating earth quake last year, there was a very long dry season for this tourist destination....the termite affceted painting bears testimony to the detachment from maintenance and gives a feeling of neglect that there is still now as Sikkim limps back to normal.
Curio shop
These ethnic handicrafts are a big attraction to tourists and are superb examples of craftsmanship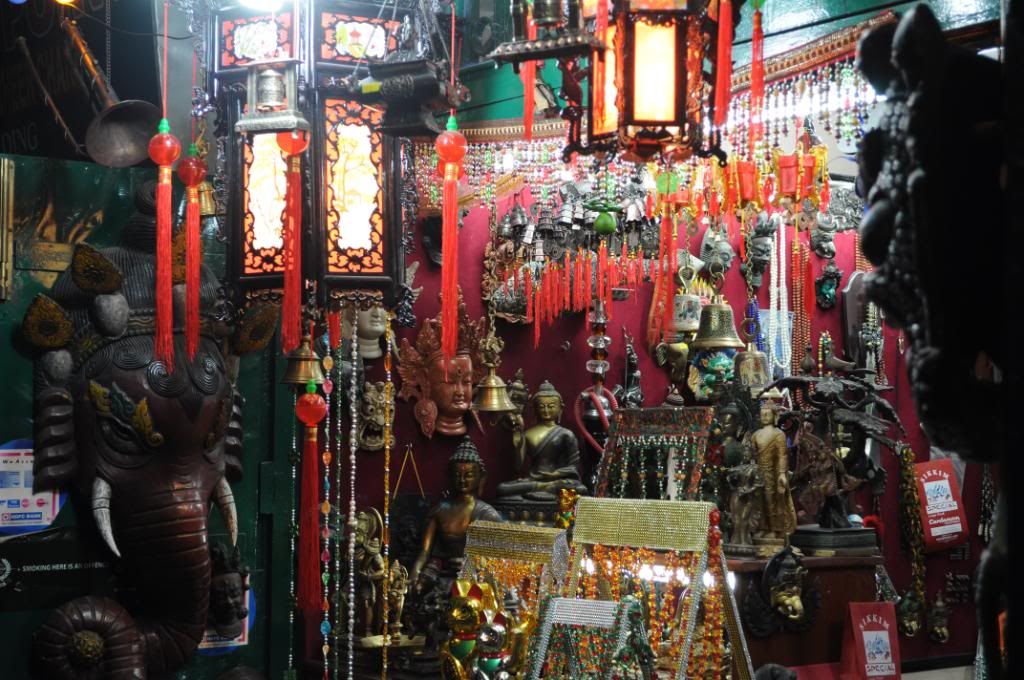 Replica Prayer Wheel - silver alloy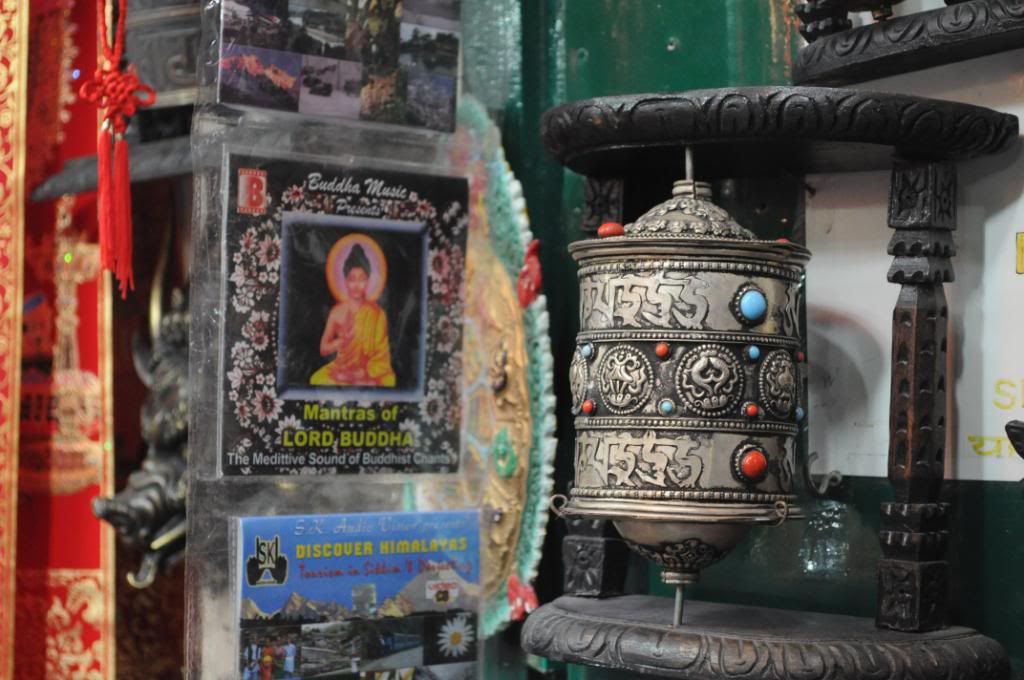 Ranka Monastery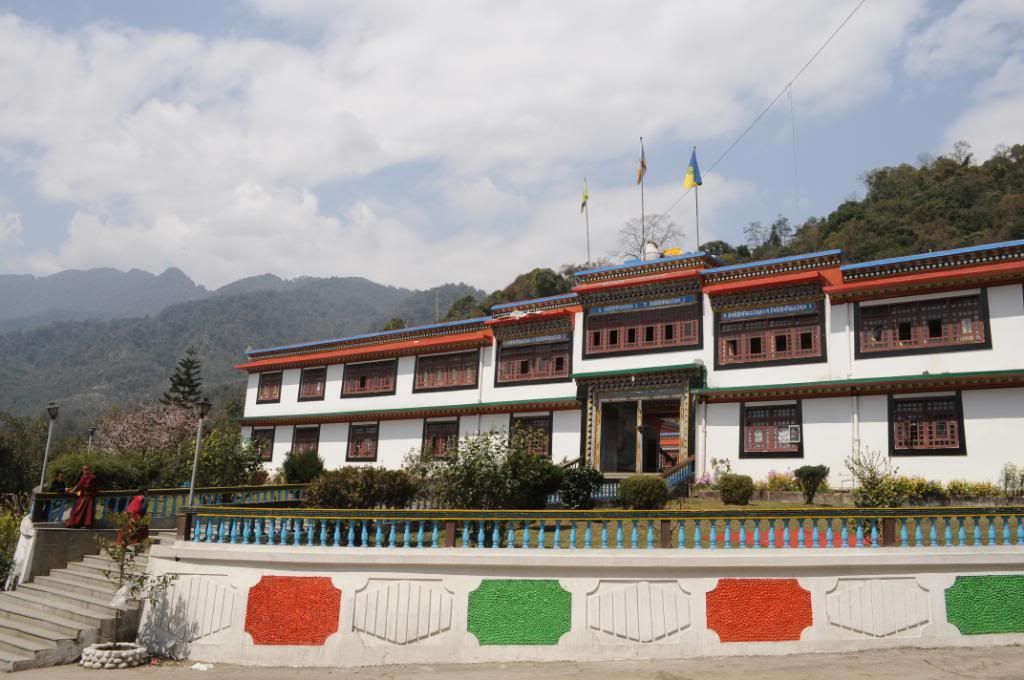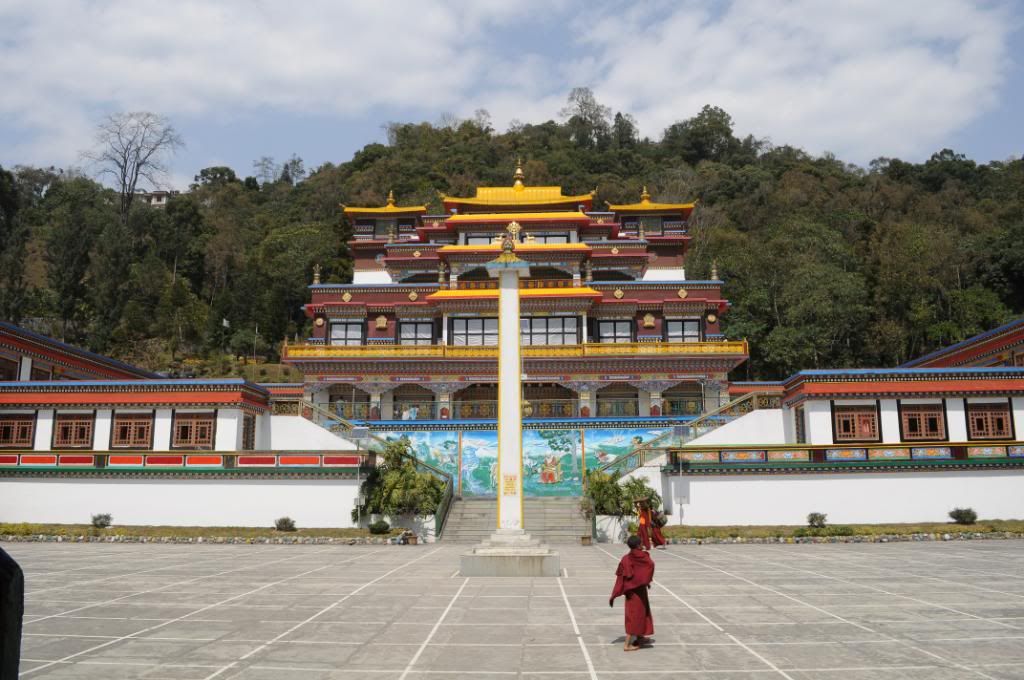 Never too early
Kids are also initiated into life of a Lama. Kid lama turning prayer whee.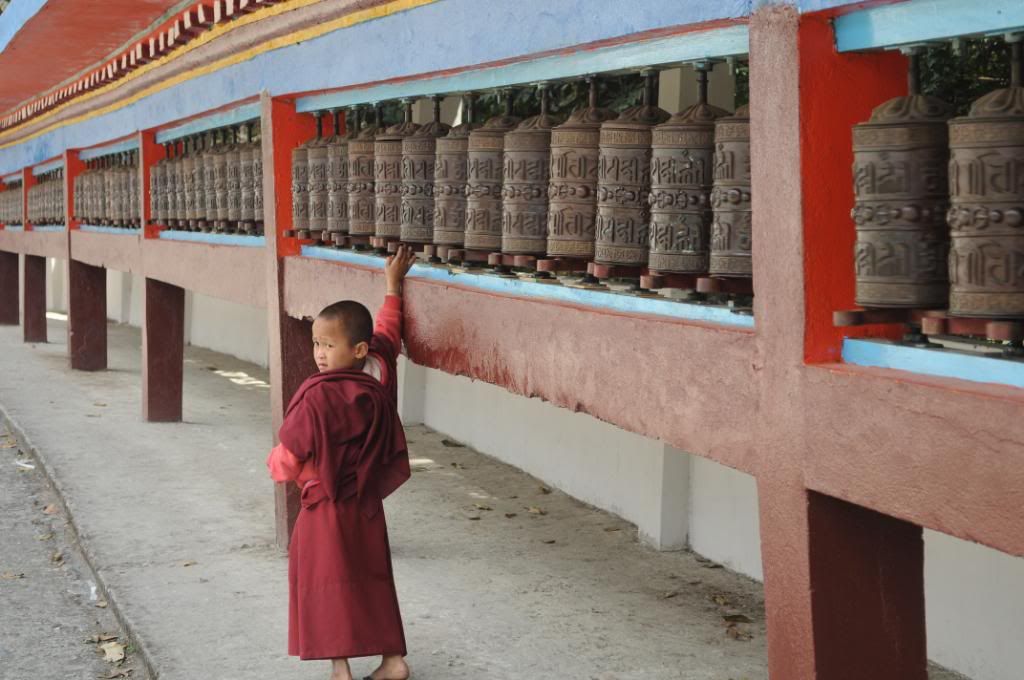 Local Devotee
Prayer wheels have Buddhist religious scriptures embossed on them. Turning these wheels is said to have same effect as that of chanting these 'mantras'.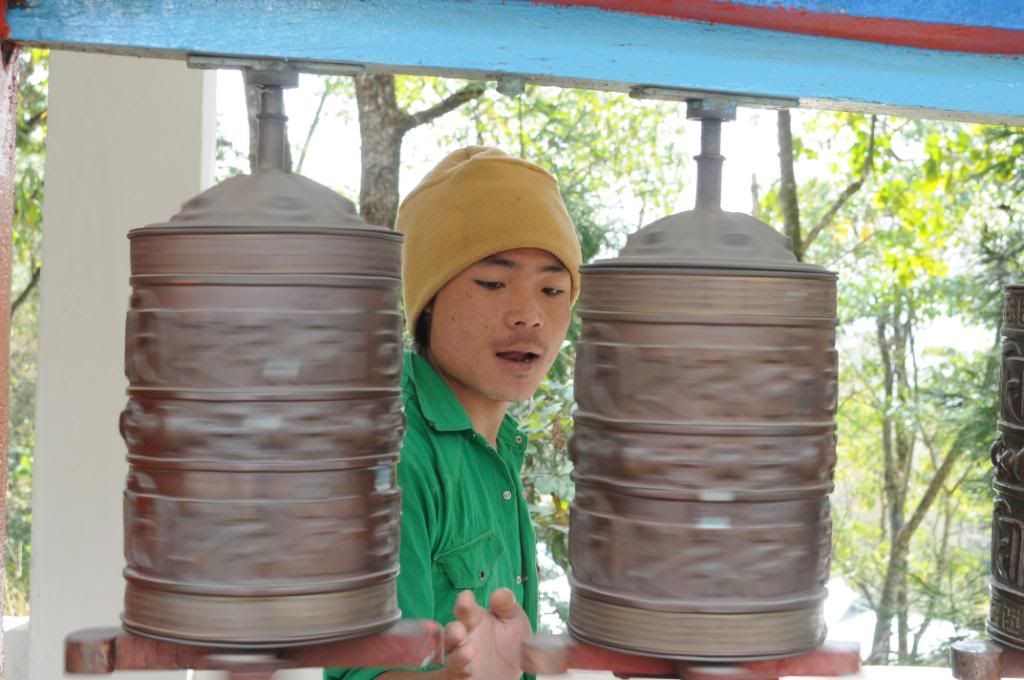 When Nature Calls...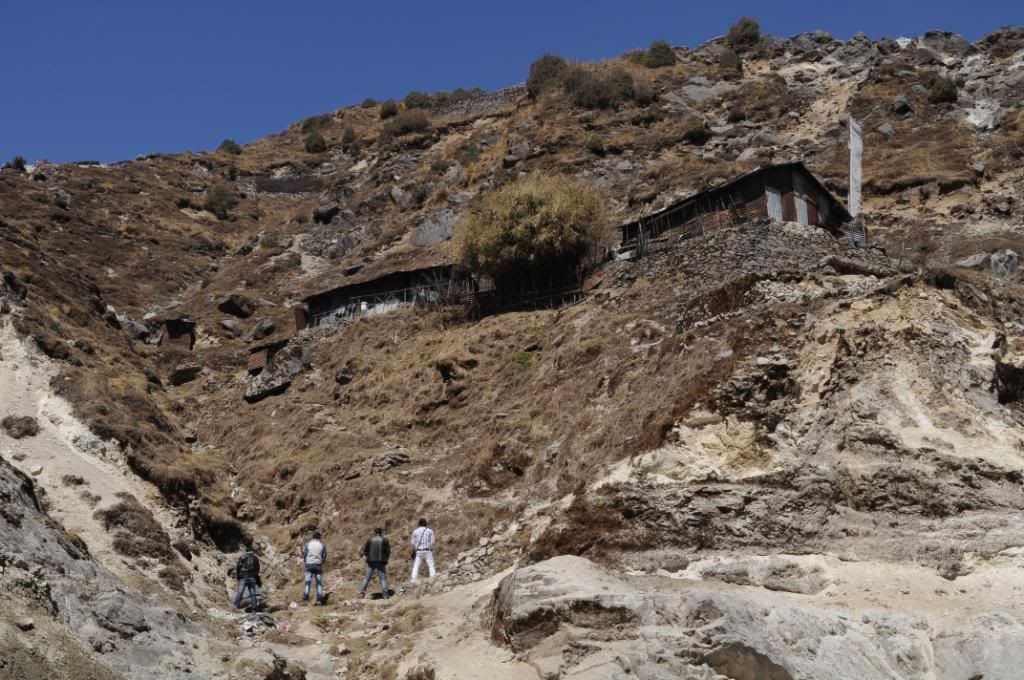 Road to Chhangu Lake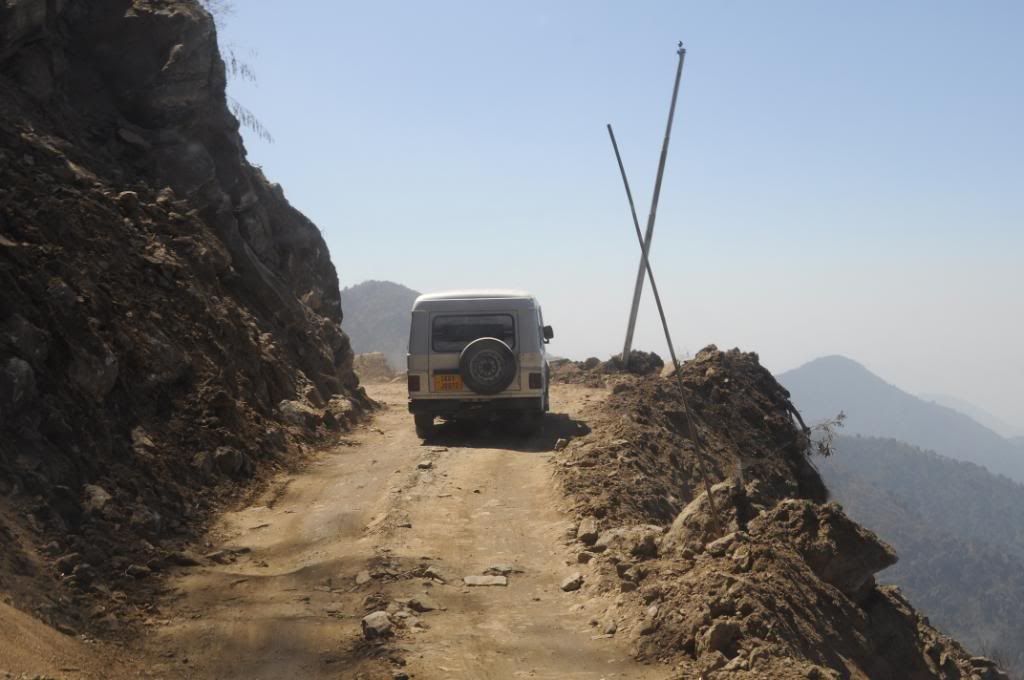 Baba Harbhajan Temple
Baba Harbhajan temple is dedicated to a soldier of the Indian Army who met an accidental death. Folklore goes that he (his spirit) protects the soldiers and others from various mishaps even today. Indian army pays salary and sanctions leaves for this dead soldier, even to this day. Reflection on temple wall shows snow on the mountain opposite side.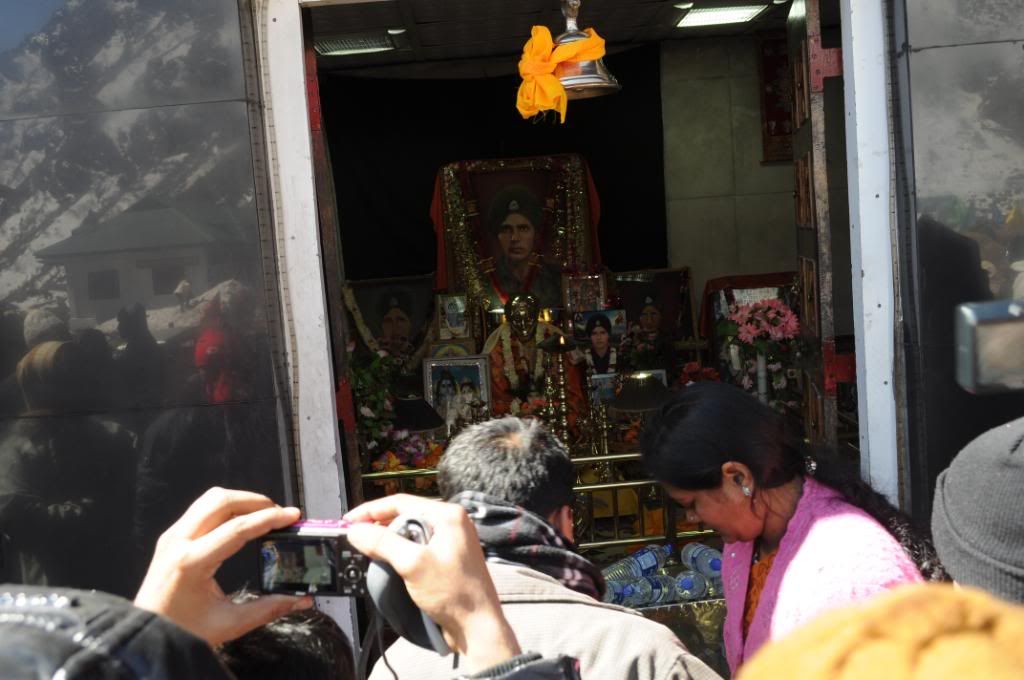 Textured rock near Baba Temple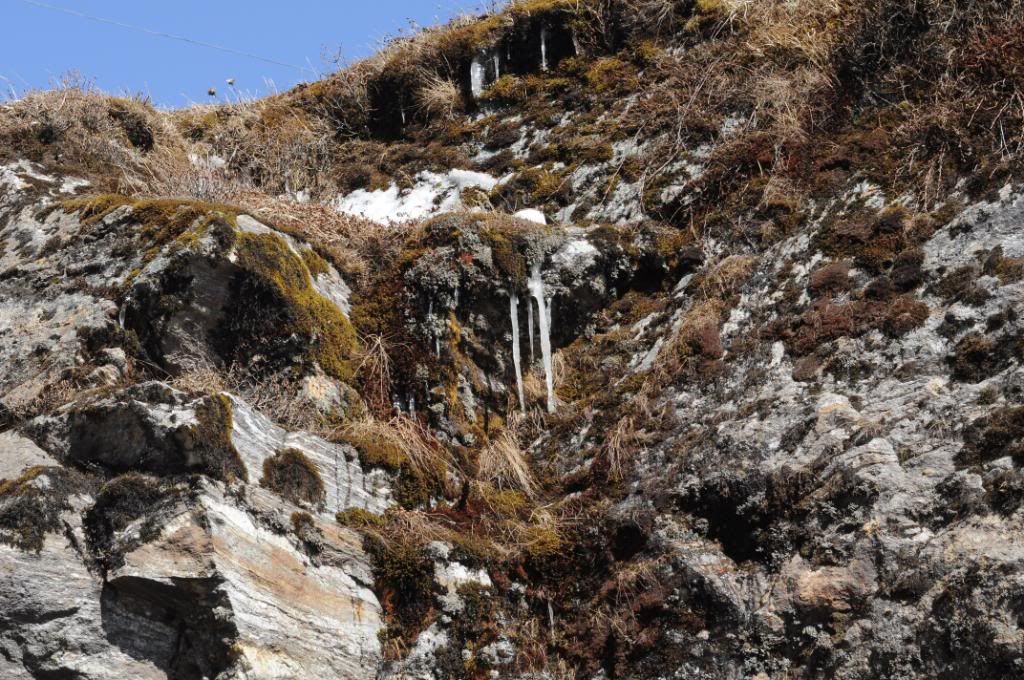 Adventure Unbound
The tracks at some places are just wide enough for a 4 wheeler to pass through. The road seen here is one such at the hair-pin bend.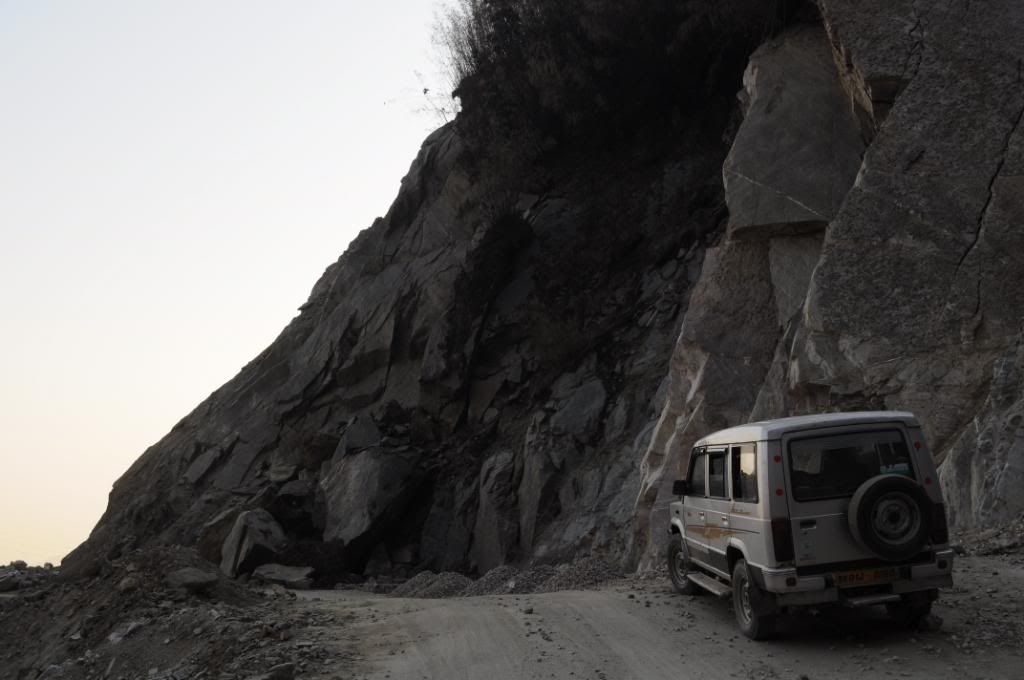 Another Risky road - vehicle bonnet lines to lead into the road.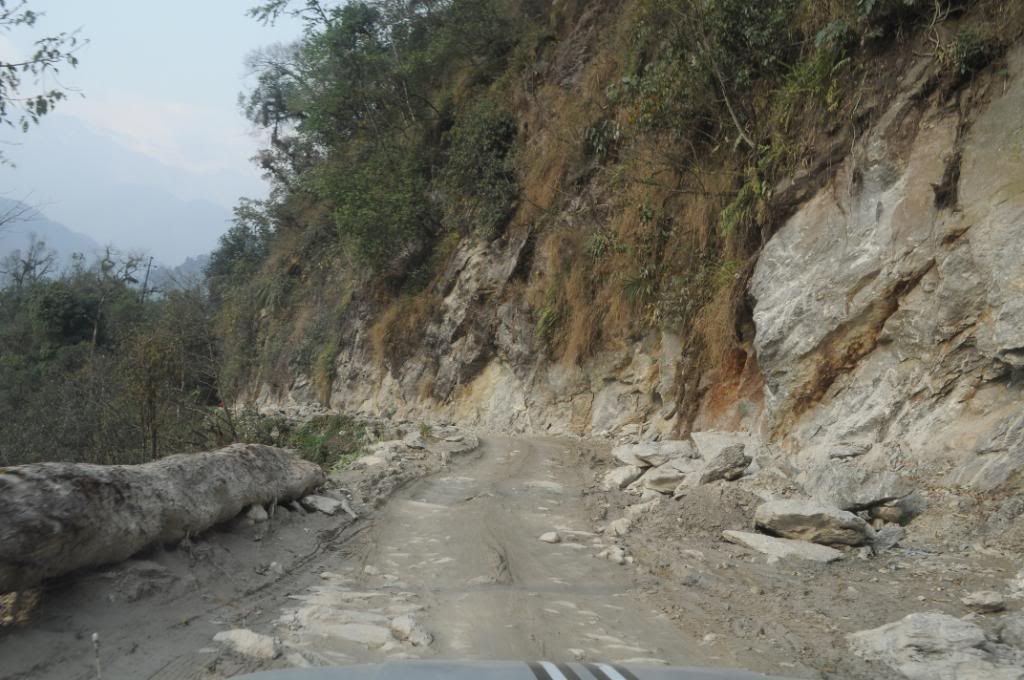 A little flower
The rocks here have high mica content, seen shimmering in the sun.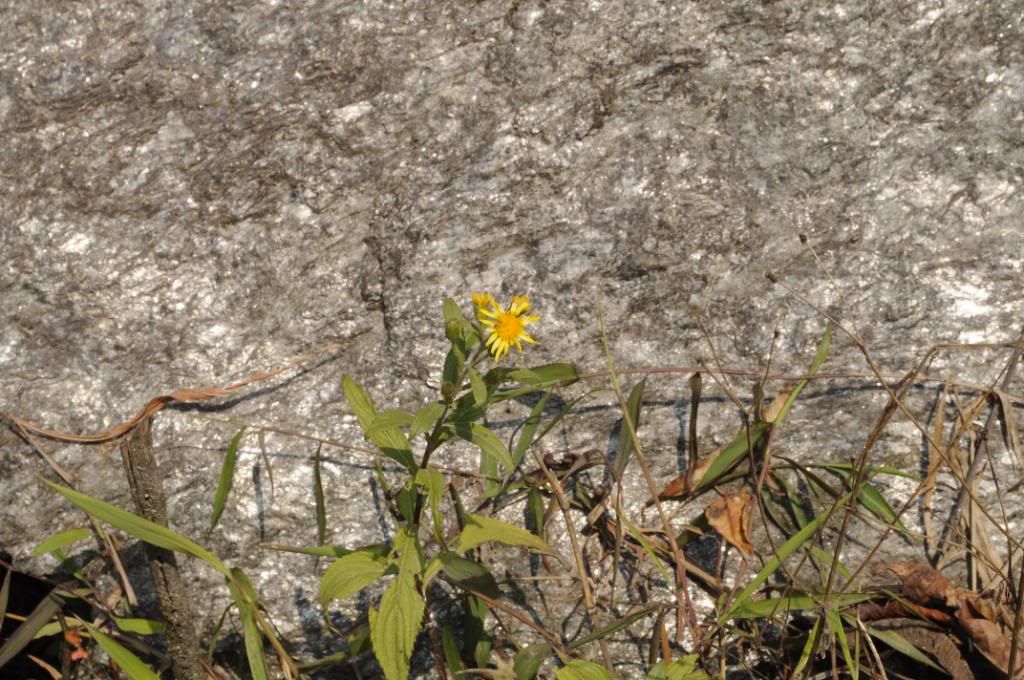 Between snowy walls
This 4 wheel drive is trying to clear a steep hairpin bend between ice walls. It is free rotaion for the wheels causing zero movement and dirt to spray on the ice wall- down left. The driver looking out gives a scale of proprotion.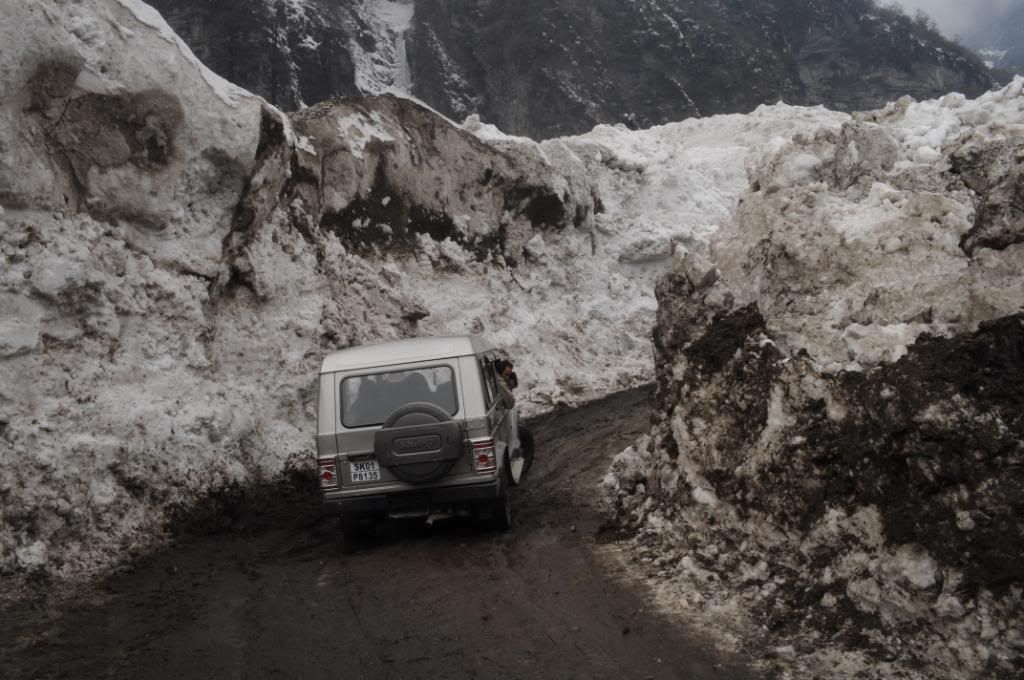 Young Lamas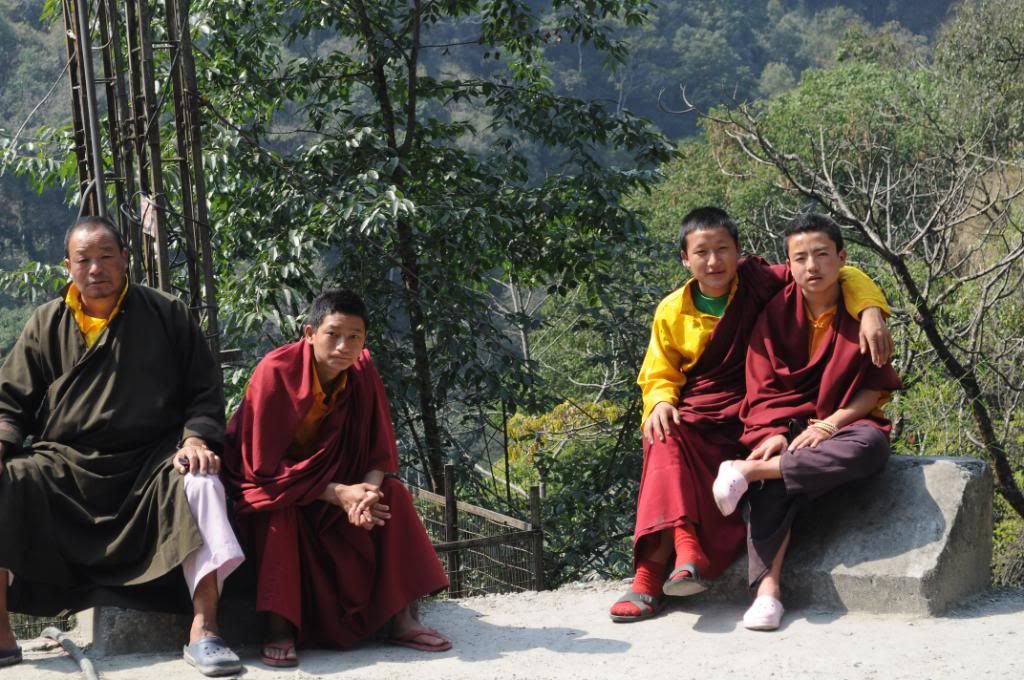 Satellite Antenna
A satellite antenna at a most unexpected place.... by two almost uninhabited dwellings.
Seven Sisters Falls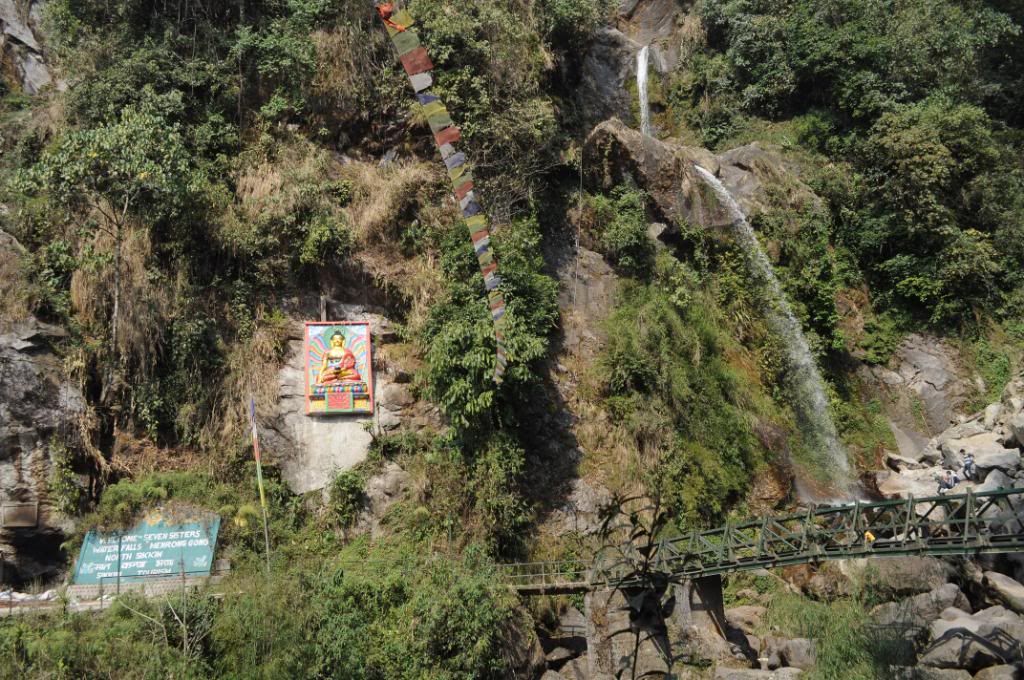 Another Fall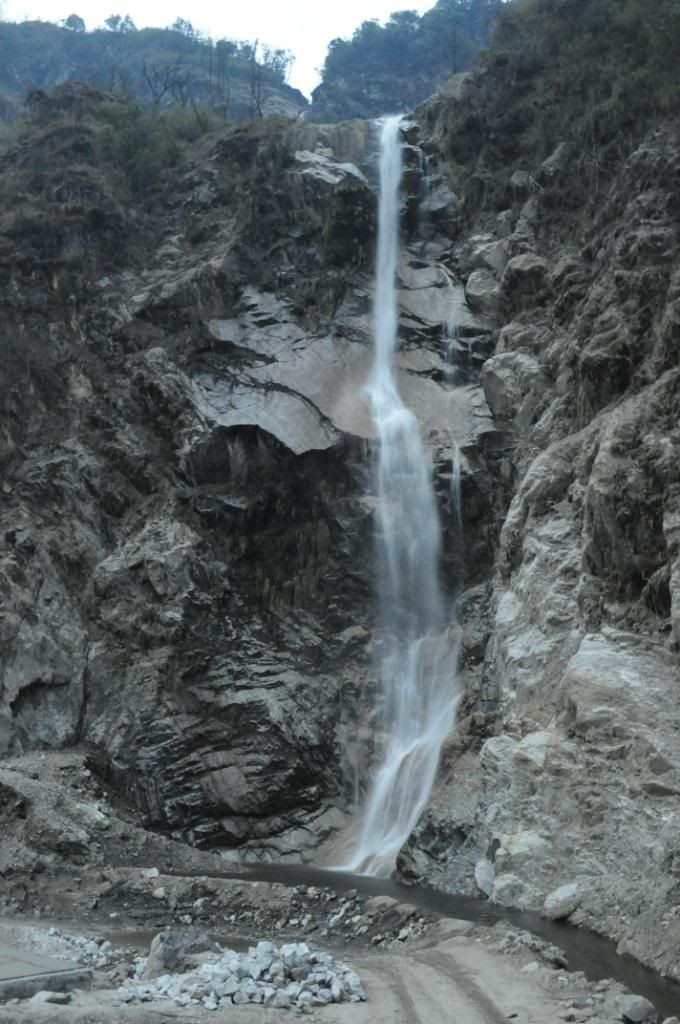 Near Source of Teesta
Teesta is the arterial river in this and adjoining region providing the major source of utilisable water.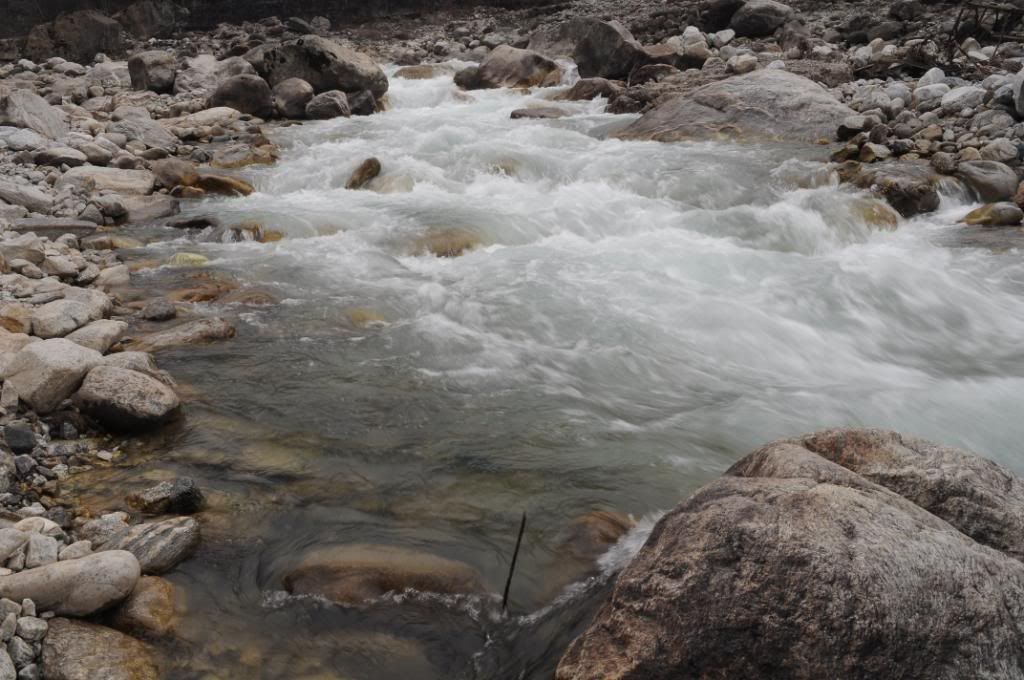 Bridging Source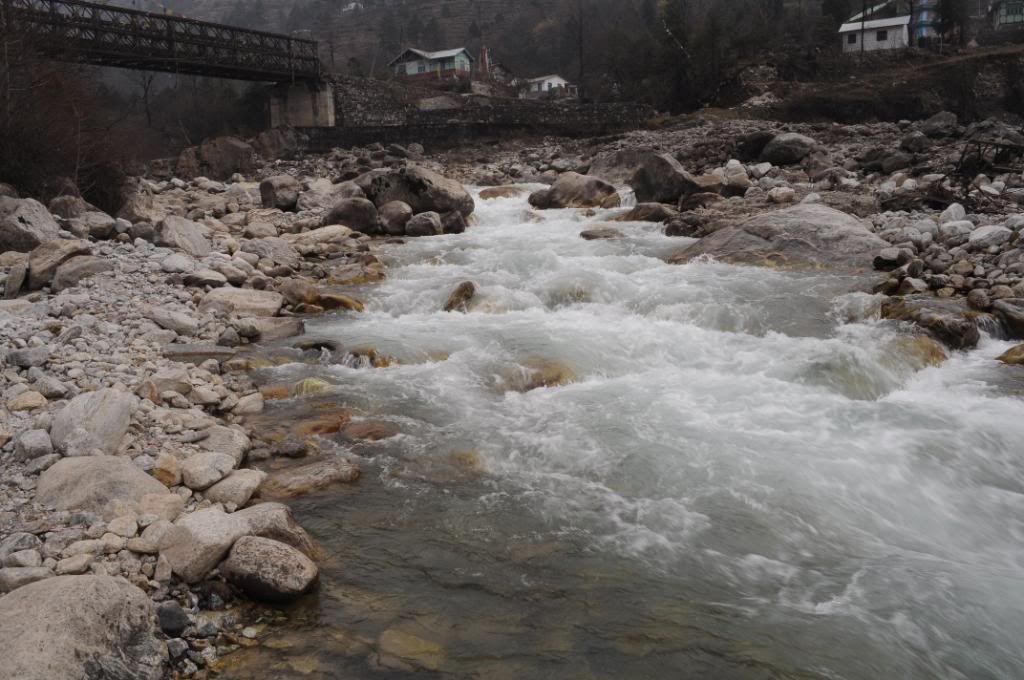 Nerve Cell Tree
The tree portruding from a rock above head was shot in such a way that the trunk and the rock conical edge overlapped.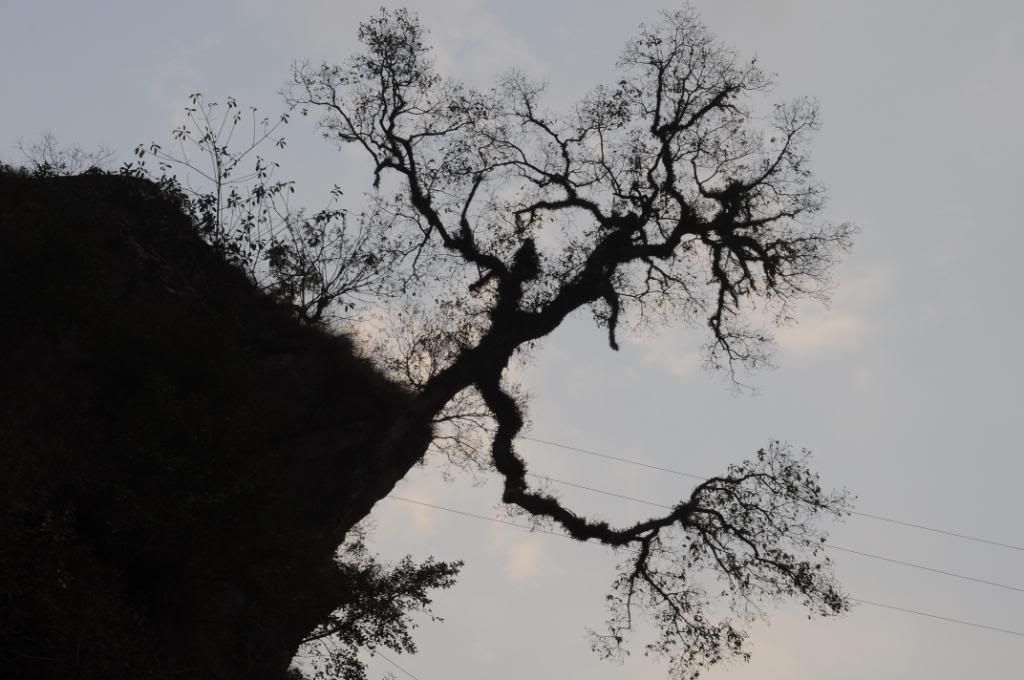 Rock garden Pool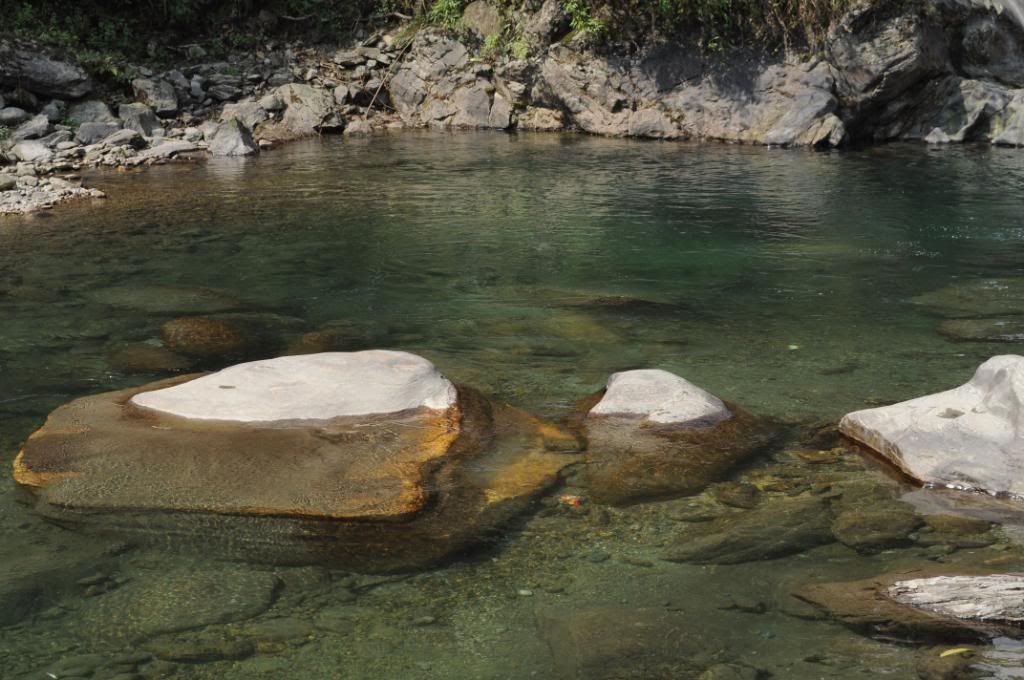 Oh Bubbly
Local Lass in traditional attire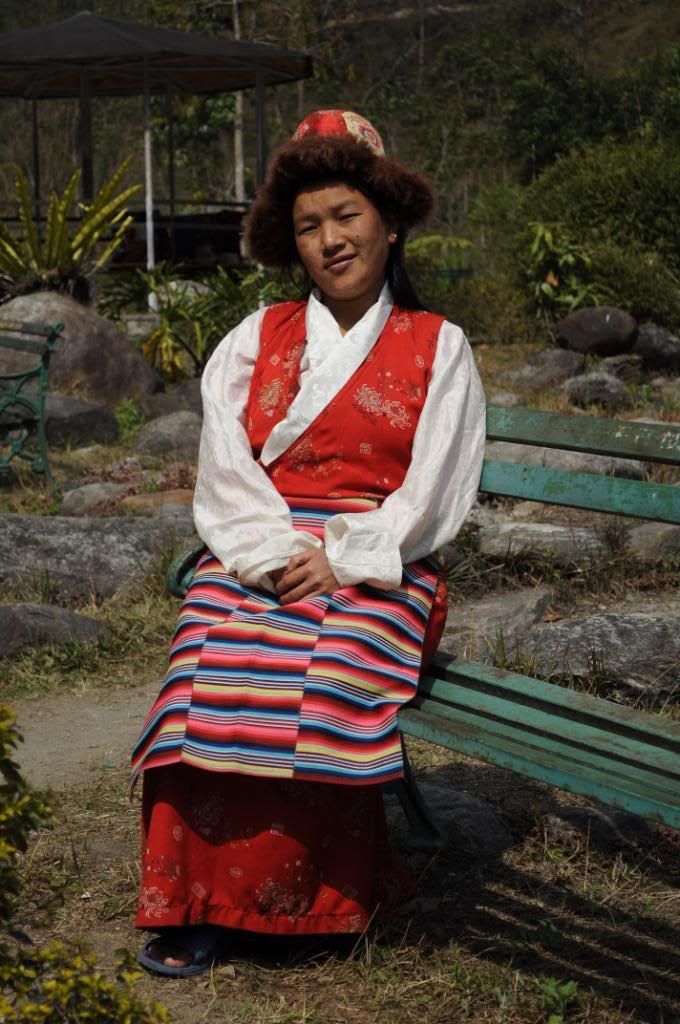 A Queer Gaze
This person was roaming around aimlessly. When the camera was pointed, he struck this pose.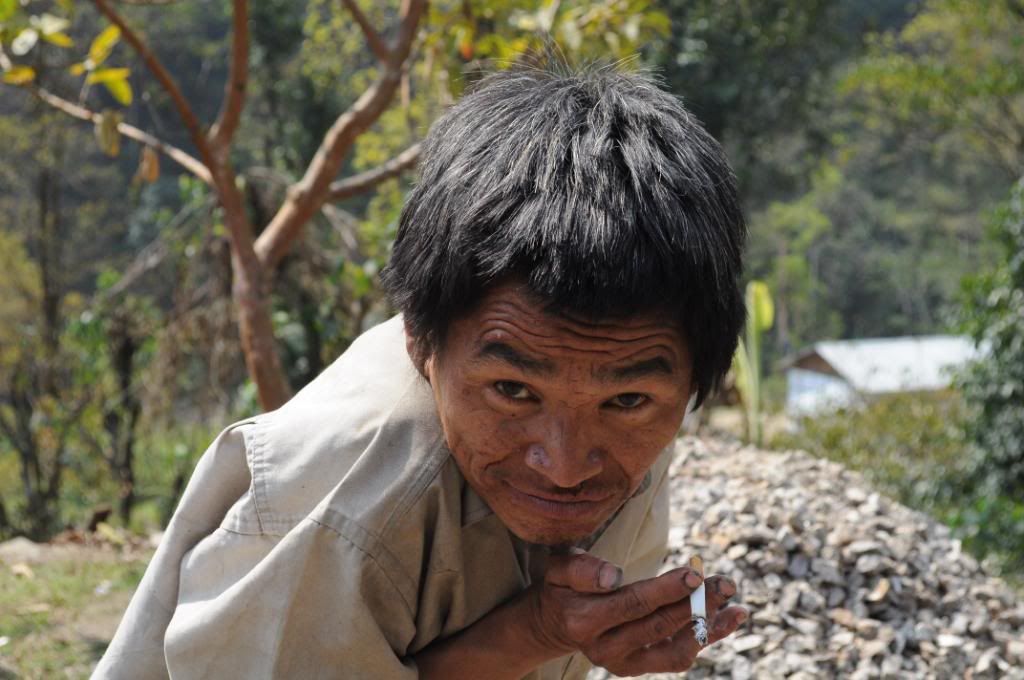 Prelude to Kanchenjunga Falls - a smaller fall on the way
This fall is on the entry path to Kanchenjunga falls, the biggest fall in Sikkim which has lot of water around the year.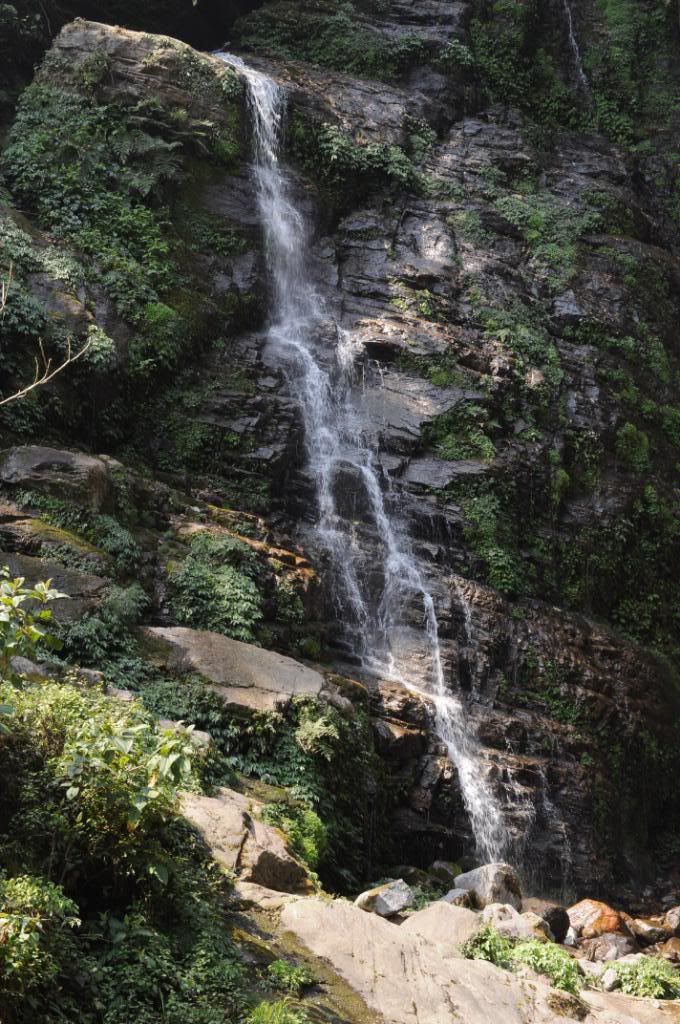 Crystal Froth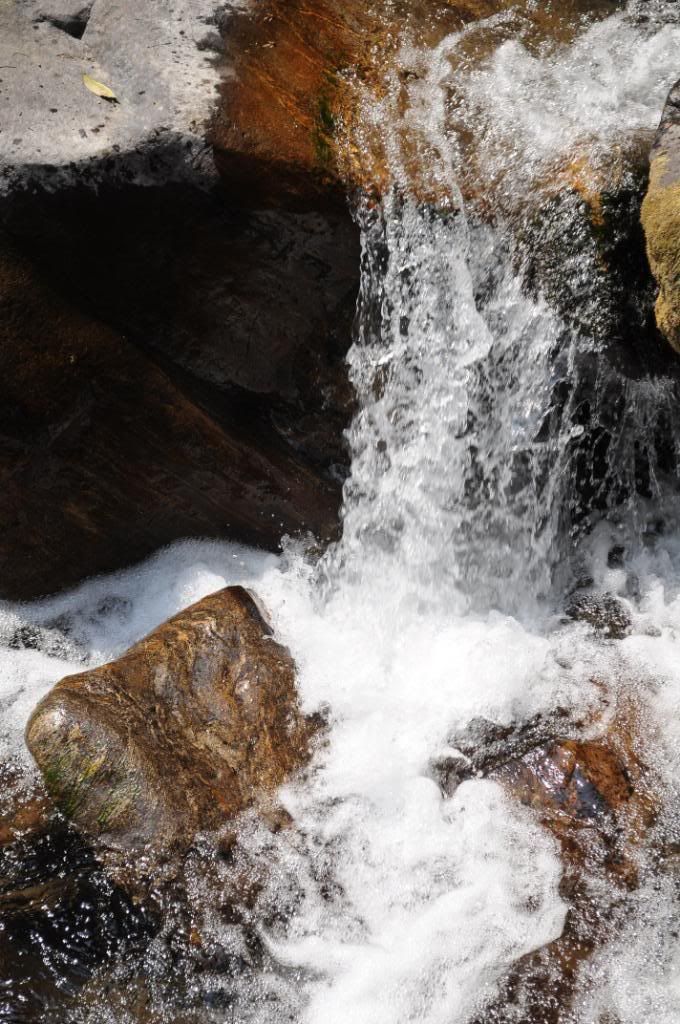 Kanchenjunga Falls
The Fall Guy
Local people like him help tourists to cross over the slippery boulders and rocks to reach Kanchenjunga falls.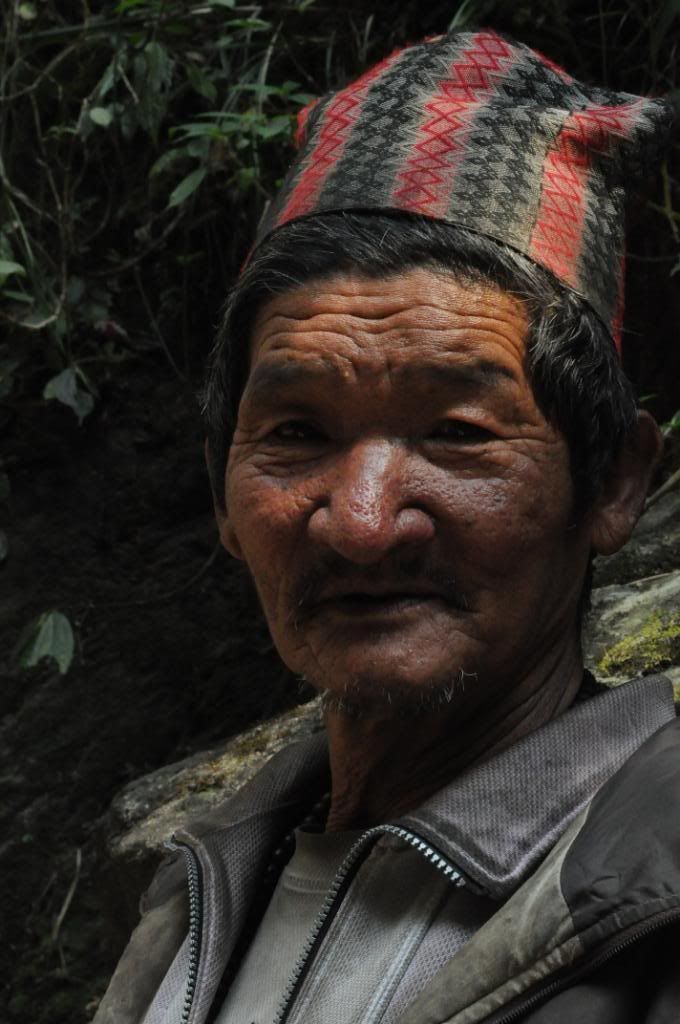 Monastery near Khecheperi lake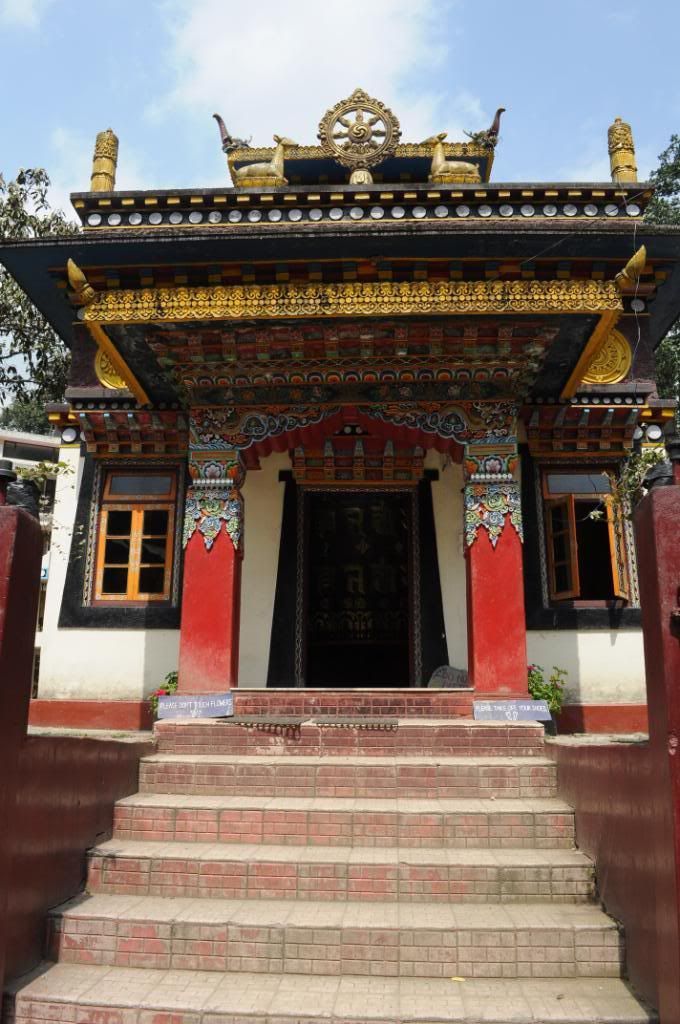 By the way to lake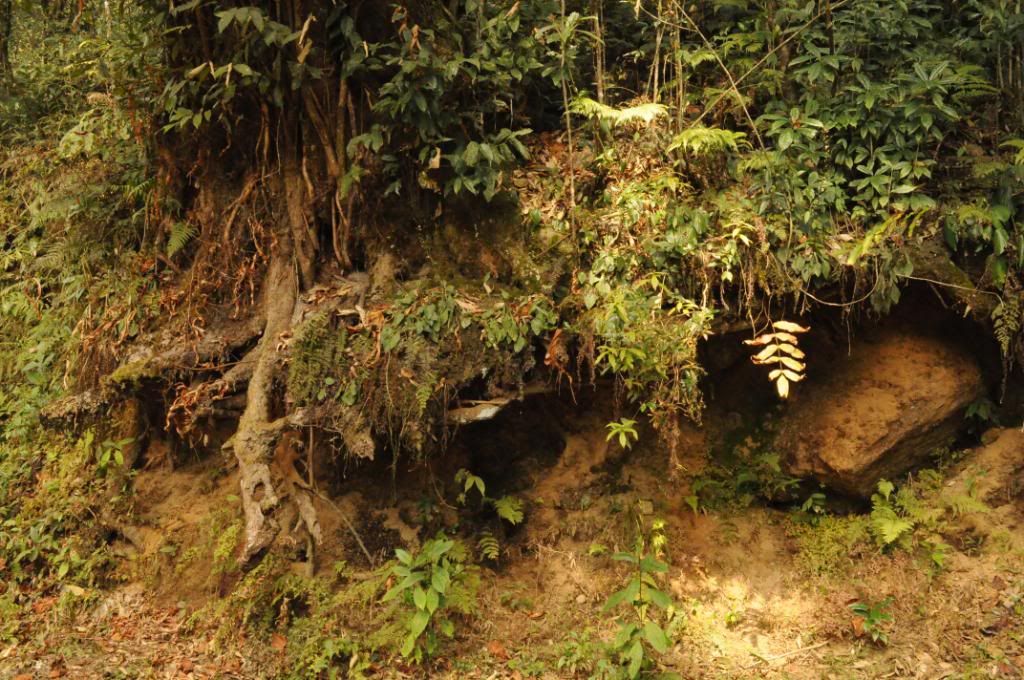 Scriptures on the rocks on way to lake.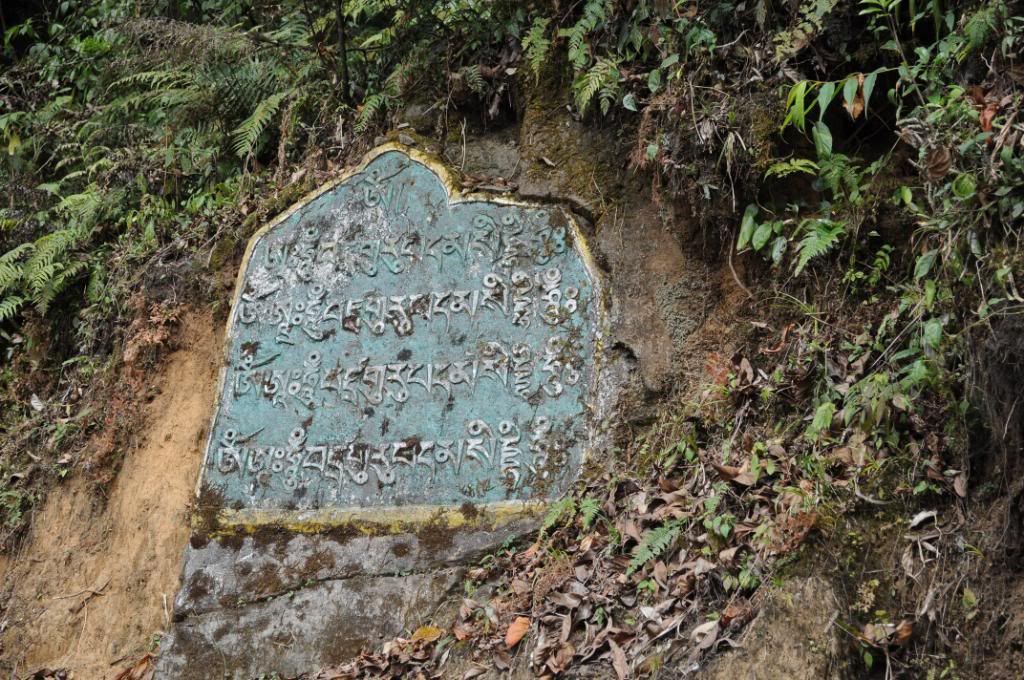 Fern sprout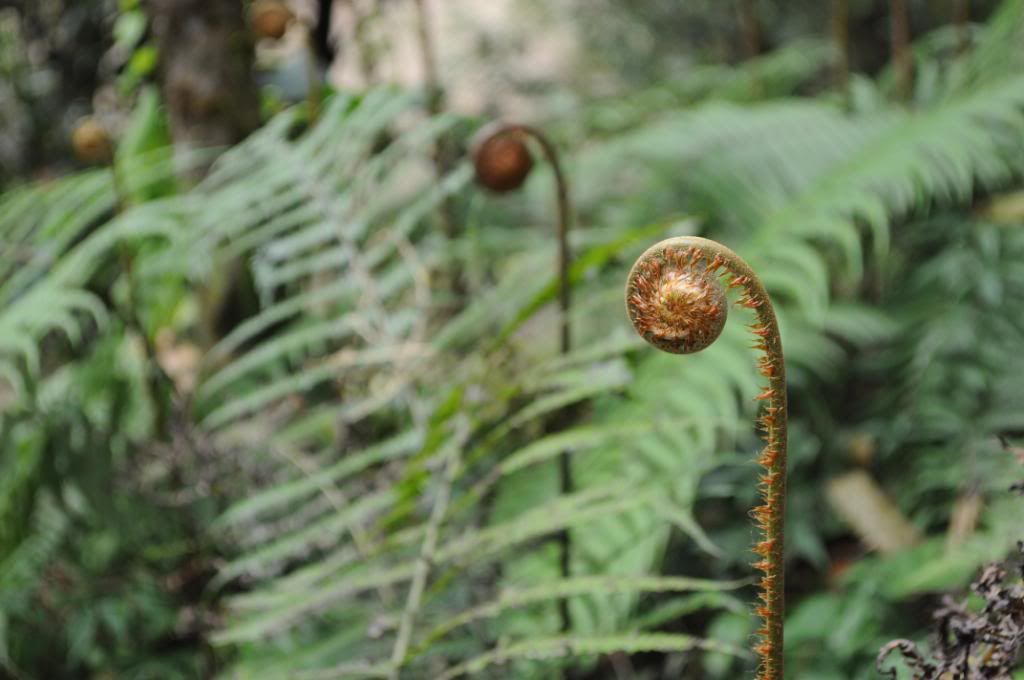 Khecheperi lake
Maintained by the local Budhist Lamas, this lake is considered sacred and respected.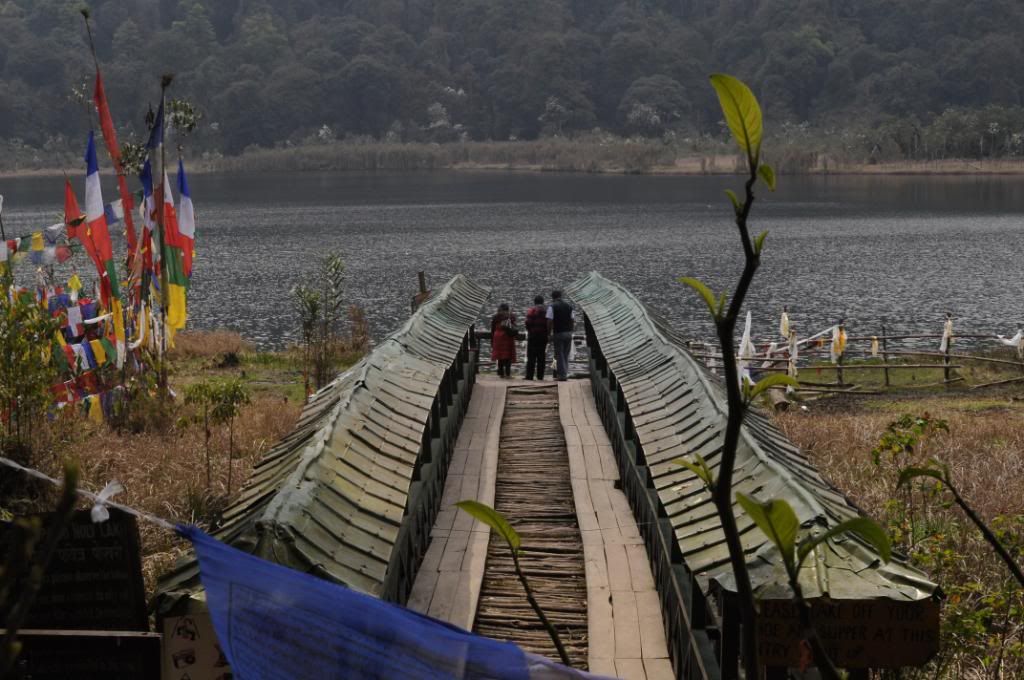 I Mean Business
This is a vehicle repair workshop on the way back from Khecheperi. Driver having a chitchat with peeping Tom.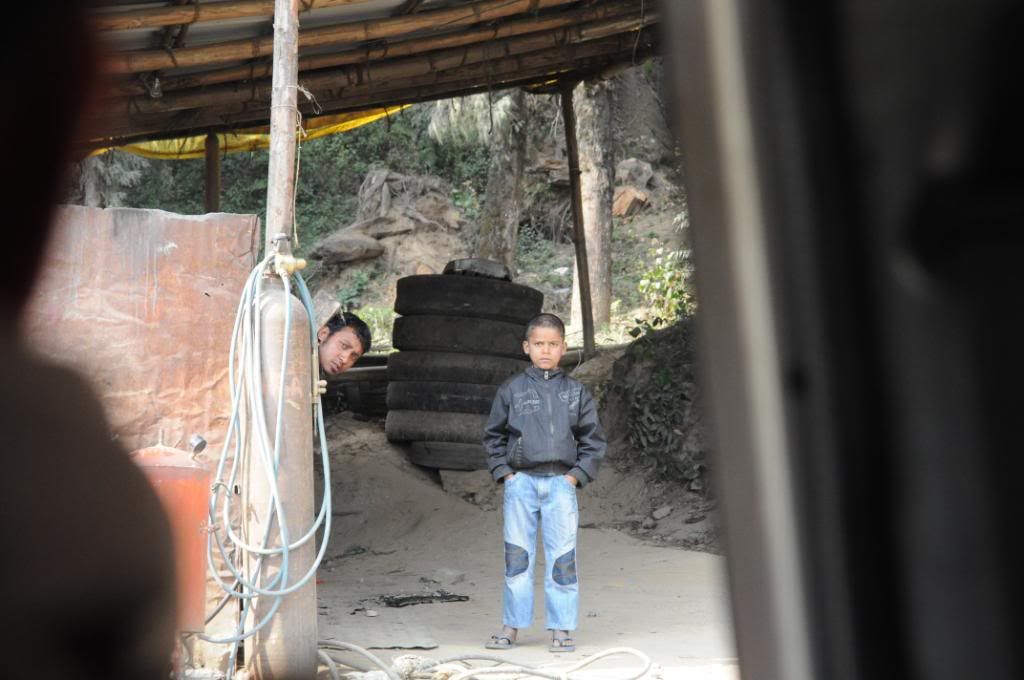 Local old woman returning from work.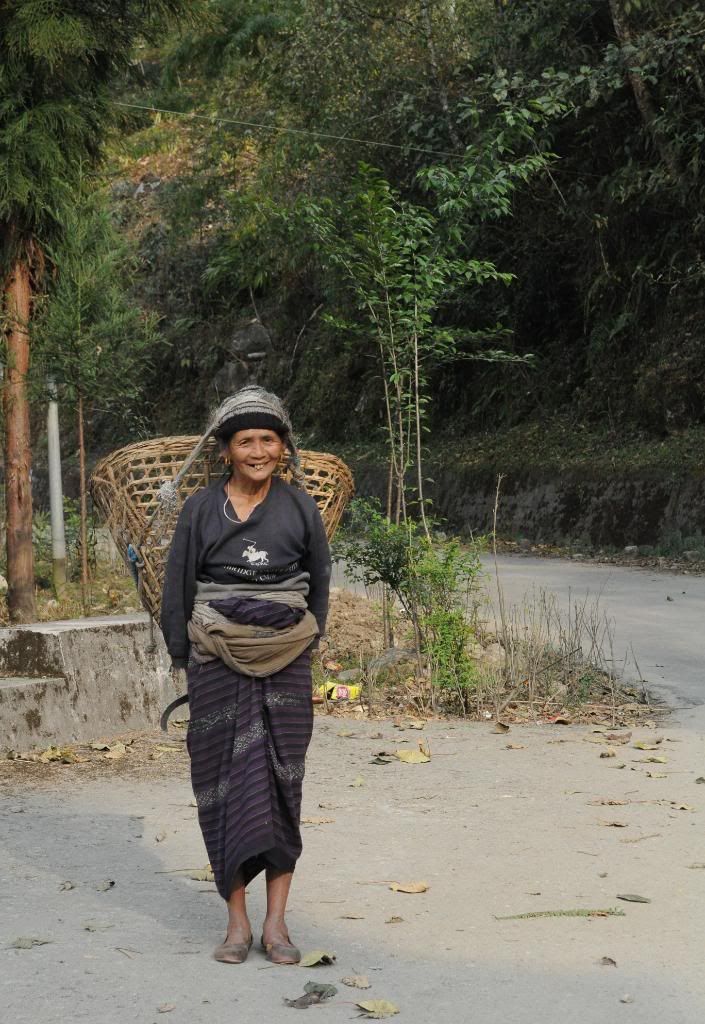 More pictures are available at this link if you feel interested.
http://s1229.photobucket.com/albums/ee4 ... _c/SIKKIM/