wolf...some young fellas came across it while rabbit hunting.
In pic #1 behind me there is a small pathway through the woods,they stood atop the deadfall waiting for the hounds to run any rabbits through it and they could hear snoring noises looked under themselves and ...surprise!!
It's not what you would think when called a den but it is very sheltered by spruce and thick woods from the wind and when bears den they have plenty of fat and fur.
A local bear expert tells us that alot of bears den this way and that some parts of the body are exposed to the elements but are fine and snow doesn't even melt off any of the exposed parts.
Kev...at no time was momma stressed or excited.
She was in fact quite groggy and even if she looked in my direction it appeared she was looking right passed us.
I'll attach a pic of Blake trying to get some video/audio.
We wouldn't go any closer than the edge of the root system so if she did look at us or actually see us we could just move a bit and be out of her line of sight with little trouble.
We researched if this would cause problems going back there and were told that for her to become active would take a bit.
She would have to move her limbs and head around a bit to get circulation going and this should be our indication to ...leave.
If she got scared and bolted she probably wouldn't return leaving the cubs orphaned.
Only one of us was in front of her at any time and if you'll notice THAT DARN BRANCH in just about EVERY pic...that was about 3ft in front of me and I so wanted to reach just a bit further and get rid of it but...to me that was too much risk of disturbing her too much.
Even though from where the pics are taken...thats her exit..this decision was not about our safety but the safety of the cubs and momma imo that is ALWAYS FIRST.
The birch tree in front of Blake and behind the upturned root system is about halfway to the bears.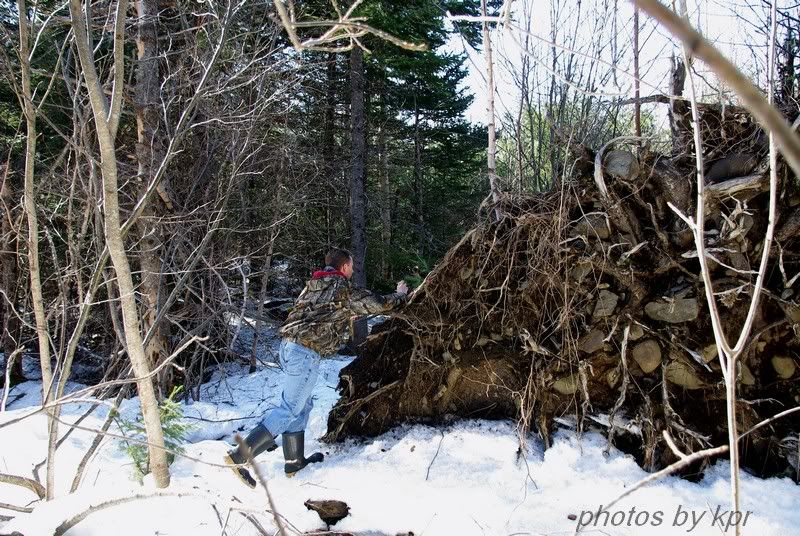 _________________
Pentax K-5
Pentax 18-55mm,Pentax 50-200mm,Sigma 17-70mm,Sigma 70-300mm, Sigma 50-500mm