The results are in!
To recap, an Acer Aspire One ZG5 netbook was used. It has been upgraded to 1.5GB of ram previously and has Windows Vista Home Premium 32-bit installed. At the time of testing it had a wired network connection and a USB mouse connected. Mains powered with battery fully charged. The hard disk had a defrag run before testing.
The original hard disk is a Seagate Momentus 5400.4 120 GB drive.
I copied the partition over to the Intel X25-V 50 GB SSD and after a quick repair to get it bootable again, repeated the benchmarks.
When the SSD was installed, I ran the trim tool between each benchmark run even though it shouldn't be necessary. Even at this stage, SMART reports I've only done 33GB of writes to the drive. I've almost used 0.01% of the drive life already!
Values listed in order of "before" and "after".
Power consumption at idle desktop: 11W vs 12W. It went up! I was hoping the SSD would be able to employ smarter power saving compared to an idle spinning disk. I guess not.
Windows Vista boot from post screen disappearance to logon screen background showing. 32s vs 29s. Around 10% improvement. Not really noticeable. I was hoping for a bit more there.
Windows Experience Index disk score: 5.4 vs 5.9 - not sure if this means anything really... yes, it went up.
Onto the synthetic benchmarks:
This shows a typical mechanical hard disk response, with a higher transfer rate of over 65MB/s at the start, dropping off under 35 MB/s at the end, averaging 54 MB/s. Random access an unremarkable 15.7ms.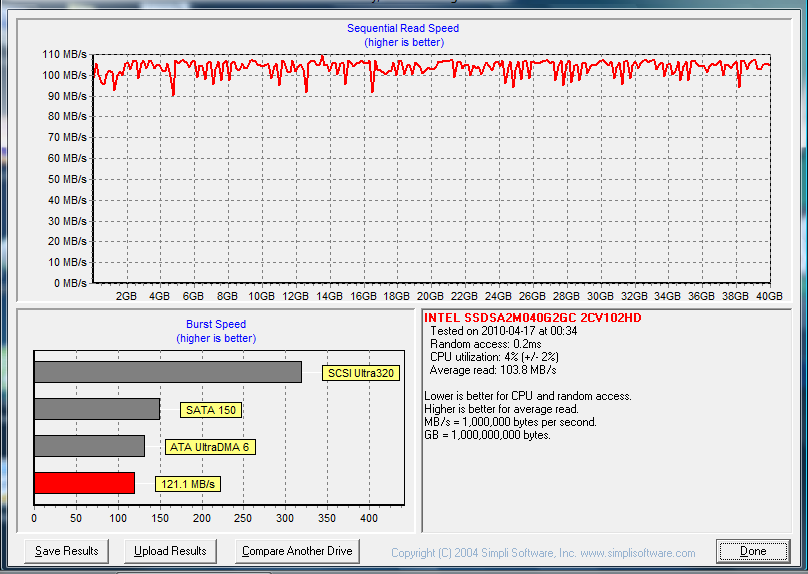 The SSD does what it is supposed to. Quite consistent speeds through the whole range, averaging 104 MB/s. Almost double the sustained read speed! Random access 0.2ms - a huge improvement again.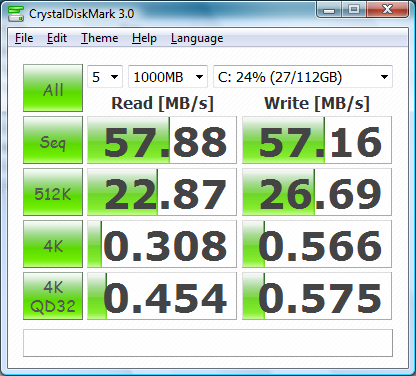 The CrystalDiskMark shows a similar pattern, although also giving us write information. A little caution needs to be applied to the hard disk results, since it is not known where on the disk it might have been reading, so the sequential rates may be anywhere in the range shown previously by HDTach.
As I saw in review benchmarks, here we see the Intel SSD's weakness, sustained write speed is about 75% of the indicated hard disk rate. But it easily beats it in all other cases. Faster reads and writes, particularly as the side and randomness increases.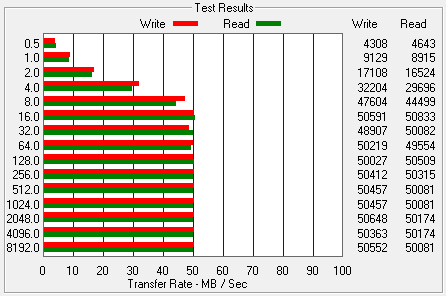 Here are the Atto results, run with default settings. Do note the horizontal scale is different. This shows a similar result to earlier. The hard disk ramps up to its limit which is the same for both reads and writes. The SSD again shows lower absolute maximum write speed, but at smaller transfer sizes it retains the lead, as it does in any read condition.
I haven't used it much yet. Is it faster? Yes, maybe. Is it "wow" faster? No. Maybe a SSD aware OS like Win7 will help, so I think I might try installing that for a test spin.
Edit: Win7 benchmarks were near enough the same as on Vista. The system idle power consumption again dropped to 11W. Boot time was over 41 seconds. Don't know why it would take so long for a patched up fresh install... back to Vista I go.