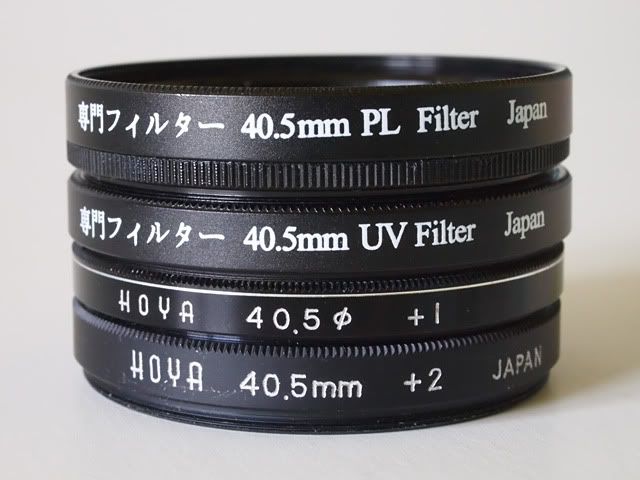 So many filters
The 40.5mm filter size of the kit zoom isn't unique, but you couldn't say it was that common either. There are various filters in that size that can be found.
Starting from the top, the polariser and UV filters were bought new from ebay seller lensufo at under £7 delivered for the pair. For the price, can't complain and they work as expected.
I haven't had any blue skies for landscape testing of the polariser yet, but it does what it should on some car reflections. The rotation doesn't feel great but it'll hold where you leave it. Main downside of using the filter is the E-P1's zoom lens, the front of which rotates as you focus. Therefore this is best used manual focused first before adjusting the polariser.
The UV filter surface does look slightly mottled if you look at it from a steep angle, which doesn't clean away. It looks clear at normal angles. While normally I don't use protection filters, the lens doesn't come with any hood (nor would you want one for the size) so I have come too close to banging the front of the lens a few times already. I'd prefer a higher quality filter, but have yet to find one in a suitable size. Until then any cheap one will do as well as each other.
The bottom two Hoya closeup filters were one-off used items from another ebay seller. From the reflection I think they might be coated but hard to be sure. With the lens at maximum focal length, the additional magnification from adding the +1 and +2 filters were 8% and 16% respectively compared to without. Stacking both gave 21%, which in absolute terms is still less than 0.5x optical magnification. If you want much magnification then stronger ones need to be considered.