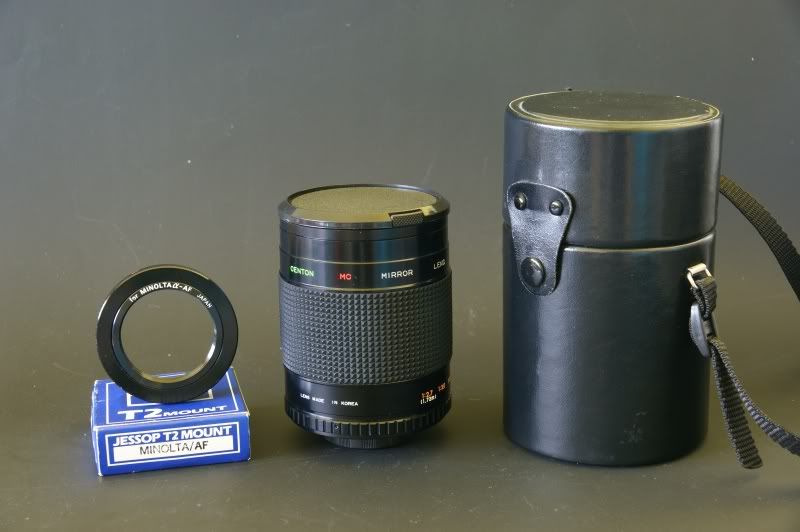 There's a bunch of these cheap on ebay. Curiosity got the better of me and I got one to play with. I've always wanted more length than my current longest 300mm zoom lens, which is soft at that length. So I thought this would be a cheap way to get it. In a search, I couldn't find much information about it. It only has to work at one focal length, what could go wrong? Well... I'm reminded of two sayings. "You get what you pay for" and "if it sounds too good to be true, it probably is".
My sample was used and did not come in original outer packaging. Contents include the lens itself, and a hard case. Inside the case are three filters which screw on the camera end of the lens: skylight, ND2 and ND4. Note the top picture shows the lens with an additional UV filter attached, which was removed for the 2nd shot.
The lens is T-mount, also known as T2 mount. This requires an adapter to fit which was obtained separately.
The lens itself fitted to the adapter and to the camera securely. As there is no electrical connection to the camera, it only works manually. The Sony A350 will only fire in manual mode.
There is a large grip on the body for focus. The whole front section turns during focusing, and the lens extends a little going from infinity to minimum distance. End to end, it takes just under 3/4 of a rotation.
Taking test shots showed what this lens was capable of. Or more precisely, what it wasn't. As said, it requires manual setting. The aperture is fixed, so it's only focus that needs to be set. Using the viewfinder, I set the focus to objects at various distances. Even in bright sunlight, the fixed f/8 isn't very bright. You still need a fast shutter when hand holding to prevent motion blur, so I found I had to increase ISO and trade off noise.
100% crop
Inspecting the images, none of them were sharp. Most of them were very soft. To check this wasn't my focusing, I tried shot after shot.
100% crop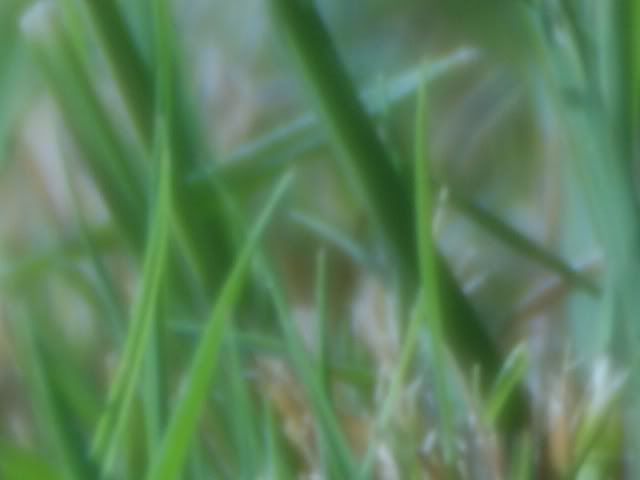 Not happy with this, I tried a final test to get around any possible focus problems due to myself. Using a tripod, I took a photograph of my lawn at a low angle. I manually focused for the middle of the image. The overall total depth means that I will be guaranteed that the focus will be at some point in the image. This point still wasn't sharp as shown in the above crop.
I thought my 28-300 zoom was soft when I got it, but this makes it seem razor sharp in comparison. While full sized images look ok, you could arguably get similar useful detail with a sharper shorter lens and image crop.
Not illustrated by these images, any point sources will give ring shaped bokeh. Any contrasting out of focus areas will look a bit odd too.
Now I am assuming my sample is representative of the lens model in general. If so, then my preliminary conclusion is simple. Don't be tempted by the low prices and give it a miss. Save up for a real lens if you really need the length. Look at it another way. If it was any good, then either the price would be higher, or there would be many more of them made.
The only reason I'm not giving this the final nail in the coffin is I haven't tried it on my intended use, which is moon photography. I'll give that a try before deciding if I'll keep it or put it back on ebay. In fact, I don't think I've tried focusing it on any more than, maybe 30m away. So consider the above to be provisional until tried on more distant targets.