I had a hard time finding a good review with lots of pics so I thought I would put this together as my choice seems to be a very popular selection. One stop decision making post if you will
My budget for the setup was around $250.
Reading through countless post on several forums day after day for about a week I had seen countless post referring Manfrotto as the choice in mid range tripod setup.
Ok that narrows it down some but now what legs? what head? What fits my budget?
Manfrotto 488 head was by far the popular choice for ballhead. Major difference between it and cheaper models being it has a seperate control for panning. 488 has four mount options:
-no mount
-RC0
-RC2
-RC4
I was told from members here that RC2 is the best choice as far as size. For me it was between the RC2 and bigger RC4, I thought RC2 looked alittle small in the pics but I had nothing to compare it to and couldn't find the dimensions anywhere so I took the advice of forum members and got RC2. Ended up being almost perfect size (pics posted below)
Now for the legs, I had narrowed it down to either the 190xprob or 055xprob. Once again with the help of forum members from here I was told the 055 would suit me much better for my height, about 6' even.
I ended up going through amazon.com and spent a total of $277.92
-488RC2 $107.95
-055xprob $161.99
-Overnight shipping (with amazon prime membership) $7.98
Pics before final conclusion:
Came nicely boxed, wrapped in plastic and included instructions and how to register online to add 3 years to the warranty: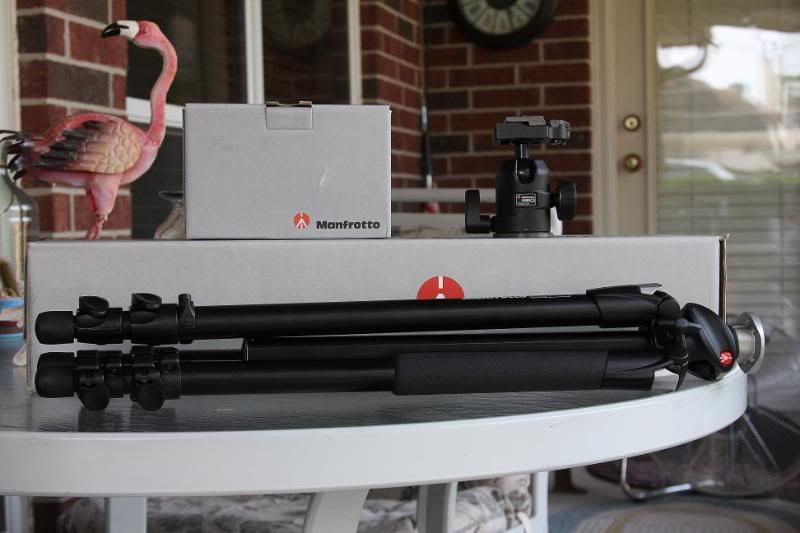 The legs were actually much lighter then I expected. Saw reviews were people said it was a heavy tripod and def. not a carry around pair of legs, after picking this up and carrying it around I have come to the conclusion that those people are just weak
Its not the lightest setup but I def. wouldn't say its heavy.
The mount is a nice design with standard 3/8" screw mount in the middle followed up by 3 set screws that you tighten with a flat head screwdriver from the bottom: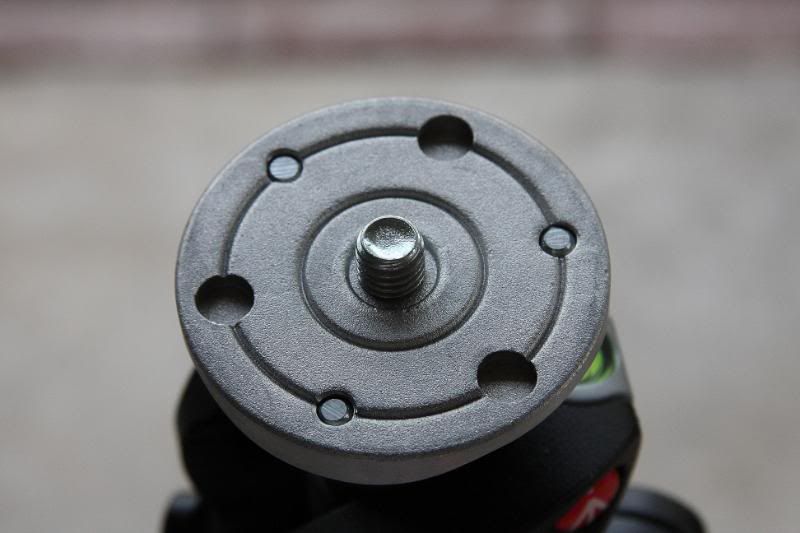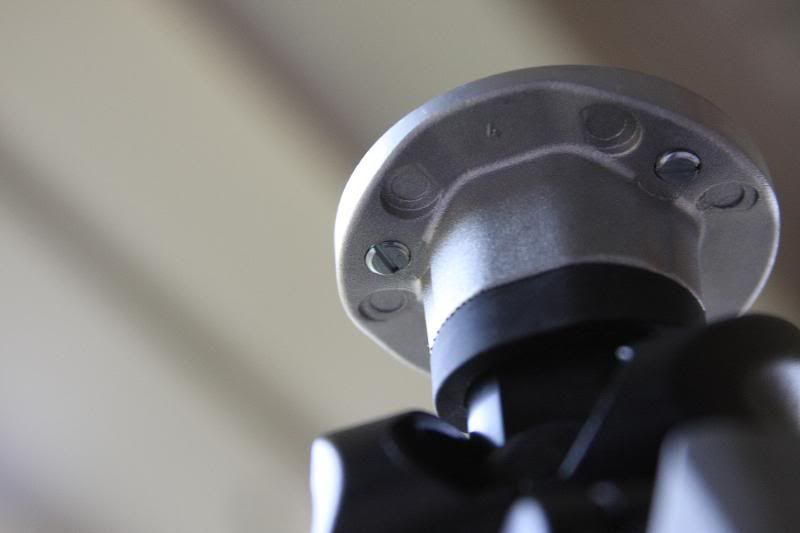 The legs include a built in spirit level: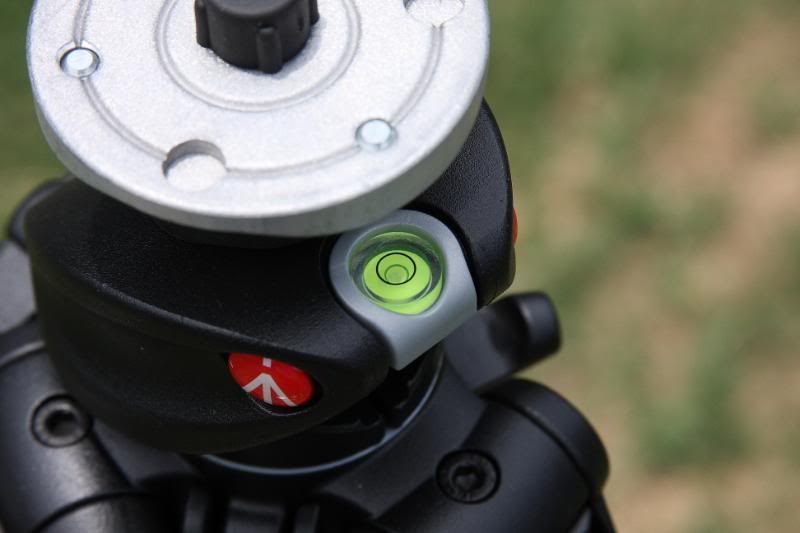 A hook to hang a bag:
A mount for a tripod strap: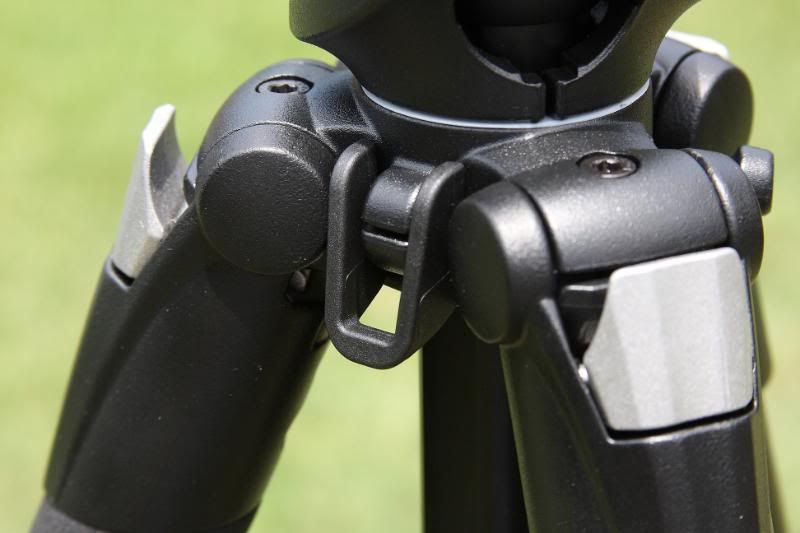 And also a tool to adjust the nuts on the levers, which clips onto the legs, very handy tool, never have to dig through my bag to find it: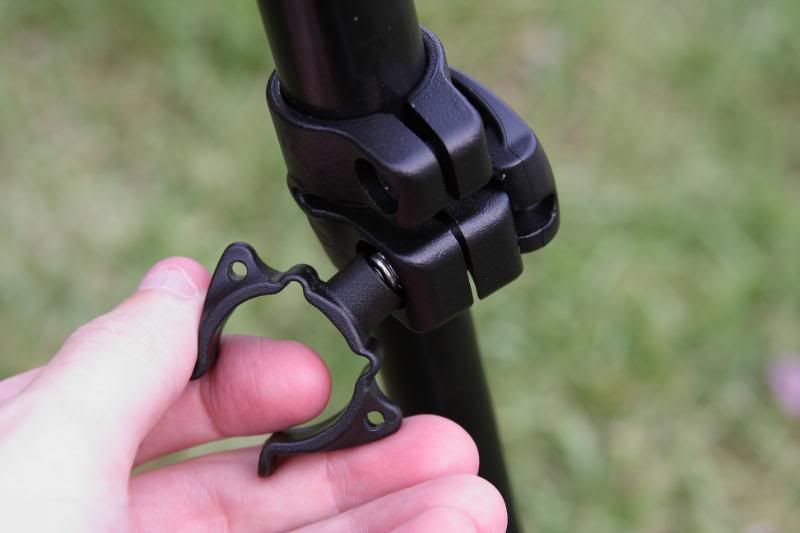 All legs can be controlled separately and can be lock in at 25°,46°,66°& 88°: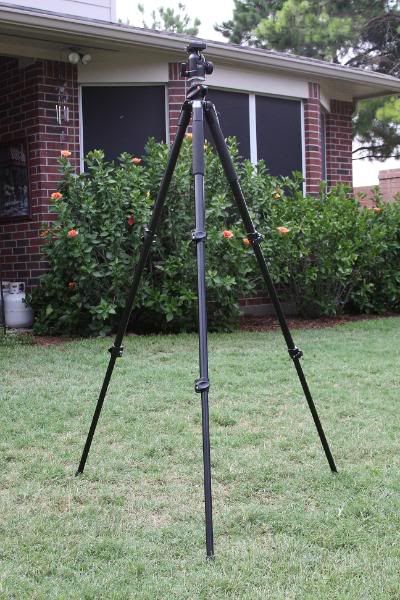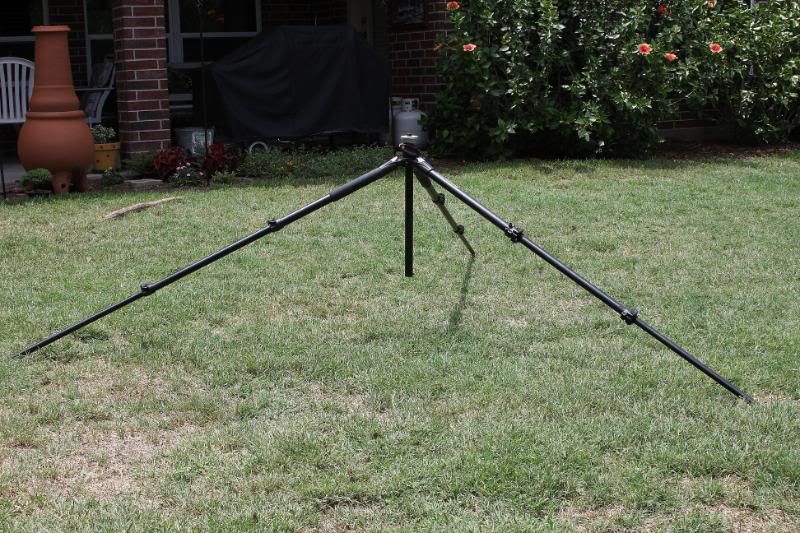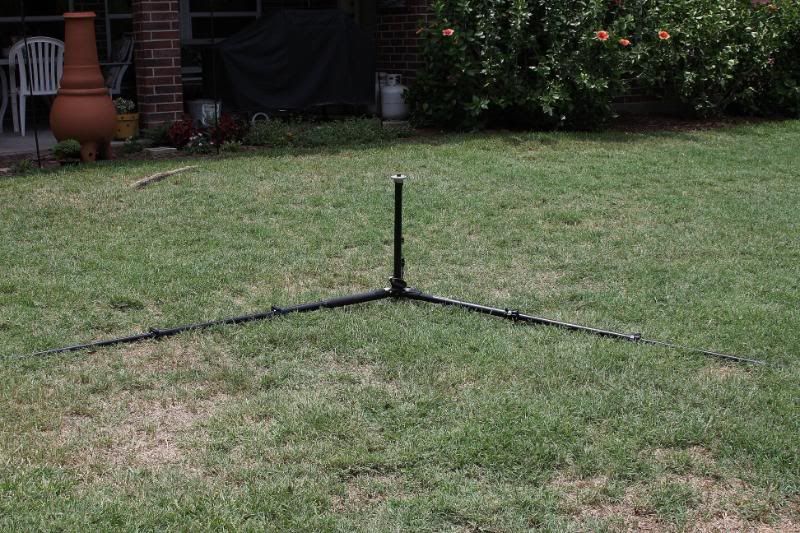 Now on to the head.
Has nice degree grid around the bottom markings every 5° and a numbered marking every 15°. Lever on the left controls the lock for panning and the wheel on the right is for locking/unlocking the ballhead: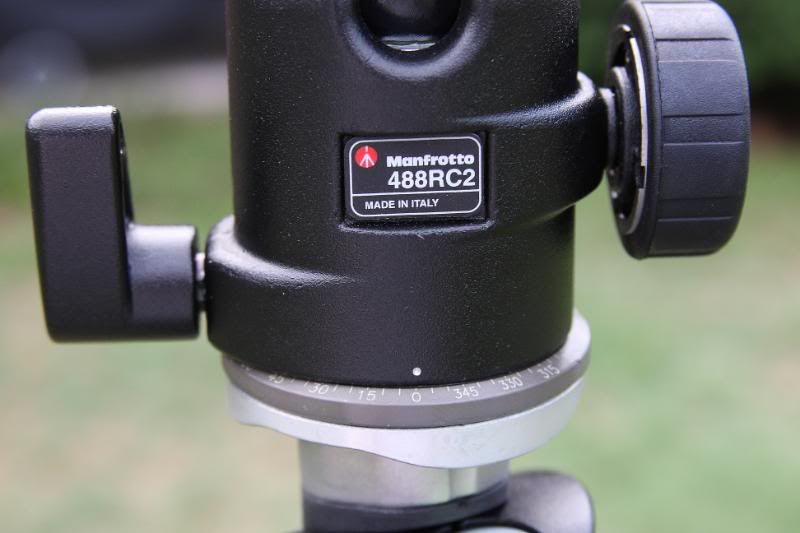 The RC2 mount ended up being almost the perfect size.
The plate has the standard 1/4" mounting screw that has a pop up grip for screwing it in. It also has directional arrows for which way a lens should be mounted:
Mounted on 40D: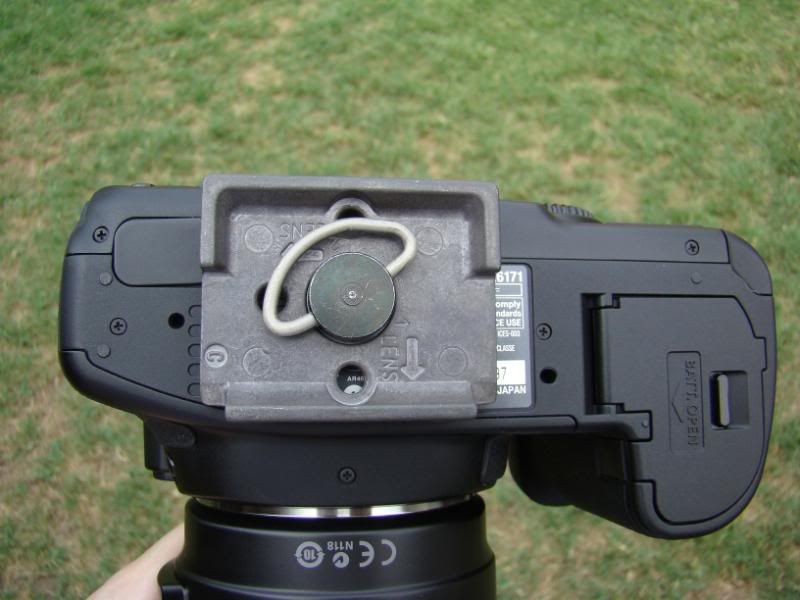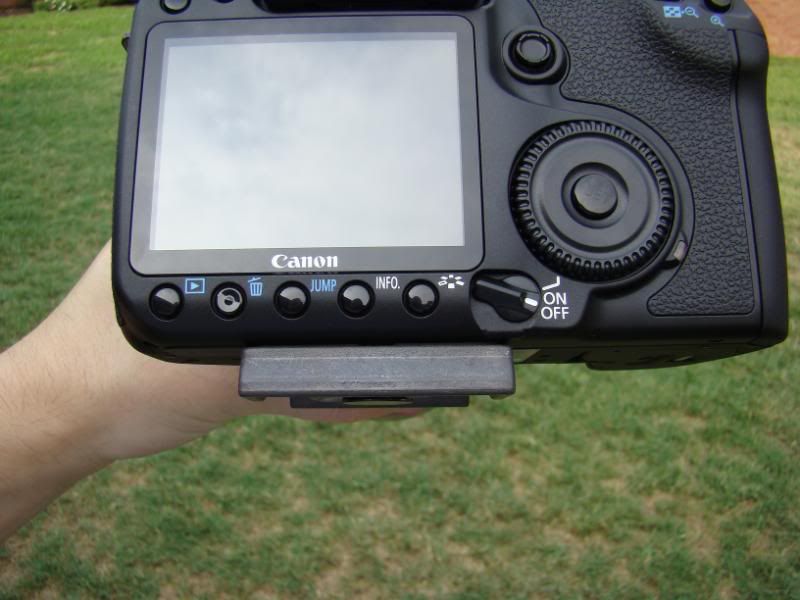 Mounted on 40D with BG e2N grip: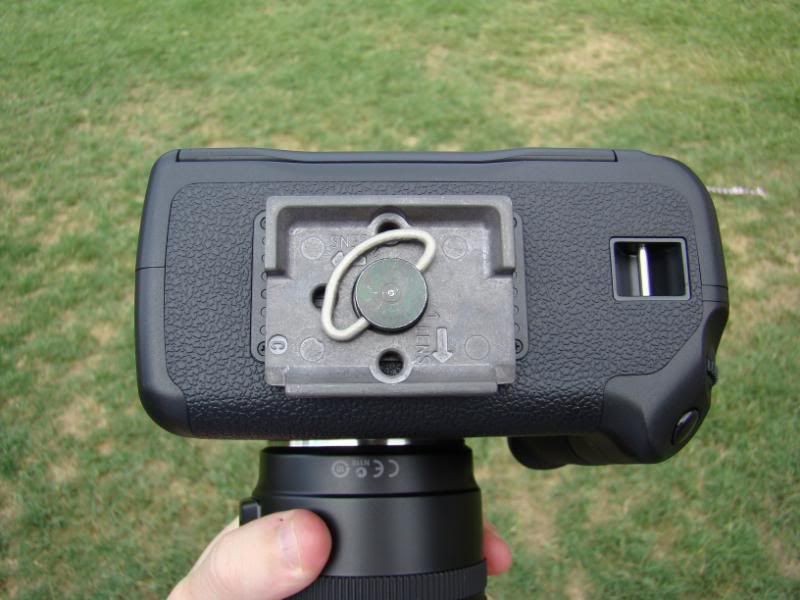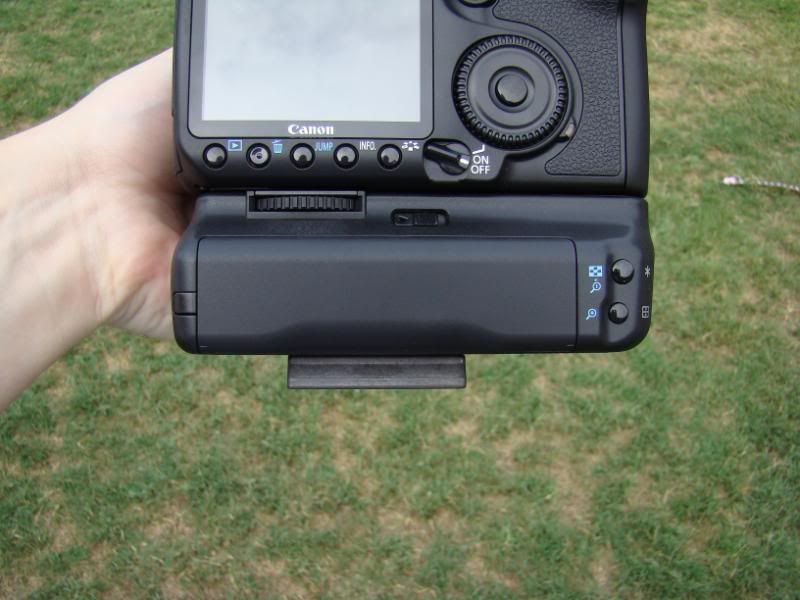 RC2 mount features the quick clamp lever along with a safety lever to prevent accidental release of the camera (safety lever is the gold one):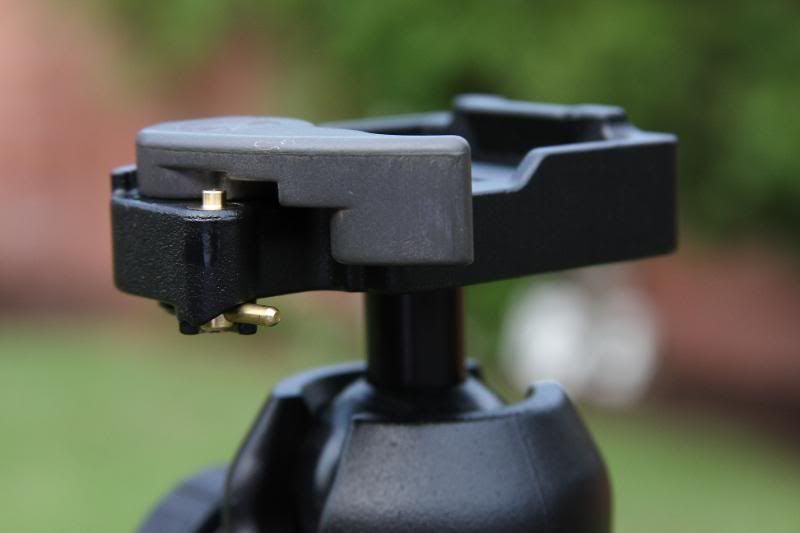 40D with BG e2N and 28-135mm IS USM mounted: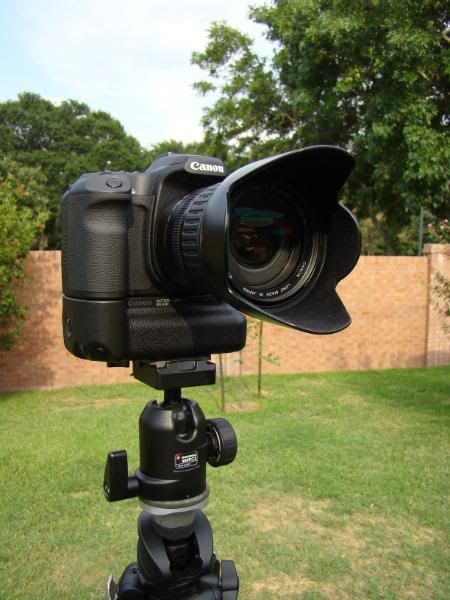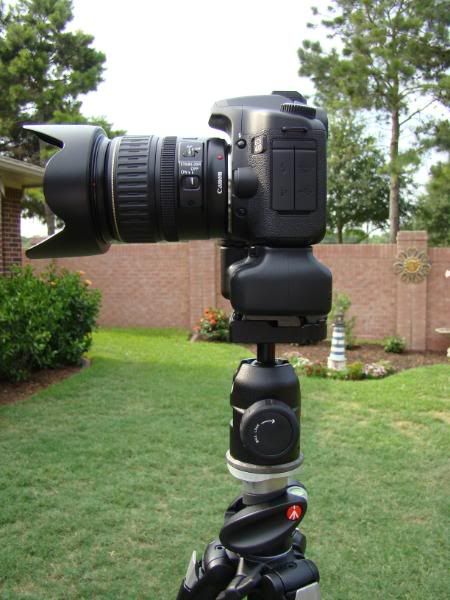 Another useful item this set of legs has is that the center column can be mounted upside down or even horizontal in a matter of seconds.
Center column being used in horizontal position:
This setup is the perfect fit for my height (6' even) with the legs fully extended and center column all the way down the viewfinder is right at eye level:
It beats my old Velbon VE-3 by a long shot: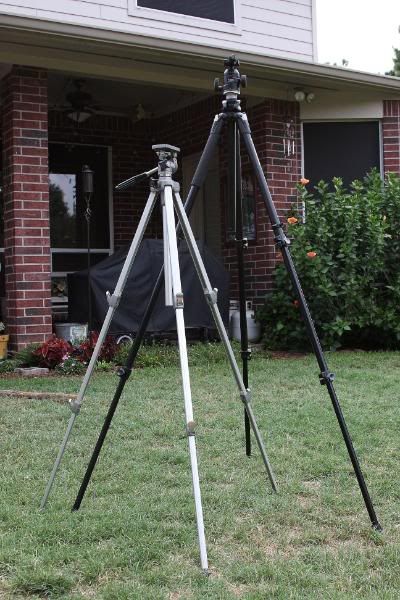 Even with the Velbon fully extended the Manfrotto is alittle bit taller:
Only two downsides I have found to this setup:
1. The black caps over the nuts for the leg levers don't fit very well, 4 fell off just moving the legs to each degree shown above:
2. The 488 only has a mark on one side for reading the degree, would be nice if it was on both sides but its really no big deal as it is easy to switch the camera 180 degrees when it needs to be used.
*Sorry no pic for now I will upload one tomorrow*
So now the big question, was it worth it?
YES! I can honestly say it was very much worth the money, just the peace of mind that the tripod won't tip over is very much worth it by itself. The velbon I was using was very tippy and I almost lost my camera. The 488 head works very nicely, easy to adjust and holds the camera firmly in place. My frames for HDR's actually line up now
Overall Manfrotto def. puts out a quality product and has my business for years to come. I would recommend this setup to anyone that is looking for there first serious setup and doesn't want to spend the extra to get a carbon fiber model. For the money this setup can't be beat.
Sheba agrees, Manfrotto wins: