This is my first attempt on a review, so if i should add something please tell
i have had the lens for a week now and the weather still doesn't want to cooperate with me so shots taken with the lens will come later.
The build quality of this lens is exelent if i may say so, It feels really solid and well built all around, the weight makes sense since the constant F2.8 aperture requires a good amount of glass.
and the fact that its mostly made out of metal doesn't make it any lighter
. 1300 grams might be heavy for some but i find it to be not to heavvy or to light
The EX coating on the lense makes it feel more "exclusive" and it gives the holder a good grip, and it doesn't make you stand out as much as
other lenses
-----------------------------
The switch for AF/MF is placed all the way back on the lense, it could probably be placed abit "higher" since it's squished on the back nearly at the lens release button on the camera
AF on this lens is pretty fast it focuses from infinity to close and back to infinity in a little under a second
-----------------------------
the tripod ring is very sturdy, since it's solid metal and has the same EX coating as the rest of the lens
the lens also has marks that show 90 degrees in both directions for portrait format.
by pulling on the knob it hinges out of the way and the lens can be lifted out so its no need to dismount the lens from the camera.
-----------------------------
the lens hood is made of plastic, the outside has the same EX coating as the rest of the lens and the inside is ribbed to prevent reflections
it also has arrows that tell you witch way to twist it for taking it on and off
and it reverses on the lens for storage/transport
it has 77mm filter threads
----------------------------
here it is attached to the 500D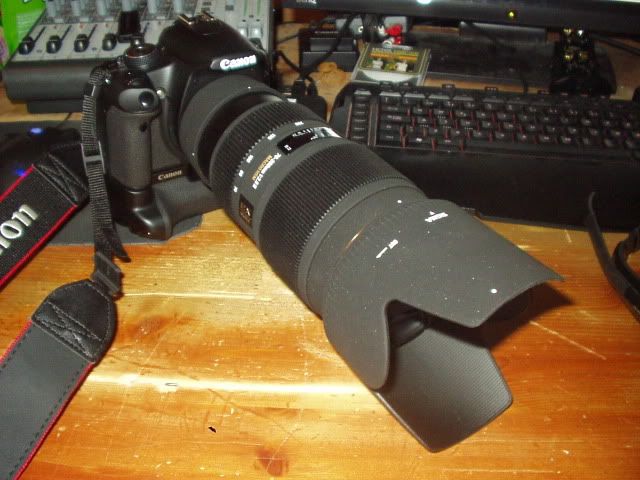 that picture was taken with an 8year old compact
----------------------------
i'll update the review with some photos and such once i get to use it some more
i haven't gotten to use it much because of the weather, so shots taken with it will have to come later
_________________
DeviantArt
Flickr
Canon 1D MK3, 5D MK3
Canon 50mm 1.4 USM, 100mm F2.8 USM, 70-200 F2.8
L
IS II,
16-35 F2.8
L
24-105
L
IS USM
Sigma 300mm F2.8
Canon Pixma PRO-9000 MKII
and a 17-40 F4L in a hundred little pieces