Another ebay special just arrived in the post...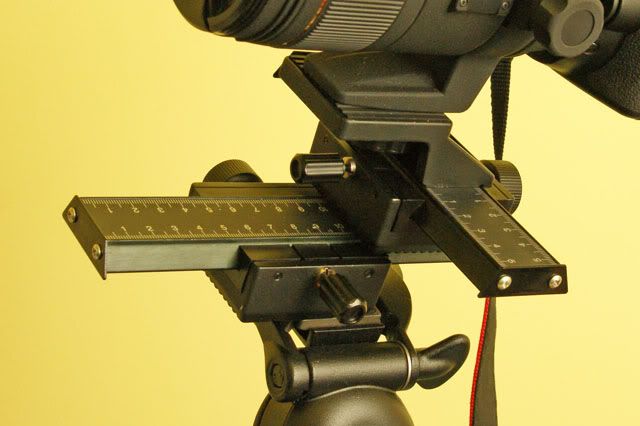 The rails, mounted between a tripod head and the Canon 50D with Sigma 150mm macro.
These are found all over ebay. I got these for just over £30 delivered. It was a bit of a gamble, as the old saying goes "you get what you pay for" but these meet and even exceed expectations.
I wanted these as fine manual focus with macro can be a pain at the best of times. Moving a whole tripod around isn't the easiest, and moving the subject isn't always an option either. A set of rails like these gives you movement in two dimensions.
The design is basically two stacked rails. Each rail is fundamentally the same but marked differently. They are marked in cm and have an adjustment range of 10cm end to end. A large knob moves the rail. There is small play in the knob itself, but there is no wobble that I can feel in the rails themselves. A smaller knob is present opposite the main knob. This appears to apply friction up to the point where it locks the rails. I'm not sure if the intent is to adjust the friction or only to provide locking.
On the bottom are two holes which take the standard tripod thread. On the top if a single point to go into the camera or lens mount. It is screwed in by another knob which is a little fiddly to reach. The rails themselves are made from metal with other components being metal, plastic and rubber.
On a practical note, they do what you expect them to, but you still have other axis to consider like vertically, tilt and rotate. Those function will remain the responsibility of the tripod, so make sure the tripod is also up to the job and sufficiently stable.
Before buying these, I was concerned as to how they would really work. Advice on other forums seemed to point towards some high end and much more expensive ones. While I don't doubt they're better, these cheap ones seem to work well enough. Now I just need to get using them seriously.