The filter I have is sold as a Skywatcher light pollution reduction filter in the 1.25 inch size for telescope eyepieces. It is also available in 2 inch size, but I don't know if that will fit photographic threads.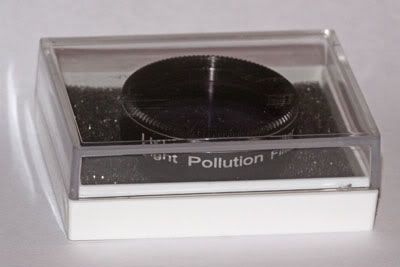 It comes in a cardboard sleeve, inside which is a plastic case with some foam to cushion the filter.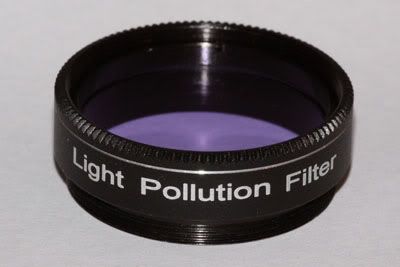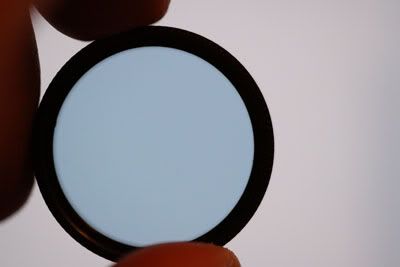 As said, the filter is sized to fit typical telescope eyepieces. The larger size could be adapted to fit on photographic lenses, something I plan to get and try later. The only data on the filter I have seen is a chart at one seller
here
. It cuts out certain frequencies of light pollution, which include the common orange glow. This does mean it alters the colour balance somewhat. For example, in the left image above it appears purple tinted. That was under incandescent lighting on a white paper background. The right image shows what it looks like when held up to my computer monitor with a white background.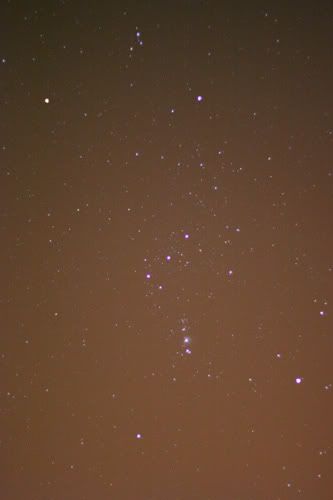 Both: Canon 50D, ISO3200, 50mm f/1.8. No processing other than resize.
Left: 2 second exposure without filter
Right: 4 second exposure with filter
Here is the main part of the constellation of Orion taken with the Canon 50mm f/1.8 lens. As the filter does not mount in any way to the lens, all I did was rest it on the front glass element of the lens. Actually, the filter I have isn't big enough to cover the whole area so there will be some light pollution leakage not to mention the filter body blocking some light too. It also seemed to cause an optical artefact. With a suitable sized filter, the results should be even better.
As a final comment, in comparing the above pictures, there isn't any more visible stars post filtering. This suggests that the filter is also reducing a portion of the wanted light, so you need a little more exposure time to regain the same brightness. Only after that will you start to gain. In other words, it increase the signal to noise of wanted detail to light pollution, but at the same time there is some loss.