This is a small backpack type camera bag. It seems intended to carry selected camera bits and little more. If you want an "everything" bag, this isn't it. The small size makes it more suitable for short to medium length trips where a smaller shoulder bag might not have the capacity, but a bigger bag would be too much.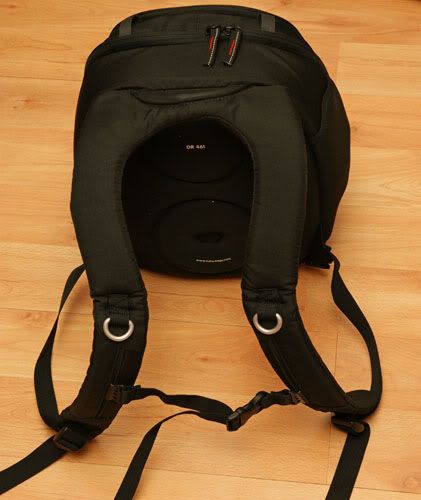 Sticking to the outside, here are the two straps which I find decent to hold the bag stable. If you need more, there is a buckle across the chest you can also use. A loop is present on the top you can use to hand carry the pack. There is a stretchable pocket on the outside you can cram something long/thin in.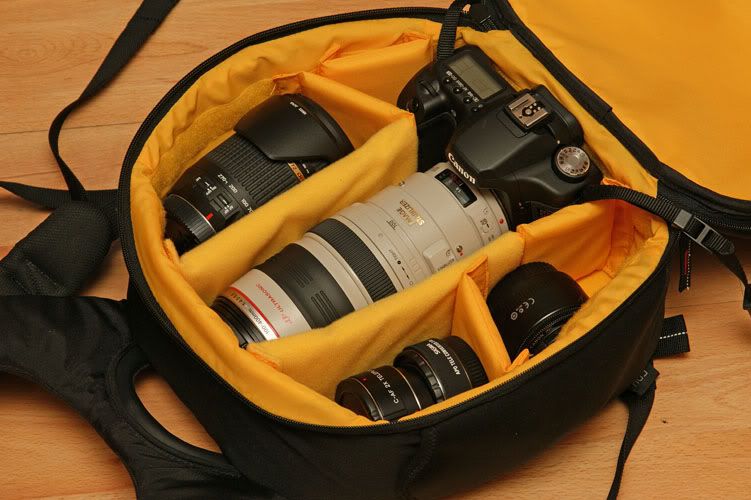 Inside the main compartment are various dividers held in place by velcro. There is a reasonable amount of padding between the inside and outside. Here you can see a Canon 50D with 100-400L lens fitted. The bigger lens to the side is the Tamron 18-270, and a 50mm f/1.8 in the other side. Also I've thrown in a Sigma 1.4x TC and a Kenko 2x TC. By rearranging the dividers you could easily put a standard external flash there instead.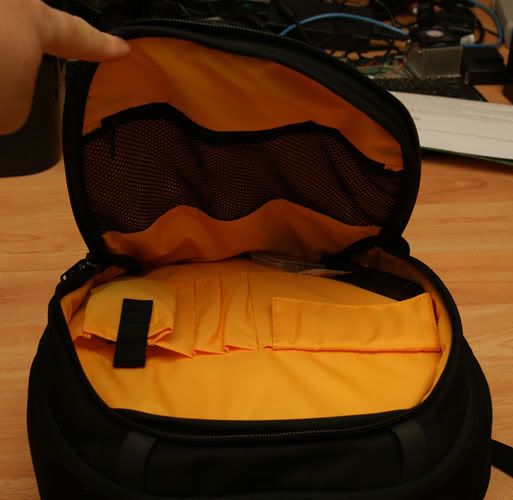 There is a further internal storage compartment which can be accessed by both the outside front of the bag and also by an internal zip. This compartment, as pictured, does not have much height. So you can only put thin/flat objects in here. There are various pockets inside. I use this for filters, adapters, battery, CF cards etc.
My verdict, if you want to carry a moderate amount without getting weighed down, this is worth considering. I would like a little more depth in the thin compartment, but that would obviously make the bag much bigger.