Manufacturer's page:
http://www.astronomik.com/en/astronomik_cls_filter.html
They describe it as a "budget" filter. If this is budget, I hate to see what an expensive one is! Although they don't actually call it a light pollution filter, its main function is to block sodium and mercury lights, passing most important astronomical wavelengths.
I went for the EOS clip version, which sits in a receptacle between the mirror and lens mount on APS-C Canon cameras. This way I can use it with any lens apart from Canon's own EF-S lenses which fit into the same area.
By eye, the filter reflects and passes all sorts of funky colours depending on the angle you look at it. It is more stable when mounted and looking through it with a lens, and introduces an odd colour cast to normal
The biggest question: what does it really do?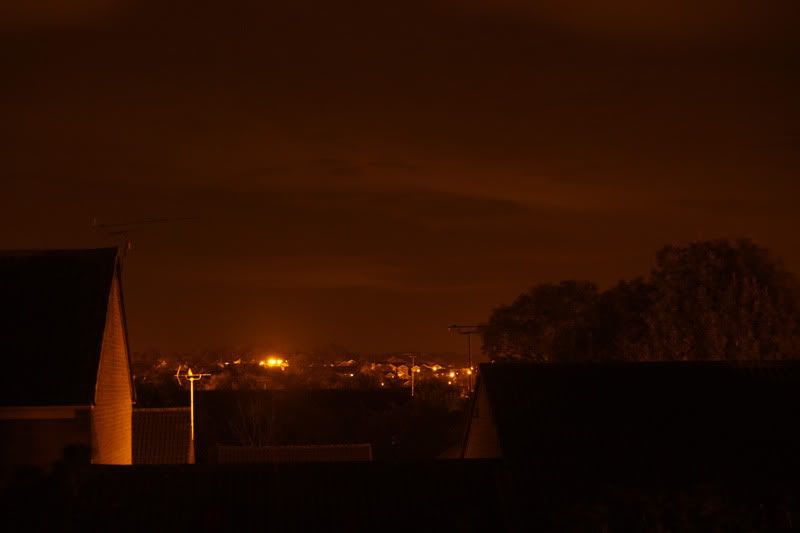 Taken normally, 10 second exposure, f/5.6, ISO800. White balance fixed at "sunny" for no particular reason other than it was the first one apart from AWB. This is to prevent colour shifts due to AWB for this comparison. This is with the filter in place. Same exposure as above! The orange glow is practically gone. Only where the lights are clustered is there any significant output.
What if we rack up the exposure some more? What do we see then? 30 seconds, f/5.6, ISO3200.
Now if that cloud will get out of the way I'd put it to some serious use!